Carrot Payasam | Carrot kheer | Payasam recipe | Kheer recipes | carrot almond Payasam | carrot badam Kheer
with step by step pictures and video recipe. Check out the
Carrot Payasam recipe
.
If you like the video pls
SUBSCRIBE to my channel

.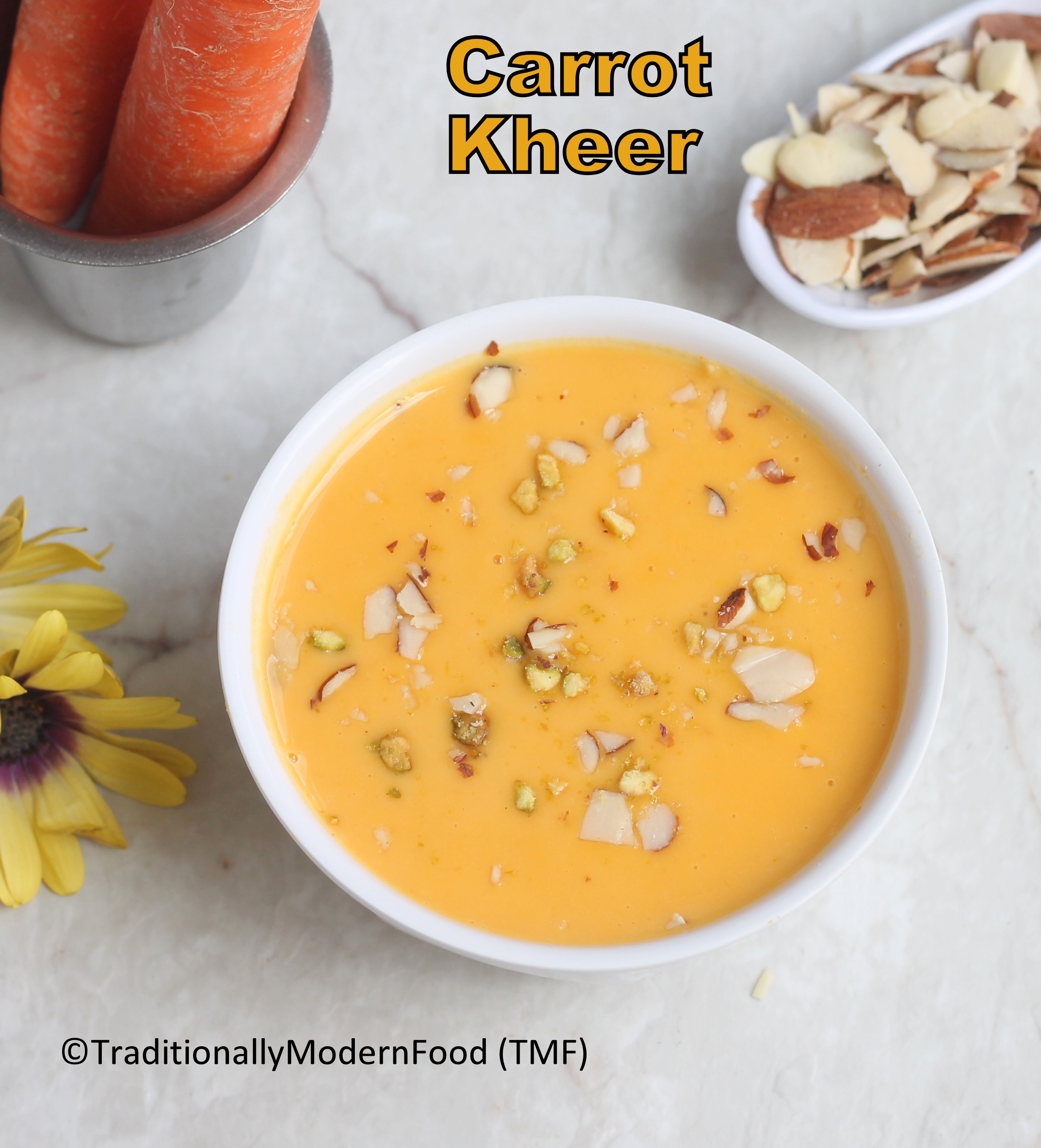 Carrot Payasam | Carrot kheer | Payasam recipe | Kheer recipes | carrot almond Payasam | carrot badam Kheer is a rich and flavourful Payasam/ kheer prepared with carrots and almonds. Carrot payasam can be prepared within 30 minutes. The pressure cooker makes it super fast and tasty. Carrot badam Kheer can be prepared for any Indian festival, special occasion, party, etc.
Healthy payasam
As a kid, I was a picky eater when it came to vegetables. Don't know why, but I always hated carrots and beetroots. Having a big sweet tooth, I accept these vegetables if it in dessert form. Amma frequently prepares sweets like
beetroot halwa
, carrot halwa, and carrot Payasam.
Should I cook carrots in a pressure cooker?
For faster cooking, I prefer cooking in a pressure cooker. You can also cook carrots on the stovetop. Within 30 minutes the tasty payasam can be prepared. Cooker helps for easy cooking.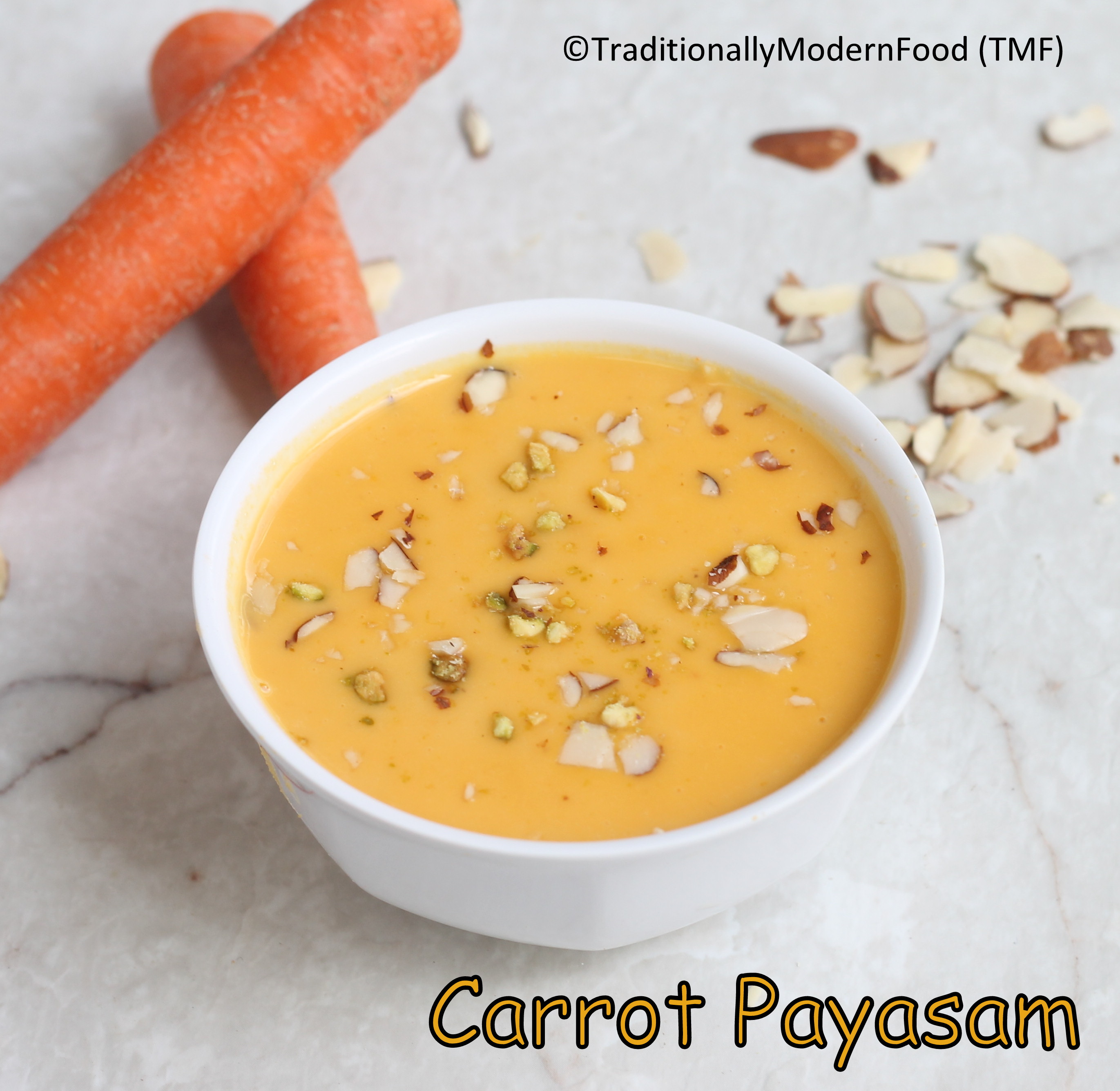 can I use Almond flour instead of almonds?
yes, use 3 tablespoon of almond flour instead of almonds. You need not pressure cook almond flour with carrots. Add almond flour while blending carrots.
Rich and tasty Payasam recipe
Carrots combined with Almonds make this payasam super healthy. Making kids eat nuts is a big deal but I am sure if served as a dessert in the form of payasam it is a big yes😋😋
Should I cook carrots in milk?
Milk adds richness to the tasty payasam. Alternatively, you can cook in water and add little milk towards the end.
Can I use evaporated milk for Payasam?
Yes, use 1 cup of evaporated milk instead of 1 + 1/2 cup of milk.
How to serve carrot kheer?
Whether you serve it hot or cold, carrot Payasam is always a winner✋️✋️ My personal favorite is refrigerating Payasam recipes for few hours and enjoy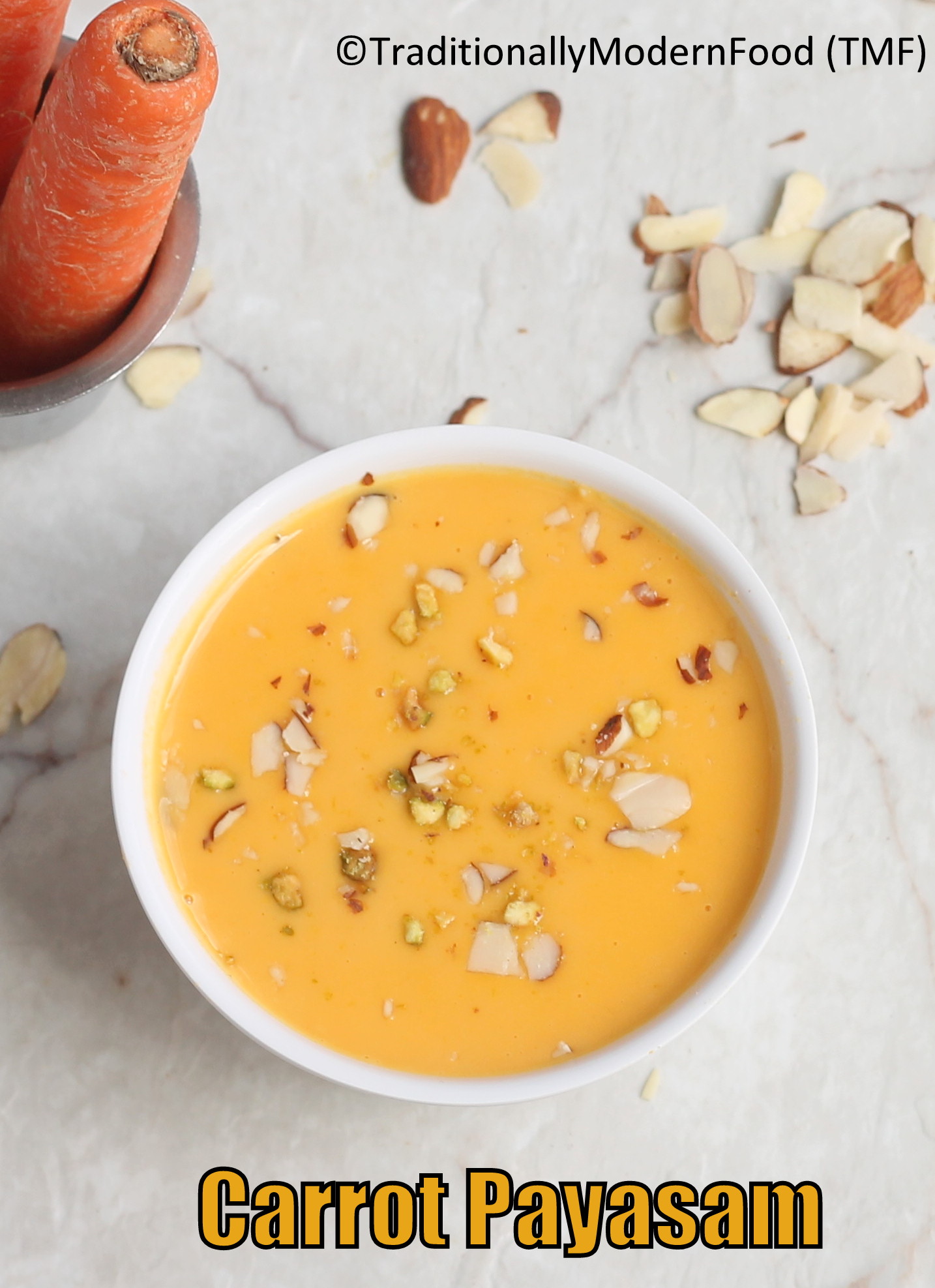 See more Payasam recipes
Ingredients
Carrots - 1 + 1/2 cup

200 g, finely chopped

Almonds - 20

Milk - 3 cup

Condensed milk - 3 tbsp

Sugar - 1/2 cup

Cardamom powder - 1/4 tsp

Sliced Almonds - few for garnish

Saffron - Pinch

Salt - pinch
Instructions
In a pressure cooker, add carrots, almonds, and 1 cup of milk, cook for 3 whistles and switch off. When it comes to room temperature blend them into a fine puree

In a saucepan on medium flame add carrot puree and remaining milk, let them boil for 15 minutes, stir well in between

Add  condensed milk, and  saffron; Boil for 5 more minutes, stir well in between

Furthermore add sugar and salt, cook for 2-3 minutes or till it is dissolved. Garnish with some sliced almonds. Serve hot or cold
Video
Notes
Grinding almonds without the skin are optional
you can roast cashews and raisins in ghee and add i to the payasam
Fine chopping is optional. If you are chopping carrots big, go with the gram measurements for accurate ingredients
A saucepan can also be used instead of the pressure cooker. In a saucepan, take the chopped carrots, almonds (whole or blanched). Pour milk and cover. Boil till carrots are fork tender
Instead of grinding carrots, you can grate them and use
If you are vegan, use Almond milk to cook carrot
Mini carrots can be used instead of regular carrots
Instead of milk can cook carrot and almonds with water and can add milk while cooking Payasam
The same procedure can be followed for beetroot payasam
A pinch of food color can be used
The same procedure can be followed for any kheer - Walnut, Cashew, Pistachio, etc
Payasam can also be served as a welcome drink for a get-together, party, etc.
You can use one can of evaporated milk and skip 1 + 1/2 cup of milk
cook carrots in the instant pot for 7 minutes and do natural pressure release
Carrot Almond Payasam:
Preparation Time: 5 min | Cooking Time: 30 mins | Serves: 4 Recipe Category: Dessert
Ingredients
: Carrots - 1 + 1/2 cup (200 g), finely chopped Almonds - 20 Milk - 3 cup Condensed milk - 3 tbsp Sugar - 1/2 cup Cardamom powder - 1/4 tsp Sliced Almonds - few for garnish Saffron - Pinch Salt - pinch
How to make Carrot kheer with step by step pictures
:
In a pressure cooker, add carrots, almonds, and 1 cup of milk, cook for 3 whistles and switch off. When it comes to room temperature blend them into a fine puree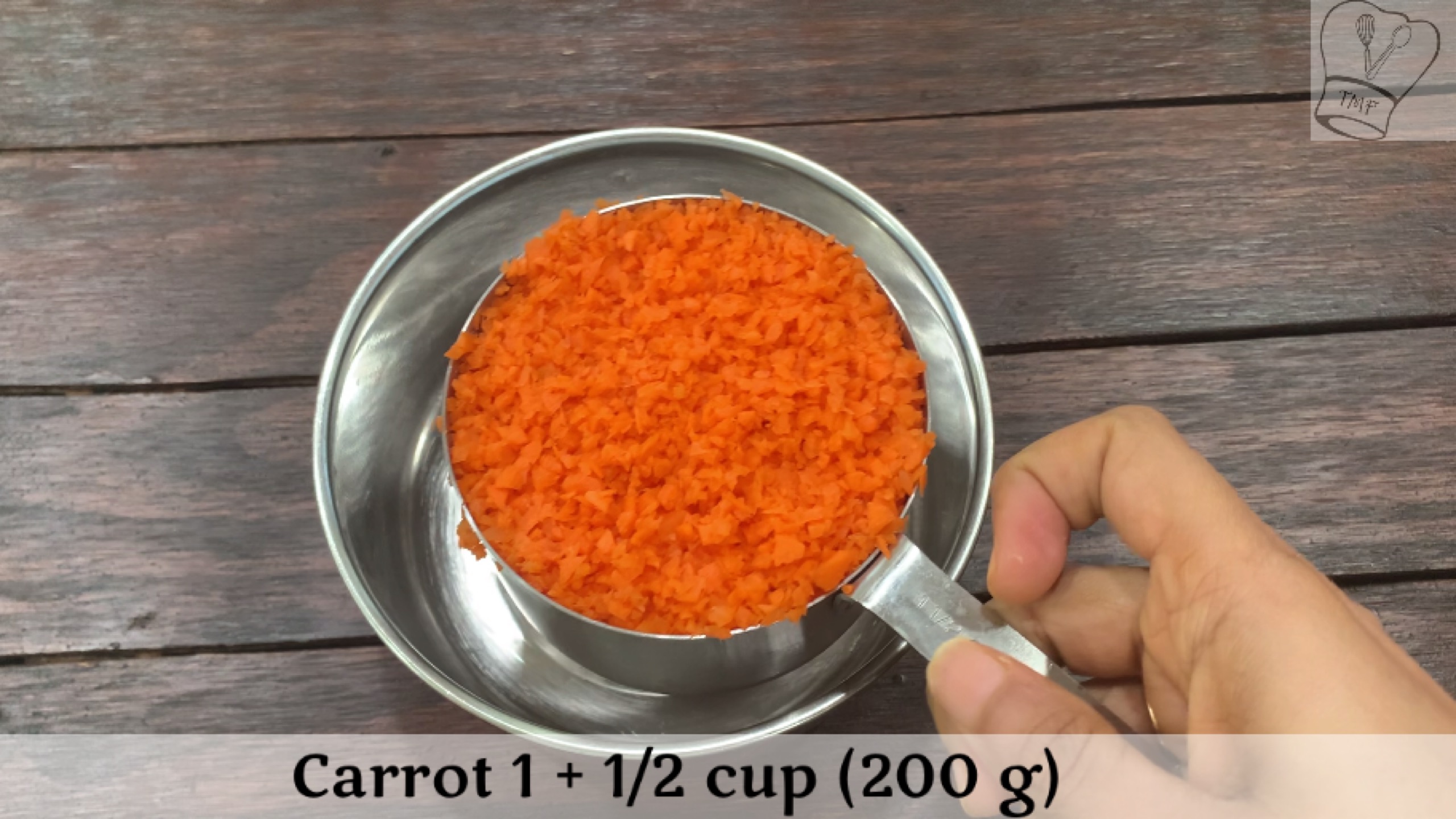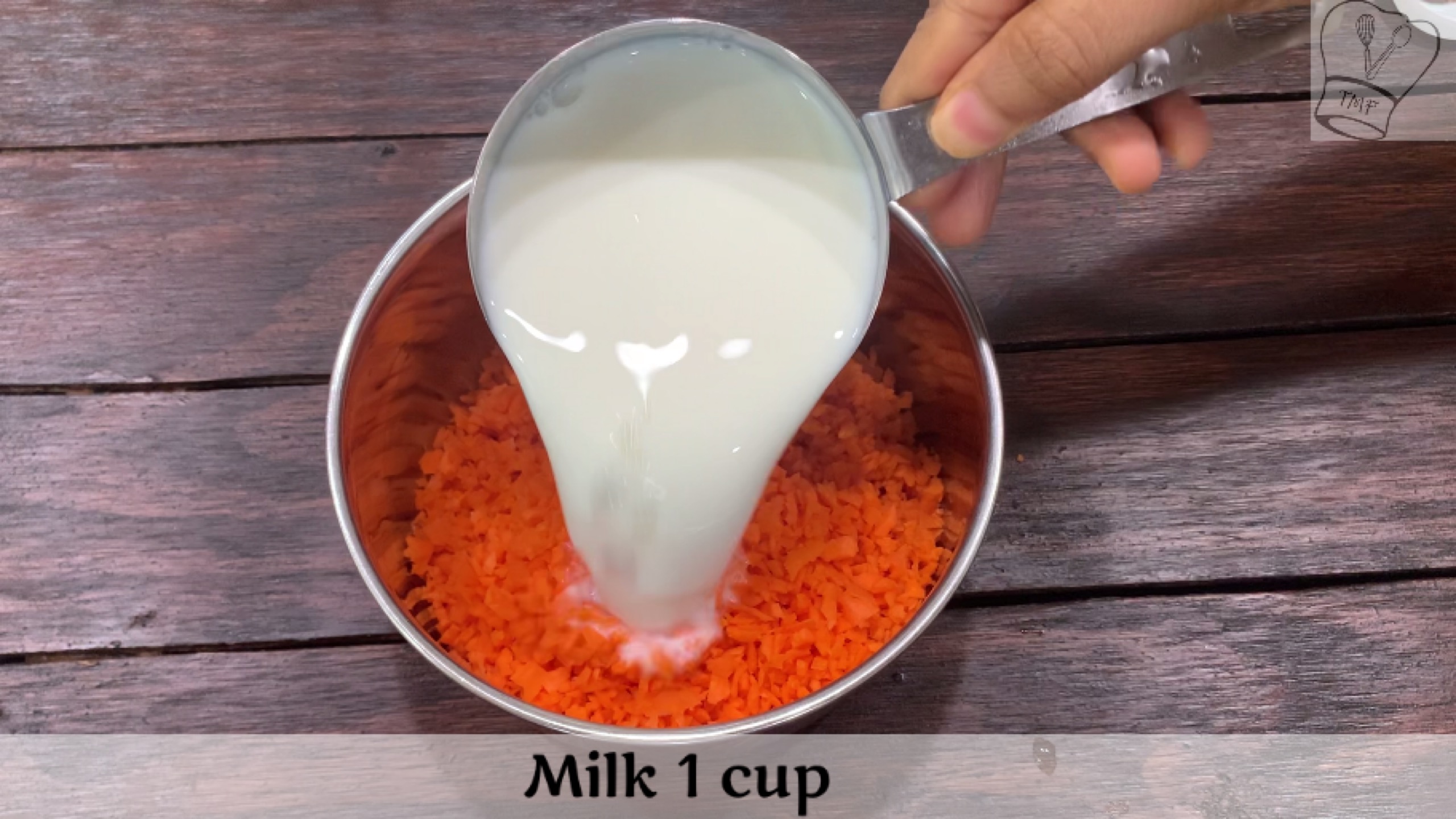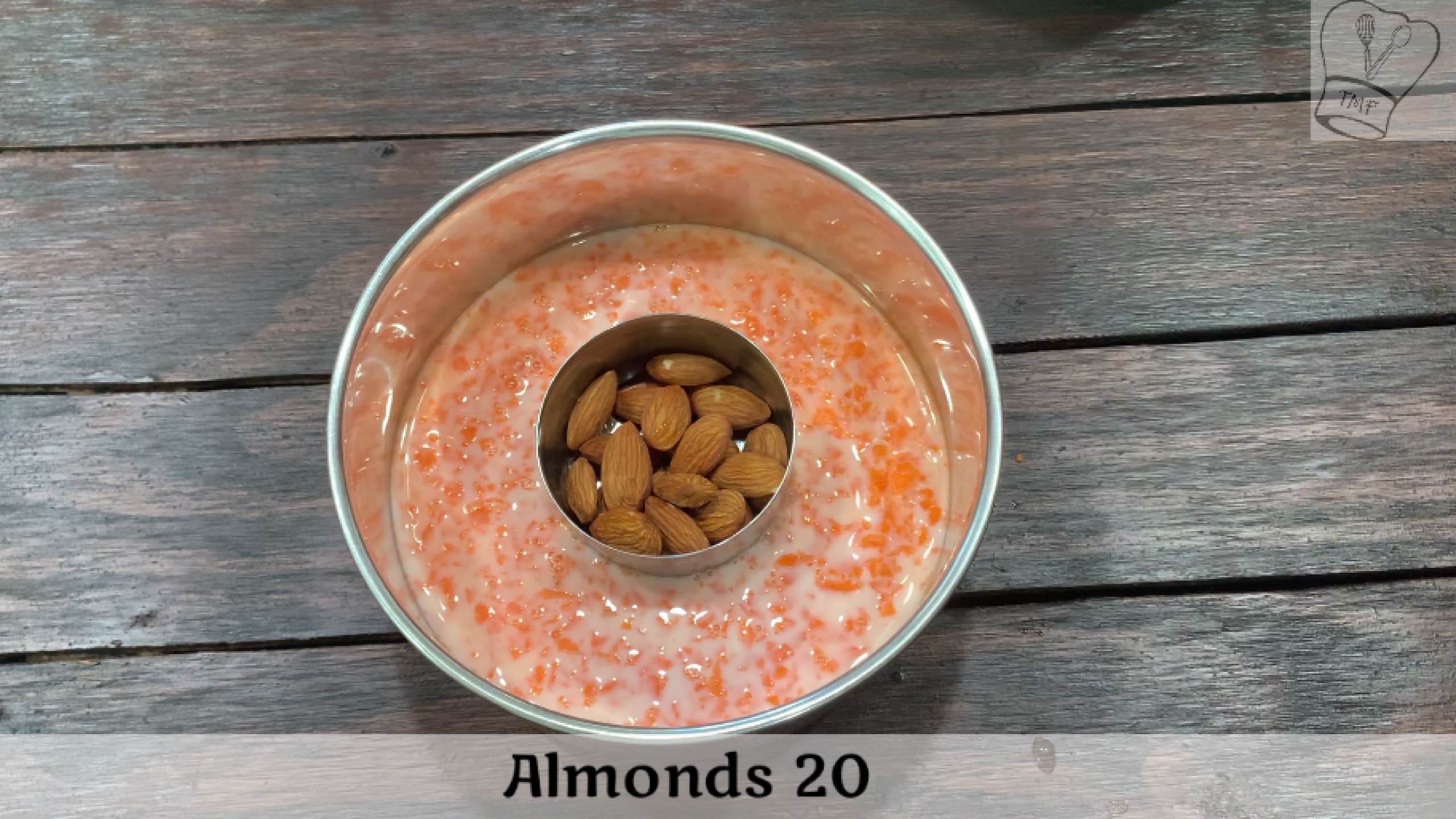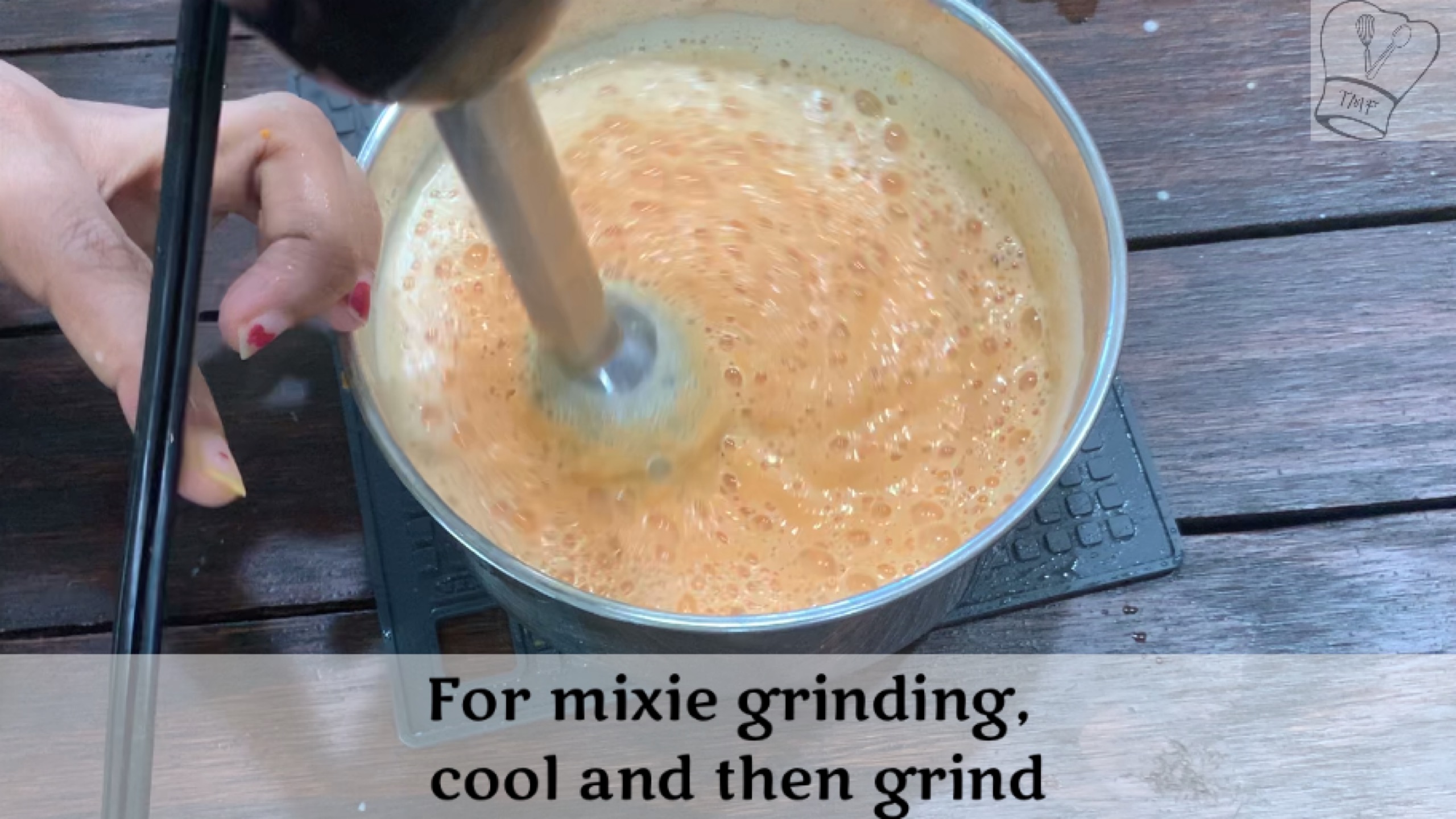 In a saucepan on medium flame add carrot puree and remaining milk, let them boil for 15 minutes, stir well in between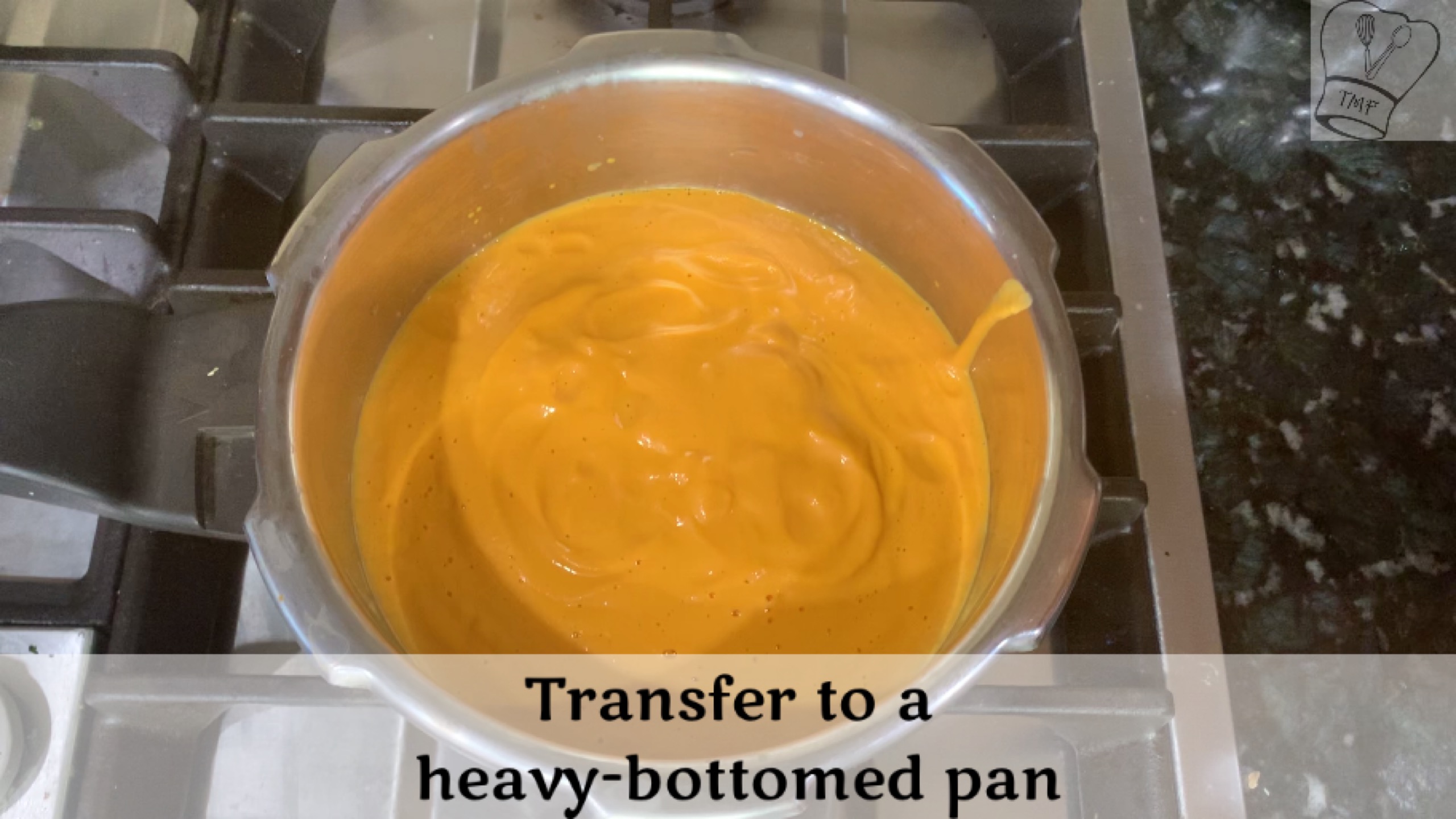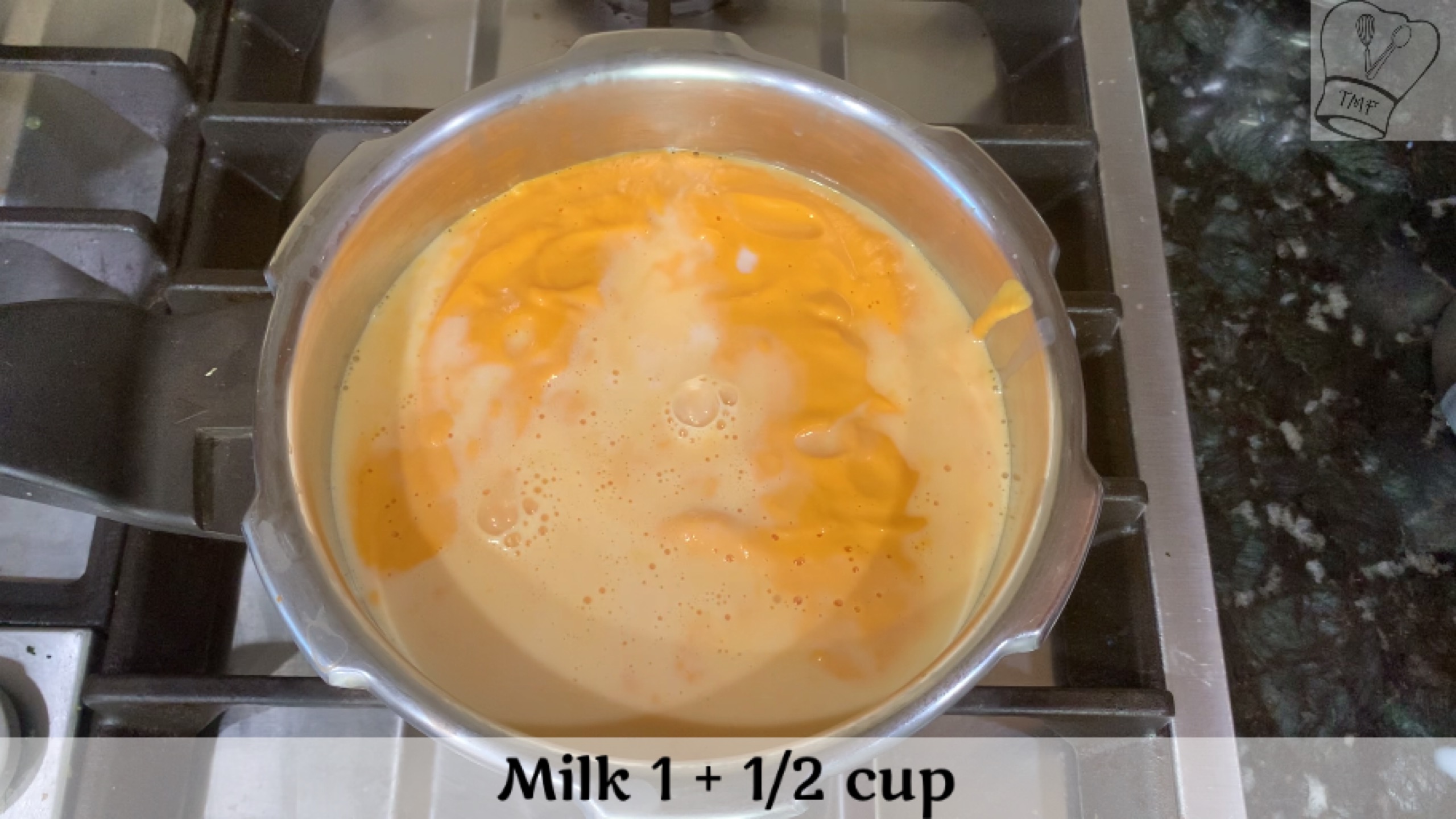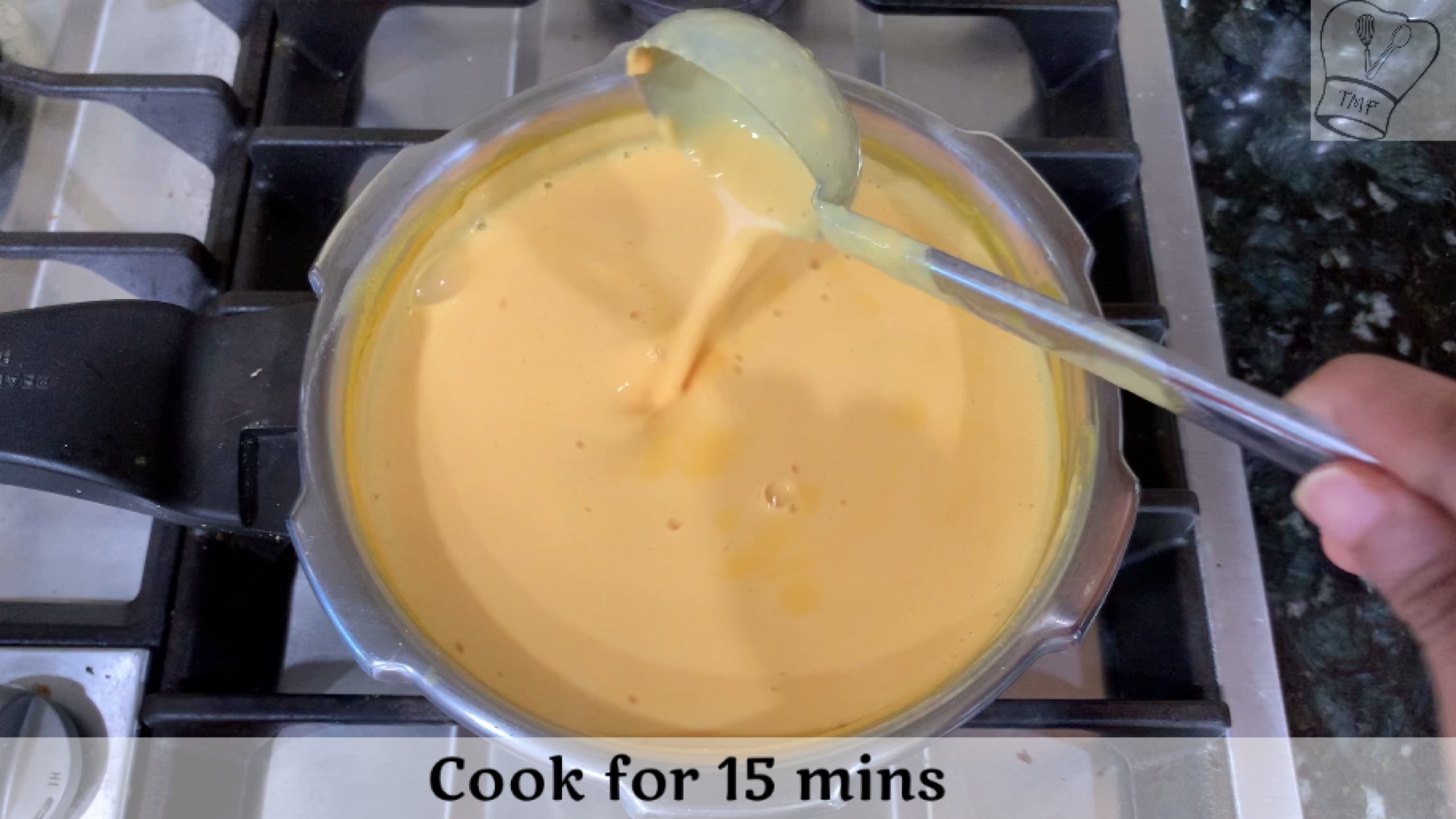 Add condensed milk, and saffron; Boil for 5 more minutes, stir well in between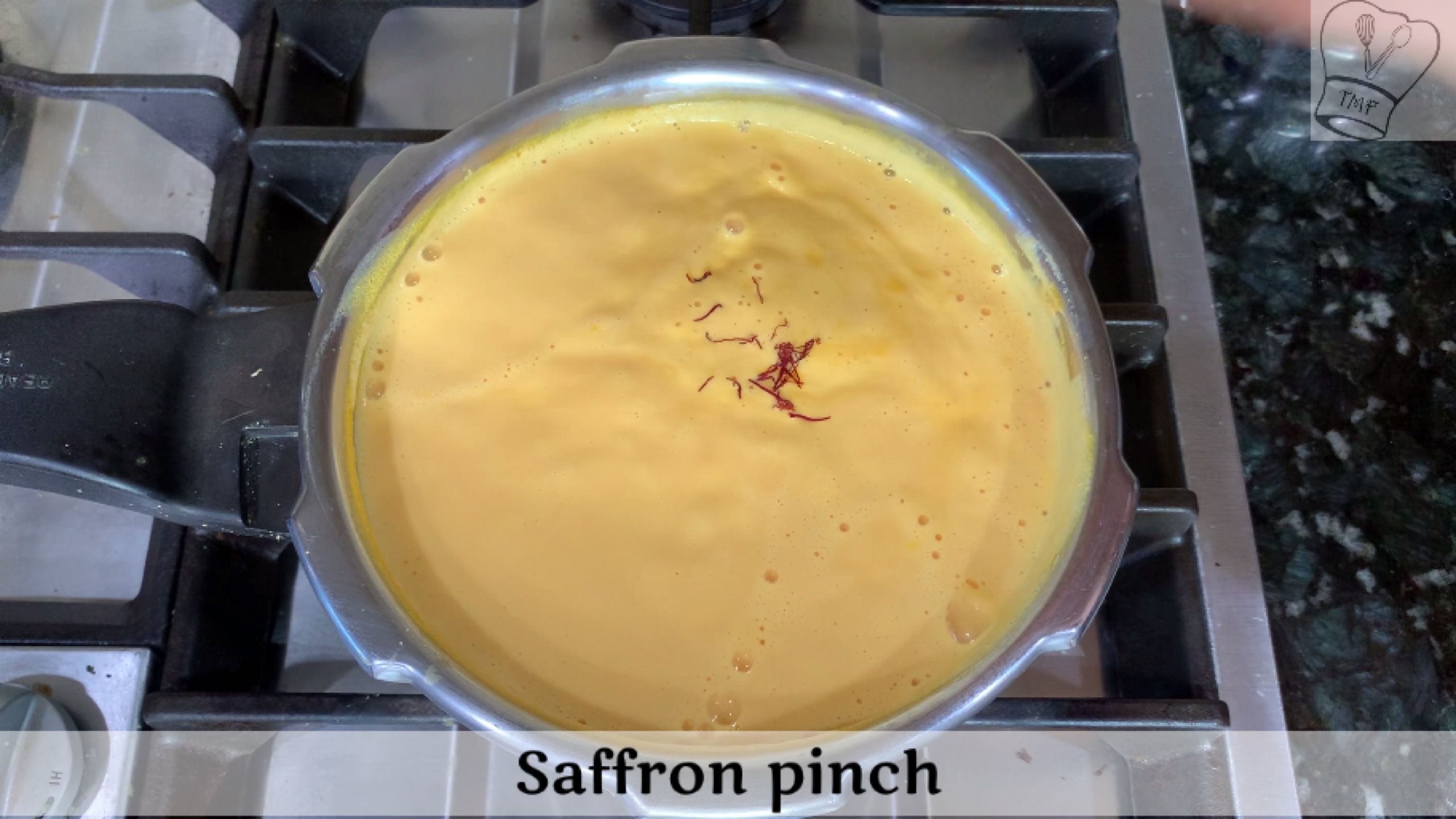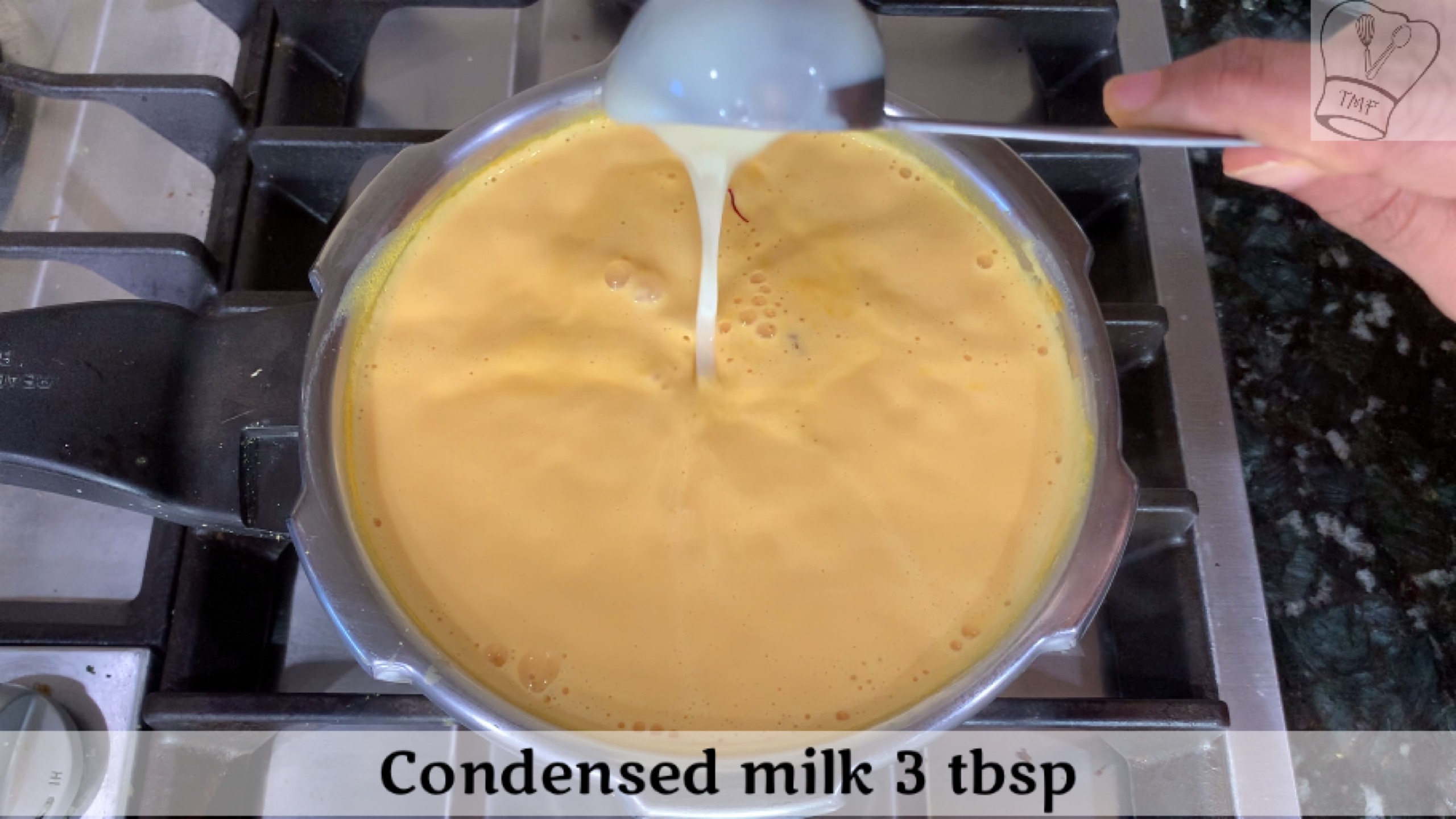 Furthermore add sugar and salt, cook for 2-3 minutes or till it is dissolved. Garnish with some sliced almonds. Serve hot or cold