Aloo paratha recipe | Aloo parantha | Aloo ka paratha | how to make Aloo parathas recipe | street food | paratha recipes | Punjabi Aloo parantha recipe Check out the Aloo paratha recipe in tamil and Aloo paratha recipe in english. If you like the video pls SUBSCRIBE to my channel.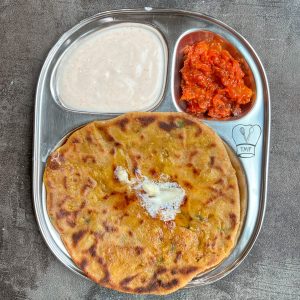 DHABA STYLE PUNJABI Aloo PARATHAS
Thinking about paratha, Dhaba style Punjabi Aloo parantha is the first time that comes to my mind. The best way to serve Aloo paratha according to me is potato stuffed parathas with butter, raita varieties, pickle, pickled onion tastes best. Some prefer parantha with chutney varieties and with a cup of hot tea. Restaurant-style potato stuffed parantha is super easy to make.
NO, FAIL Urulaikizhangu PARATHA
Out of all the paratha recipes, paneer ka paratha, aloo paratha, gobi paratha are even popular in south India. Perfectly cooked potatoes, you can make the best easy aloo ka paratha recipe if you follow a few tips and tricks.
WHY INDIAN Aloo ka PARATHA
Aloo is kids' favorite, Carbs loaded. aloo paranthas are great for filling breakfast/lunch/dinner for vegetarians. Kids spice paratha is suitable for toddlers' taste buds too.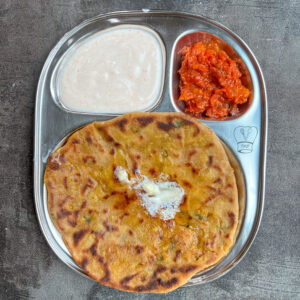 TIPS TO NOTE FOR PARATHA DOUGH
firstly, prepare a moist dough for paratha. Paratha dough should be non-sticky, soft dough, without any cracks. If you add less water dough might crack and it won't hold the stuffing. Pliable soft dough makes for the best paratha. Also, it is important to knead the dough well. The addition of ghee/ oil gives a lot of difference in stuffed paratha texture so don't skip it
Can I microwave potatoes?
Yes, you can cook potatoes in your convenient way. Always cook potatoes then drain the water completely.
Can I skip cooking the stuffing?
Cooking the stuffing is optional but it helps for perfect paratha texture also enhances the flavor.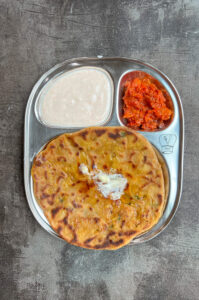 WHY SHOULD I ADD GHEE BEFORE PLACING THE STUFFING?
I prefer adding a layer of ghee before adding the stuffing. It helps for even spreading the stuffing and puffy tasty paratha.
EVEN STUFFING - KEY FOR PERFECT PARATHA
After placing the stuffing seal the dough well. Keep the sealed portion at the bottom and start rolling the paratha. Apply gentle pressure and roll the paratha evenly. Avoid rolling Thick paratha as if won't taste good. Try to knead a thin paratha without stuffing coming out. Always roll out the paratha from the edges when you are rolling it.
OPTIMAL HEAT FOR COOKING PARATHA?
When you are cooking paratha, maintaining the heat from the medium-high is the key. Add ghee and cook the paratha. Press it gently with a spatula often so that it is evenly cooked.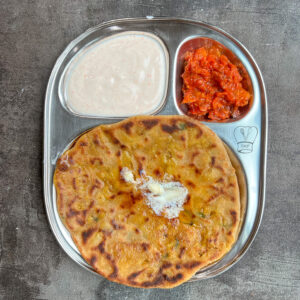 SHOULD I USE GHEE WHILE MAKING potatoes STUFFED PARATHA?
No, you can use any cooking oil but ghee gives a nice aroma and make the urulai roti super tasty.
CAN I MAKE THE STUFFING SPICY?
It is totally according to your tastes. To make it suitable for my toddler tastebuds also common cooking for I gave kept it less spicy. You can add chilli powder, coriander powder, cumin powder, gram masala, etc.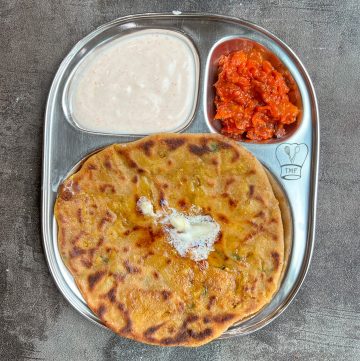 Ingredients
Chappati dough:
Whole wheat flour - 1 cup

Water - as needed for the dough

Ghee/ Oil - 1 tbsp

Salt - as needed
Potato Masala:
Potato - 2

medium-sized

Turmeric powder - 1/4 tsp

Kashmiri Red chilli powder - 1/2 tsp

Garam masala powder - 1/4 tsp

Kitchen king masala - 1/2 tsp

Oil - 1/2 tablespoon + for paratha

Salt - as needed
Instructions
Cook potatoes
Firstly cook potatoes, water, salt and turmeric pwder for 2 whistles and do natural pressure release
Knead the dough
Add flour, salt and oil; mix well

Furthemore add water little by little and need a nonsticky dough

Grease your hands with oil and knead for 5 minutes till you get soft pilable dough. cover and rest for atleast 30 minutes
Potato stuffing
After natural pressure release drain tha water in a colander and keep potatoes in the colander till they turn warm enough to handle

Peel the skin and mash the potatoes

Add oil to the pan when oil is hot add kashmiri chilli powder, kitchen king masala, turmeric powder, garam masala and salt; mix well

Furthermore add potatoes and mix well

Add ginger powder and cook in low flame for a minute and turn off the stove

Transfer and cool compleyly
Rolling potato paratha
After the resting time

Firstly, Knead the potato mixture and make equal sized 5 balls, cover and set aside

Knead the dough once and make equal sized 5 balls, cover and set aside

Sprinkle little wheat flour on the chappathi rolling board and gently roll dough into a small disc

Add little ghee and sprinkle flour in the center and gently spread it

Take a potato ball and gently press it

cover the dough around the stuffing and press the dough gently. Make sure the stuffing is not visible

Furthermore, sprinkle some flour and place the sealed part at the bottom

Gently roll the paratha to a Chappathi size giving even pressure around the paratha

Heat the chappathi tawa on medium flame and meanwhile repeat and roll the entire batch

Place paratha on hot griddle

Drizzle ghee around and on top of the paratha

Cook both sides golden brown
Video
Notes
Can add 1 tablespoon of yogurt instead of oil while making dough
Instead of keeping the filling and sealing can also make two chappati and put the potato spread, flatten it and seal the edges
Ingredients:
Chappati dough:
Whole wheat flour - 1 cup
Water - as needed for the dough
Ghee/ Oil - 1 tbsp
Salt - as needed
Potato
Masala:
Potato - 2, medium-sized
Turmeric powder - 1/4 tsp
Kashmiri Red chilli powder - 1/2 tsp
Garam masala powder - 1/4 tsp
Ginger powder 1/8 tsp
Kitchen king masala - 1/2 tsp
Oil - 1/2 tablespoon + for paratha
Salt - as needed
How to make Aloo ka paratha with step by step pictures:
Cook potatoes
Firstly cook potatoes, water, salt and turmeric pwder for 2 whistles and do natural pressure release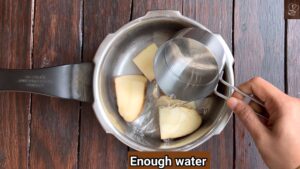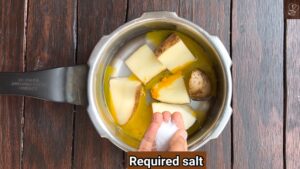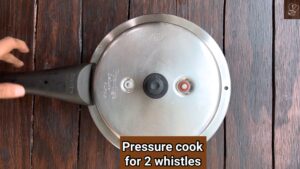 Knead the dough
Add flour, salt and oil; mix well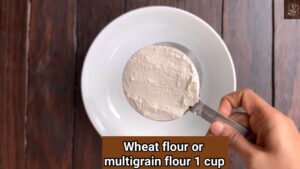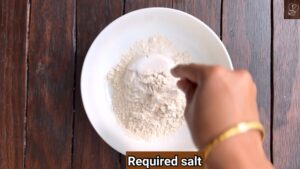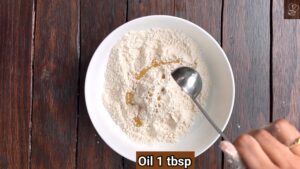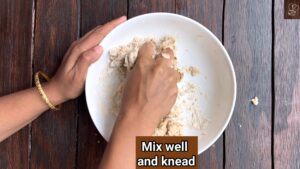 Furthemore add water little by little and need a nonsticky dough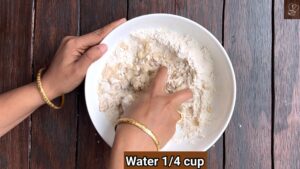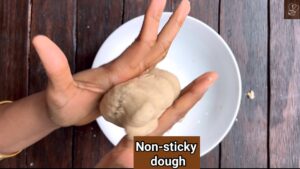 Grease your hands with oil and knead for 5 minutes till you get soft pilable dough. cover and rest for atleast 30 minutes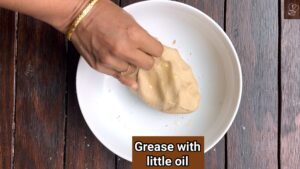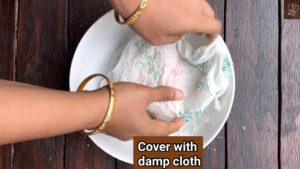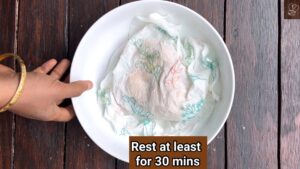 Potato stuffing
After natural pressure release drain tha water in a colander and keep potatoes in the colander till they turn warm enough to handle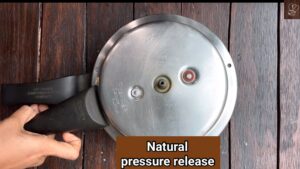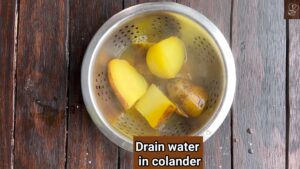 Peel the skin and mash the potatoes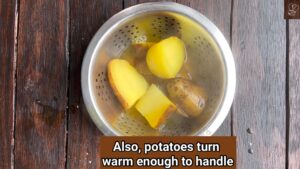 Add oil to the pan when oil is hot add kashmiri chilli powder, kitchen king masala, turmeric powder, garam masala and salt; mix well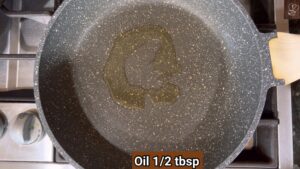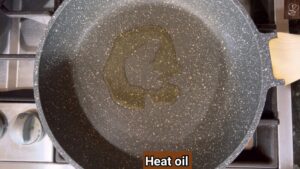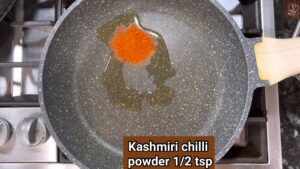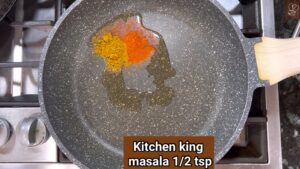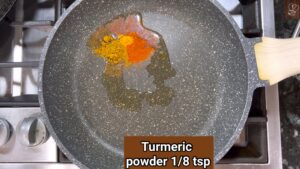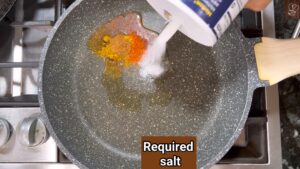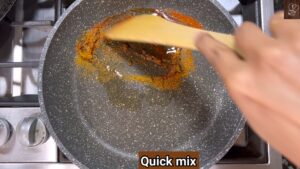 Furthermore add potatoes and mix well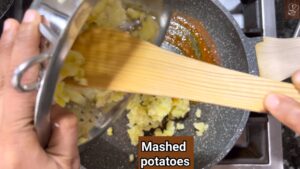 Add ginger powder and cook in low flame for a minute and turn off the stove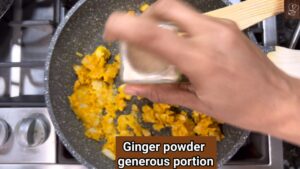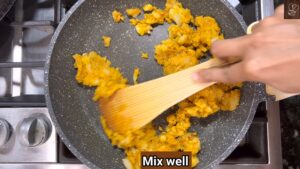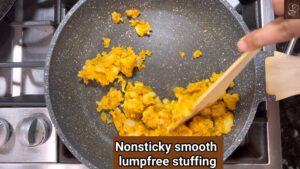 Transfer and cool compleyly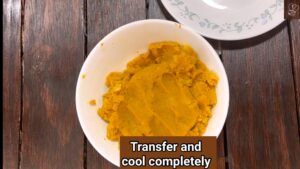 Rolling potato paratha:
After the resting time

Firstly, Knead the potato mixture and make equal sized 5 balls, cover and set aside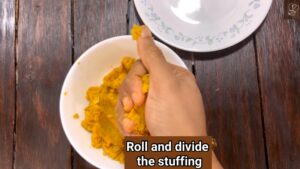 Knead the dough once and make equal sized 5 balls, cover and set aside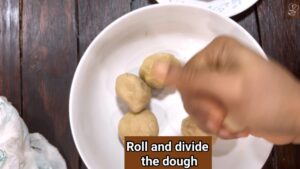 Sprinkle little wheat flour on the chappathi rolling board and gently roll dough into a small disc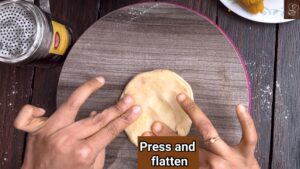 Add little ghee and sprinkle flour in the center and gently spread it
Take a potato ball and gently press it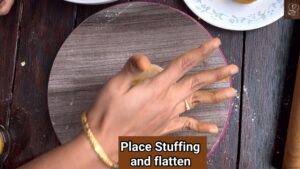 cover the dough around the stuffing and press the dough gently. Make sure the stuffing is not visible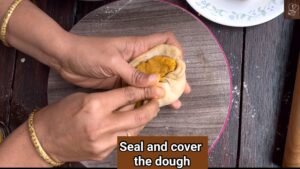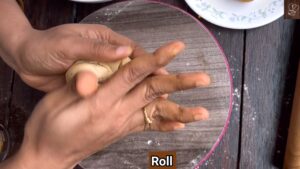 Furthermore, sprinkle some flour and place the sealed part at the bottom

Gently roll the paratha to a Chappathi size giving even pressure around the paratha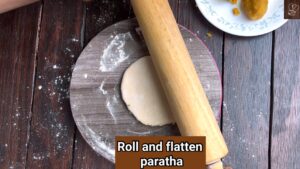 Heat the chappathi tawa on medium flame and meanwhile repeat and roll the entire batch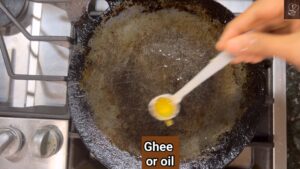 Place paratha on hot griddle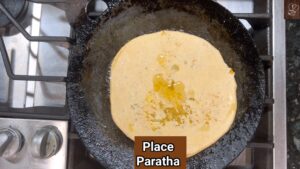 Drizzle ghee around and on top of the paratha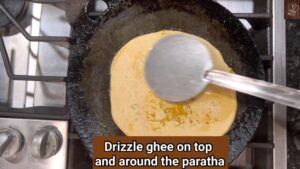 Cook both sides golden brown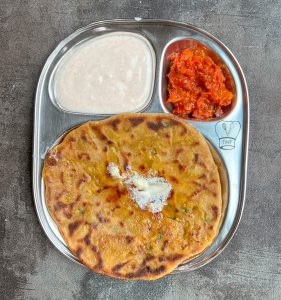 For regular recipe updates pls follow TMF social media,
Facebook | Instagram | Youtube | Pinterest | Twitter