Bajji Milagai rasam | Mirchi rasam | Lemon rasam | elumichai rasam | nimbu saaru rasam recipe | nimmakaya rasam | south Indian lemon rasam recipe variety with step by step pictures and video recipe. Check out the Bajji Milagai rasam recipe and If you like the video pls SUBSCRIBE to my channel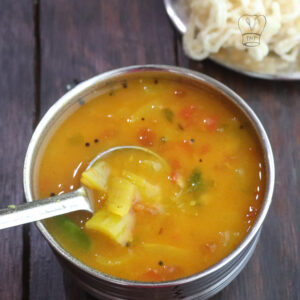 Milagai rasam - Lemon ginger chili rasam
Bajji milagai has a unique taste. Rasam with banana pepper and green chilli spice is so flavorful. No rasam powder, no tamarind for this rasam. The sourness of tomato and lemon enhances the taste of chilli flavored rasam.
Jump to:
What kind of chilli should I use?
If you are in India buy banjo milagai from stores. Here in the US I always use banana pepper. If you can't find banana pepper, use Anaheim pepper or other less spicy pepper (chilli) variety. Avoid jalapeno or other spice varieties
Should deseed the pepper?
Though the rasam is made with chilli it is not at all spicy. Seed might turn rasam spicy so always deseed and use.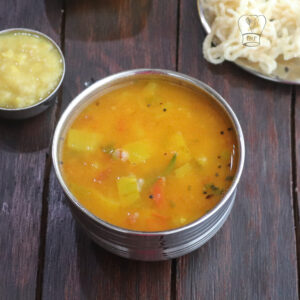 Amount of tomato and lemon
I didn't use tamarind for this rasam, sourness is from tomato and lemon. If you are increasing tomatoes reduce lemon accordingly.
Can I boil lemon rasam?
You can warm the lemon rasam but avoid boiling the rasam
Add lemon juice after the stove is turned off

and rasam is cold

Avoid reheating the lemon rasam after adding the lemon juice

Reheated lemon rasam will turn bitter

Make rasam watery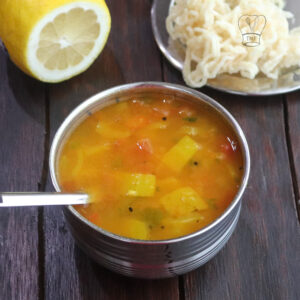 For the Milagai rasam video
Other rasam recipes in TMF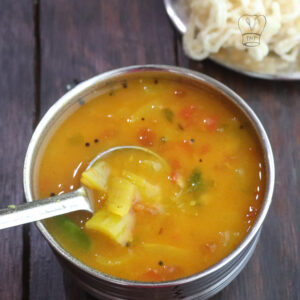 Ingredients
Banana pepper | Mirchi bajji 1

deseeded

Tomatoes 1

Green Chilli 1

Turmeric powder 1/4 teaspoon

ginger powder 1/8 teaspoon

Salt as needed

Cooked Toor Dal 1/4 cup

Water 2 cups + 1/4 cup

ghee 1 teaspoon
Temper
ghee 1 teaspoon

Mustard seeds 1/2 teaspoon

Cumin seeds 1/2 tsp

Asafoetida generous pinch
Instructions
Cook dal with enough water and a pinch of turmeric powder

In a heavy-bottomed pan add ghee and heat

Add banana pepper and saute till slightly changed brown

add tomatoes and green Chilli; saute for 1 minute

Furthmore, add turmeric powder and  salt; saute for 2 minutes or till tomatoes turn mushy

Add  2 cups of water and boil Boil for 12-15 minutes till raw smell goes off

Furthermore, add cooked dal and 1/4 cup of water, mix well

Sprinkle chopped coriander leaves, curry leaves, a pinch of jaggery, and ginger powder; mix well and cook till the rasam becomes frothy

Add lemon juice and mix well

In a small pan add ghee when the ghee is hot add mustard seeds and cumin seeds; let it splutter

Add asafoetida and mix well; transfer to the rasam
Video
Notes
If you are in India buy banjo milagai from stores. Here in the US I always use banana pepper. If you can't find banana pepper, use Anaheim pepper or other less spicy pepper (chilli) variety. Avoid jalapeno or other spice varieties

Always deseed the banana pepper. Though the rasam is made with chilli it is not at all spicy. Seed might turn rasam spicy so always deseed and use

I didn't use tamarind for this rasam, sourness is from tomato and lemon. If you are increasing tomatoes reduce lemon accordingly

Avoid boiling the rasam after adding lemon juice

If lemon juice is added to hot rasam it will turn rasam bitter. You can add lemon when is warm

Adjust the lemon quantity according to your taste

If you are squeezing lemon juice prior add a little salt
Ingredients
Banana pepper | Mirchi bajji 1, deseeded
Tomatoes 1
Green Chilli 1
Turmeric powder 1/4 teaspoon
ginger powder 1/8 teaspoon
Salt as needed
Cooked Toor Dal 1/4 cup
Water 2 cup + 1/4 cup
ghee 1 teaspoon
Temper
ghee 1 teaspoon
Mustard seeds 1/2 teaspoon
Cumin seeds 1/2 tsp
Asafoetida generous pinch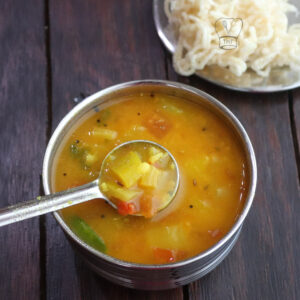 How to make Bajji Milagai rasam with step by step pictures
Cook dal with enough water and a pinch of turmeric powder

In a heavy-bottomed pan add ghee and heat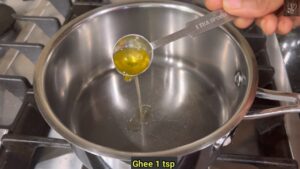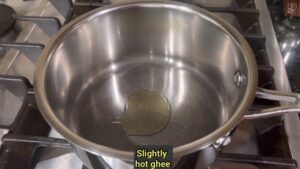 Add banana pepper and saute till slightly changed brown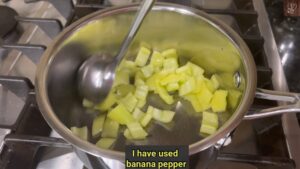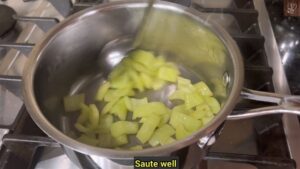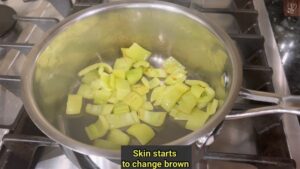 add tomatoes and green Chilli; saute for 1 minute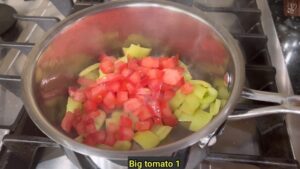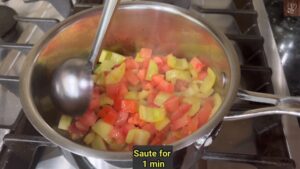 Furthmore, add turmeric powder and salt; saute for 2 minutes or till tomatoes turn mushy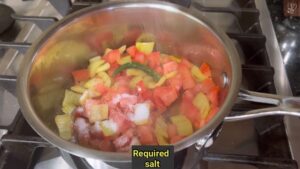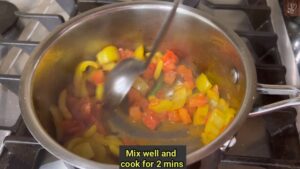 Add 2 cups of water and boil

Boil for 12-15 minutes till raw smell goes off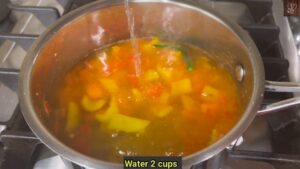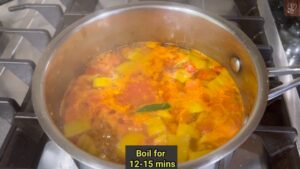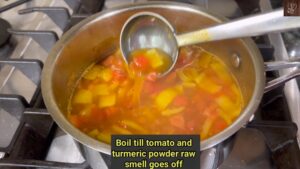 Furthermore, add cooked dal and 1/4 cup of water, mix well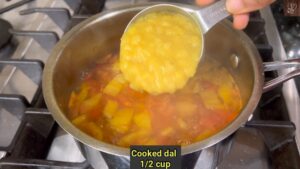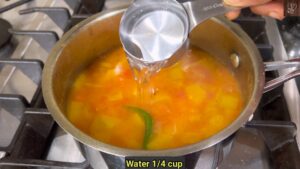 Sprinkle chopped coriander leaves, curry leaves, a pinch of jaggery, and ginger powder; mix well and c

ook till the rasam becomes frothy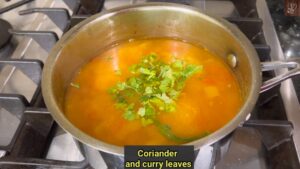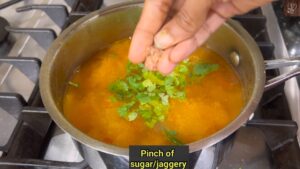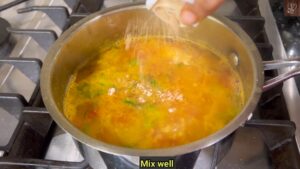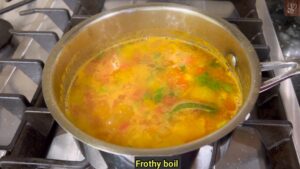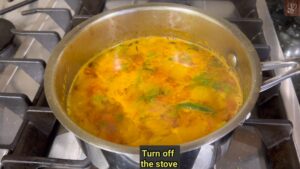 Add lemon juice and mix well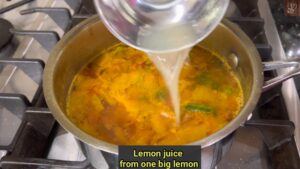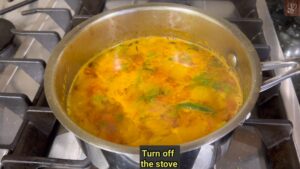 In a small pan add ghee when the ghee is hot add mustard seeds and cumin seeds; let it splutter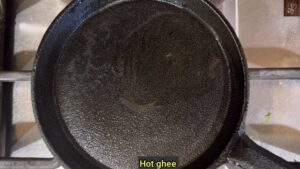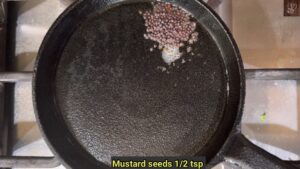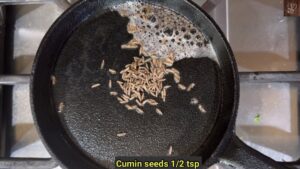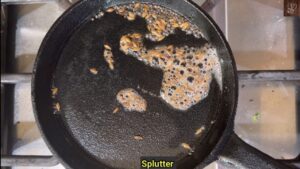 Add asafoetida and mix well; transfer to the rasam