Oats banana pancake | Banana oat pancake | Eggless Banana pancake, Oats pancake, eggless pancake recipes step-by-step pictures, and video recipes. Check out the Oats banana pancake recipe and if you like the video pls SUBSCRIBE to my channel.
Healthy and tasty Kids friendly pancake with oats and banana. It is eggless, with no added sugar, and no all-purpose flour
Jump to:
Instant oats pancake
I have used 1-minute instant oats for this pancake recipe. You can also use rolled oats or store brought oats flour.
Can I grind oats with other ingredients?
Fine oats flour gives the best eggless banana pancake so I would recommend grinding the oats first.
Substitute for flaxseed meal?
Flaxseed meal gives the soft, fluffiness, and fiber content to the pancake. You can use 1 egg instead of a flaxseed meal. Skipping flaxseed meal might alter pancake texture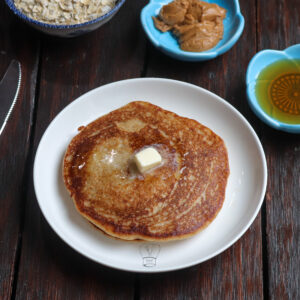 Always use Overripe banana
Avoid raw bananas. Always use overripe banana as it gives the best flavor and texture to the oats pancake. I prefer grinding the banana but instead, you can even mash them. You can also add extra sugar based on your sweetness
Can I make 3 ingredients Oats pancake?
Yes, you can make pancakes with just oats, bananas, and milk, but pancakes might turn dense and the taste will also differ.
Can I skip resting the batter?
Always rest the batter for at least 15 minutes as it helps for the soft and fluffy pancakes.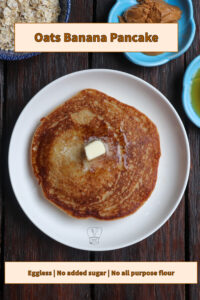 Can I skip baking powder?
Baking powder helps for a soft and spongy texture so I would recommend that. I used 1/4 teaspoon of baking powder but you can even use 1/2 teaspoon for even spongy pancakes. Skipping baking powder might change banana oats pancake
Vegan banana pancake
Use Almond milk or any vegan milk instead of cow's milk
Use coconut oil or any flavorless oil instead of melted ghee
Tips for best Oats eggless pancake
Grind oats into fine powder
Use only overripe banana
Rest the batter for at least 15 minutes
Always add baking powder just before making pancakes
Flip pancakes after it bubbles
Oats batter rested for a long time might turn thick so add little water /milk as required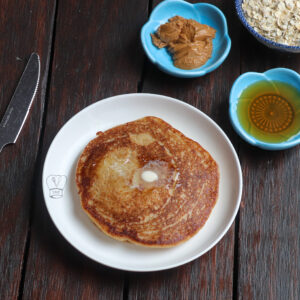 For the banana pancake video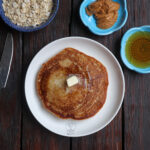 Print Recipe
Oatmeal pancake
Ingredients
oats 1 cup I used 1 minute instant oats

flaxseed meal 1 tbsp

Milk 1 cup

cinnamon powder 1/4 tsp

overripe big banana 1

vanilla extract 1/8 tsp

melted ghee 1 tbsp

baking powder 1/4 tsp
Instructions
Firstly take oats to a mixie jar and grind them into a fine powder

Furthermore add flaxseed meal, milk, cinnamon powder, banana, and vanilla extract and grind well

Transfer the batter to a wide mixing bowl

Add ghee; mix well and rest for 15 minutes

Finally, add baking powder and rest the batter for 2 minutes. Meanwhile heat griddle

Add 1/4 cup of batter and do not spread the batter. Allow it to spread on its own

Add little butter/ ghee around the pancake and on the top

Cook the pancake on low medium heat for half a minute or until bubbles appear over the pancake

When the pancake turns to a nice golden shade, flip it over and cook for half a minute and transfer it to the serving plate
Video
Notes
Fine oats flour gives the best eggless banana pancake so I would recommend grinding the oats first

Flaxseed meal gives the soft, fluffiness, and fiber content to the pancake. You can use 1 egg instead of a flaxseed meal. Skipping flaxseed meal might alter pancake texture
Avoid raw bananas. Always use overripe banana as it gives the best flavor and texture to the oats pancake. I prefer grinding the banana but instead, you can even mash them. You can also add extra sugar based on your sweetness
you can make pancakes with just oats, bananas, and milk, but pancakes might turn dense and the taste will also differ.
Always rest the batter for at least 15 minutes as it helps for the soft and fluffy pancakes.
Baking powder helps for a soft and spongy texture so I would recommend that. I used 1/4 teaspoon of baking powder but you can even use 1/2 teaspoon for even spongy pancakes.   Skipping baking powder might change banana oats pancake
Vegan banana pancake
Use Almond milk or any vegan milk instead of cow's milk

Use coconut oil or any flavorless oil instead of melted ghee
Tips for best Oats eggless pancake
Grind oats into fine powder

Use only overripe banana

Rest the batter for at least 15 minutes

Always add baking powder just before making pancakes

Flip pancakes after it bubbles

Oats batter rested for a long time might turn thick so add little water /milk as required
Ingredients
oats 1 cup I used 1 minute instant oats
flaxseed meal 1 tbsp
Milk 1 cup
cinnamon powder 1/4 tsp
overripe big banana 1
vanilla extract 1/8 tsp
melted ghee 1 tbsp
baking powder 1/4 tsp
To cook
Ghee/butter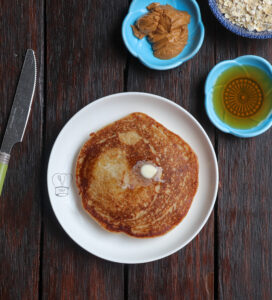 How to make Eggless banana oats pancake with step by step pictures
Firstly take oats to a mixie jar and grind them into a fine powder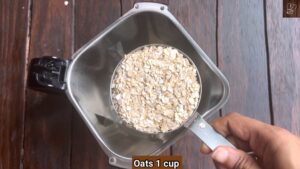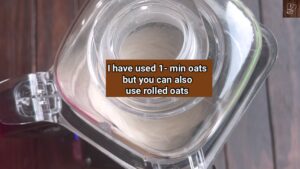 Furthermore add flaxseed meal, milk, cinnamon powder, banana, and vanilla extract and grind well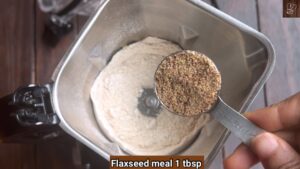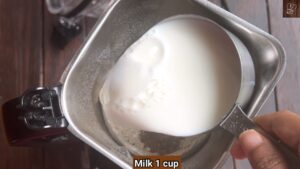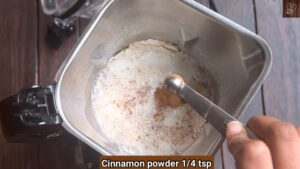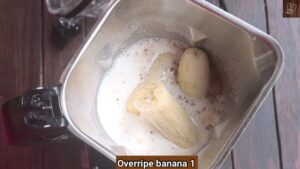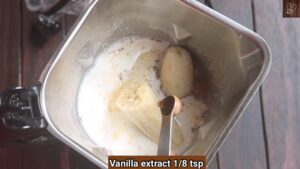 Transfer the batter to a wide mixing bowl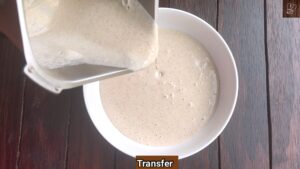 Add ghee; mix well and rest for 15 minutes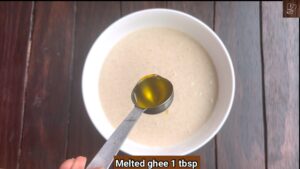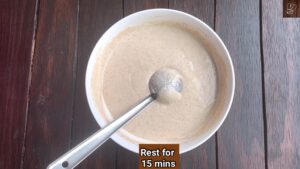 Finally, add baking powder and rest the batter for 2 minutes. Meanwhile heat griddle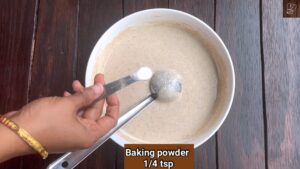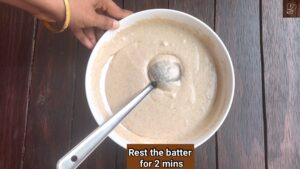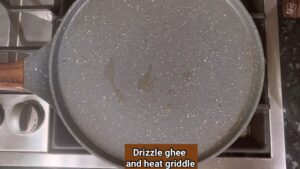 Add 1/4 cup of batter and do not spread the batter. Allow it to spread on its own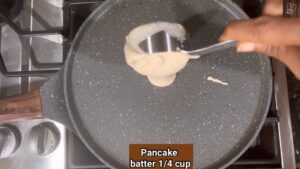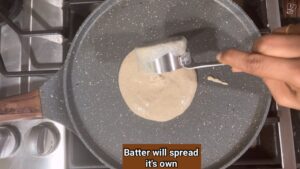 Add little butter/ ghee around the pancake and on the top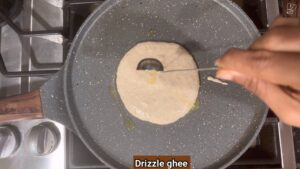 Cook the pancake on low medium heat for half a minute or until bubbles appear over the pancake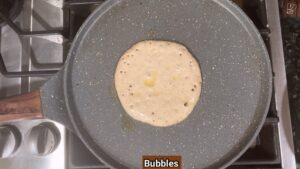 When the pancake turns to a nice golden shade, flip it over and cook for half a minute and transfer it to the serving plate