Caramel Makhana| Caramel Phool Makhana | Gur Makhana | Caramel lotus speed | Caramelized sweet makhana | Roasted caramelized makhana | Caramel Roasted makhana recipe | Jaggery makhana recipe | Phool makhana sweet | sweet makhana | roasted makhana | caramel fox nut | caramel jaggery makhana with step by step pictures and video recipe. Check out the Caramel Phool makhana and If you like the video pls SUBSCRIBE to my channel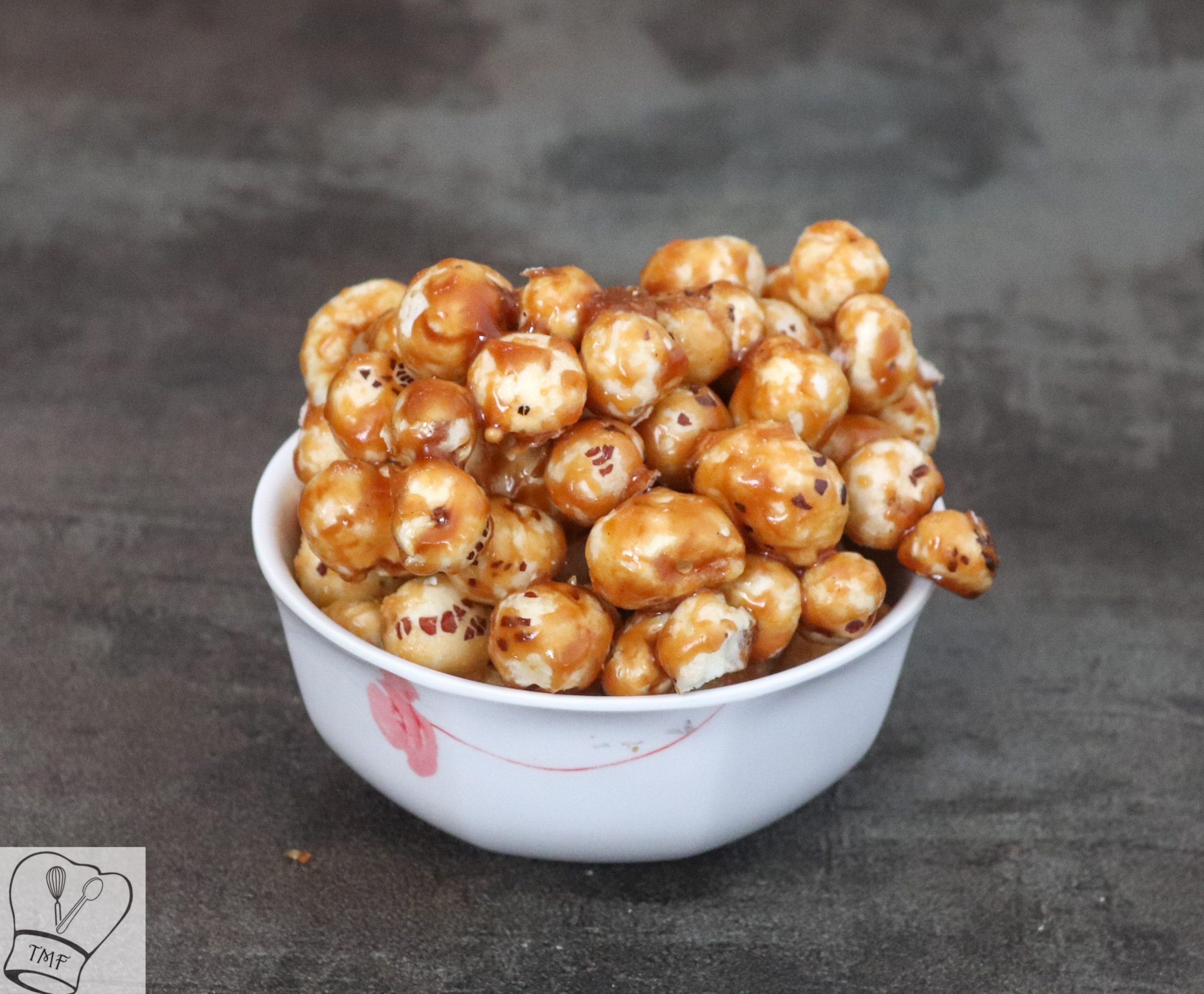 Caramel Phool Makhana recipe| Gur Makhana | Caramel lotus speed | Caramelized sweet makhana | Roasted caramelized makhana | Caramel Roasted makhana recipe | Jaggery makhana recipe | Phool makhana sweet | sweet makhana | roasted makhana | caramel fox nut | caramel jaggery makhana with step-by-step pictures is a tasty Indian snack. Jaggery-based caramel makhana is a tasty snack for kids/adults
For many years I was not aware of these super healthy ingredients. My friend made a roasted makhana recipe for evening snacks. She told me that lotus seeds are low in cholesterol, fat, and sodium. It is good for weight loss and low-calorie snacks. They are beneficial to those suffering from high blood pressure, heart diseases, and obesity due to their high magnesium and low sodium content.
I initially tried a basic Phool makhana recipe but as my son grow older I tried to introduce all his favorite flavors. Use my roasted makhana recipe as a base and make 4 flavorful snacks. It is also one great option for mid-morning and evening hunger.
How to Roast Makhana?
Makhana can be roasted without oil and butter. If you are looking for healthy low cholesterol Indian snacks Phool makhana is one great option to consider. For the perfect roasted makhana recipe roast them in low flame, and while sauteing the foxnuts always make sure they are mixed well for even browning.
Avoid high flame as it might burn the makhana. Depends on the quantity and also the brand cooking time may slightly vary 8 -10 minutes it's all it takes for these super healthy Roasted Makhana recipes.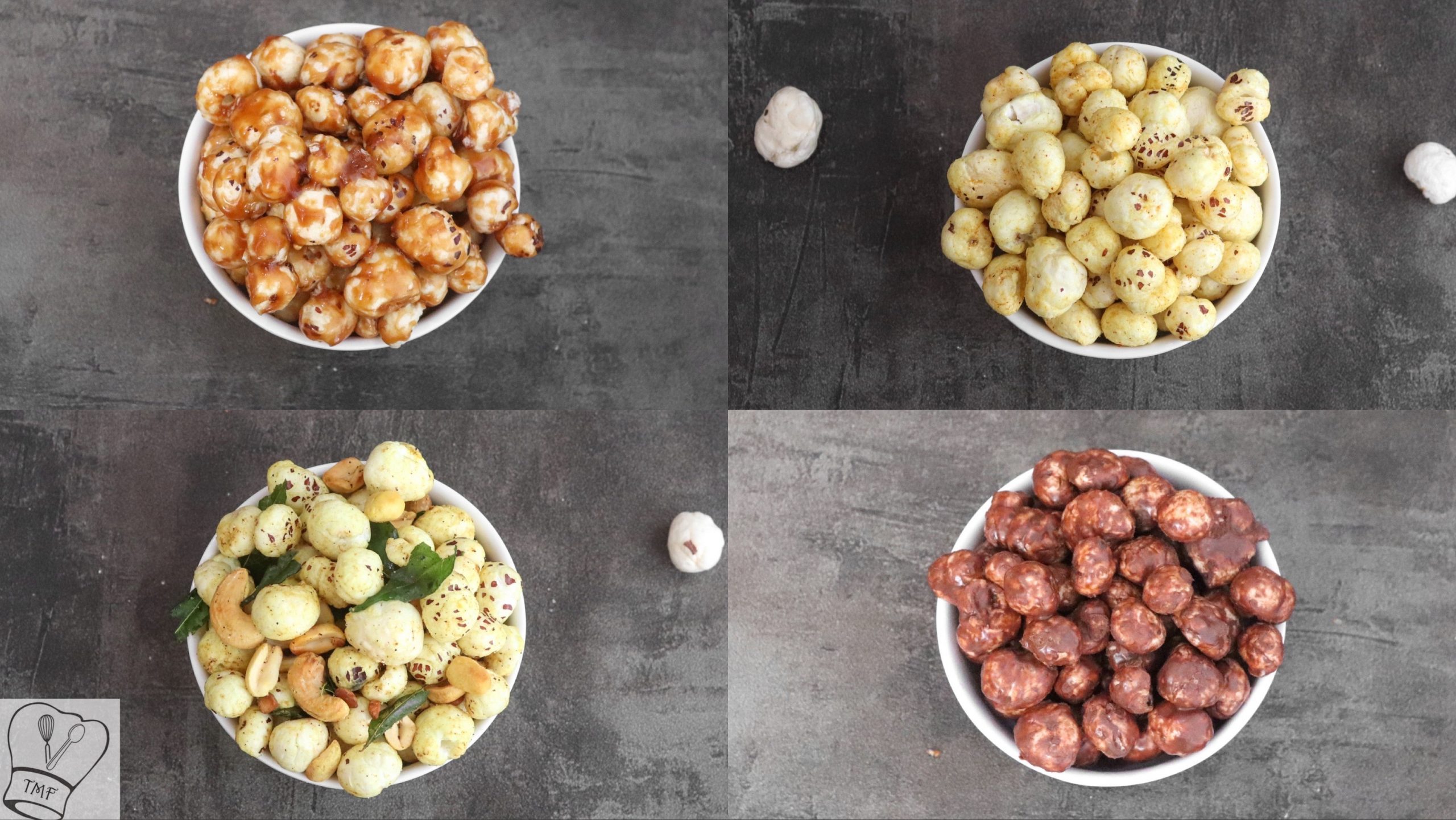 I don't want high-calorie options how else can I consume makhana?
With the Roasted Makhana recipe, you can make a lot of healthy Indian snack varieties. Sprinkle some salt into the Roasted Makhana and remove the excess salt by shaking them in a colander. no oil/ no butter plain salted makhana/salt makhana is ready. If you like to add some good fat add some butter and saute the roasted makhana with salt - tasty buttery makhana is ready.
Can I use sugar instead of jaggery?
Sugar can be very well replaced for jaggery. White sugar takes a little longer time to cook so cook it on low flame until the color changes and let it caramelize. I sometimes mix jaggery and brown sugar and make caramel and it works perfectly fine. The key for a perfect caramel is to take off the stove immediately after it is done and mix the makhana immediately.
Also, check out the Poha chivda and Aval mixture
Indian snacks recipe collection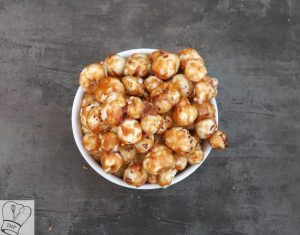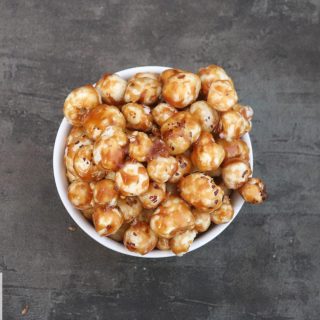 Ingredients
Phool makhana - 1 cup

Jaggery - 35 grams

Ghee - 1 tsp

Cardamom powder- pinch
Instructions
Dry roast makhana in low flame for 8 -10 minutes. keep mixing well to avoid browning

Cook till the makhana turns crispy and crunchy

In a heavy-bottomed pan add ghee and jaggery

Keep stirring it well and break the jaggery crystals

Cook till the jaggery is completely melted and switch the stove immediately

Move the pan to some other surface and add makhana

Mix well. Caramel Phool Makhana is done. Initially, it becomes sticky but it turns fine as they cool down
Video
Notes
I have made caramel fox nuts with jaggery and sugar in equal proportion and it works well
The Key is to turn it off immediately after the jaggery melts else it will become hard
Always move the pan away from the stove after jaggery melts to avoid caramel getting hard
Vanilla extract can be added for extra flavor
Sesame seeds, cashew, or nuts of choice can be added for extra crunch
Adjust the jaggery according to the taste you prefer. I prefer a mild coating so that it tastes caramel and it is not overpowering
Preferably use powdered jaggery or comparatively smaller crystals. If jaggery pieces are big it might turn burnt or jaggery might overcook
Always cook the caramel in low flame
Ingredients:
Phool makhana - 1 cup
Jaggery - 35 grams
Ghee - 1 tsp
Cardamom powder- pinch
How to make caramel phool makhana with step by step pictures:
Dry roast makhana in low flame for 8 -10 minutes. keep mixing well to avoid browning

Cook till the makhana turns crispy and crunchy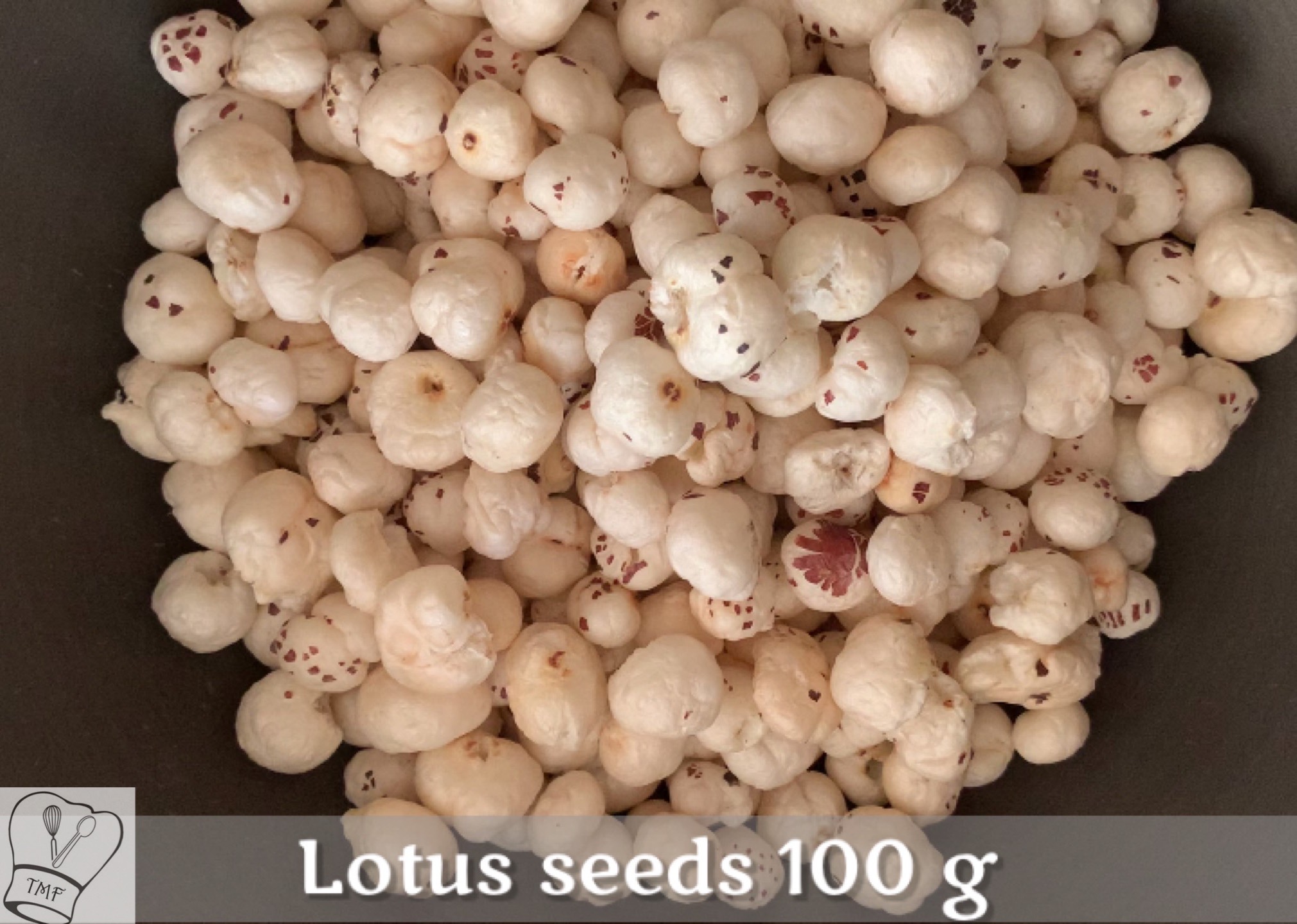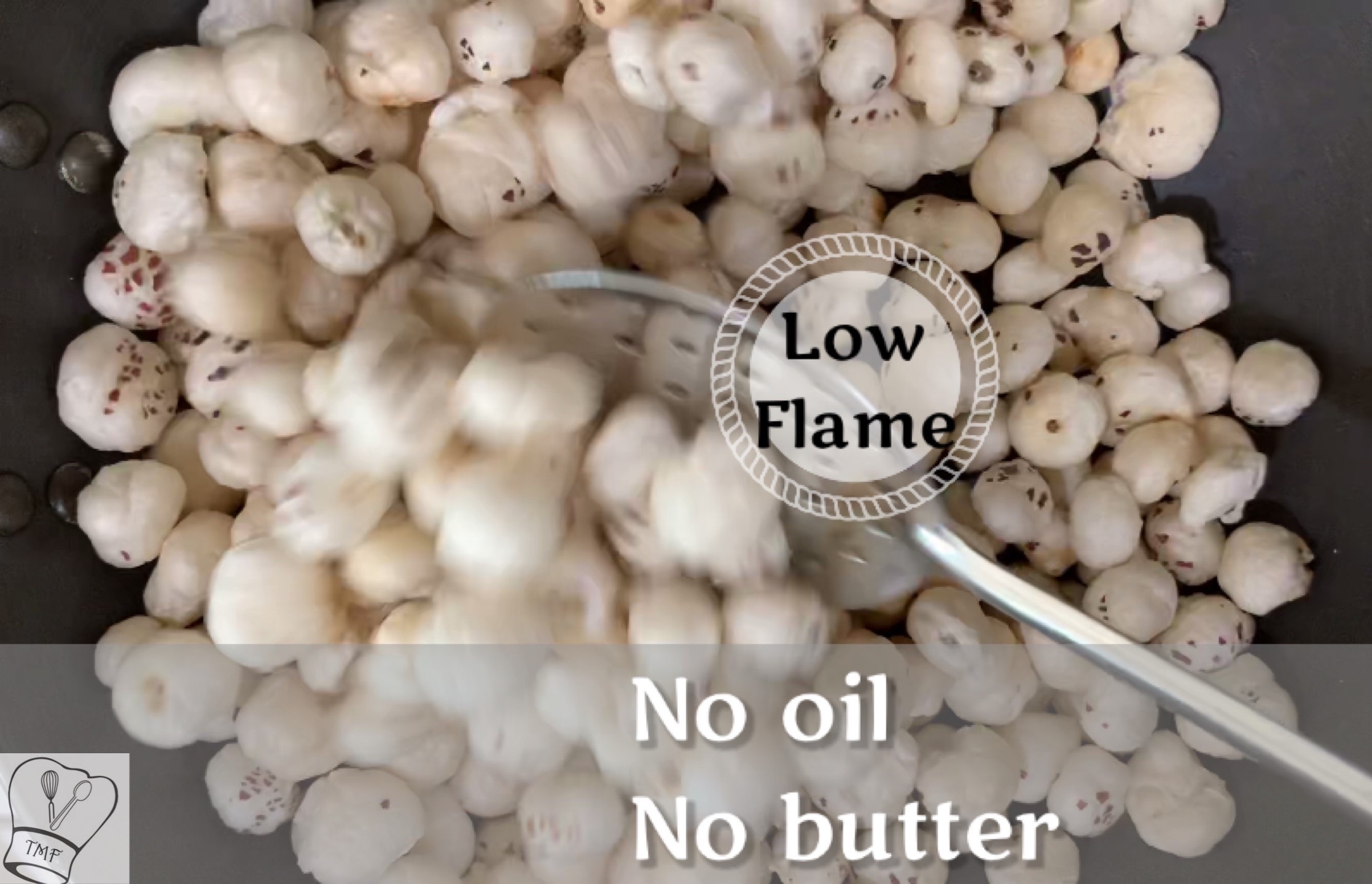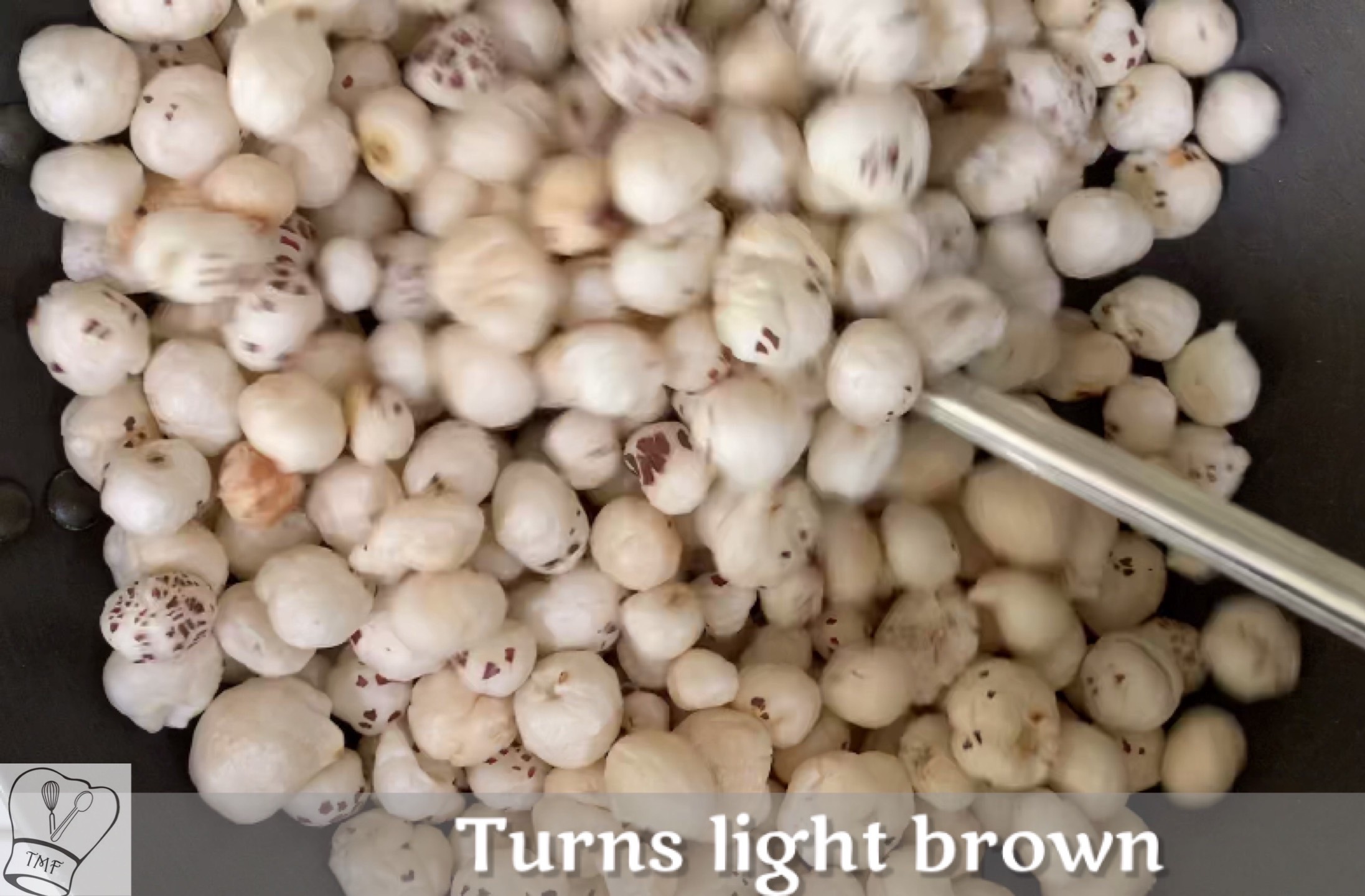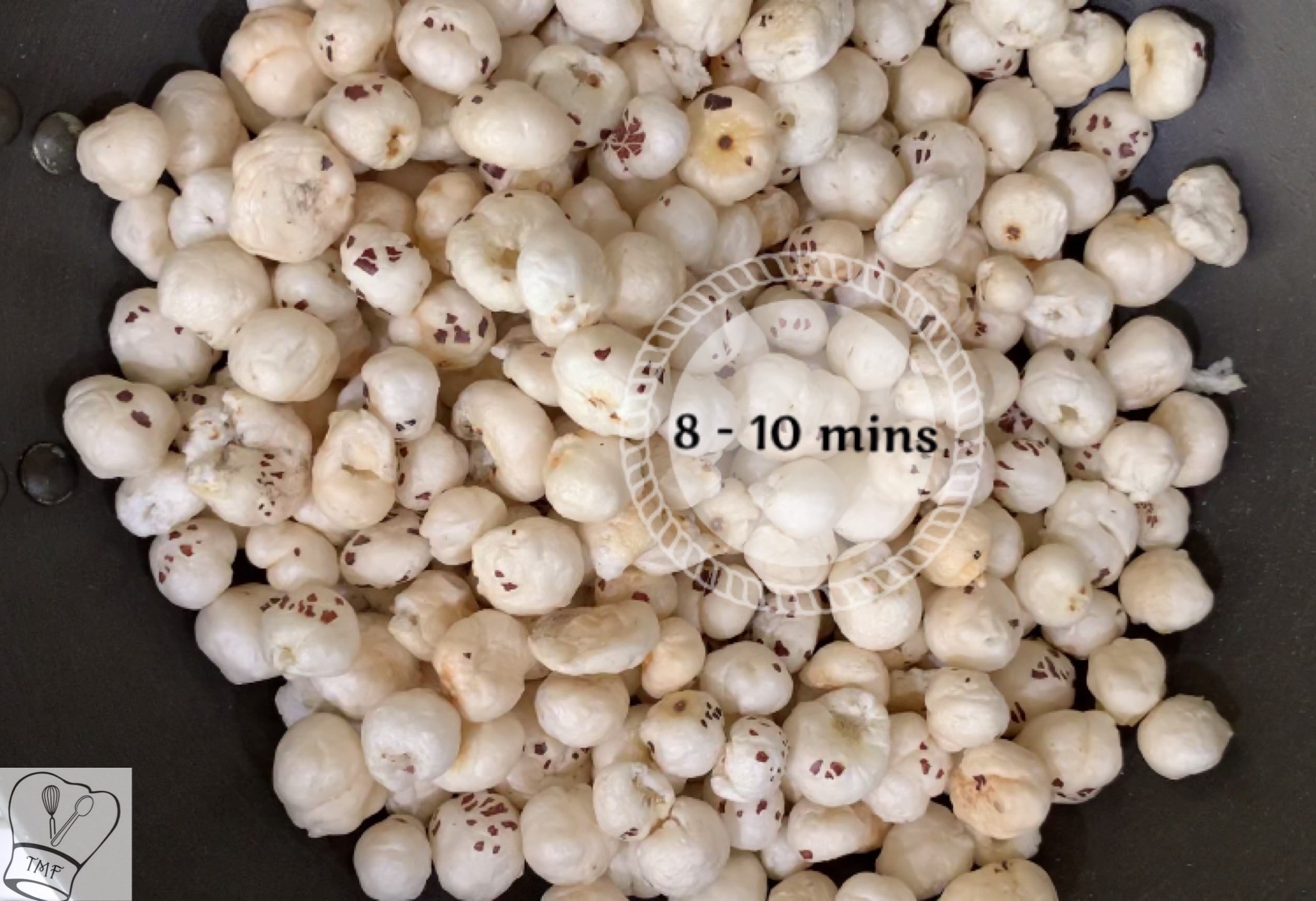 In a heavy-bottomed pan add ghee and jaggery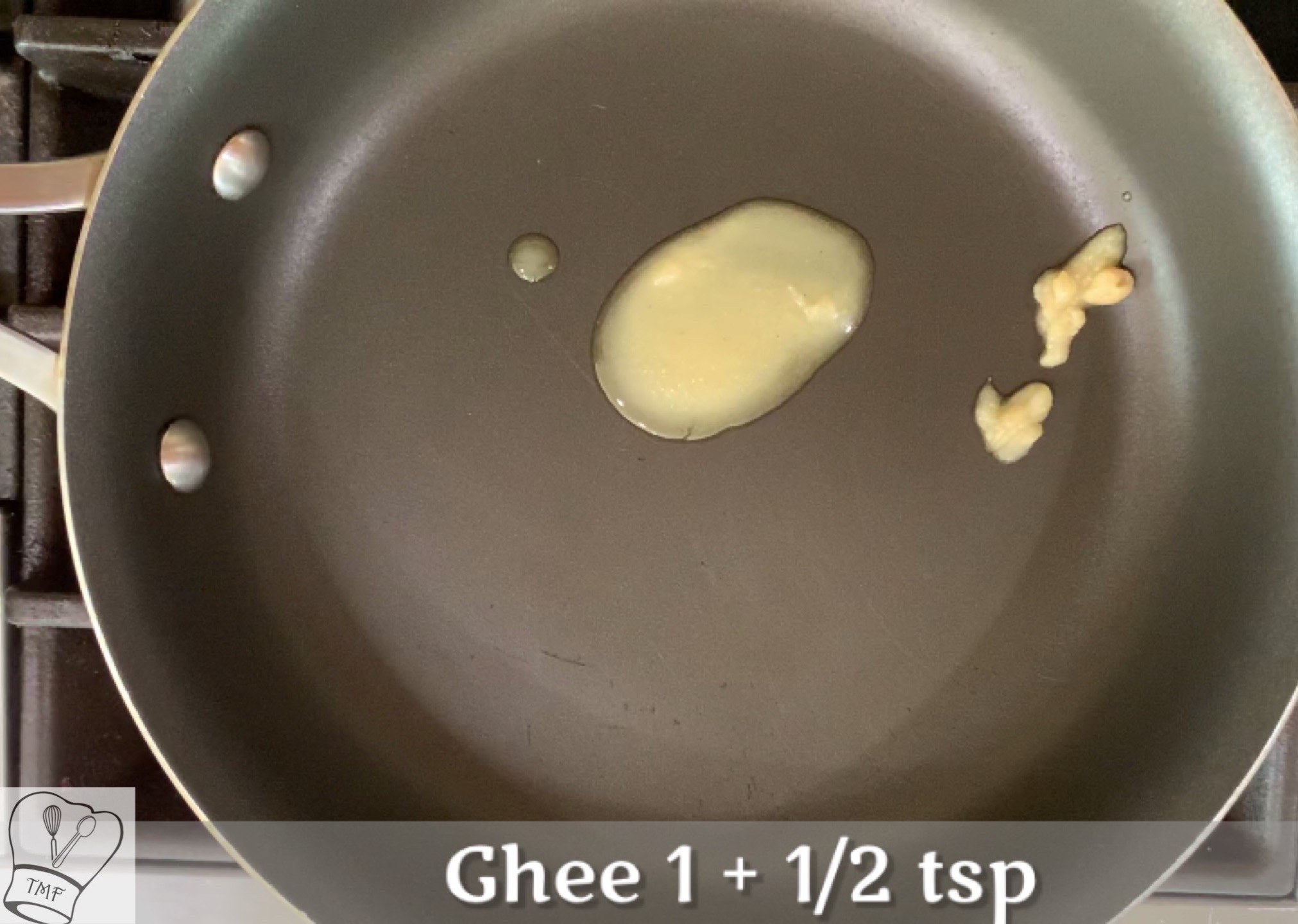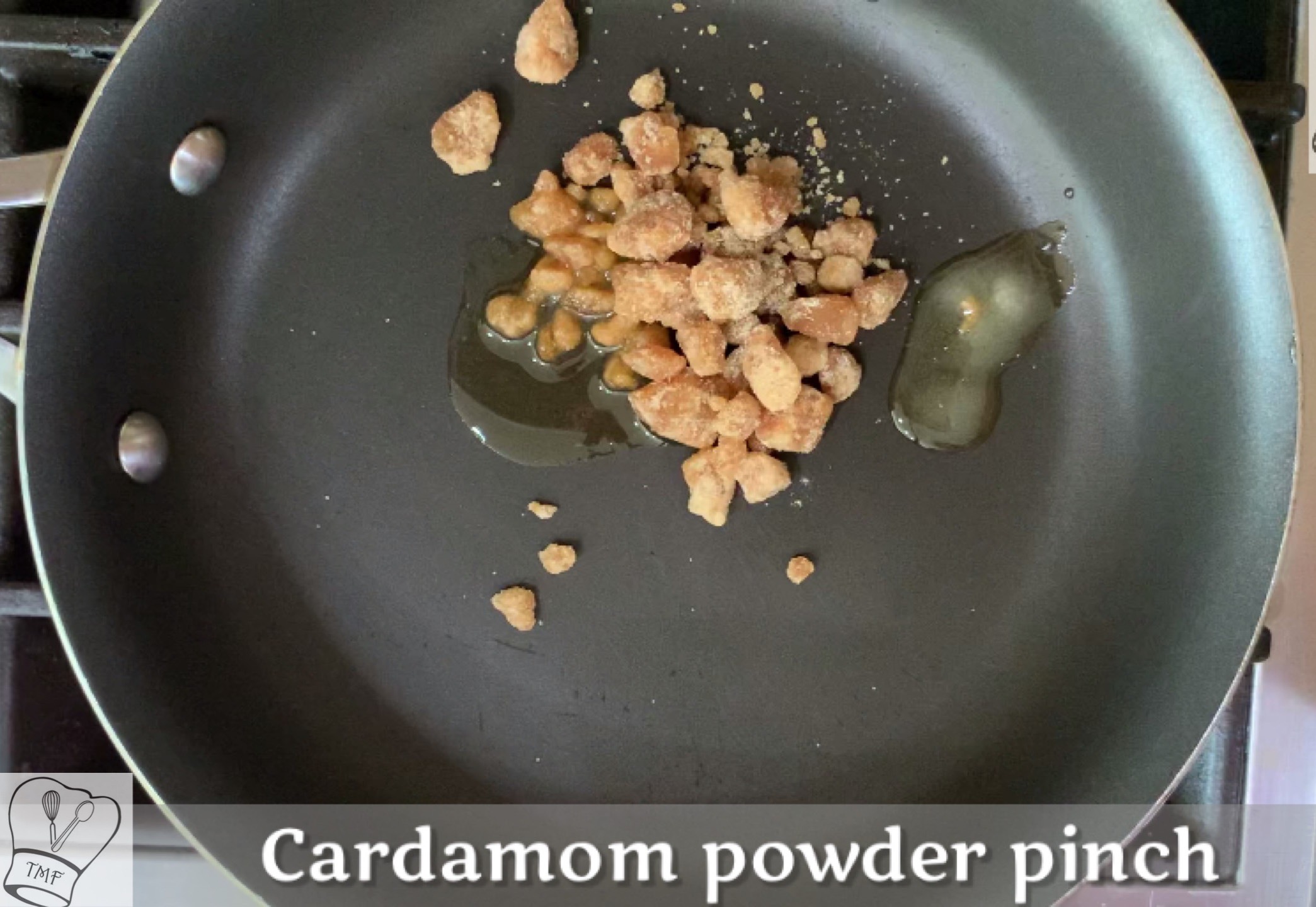 Keep stirring it well and break the jaggery crystals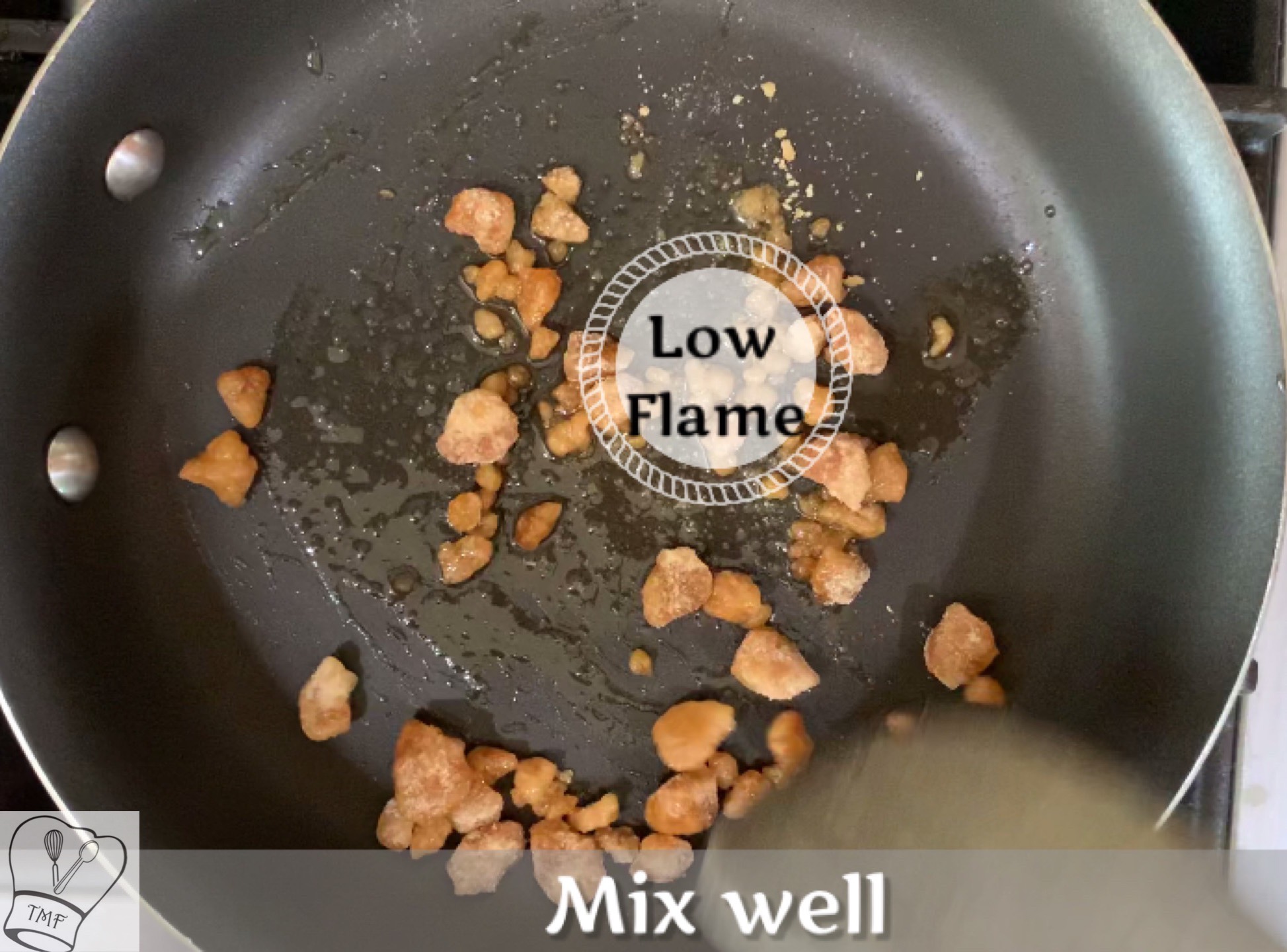 Cook till the jaggery is completely melted and switch the stove immediately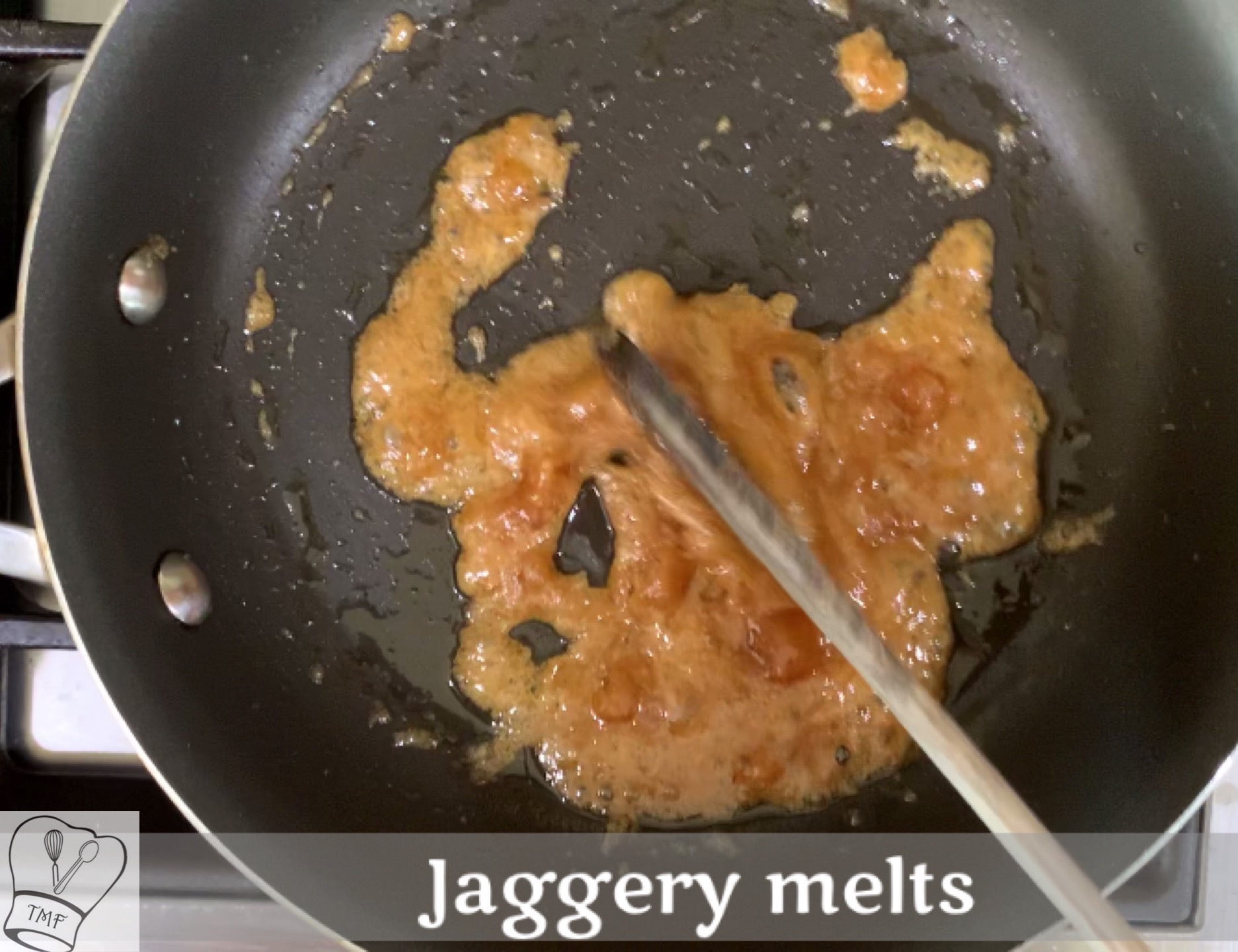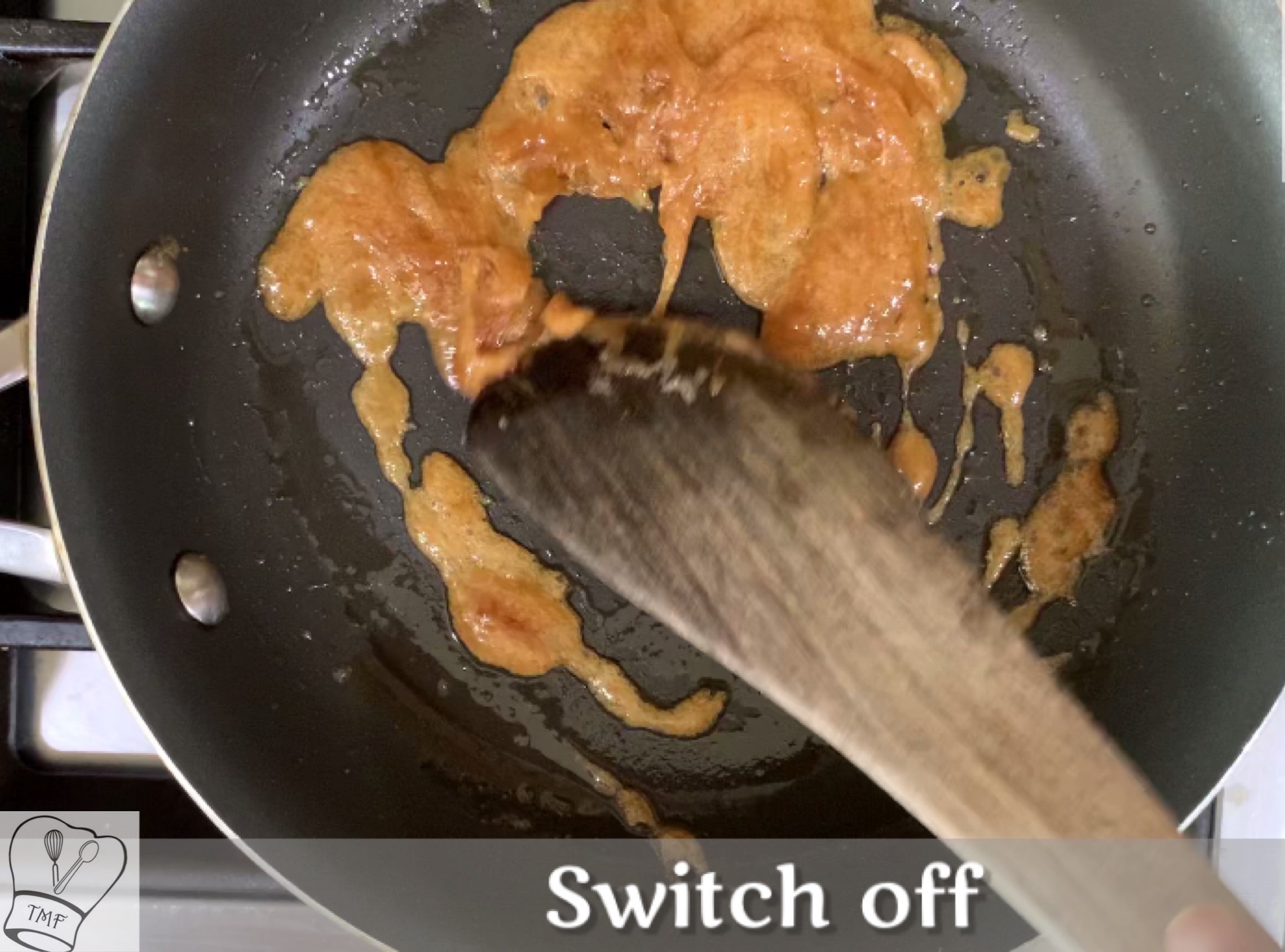 Move the pan to some other surface and add makhana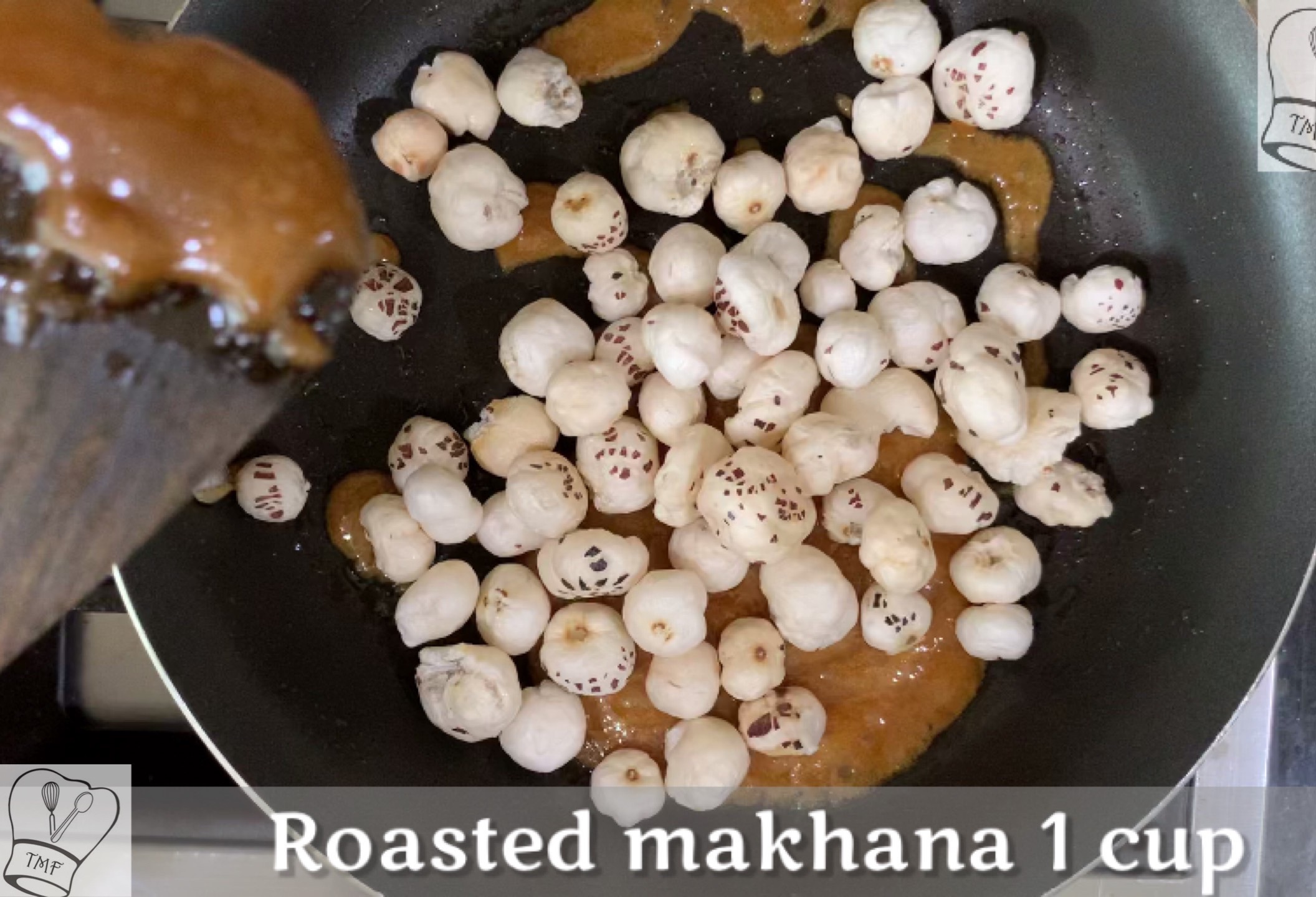 Mix well. Caramel Phool Makhana is done. Initially, it becomes sticky but it turns fine as they cool down