Chana dal pulao | Chana dal rice | dal chawal | punjabi chanal dal khichdi | Chana dal biryani in pressure cooker | chana biryani| how to make biryani recipe in cooker | easy one pot biryani | easy pressure cooker kadala paruppu briyani | quick biryani | kadalai paruppu briyani | restaurant-style biryani recipe | one pot biryani | Chana dal pulao lunch box recipe step by step pictures and video recipe. Check out the Chana dal biryani in the pressure cooker video and If you like the video pls SUBSCRIBE to my channel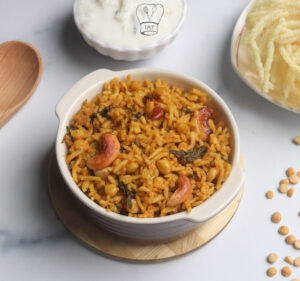 one pot chana dal BIRYANI
soaked chana dal cooked in ground masala makes the best flavorful one-pot, protein-rich pressure cooker spicy pulao. Perfect for a weekday meal. It is also a tasty main course for get together, dinner parties, etc.
Soak chana dal
Soaking chana dal overnight helps for perfectly cooked chana dal. If you forget to soak overnight, soak in hot water for at least 3 hours till they turn the soft press. If chana dal is not soaked well, chana might not cook properly.
Can I skip coconut?
Yes grinding coconut is optional but coconut gives the best flavor to kadala paruppu sadham so I would highly recommend that.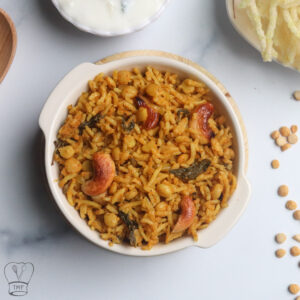 Can I skip grinding?
If you are not using coconut you can skip grinding too. saute tomato and add other masala powder after sauteeing.
Can I use coconut milk instead of coconut?
Yes in that case adjust the water accordingly.
CAN I add BIRYANI MASALA
Yes in that case adjust other masala powders accordingly.
RICE FOR pulao
I have used basmati rice. You can use any variety of rice according to your choice. Adjust water accordingly.
SHOULD I SOAK RICE?
I soaked the rice for 20 minutes. adjust the soaking time according to the rice variety you use.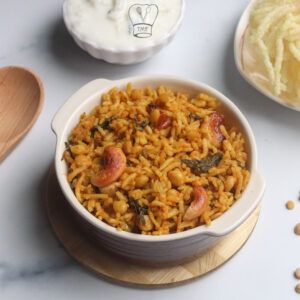 CAN I skip ghee FOR COOKING?
Ghee gives amazing flavor to the biryani so I use prefer using both oil and ghee.
Should I add more tomatoes?
I added 1/4 cup of tomatoes. If you are adding curd, reduce tomatoes accordingly
SIDE DISH FOR BIRYANI
Biryani goes well with raita varieties, gutti vankaya kura, kathirikai chops, plain kurma, mirchi salan, and raita
CAN I COOK cooker chana dal biryani IN THE INSTANT POT?
Yes, for the instant pot version avoid soaking the rice. Add 3/4 cup of water cook for 5 minutes and do natural pressure release.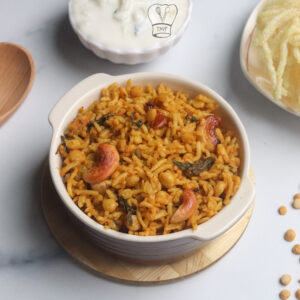 Ingredients
To soak chana dal
1/4 cup chana dal
3/4 cup water
To soak rice
1/2 cup basmati rice
water to soak
Grind masala
1/4 cup tomato
1 clove
small piece of cinnamon
1 cardamom
1/4 teaspoon turmeric powder
2 garlic
1/8 teaspoon ginger powder
1 teaspoon kitchen king masala
1/2 teaspoon kashmiri chilli powder
1/4 cup coconut
1/2 teaspoon garam masala
water to grind
biryani in a pressure cooker
1 tablespoon peanut oil
1/4 teaspoon fennel seeds
1 tablespoon ghee
1/4 cup onion
mint and coriander leaves few
1 cup water
1/4 teaspoon sesame oil
5 cashews
how to make chana dal pulao in a pressure cooker with step-by-step pictures
Soak chana dal
wash chana dal and soak overnight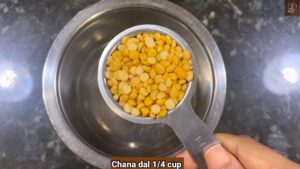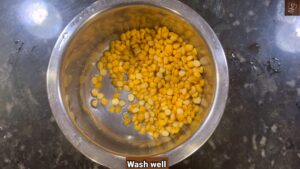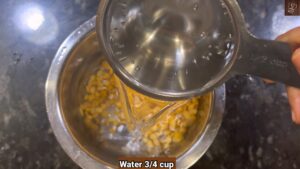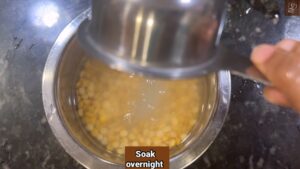 Soak rice
wash and soak for 20 minutes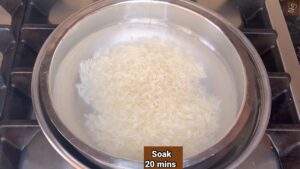 grind masala
Add the ingredients mentioned under "grind masala" to a mixie jar; and grind well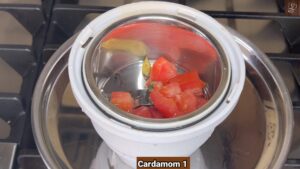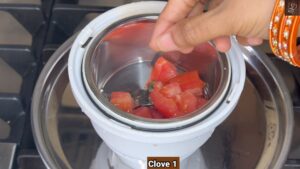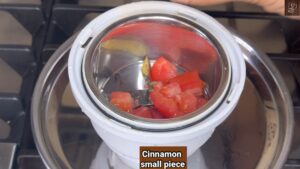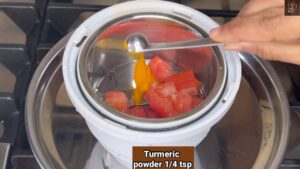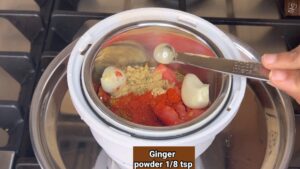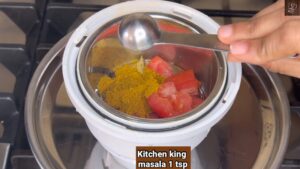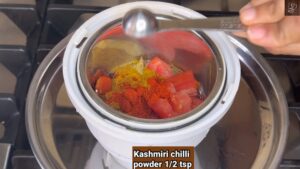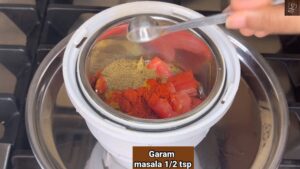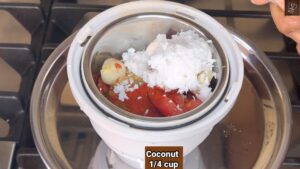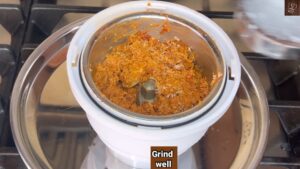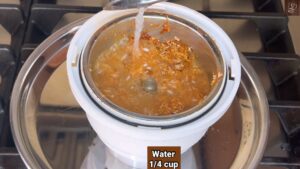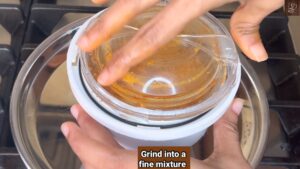 Chana dal Biryani in cooker
Add oil and ghee to the pressure cooker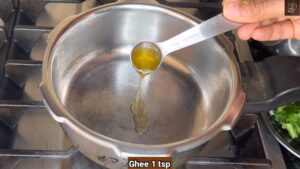 Turn on the stove to medium flame and heat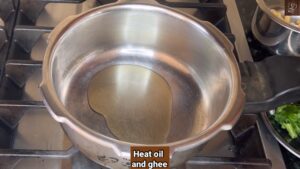 Add cashews; mix well and saute till cashew starts to change color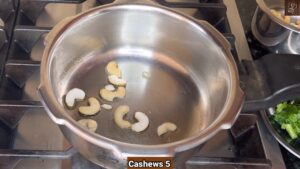 Turn off the stove. transfer and turn on the stove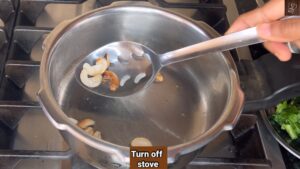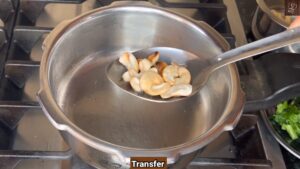 add fennel seeds, and splutter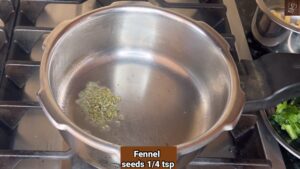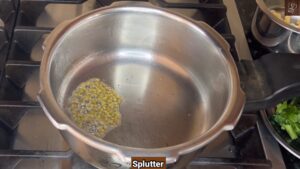 Furthermore, add onion, green chili; mix well and saute till onion turns translucent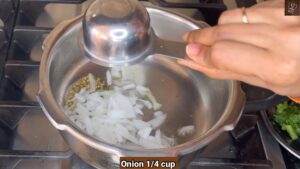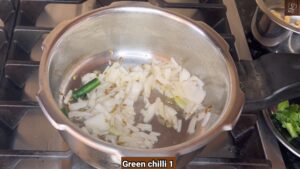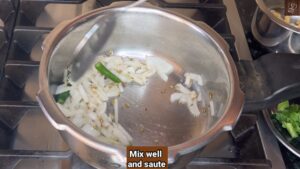 Add ground mixture; mix well and saute for 4 minutes till moisture evaporates and the raw smell goes off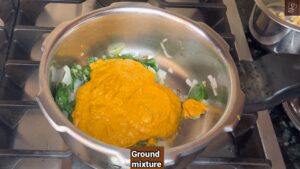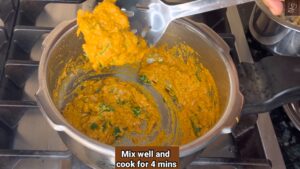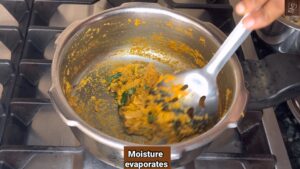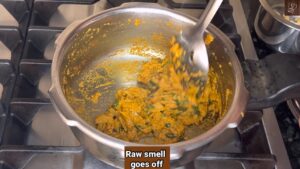 Furthermore add soaked dal and required salt; mix well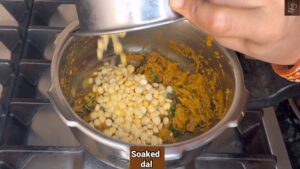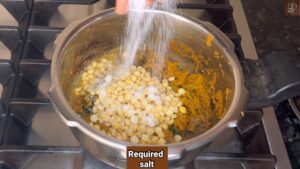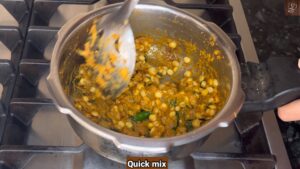 Add water; mix well and bring to boil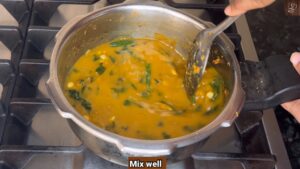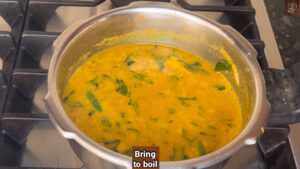 Furthermore, add rice; mix gently and bring to boil
Make sure nothing is stuck to the pan
Finally, add sesame oil and pressure cook for two whistles; turn off the stove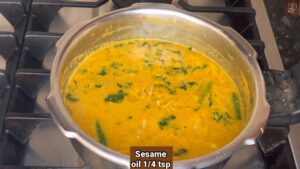 After the pressure subsides naturally, open the cooker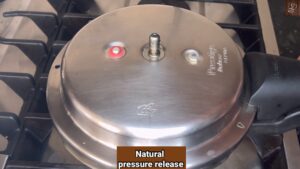 Add roasted cashews and Gently fluff the rice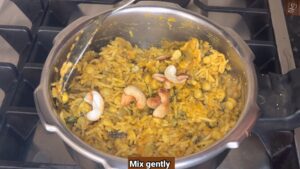 Ingredients
To soak chana dal
1/4

cup

chana dal

3/4

cup

water
To soak rice
1/2

cup

basmati rice

water to soak
Grind masala
1/4

cup

tomato

1

clove

small piece of cinnamon

1

cardamom

1/4

teaspoon

turmeric powder

2

garlic

1/8

teaspoon

ginger powder

1

teaspoon

kitchen king masala

1/2

teaspoon

kashmiri chilli powder

1/4

cup

coconut

1/2

teaspoon

garam masala

water to grind
biryani in a pressure cooker
1

tablespoon

peanut oil

1/4

teaspoon

fennel seeds

1

tablespoon

ghee

1/4

cup

onion

mint and coriander leaves few

1

cup

water

1/4

teaspoon

sesame oil

5

cashews
Instructions
Soak chana dal
wash chana dal and soak overnight
Soak rice
wash and soak for 20 minutes
grind masala
Add the ingredients mentioned under "grind masala" to a mixie jar; and grind well
Chana dal Biryani in cooker
Add oil and ghee to the pressure cooker

Turn on the stove to medium flame and heat

Add cashews; mix well and saute till cashew starts to change color

Turn off the stove. transfer and turn on the stove

add fennel seeds, and splutter

Furthermore, add onion, green chili; mix well and saute till onion turns translucent

Add ground mixture; mix well and saute for 4 minutes till moisture evaporates and the raw smell goes off

Furthermore add soaked dal and required salt; mix well

Add water; mix well and bring to boil

Furthermore, add rice; mix gently and bring to boil

Make sure nothing is stuck to the pan

Finally, add sesame oil and pressure cook for two whistles; turn off the stove

After the pressure subsides naturally, open the cooker

Add roasted cashews and Gently fluff the rice
Video