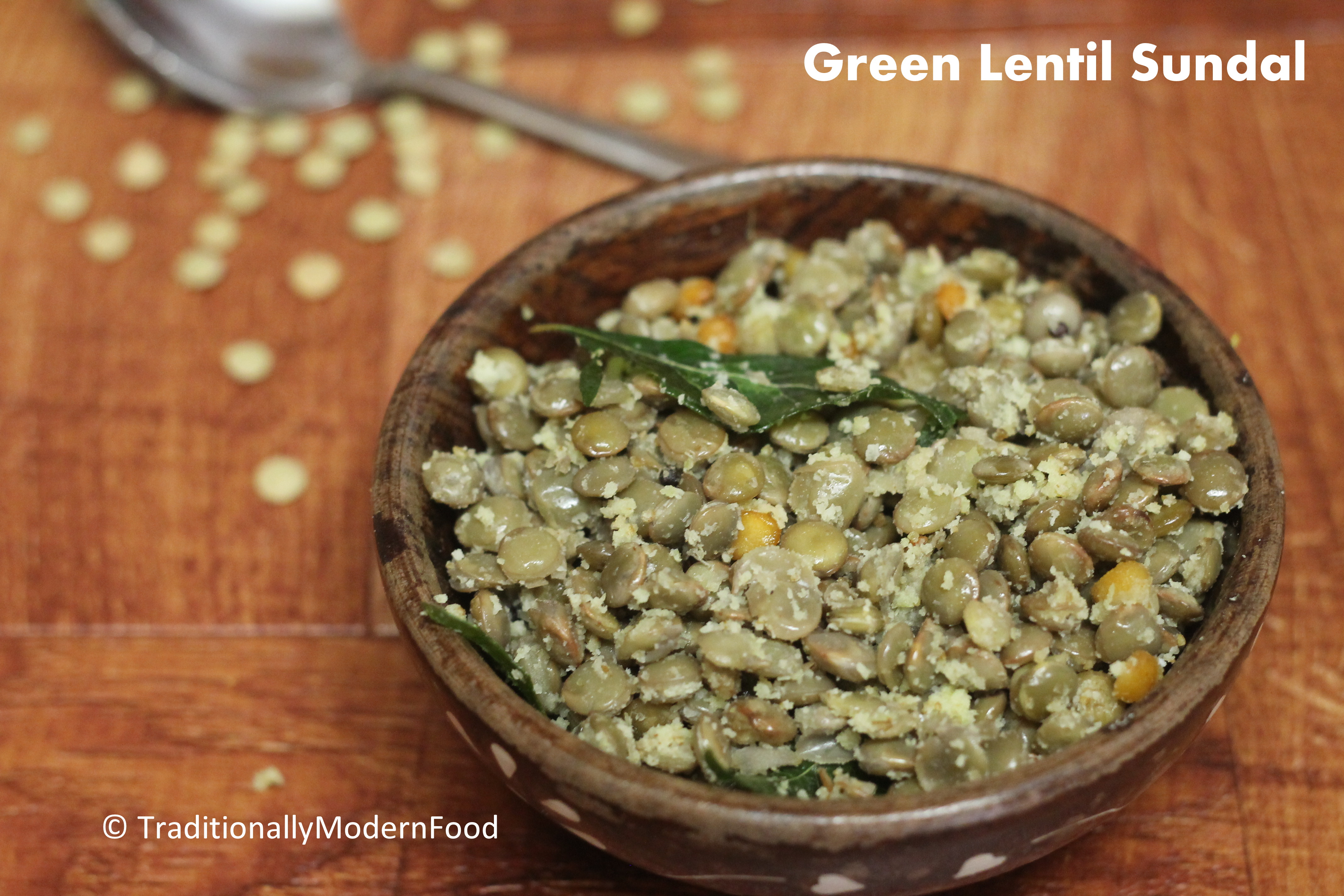 Green lentil sundal | lentil sundal is a healthy snacks prepared with green lentil. Coconut gives nice flavor to this sundal.
Highlight of gollu is tasty sundal prepared during each day. My Amma says certain sundal are prepared on specific days but I randomly prepares Sundal based on the ingredients I see from my pantry.
Day 2 of Navartri. I forgot to soak any lentil for Sundal and was thinking what to do. First I thought of preparing frozen peas sundal or corn Sundal but I didnt have enough peas in stock. I started scanning for some option. I had green lentil which I got for making green lentil rice. Other than rice I usually make dal using it. Never tried sundal.
TMF needs some new trail either to feature or for bloopers recipe so decided to give it a chance. To my surprise it turned out good. Ginger gave nice flavour along with coconut and asofetida. If you are looking different sundal Green lentil sundal is a nice choice.It tastes great as a dry side dish as well with sambhar, rasam etc. I have soaked the lentil and cooked, instead lentil can also be directly cooked but it takes longer time to cook.
Kids after school snacks collection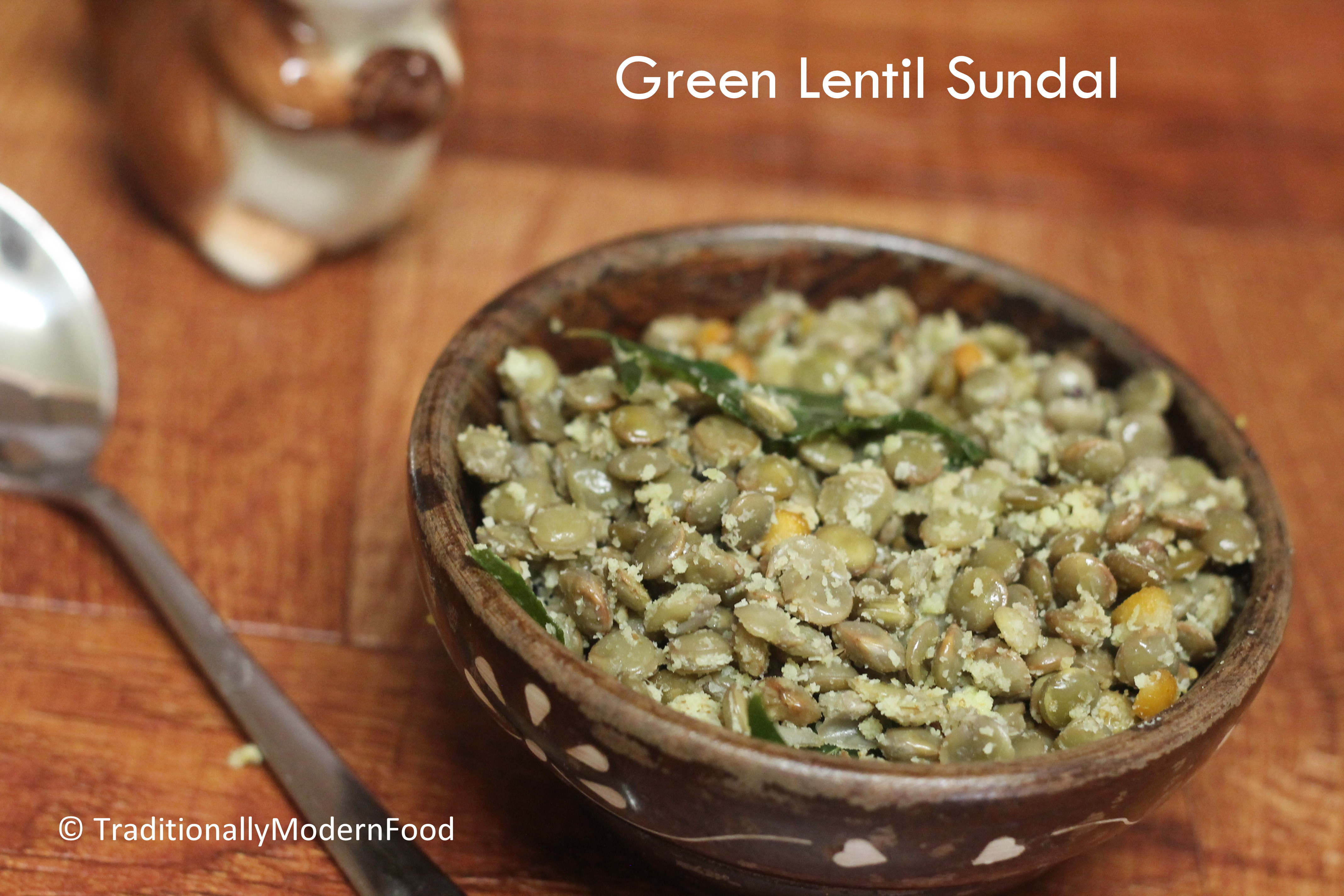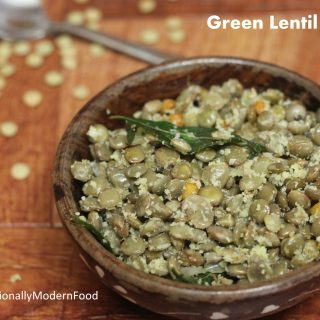 Green Lentil Sundal | Whole Masoor Dhal Sundal
Green lentil sundal is a healthy evening snacks prepared with green lentil.
Print
Pin
Comment
Ingredients
Green Lentil - 3/4 cup

Salt - as needed

To grind:

Coconut - 3 tbsp +1 tsp

Cumin Seed - 1/8 tsp

Green Chilli - 1

medium size ( Adjust according to your taste)

Ginger - 1/8 tsp

peeled and cut into pieces

To temper:

Coconut oil - 1/2 tbsp

Mustard seeds - 1/8 tsp

Urad Dal - 1/2 tsp

I used split one

Channa dal - 1/2 tsp

Curry leaves - few

Red Chillies - 1

Adjust according to your spice level

Asofetida/Hing - generous pinch
Instructions
Soak green lentil in Luke warm water for 1-2 hours and strain it. In pan on medium heat boil water (around 2 cups + 1/2 cup) with little salt, once the water starts boiling add the green lentil, cook for 12-15 minutes or till the dal is soft when pressed with fingers (that ensures the dal is cooked), stirring occasionally to prevent dal from sticking to the bottom of the pan. Switch off, wash it with cold water and strain the water and drizzle a drop of oil and mix gently

Grind the items listed under "to grind" into coarse powder

Add coconut oil to pan and when oil is hot add the ingredients listed under "to temper" and let the mustard seed crackle. Add the cooked dal, little salt ( as we have already added salt while cooking dal) and mix well; cook for a minute. Add the grind mixture and cook for 2 minutes and switch off. Serve hot. Great evening snack is ready:-)
Notes
Dal can be pressure cooked for one whistle if you prefer mushy sundal
Onion can be added for extra flavour
Ingredients:
Green Lentil – 3/4 cup
Salt – as needed
To grind:
Coconut – 3 tbsp +1 tsp
Cumin Seed – 1/8 tsp
Green Chilli – 1, medium size ( Adjust according to your taste)
Ginger – 1/8 tsp (peeled and cut into pieces)
To temper:
Coconut oil – 1/2 tbsp
Mustard seeds – 1/8 tsp
Urad Dal – 1/2 tsp (I used split one)
Channa dal – 1/2 tsp
Curry leaves – few
Red Chillies – 1 (Adjust according to your spice level)
Asofetida/Hing – generous pinch
Method:
Soak green lentil in Luke warm water for 1-2 hours and strain it. In pan on medium heat boil water (around 2 cups + 1/2 cup) with little salt, once the water starts boiling add the green lentil, cook for 12-15 minutes or t

ill the dal is soft when pressed with fingers (that ensures the dal is cooked), stirring

occasionally to prevent dal from sticking to the bottom of the pan. Switch off, wash it with cold water and strain the water and drizzle a drop of oil and mix gently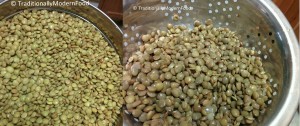 Grind the items listed under "to grind" into coarse powder
Add coconut oil to pan and when oil is hot add the ingredients listed under "to temper" and let the mustard seed crackle. Add the cooked dal, little salt ( as we have already added salt while cooking dal) and mix well; cook for a minute. Add the grind mixture and cook for 2 minutes and switch off. Serve hot. Great evening snack is ready:-)