kadamba Poriyal | mixed veg poriyal | cabbage thengai curry | cabbage curry with step-by-step pictures and video recipe. Check out the Kadamba poriyal and If you like the video pls SUBSCRIBE to my channel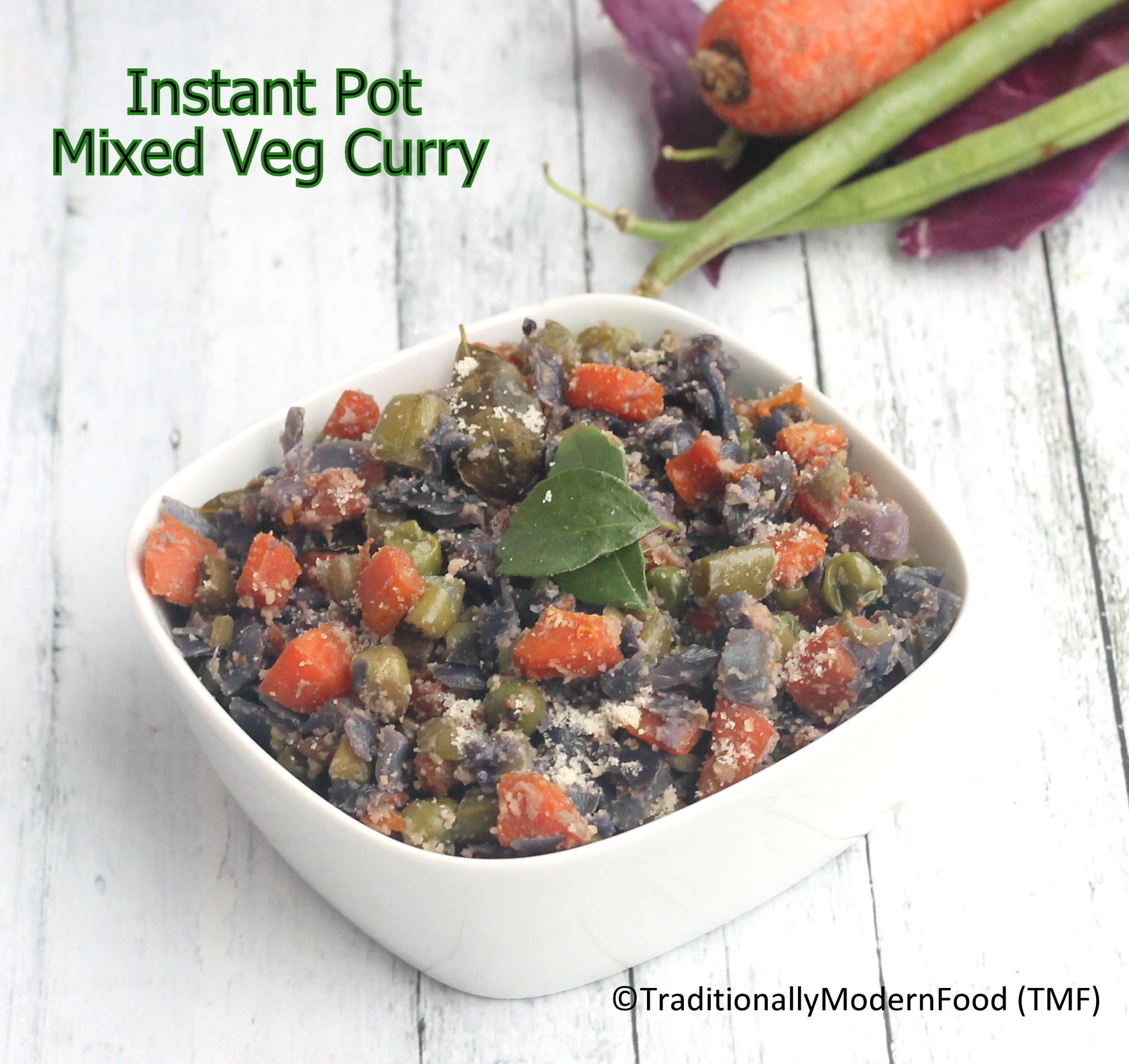 kadamba Poriyal | mixed veg portal | cabbage thengai curry is a quick south Indian dry side dish recipe in Instant pot. Almond flour is used instead of coconut for this curry. This Vegan dry mixed vegetable side goes well with rice. Kadhamba curry can be made within 10 minutes and is perfect for busy mornings.
My almond flour madness continues, but this time I did not make a sweet. Ever since I started buying Almond flour from Costco, I have been using almond flour a lot in cooking. Initially, I used it because I had a big packet in my pantry, but over a period of time I started using it regularly and my family didn't feel much taste difference.
One day when I made kadamba Poriyal I took out the coconut from the freezer, but I was in a hurry to pack hubby's lunch, so I used little almond flour and we all liked it. If used in a small quantity Almond flour is one great replacement for coconut in poriyal, Kootu, Sambar, kurma, etc.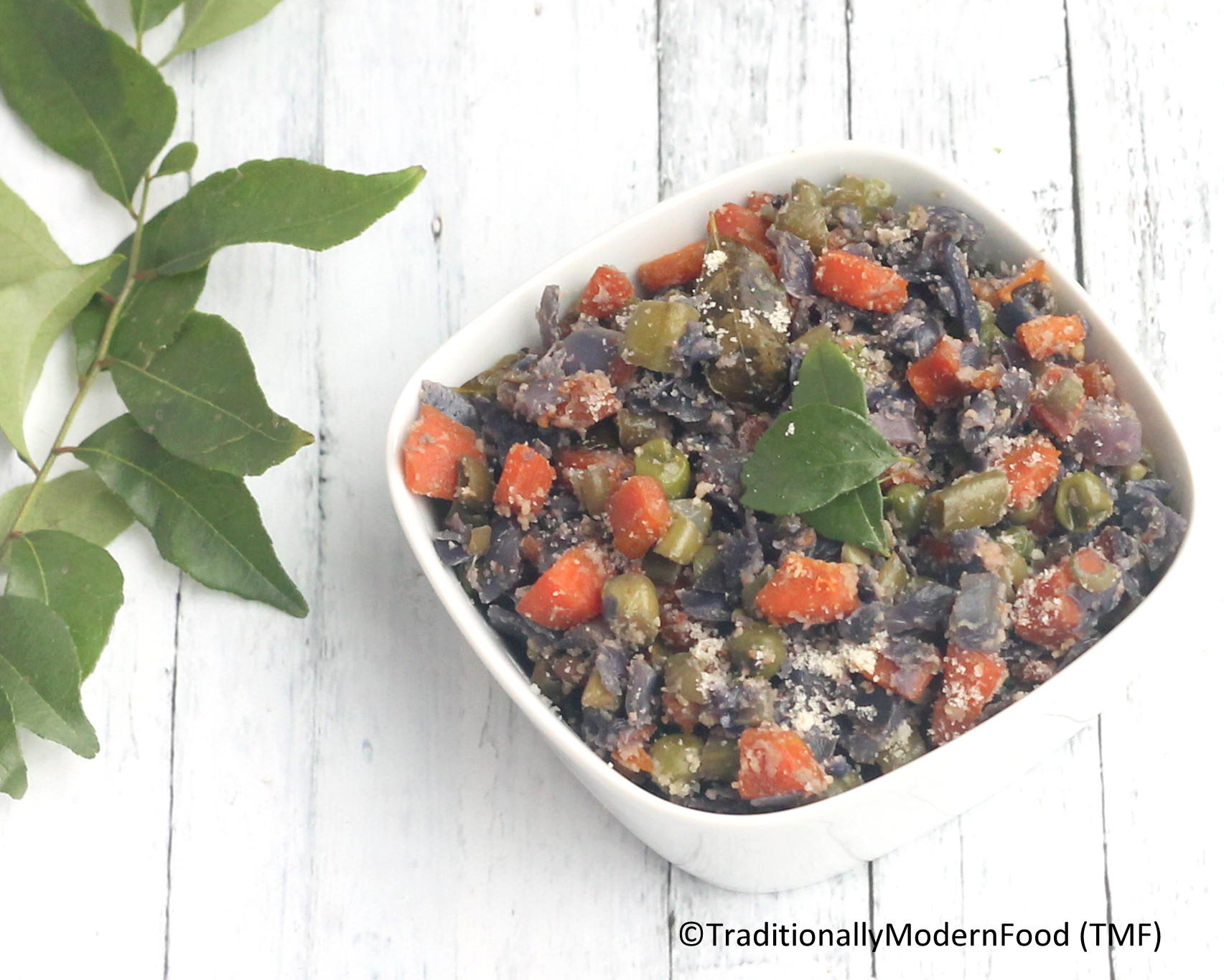 After a few trials and errors, this is my version of Watery and non-watery vegetable combo kadamba Poriyal in an Instant pot. I have used 1 teaspoon of coconut oil for tempering. If you are ready to skip it this curry can be made oil-free. I have used natural pressure release technique. There won't be any burning of veggies. Sometimes if the lid is opened after a long time there might be some extra water, but if cooked in sauté mode, it will be evaporated in less than a minute.
Kadamba (mixed veg) poriyal is made with a combination of carrot, beans, cabbage and peas. Usually towards the end of the week when my fridge has limited veggies I will go for this. Sometime I will also prepare when I load my fridge with veggies.
In our home rice is a must for lunch. Thinking about rice accompaniment and side is one of big confusion. I usually make 6 category of dry vegetable side dish.
Varuval (fry) like potato, arbi, plantain
Thengai (coconut) based curry
Usli
Onion-based curry Avarakkai, capsicum (coming next in TMF)
Thengai Podi Curry
Almond Flour
Nuts Curry
Dry Curry recipe collection in TMF
Almond flour recipe collection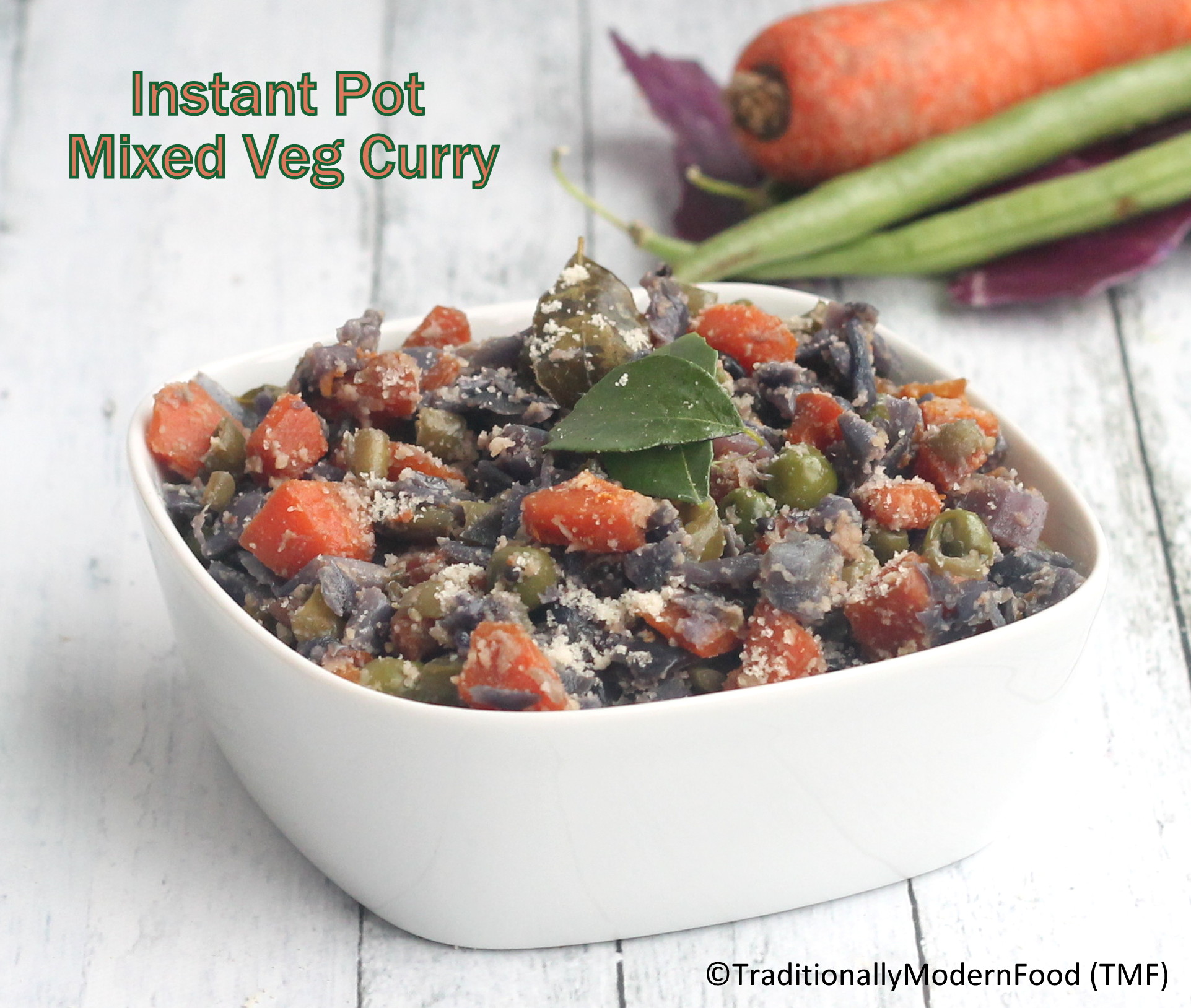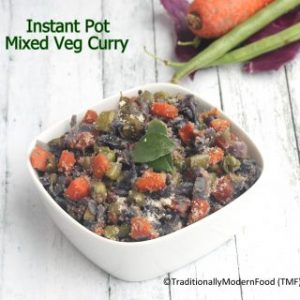 Instant Pot Mixed Vegetable Curry | Kadhamba Kai Poriyal
Quick south Indian style mixed vegetables dry side dish in Instant pot.
Print
Pin
Comment
Ingredients
Cabbage- 1 cup

Carrot - 1/2 cup

Beans - 1/2 cup

Peas - 1/3 cup

Water - 2 tsp

Turmeric powder - 1/8 tsp

Salt - as needed

Sugar - pinch
To temper:
Coconut oil - 1 tsp

Mustard seeds - 1/8 tsp

Channa dal - 1/2 tsp

Urad dal - 1/2 tsp

Green chili - 2

Curry leaves - few

Asofetida - generous pinch
Instructions
Turn on IP in sauté mode add oil and when the oil is hot add ingredients under "to temper" and let it crackle. Turn off the IP

Add all the other ingredients one by one; mix well. Cook in manual mode - high temperature for one minute. Release the pressure manually

Mix well and add almond flour
Video
Notes
Grated Coconut can be added instead of almond flour 
Adjust the spice according to your taste
red chilli can be used instead of green chilli 
The recipe works for any quantity
Regular cabbage can be used instead of purple cabbage
 Turn off the IP before adding veggies else veggies might stick to the pan
 If you see some extra water in veggies cook in sauté mode for a minute 
Chop vegetables into smaller pieces
 If you want to release the pressure manually cook for 2 minutes and release 
If you skip tempering Poriyal can be made with zero oil
Ingredients:
Cabbage- 1 cup
Carrot - 1/2 cup
Beans - 1/2 cup
Peas - 1/3 cup
Water - 2 tsp
Turmeric powder - 1/8 tsp
Salt - as needed
Sugar - pinch
To temper:
Coconut oil - 1 tsp
Mustard seeds - 1/8 tsp
Channa dal - 1/2 tsp
Urad dal - 1/2 tsp
Green chili - 2
Curry leaves - few
Asofetida - generous pinch
How to make Kadamba poriyal:
Turn on IP in sauté mode add oil and when the oil is hot add ingredients under "to temper" and let it crackle. Turn off the IP
Add all the other ingredients one by one; mix well. Cook in manual mode - in sealing at high temperature for one minute. Release the pressure immediately
Mix well and add almond flour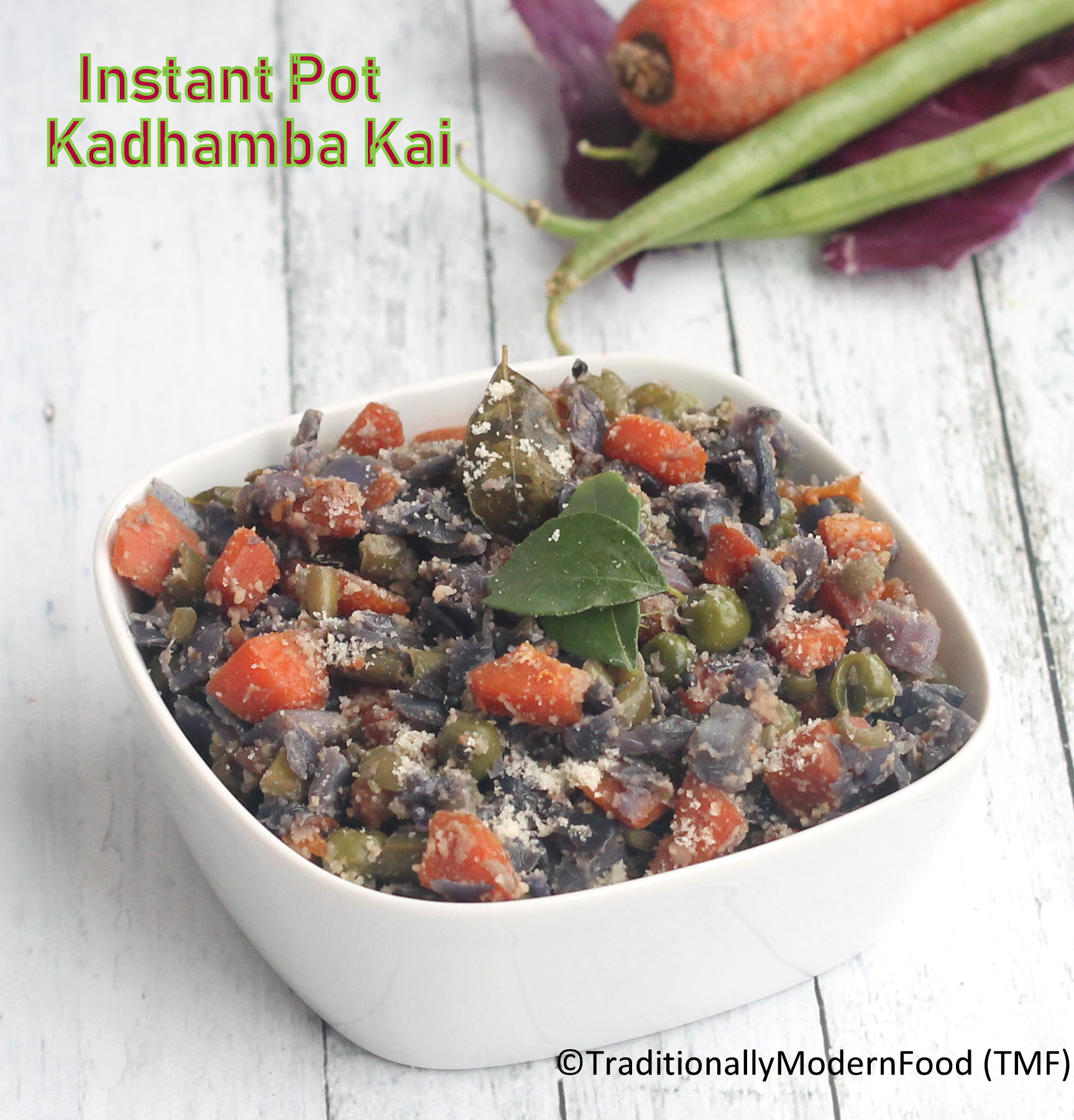 Pls. Follow TMF social media for recipes updates,