Instant pot sambar, Chow chow sambar, vegetable sambar, south Indian sambar recipe, chayote squash sambhar, sambhar recipe, sambar recipe, Sambar without coconut, south Indian sambar recipe, instant pot sambhar, IP sambar with step-by-step pictures, and video recipe. Check out the instant pot Sambar recipe in Tamil and the Instant pot Sambar recipe in English. if you like the video pls SUBSCRIBE to my channel.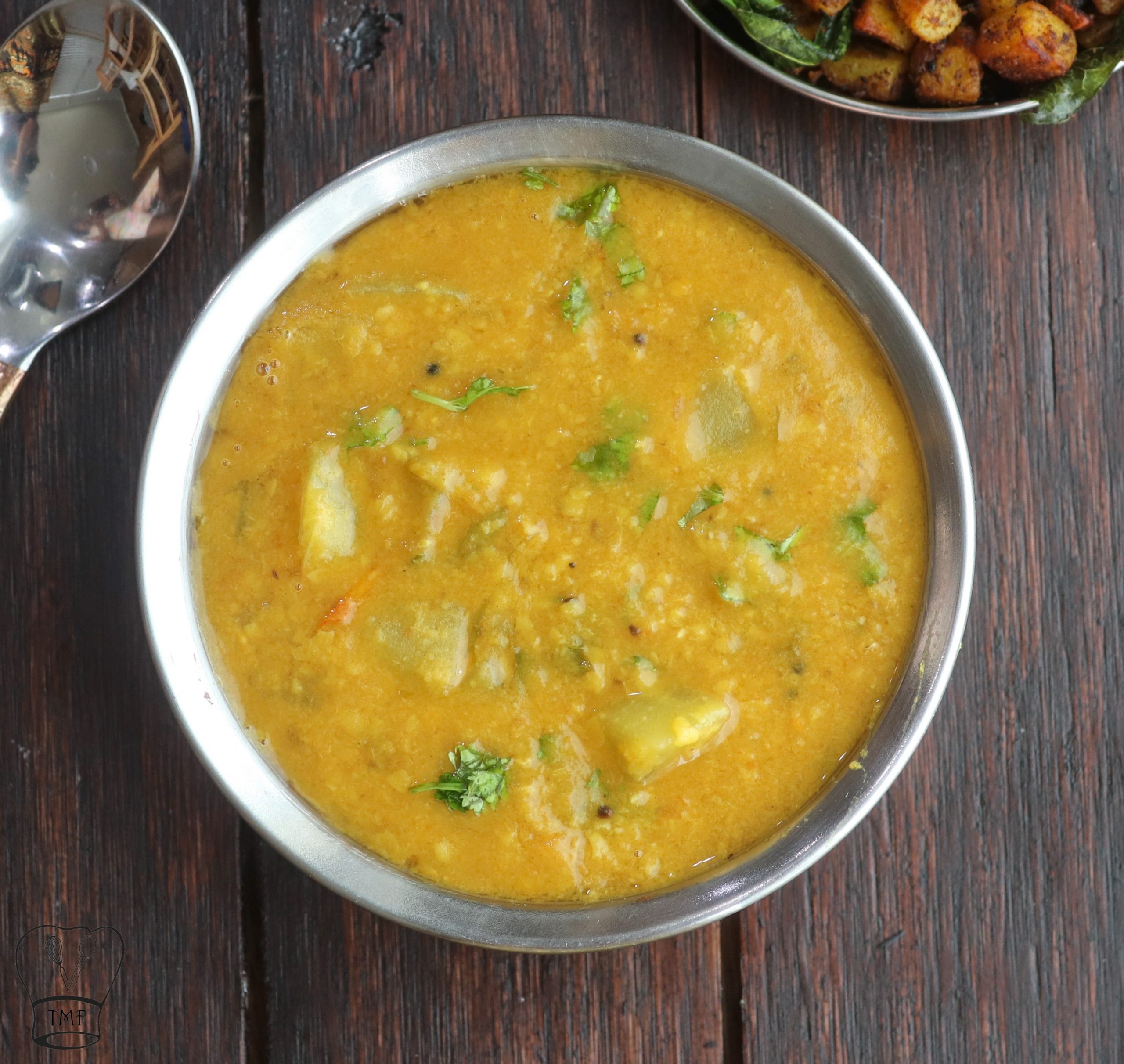 Instant pot Sambar, sambhar, Sambhar recipe, Sambar without coconut, south Indian sambar recipe, vegetable sambar recipe is a traditional South Indian style rice accompaniment prepared with a choice of vegetables, lentil, specially prepared spice (sambar)powder. Instant pot sambhar is super easy to make and no compromise in taste. The detailed recipe with tips and tricks makes it a great beginner-friendly sambar recipe for south Indian cuisine meals.
What is Sambar | Sambhar?
Sambar is one of the most popular traditional south Indian dishes. A good amount of protein, vegetable(s), blended with flavorful sambhar powder - makes it not only healthy & nutritious but also tastes delicious. In our home I do three varieties of sambhar one with sambar powder, the second is Arachuvitta sambar with coconut and the third is sambar with moong dal
What tastes best with sambhar?
Sambhar plays a key role in South Indian cuisine. Sambhar goes well with tiffin varieties like idli, dosa, uthappam, etc. It also tastes great with rice, without sambhar their no special thali/ festive/ wedding lunch / Indian lunch combo
Can I add tamarind and prepare one pot instant pot sambar?
I have tried it many times and I feel dal cooks well and sambar taste and texture turn perfect when tamarind is added after dal is cooked.
Should I always soak toor dal?
Yes, for instant pot sambhar I feel soaking dal gives a perfect sambar consistency. Wash and soak the dal, use the soaked water for sambar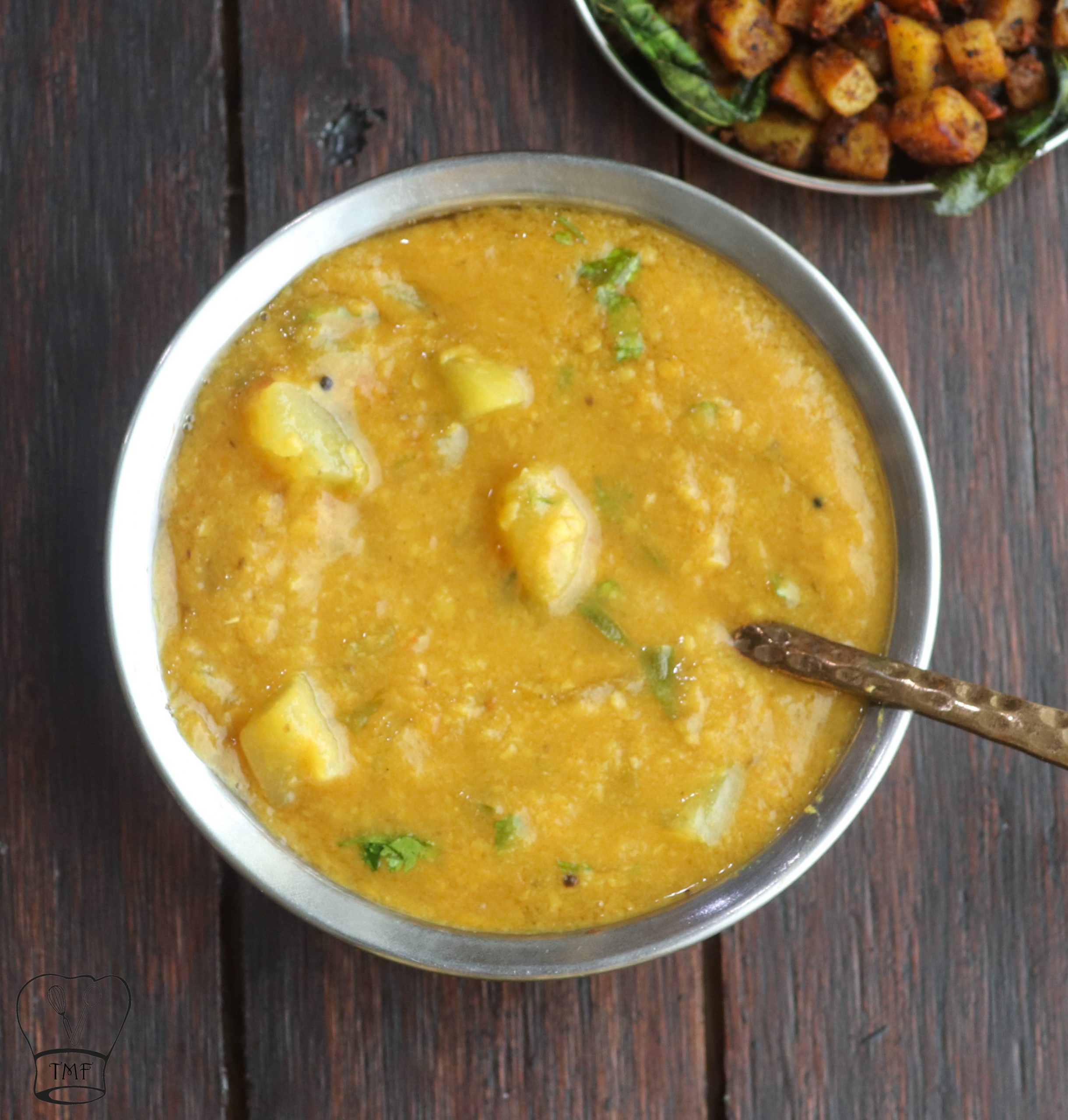 How much water should I add while cooking dal?
It depends on the dal you use. I generally use a 1:3 dal: water ratio. I prefer using "Rice mode" as it adjusts the time based on the dal quantity
Can I make one pot pressure cooker sambar?
Yes, follow the same procedure and pressure cook for 3 whistles and simmer for a minute
What variety of dal should I use for sambhar.
For rice accompaniment sambar I generally use toor dal. For tiffin variety, I sometimes use moong dal. Restaurants/hotels use a combination of toor dal and masoor dal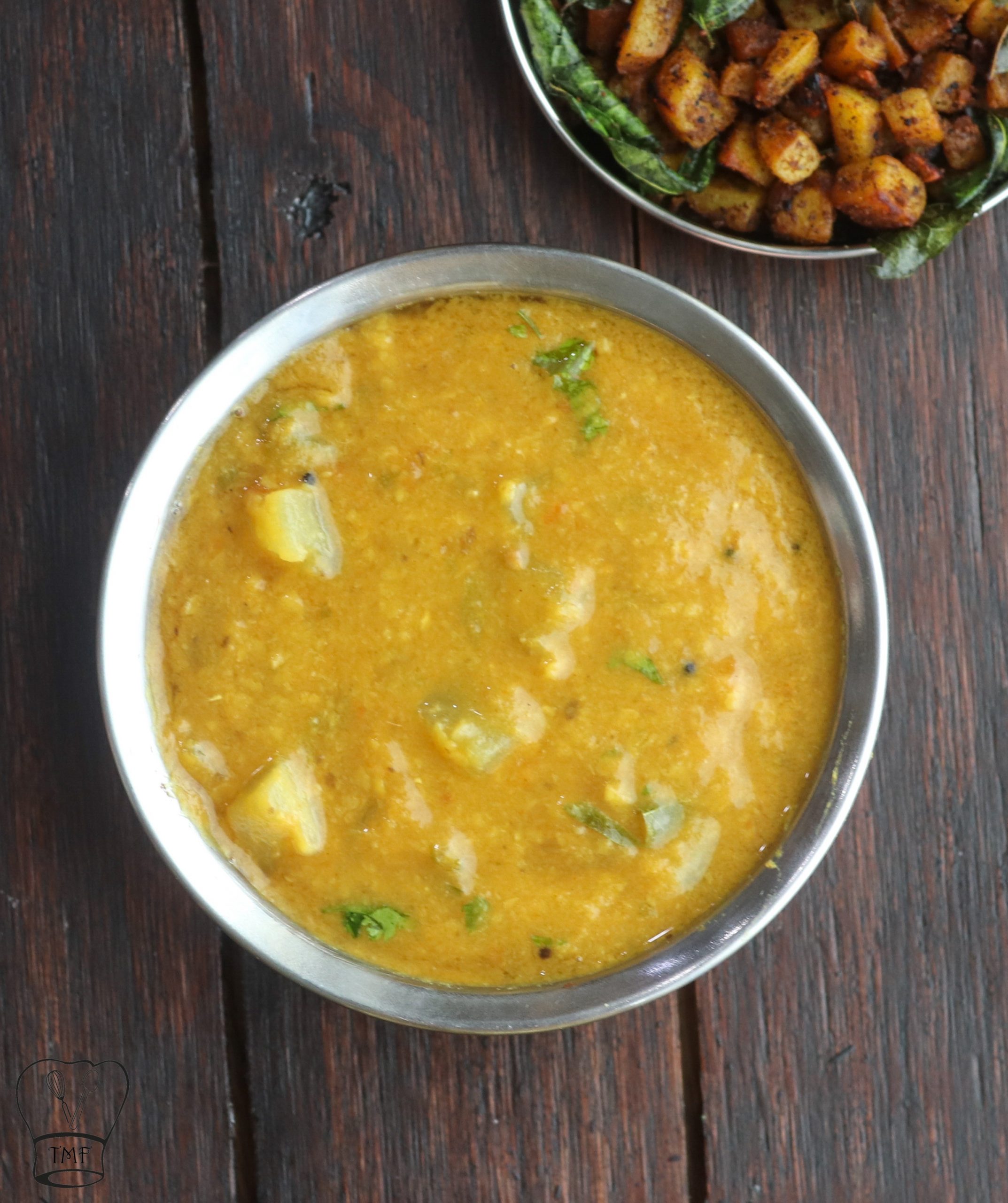 How much Sambar powder should I use?
I prefer using homemade sambhar powder for my sambhar. The amount of sambhar powder might slightly vary based on your spice level. If you want to make it spicy add extra Sambar powder/ Chilli powder. If you are increasing sambhar powder, you might have to proportional increase tamarind accordingly.
Can I skip tomatoes?
Tomatoes go well for squash-based sambhar. If you are skipping tomatoes, increase tamarind accordingly
Can I add salt while cooking dal?
No, always add salt after cooking dal else dal won't cook properly
https://youtube.com/playlist?list=PL3zYDDQHDMSv6YwMGfM-P-uCkJs8wSEm6
Should I add the ghee tempering?
I generally use coconut oil for tempering and use little ghee towards the end. In our home, we prefer adding ghee while eating. You can use ghee/oil according to your choice
What should be the consistency of the sambhar?
Some like thin sambar while others prefer it thick. I prefer mine on the thicker side.
Instant pot recipes in TMF
Other Sambar varieties in TMF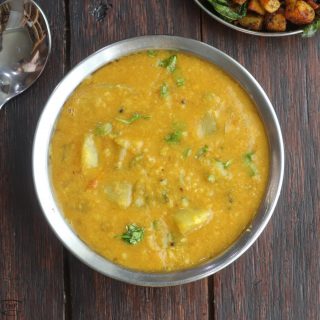 Ingredients
Soak dal
1/2

cup

Toor dal

was

Water enough to soak
Tamarind extract
7

grams

Tamarind

1

+ 1/2 cup water
Temper
1

tablespoon

coconut oil

1/2

teaspoon

mustard seeds

1/8

teaspoon

fenugreek seeds
Saute and cook
1

chayote

peeled and cubed

2

Tomatoes

150 grams

1/4

teaspoon

turmeric powder

1

tablespoon

sambar powder
Sambar
Asafoetida generous portion

Required salt

Coriander leaves and curry leaves few

Sugar pinch
Instructions
Wash and soak toor dal overnight or at least 1 hour in hot water

Soak tamarind in 1 + 1/2 cup of water and extract the juice

Turn on IP in "SAUTE" mode and add coconut oil and when IP display, shows "hot"

Add mustard seed, fenugreek seeds and let them splutter

Furthermore, add chayote and tomatoes; saute for 5 minutes

Add turmeric powder, sambar powder give a quick mix

Press "cancel"

Add toor dal, water, and mix well. Make sure nothing is stuck to the pan

Furthermore add few drops of sesame oil

Turn on "rice" mode and cook. do natural pressure release

Open the IP and mix everything well

Add filtered tamarind extract, salt and boil for 10 minute

Finally, add Asafoetida, curry leaves, coriander leaves, a pinch of sugar, mix well and cook for 5 minutes. Tasty instant pot sambar is ready
Video
Notes
I usually add toor dal for Sambhar. You can also combine toor dal + masoor dal
For Instant pot, Sambar always soak dal  as it helps for mushy cooked dal
Adding turmeric powder and sesame oil while cooking dal is optional, but it helps for better cooking
I have used a 1:3 dal: water ratio. Adjust the water according to the dal you use
Alter the cooking time according to the dal you use. let cooker pressure come down naturally
I have used coconut oil, but you can use any oil of your choice
you can also use tamarind paste instead of tamarind 
You can add small onions/ big onion  and prepare Sambar
you can use mixed vegetables. Add extra spice if you are using potatoes
Adjust water according to your desired consistency
Adjust the spice according to your desired taste
Jaggery/ sugar is optional, but it enhances sambar taste
I used coconut oil for tempering and use a dollop of ghee while serving. Instead, you can do the tempering with ghee
for a pressure cooker Sambar follow the same ingredients but cook for  3 whistles and do natural pressure release
Ingredients
Soak dal
1/2 cup Toor dal, was
Water enough to soak
Tamarind extract
7 grams Tamarind
1 + 1/2 cup water
Temper
1 tablespoon coconut oil
1/2 teaspoon mustard seeds
1/8 teaspoon fenugreek seeds
Saute and cook
1 chayote, peeled and cubed
2 Tomatoes (150 grams)
1/4 teaspoon turmeric powder
1 tablespoon sambar powder
Sambar
Asafoetida generous portion
Required salt
Coriander leaves and curry leaves few
Sugar pinch
How to make instant pot Sambar with step by step pictures
Wash and soak toor dal overnight or at least 1 hour in hot water
Soak tamarind in 1 + 1/2 cup of water and extract the juice
Turn on IP in "SAUTE" mode and add coconut oil and when IP display, shows "hot"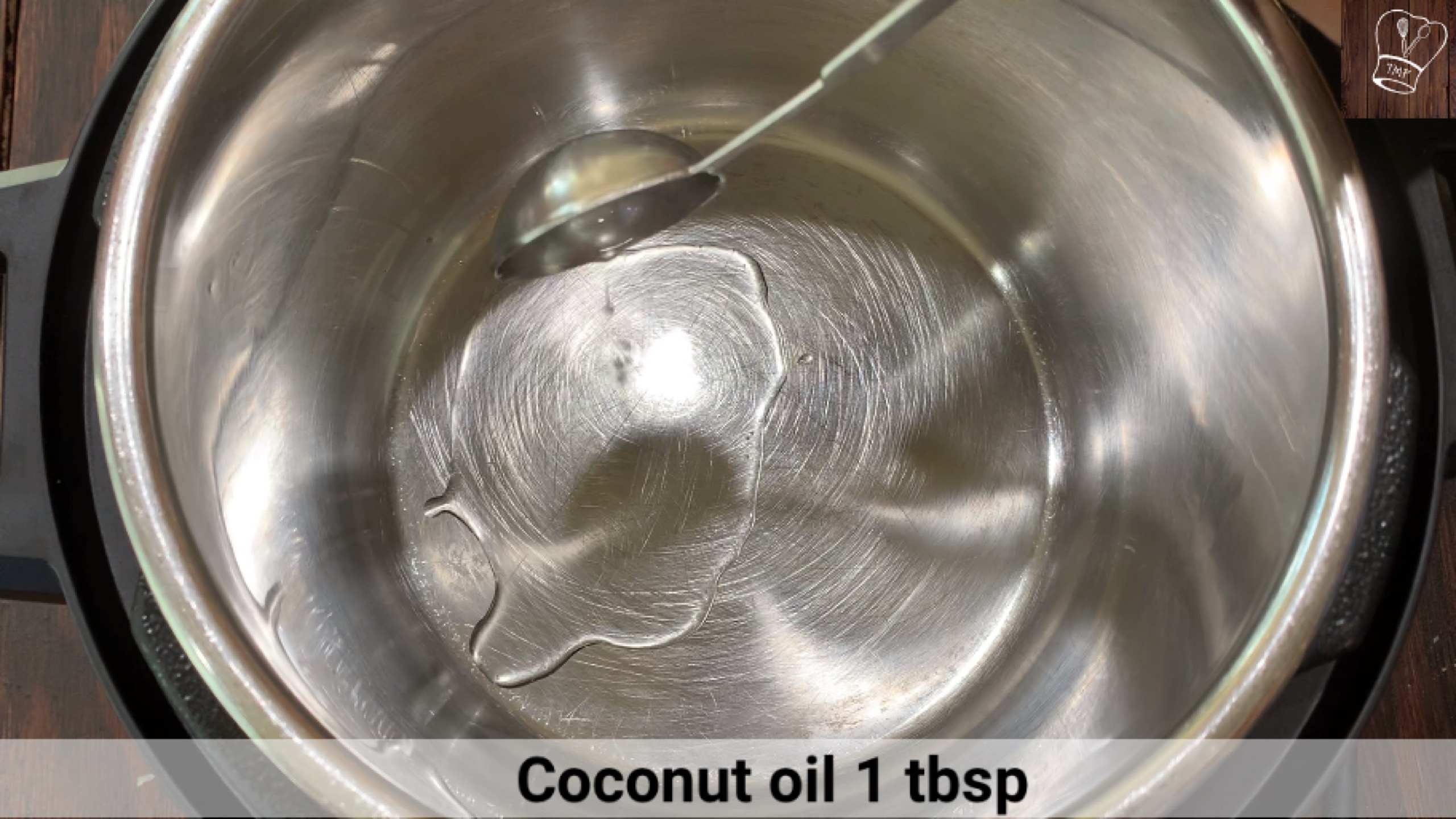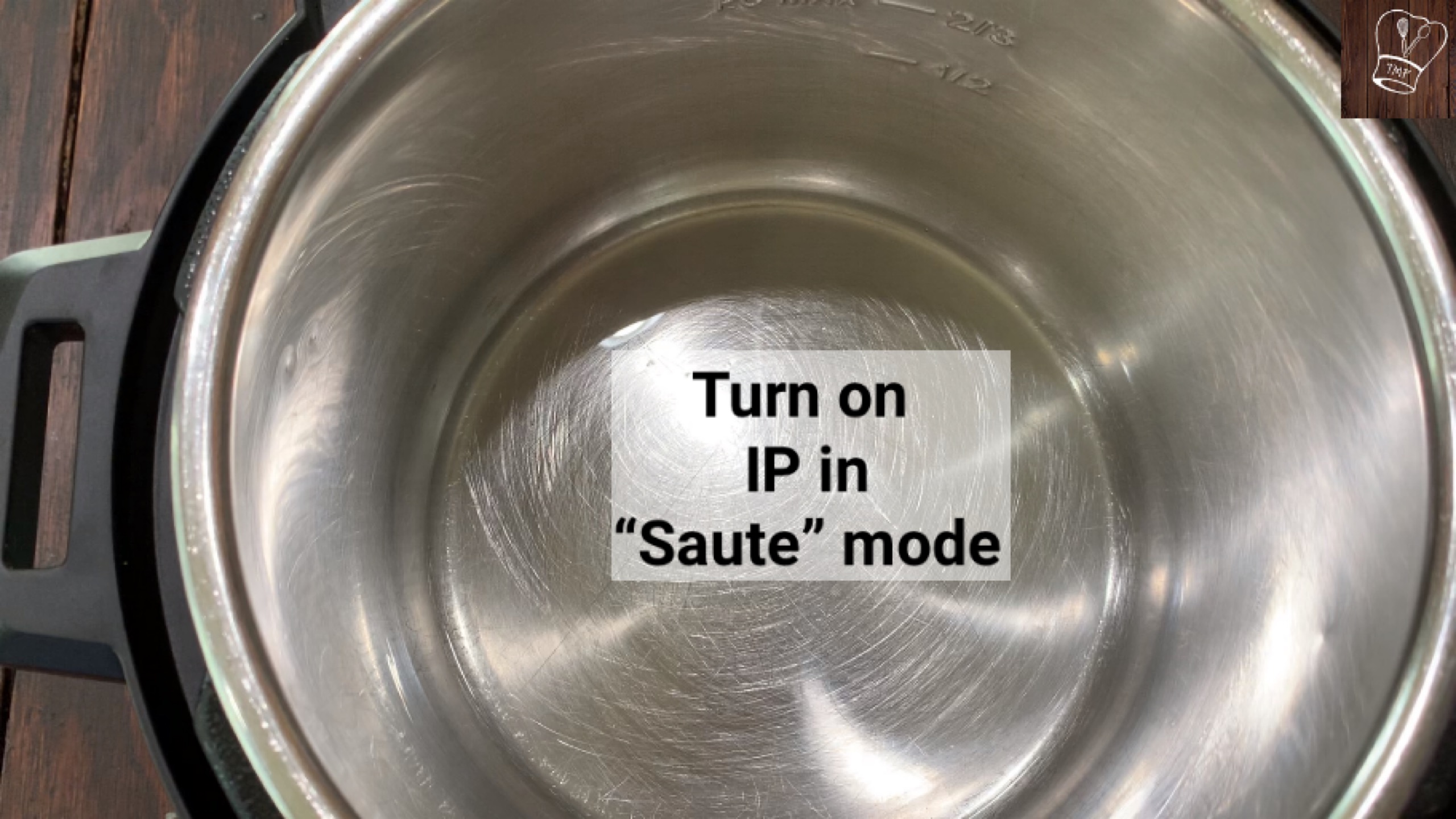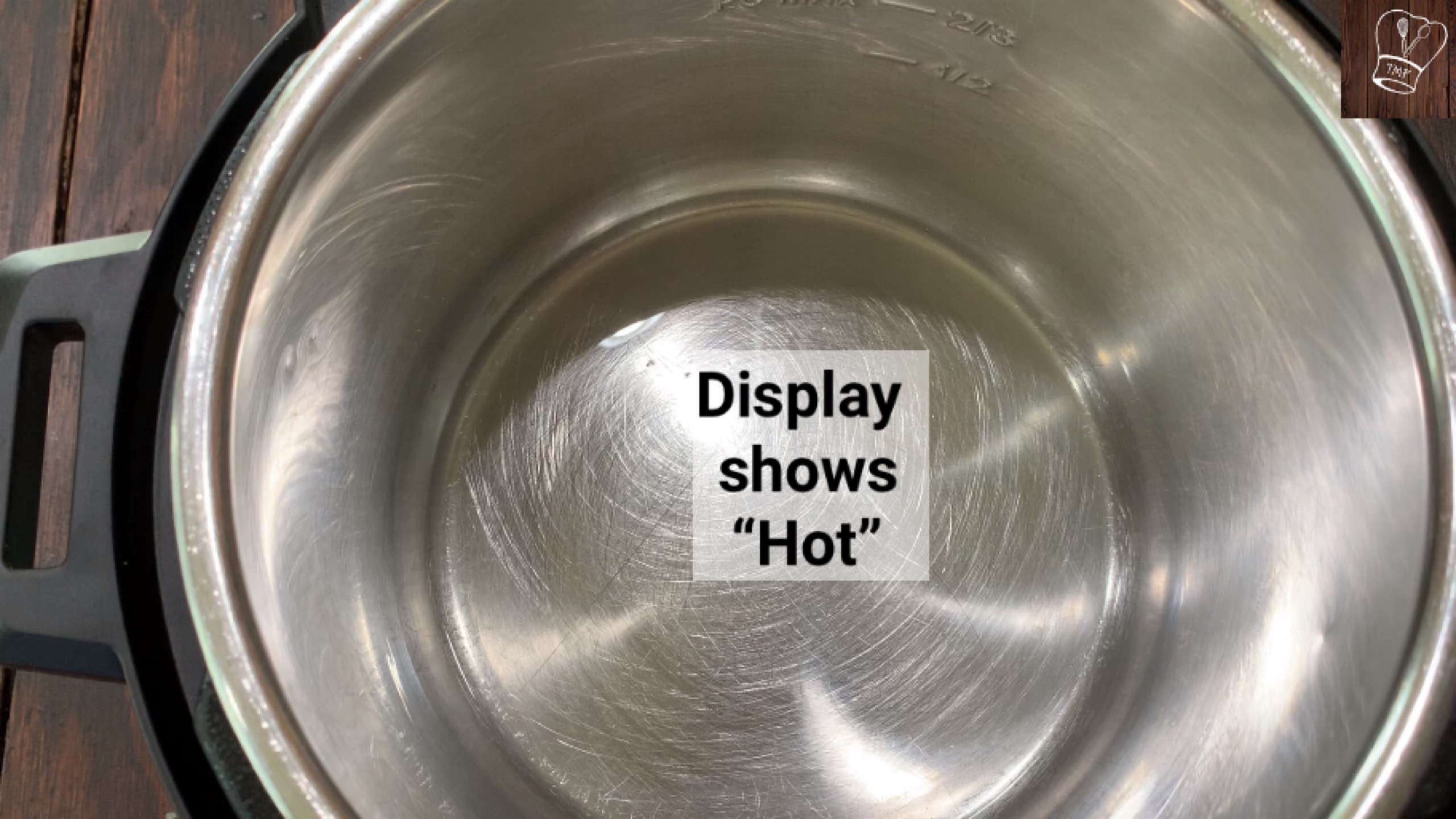 Add mustard seed, fenugreek seeds and let them splutter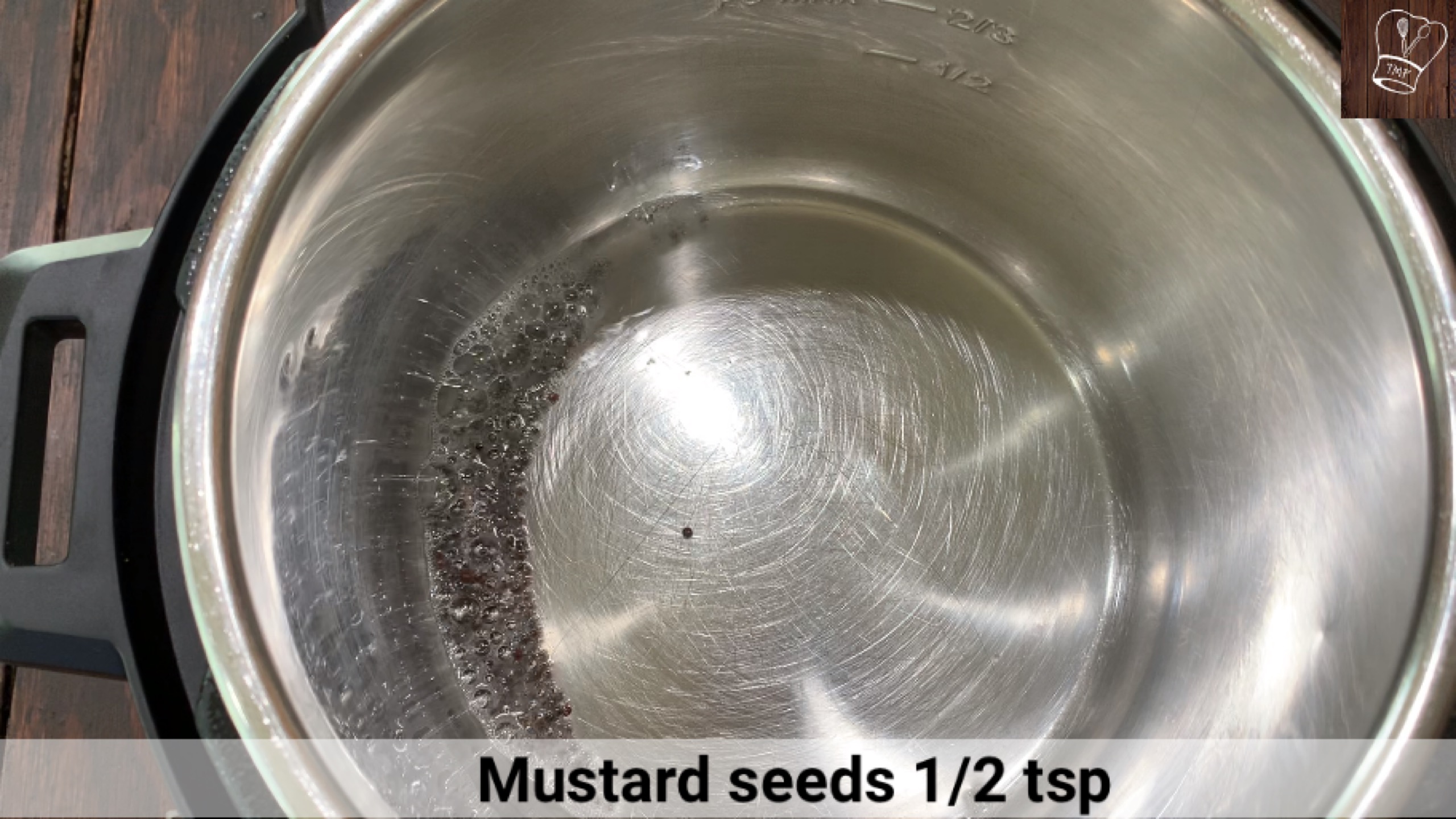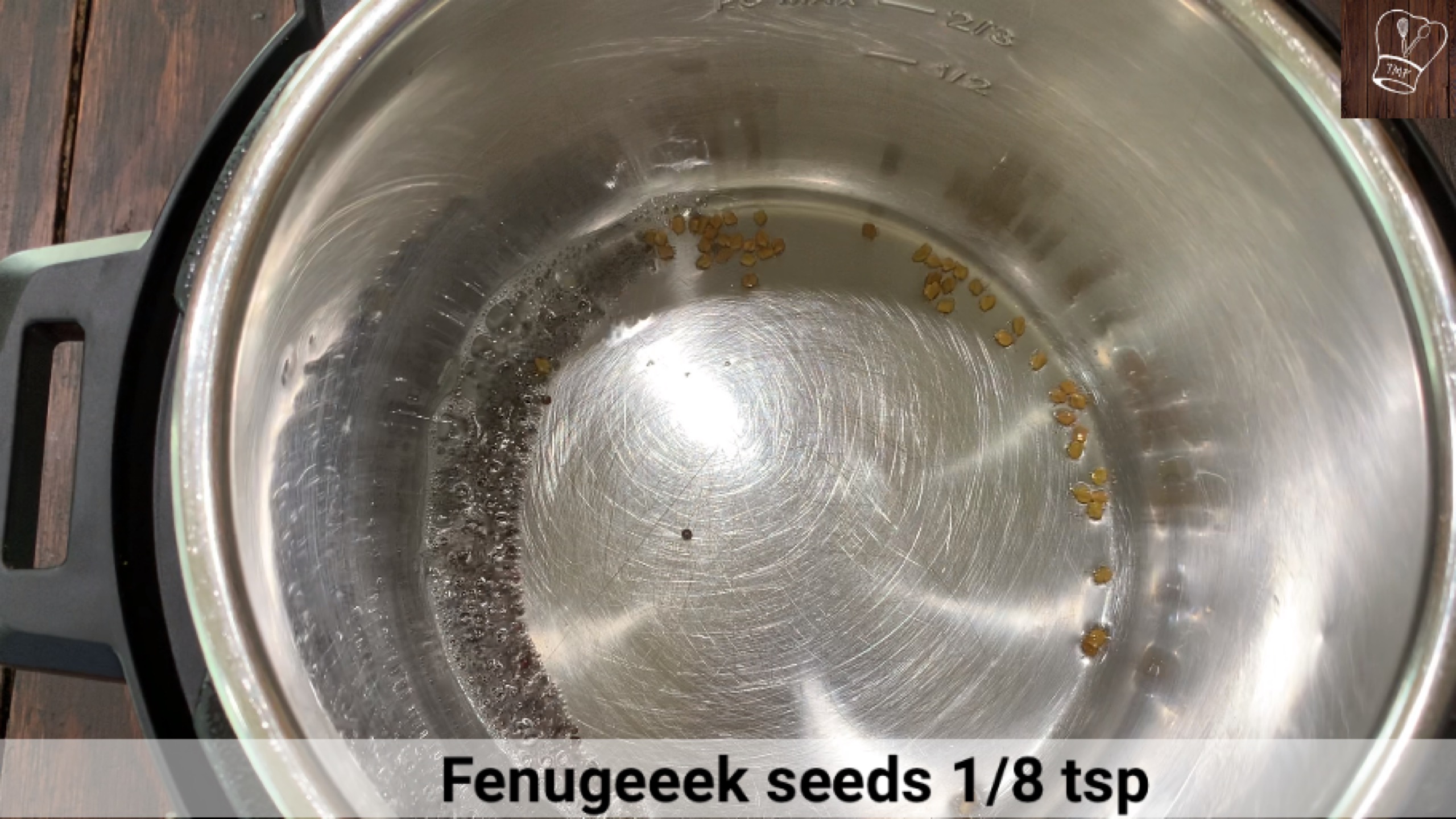 Furthermore, add chayote and tomatoes; saute for 5 minutes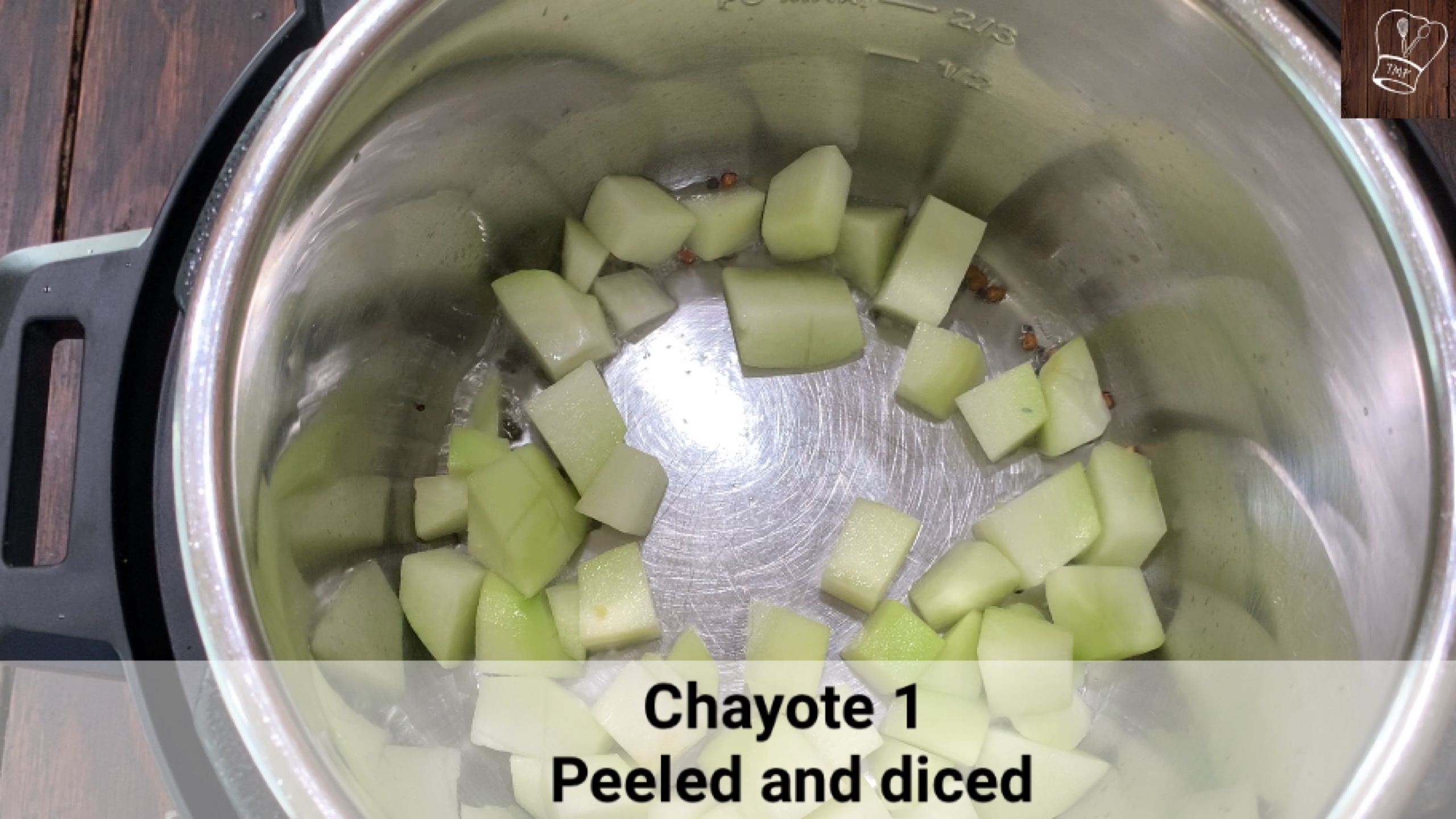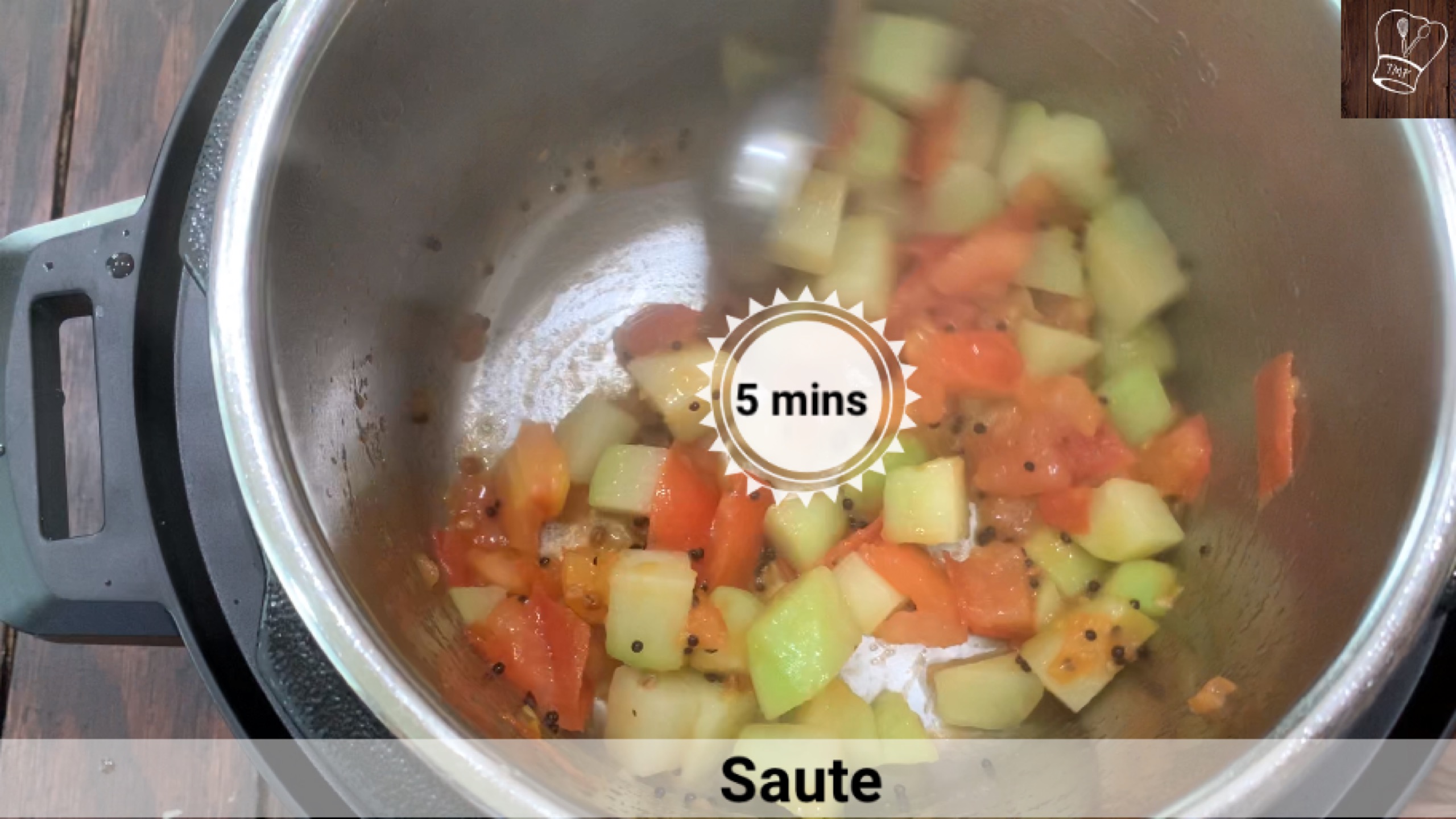 Add turmeric powder, sambar powder give a quick mix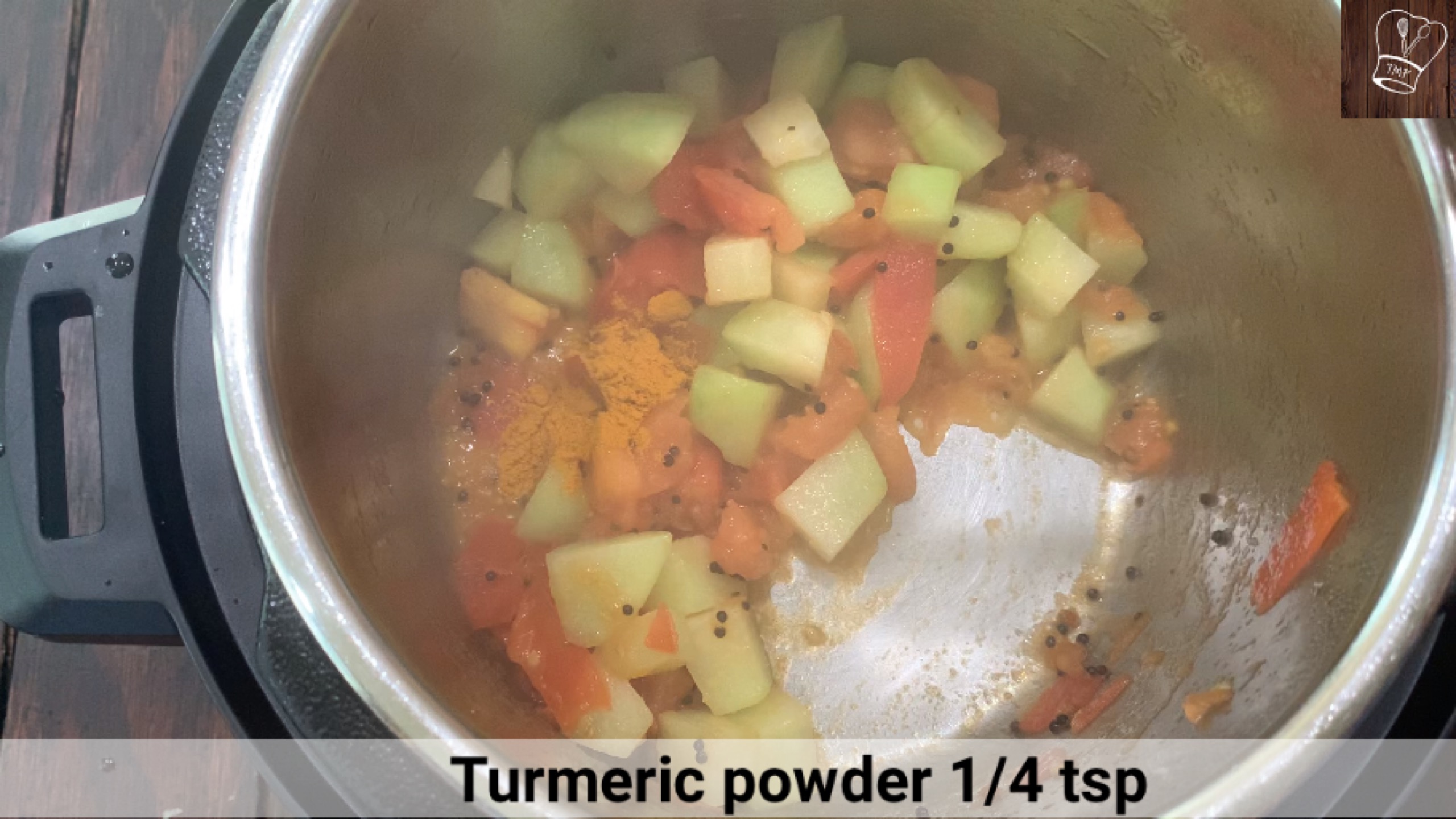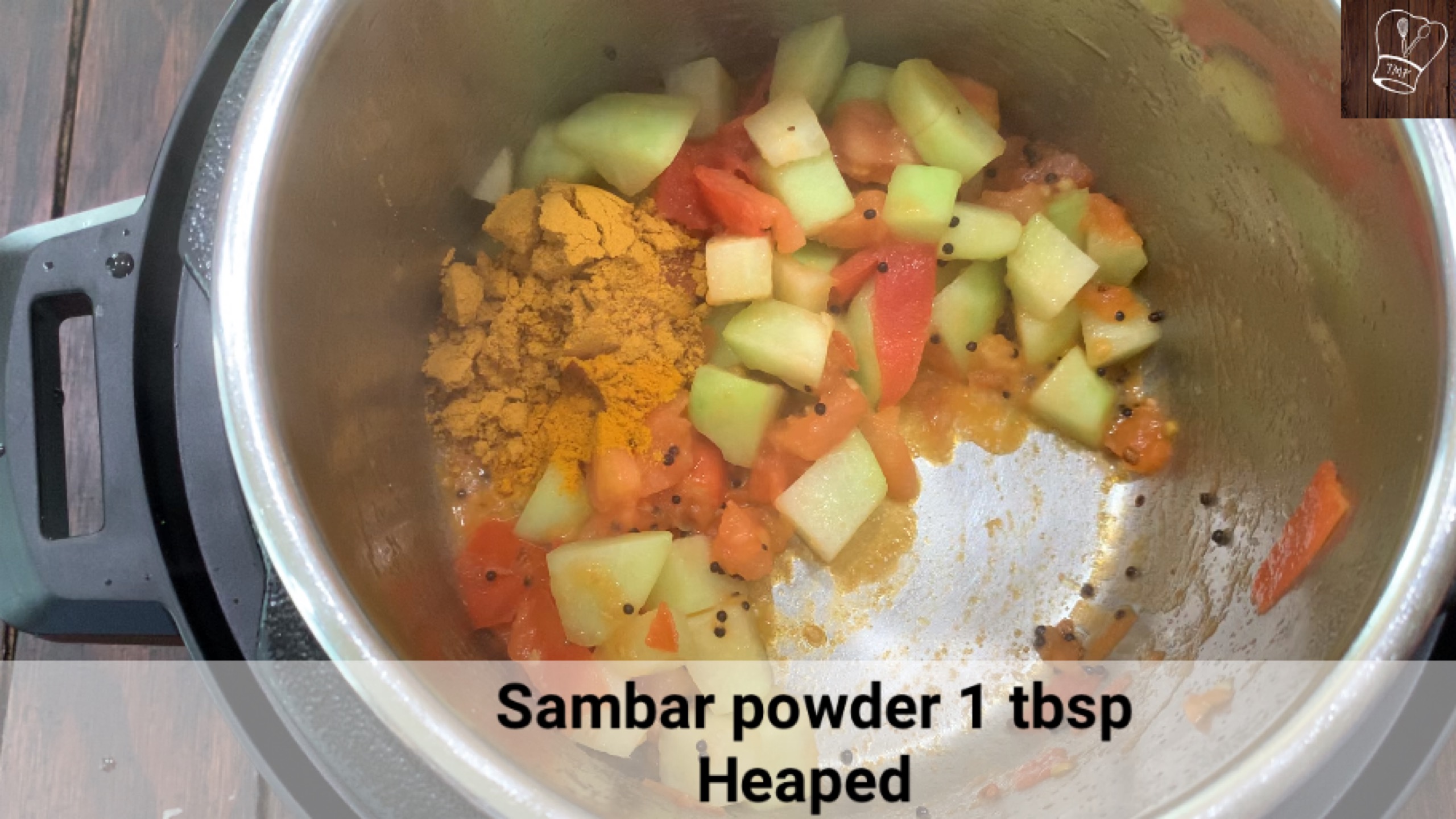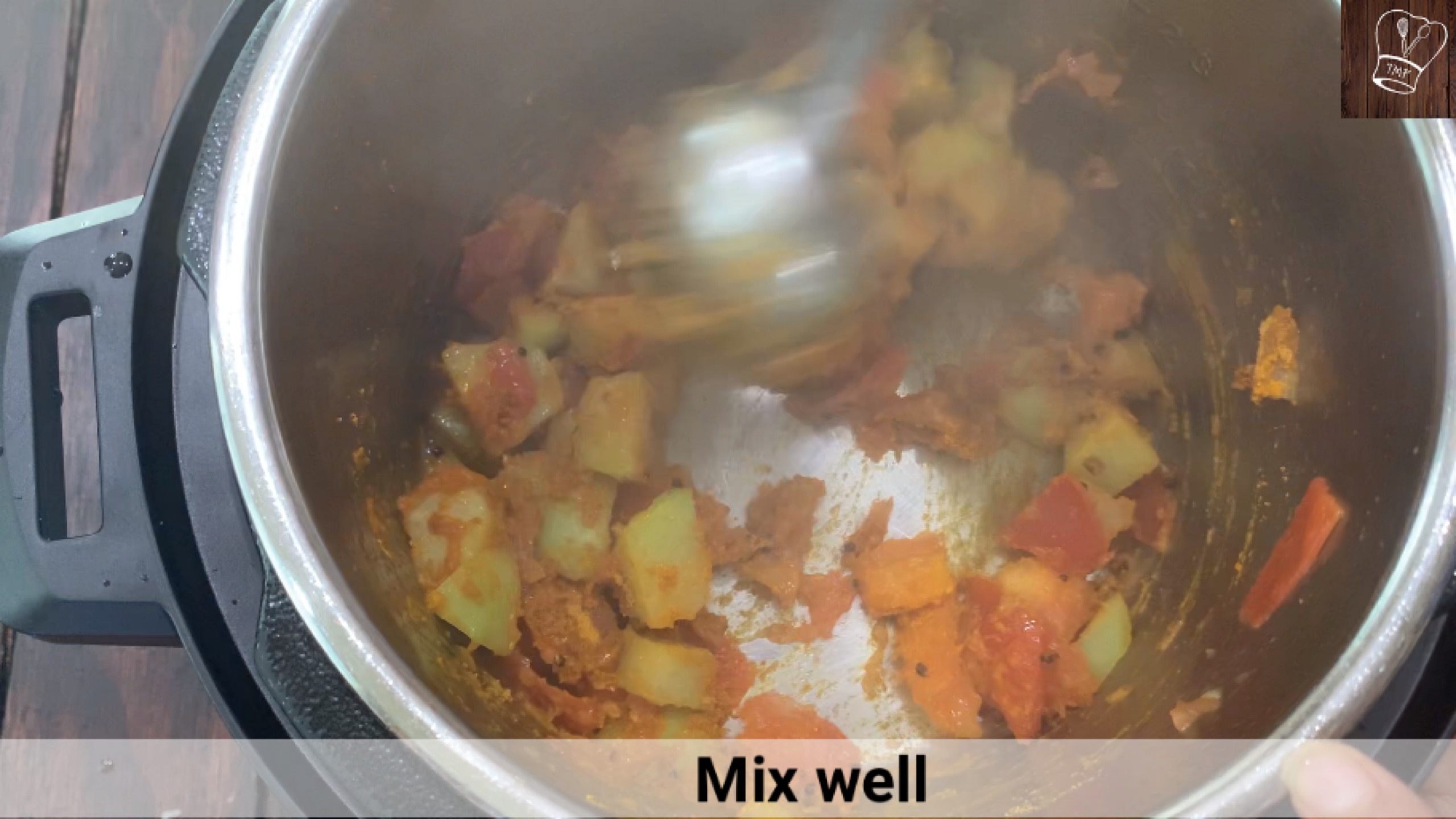 Press "cancel"

Add toor dal, water, and mix well. Make sure nothing is stuck to the pan

Furthermore add few drops of sesame oil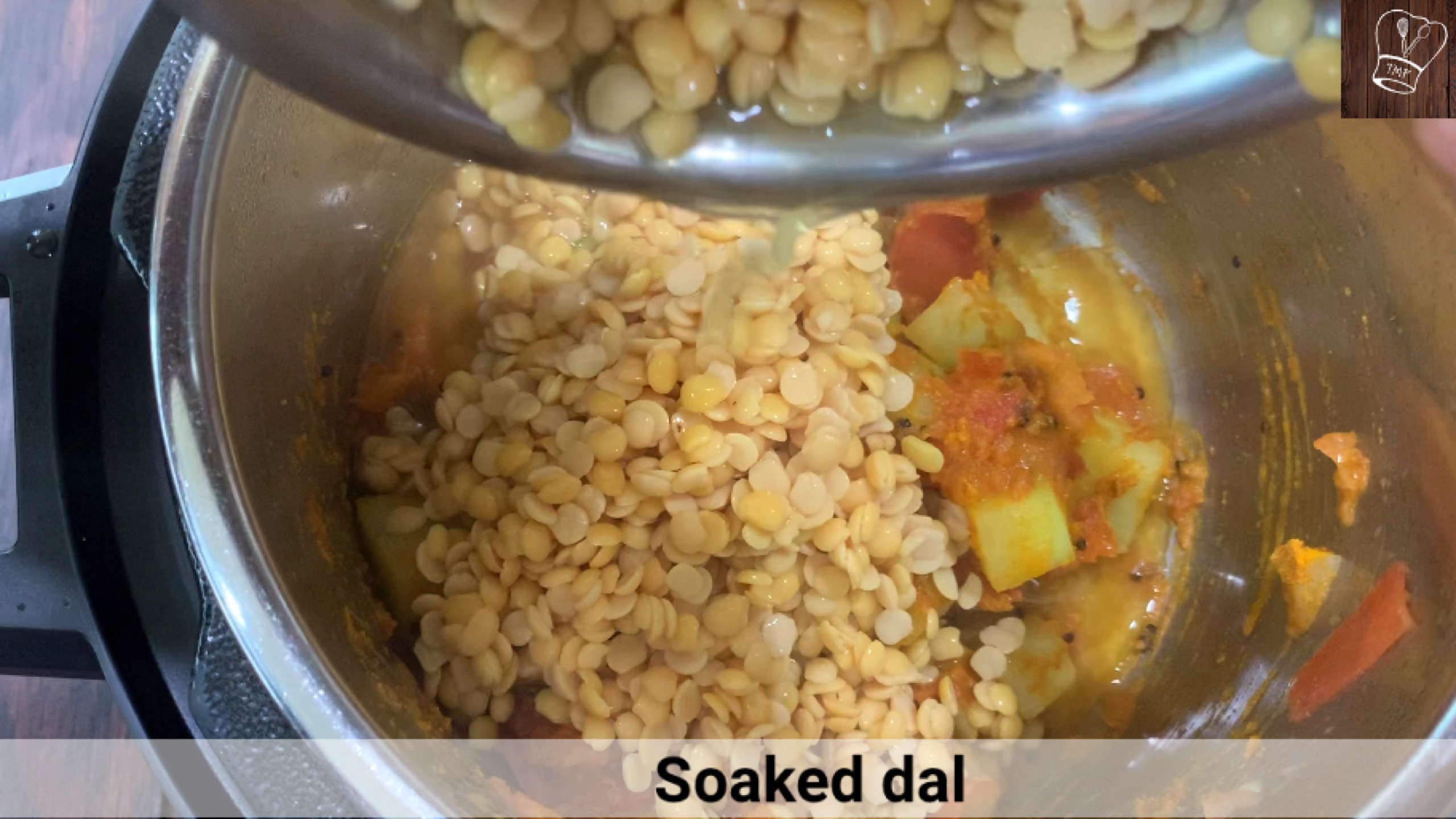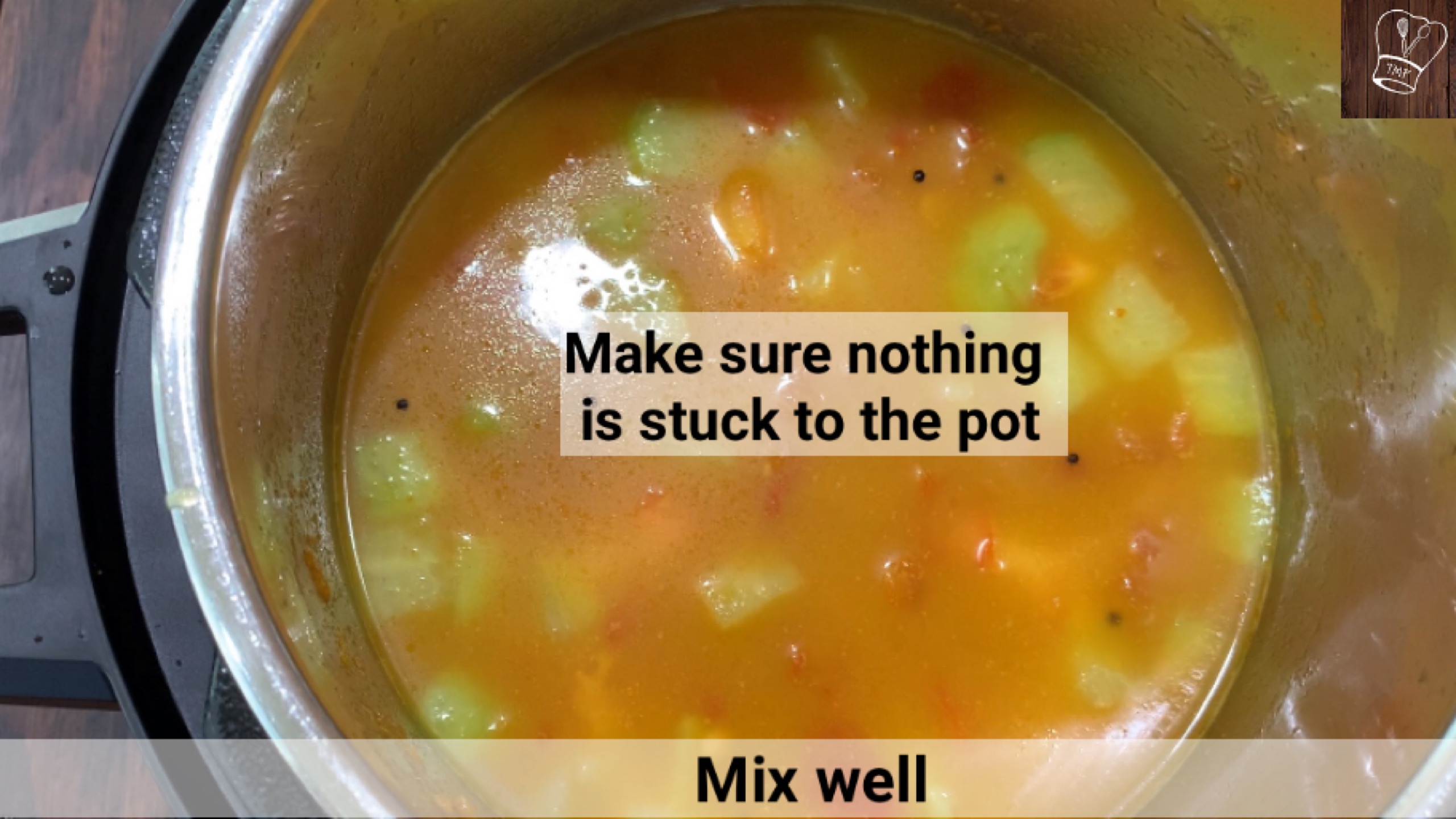 Turn on "rice" mode and cook.

do natural pressure release

Open the IP and mix everything well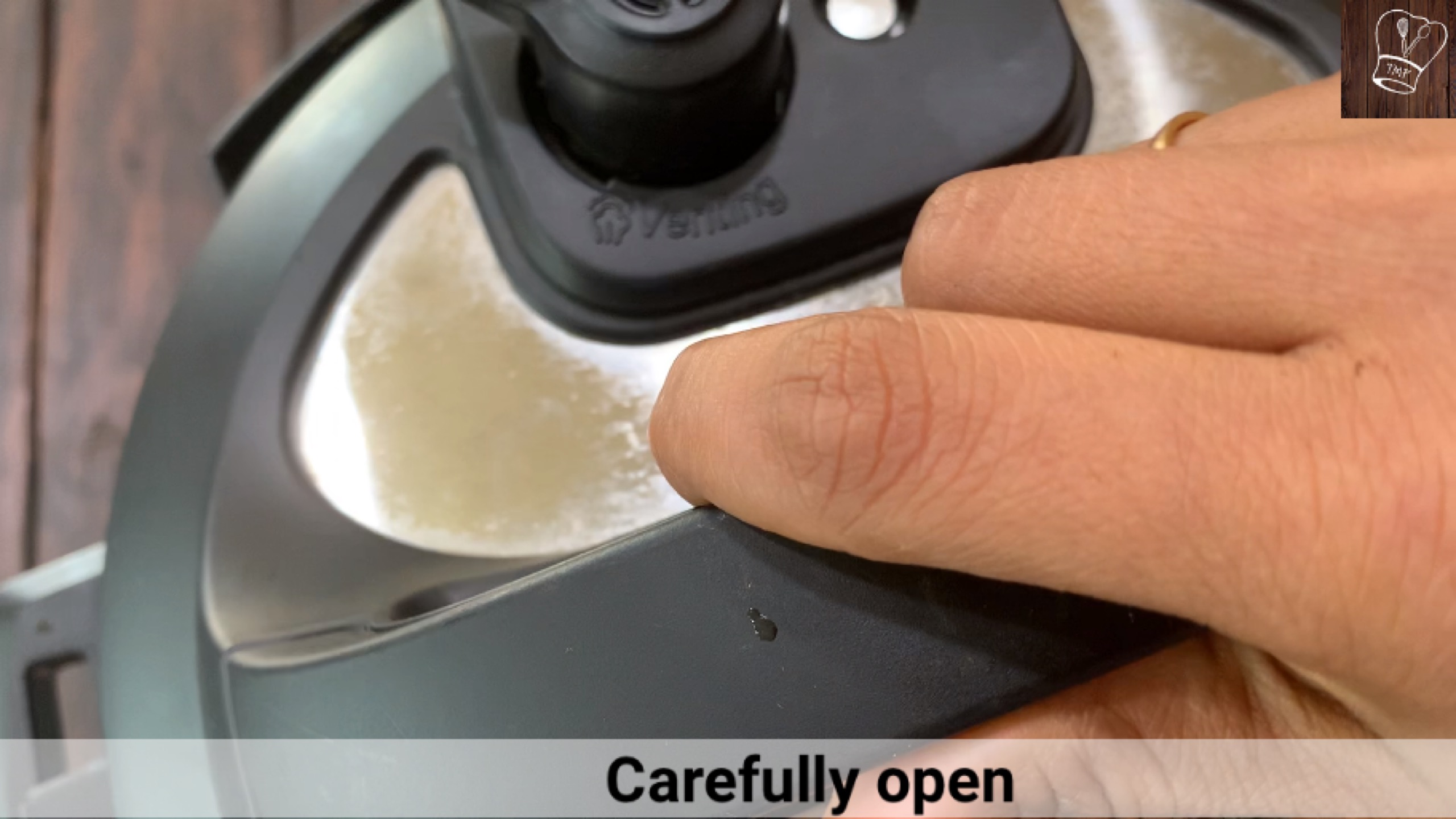 Add filtered tamarind extract, salt and boil for 10 minute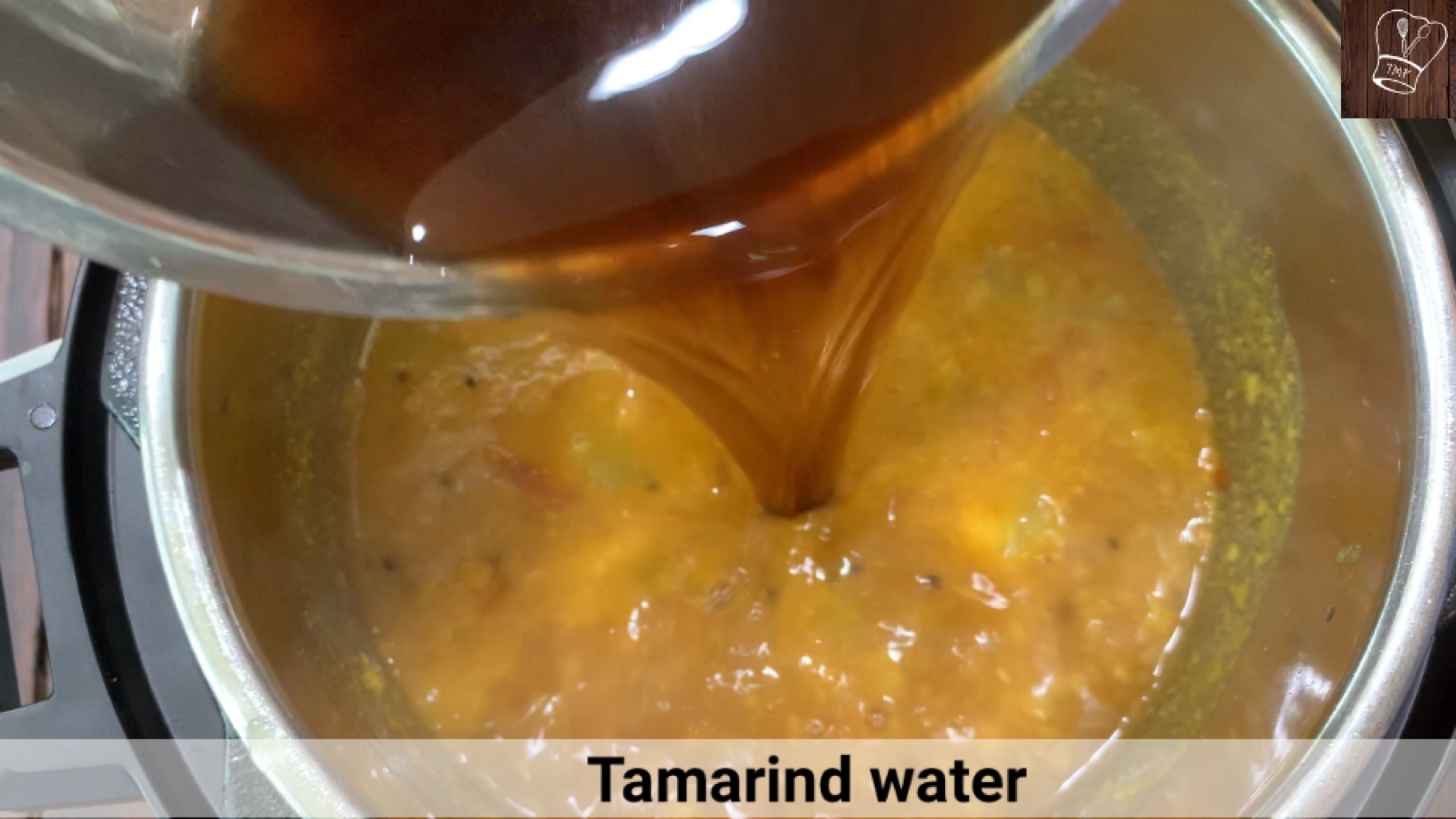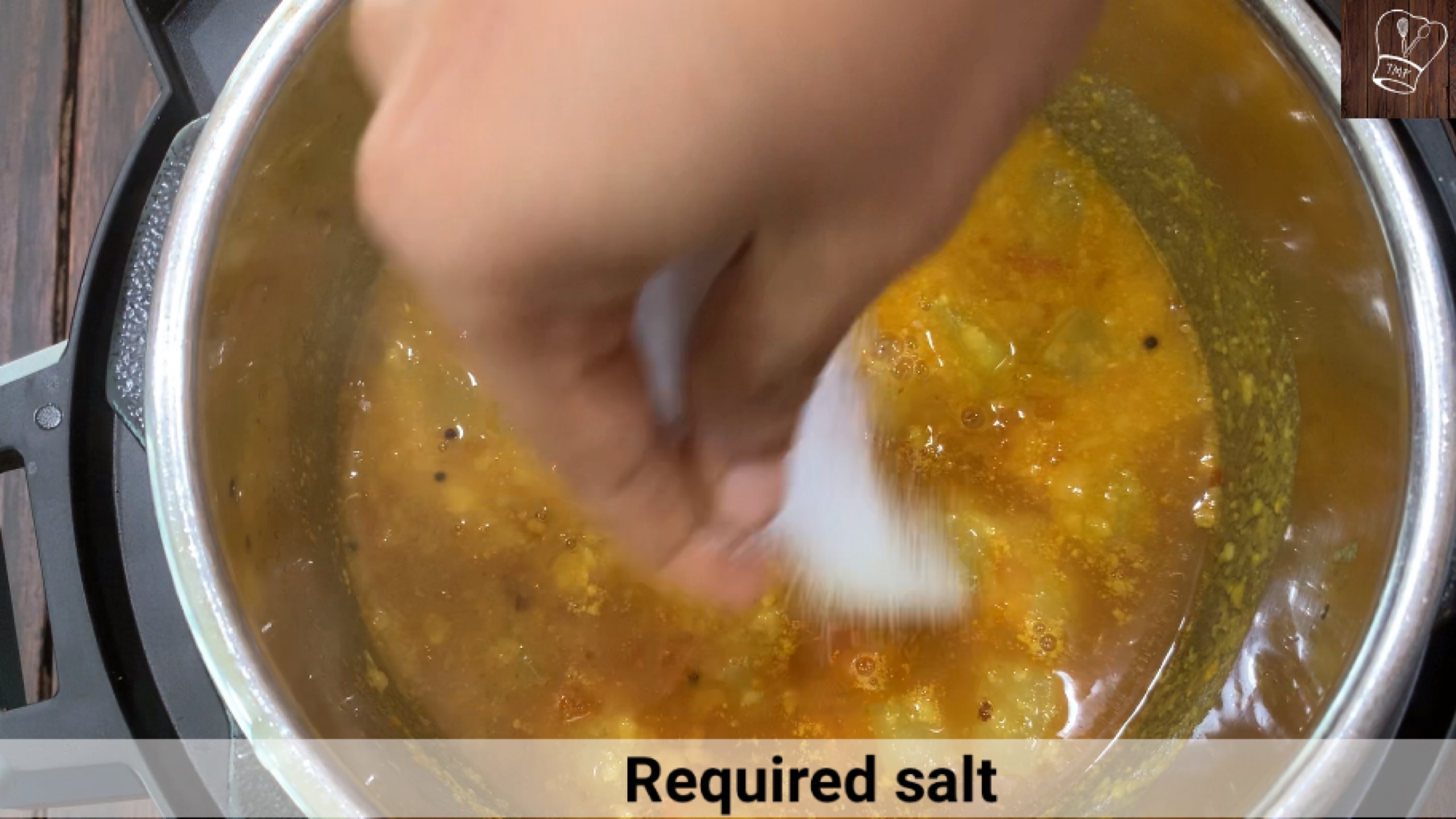 Finally, add Asafoetida, curry leaves, coriander leaves, a pinch of sugar, mix well and cook for 5 minutes. Tasty instant pot sambar is ready