Jeeraga Rasam | Jeera rasam | Cumin rasam | Cumin rasam recipe with step by step pictures and video recipe. Check out the Jeera rasam and If you like the video pls SUBSCRIBE to my channel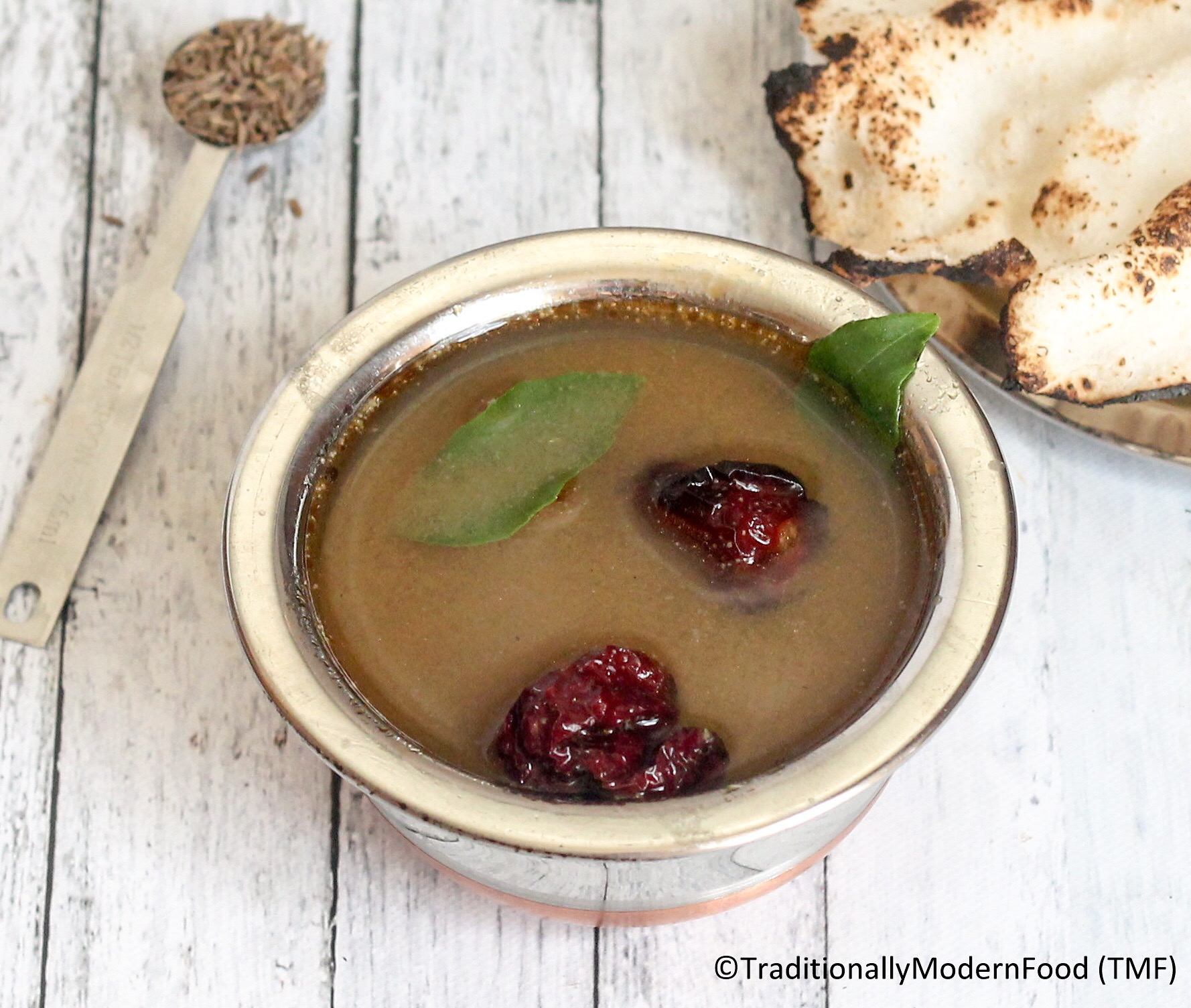 Jeeraga Rasam | Jeera rasam | Cumin rasam | Cumin rasam recipe is a flavorful and healthy South Indian rice accompaniment with cumin seeds. Cumin seed rasam can be prepared quickly and good for digestion.
Last weekend was long weekend for us and so we went for a short trip. Had outside food for three days and so Amma suggested this Jeera rasam for digestion.
I like the unnave marundhu in indian cooking. Many spices we use in our everyday cooking not only gives nice taste but also very healthy. Cumin is one ingredients I use almost in everyday cooking. Usually after having heavy meal I prefer pepper -cumin rasam. This rasam with just cumin and lot of curry leaves recipe Sounded interesting. I have tasted it many times but never cooked it. Luckily because of recent grocery trip I had curry leaves in my fridge.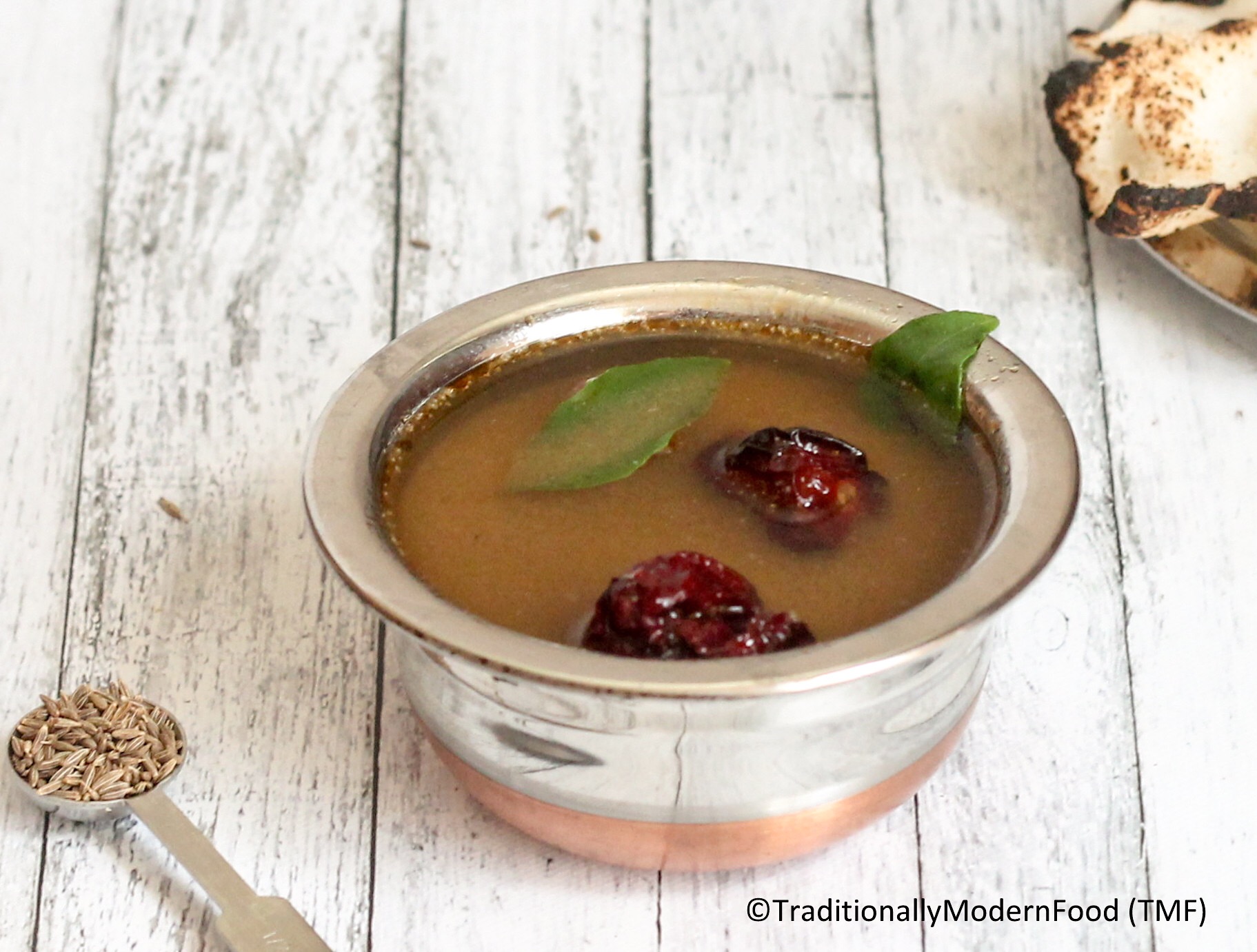 I am a big fan of easy and quick recipes. When it comes to cooking time , rasam can be prepared within 15 minutes. Soaking of cumin-dal and tamarind might take extra time but if planned before Jeeraga rasam can be made in no time.
Like gootu rasam , Cumin rasam doesn't require cooked dal. It is a great south Indian postpartum recipe variety. Also the tanginess of jeera rasam is from tamarind so no tomatoes for Jeera rasam. I have seen Amma adding lot of hing to everything she cooks but while telling me the recipe she explicitly mentioned me not to add hing for Jeera rasam. Sorry I don't know why if you ask me the reason.
Rasam is one South Indian rice accompaniment which has many variations. I love rasam and have posted a few rasam varieties in TMF,
Rasam recipe collections in TMF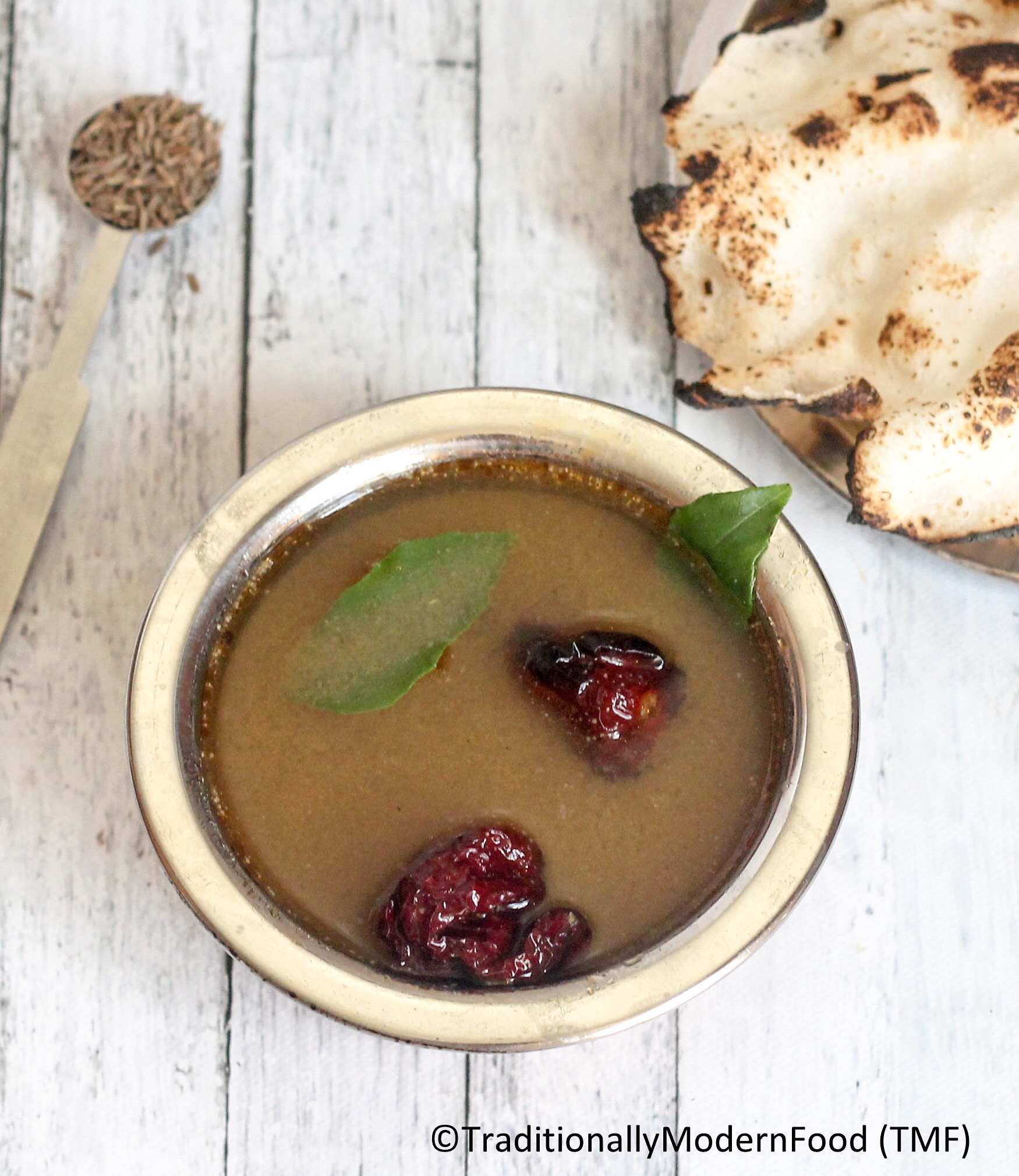 How to dry curry leaves in microwave
Ingredients
Tamarind - small gooseberry size

Water - 2 cup

Salt - as needed

To soak:

Cumin seed - 1/2 tsp

Toor dal - 1 tsp

Curry leaves - 6-7

Water - to soak

To temper:

Ghee - 1 tsp

Mustard seeds - 1/4 tsp

Red chilli - 3
Instructions
Soak tamarind in hot water for 30 minutes and extract liquid

Soak the ingredients listed under "to soak" in hot water for 30 minutes. Ground and keep aside. Add little water to the mixie; shake well and add it to the same cup

In a cooking vessel add tamarind water and cook till the raw smell goes off and tamarind water boils well

Add ground mixture to the tamarind water and cook for a minute; switch off

In a separate pan add ghee and when is hot add mustard seeds and red chilli; let it splutter. Add it to the
Video
Notes
Adjust red chilli according to your spicy level
No hing for this rasam
If you are using tamarind paste add 1/4 tsp and mix 2 cups of water
Avoid cooking the rasam for a longer time after adding cumin
Toor dal, cumin seeds can be sautéed and ground instead of soaking in water
Pepper powder can be added for extra flavor
Since we used a small amount of dal and cumin seed add very little water to grind
Also, the ground mixture will be tcoarse ground because of the quantity if you want fine ground mixture double the proportion
Ingredients:
Tamarind – small gooseberry size
Water – 2 cup
Salt – as needed
To soak:
Cumin seed – 1/2 tsp
Toor dal – 1 tsp
Curry leaves – 6-7
Water – to soak
To temper:
Ghee – 1 tsp
Mustard seeds – 1/4 tsp
Red chilli – 3
How to make Jeera rasam with step by step pictures:
Soak tamarind in hot water for 30 minutes and extract liquid

Soak the ingredients listed under "to soak" in hot water for 30 minutes. Ground and keep aside. Add little water to the mixie; shake well and add it to the same cup
In a cooking vessel add tamarind water and cook till the raw smell goes off and tamarind water boils well
Add ground mixture to the tamarind water and cook for a minute; switch off
In a separate pan add ghee and when is hot add mustard seeds and red chilli; let it splutter. Add it to the rasam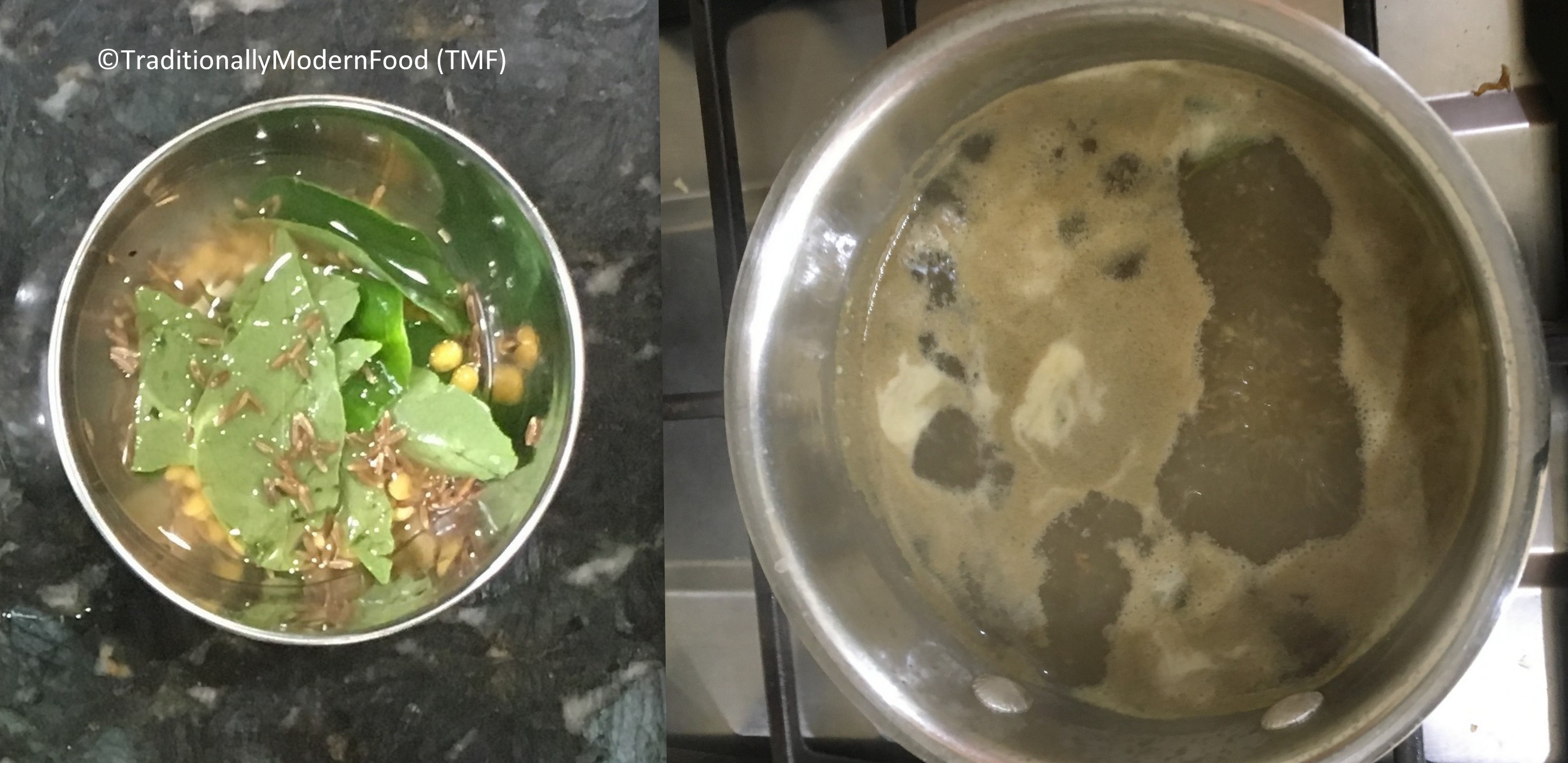 Pls. Follow TMF social media for recipes updates,