Pasta Payasam | Pasta Kheer | payasam recipe | kheer variety
with step by step pictures and video recipe. Check out the
Pasta payasam recipe
and If you like the video pls
SUBSCRIBE to my channel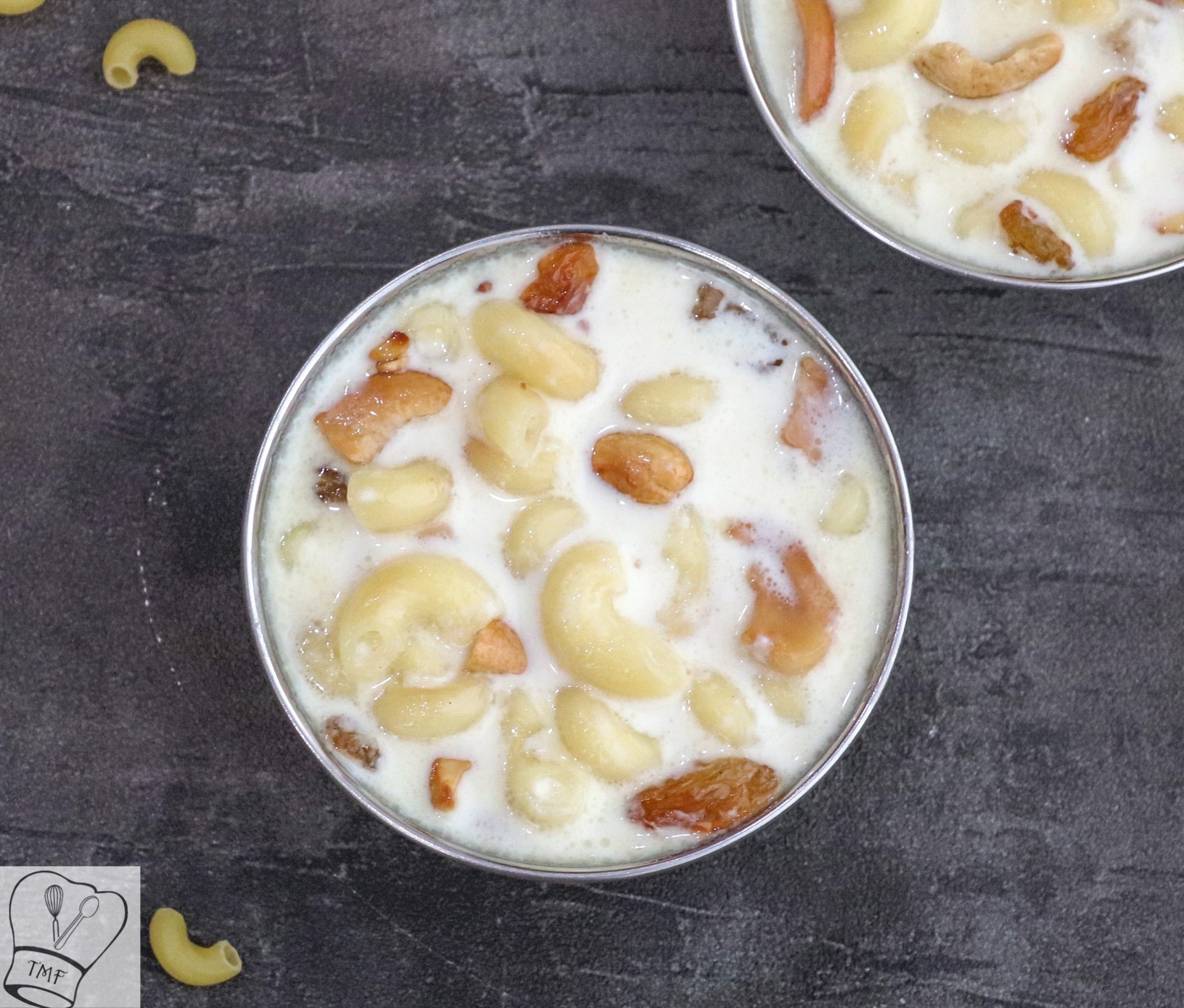 Pasta Payasam | Pasta Kheer | payasam recipe | kheer variety
is a tasty fusion style Indian sweet recipe. Payasam with elbow variety of pasta makes a tasty dessert for a get-together, party, etc.
Fusion payasam recipe
Both my husband and I love pasta, and nowadays even my little one started liking
Mac & Cheese
. Every time I open a pasta packet I wouldn't finish it and have some leftovers. To finish the remaining uncooked pasta, I end up buying some variety of pasta again. Another day I felt like having
semiya payasam
and searched for semiya, suddenly pasta pulled my attention, and tried pasta payasam. It was a big hit at home.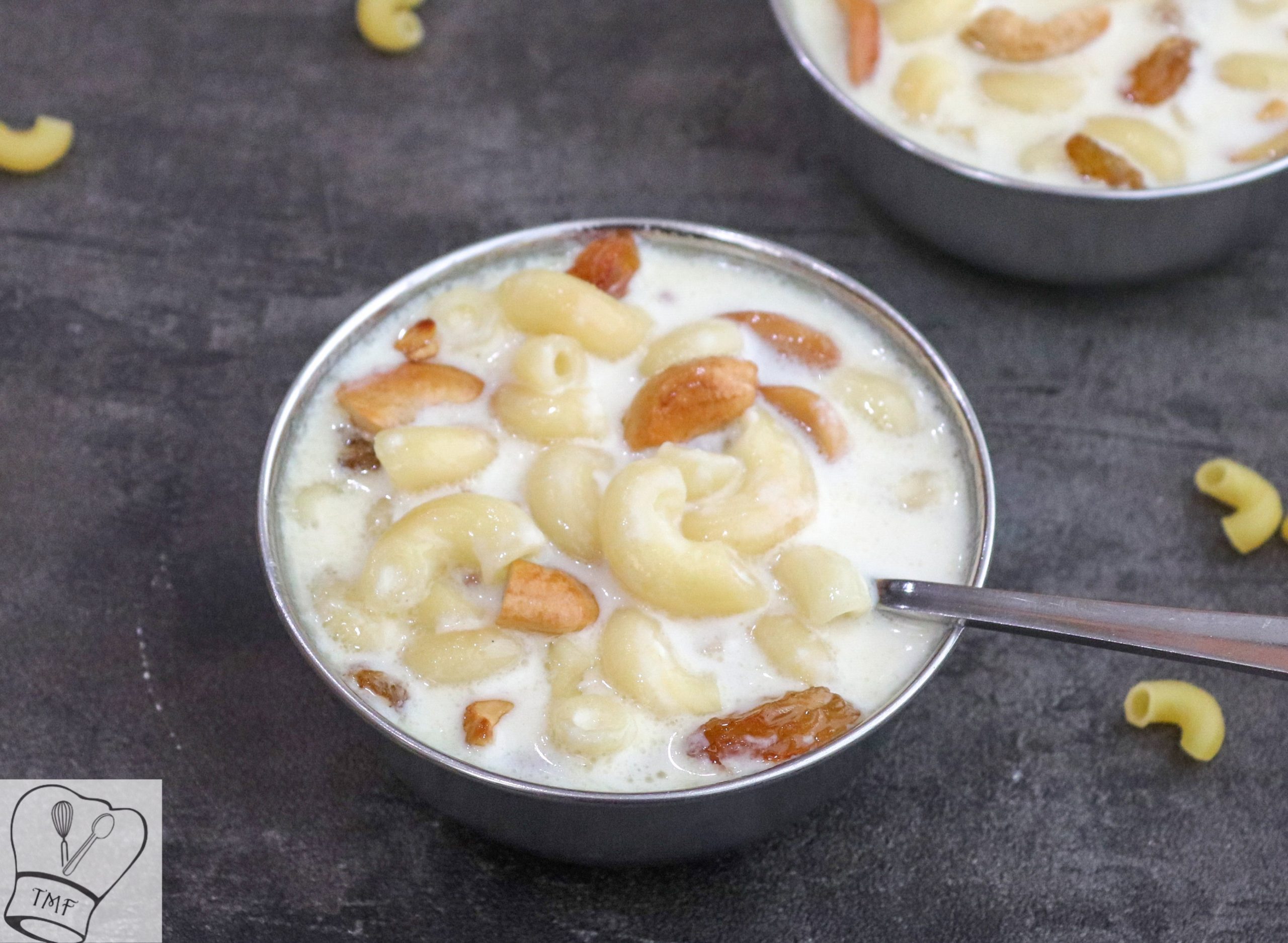 What kind of pasta works for Pasta payasam?
I have used Elbow variety of pasta which is my favorite type for pasta payasam. If you are using other big-size pasta it might take a little longer time to cook. For spaghetti-type pasta I would recommend breaking it for the best taste.
Can I cook pasta in water for pasta payasam?
Yes, you can cook pasta in water according to package instructions and add milk to the cooled pasta. To make pasta kheer rich and delicious I personally prefer cooking pasta in milk.
Can I add evaporated milk /condensed milk for Pasta payasam like your paal payasam?
Of course yes, that will definitely add some richness to the payasam recipe. If you are using evaporated milk reduce the milk quality accordingly. if you are using condensed milk reduce sugar accordingly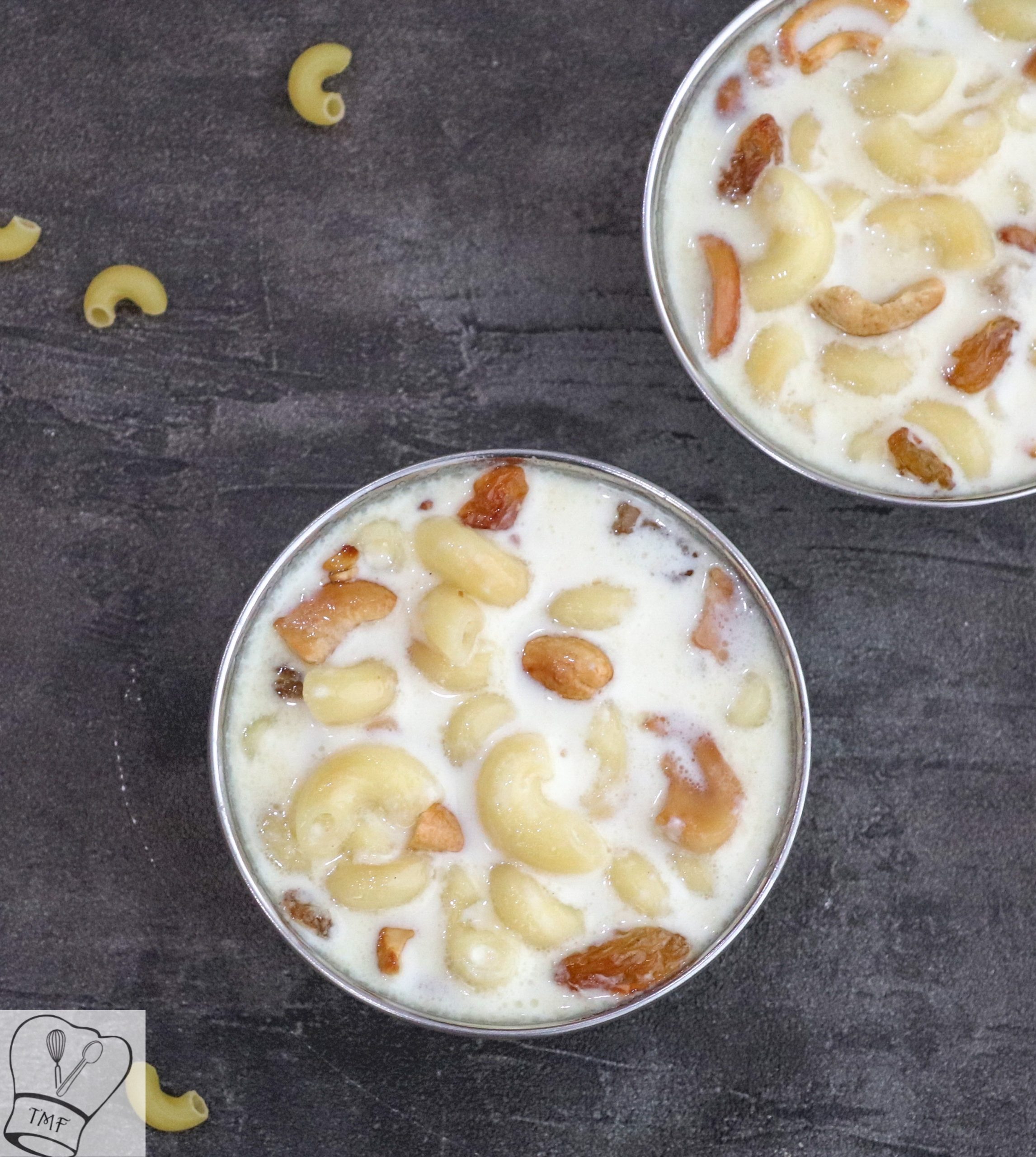 See more Payasam recipes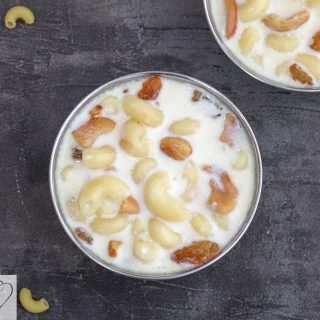 Ingredients
Macaroni - 1/4 cup

Milk - 3 cups

Sugar - 1/2 cup

adjust according to your sweetness

Cardamom powder - Generous pinch

Butter/ Ghee- 1/2 tbsp

Raisins - 1 tbsp

Cashew - 7

split

Salt - a pinch
Instructions
In a heavy bottomed pan add ghee and when ghee is hot add cashew

Saute the causes till they change golden brown. Add raisin and mix well

Transfer them to a small cup

In the same pan saute pasta for 30 seconds

Add 1 + 1/2 cup of hot milk and cook the pasta

Stir in between cook till the pasta is fork tender

Add 1 + 1/2 cup of milk and cook for 10 minutes, stir in between

Payasam boils well and comes together

In this stage add cardamom powder, salt and sugar mix well

Finally add roasted cashews and raisin and let the payasam cook for 5 minutes

Switch off and serve immediately or chillI for few hours and serve cold
Video
Notes
Pasta can be cooked in water according to package instruction and milk can be added to the cooked pasta
I have used elbow pasta but any pasta of your choice can be used
Saffron can be added for extra flavor
For pasta cooked in water add evaporated milk like semiya payasam to boost flavor
I have used all-purpose-flour pasta but wheat pasta can also be used but the flavour might vary
Avoid flavored pasta for kheer
If you are adding condensed milk for extra flavor adjust sugar accordingly
I sometimes caramelize the sugar and add it to the payasam
Ingredients
: Macaroni - 1/4 cup Milk - 3 cups Sugar - 1/2 cup (adjust according to your sweetness) Cardamom powder - Generous pinch Butter/
Ghee
- 1/2 tbsp Raisins - 1 tbsp Cashew - 7, split Salt - a pinch
How to make pasta payasam with step by step pictures:
In a heavy-bottomed pan add ghee and when ghee is hot add cashew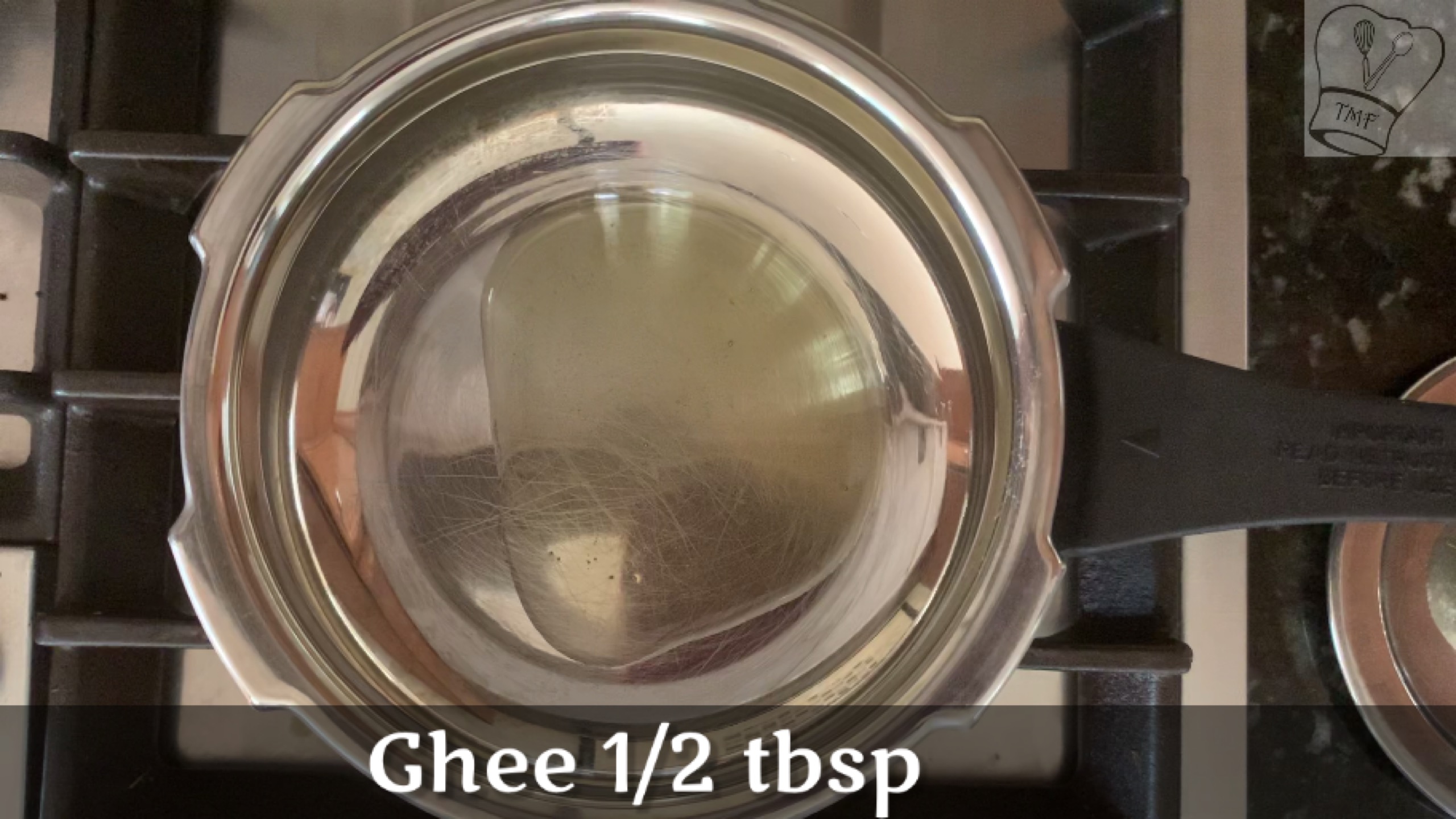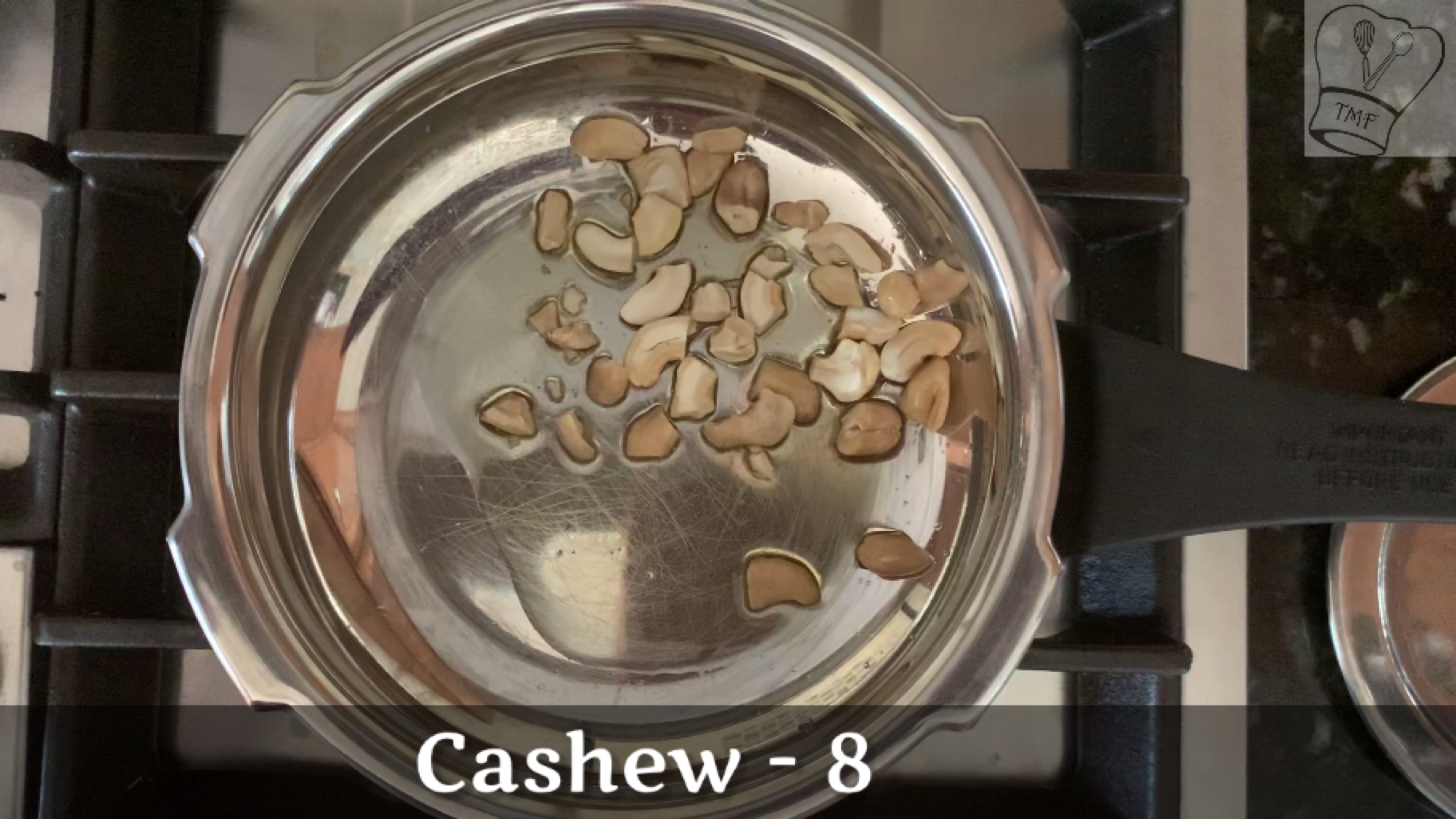 Saute the causes till they change golden brown. Add raisin and mix well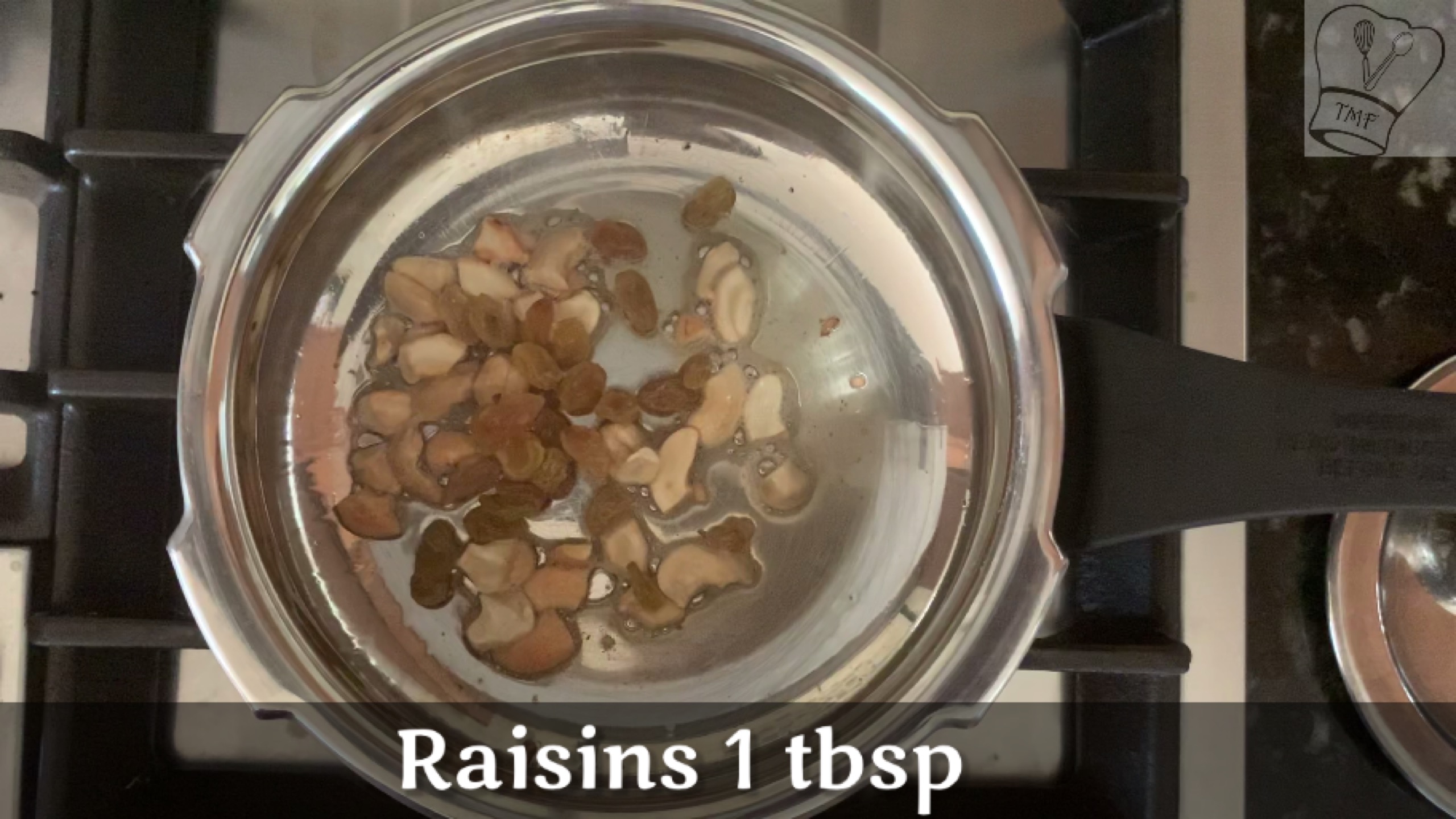 Transfer them to a small cup
In the same pan saute pasta for 30 seconds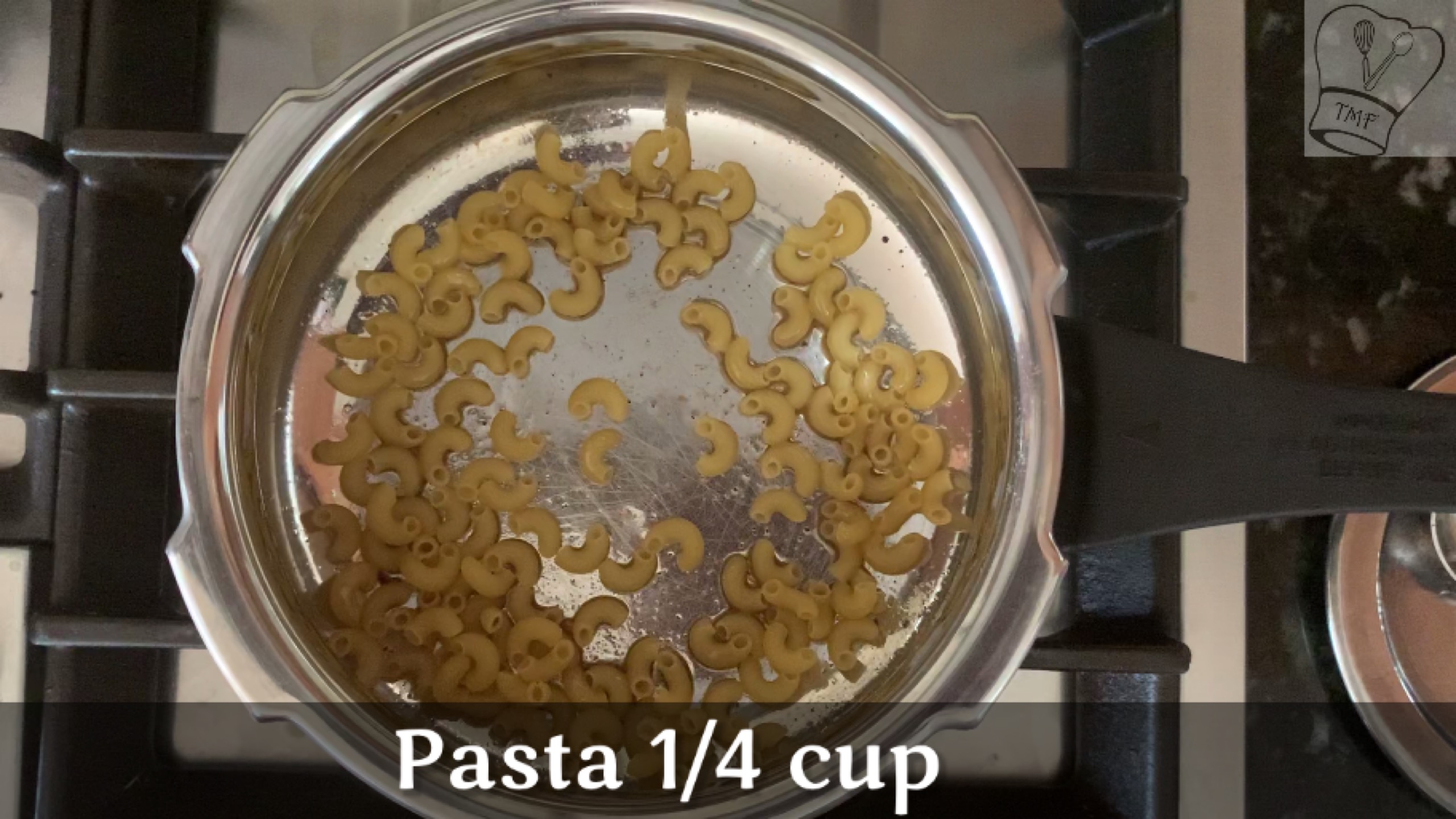 Add 1 + 1/2 cup of hot milk and cook the pasta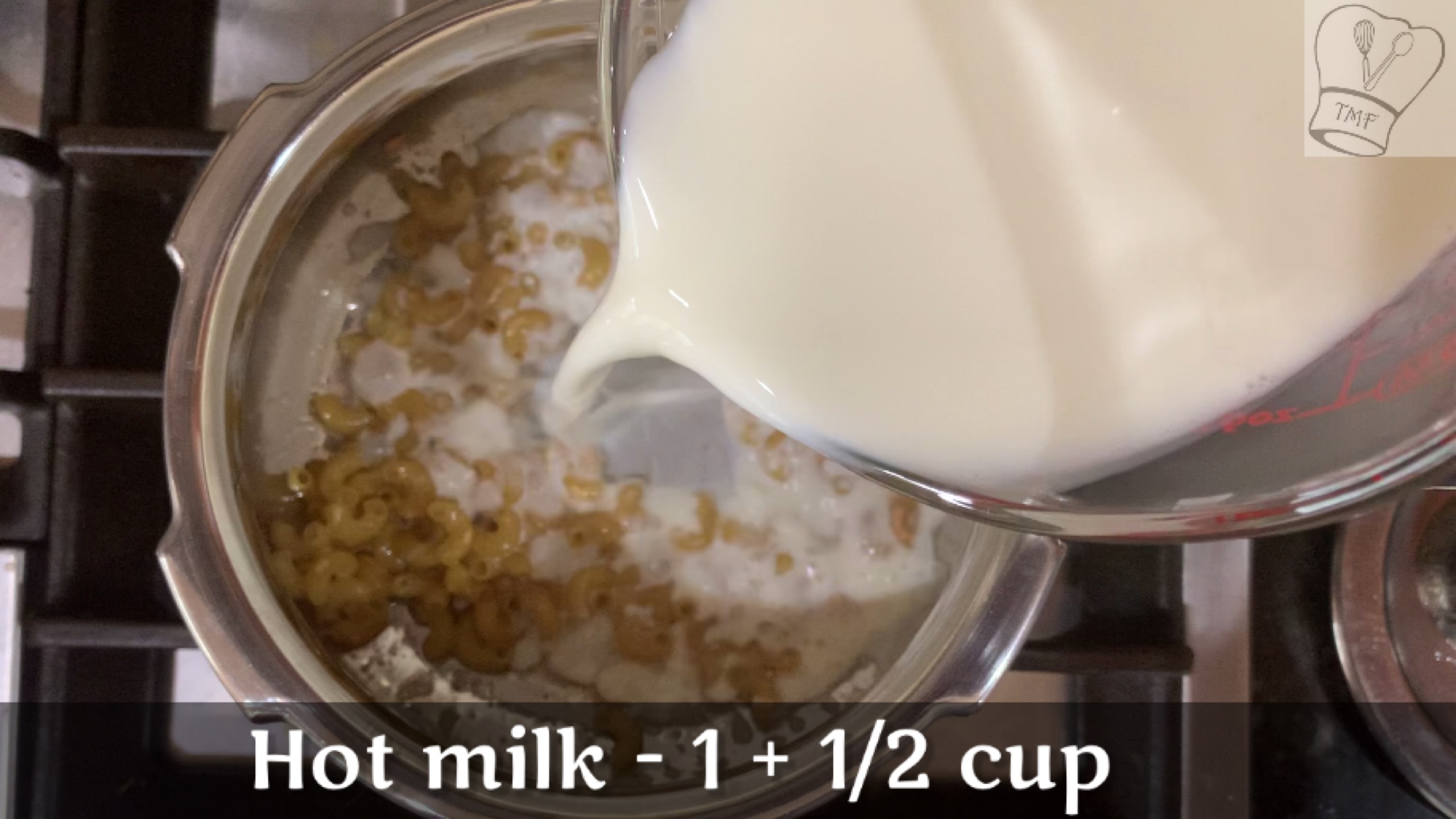 Stir in between and cook till the pasta is fork-tender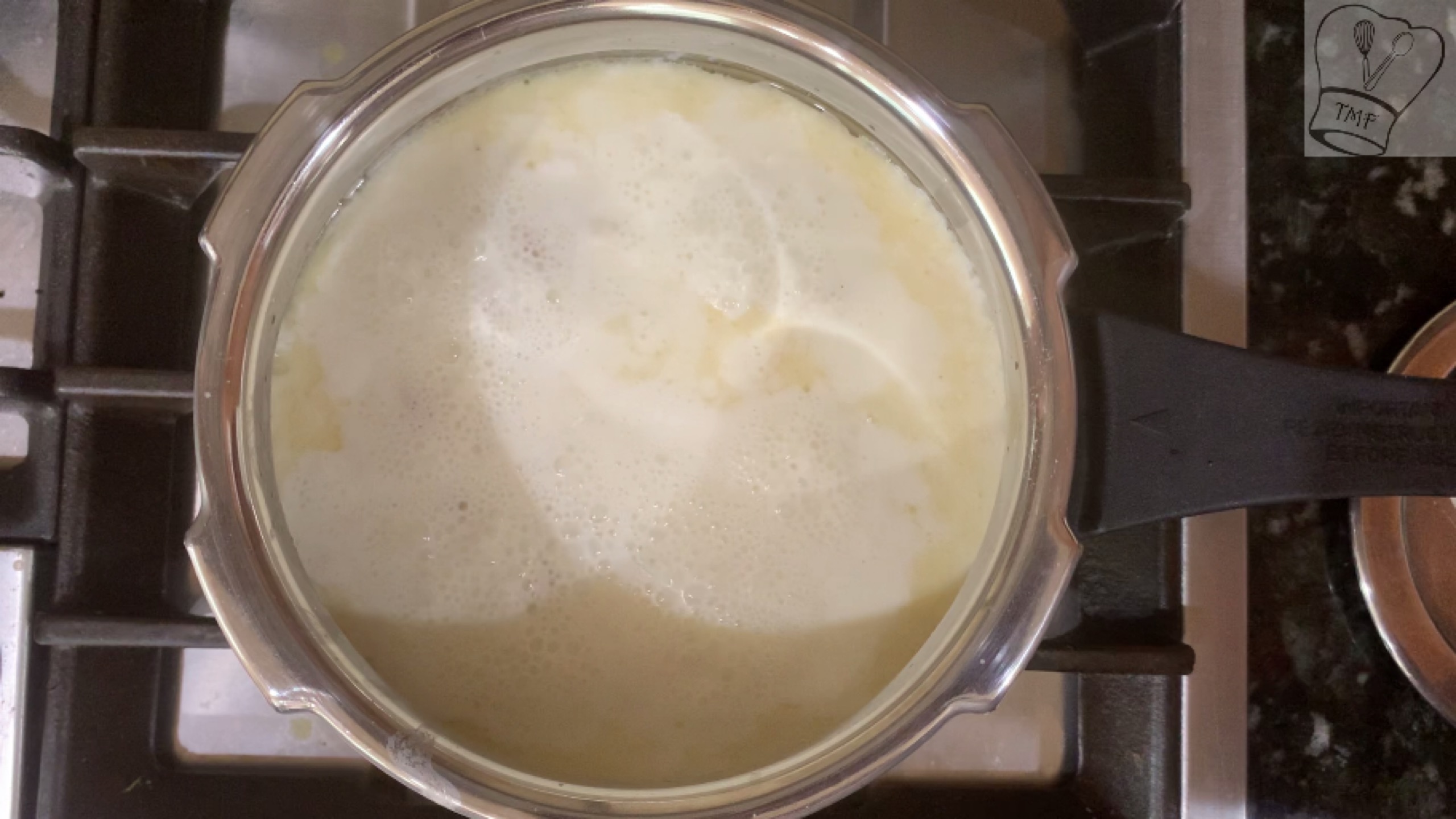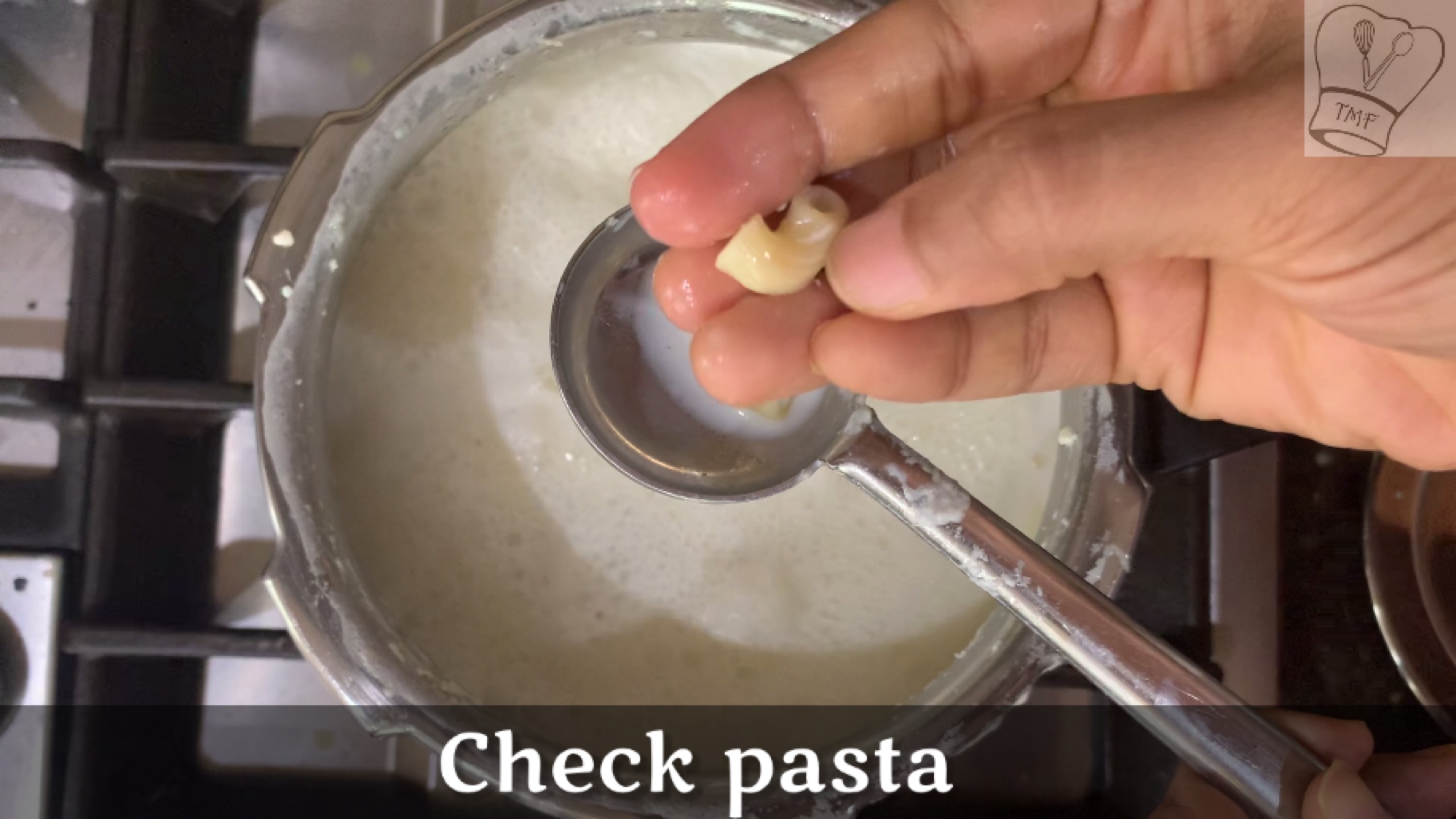 Add 1 cup + 1/2 of milk and cook for 15 minutes, stir in between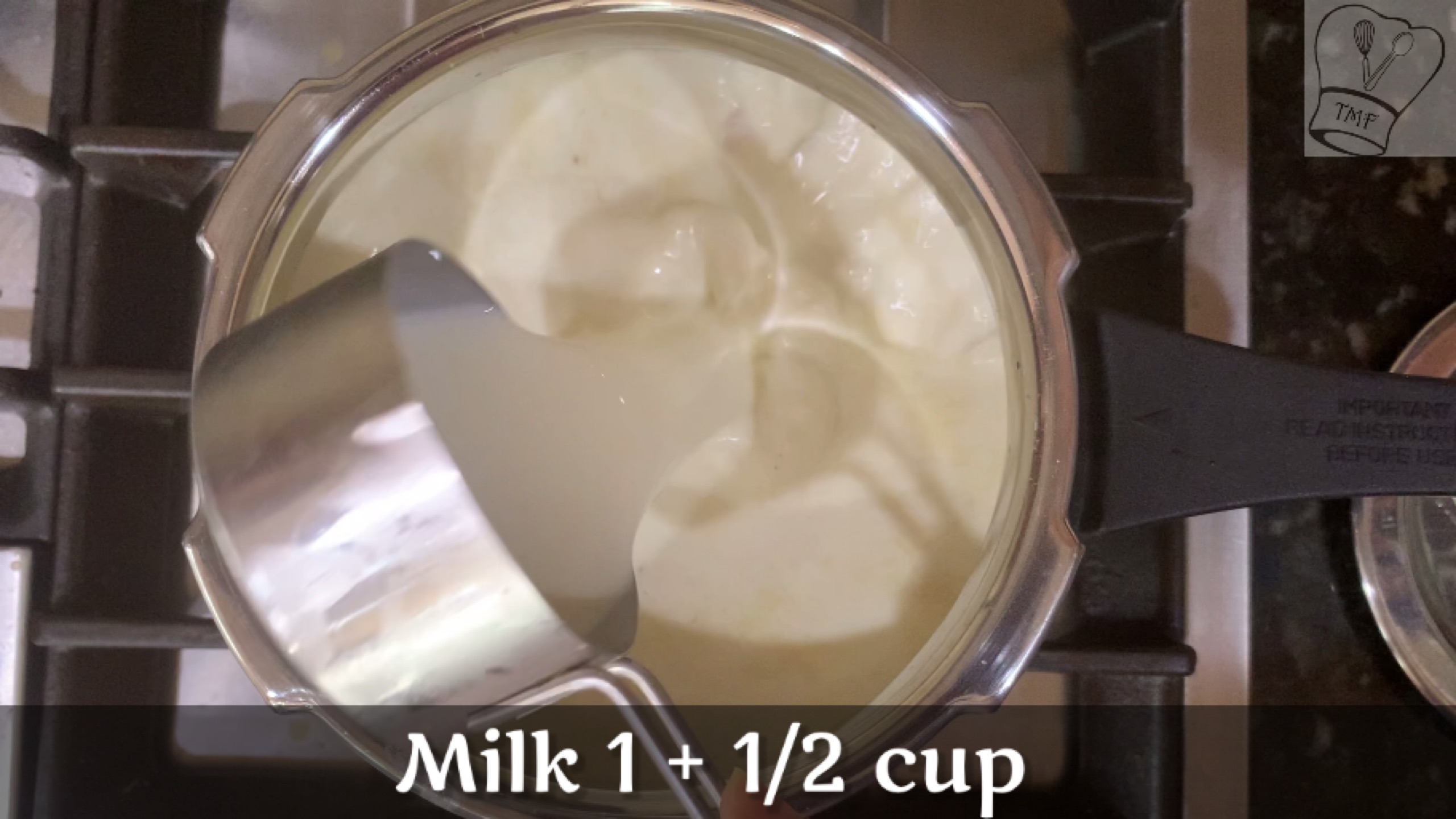 Payasam boils well and comes together
In this stage add cardamom powder, salt, and sugar mix well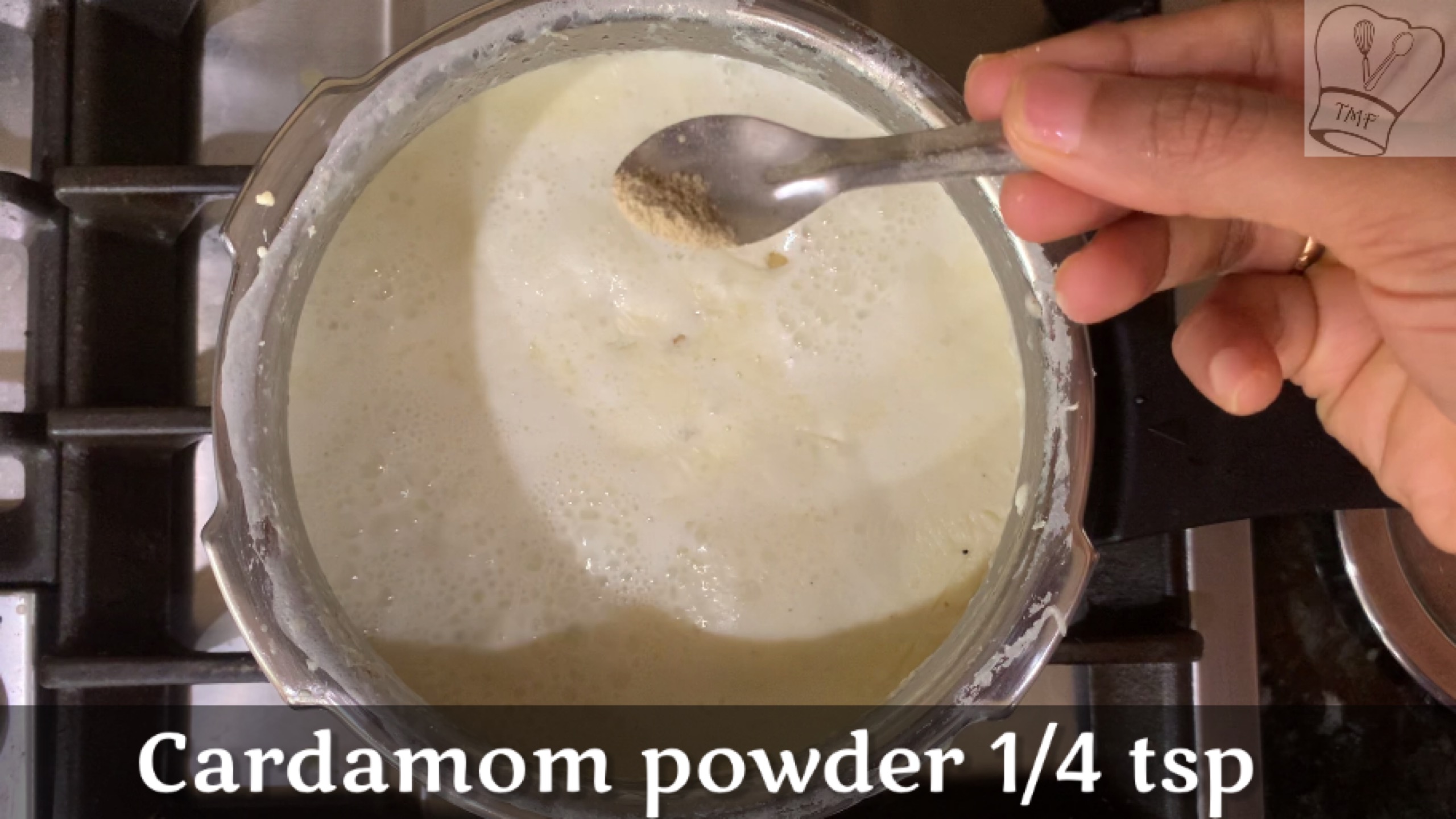 Finally, add roasted cashews and raisin and let the payasam cook for 5 minutes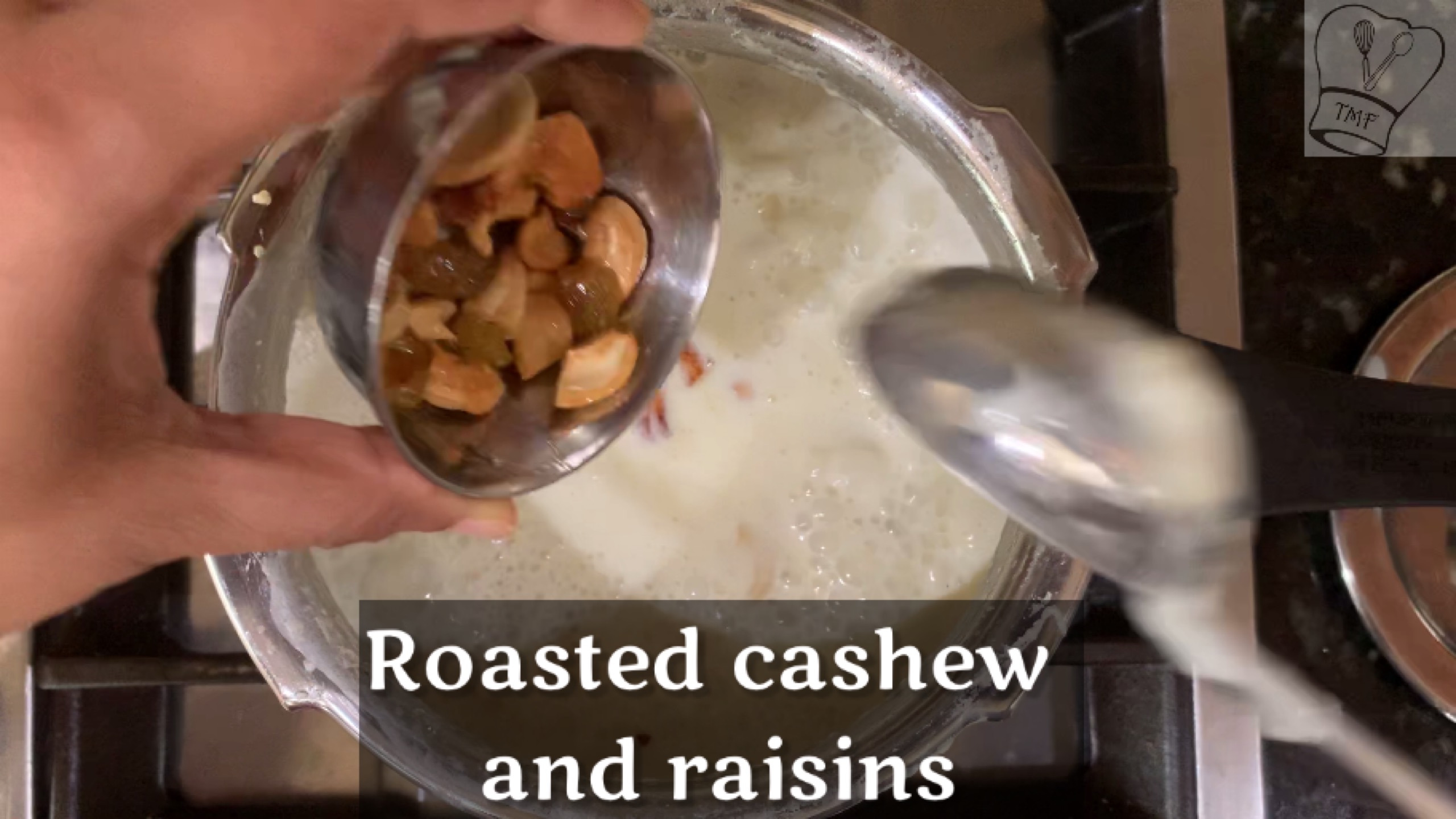 Switch off and serve immediately or chillI for few hours and serve cold