Pottukadalai burfi | burfi recipe | pottukadalai cake | Indian sweet recipe with step by step pictures and video recipe. Check out the pottukadalai Burfi and If you like the video pls SUBSCRIBE to my channel

Pottukadalai burfi | burfi recipe | pottukadalai cake a quick Indian sweet prepared with roasted Gram. Mild sweet burfi is one tasty option for Diwali.
As I told in Kaju Katli and Almond katli, RK sir's Pressure cooking gave a new dimension for making quick sweets.since OPOS is the registered trademark I am not using it for my recipe but I give credits to RK sir for this idea. String like consistency is something which was one of my biggest concerns. Due to that fear of that I have avoided preparing many sweets.

For this Potttukadali Cake I have used RK sir's Pressure cooker sugar syrup technique. Within 5 minutes sugar syrup was done. Last year I posted Beetroot Poriyal. Beetroot cooking was Based on that method but since I tempered it separtely I believe that wont falls under That category. When I missed this and Quoted the Poriyal under Founder pinged me and told it. I always have a big respect for his cooking after that incident I appreciate him stopping by to message me regarding the same.
Here in this Pottukadalai burfi I have roasted the pottukadali in ghee separately and mixed with sugar syrup so I doubt if the entire sweet will qualify for this technique.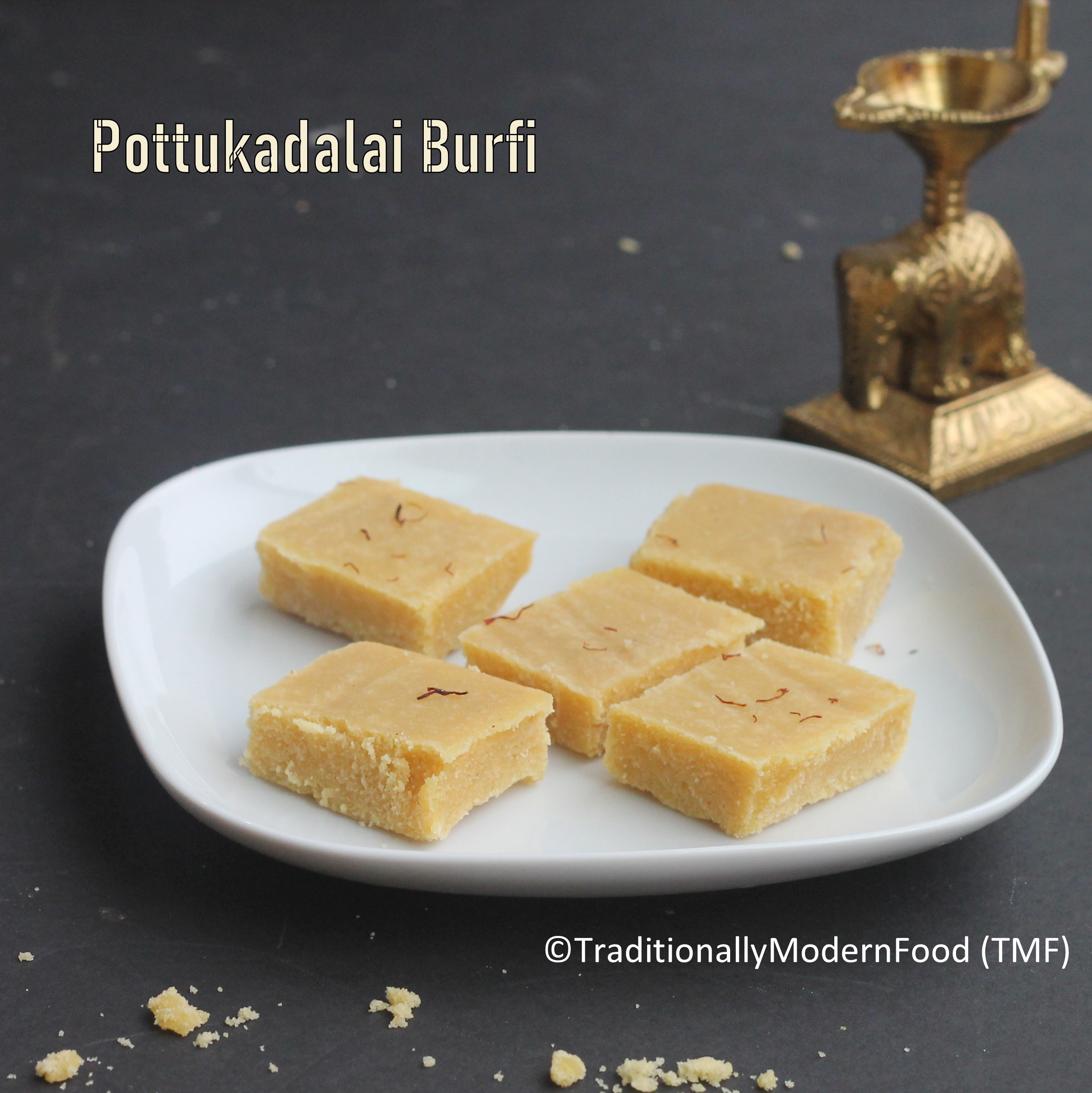 My son recently started going to school and my biggest concern is making his after-school snacks. Recently I was making Pottukadalai urundai for his after-school snacks and while picking him up he asked me what I made for today's snack. I dont know why, but I told him I made burfi.
After coming home I put one urundai in a plate and gave him. He said Amma it is not burfi that is when I realized why not a pottukadalai burfi. I decided to give it a try. To my surprise burfi was a big hit and at home and It has become one regular in our home.
Pottukadalai burfi will have a nice pottukadalai flavour and it is such a nice filling snack for kids. I have used less sugar, if you prefer your sweets on the sweeter side you can add little extra sugar.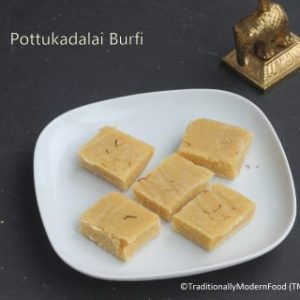 Ingredients
Pottukadalai - 1/2 cup +1 tbsp

Sugar - 1/2 cup + 2 tbsp

3

tablespoon

ghee/ butter

Room temperature smooth butter/ ghee - 3 tbsp

Water - 3 tbsp

Cardamom powder - 1/8 tsp

Saffron - few strands
Instructions
Grind pottukadalai, cardamom powder into fine powder without water

In a pan ghee and pottukadalai powder, saute in a low-medium flame till nice aroma comes and flour slightly changes color and become like a fine sand

In a 2 litre pressure cooker add sugar and water, stir it well. Let the sugar dissolve in water and stir well before keeping it on stove. Add saffron and mix well

Cover the pressure cooker with lid and put the weight

Take a tray and Grease a aluminum foil with ghee

Turn medium flame on small burner and keep the cooker. Cook exactly for 4 whistle

Switch off the gas stove and carefully release the pressure immediately

Add the pottukadalai flour to the sugar syrup and mix well without any lumps

Transfer it into a baking tray and let it cool for 15- 20 minutes

Cut into desired shaped, When it it cool store it in a airtight container
Video
Notes
1. Stir sugar syrup well before closing the lid to avoid sugar syrup from getting burnt
2. Use a proper 2 little cooker which whistles on/all time. Keep the flame on medium heat
3. Carefully Releases the pressure immediately else the syrup might lose its consistency. Pls be careful while releasing the pressure cooker
4. The recipe works perfectly. While trying to take pictures/videos for the blog. I lost the consistency a few times. This is what I did. If the dough breaks sprinkled little water and switch on the stove and cook till it becomes a nonstick mass of dough. If the mixture is wet add a tablespoon of cashew powder extra
5. For the mentioned quantity 4 whistles come around 4 mins
6. Adjust the sugar according to your taste
7. You can double or alter the recipe. 4 whistle is the key
8. The texture of the burfi depends on the ghee for soft burfi add extra ghee
9.If you feel the mixture is sticky add extra flour
10. Avoid keeping the cooker on maximum flame, sugar syrup might get burnt. Keep it between medium to high, make sure flame is not outside the cooker
11. Preferably use a 2-liter cooker. If you are using 3-liter cooker make sure quantity is at-least ¼ of the cooker to avoid cooker from getting burnt
12. If you are doubtful about pressure cooker cooking make burfi like 7 cup burfi in stove top
Ingredients:
Pottukadalai - 1/2 cup +1 tbsp
Sugar - 1/2 cup + 2 tbsp
Room temperature smooth butter/ ghee - 3 tbsp
Water - 3 tbsp
Ghee / butter - 3 tbsp
Cardamom powder - 1/8 tsp
Saffron - few strands
Method:
Grind pottukadalai, cardamom powder into fine powder without water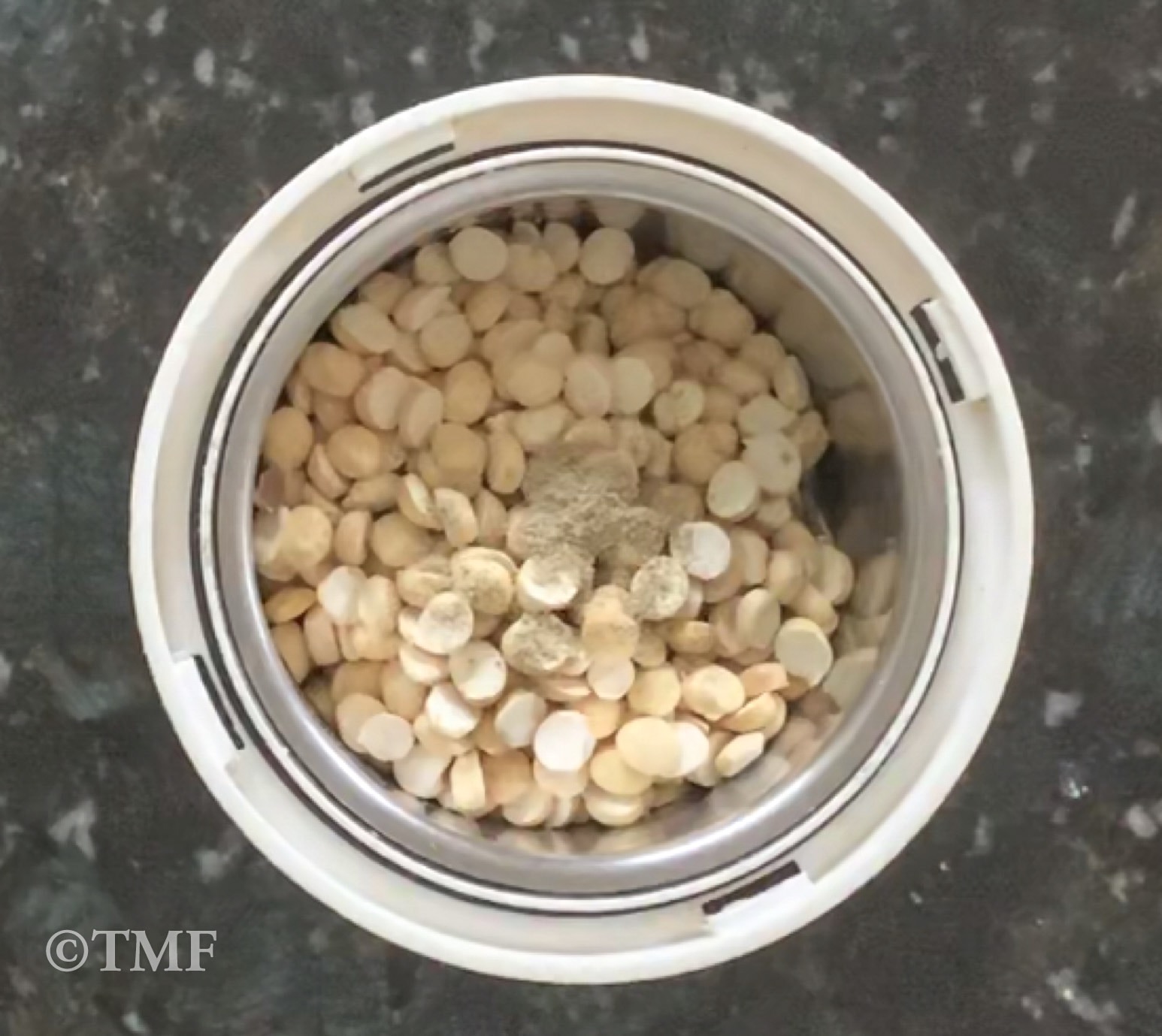 In a pan ghee and pottukadalai powder, saute in a low-medium flame till nice aroma comes and flour slightly changes color and become like a fine sand
In a 2 litre pressure cooker add sugar and water, stir it well. Let the sugar dissolve in water and stir well before keeping it on stove. Add saffron and mix well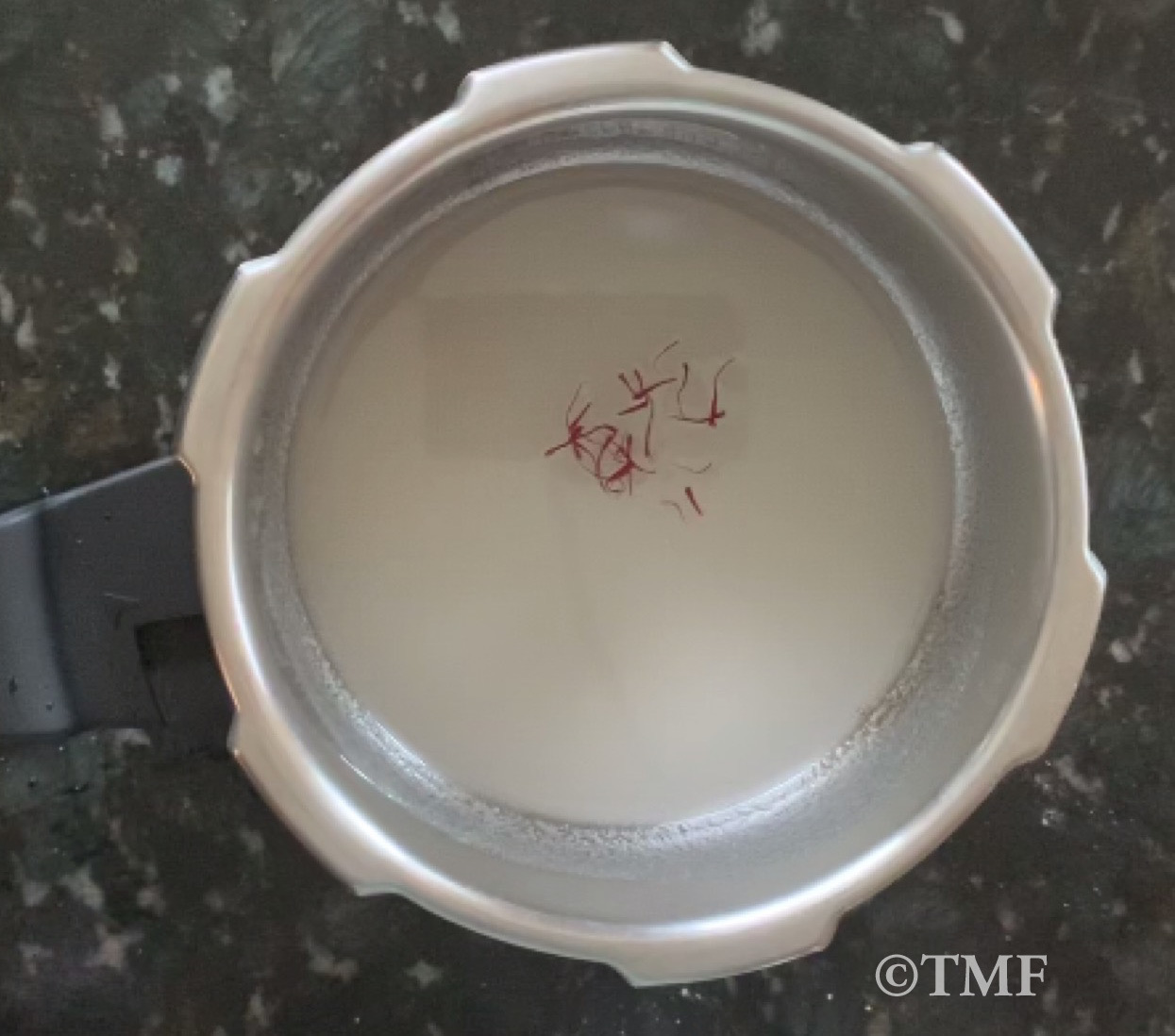 Cover the pressure cooker with lid and put the weight
Take a tray and Grease a aluminum foil with ghee
Turn medium flame on small burner and keep the cooker. Cook exactly for 4 whistle
Switch off the gas stove and carefully release the pressure immediately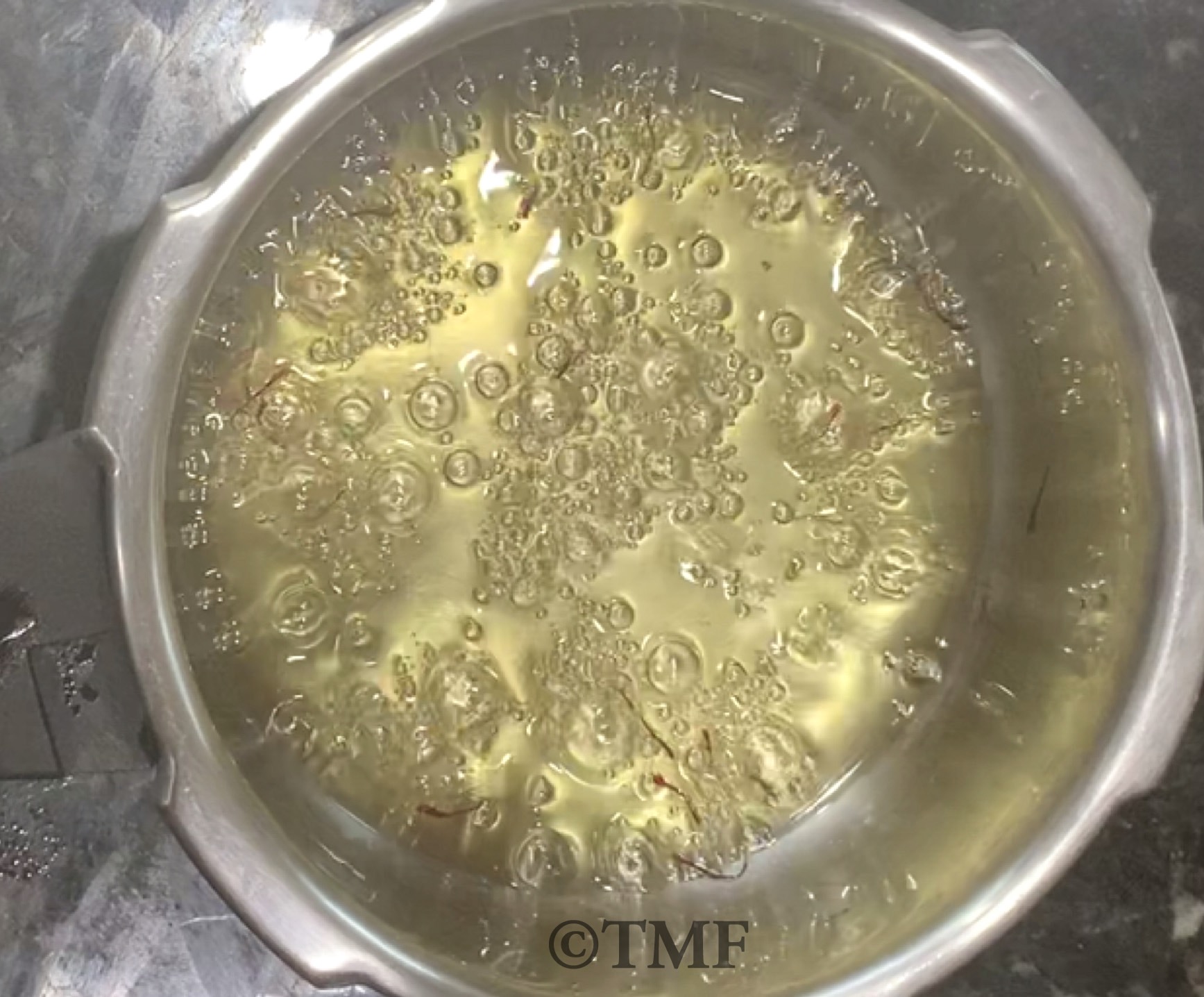 Add the pottukadalai flour to the sugar syrup and mix well without any lumps
Transfer it into a baking tray and let it cool for 15- 20 minutes
Cut into desired shaped, When it it cool store it in a airtight container
For regular recipe updates pls follow TMF social media,
Facebook | Instagram | Youtube | Pinterest | Twitter