Pottukadalai podi, Chutney dal podi, paruppu podi with pottukadalai, Pottukadalai idli podi, chutney dal podi recipe, no-cook paruppu podi, instant rice mix fried gram powder, poondu podi, pottukadalai poondu podi, chutney dal podi, Andhra paruppu podi, garlic podi, hotel-style paruppu podi, paruppu podi Andhra style, pappula podi, putnala podi, fried gram podi, podi variety with step by step pictures and video recipe. Check out the Pottukadala powder recipe. If you like the video pls SUBSCRIBE to my channel.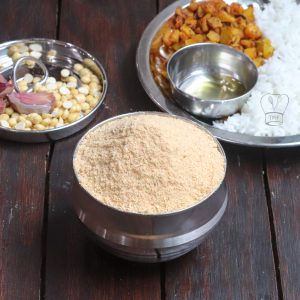 Pottukadalai podi, Chutney dal podi, paruppu podi with pottukadalai,putnala podi is a flavorful instant podi variety with pottukadalai / roasted chana dal. No-cook podi is super easy to make and stays good for weeks.
WHAT IS Special about Pottukadalai PODI?
Podi is a south Indian condiment. without any cooking Andhra paruppu podi with pottukadalai can be made within a few minutes. It tastes best when mixed with rice with a dollop of ghee or a few drops of sesame oil. you can also serve it as chutney powder with sesame oil for idli | dosai tiffin variety
Shelf life of
pottukadalai poondu podi
Always store podi in an airtight container with a lid. You can store the podi at room temperature or in the fridge. Podi stays good for weeks. Always use a dry and clean spoon for longer shelf life
Will the podi tastes spicy?
I have used Kashmiri chilli powder so the podi color looks orangish but it is not spicy. If you prefer spicy podi adjust the chilli powder according to your taste
Why whole garlic for putnala garlic podi?
I trimmed the cap of garlic but used whole garlic with my skin. It saves time and makes the podi flavorful. Based on our family's taste adjust the number of garlic.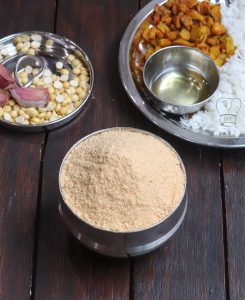 Should I roast the ingredients?
Roasting pottukadalai is optional. In our home, we like garlic flavor so I have prepared podi without roasting. According to your taste, you can roast and prepare podi
Use a Small mixie jar for the podi?
For this quantity, I would recommend a small mixie jar for perfect grinding.
Grind and pulse the podi
Grind the podi twice at medium speed. After initial grinding, I would recommend pulsing the podi for the perfect grainy texture. Mix well in between.
Variation for pottukadala podi
You can add little pepper and cumin seeds for additional flavor. If you have dried curry leaves you can add additional flavor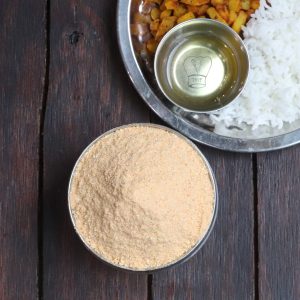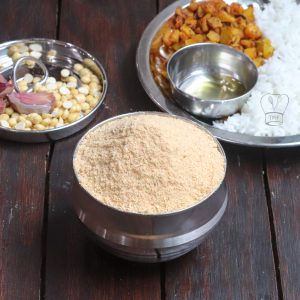 Ingredients
1

cup

pottukadalai | roasted gram dal

1/2

tablespoon

Kashmiri red chilli powder

1/2

teaspoon

salt heaped adjust according to your taste

10

whole garlic

1/2

teaspoon

hing
Instructions
Add pottukadalai, Kashmiri red chilli powder, salt, garlic, and hing to a small mixie jar

Grind twice and pulse till you get desired powder consistency
Video
Notes
Adjust the garlic according to your taste
I have trimmed the top cap of garlic skin and used whole garlic (along with skin) for podi
Adjust the chilli according to your taste. Kashmiri chilli powder won't make it spicy.
If you prefer spicy podi adjust the chilli powder according to your taste
Grind the podi twice mix well then pulse till you get perfect texture else podi might turn lumpy

Ingredients
1 cup pottukadalai | roasted gram dal
1/2 tablespoon Kashmiri red chilli powder
1/2 teaspoon salt heaped adjust according to your taste
10 whole garlic
1/2 teaspoon hing
How to make putnala podi with step by step pictures
Firstly add pottukadalai, Kashmiri red chili powder,

salt, garlic, and hing to a small mixie jar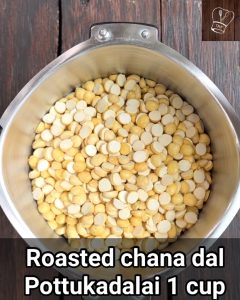 Grind twice and pulse till you get desired powder consistency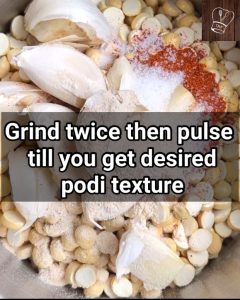 After the podi is cool transfer to an airtight container