Pudina podi | Mint podi | dry chutney powder | mint leaves powder | puthina powder | pudhina karam podi | pudhina masala powder, south Indian podi variety | pudhina rice | south indian pudina rice step by step pictures and video recipe. You can also check out the pudhina Podi video. If you like this recipe pls SUBSCRIBE to my channelSUBSCRIBE to my channel
Pudina podi
Pudina podi, also known as mint powder, is a versatile and aromatic spice blend that originates from South India. This flavorful blend is made by grinding together a variety of spices, including dried mint leaves, coriander seeds, cumin seeds, and lentils.
mint leaves podi RICE
Easy and tasty pudhina Sadam is a popular varietyrice dish from South Indian cuisine. With cooked rice, flavorful podi sadham can be prepared within 10 minutes. Authentic South Indian flavors.
SOUTH INDIAN puthina podi sadham RECIPE
If you are looking for a quick beginner-friendly recipe this is perfect. Be it a quick simple weekday meal or travel food or lunch box/tiffin box recipe for kids' school or office this great choice. Tasty offering to good on festival days, navaratri, etc.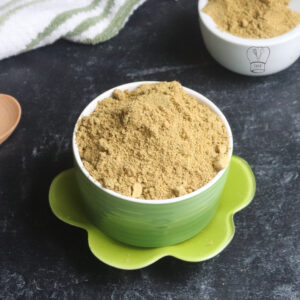 How can I serve mint leaves powder?
Puthina podi tastes best when mixed with rice. You can also serve as a side with idli/dosai. You can also sprinkle it on top of salads, yogurt, or soups for added flavor. It can also be used as a seasoning for snacks like popcorn and chips
Mint leaves health benefits
Aids digestion
Boosts immunity
Relieves respiratory problems
Lowers blood pressure
Improves oral health
Reduces stress and anxiety
Always dry the mint leaves
Drying helps in removing any moisture that could cause spoilage. You can dry them in direct sunlight but since I live in Seattle, I have used a microwave oven to dry the leaves.
Shelf life of pudina podi
store it in an airtight container in a cool, dry place away from direct sunlight. Exposure to air, moisture, and heat can cause the pudina podi to lose its flavor and aroma, and even spoiL
CAN I USE LEFTOVER RICE FOR mint leaves variety rice?
yes, it is one perfect way to finish leftover rice/ cold rice. If you are using leftover rice make sure you keep the rice at room temperature for some time. Warm the rice, spread the rice on a plate then use it.
Fluffy rice
If you are making Kalandha sadham with freshly cooked rice make sure you spread the rice on a plate till the steam goes off. I generally add a few drops of oil while cooking rice as it helps fluffy rice. You can also add sesame oil while cooling rice
WHAT KIND OF RICE SHOULD I USE?
I generally use Sona masoori rice/ raw rice. You can also use basmati rice, brown rice or hand point rice, or millet. Cook the rice well but not mushy. Avoid al dente cooking for better digestion.
Amount of podi?
Adjust the podi according to your taste. Always add podi after the rice is cool.
WHAT TASTES BEST WITH mint podi sadam?
Rice tastes best with varuval variety, curd based kuzhambu, kootu variety curd based recipes, pickle varieties, vadam varieties, savory bakshanam, masala vada or pakoda
Roast the dal golden brown
Always roast the dal in low- medium flame and keep mixing for even roasting. Golden brown dal makes the podi flavorful and also helps for a longer shelf life.
Tips to roast red chilli
I would recommend roasting the red chilli along with dal. Always roast the whole red chilli. if you remove the chilli cap, seeds might turn bitter while roasting. remove the cap just before grinding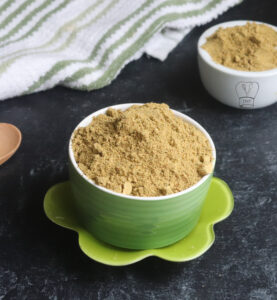 Coriander leaves without moisture
Wash the coriander leaves well and dry the moisture completely. If you grind coriander without moisture it will affect the podi texture. Follow the tips to store coriander leaves fresh for weeks
Can I skip sun-drying Coriander leaf powder?
If you are planning to consume the podi immediately or within one week you can skip sun-drying but for a longer shelflife, I would recommend sun or fan drying.
variation - you can use
Pepper and reduce red chilli
if coriander leaves have moisture, microwave for 2 mins
Sesame seeds, cumin seeds, and coriander seeds can be roasted along with dals
For the pudina powder video recipe

Ingredients
mint leaves podi
25 grams mint leaves
10 grams coriander leaves
1/4 teaspoon sesame oil
1/2 teaspoon black sesame seeds
3 tablespoon chana dal
1/2 teaspoon pepper
2 tablespoon urad dal
1/2 teaspoon cumin seeds
6 Red chilli
curry leaves few
5 grams tamarind
1/2 teaspoon Asafoetida
Required salt
Pudina podi sadham
2 tablespoon pudina podi
1 cup + 1/2 cup cooked rice, loosely packed
1/2 tablespoon sesame oil
1/4 teaspoon mustard seeds
1 Red chilli
Curry leaves few
1 tablespoon chana dal
4 cashews
1 + 1/2 tablespoon peanut
Asafoetida generous portion
How to make pudina podi with step-by-step pictures
Coriander podi
First wash mint and coriander leaves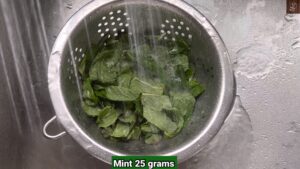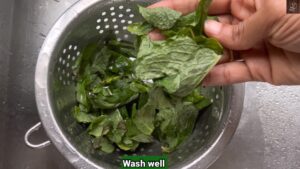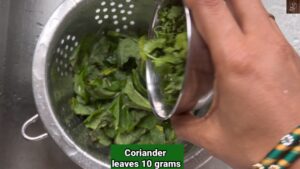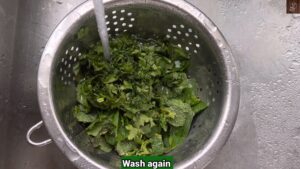 Squeeze water and dry them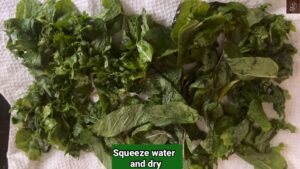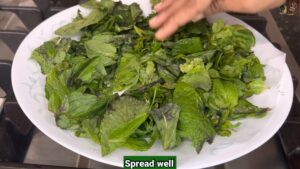 Place parchment paper on microwave safe plate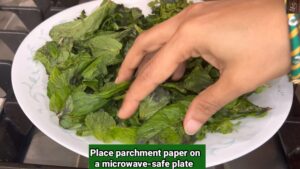 Spread coriander leaves and microwave for 2 minutes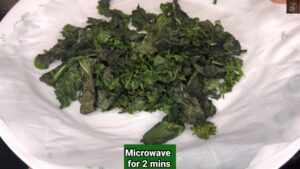 Add oil to a wide heavy bottomed pan and heat a pan on low-medium heat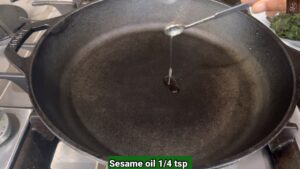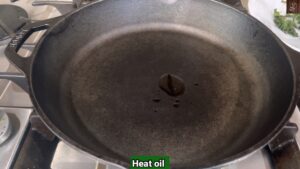 When the pan turns hot add coriander seeds, urad dal, pepper, red chilli chana dal; saute for 1 minute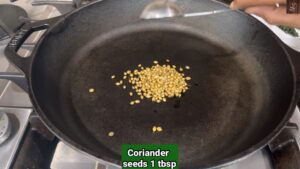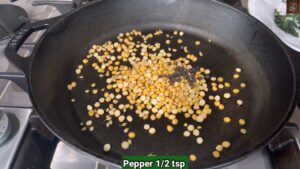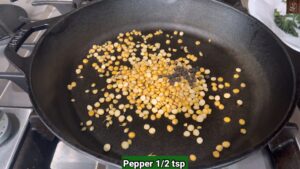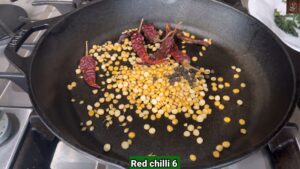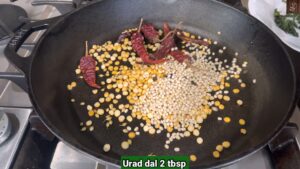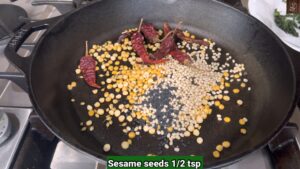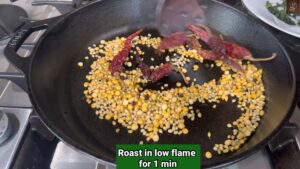 Furthermore, add curry leaves and cumin seeds; mix well, and roast till the dal turns golden brown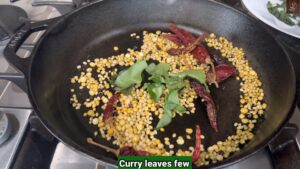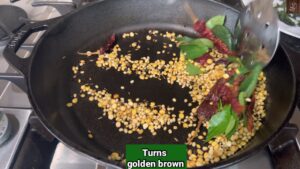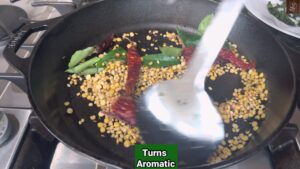 Add tamarind, microwaved coriander and mint leaves; mix well for 30 seconds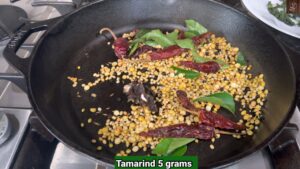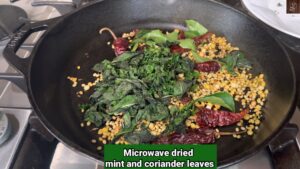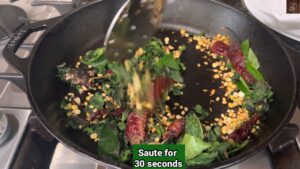 Turn off the stove and cool in the same pan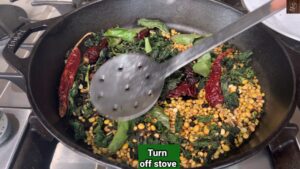 Finally add required salt and asafoetifa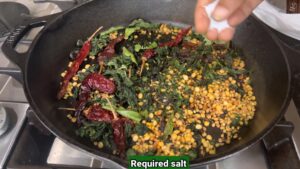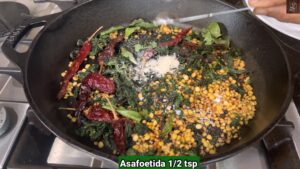 Remove the red chilli cap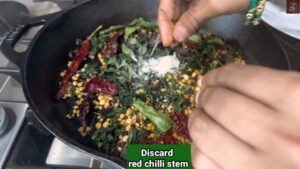 Transfer to the mixie jar and grind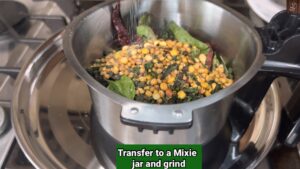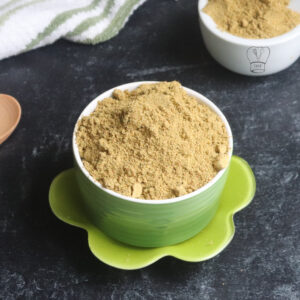 Cook rice and cool
First cook rice with the required water and a few drops of sesame oil

Transfer the cooked rice to a wide plate and cool the rice
Mix podi rice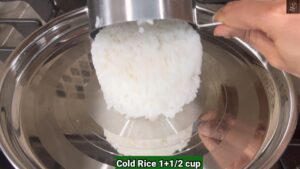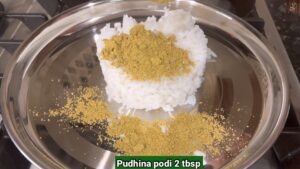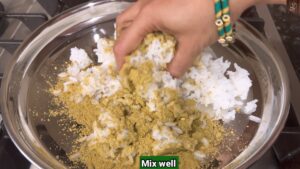 Temper and prepare

Pudina podi sadham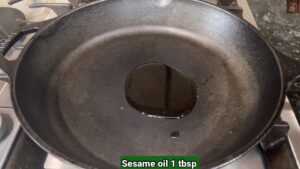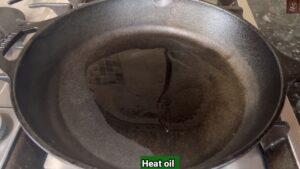 When oil is hot add mustard seeds, chana dal, red chilli, curry leaves, cashews and peanut; roast well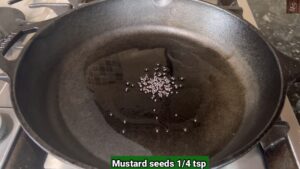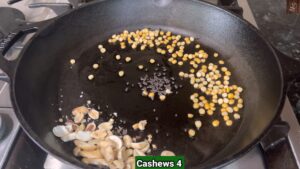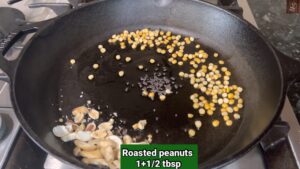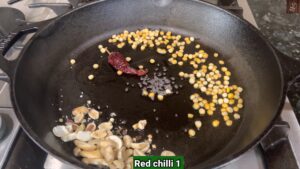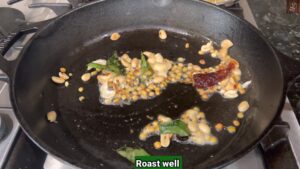 Furthermore, Add asafoetida and mix well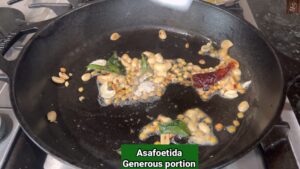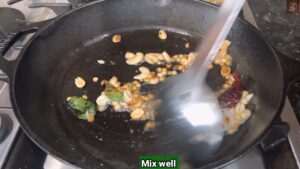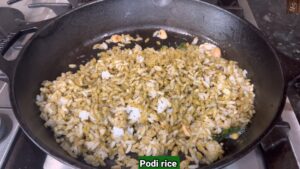 Cook for 30 seconds and turn off the stove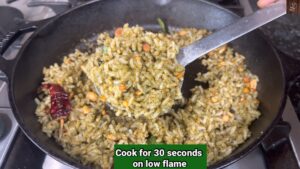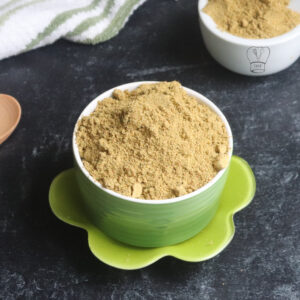 Ingredients
mint leaves podi
25

grams

mint leaves

10

grams

coriander leaves

1/4

teaspoon

sesame oil

1/2

teaspoon

black sesame seeds

3

tablespoon

chana dal

1/2

teaspoon

pepper

2

tablespoon

urad dal

1/2

teaspoon

cumin seeds

6

Red chilli

curry leaves few

5

grams

tamarind

1/2

teaspoon

Asafoetida

Required salt
Pudina podi sadham
2

tablespoon

pudina podi

1

cup

+ 1/2 cup cooked rice

loosely packed

1/2

tablespoon

sesame oil

1/4

teaspoon

mustard seeds

1

Red chilli

Curry leaves few

1

tablespoon

chana dal

4

cashews

1

+ 1/2 tablespoon peanut

Asafoetida generous portion
Instructions
Coriander podi
First wash mint and coriander leaves

Squeeze water and dry them

Place parchment paper on microwave safe plate

Spread coriander leaves and microwave for 2 minutes

Add oil to a wide heavy bottomed pan and heat a pan on low-medium heat

When the pan turns hot add coriander seeds, urad dal, pepper, red chilli chana dal; saute for 1 minute

Furthermore, add curry leaves and cumin seeds; mix well, and roast till the dal turns golden brown

Add tamarind, microwaved coriander and mint leaves; mix well for 30 seconds

Turn off the stove and cool in the same pan

Finally add required salt and asafoetifa

Remove the red chilli cap

Transfer to the mixie jar and grind
Cook rice and cool
First cook rice with the required water and a few drops of sesame oil

Transfer the cooked rice to a wide plate and cool the rice
Mix podi rice
Measure and take rice

Add podi; mix well
Temper and prepare Pudina podi sadham
Add oil to a wide pan

When oil is hot add mustard seeds, chana dal, red chilli, curry leaves, cashews and peanut; roast well

Furthermore, Add asafoetida and mix well

add podi rice

Cook for 30 seconds and turn off the stove
Video