Sattur Karasev | Garlic kara sev | kara sevu | kaara sev | milagu karasev | Pepper kara sev | karasevu | sattur sevu | Diwali recipe | Snacks recipe | Diwali snacks Recipes | kaara sevu Video recipe| Deepavali Recipes with step by step pictures and video recipe. Check out the garlic karasev recipe. If you like the video pls SUBSCRIBE to my channel. Check out other Traditional Indian savory snacks in TMF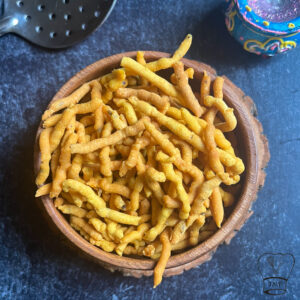 sattur kara sev
Sattur Kara Sev is a popular Indian snack, especially in the southern part of India. Sattur is a town in Tamil Nadu known for its various snacks, and Kara Sev is a type of savory snack that is crunchy and spicy. It is often made during festivals or special occasions.
Should I sieve Kadalai maavu for potato sev?
Lump-free | grain-free batter results in the best kara sevu. If you think besan has lumps, sieve first, then prepare the dough
garlic for sattur kara sevu
Garlic is a key ingredient for sattur sev. I prefer grinding it with turmeric powder to avoid discoloration. Make sure you grind well to avoid big garlic granules.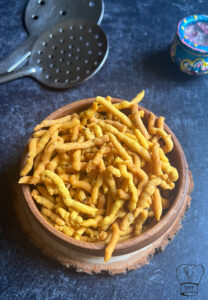 How much water should I add to the batter?
The exact quantity might vary depending on the type of besan flour you use. If you are doubtful. Avoid pouring water.
Freshly crushed pepper
freshly crushed pepper gives the best texture and taste. You can use pepper powder if you don't like biting pepper granules.
Can I use chilli powder?
The traditional preferred spice for karasevu is pepper. You can use chilli powder According to your taste
Should I add Asafoetida?
Yes, also gives a nice flavor also good for digestion.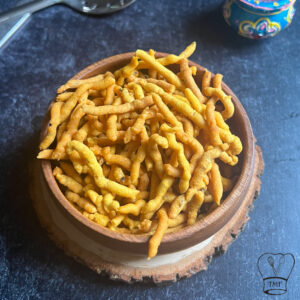 Oil - things to remember
since we press sev in hot oil make sure oil is just around 1/3 rd compared to pan size so that you won't feel the heat while pressing
Optimal oil temperature
Drop a little dough in hot oil

Too hot oil - dough turns dark (burn)

Not hot enough - sink to the bottom of the pan soon after dropping

Right Oil Temperature - dough floats in a few seconds without changing color
perforated ladle
the size of the kara sev depends on the hole size of the perforated ladle. Make sure you take less dough and press. After every batch make sure you clear under the ladle
can i use murukku achu for kara sev
add less water in that case and follow the rest of the steps.
See more Savory bakshanam recipes

ingredients
Grind garlic
3 big garlic
1 teaspoon turmeric powder
asafoetida
required salt
1/4 cup water
Kaara sev dough
1 cup fine besan flour
1/2 cup rice flour
1/4 cup water
1 teaspoon cumin seeds
freshly crushed pepper
1 tablespoon oil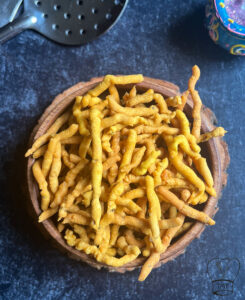 How to make sattur karasev with step-by-step pictures
grind garlic
first add garlic, asafoetida, turmeric powder, and water; grind well
Heat oil
Heat oil in a heavy-bottomed deep wide pan at medium flame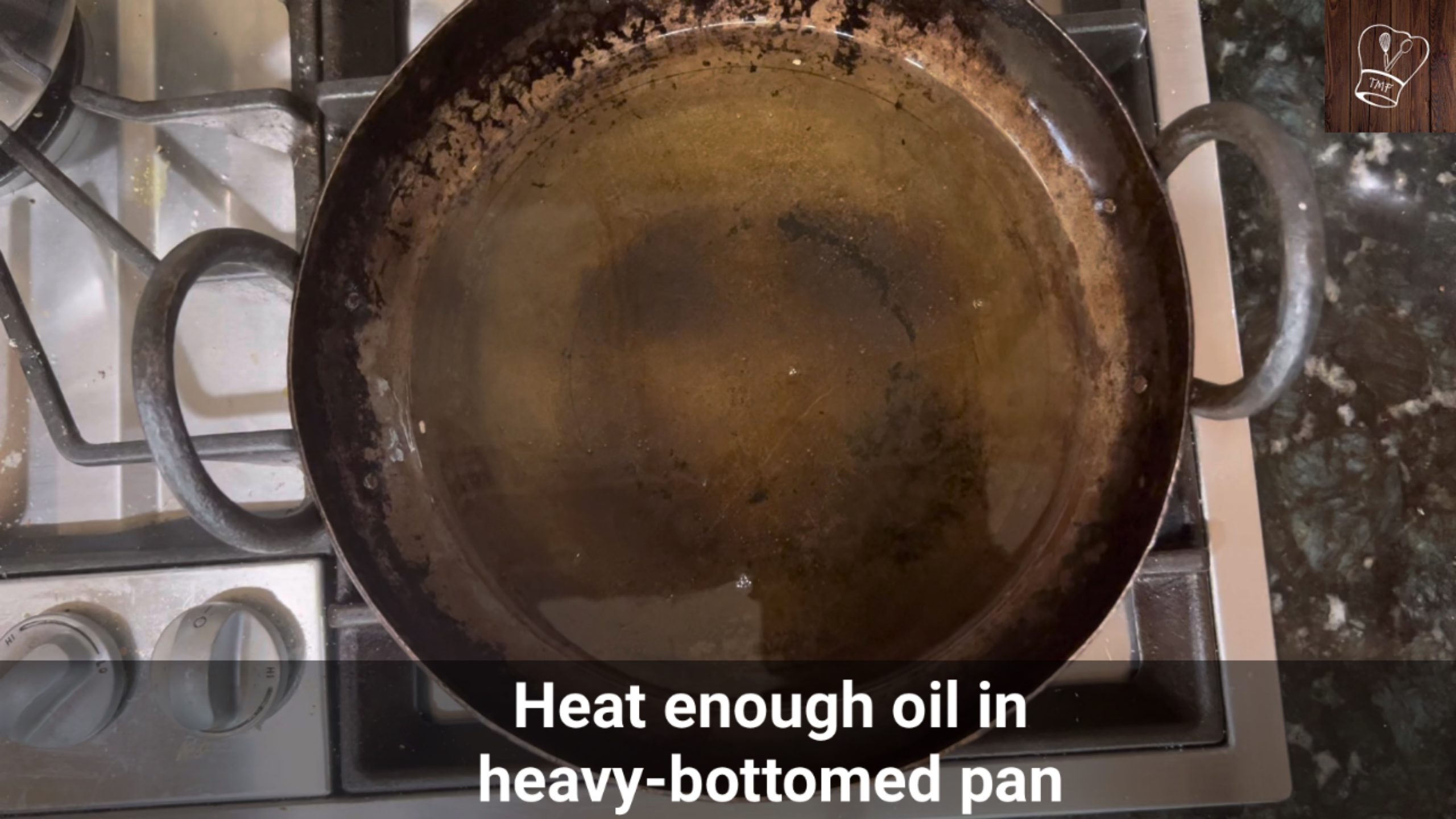 Sattur Kara sev dough
Take besan flour and rice flour; mix well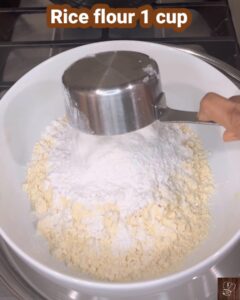 Furthermore, add cumin seeds and crushed pepper; mix well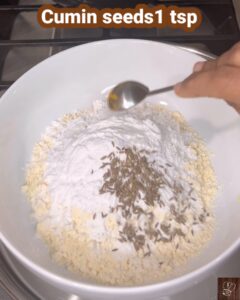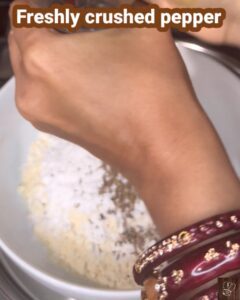 Add ground garlic water; mix well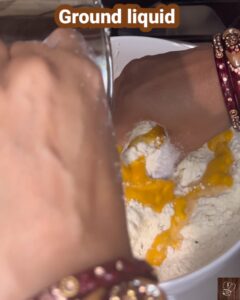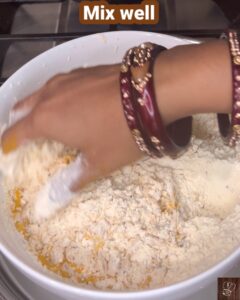 furthermore, add water and hot oil; mix well and knead again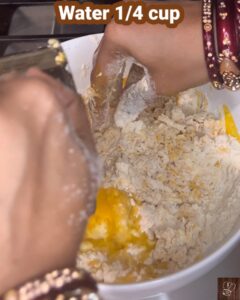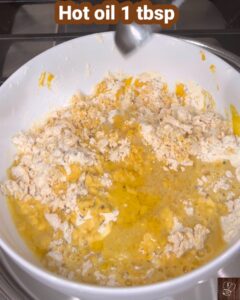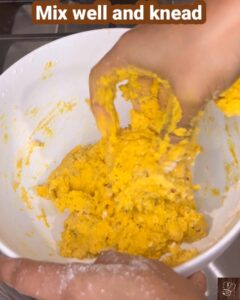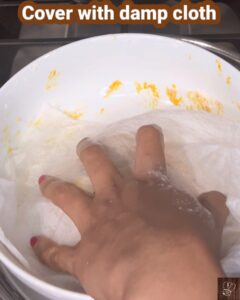 Check oil temperature
Drop a little dough in hot oil

Too hot oil - dough turns dark (burn)

Not hot enough - sink to the bottom of the pan soon after dropping

Right Oil Temperature - dough floats in a few seconds without changing color
Fry poondu kara sevu
Press kara sev on the perforated ladle
Initially, oil turns frothy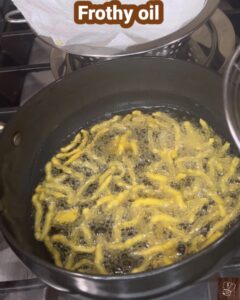 Flip and fry them till the bubble subsides and sshh cease goes off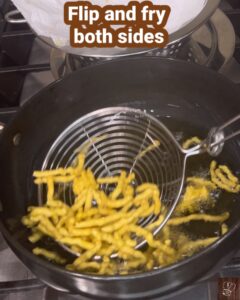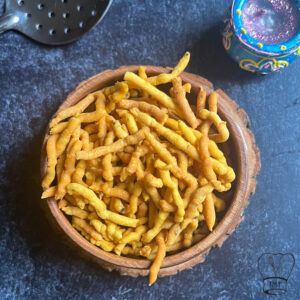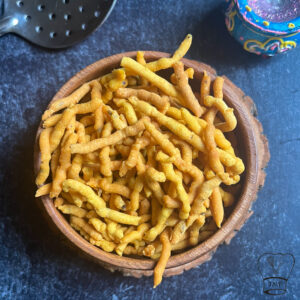 Ingredients
Grind garlic
3

big garlic

1

teaspoon

turmeric powder

asafoetida

required salt

1/4

cup

water
Kaara sev dough
1

cup

fine besan flour

1/2

cup

rice flour

1/4

cup

water

1

teaspoon

cumin seeds

freshly crushed pepper

1

tablespoon

oil
Instructions
grind garlic
first add garlic, asafoetida, turmeric powder, and water; grind well
Heat oil
Heat oil in a heavy-bottomed deep wide pan at medium flame
Sattur Kara sev dough
Take besan flour and rice flour; mix well

Furthermore, add cumin seeds and crushed pepper; mix well

Add ground garlic water; mix well

furthermore, add water and hot oil; mix well and knead again

cover with a damp cloth
Check oil temperature
Drop a little dough in hot oil

Too hot oil - dough turns dark (burn)

Not hot enough - sink to the bottom of the pan soon after dropping

Right Oil Temperature - dough floats in a few seconds without changing color
Fry poondu kara sevu
Press kara sev on the perforated ladle

Initially, oil turns frothy

Flip and fry them till the bubble subsides and sshh cease goes off

drain the oil
Video