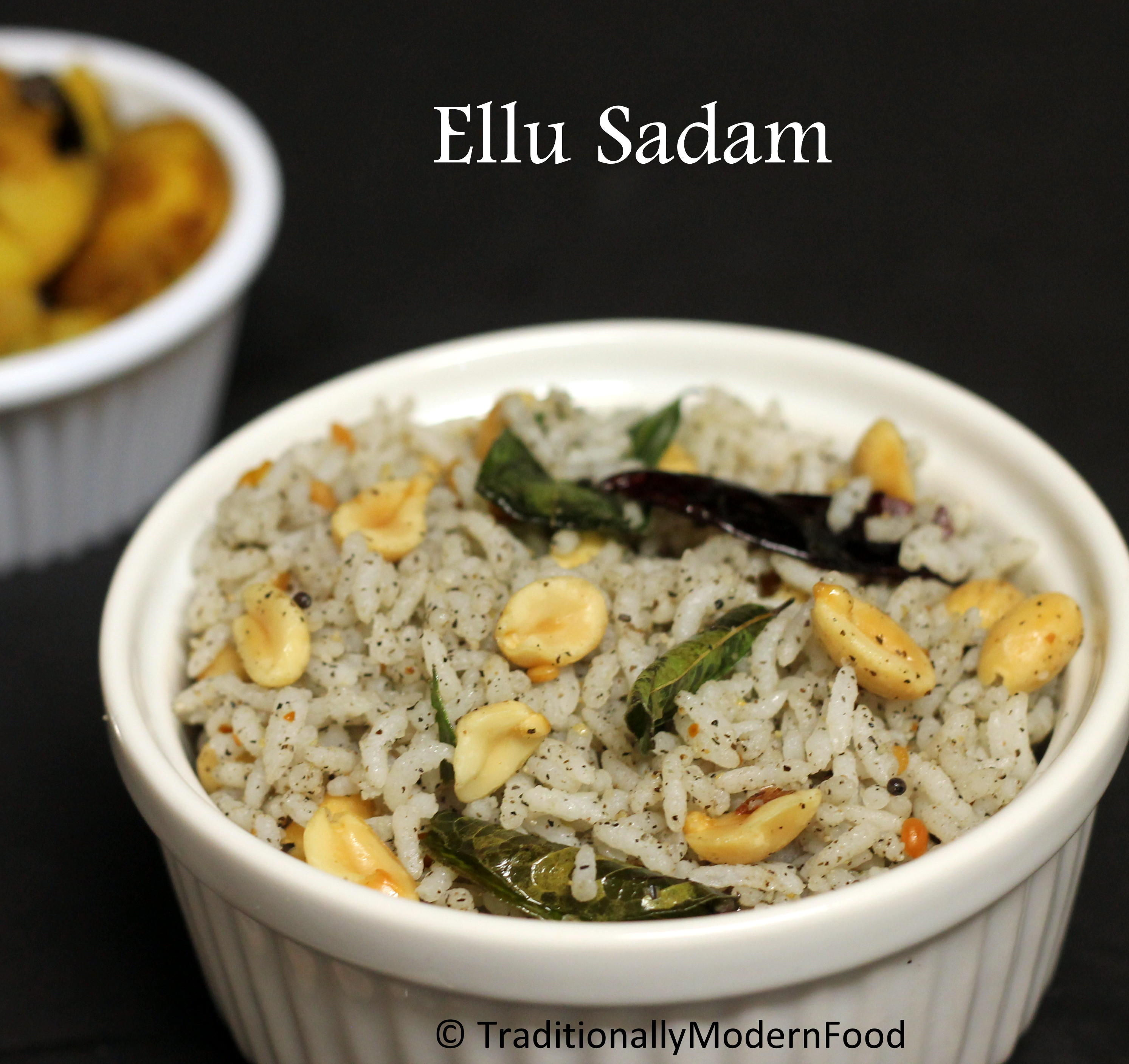 Sesame seed rice/ Ellu Sadam is a tasty variety rice prepared with black sesame seed. Ellu gives a intense flavour for the rice. With some cooked rice, this can be prepared within 10 minutes. Make ahead and enjoy after few hours for best flavour.
I remember "Ellu Sadam" as prasadam (Offering) for God, prepared during Saturdays. When I was in school we use to have half day school on Saturday. Every week after I enter home my Amma's Sesame seed rice flavour welcomes me.
It kindles my appetite. Irrespective of whatever food she prepared for lunch, I finish Ellu Sadam first then go to the main menu. How could I forget Sakhtiman in tv, it's one of my favorite thing to watch during school days.
Not only in home but in temple also Ellu Sadam is one of my favorite prasadam. Any offering from temple tastes divine. Whenever my Amma visits temple she brings the prasadam home and give it to me and my sister. My sister gives me extra share for sweet pongal and Ellu Sadam.
My hubby also likes Ellu Sadam. Certain food gets better overtime, Ellu Sadam is one such. Flavour gets better if it's consumed after sometime. It's one of his favorite lunch box special,
Rice can be prepared within 10 minutes. This variety rice is one great way to use leftover rice.
Check out other variety rice posted in TMF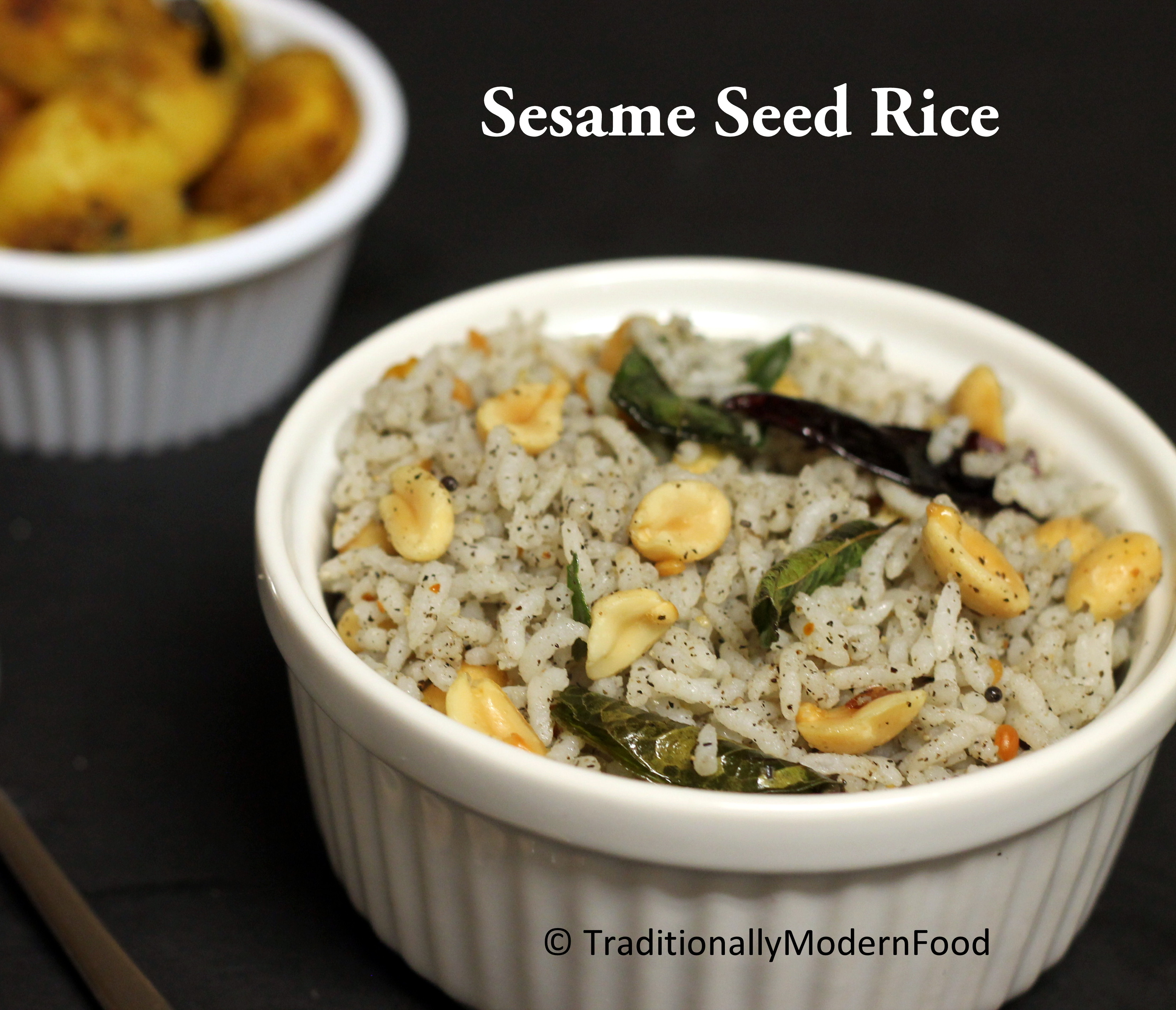 Ingredients:
Cooked Rice – 1 cup + 1/2 cup
Rosted Peanuts – 3 tbsp
To grind:
Black/White Sesame Seed /Elu – 3 tbsp
Urad dal – 1/2 tbsp
Cumin Seed – 1/4 tsp
Pepper – 1/4 tsp
Red chilli – 1 (Adjust according to your spice level)
Roasted peanuts – 3
To temper:
Sesame oil – 1/2 tbsp
Mustard seed – 1/2 tsp
Channal dal – 1 tbsp
Curry leaves – few
Asofetida – generous pinch

Red chilli – 1
Method:
Spread the cooked rice in a pan Ad add fee drops of sesame oil, mix well
Dry roast all the ingredients listed under "to grind" except sesame seeds till aroma comes; transfer into a plate
In the same pan dry roast sesame seed till it starts popping; transfer it to the same plate.
Let it comes to room temperature, first grind the dal mixture
Adree it is ground add sesame seed and grind

Add oil to the pan once the oil becomes hot add the items under "To temper" and let mustard seed splutter. Add the peanuts and give a quick mix; switch off
Transfer the tempering to the vessel containing the rice. Add sesame seed powder little by little according to your taste and mix
Add salt to the rice and mix well
Rice tastes best after few hours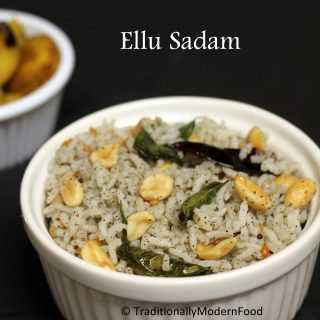 Sesame Seed Rice | Elu Sadam
Sesame seed rice/ Ellu Sadam is a tasty variety rice prepared with black sesame seed. Rlly gives a intense flavour for the rice. With some cooked rice, this can be prepared within 10 minutes
Print
Pin
Comment
Ingredients
Black/White Sesame Seed /Elu - 3 tbsp

Urad dal - 1/2 tbsp

Cumin Seed - 1/4 tsp

Pepper - 1/4 tsp

Red chilli - 1

Adjust according to your spice level

Roasted peanuts - 3

To temper:

Sesame oil - 1/2 tbsp

Mustard seed - 1/2 tsp

Channal dal - 1 tbsp

Curry leaves - few

Asofetida - generous pinch

Red chilli - 1
Instructions
Spread the cooked rice in a pan Ad add fee drops of sesame oil, mix well

Dry roast all the ingredients listed under "to grind" except sesame seeds till aroma comes; transfer into a plate

In the same pan dry roast sesame seed till it starts popping; transfer it to the same plate.

Let it comes to room temperature, first grind the dal mixture

Adree it is ground add sesame seed and grind

ellusadam

Add oil to the pan once the oil becomes hot add the items under "To temper" and let mustard seed splutter. Add the peanuts and give a quick mix; switch off

Transfer the tempering to the vessel containing the rice. Add sesame seed powder little by little according to your taste and mix

Add salt to the rice and mix well

Rice tastes best after few hours
Notes
White sesame seed can be used instead of black
Cashew can be used for extra crunch
If you feel you need extra spice add pepper- cumin powder or temper with extra red chilli
Make the ellu sadam few hours before consuming for best taste