Nutella avocado mousse is a easy dessert made with Avocado and Nutella. Without any cooking Nutella avocado pudding is ready in no time.
I couldn't find a better day to post this Mousse, my Little bundle is "2" today. This year we where very confused while deciding the theme for his birthday. His recent favorites are mickey mouse, spider man and Thomas. Everyday we somehow try to ask him what he wants, but as expected he randomly tells everything alternatively.
Winter has started and his mickey mouse jacket made him to tell that frequently, finally we have the theme.Today evening we have a small party in Indian restaurant. This is my scheduled post.
"Nutella" is Vishvak's favorite spread. Now a days he starting addressing bread as "Nutella mumum". Even if I give him nutella daily he will happily eat.
When he was month baby he loves avocado, now a days I try to give it he runs in all direction. Big no comes from him moment he see avocado. My mother always says one thing, give a healthy food with his favorite food.
One day I saw Gaida's "Chocolate Avocado Mousse" in food network. Immeditely I thought I should try it with nutella. Now a days once in a while he enjoys his favorite Nutella avocado mousse dessert, without knowing the secret hidden ingredient:-)
Recipes like this Nutella avocado mousses are my favorite. Within no time delicious treat is ready. Nutella avocado mousses is a Zero cooking dessert not only attracts kids but also mom😊 Less time in kitchen - happy mom
Checkout other pudding varieties in TMF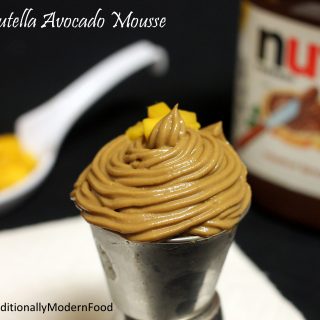 Nutella Avocado Mousse | Nutella Avocado Pudding
Quick dessert with avocado and Nutella. Zero cooking
Print
Pin
Comment
Ingredients
Ripe avocado - 1

skin removed and pitted,mashed

Nutella - 1/3 cup

Unsweetened cocoa powder - 1 tsp

Vanilla extract - 1/2 tsp

Salt - pinch
Instructions
Put all the ingredients into a mixie jar/ blender. Grind into a fine mixture ( I didn't add water but if nutella consistency is very Thick drizzle little water)

Transfer it into a serving dish. Treat the kids immediately or after chilling (though I started doing it for him now it has become our favorite dessert). I kept in fridge and pipped it in a pipping bag
Notes
Sugar/maple syrup/honey/original syrup can be added for extra sweetness
Melted Chocolate or any hazelnut spread can be added
Fruit pulp can be added for extra cheat
Avocado can also be cut into small pieces and put into blender
Nuts can be added for extra crunch
Instant coffee Powder can be added to boast chocolate flavor
Ingredients
Ripe avocado - 1, skin removed and pitted,mashed
Nutella - 1/3 cup
Unsweetened cocoa powder - 1 tsp
Vanilla extract - 1/2 tsp
Salt - pinch
Method:
Put all the ingredients into a mixie jar/ blender. Grind into a fine mixture ( I didn't add water but if nutella consistency is very Thick drizzle little water)
Transfer it into a serving dish. Treat the kids immediately or after chilling (though I started doing it for him now it has become our favorite dessert). I kept in fridge and pipped it in a pipping bag