Vendakkai Puli kuzhambu | Kara Kuzhambu is a tasty South Indian rice accompaniment with ladies finger in tamarind based Kuzhambu. Restaurant style tasty Kara Kuzhambu.
When I was in college my Amma was out of station and my neighbour aunt offered to give lunch for me. First I told her I will cook, but Aunty convinced me and gave this kuzhambu and potatothokku for lunch. While eating I realized its different from Amma's kuzhambu.
Vendakkai puli Kuzhambu tasted delicious like the one we get hotel saravana bhavan. Amma doesn't add onions in vendakkai kuzhambu, also there is no grinding step. I got so addicted to Aunty's preparation, till my marriage whenever she prepares this kuzhambu in home, she sends me some.
If you are interested for some tasty South Indian kuzhambu varieties in TMF,
Kuzhambu varieties with tamarind
Kuzhambu varieties without tamarind
After travelling to UK I missed aunty's Vendakkai Kara Kuzhambu that's when I asked Amma to ask for the recipe. My Amma learnt this vendakkai Kara Kuzhambu recipe and sent me. I started cooking at home regularly also she wrote this recipe in a notebook for my reference. Now it is in blog too😊
Try other Vendakkai based recipe in TMF,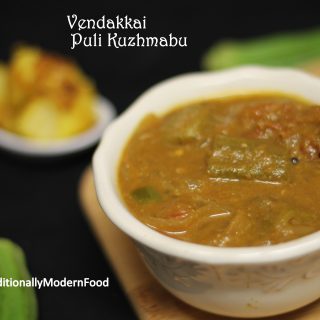 Ingredients
Ladies Finger - 10 - 12

depending on the size of ladies finger

Onion - 1

chopped

Tomato - 1

chopped

Tamarind - 1 lemon sized ball

Sambar powder/ chilli powder - 1 tsp + 1/2 tsp

I used Sambar powder

Jaggery - 1/4 tsp

optional

Salt - to taste

To temper:

Sesame Oil - 1 tbsp

Mustard seeds - 1/4 tsp

Fenugreek - 1/8 tsp

Curry leaves - 1sprigg

To grind:

Coconut grated - 1/4 cup

Cumin seeds - 1/2 tsp

Onion - 2 tbsp

chopped

Tomato - 2 tbsp

chopped
Instructions
Soak tamarind in 1 cup of luke warm water and keep aside for 5 - 10 minutes, and extract the juice

Add oil to the pan. When oil is hot add 'to temper' ingredients and let them splutter. Add onion and sauté till the onion is translucent. Add tomato and cook till they become mushy

Add ladies finger and sauté till they are cooked

Add sambar powder and cook for a minute

ladiesfingervethakuzhambuAdd the tamrind juice, 1 cup + 1/2 cup of water, salt and cook till the raw smell goes off

Grind the items listed under "to grind" with little water. Add the grind paste and jaggery; cook for 4 - 6 minutes and switch off
Notes
Brinjal can be used instead of ladies finger
Adjust the Kuzhambu consistency according to your desire
Jaggery was not in the original recipe, but I added as I got use to the jaggery flavor in puli kuzhambu
Though onions and tomatoes are added raw, they won't have raw taste in Kuzhambu as they are boiled
Ingredients:
Ladies Finger – 10 – 12 (depending on the size of ladies finger)
Onion – 1, chopped
Tomato – 1, chopped
Tamarind – 1 lemon sized ball
Sambar powder/ chilli powder – 1 tsp + 1/2 tsp ( I used Sambar powder)
Jaggery – 1/4 tsp (optional)
Salt – to taste
To temper:
Sesame Oil – 1 tbsp
Mustard seeds – 1/4 tsp
Fenugreek – 1/8 tsp
Curry leaves – 1sprigg
To grind:
Coconut grated – 1/4 cup
Cumin seeds – 1/2 tsp
Fennel seeds – 1/4 tsp
Onion – 2 tbsp, chopped
Tomato – 2 tbsp, chopped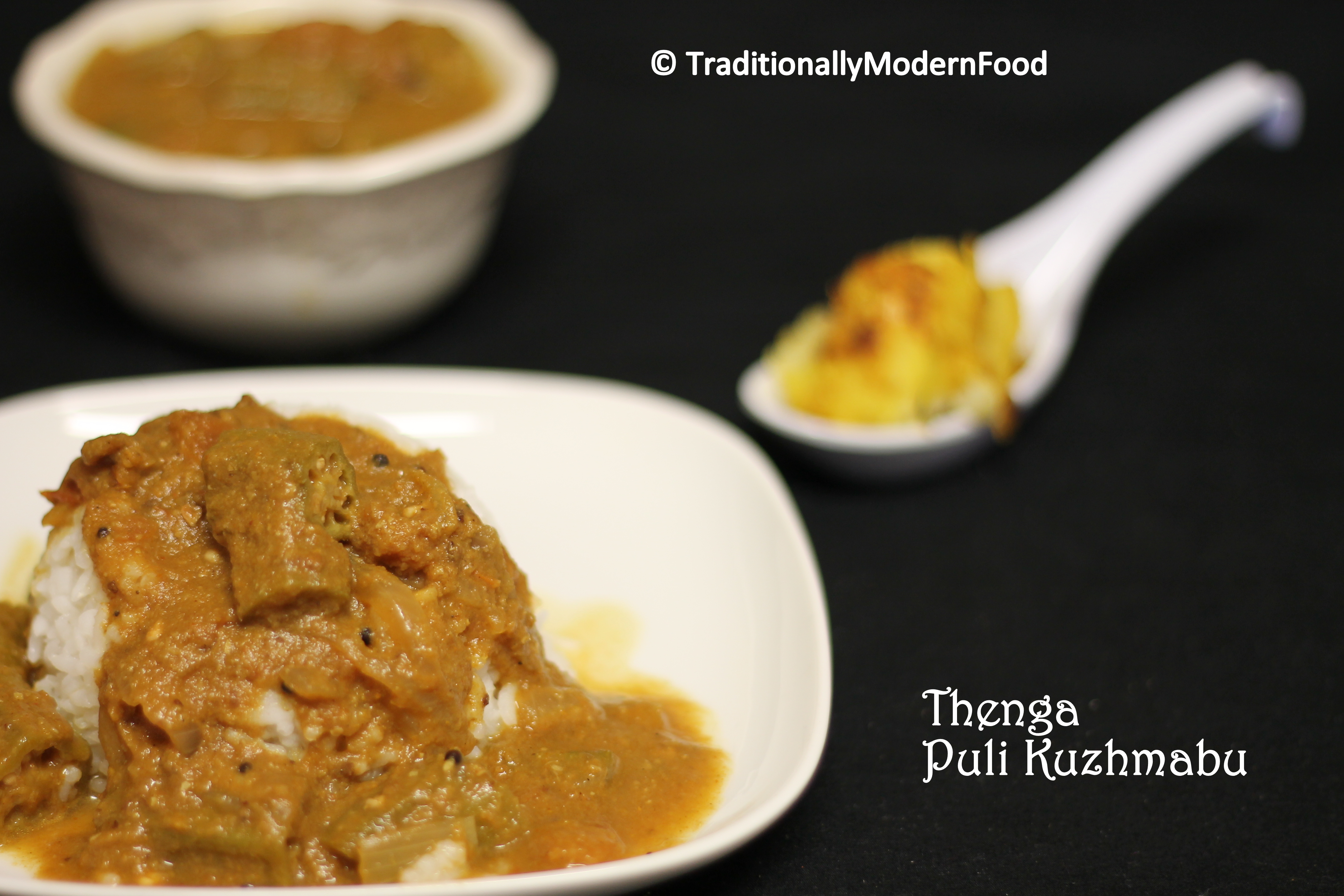 Method:
Soak tamarind in 1 cup of luke warm water and keep aside for 5 – 10 minutes, and extract the juice
Add oil to the pan. When oil is hot add 'to temper' ingredients and let them splutter. Add onion and sauté till the onion is translucent. Add tomato and cook till they become mushy
Add ladies finger and sauté till they are cooked
Add sambar powder and cook for a minute
Add the tamrind juice, 1 cup + 1/2 cup of water, salt and cook till the raw smell goes off

Grind the items listed under "to grind" with little water. Add the grind paste and jaggery; cook for 4 – 6 minutes and switch off
Serve with rice and poriyal / chips