Zucchini Thogayal | Zucchini thuvaiyal | thogayal recipe with step by step picture and video. Check out the Zucchini Thogayal video and if you like the video pls SUBSCRIBE to my channel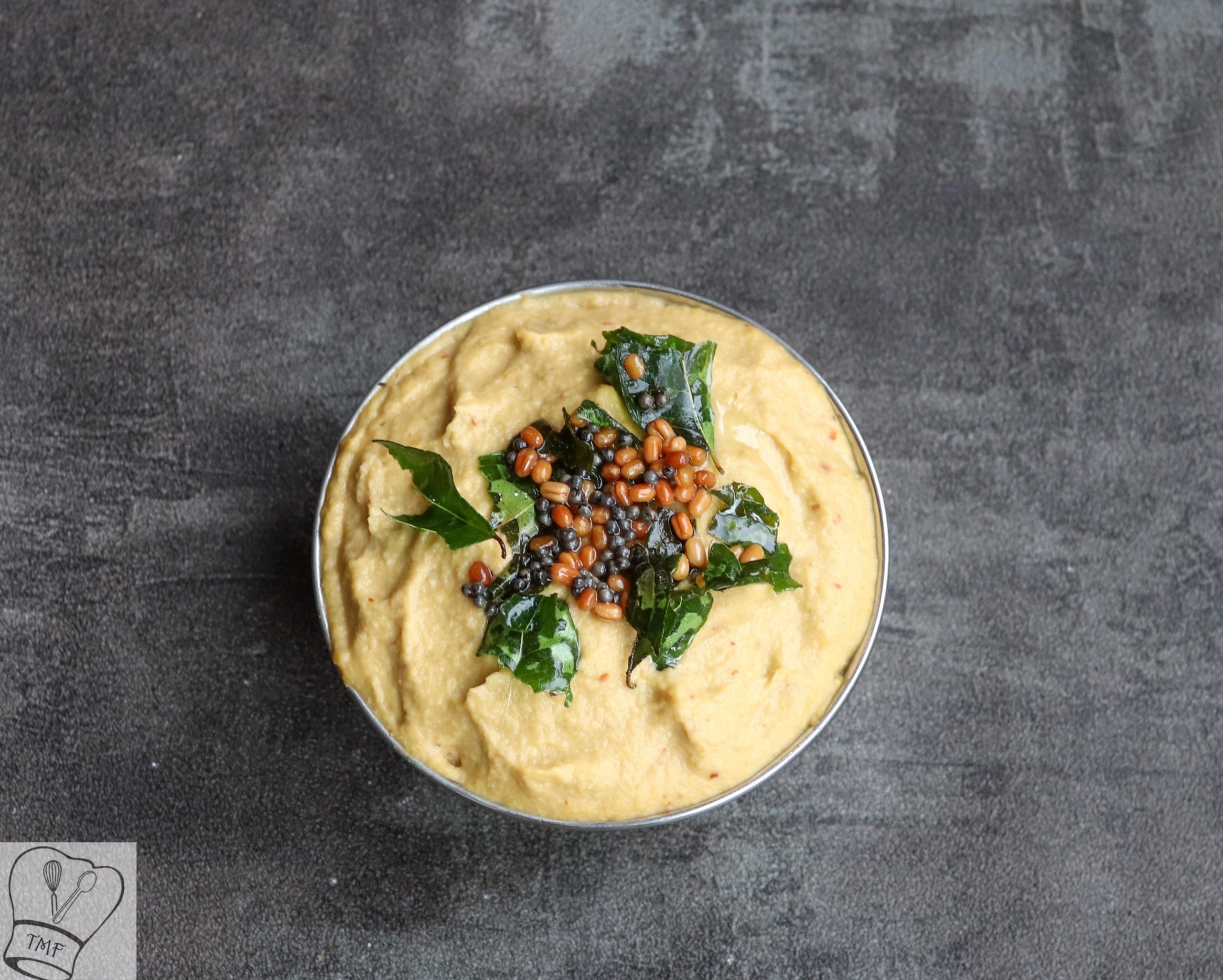 Zucchini Thogayal | Zucchini thuvaiyal is a tasty South Indian style rice accompaniment with zucchini.
In our home we all love Thogayal. Thogayal with kootu varieties is our favorite. I also like Thogayal with Appalam vatha Kuzhambu, onion Kuzhambu, Milagu Kuzhambu, Poondu Kuzhambu, etc.
I have happy news to share with you all. My 25 recipes under the title "Paarampariya Muriyal Naveena Samyal (Traditionally Modern) got published in a magazine called Sneghidi, as a supplement :-), I thought I will tell this note with one of the recipes I gave them.
Thogayal varieties are typically mixed with rice and consumed but it also tastes great as a side for creamy curd rice or Idli / dosai .
After moving abroad, I started eating Zucchini. Usually, I add it to dishes like pasta, Panang curry, etc. One lazy day I wanted to do some quick rice accompaniment and when I was searching in my fridge Zucchini pulled my attention.
Zucchini always reminds me of ridge gourd. Inspired by Ridge Gourd ( Peerkangai) thogayal, I made Zucchini Thogayal in a similar way.
I should try zucchini kootu like peerkangai kootu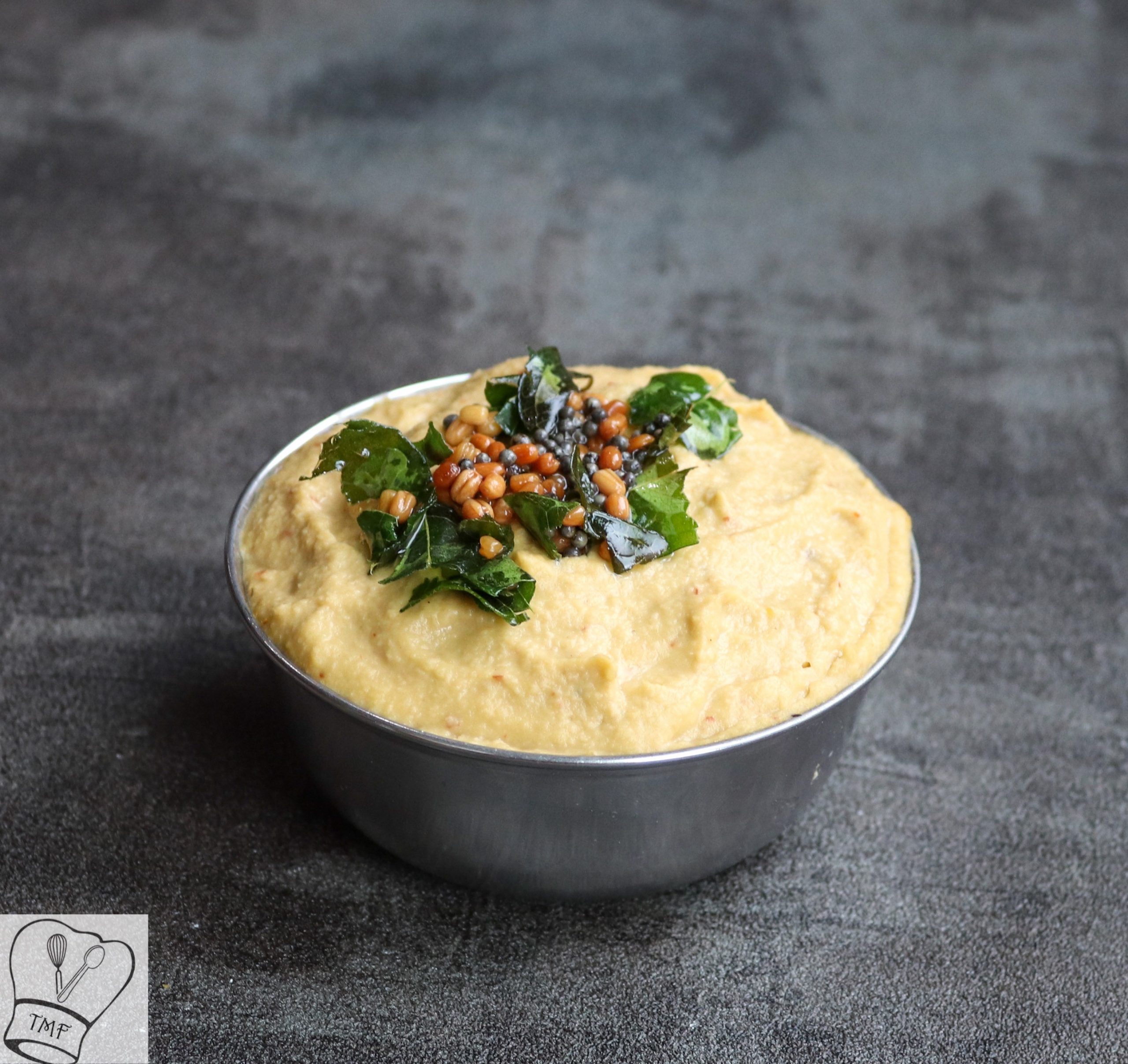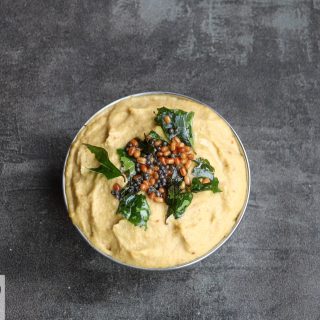 Ingredients
Zucchini - 1

peeled and cut into small cubes

Urad dal - 2 tbsp

Mustard seeds - few

Red chilli - 1

Adjust according to your taste

Tamrind - Small piece

Asofetida - generous pinch

Salt - as needed

Oil - 1 tsp
Instructions
Add oil in a heavy bottomed pan; add urad dal, red chilli, mustard seeds and saute

When urad dal starts changing color move it to one side

Add zucchini to other side and saute both separately

Once when the dal turns golden brown mix everything we'll. By this time zucchini is almost cooked

Add salt and tamarind and saute

Cook Will zucchini turns soft and if pressed it's mushy

Finally add coconut and mix well

Turn off the stove and transfer into a plate

Add hing and let it cool down

Grind into a thogayal with very little water

If desired add a tempering with mustard seeds, urad dal and curry leaves add it to the zucchini thogayal. Serve the Zucchini Thogayal along with a rice and ghee
Video
Notes
Zucchini and urad dal can be cooked separately
Coconut is optional but it gives nice flavor
Ridge gourd can be used instead of zucchini

Ingredients
Zucchini - 1, peeled and cut into small cubes
Urad dal - 2 tbsp
Mustard seeds - few
Red chilli - 1 (Adjust according to your taste)
Tamarind - Small piece (around 3 grams, adjust according to your spice) or tamarind paste 1 tsp
Asafetida - generous pinch
Salt - as needed
Oil - 1 tsp
Method:
Add oil in a heavy-bottomed pan; add urad dal, mustard seeds and saute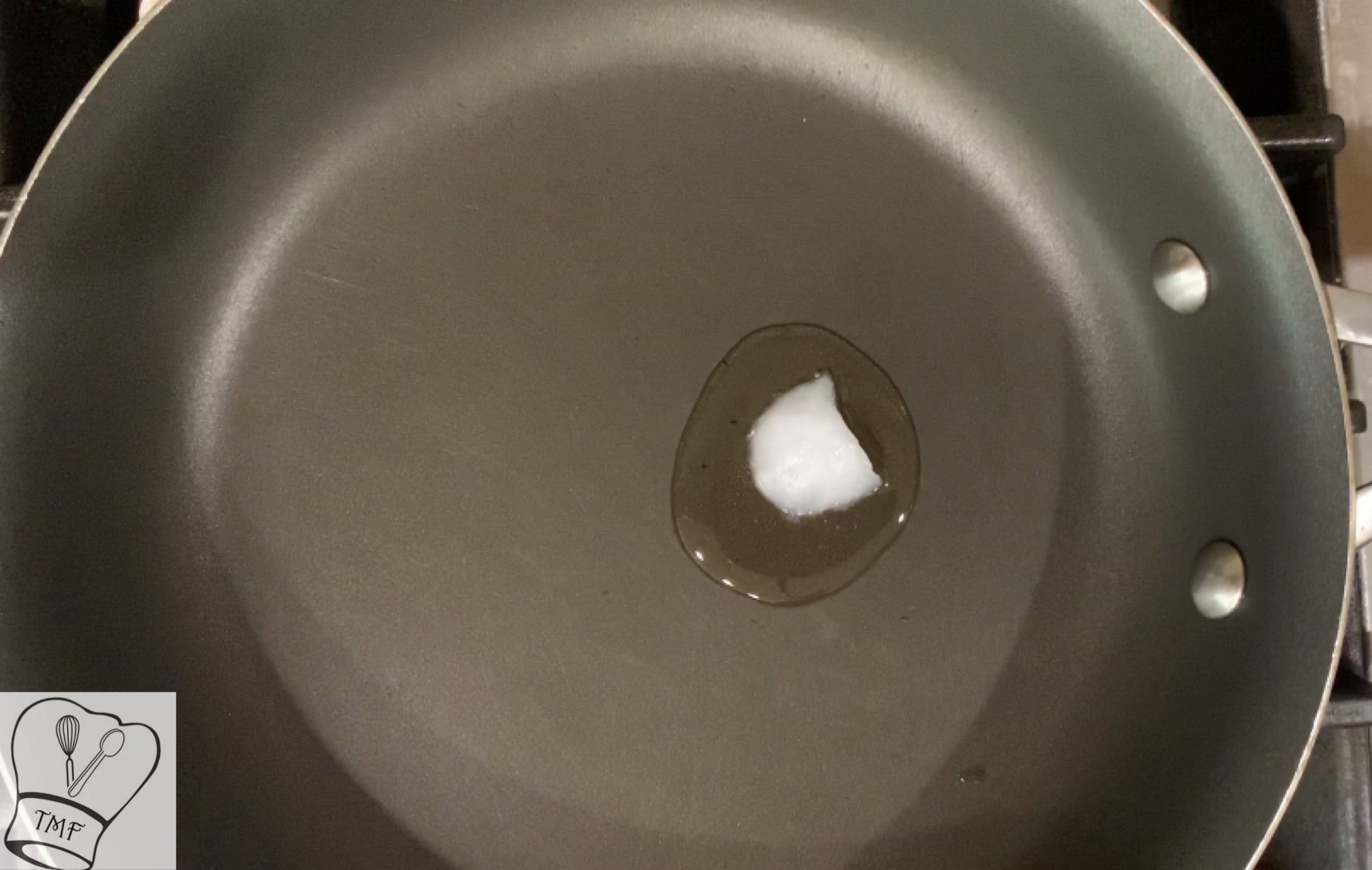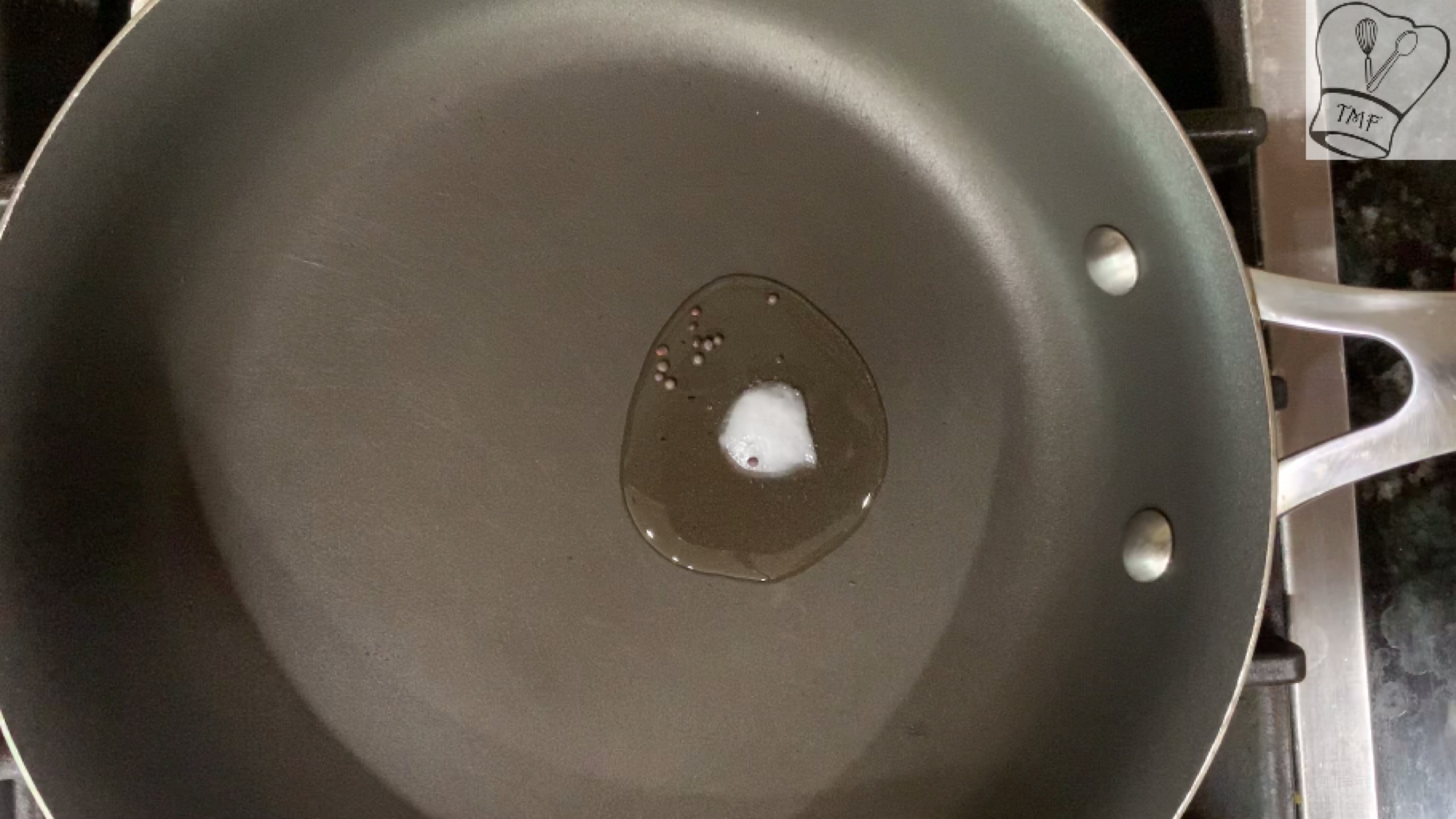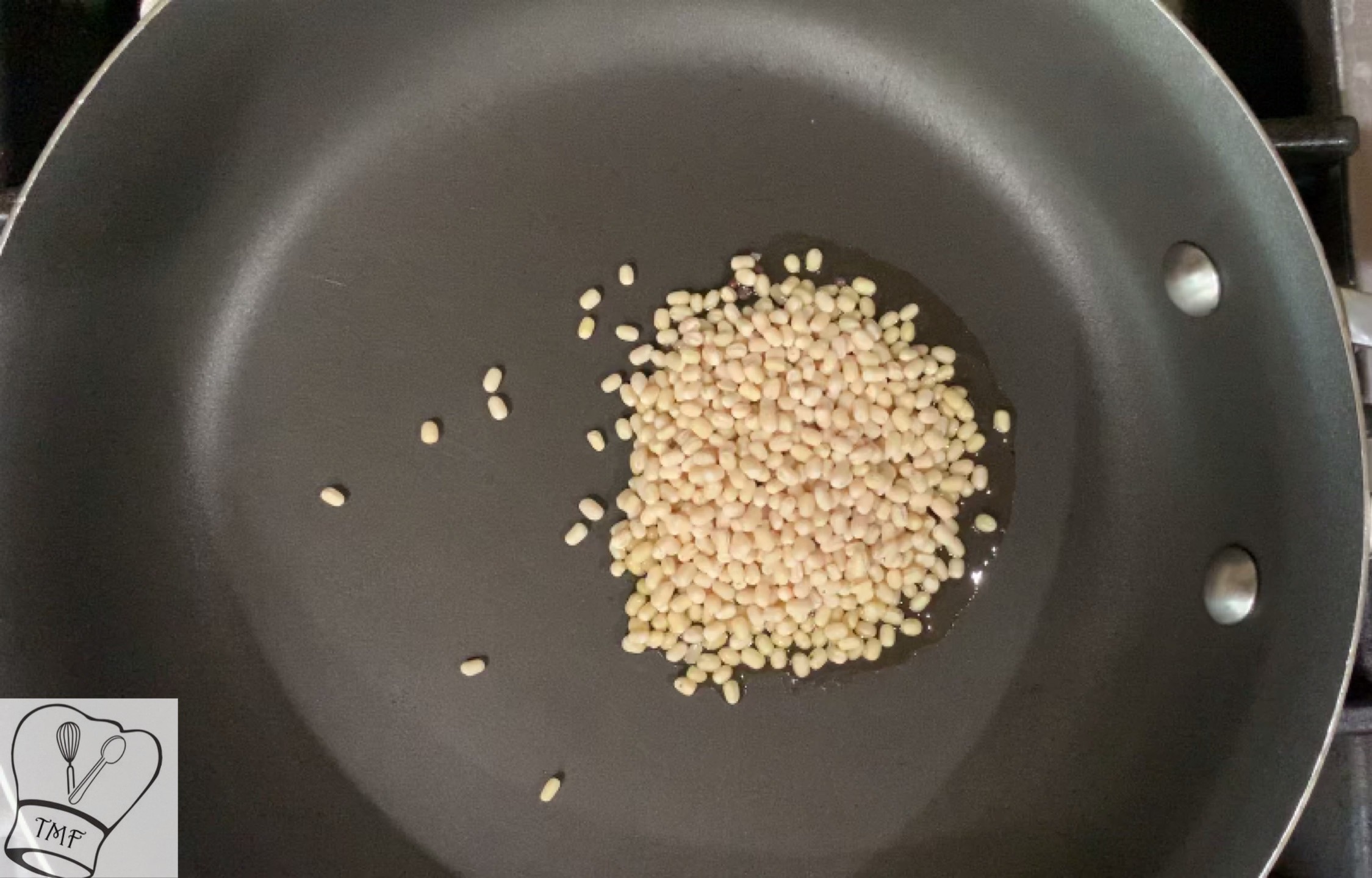 When urad dal starts changing color move it to one side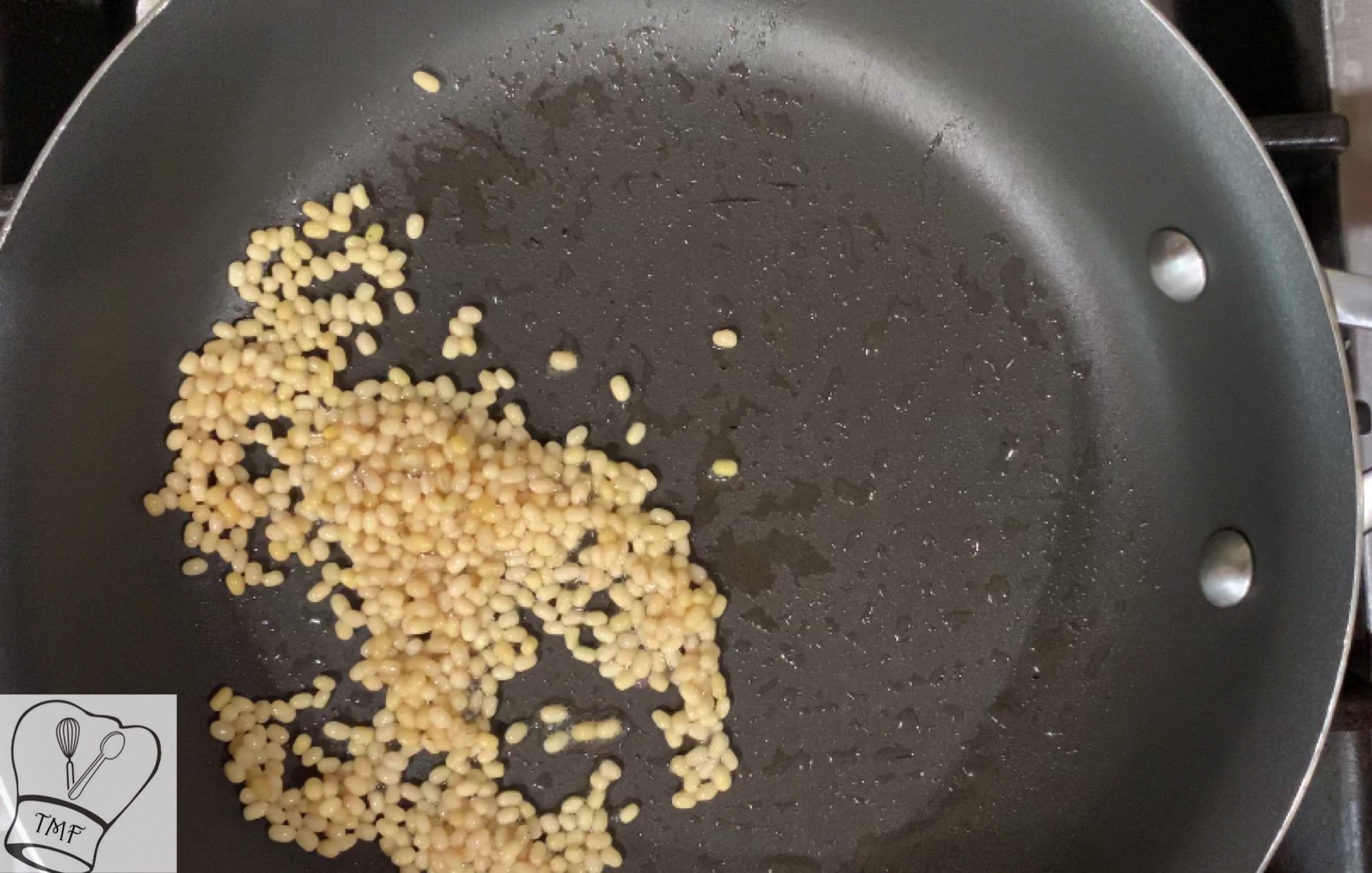 Add zucchini to other side and saute both separately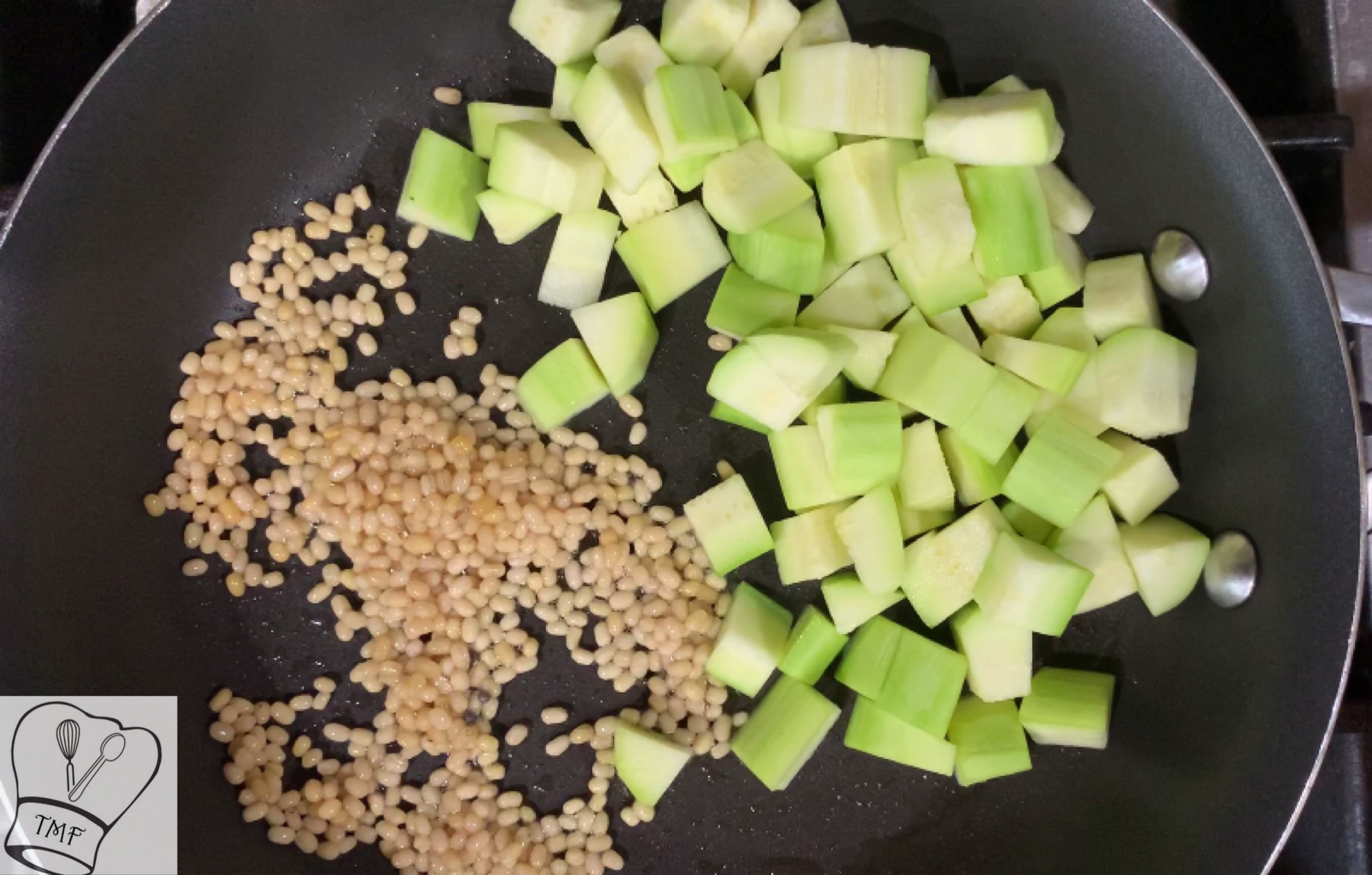 According to your spice level add red chili next to urad dal and sauté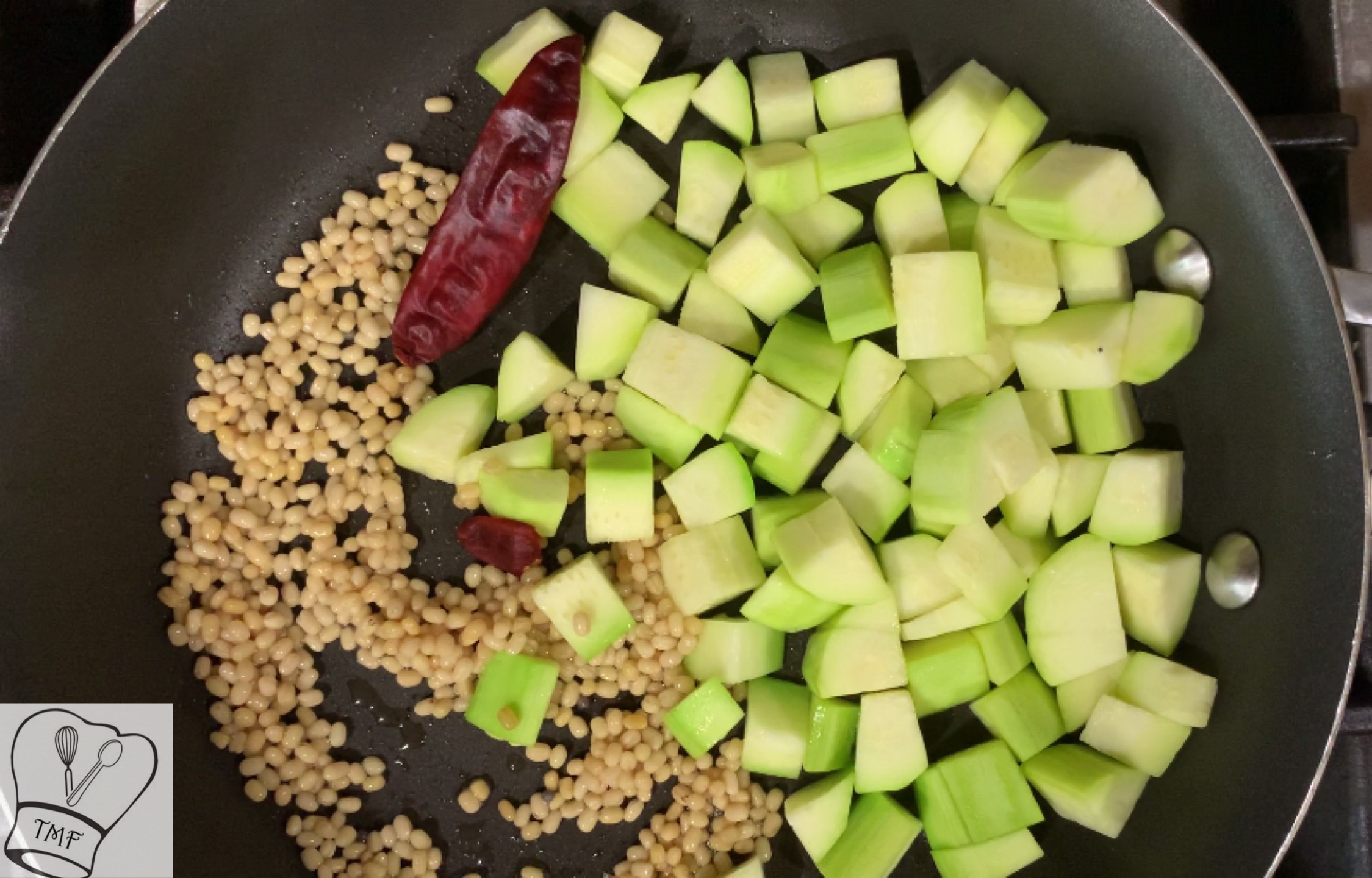 Once when the dal turns golden brown mix everything well. By this time zucchini is almost cooked
Add salt and tamarind and saute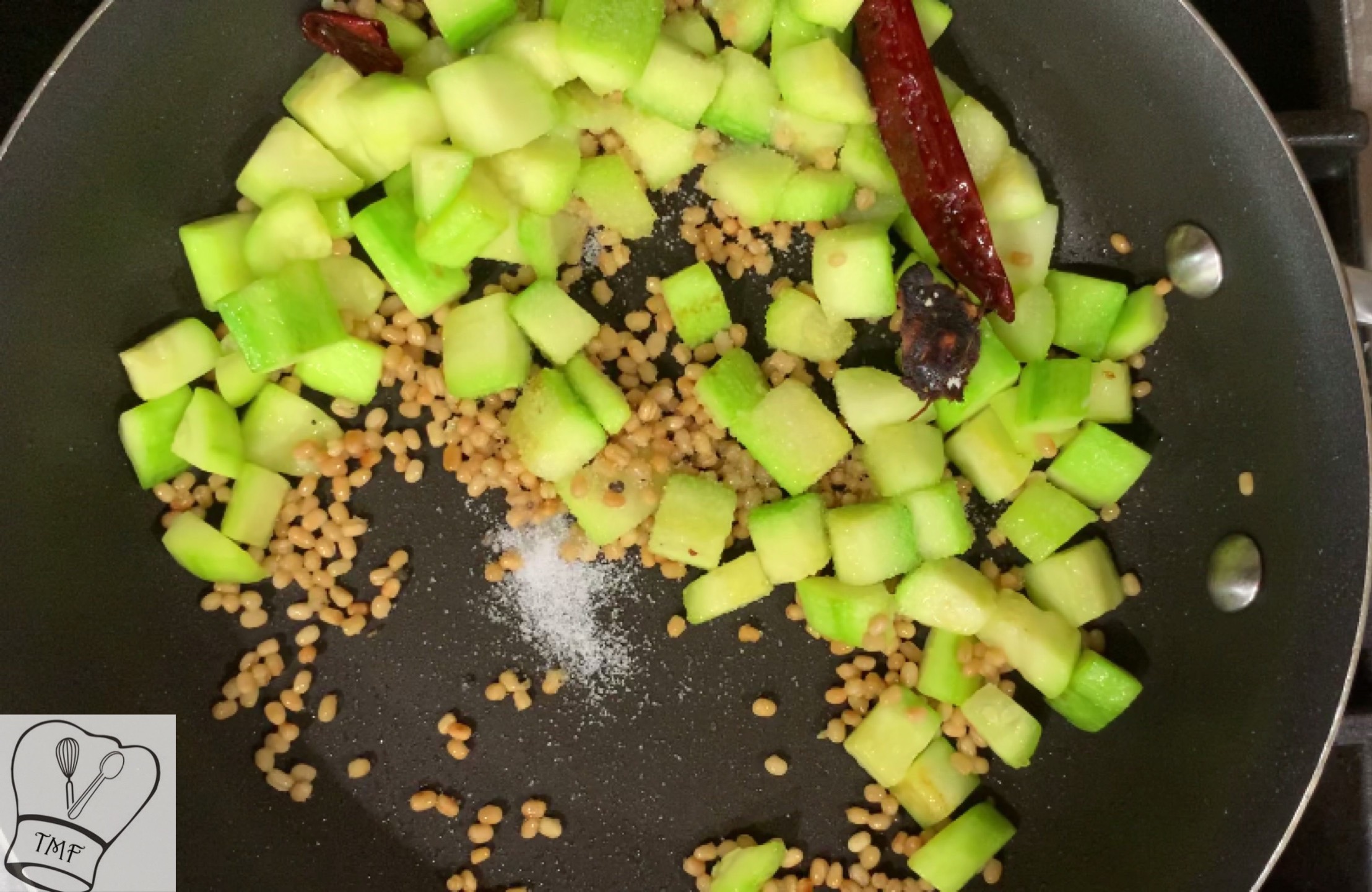 Cook till zucchini turns soft and if pressed it's mushy
Finally, add coconut and mix well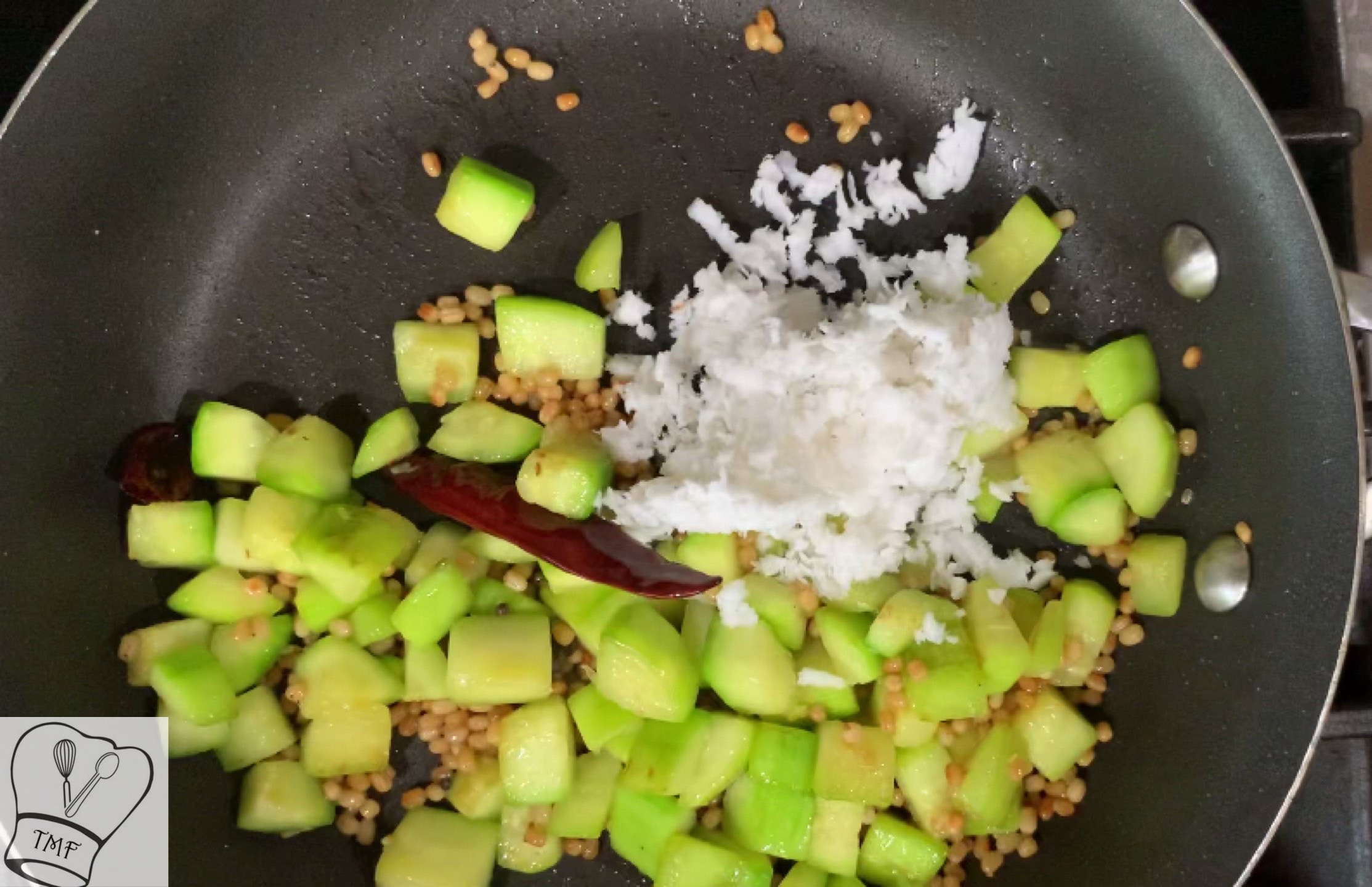 Turn off the stove and transfer into a plate
Add hing and let it cool down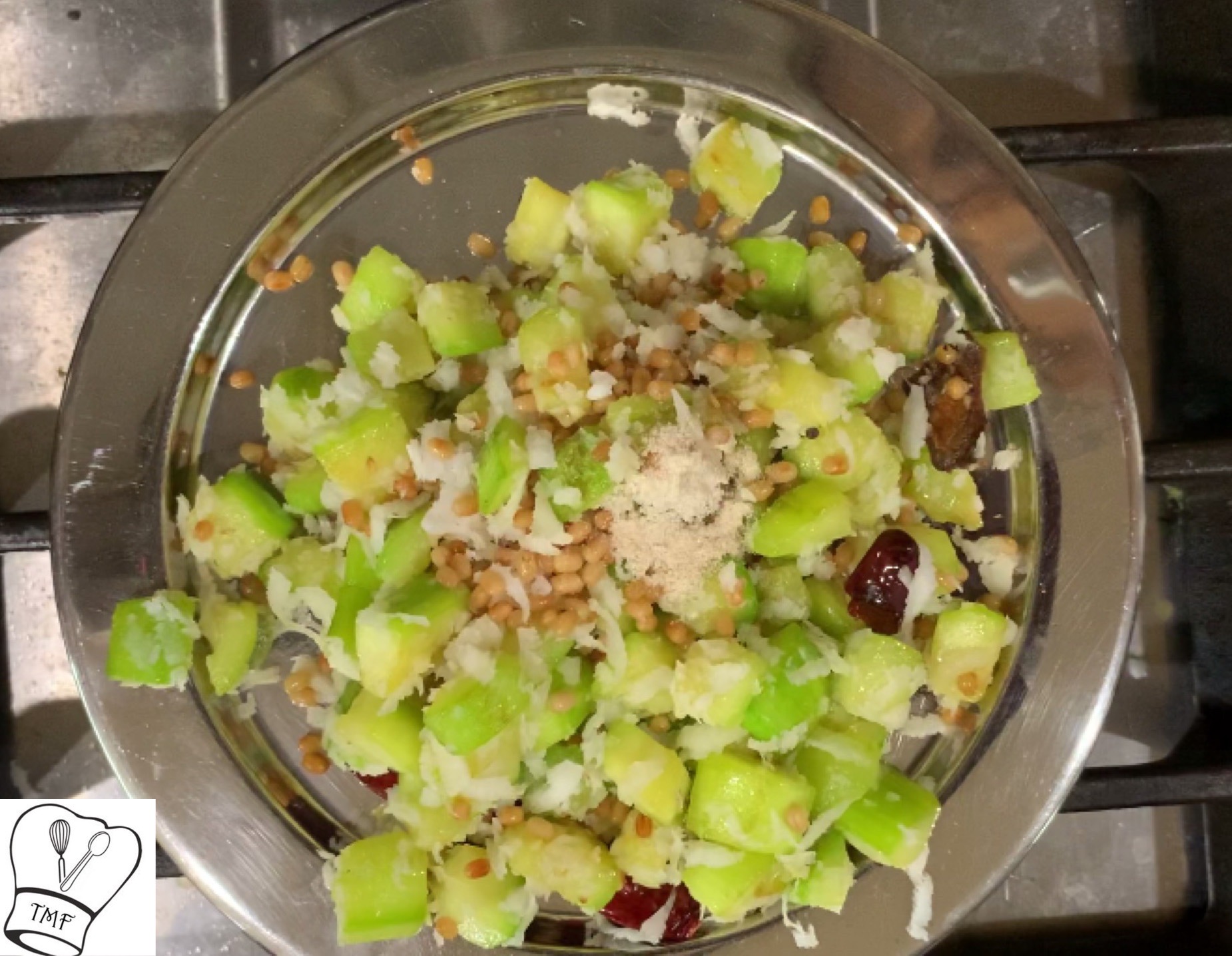 Grind into a thogayal with very little water
If desired add a tempering with mustard seeds, urad dal and curry leaves add it to the zucchini thogayal. Serve the Zucchini Thogayal along with rice and ghee