Almond Katli | Badam katli | Almond flour recipe| dessert dishes Indian | Indian sweet | Indian sweet treats | instant Indian sweets | Indian dessert recipes | Indian dessert recipes easy | festival sweets | Diwali sweet recipe | Deepavali sweets | almond flour desserts | almond flour Indian recipes | almond flour Indian sweet recipes with step by step pictures and video recipe. Check out the Almond katli and If you like the video pls SUBSCRIBE to my channel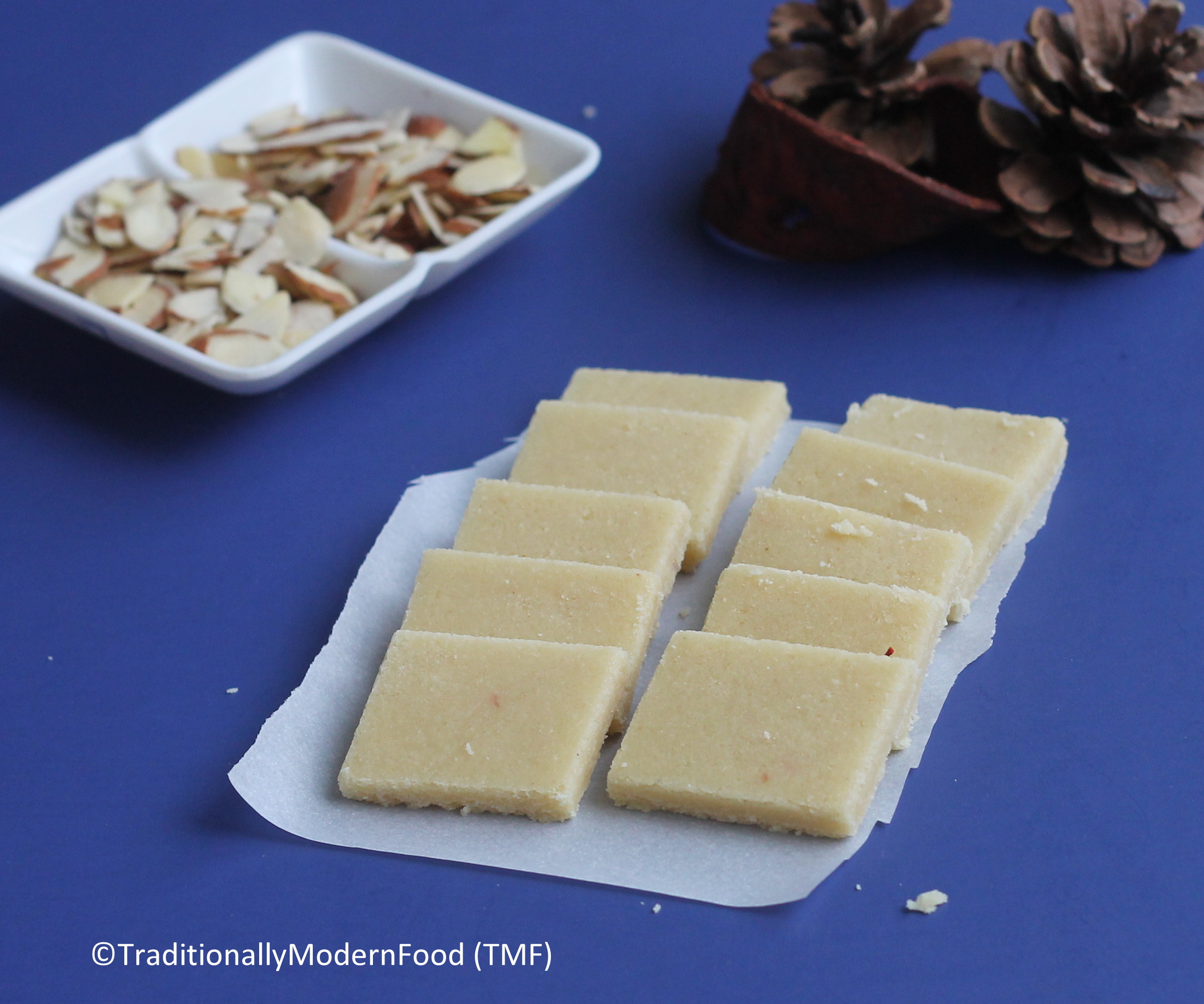 Almond Katli | Badam katli | Almond flour recipe is a delicious sweet prepared with Almond flour. Tasty Badam katli can be prepared in 10 minutes. Pressure cooker methods help for this super-fast, tasty fudge with an Indian touch. Check out the video and If you like the video pls SUBSCRIBE to my channel
Gone are those days when I used to have lots of second thoughts to make traditional Indian sweet, scared to get the right string-like consistency. Nowadays I started preparing sweets frequently. Be it a festival sweet or cooking for a sudden guest or party dessert, katli never goes wrong with a proper pressure cooker.
I had Almond burfi when my mother-in- law visited us last year. MIL used to prepare this like a traditional South Indian sweet. I loved her version and the batch she makes vanishes in no time. I used to follow her method until my friend Kavitha showed me this way. RK sir's pressure cooker method comes so handy .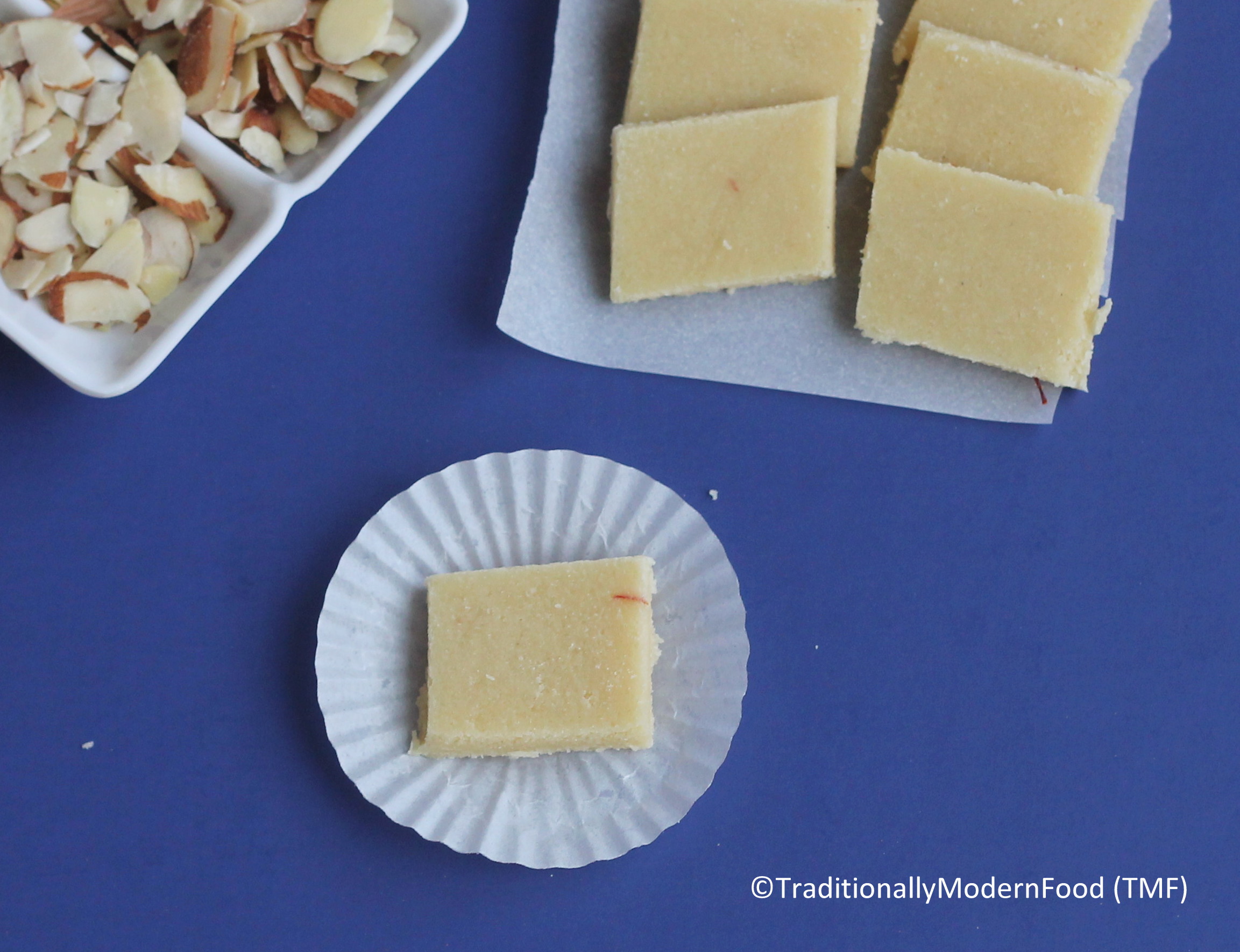 Store-bought Flour minimizes the effort and time taken to powder the almonds. Not just for burfi flour is very handy can be used for a lot of preparation. A couple of recipes I posted with Almond flour,
Almond flour Katli is so addictive, believe me you can't stop with one. Almond flour katli makes a great healthy snack for the kids. Yes sugar is there but it this is one good way to make kids eat almonds. Touch of saffron compliments the burfi taste.
Burfi recipe collections in TMF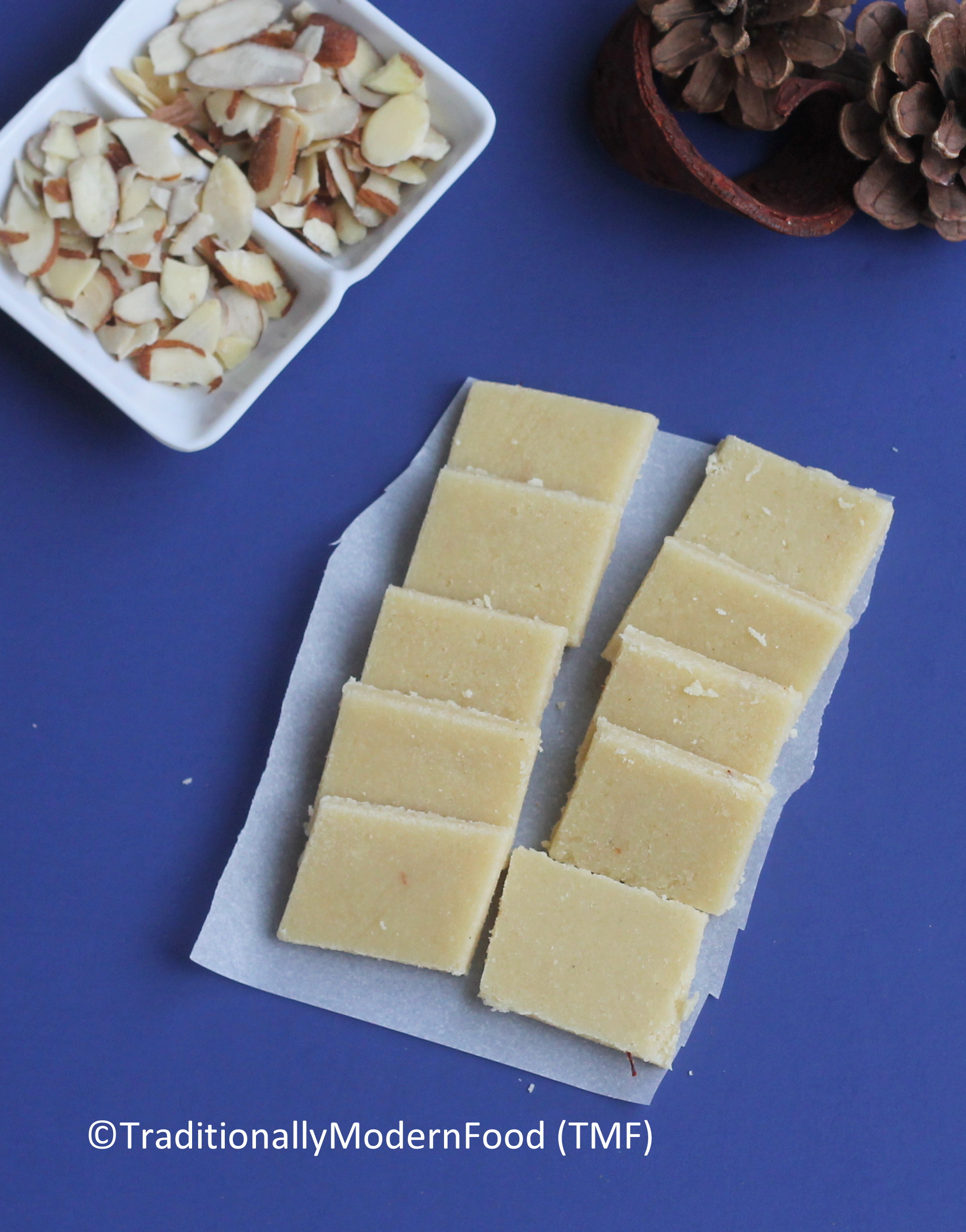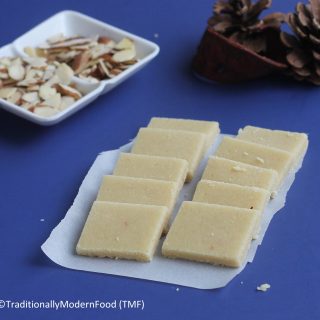 Almond Katli | Badam Burfi
Almond Katli | Badam Burfi Recipe Type : Sweets Cuisine: Indian Author: Vidya Srinivasan
Print
Pin
Comment
Ingredients
Almond Flour - 1 cup

Sugar - 1/2 cup

Ghee - 1 tsp

Water - 3 tbsp

Salt - pinch
Instructions
In a 2 liter pressure cooker add sugar and water, stir it well. Let the sugar dissolve in water and stir well before keeping it on stove. Add saffron and mix well

Cover the pressure cooker with lid and put the weight

Grease a aluminum foil with ghee and keep one more aluminum sheet ready

Turn medium - high flame on small burner and keep the cooker. Cook exactly for 4 whistle

Switch off the gas stove and release the pressure immediately

Add the almond flour to the sugar syrup and mix well

Add ghee and mix well. Grease your hands with little ghee and knead the almond dough well (like chappati dough)

Transfer the dough to the greased aluminum foil. Cover one more greased aluminum foil over the dough ( imagine sandwich, in between two greased aluminum foil the Almond dough is present)

Roll the Almond dough to your desired thickness. Cut it with pizza cutter/knife into desired shape and enjoy Almond katli/ Badam Burfi
Video
Notes
Stir sugar syrup well before closing the lid
Use a proper 2 little cooker which whistles on/all time. Keep the flame on medium heaT
Releases the pressure immediately else the syrup might lose its consistency. I use fork to release the pressure. Pls be careful while releasing the pressure
The recipe works perfectly. While trying to take picture/ video for the blog. I lost the consistency few times. This is what I did. If the dough breaks sprinkled little water and switch on the stove and cook till if becomes a non stick mass of dough. If the mixture is wet add a tablespoon of cashew powder extra
Cardamom powder can be added for extra flavor
For the mentioned quantity 4 whistles comes around 4 mins
You can double or alter the recipe. 4 whistle is the key
You can roll the Almond katli in any surface for me the aluminum foil method suggested by my friend was a breeze
Whole Almonds can be used instead. Soak it in hot water and remove skin. Dry roast slightly to remove the moisture and powder it
Avoid keeping the cooker on maximum flame, sugar syrup might get burnt. Keep it between medium to high, make sure flame is not outside the cooker
Preferably use 2 liter cooker. If your are using 3 liter cooker make sure quantity is at-least ¼ of the cooker to avoid cooker from getting burnt
Ingredients:
Almond Flour - 1 cup
Sugar - 1/2 cup
Ghee - 1 tsp
Water - 3 tbsp
Salt - pinch
Method:
In a 2 liter pressure cooker add sugar and water, stir it well. Let the sugar dissolve in water and stir well before keeping it on stove. Add saffron and mix well
Cover the pressure cooker with lid and put the weight
Grease a aluminum foil with ghee and keep one more aluminum sheet ready
Turn medium - high flame on small burner and keep the cooker. Cook exactly for 4 whistle
Switch off the gas stove and release the pressure immediately

Add the almond flour to the sugar syrup and mix well
Add ghee and mix well. Grease your hands with little ghee and knead the almond dough well (like chappati dough)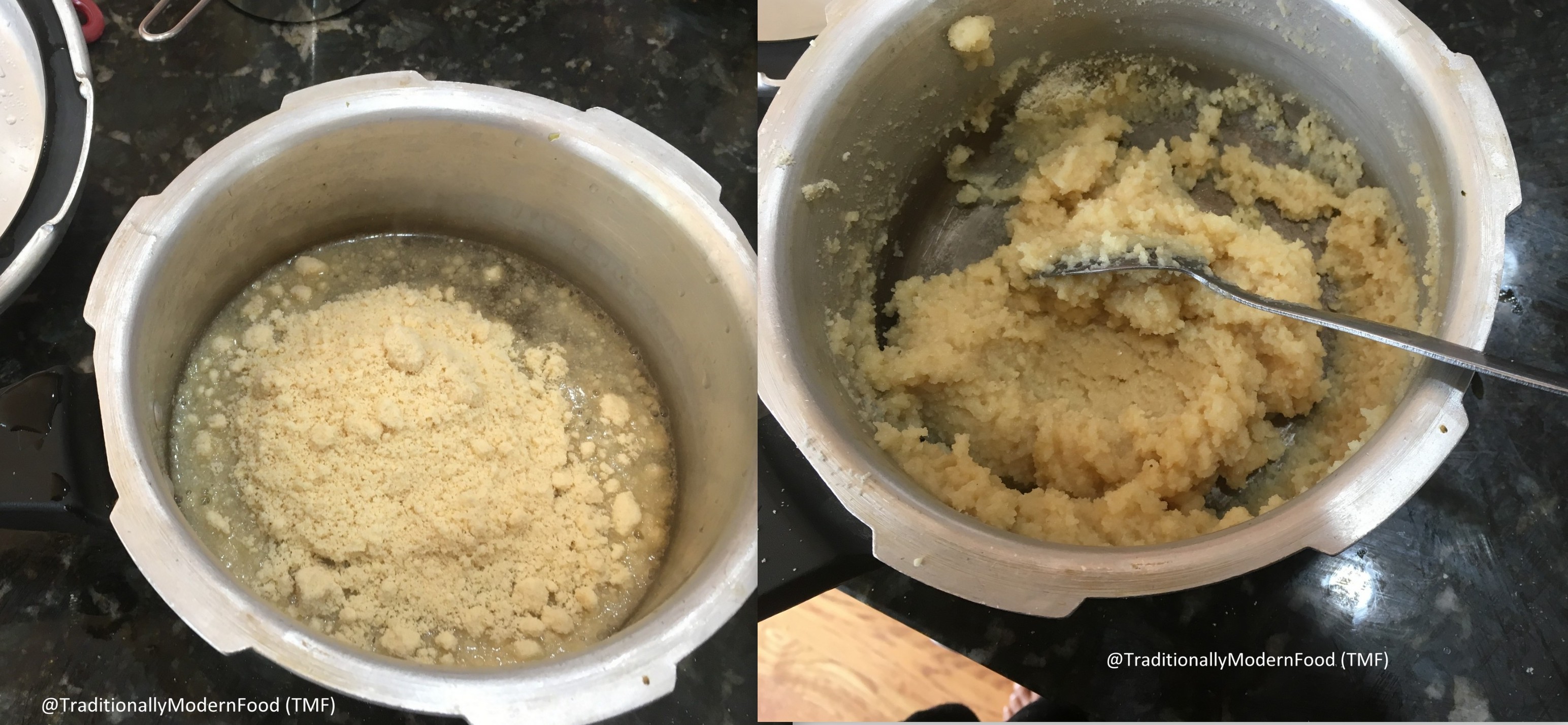 Transfer the dough to the greased aluminum foil. Cover one more greased aluminum foil over the dough ( imagine sandwich, in between two greased aluminum foil the Almond dough is present)
Roll the Almond dough to your desired thickness. Cut it with pizza cutter/knife into desired shape and enjoy Almond katli/ Badam Burfi