Ammini Kozhukattai | Mani Kozhukattai with detailed step by step photo and video recipe. Check out the Ammini kozhukattai video and if you like the video pls SUBSCRIBE to my channel
Ammini Kozhukattai | Mani Kozhukattai is a tasty after school snack or light dinner prepared with Kozhukattai dough. It is also prepared with leftover Kozhukattai dough on special days. I have used store brought rice flour which makes it easy.
Almost every year, Ammini Kozhukattai will be prepared on Vinayaka Chaturthi/ ganesh chadurthi / varalakshmi Pooja as an evening snack. Amma generally prepares some for prasadam, and some for us to eat.
In the evening, she prepares a fresh batch oh Ammini Kozhukattai with the leftover dough, pooranam, and vada batter. Having a sweet tooth I usually make frequent visits to the kitchen and attack the sweet puranum. There will be less Sweet Kozhukkatai left, so she prepares this easy snack for the evening.
Peoples makes Ammini Kozhukattai differently. I will soon post a sweet version with sweet poranam. Here is the four savory versions. All versions taste good.
On festive days Ammini Kozhukattai is made with steamed leftover vadai batch. I once soaked dal for Paruppu usili and Used leftover excess dal for Ammini Kozhukattai and everybody loved it. Ever since this has become regular in our home.
Dal soaked for Paruppu Urundai Mor Kuzhambu and Paruppu Urundai kara Kuzhambu can also be used for Ammini Kozhukattai.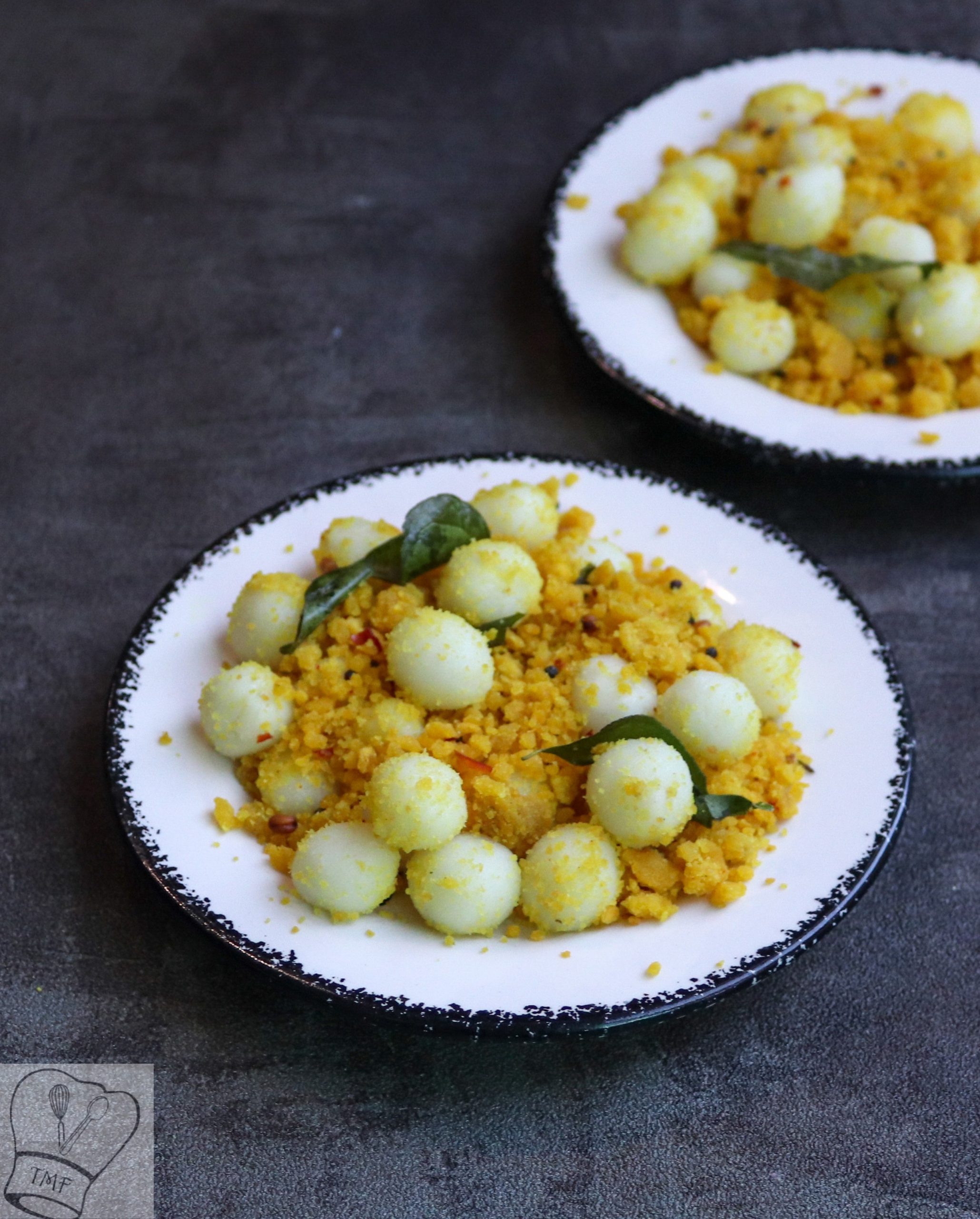 Ingredients
Rice flour – 1 cup

Water – 1 cup + 1/2 cups

Toor dal - 1/4 cup

Channa dal - 1/4 cup

Red chili - 2

Coconut - 2 tbsp

Salt – as needed

Coconut oil – 1 tsp

To Temper:

Coconut oil - 1 tbsp

Mustard Seeds - 1/2 tsp

Urad Dal - 1/2 tbsp

Hing - generous pinch

Curry leaves - 1 spring
Instructions
In a saucepan, add coconut oil and 1 cup + 1/2 cup of water and bring to boil. When it is boiling well and you see bubbles, add the rice flour (Have 1/4 cup of water boiled in separate pan/kettle)

For the flour that I used, the extra 1/4 cup hot water was not needed. If you feel the dough is dry, add 1 tablespoon of water, else no need to add. Water added should be boiling hot water, so it's better to keep 1/4 cup hot water separately

Cook till it comes to non sticky dough consistency. Cover the dough with a damp cloth, as it tends to dry soon

When the dough is cool enough to handle, make small spheres (Marble Size). Since rice flour is gluten-free they tend to be sticky, so greasing hand with coconut oil helps

Grease the idli plate and place the kozhukattai and steam them for about 8- 12 minutes. Remove from the plate when it comes to room temperature
Ammini kozhukattai - Version 1:
Add coconut oil to the pan, when oil is hot add mustard seeds

When it splutters, add hing, red chilli, urad dal and curry leaves

After the dal is golden brown, add the steamed balls, salt and mix well

Cook for a minute and switch off
Ammini kozhukattai - Version 2:
Add coconut oil to the pan, when oil is hot add mustard seeds

Once when it splutters, add hing, red chilli, urad dal and curry leaves

After the dal is golden brown, add the coconut and cook for 2 - 3 minutes till nice aroma comes

Add steamed balls, salt and mix well. Cook for 2 minutes in low flame; switch off. It tastes Thengai Sadam
Ammini kozhukattai with idli podi - Version 3:
Add coconut oil to the pan, when oil is hot add mustard seeds

Once when it splutters, add hing, urad dal, and curry leaves

After the dal is golden brown, add idli podi and give a quick saute

Add steamed balls, salt, and coconut; mix well. Cook for 2 minutes in low flame; switch off
Paruppu Usili Ammini kozhukattai - version 4
Wash and Soak toor dal, chana dal and red chilli for atleast 2 hour

Drain water from the soaked dal and grind them along with very little water (around 1 or 2 tbsp) , salt to a coarse mixture.

Boil water in idli pan, grease the Idli plate and spread the coarse mixture on the plate and steam it for 6-7 minutes (like steaming idlies) and switch off

After 5 minutes take the steamed dal and keep in a plate, and once they are warm enough to handle crumble them with your hands (Can also pulse once in mixie) and set aside.

Add oil to the pan, and once the oil is hot, add the items listed under 'to temper' and let them splutter. Add the crumbled Dal and salt if required; saute for 2-3 minutes or till they are roasted

Add the steamed balls and cook in low flame for 2-3 minutes and switch off
Ammini Kozhukattai version 5 - with Uppu Kozhukattai stuffing
Add 1 tablespoon of Idli podi, 1/4 teaspoon of turmeric powdering, 1 teaspoon of coconut oil to 1/2 cup of ulundhu Kozhukattai stuffing

Saute for 2 minutes in low flame

Add cooked Kozhukattai and sauté for a minute in low flame
Video
Notes
Leftover paruppu vadai batter can also be used
Instead of using combination if dal whole change dal can be used
Idli podi kozhukattai was also prepared with 1 cup of rice flour
Dhaniya podi, karuveppilai podi, thengai podi can be used instead of idli podi
Amount of water may vary slightly depending on the rice flour
coconut can also be added to Paruppu usili mami Kozhukattai
Always cover the dough with damp cloth to prevent it from getting dry
Ulundhu vadai batter can also be used but texture varies
Ammini Kozhukattai
Preparation Time: 5 mins | Cooking Time: 25 mins | Serves : 3
Recipe Category: Snack
Ingredients
Rice flour – 1 cup
Water – 1 cup + 1/2 cups
Toor dal - 1/4 cup
Channa dal - 1/4 cup
Red chili - 2
Coconut - 2 tbsp
Salt – as needed
Coconut oil – 1 tsp
To Temper:
Coconut oil - 1 tbsp
Mustard Seeds - 1/2 tsp
Urad Dal - 1/2 tbsp
Hing - generous pinch
Curry leaves - 1 spring
How to prepare Mani kozhukattai:
In a saucepan, add coconut oil and 1 cup + 1/2 cup of water and bring to boil. When it is boiling well and you see bubbles, add the rice flour (Have 1/4 cup of water boiled in separate pan/kettle)
For the flour that I used, the extra 1/4 cup hot water was not needed. If you feel the dough is dry, add 1 tablespoon of water, else no need to add. Water added should be boiling hot water, so it's better to keep 1/4 cup hot water separately
Cook till it comes to non sticky dough consistency. Cover the dough with a damp cloth, as it tends to dry soon
When the dough is cool enough to handle, make small spheres (Marble Size). Since rice flour is gluten-free they tend to be sticky, so greasing hand with coconut oil helps
Grease the idli plate and place the kozhukattai and steam them for about 8- 12 minutes. Remove from the plate when it comes to room temperature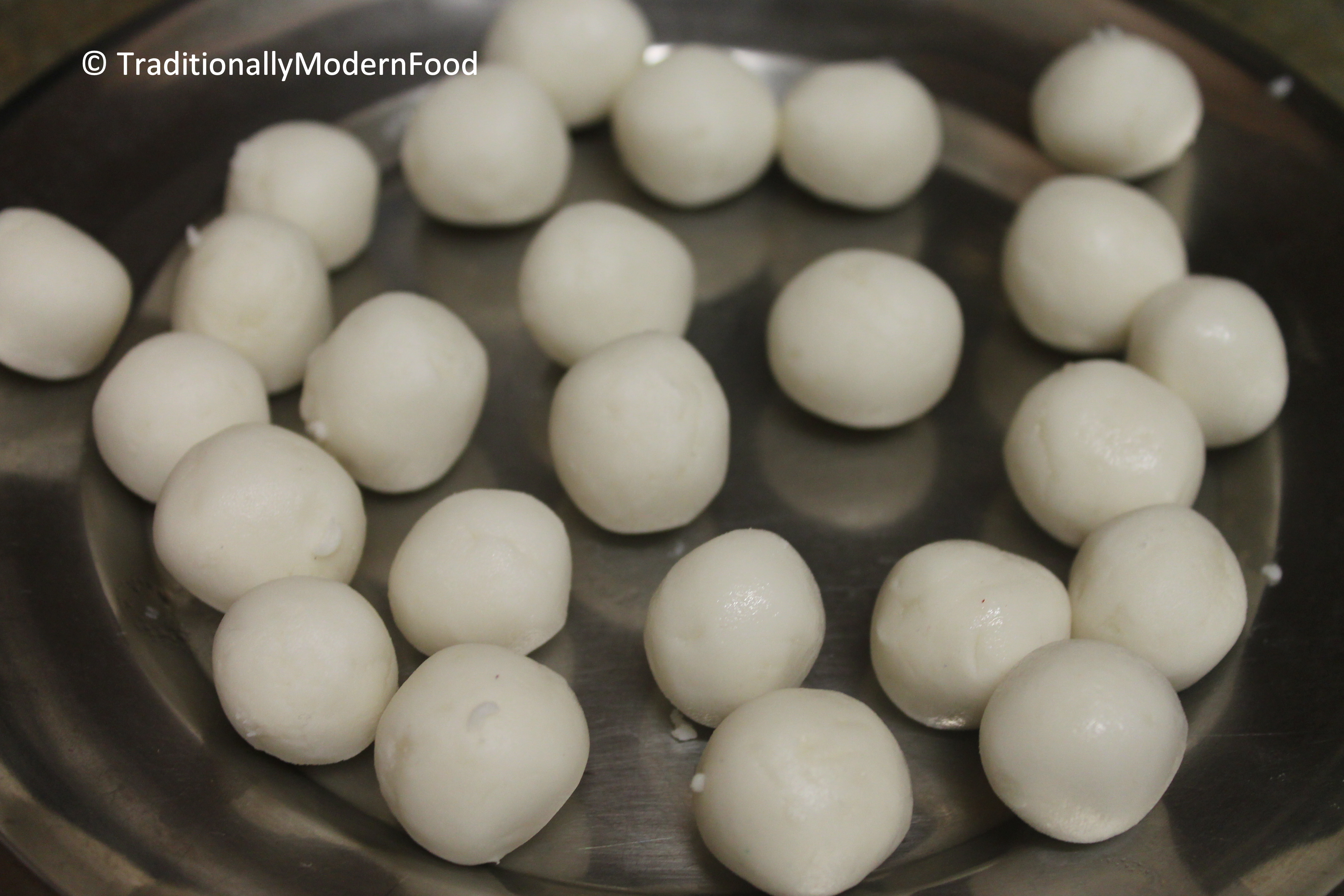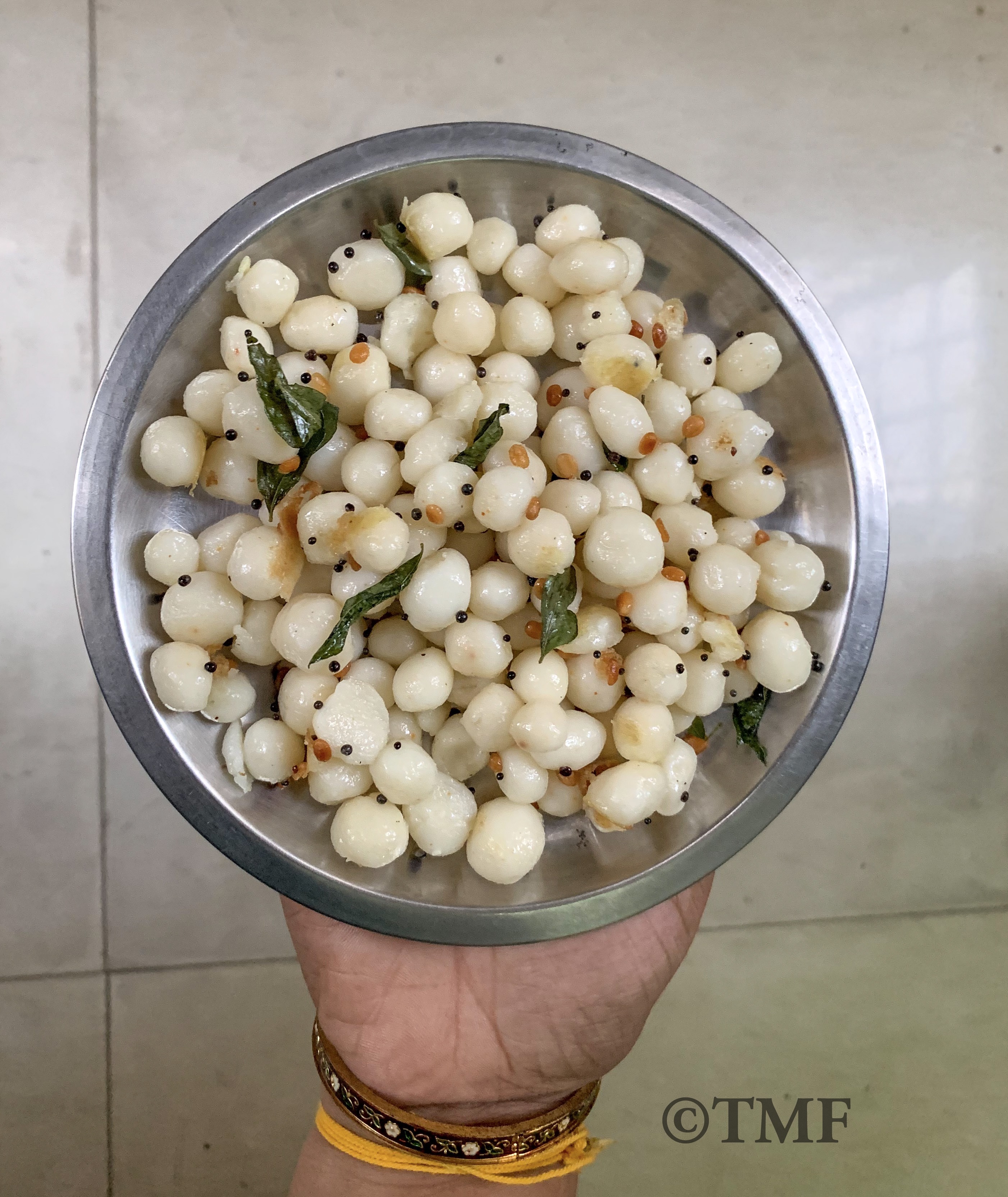 Ammini kozhukattai - Version 1:
Add coconut oil to the pan, when oil is hot add mustard seeds
When it splutters, add hing, red chilli, urad dal and curry leaves
After the dal is golden brown, add the steamed balls, salt and mix well
Cook for a minute and switch off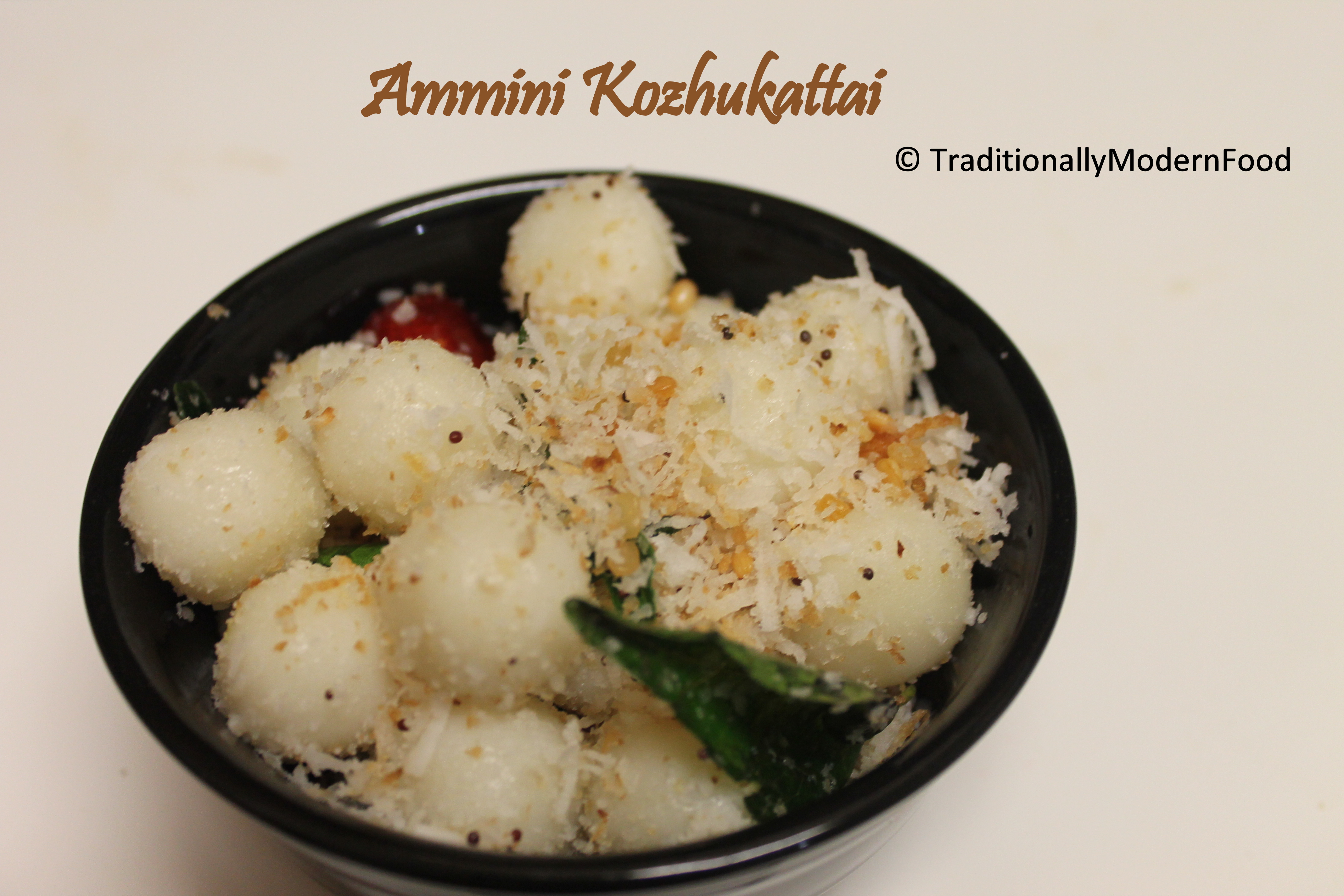 Ammini kozhukattai - Version 2:
Add coconut oil to the pan, when oil is hot add mustard seeds
Once when it splutters, add hing, red chilli, urad dal and curry leaves
After the dal is golden brown, add the coconut and cook for 2 - 3 minutes till nice aroma comes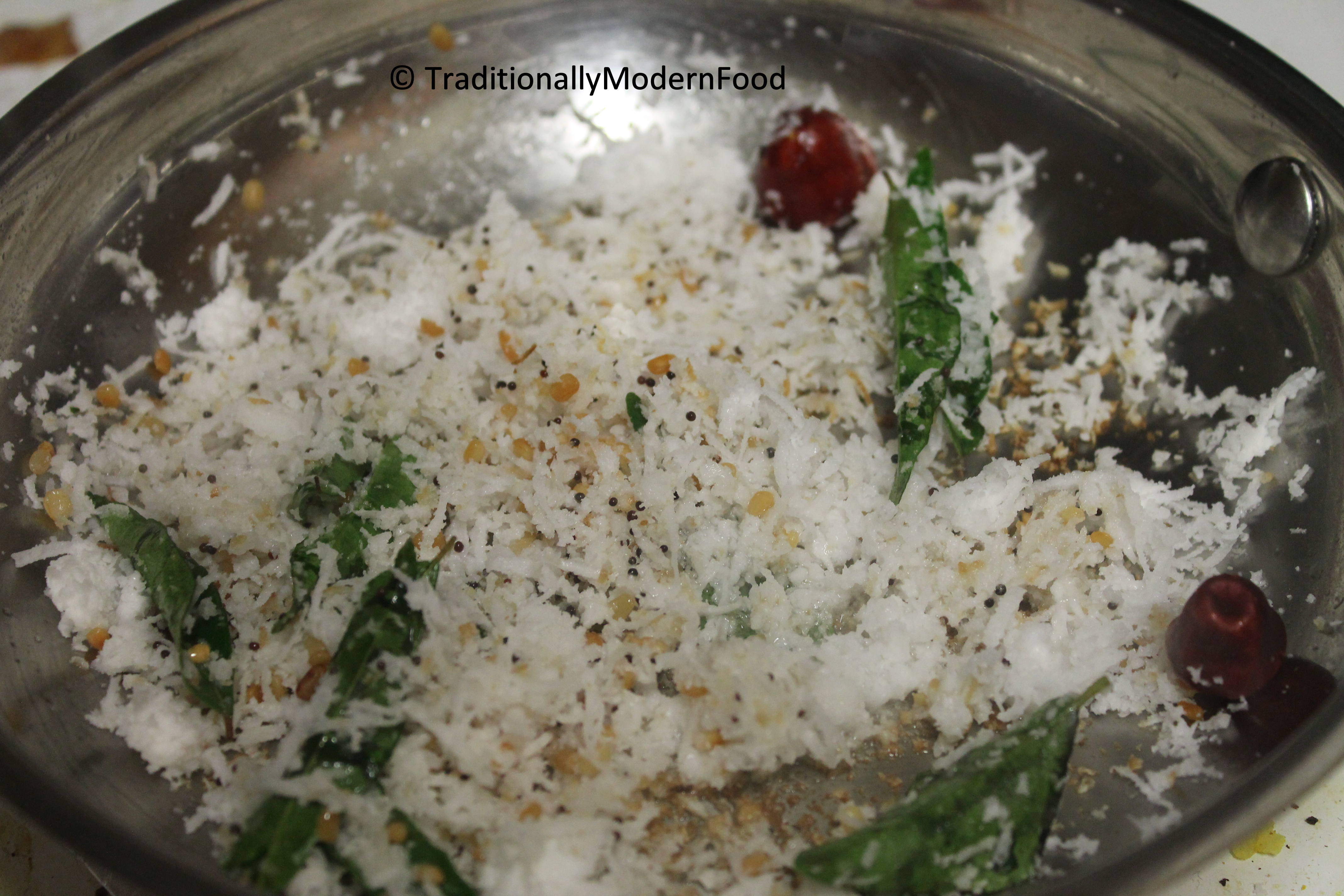 Add steamed balls, salt and mix well. Cook for 2 minutes in low flame; switch off. It tastes Thengai Sadam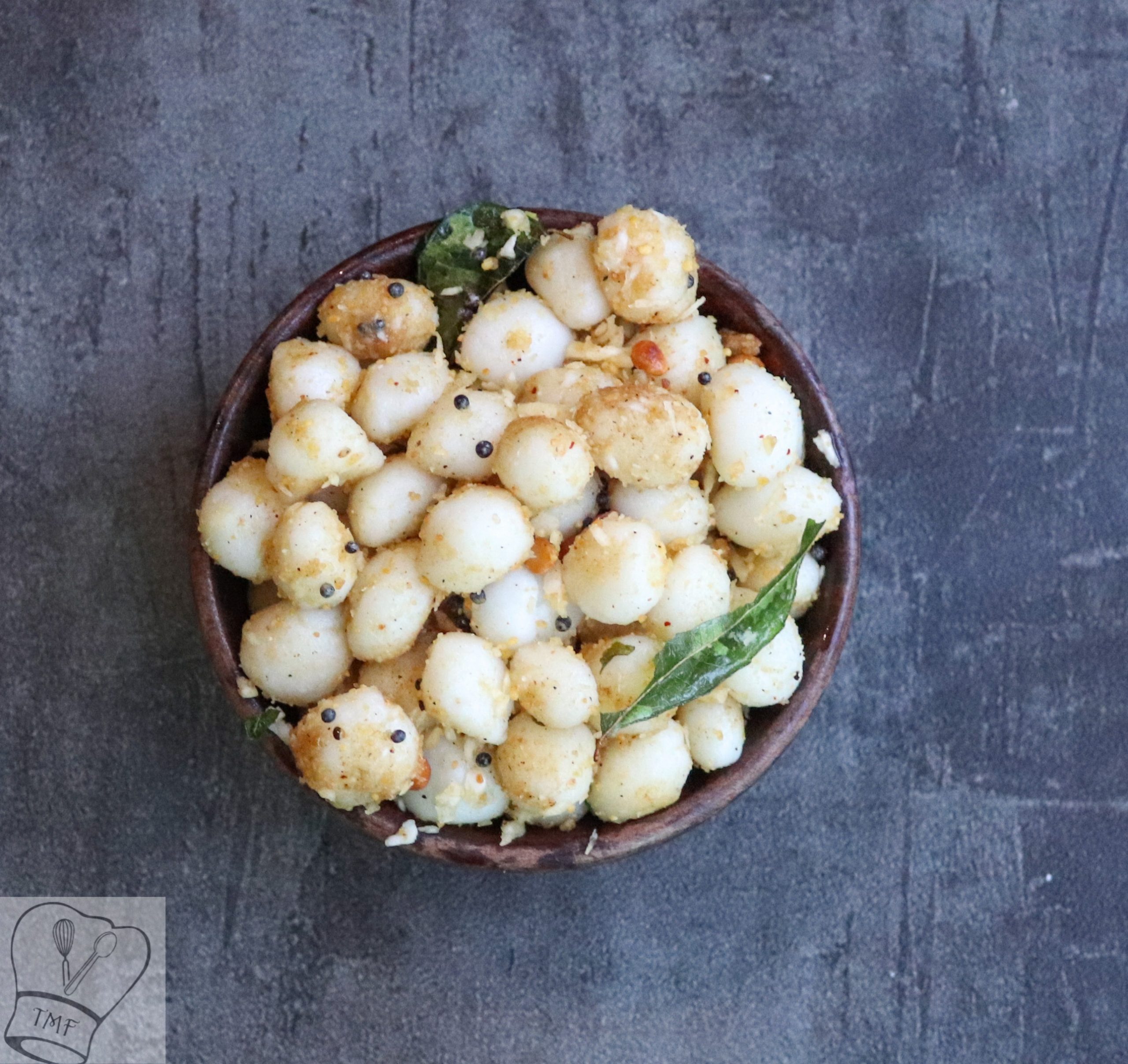 Ammini kozhukattai with idli podi - Version 3:
Add coconut oil to the pan, when oil is hot add mustard seeds
Once when it splutters, add hing, urad dal, and curry leaves
After the dal is golden brown, add idli podi and give a quick saute
Add steamed balls, salt, and coconut; mix well. Cook for 2 minutes in low flame; switch off
Paruppu Usili Ammini kozhukattai - version 4
Wash and Soak toor dal, chana dal and red chilli for atleast 2 hour
Drain water from the soaked dal and grind them along with very little water (around 1 or 2 tbsp) , salt to a coarse mixture.
Boil water in idli pan, grease the Idli plate and spread the coarse mixture on the plate and steam it for 6-7 minutes (like steaming idlies) and switch off
After 5 minutes take the steamed dal and keep in a plate, and once they are warm enough to handle crumble them with your hands (Can also pulse once in mixie) and set aside.
Add oil to the pan, and once the oil is hot, add the items listed under 'to temper' and let them splutter. Add the crumbled Dal and salt if required; saute for 2-3 minutes or till they are roasted
Add the steamed balls and cook in low flame for 2-3 minutes and switch off
Ammini Kozhukattai version 5 - with Uppu Kozhukattai stuffing
Add 1 tablespoon of Idli podi, 1/4 teaspoon of turmeric powdering, 1 teaspoon of coconut oil to 1/2 cup of ulundhu Kozhukattai stuffing
Saute for 2 minutes in low flame
Add cooked Kozhukattai and sauté for a minute in low flame