Thattai is a traditional south Indian snack prepared during several festivals. To make it a bit healthy here us a baked version. Baked thattai is crispy and delicious, no compromise in taste.
Why thattai?
Thattai is a popular snack that makes a great tasty side for coffee/ tea. It is also widely prepared during Krishna Jayanthi / Gokulashtami / Janmashtami festival and Diwali.
When compared to other traditional South Indian Thattai is less time consuming to make. It stays fresh for weeks.
Thattai is one snack that is always made even during regular days. I still remember those days where I will hunt for thattai boxes after coming from school.
Amma deep fry them in oil but off-late my oven has become my new friend and I try to recreate my favorite South Indian snacks with less oil by baking them.
For a perfect baked that Thattai homemade/store brought rice flour works perfectly. I have used a fine store that brought rice flour.
Recently when my mother-in-law came to visit us, she prepared thattai and put them in a big box. We snack them all day. After getting addicted to that On Krishna Jayanthi, I wanted to do some thattai. Generally, they are deep-fried in oil.
Baked thattai
After seeing the Baked Seedai result, I was confident enough to try my luck with baked healthy thattai. Thattai and seedai are almost similar - for thattai, chilli powder is the additional ingredient. Crispy and yummy thattai without much oil was ready.
After Krishna Jayanthi, I posted this pic on my FB page. Somehow it took me so much time to draft this post. Thanks to everyone who messaged me on FB for thattai recipes, and sorry for the delay in posting it.
Check out my other Krishna Jayanthi Special Recipes,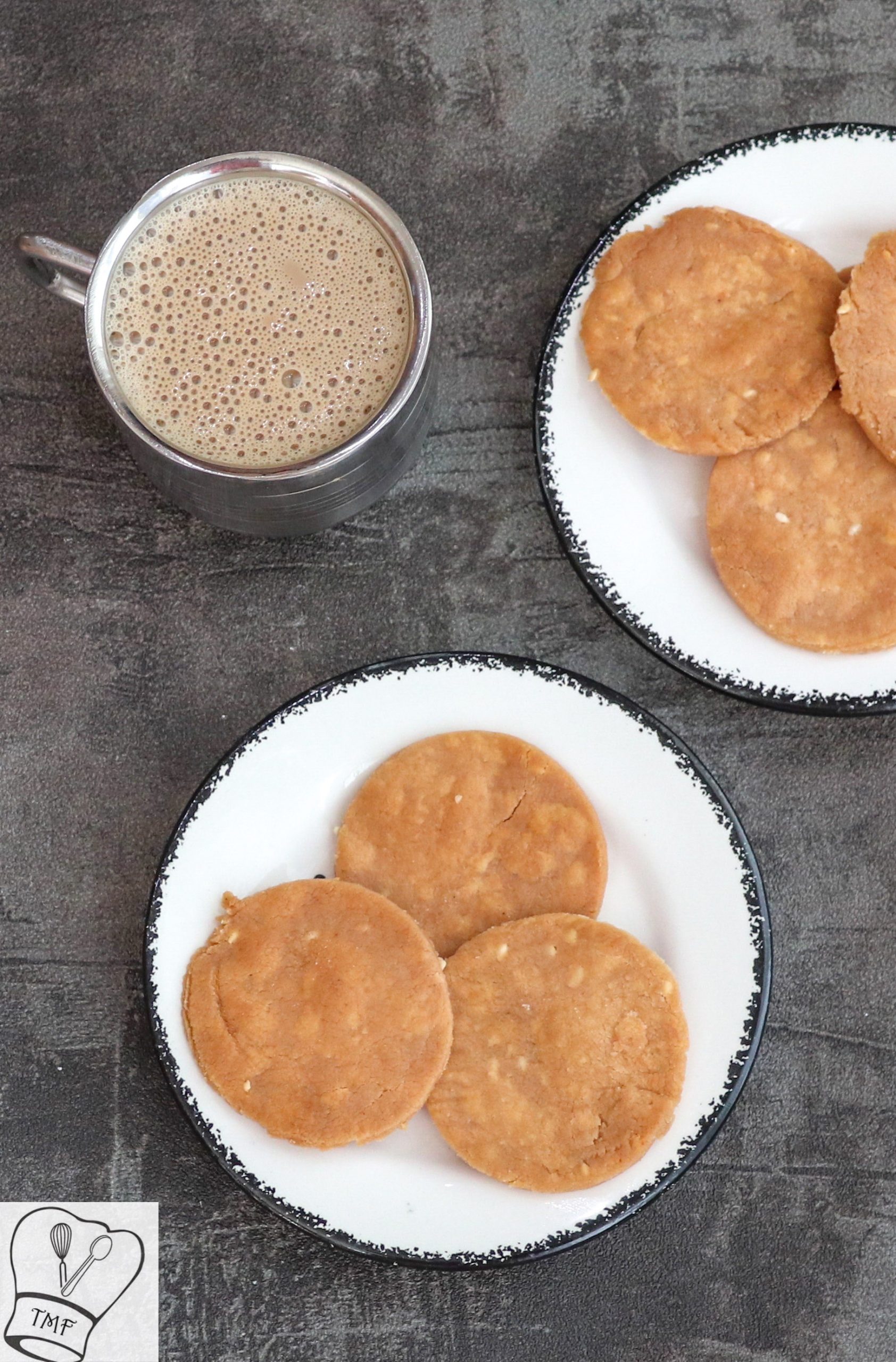 Baked Thattai
Preparation time: 5mins | Cooking time: 25 - 30 mins
Recipe Category: Snacks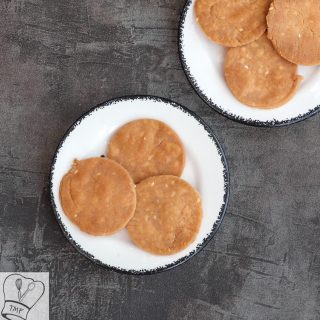 Ingredients
Rice Flour- 1 cup

Urad Dal - 2 tbsp

Butter - 3tbsp

melted in room temperature

Red Chilli powder - 1/4 tsp

Adjust according to your spice level

Salt - as needed

Asafoetida - Geneous pinch

Coconut Oil - to grease
Instructions
For urad dal Flour:

Take 1/4cup of whole urad Dal and dry roast till they are golden brown. When it comes to room temperature, grind them into fine powder

Preheat the oven to 350 F. Line a baking tray with parchment paper and grease the parchment paper with oil

Dry roast the rice flour in low flame for 2 or 3 minutes. Do not overcook till they change color

In a wide vessel, add the rice flour and 2 tblsp of urad dal flour and salt. Sieve them for even mixing. Add asofetida and chilli powder to sieved flour and mix well

Add butter and mix well. Add water slowly and knead them into a pliable dough

Grease your hands with coconut oil and make small balls (approximately 1 teaspoon dough). Flatten the balls on greased palm (2-3 inch in diameter) and carefully place on baking tray

Bake in the preheated oven for 12 - 15 minutes. Then flip over very carefully and bake for another 12-15 minutes
Video
Notes
Cumin seeds, sesame seeds, curry leaves and Chana Dal can be added
If you are frying, the thattai has to be fried in a medium low flame, as it will help for even cooking. Heat oil in a pan
When the oil becomes hot gently put the thattai to the oil. Cook till the hissing sound of oil subsides
I used the store-bought rice flour. Alternatively you can wash and soak the raw rice for 1/2 hours and dry them in a cloth till moisture completely dries, and grind them into fine powder
Roasted gram flour (pottukadalai flour) can be used instead of urad dal flour
Ingredients:
Rice Flour- 1 cup
Urad Dal flour - 2 tbsp
Butter - 3tbsp, melted in room temperature
Red Chilli powder - 1/2 teaspoon heaped (Adjust according to your spice level)
Salt - as needed
Asafoetida - Generous pinch
Sesame seed - 1/4 tsp
Oil - to grease (I used coconut oil)
Method:
For urad dal Flour:
Take 1/4cup of whole urad dal and dry roast till they are golden brown. When it comes to room temperature, grind them into a fine powder
Preheat the oven to 350 F. Line a baking tray with parchment paper and grease the parchment paper with oil
Dry roast the rice flour at low flame for 2 or 3 minutes. Do not overcook till they change color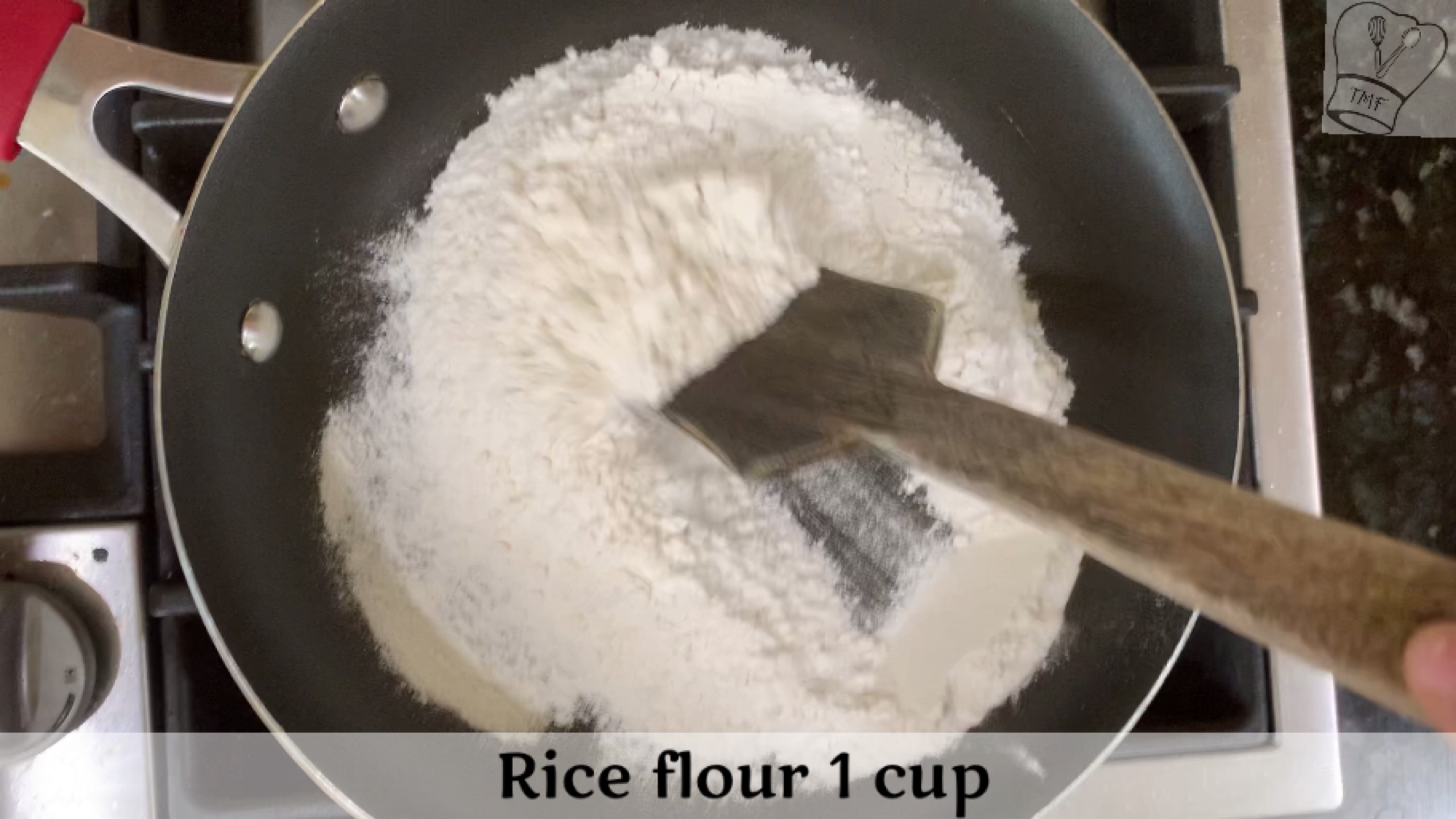 In a wide vessel, add the rice flour and 2 tablespoon of urad dal flour and salt. Sieve them for even mixing. Add asafetida, sesame seed, and chilli powder to sieved flour and mix well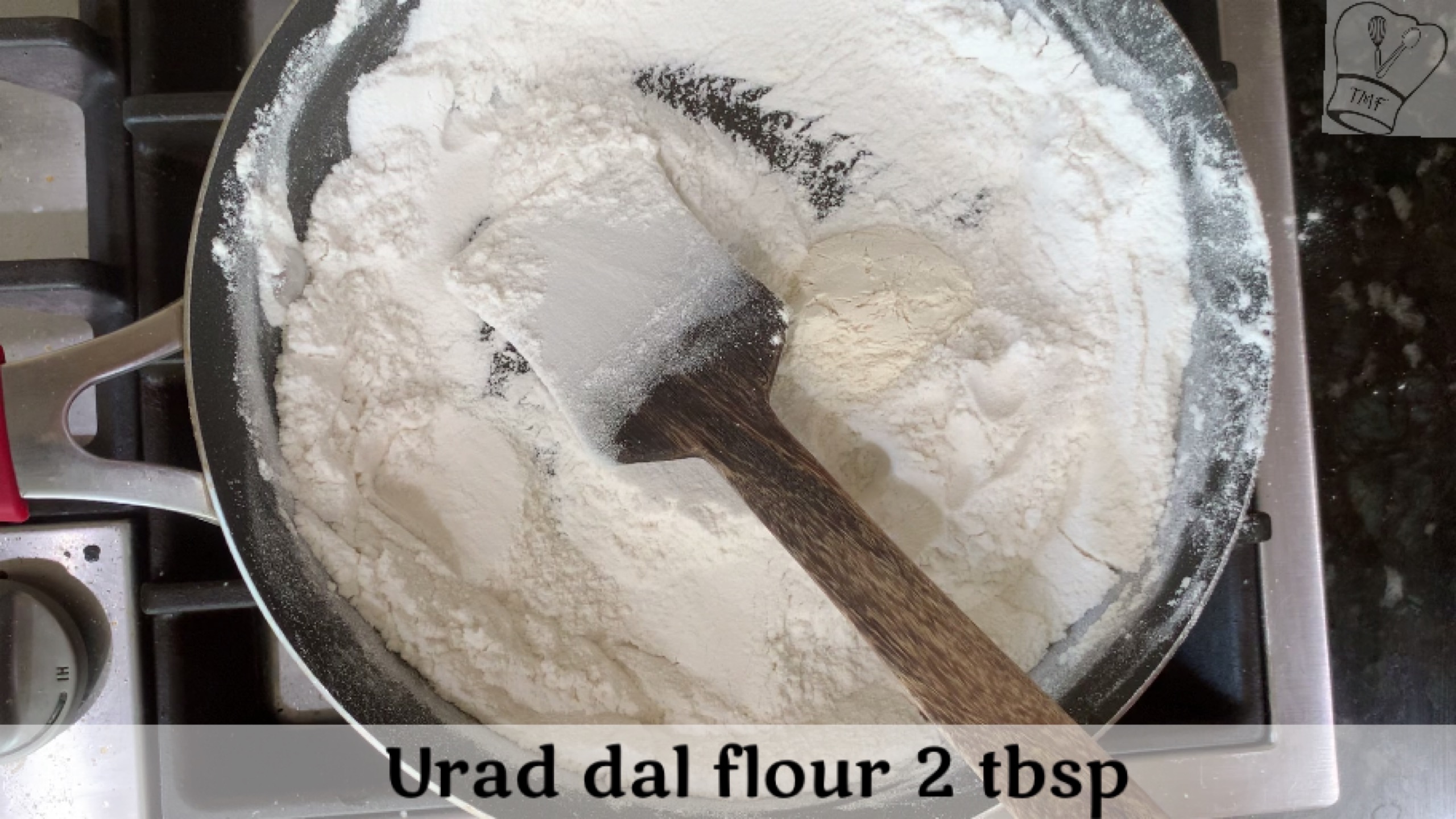 If you are using store brought rice flour and urad dal flour skip sieving
Add butter and mix well. Add water slowly and knead them into a pliable dough
Grease your hands with coconut oil and make small balls (approximately 1 tablespoon dough). Flatten the balls on the greased palm (2-3 inch in diameter) and carefully place on the baking tray
Bake in the preheated oven for 12 - 15 minutes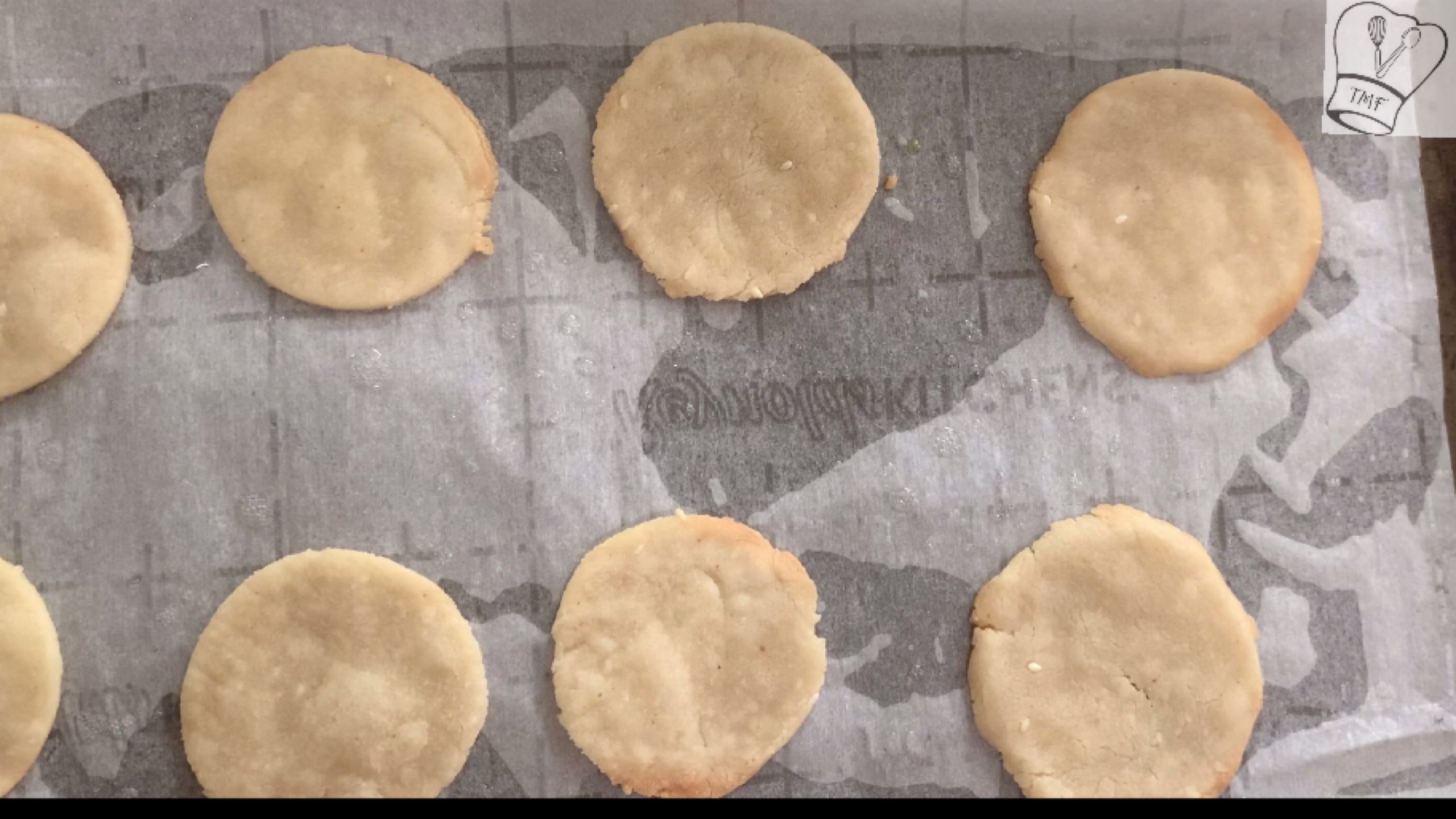 Grease all thattai, flip and grade again
Bake again for another 12-15 minutes