Besan chakli | Kadala maavu murukku | South Indian deep-fried snack | instant 10 mins murukku | Bakshanam | Murukku recipe | How to prepare Murukku | chakli recipe | murukku recipe | Diwali snacks | crispy Diwali murukku | 10 mins Diwali chakli | easy murukku recipe | rice flour chakli | how to make crispy chakli recipe | best instant chakli recipe | easy murukku recipe | Diwali bakhsanam | Diwali savory recipes | festival savory | karthigai recipes | gokulashtami quick snacks, tasty murukku recipes with step-by-step pictures and video recipe. Check out the besan murukku recipe and if you like the video pls SUBSCRIBE to my channel.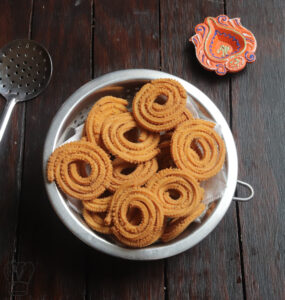 Besan chakli is a tasty savory snack recipe prepared with store-bought rice flour / Idiyappam flour / arisi maavu, besan flour, and butter, hot oil. Easy instant 10 minutes chakli murukku recipe without any soaking. Perfect for Diwali snacks / after-school kids snacks
Jump to:

Murukku - homemade snacks
Murukku is a popular tea-time/coffee-time South Indian snack recipe. Simple tasty crispy and crunchy snack recipes are also widely prepared during festive seasons like Diwali/ Deepavali, Ganesh Chaturthi, Krishna Jayanthi / gokulashtami / Janmashtami, karthigai, etc. This is one such no-fail murukku recipe. It is also a great after-school snack for kids and a good side when you run out of vegetables.
Should I sieve besan and rice flour?
Yes always sieve and make murukku. If the besan flour has granules it might get stuck in the murukku press.
Murukku maker for badam chakli
To prepare a homemade chakli recipe, we need a murukku press (commonly known as murukku achu or "Sev Sancha"). Traditionally it is made out of brass but nowadays stainless murukku achu is widely available. Outside India, murukku maker is available in Indian stores and on Amazon.com. Murukku achu comes with various attachments. To make kadala maavu chakli murukku I have used a one-star shape. You can use any press of your choice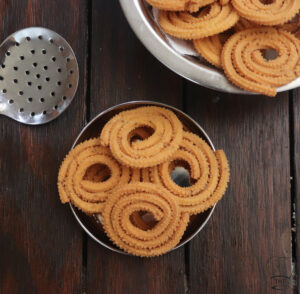 Should I roast besan flour?
No, just sieve and preapre the murukku
Should I make rice flour at home for kadalai maavu murukku?
Traditionally murukku is made after grinding rice. But to make it fast, I have used store-bought rice flour. Choose fine rice flour for the best results. Idiyappam flour can also be used for the murukku. Instant homemade crispy chakli without compromise in taste.
Can I skip carom seed?
I have used carom seeds for extra flavor. Instead, you can use black sesame seeds, white sesame seeds, or cumin seeds according to your preference.
Can I skip butter for thenkuzhal murukku?
Little butter gives a nice texture and taste to the murukku thenkuzhal recipe. But if you are planning to make vegan murukku skip the butter and use 2 tablespoon hot oil instead of butter. I like butter flavor hence I add in my all savory like seedai, thattai, ribbon, Pottukadalai murukku. Avoid adding more butter as it will affect the murukku texture. Murukku might disintegrate.
What should be the consistency of murukku dough?
Tight dough makes it difficult to press through the mold, it will cause murukku to break while it is pressed through the achu. Also with too much water in the dough, chakli will absorb a lot of oil while frying also murukku won't retain the shape. Make the right consistency of pliable dough, crack-free, and non-sticky dough
How to check if the oil is at the right temperature?
Check the oil temperature by adding a small piece of the dough. If the dough comes up gradually and steadily on top, the oil is hot enough to fry. If it comes up too quickly, then the oil is too hot. Simmer and adjust to the right temperature. If it settles down at bottom of Kadai or comes up very slowly, the oil is not hot enough, so increase the heat.
Shelf Life for kadala maavu

murukku
Murukku stays fresh and crispy for up to 2 weeks. Always store in a clean airtight container. I prefer to keep them in stainless dhabba. Let the murukku cool completely then close with the lid. Avoid covering the murukku when it is hot
Can I add chili powder?
Traditionally murukku is prepared without chili powder to retain the color and taste. However, you can add fine chilli powder/ pepper powder according to your taste.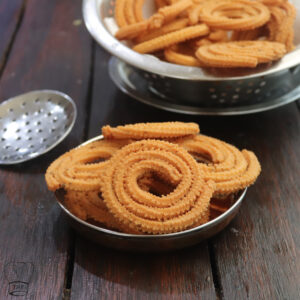 Why murukku turns hard?
Always make sure you fry murukku on low- medium heat. If murukku is not cooked it might turn hard. Little fat content (oil+ butter) helps for crispness so don't skip. If the dough cracks murukku might turn hard so make a nonstick dough.
Why does murukku disintegrate in oil?
Always choose fine rice flour and besan flour for making besan murukku. Avoid adding too much water to the dough as murukku might disintegrate. Also excess fat content (butter/oil) will disintegrate the murukku.
How to fix if murukku disintegrates in oil?
Add little rice flour and knead the dough again then prepare murukku. Make non-sticky, no crack, pliable dough. If the dough cracks, sprinkle little water and knead else it will be difficult to press murukku.
Besan chakli video recipe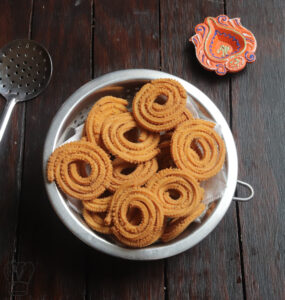 Ingredients:
1/2 cup besan flour, sieved
1 cup Rice flour
1/8 teaspoon turmeric powder
1 tablespoon Butter
Required Salt
1 teaspoon carom seeds
1/2 cup + as required Water
1 tablespoon Oil
asafoetida 1 teaspoon
How to make besan murukku with step-by-step pictures
Heat oil in a heavy-bottomed pan

Meanwhile, prepare the dough. sieve besan flour and rice flour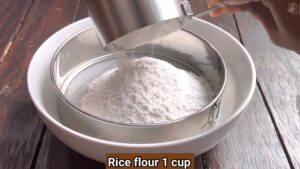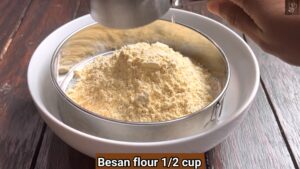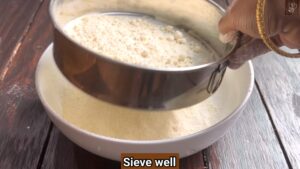 Furthermore salt, carom seeds, turmeric powder, and asafoetida to the plate; mix well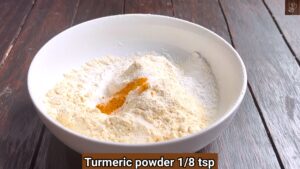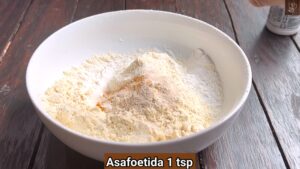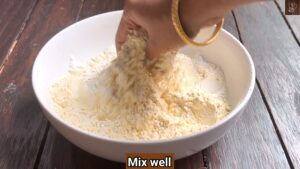 Add softened butter and oil; mix well. rub and crumble the flour well between your hand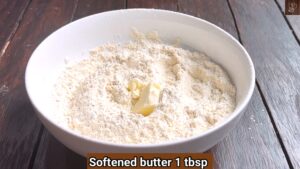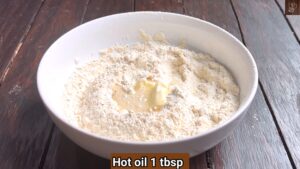 Gradually add water little by little until the dough comes together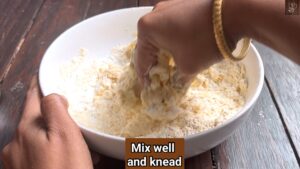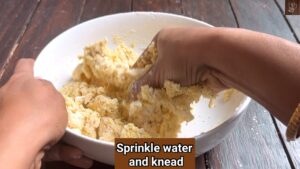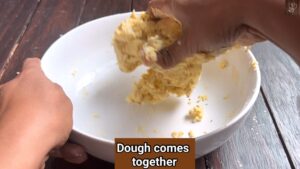 Grease your hands with oil and knead a pliable, crack-free nonsticky dough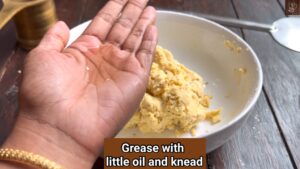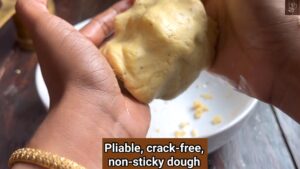 Cover the dough with a damp cloth or damp kitchen towel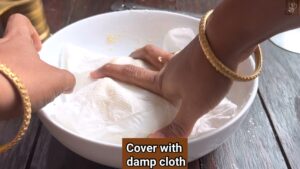 Furthermore, take a star-shaped press. you can use any press of your choice. fix them to the murukku maker

Grease the murukku maker with some oil. This prevents the dough from sticking to the mold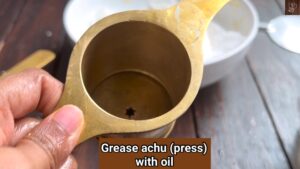 Furthermore, Grease ladle with little oil and set aside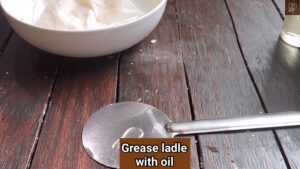 Pinch a portion of the dough and roll it into a cylindrical shape out of dough and place the dough inside the maker

Furthermore, place the other part on top of it

Press murukku on greased ladles and leave it for 2 minutes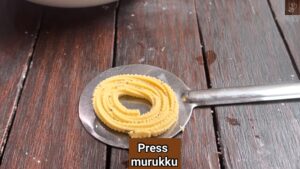 Make sure the oil is hot enough by dropping a small piece of dough, it should come up in a few seconds

Carefully slide the ladle to the hot oil and remove the ladle after a few seconds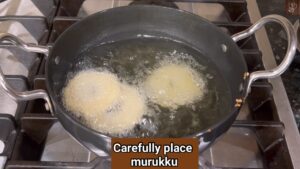 Avoid crowding the oil. Based on the pan width fry 2 or 3 murukku at a time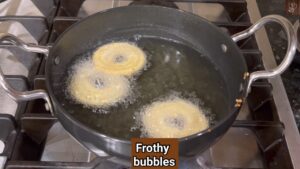 After adding the murukku, avoid flipping them immediately with the slotted ladle as they tend to break. Let the froth vanish and at one stage oil stops bubbling, flip over the murukku and fry on the other side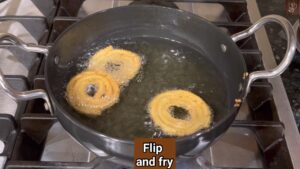 Once the sizzling sound stops, and the bubbles reduce carefully remove using a slotted ladle and drain the excess oil out. Place it on a colander covered with an absorbent tissue paper/ kitchen towel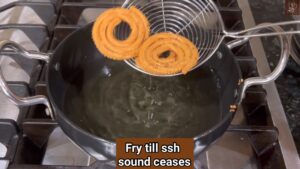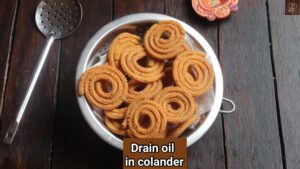 Press and keep the other batch murukku on the ladle. After removing the fried murukku slide the batch. Repeat the same process for the entire dough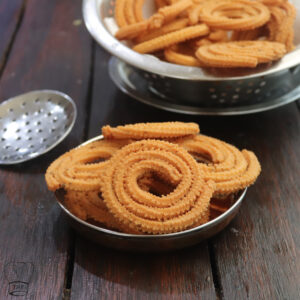 Recipe card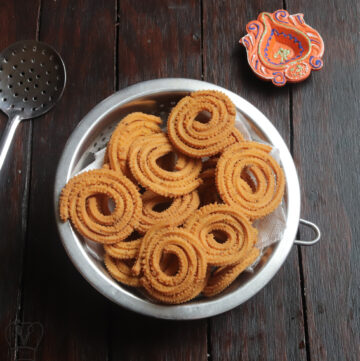 Ingredients
1/2

cup

besan flour

sieved

1

cup

Rice flour

1

tablespoon

Butter

1

teaspoon

carom seeds

1/8

teaspoon

turmeric powder

1

tablespoon

Oil

Required Salt

1

teaspoon

asafoetida

1/2

cup

+ as required Water
Instructions
Heat oil in a heavy-bottomed pan

Meanwhile, prepare the dough. sieve besan flour and rice flour

Furthermore salt, carom seeds, turmeric powder, and asafoetida to the plate; mix well

Add softened butter and oil; mix well. rub and crumble the flour well between your hand

Gradually add water little by little until the dough comes together

Grease your hands with oil and knead a pliable, crack-free nonsticky dough

Cover the dough with a damp cloth or damp kitchen towel

Furthermore, take a star-shaped press. you can use any press of your choice. fix them to the murukku maker

Grease the murukku maker with some oil. This prevents the dough from sticking to the mold

Furthermore, Grease ladle with little oil and set aside

Pinch a portion of the dough and roll it into a cylindrical shape out of dough and place the dough inside the maker

Furthermore, place the other part on top of it

Press murukku on greased ladles and leave it for 2 minutes

Make sure the oil is hot enough by dropping a small piece of dough, it should come up in a few seconds

Carefully slide the ladle to the hot oil and remove the ladle after a few seconds

Avoid crowding the oil. Based on the pan width fry 2 or 3 murukku at a time

After adding the murukku, avoid flipping them immediately with the slotted ladle as they tend to break. Let the froth vanish and at one stage oil stops bubbling, flip over the murukku and fry on the other side

Once the sizzling sound stops, and the bubbles reduce carefully remove using a slotted ladle and drain the excess oil out. Place it on a colander covered with an absorbent tissue paper/ kitchen towel

Press and keep the other batch murukku on the ladle. After removing the fried murukku slide the batch. Repeat the same process for the entire dough
Video