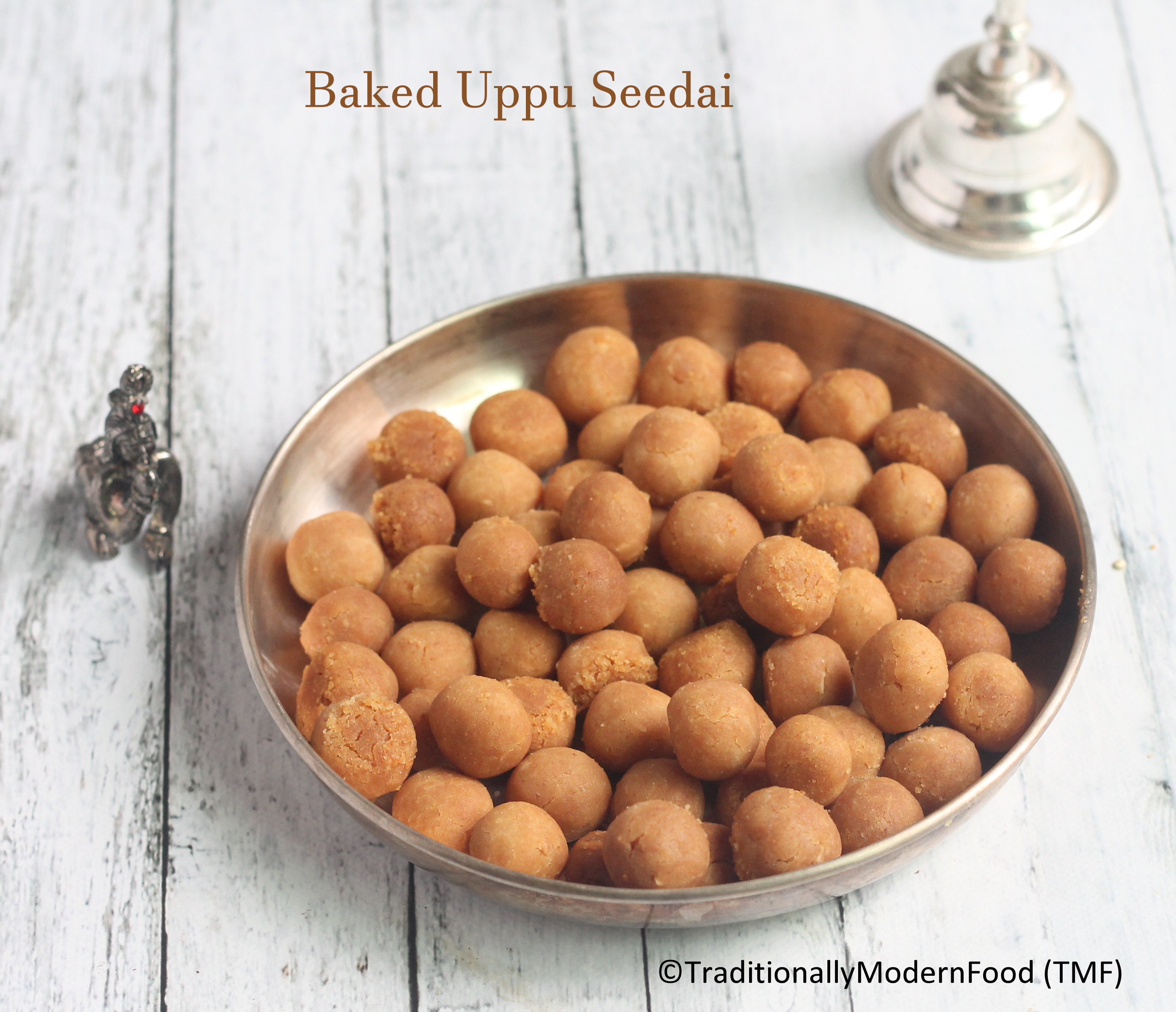 Melt-in-mouth, tasty, and healthy Uppu Seedai (Salt Seedai) for Krishna Jayanthi/ janmashtami. This Baked Indain snack can be prepared within 25 minutes. Seedai is a great evening snack with tea. Uppu seedai can also be prepared for diwali savory varieties. Try this Stepwise recipes and video uppu seedai recipe and enjoy the festive without the worrying about bursting seedai.
Back in 2014 I posted baked Uppu Seedaii recipe. Recently I have updated the pitures. The moment I think about Krishna jayanthi Seedai comes to my mind. Having a sweet tooth I was always inclined towards Vella Seedai but hubby likes Uppu Seedai. Now(2017) I have one more seedai fan, my little one. I prepared Salt Seedai 3 weeks back when my parents where here. My father likes seedai and he was asking me Baked Uppu Seedai. As always when I gave few seedai to kiddo, and he said big no intially, after tasting one he said, "Amma I like these balls, it is melting". My father said this is one of my best baked snack 🙂 Happiness is getting such sweet comments from loved ones.
Coming back to my First Baked seedai. When we where in Bentonville, my son was around 9 months old. Since that was the first gokulashtami for my "kutti Krishnan" I wanted to make all krishna jayanthi special recipes. As usual I called Amma for the recipe. I have never made seedai before. Last year (2013) I wanted to do, but my mom alarmed me saying Seedai may burst, so I was scared!. Somehow I postoned it for next year.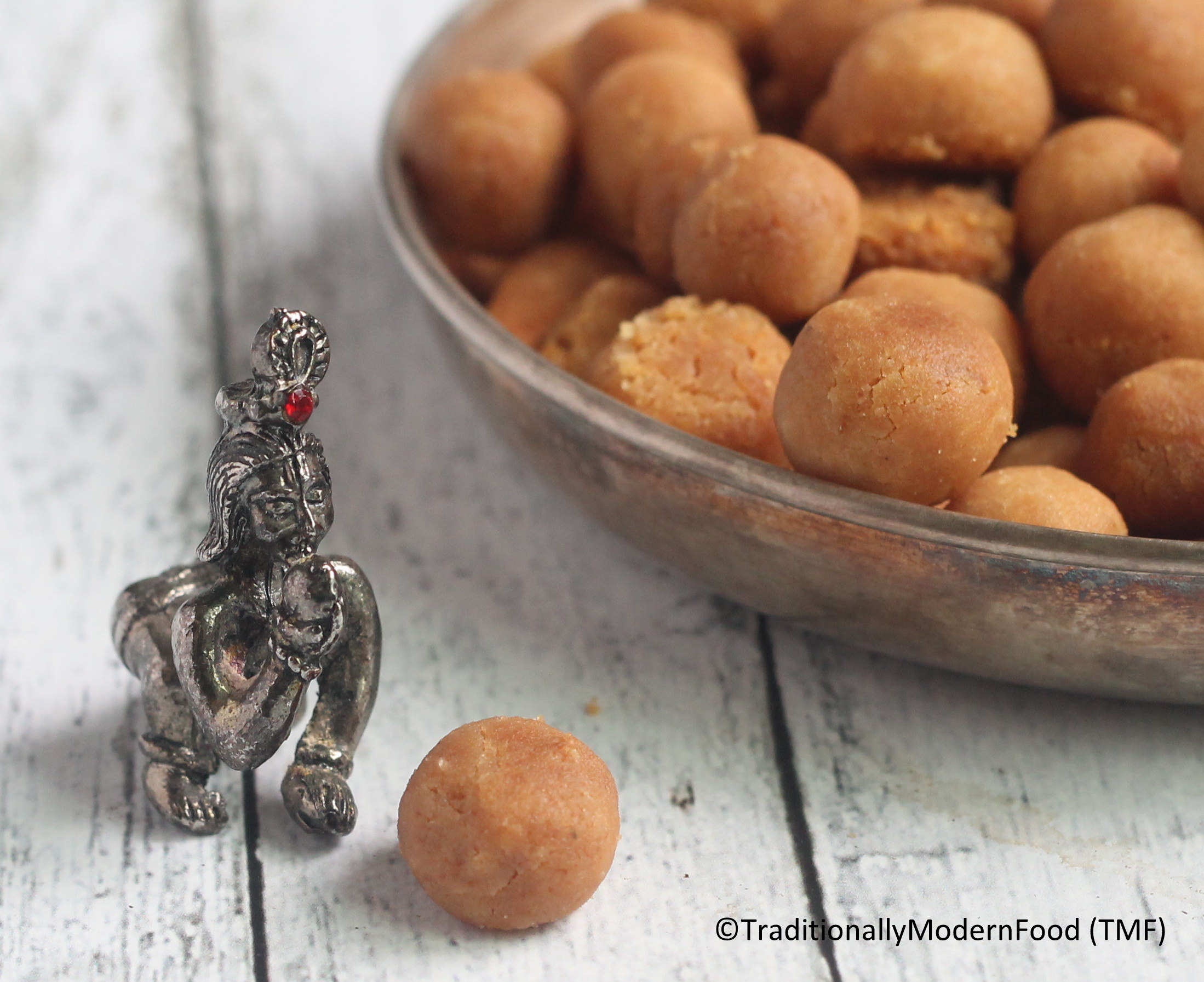 This year again we had the same conversation. I called my mom to ask about seedai proportions, and she again said a big no, and this time even stronger! I was in a big dilemma whether to cook or not. My sis casually asked me why can't you bake seedai, like baked Pakoda and Bonda, so that mom won't get scared with you using hot oil for seedai.
The moment I heard it I was super excited. I dont know why didn't this strike me! I wanted to try my luck baking uppu seedai, and was happy with the result. First year I greased with very less oil so I could see color difference but it comes to the taste, it was the same. Believe me, if you give baked seedai and deep fried seedai to someone, no one can find the difference in taste (except for the color). Recently I started adding extra oil so that It becomes brown and looks similar to deep fried seedai.
Off late I have been using my oven so frequently. Trying my favorite Indian snacks with a healthy baked version. TMF has few baked Indian snacks. Do check it out
I wouldnt say Baked Uppu Seedai is oil free snacks but this is prepared with less oil compared to regular seedai. Try this for this krishna Jayanthi.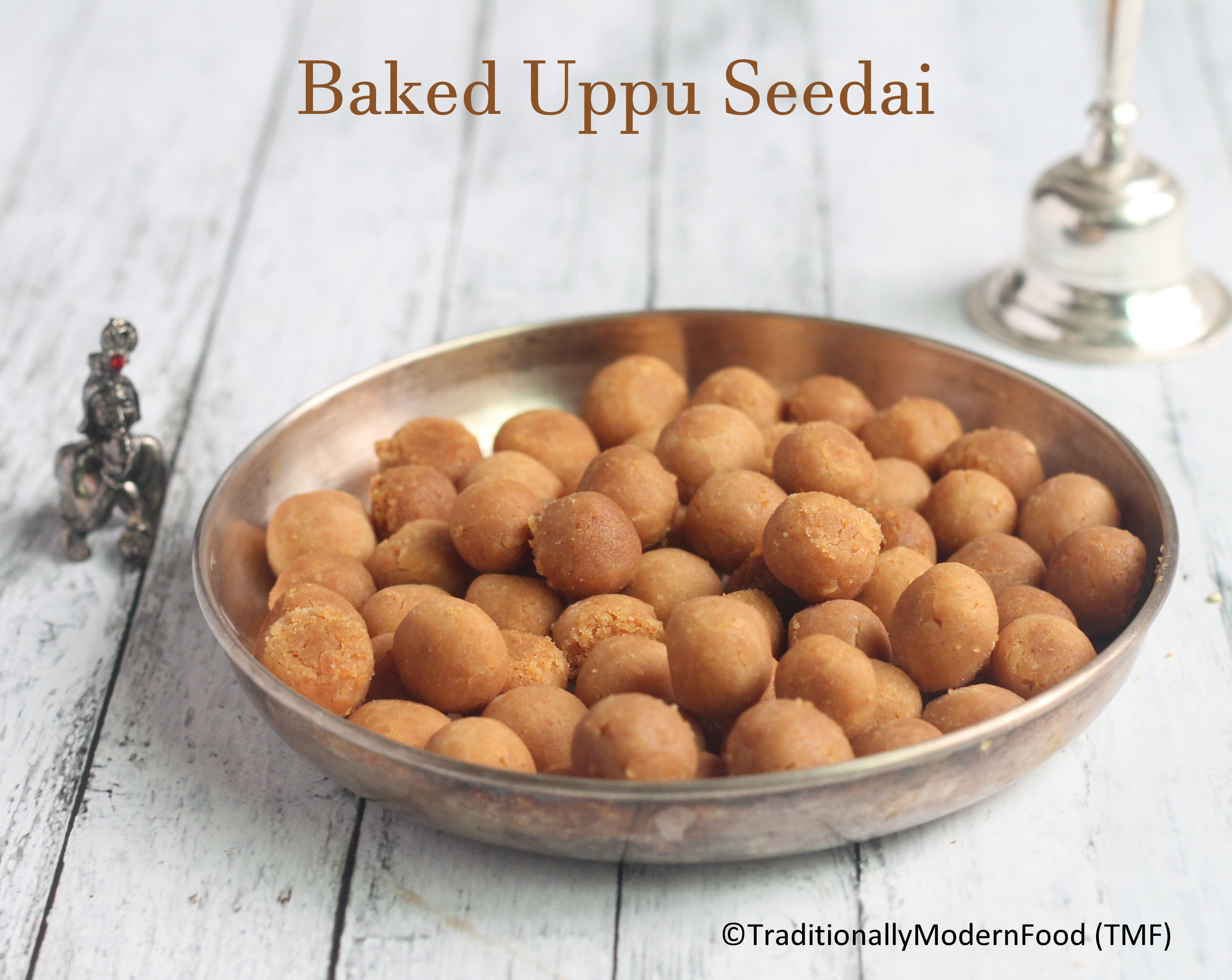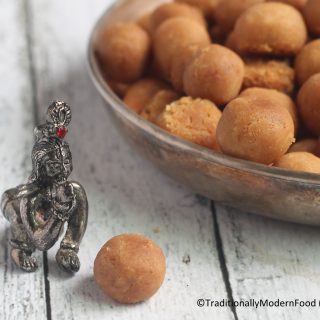 Ingredients
Rice Flour - 1 cup

Roasted Urad Dal Flour - 2 tbsp

Asafoetida/Hing - 1/8 tsp

Coconut - 2 tbsp

Coconut Oil - 1/4 tsp

to grease hands

Salt - as needed

Butter/Oil - 3 tablespoon + 1 tsp

I used Butter, use oil for vegan

Oil - to grease parchment paper
Instructions
For urad dhal Flour:

Take 3 tablespoon of whole urad Dal and dry roast till they are golden brown. When it comes to room temperature, grind them into fine powder

Preheat the oven to 400 F. Line a baking tray with parchment paper and grease the parchment paper with oil

Dry roast the rice flour in low flame for 2/3 minutes. Do not overcook till they change color.

In a wide vessel, add the rice flour and 2 tblsp of urad dal flour and salt. Sieve them for even mixing

Add butter and coconut to the sieved flour and mix well. Add water slowly and knead them into a pliable dough

Grease your hands with coconut oil and make small balls. Place them on the parchment paper

Bake them for 22- 28 minutes. Check half way through and toss them for even baking. Mine got done around 25 minutes
Video
Notes
Cumin seeds, sesame seeds and Chana Dal can be added
If you are frying, the seedai has to be fried in a medium low flame, as it will help for even cooking. Heat oil in a pan, When the oil becomes hot gently put the seedai balls to the oil. Cook till the oil sound subsides
I used the store-bought rice flour. Alternatively, you can wash and soak the raw rice for 1/2 hours and dry them in a cloth till mositure completely dries, and grind them into fine powder
The seedai dough should not be too tight. Otherwise the seedai will get cracked
Greasing the Seedai with extra oil gives a golden brown seedai
Do not roll the seedai too hard
Pottukadali/ roasted gram flour can be used instead of urad dal
Make sure seedai is almost similar size for even baking
Depending on the size of the seedai baking time may vary slightly
Baked Seedai turns slightly big after baking. Adjust the size accordingly
For urad dhal Flour:
Take 3 tablespoon of whole urad Dal and dry roast till they are golden brown. When it comes to room temperature, grind them into fine powder
Method:
Preheat the oven to 400 F. Line a baking tray with parchment paper and grease the parchment paper with oil
Dry roast the rice flour in low flame for 2/3 minutes. Do not overcook till they change color.
In a wide vessel, add the rice flour and 2 tblsp of urad dal flour and salt. Sieve them for even mixing
Add butter and coconut to the sieved flour and mix well. Add water slowly and knead them into a pliable dough
Grease your hands with coconut oil and make small balls. Place them on the parchment paper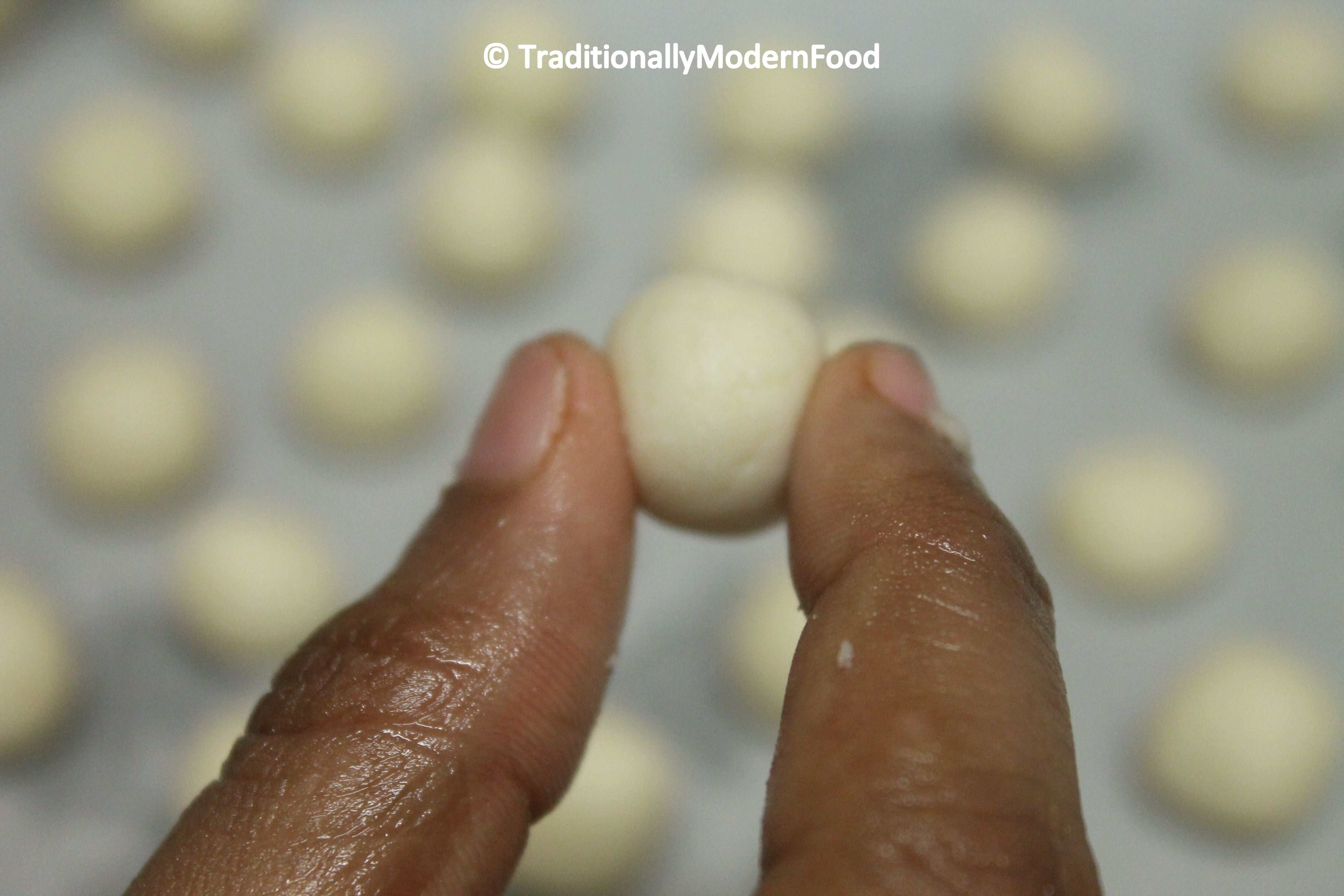 Bake them for 22- 28 minutes. Check half way through and toss them for even baking. Mine got done around 25 minutes