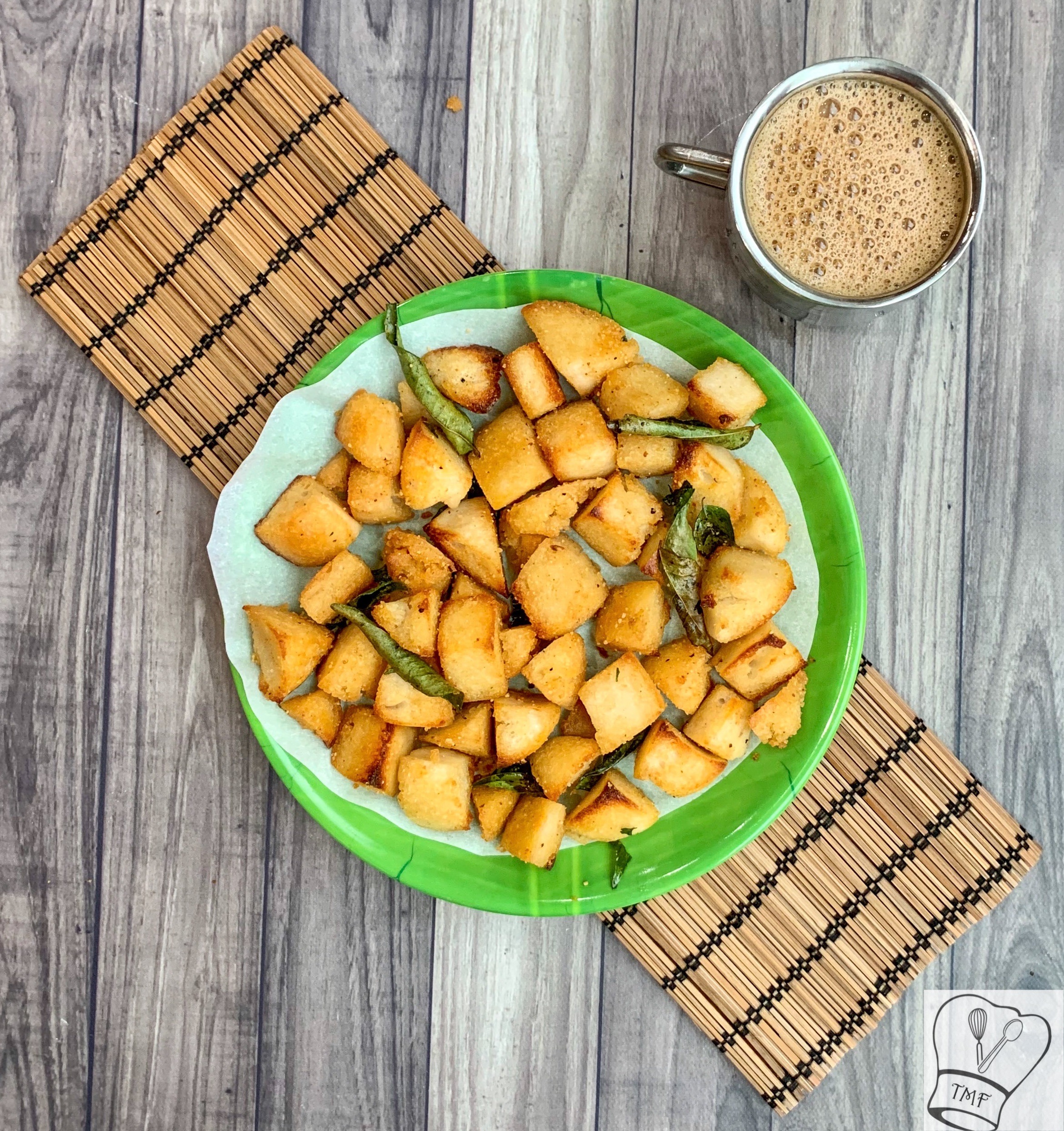 Baked Idli Fry is a tasty and healthy snack prepared with leftover Idli. Even Kids who hate Idli can't say no to this crispy evening snacks.
Idli/dosa is a common breakfast at home. I don't remember a week without this tiffin. I remember asking Amma why is it always Idli. After I started cooking I realized it is such a healthy and super easy breakfast/dinner. I don't like giving cereal for my son's breakfast. I wouldn't say I never give. Once in a while cereal/bread days happen but every week I started following Amma's Idli/dosa routine.
Checkout Idli/ dosa varieties in TMF
This tells me TMF doesn't have traditional Idli batter recipe will post soon😊
Coming back to my Baked Idli Fry. During childhood days Kunukku with Idli batter used to be one of my favorite after-school snacks. When it comes to restaurant food, Kaima Idli was my favorite from Saravana Bhavan. Deep fried Idli in a tasty sauce. I often feel like trying Idli Manchurian at home but deep fried Idli scares me.
Off late I have been using my oven so frequently. Trying my favorite Indian snacks with a healthy baked version. TMF has few baked Indian snacks. Do check it out
Inspired from my other baked snacks, I tried Baked Idli Fry - yes crispy Idli with just 3 tablespoon of oil. Most of the times I end up making 1 or 2 extra Idlis and this baked Idli Fry always comes handy.
First time when I tried it at home my husband didn't even realize it was baked. It was so good. I have tried this recipe with all the Idli varieties I have posted and got crispy Idlis all the time.
Idli milagai podi is my favorite side for Idli. Idli podi gives nice flavor to this crispy podi Idli. Dhaniya podi, curry leaves podi can also be used instead.
Bored with Idli/dosa? Try these tasty recipes using IDli/Dosa batter,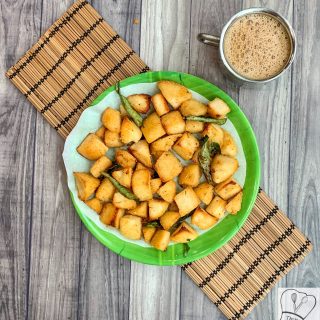 Ingredients
Idli - 8

Oil - 3 tbsp

Idli Milagai podi - 1 tbsp

Ghee - 1/2 tsp

Curry leaves - few
Instructions
Preheat oven to 400F

Cut the room temperature Idli into small pieces

Add parchment paper/aluminum foil to the baking tray

Add idli and 2tbsp of oil; mix well

Spread well. Without Idlis overlapping

Bake them for 10 minutes

Take it out and add oil and Idli milagai podi; mix well

Spread and Bake for another 10 minutes

Mix well and bake for another 6-8 minutes

Add curry leaves and ghee; mix well

Broil for 2 minutes. Mix well and broil again

I broiled for 6 minutes totally, 2 minute each time
Video
Notes
Baking time may vary based on the baking tray
If Idli batter is fresh 20-23 minutes baking is enough but for older batter it might take extra time
If you are frying Idli add spice powder after frying
Baked Idli fry tastes best immediately
If you are planning to consume the Idli few minutes after it is baked keep it in the oven till you consume for better crispy texture
Avoid using hot idli
Refrigerating Idli is optional. Idli can be kept in room temperature for few hours and baked
Avoid adding excess parchment paper. It might burn while broiling
Garlic powder, Dhaniya powder, rasam powder, curry leaves powder can be used for extra flavour
Always mix and spread the Idli well for even baking
Broil max for 2 minutes. Longer broil might burn the idli
I used quinoa Idli. Baked Idli can be make with any other Idli like millet, brown rice, hand pound rice or regular Idli. Baking time may vary slightly
cooking in ghee results in super crispy, tasty baked Idli fry
Ingredients:
Idli - 8
Oil/ ghee - 3 tbsp
Idli Milagai podi - 1 tbsp
Ghee - 1/2 tsp
Curry leaves - few
Method:
Preheat oven to 400F
Cut the room temperature Idli into small pieces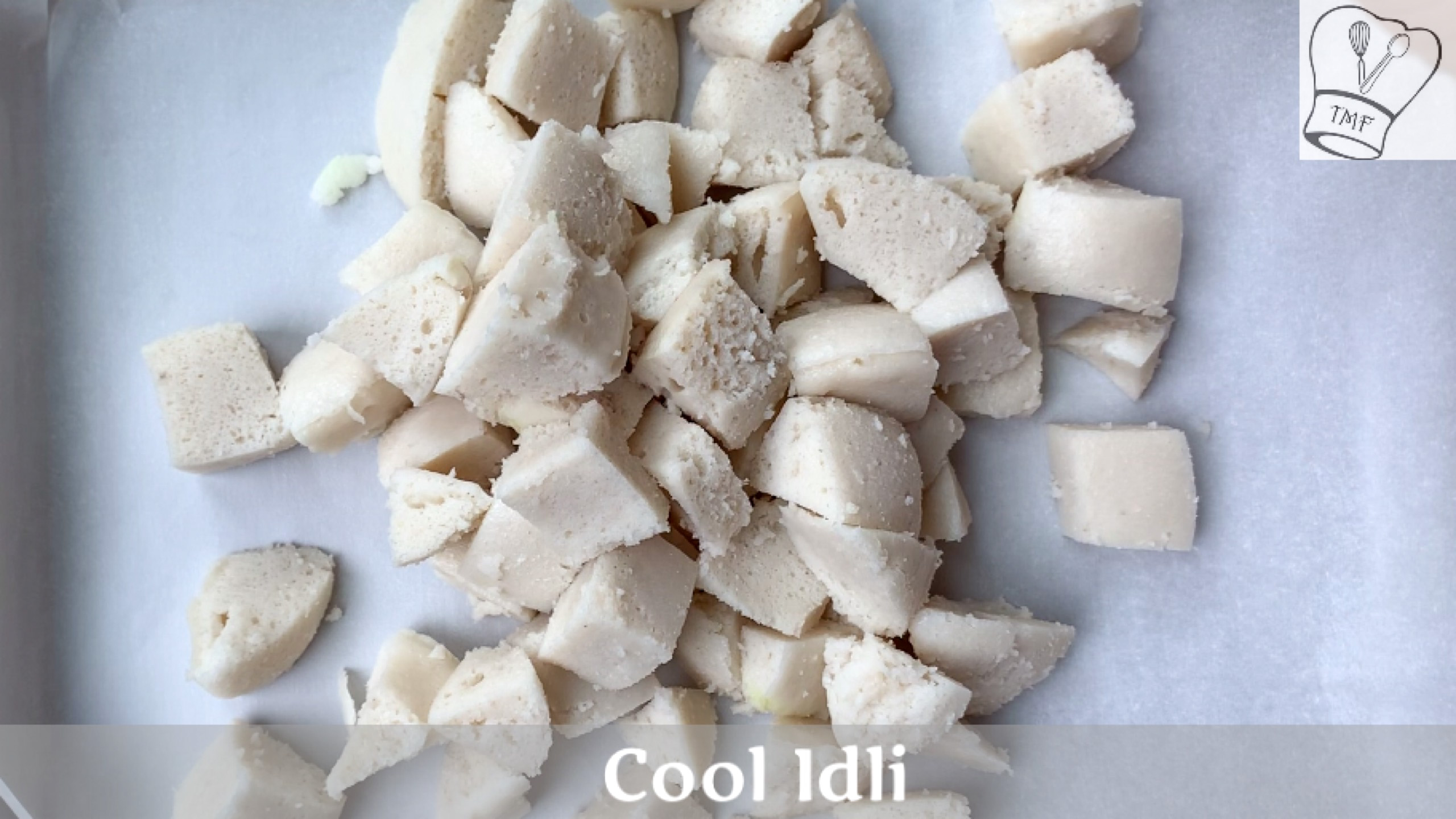 Add parchment paper/aluminum foil to the baking tray
Add idli and 2tbsp of oil; mix well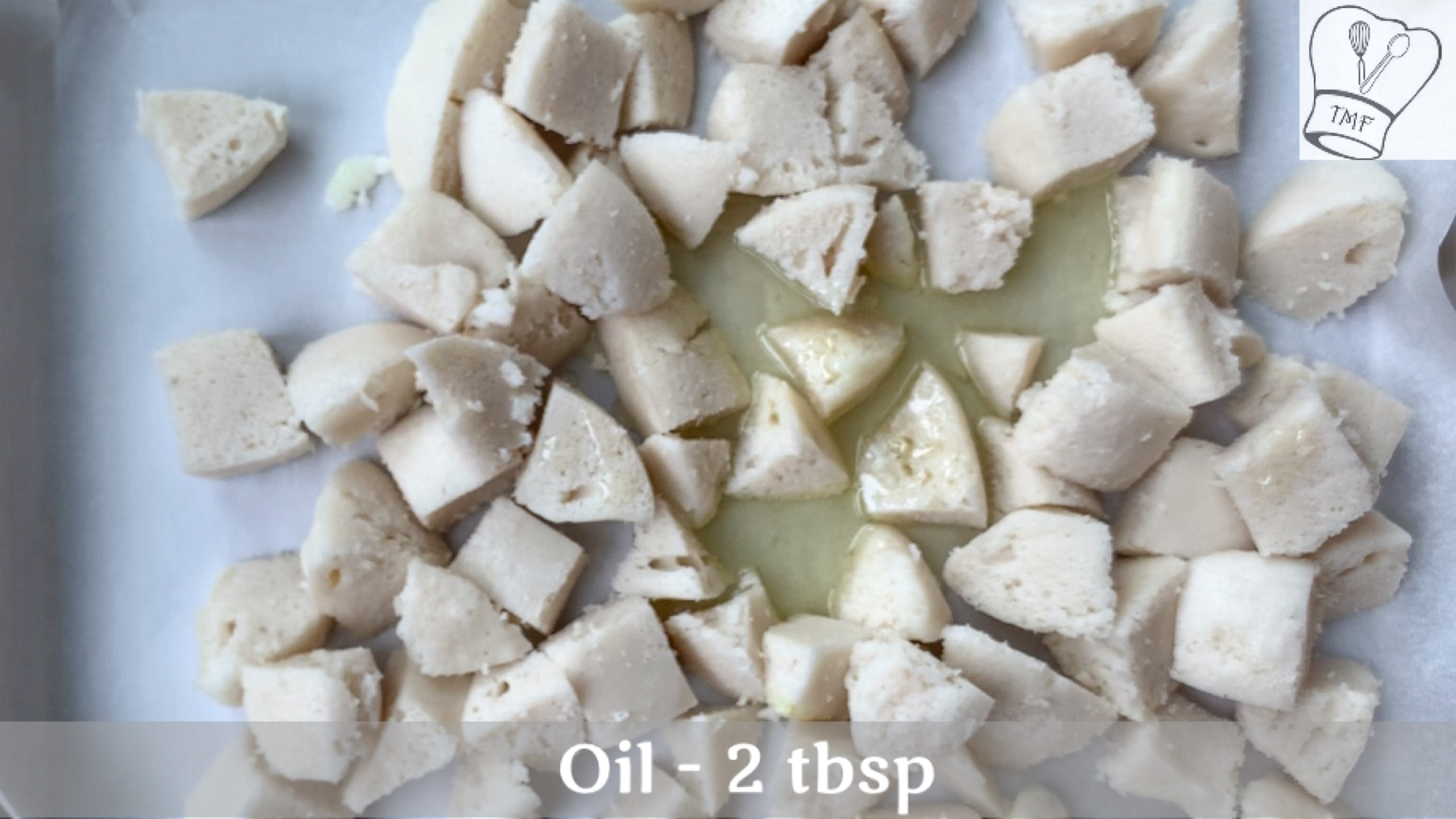 Spread well. Without Idli overlapping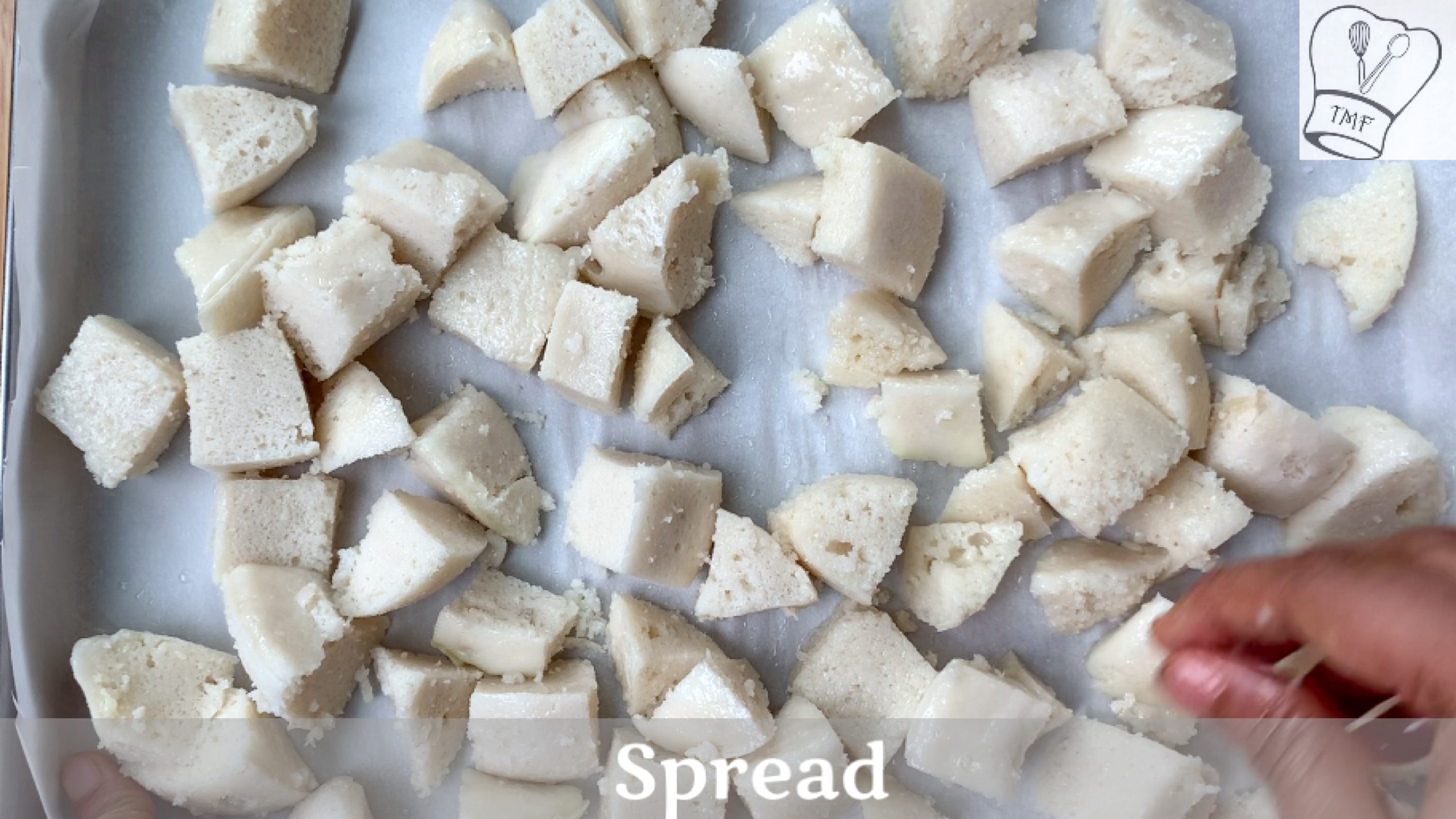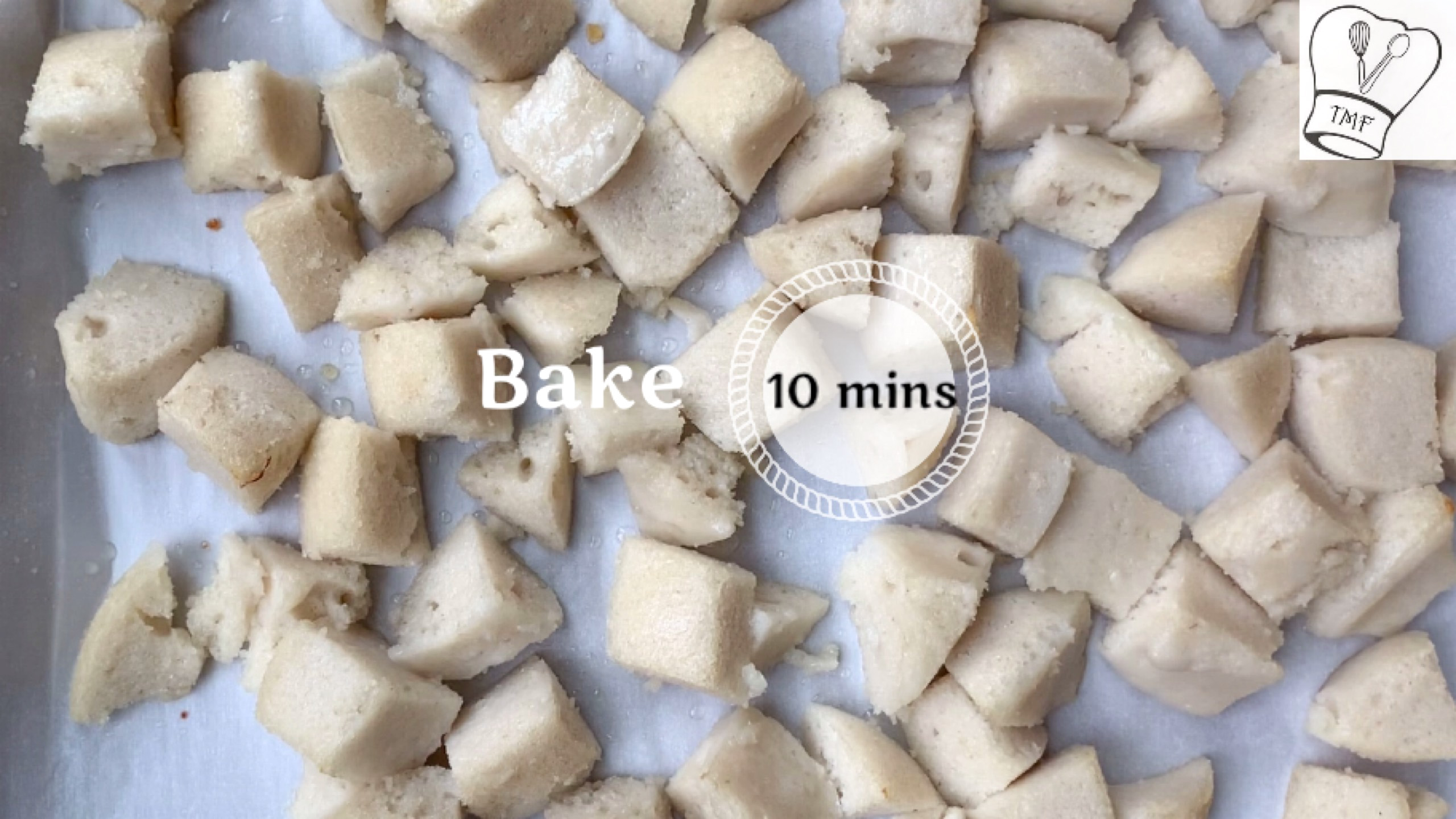 Take it out and add oil and Idli milagai podi; mix well
Spread and Bake for another 10 minutes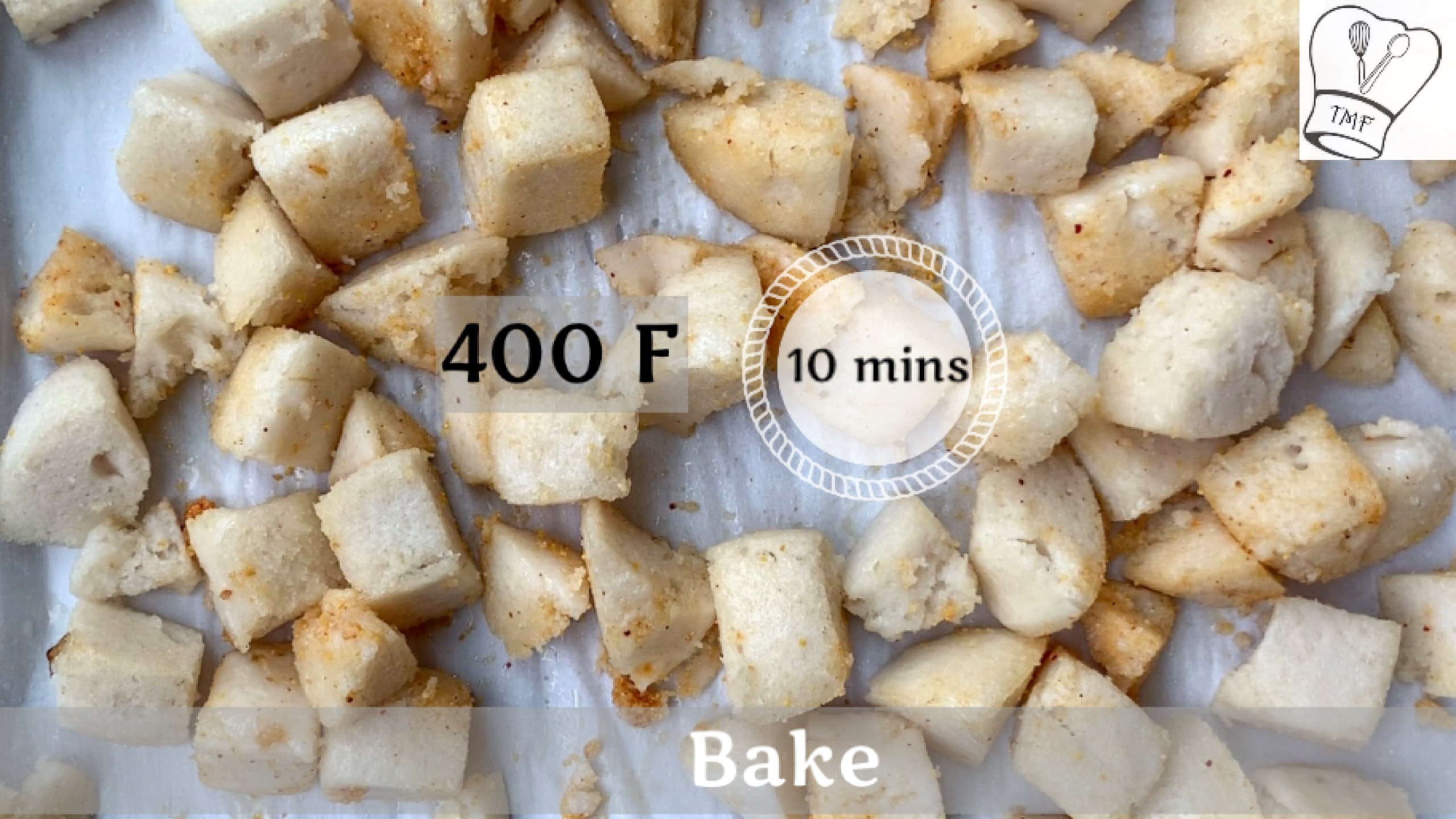 Mix well and bake for another 6-8 minutes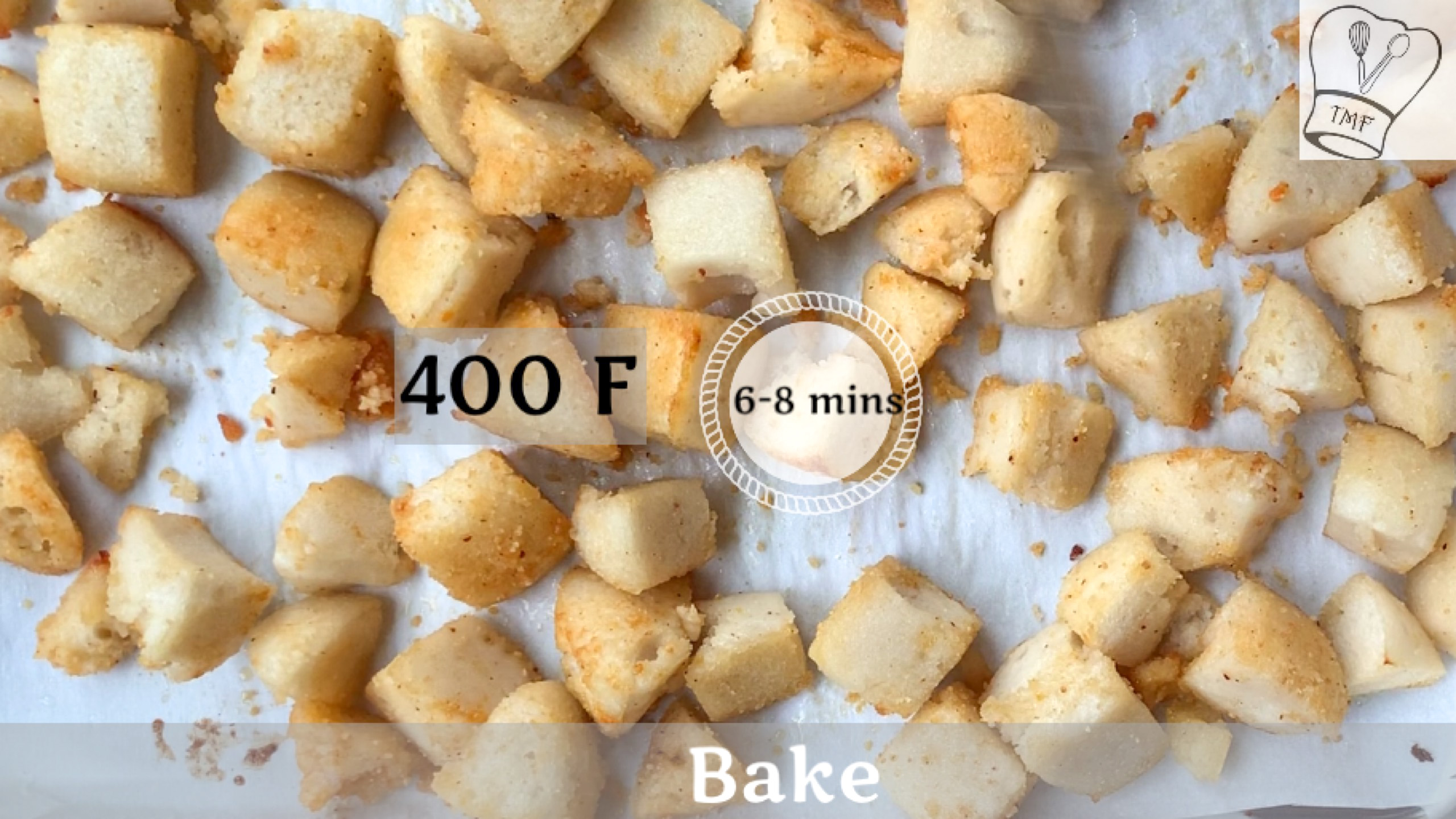 Add curry leaves and ghee; mix well
Broil for 2 minutes. Mix well spread and broil again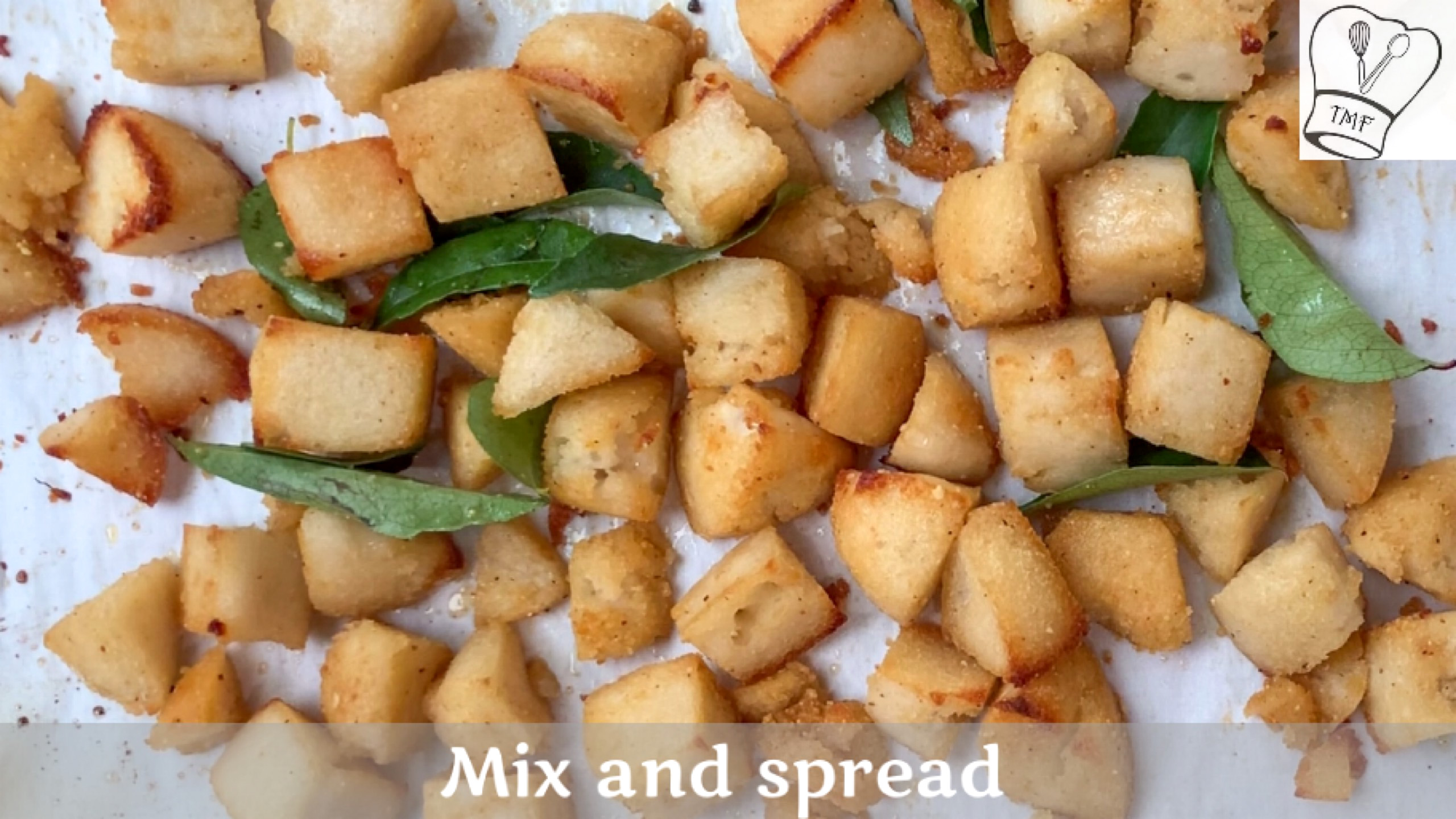 I broiled for 6 minutes totally, 2 minute each time