Hot milk cake | Eggless sponge cake | Eggless hot milk cake | wonder cake | Britannia milk cake | no eggs | no cream | eggless Milka cake | easy plain cake | teatime cake | butter cake | wonder cake | bakery style soft cake | moist eggless cake | milk cake in a blender | super soft and spongy cake | easy dessert | Vanilla sponge cake | soft sponge cake | wonder cake | pound cake | tea time milk cake | eggless milk cake | yogurt cake | eggless cake with curd | Christmas cake | vanilla cake | best eggless sponge cake | Bakery sponge cake Check out the Best hot milk cake recipe. If you like the video pls SUBSCRIBE to my channel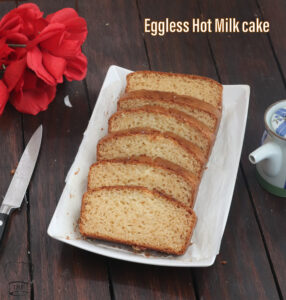 Hot milk cake recipe | Best Vanilla cake | eggless moist cake is simply a moist, soft vanilla cake that has no butter, no eggs, no vinegar, no lemon juice. Easy cake batter in a blender
What is special about this sponge cake?
you don't need a whisk or electric mixer for this cake batter. Mix everything in blender and batter is ready in no time
What kind of curd works best for this recipe?
Always use non-sour thick curd. I have used homemade curd but you can use flavorless or vanilla-flavored yogurt for this recipe. Make sure curd doesn't have whey separated.
HOW LONG SHOULD I MICROWAVE WET INGREDIENTS?
I have microwaved for 2 minutes but time might vary based on your microwave oven setting. Microwave milk turns hot.
Can I boil milk ON THE STOVETOP?
Yes, you can combine all the ingredients in a pan and cook in low- medium flame until the milk turns hot.
SUBSTITUTE FOR curd?
you can use 1/4 cup of condensed milk or 1/4 cup of sour cream or use 1 egg instead of curd
https://www.youtube.com/playlist?list=PL3zYDDQHDMSuQOc-DRqWnkF6qLZEayGU
Blend hot milk only if
the blender size is triple compared to the quantity of the batter
The blender jar has a lock with a safety lid
can I skip using a blender?
If you don't want to blend hot milk, follow these steps
Sieve the dry ingredients
Blend oil, sugar and curd; till they turn into fine mixture. Gently mix it to the dry ingredients
Prepare hot milk; mix gently
Can I add frosting?
yes you can add any frosting of your choice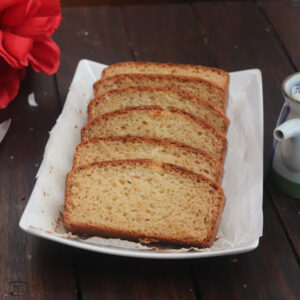 Other cake recipes in TMF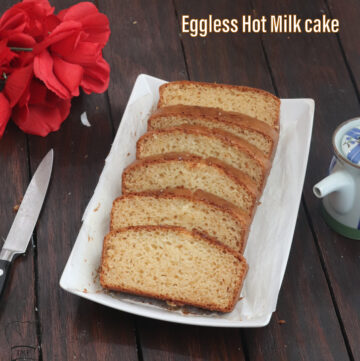 Ingredients
1

cup

all-purpose flour

1

teaspoon

Baking powder

1/2

teaspoon

Baking soda

2

tablespoon

Milk powder

1/2

cup

non-sour curd

1/3

cup

flavorless oil

3/4

cup

sugar

1/2

cup

milk

1

teaspoon

Vanilla

2

tablespoon

butter
Instructions
Firstly Preheat the oven to 340 degrees Fahrenheit

place parchment paper on a baking pan and grease with butter spray. Remove excess spray

Add milk powder, baking powder, baking soda, and all-purpose flour into the mixie jar and grind once

Furthermore, add sugar and grind once

Add curd and oil; grind just until everything is combined

Parallelly add milk, vanilla extract, and butter to a microwave-safe glass snd microwave for 2 minutes

Carefully pour the hot milk into the blender and grind once

Transfer the batter to the prepared pan and bake for 33-37 minutes

cool the cake for 5 minutes then unmold the cake

cool the cake completely and slice
Video
Notes
always use non-sour thick curd
use a powerful mixie/ blender
After adding curd and oil; blend just until batter is combined well
Avoid over blending. You can mix well
If you don't have milk powder grind 1 + 1/2 tablespoon of whole unroasted cashew along with other ingredients 
you can add frosting of your choice or serve the cake as is
Blend hot milk only if
Blender size is triple compared to the quantity of the batter
The blender jar has  a lock with a safety lid
 If you don't want to blend hot milk, follow these steps
Sieve the dry ingredients 
Blend oil, sugar and curd; till they turn into fine mixture. Gently mix it to the dry ingredients 
Prepare hot milk; mix gently
Ingredients
1 cup all-purpose flour
1 teaspoon Baking powder
1/2 teaspoon Baking soda
2 tablespoon Milk powder
1/2 cup non-sour curd
1/3 cup flavorless oil
3/4 cup sugar
1/2 cup milk
1 teaspoon Vanilla
2 tablespoon butter
how to make hot milk cake with step by step pictures
Firstly Preheat the oven to 340 degrees Fahrenheit
place parchment paper on a baking pan and grease with butter spray. Remove excess spray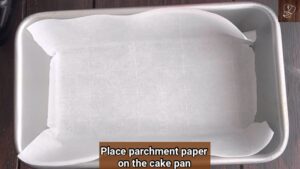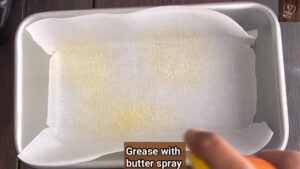 Add milk powder, baking powder, baking soda, and all-purpose flour into the mixie jar and grind once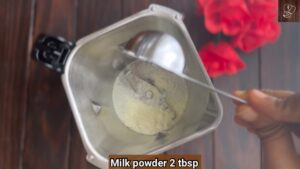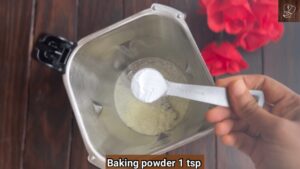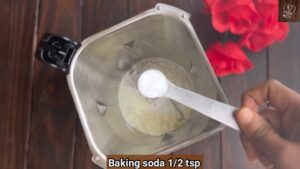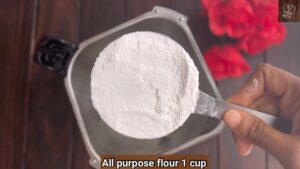 Furthermore, add sugar and grind once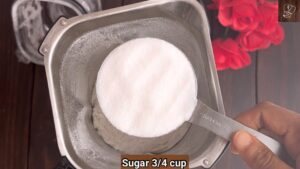 Add curd and oil; grind just until everything is combined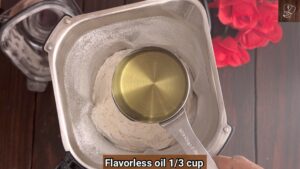 Parallelly add milk, vanilla extract, and butter to a microwave-safe glass snd microwave for 2 minutes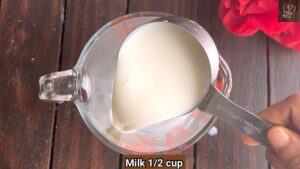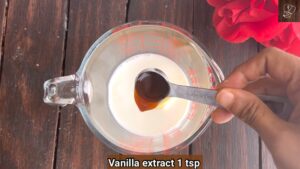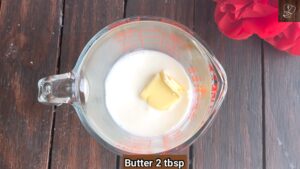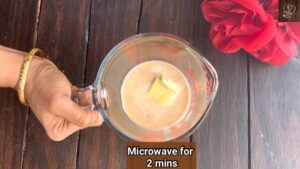 Carefully pour the hot milk into the blender and grind once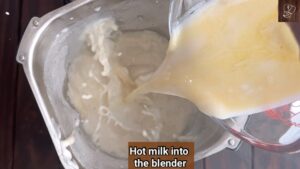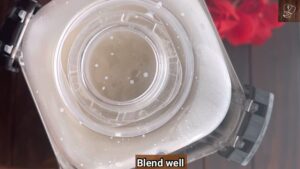 Transfer the batter to the prepared pan and bake for 33-37 minutes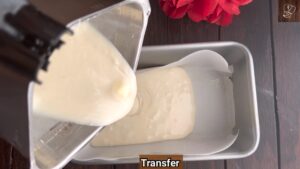 cool the cake for 5 minutes then unmold the cake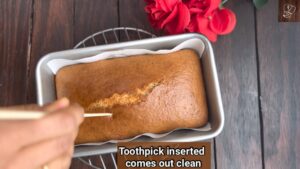 cool the cake completely and slice