Mango garlic thokku | instant Raw mango thokku | manga thokku | mangai oorugai | manga urugai |raw mango pickle | south Indian pickle recipe | grand sweets mango thokku | grand sweets style thokku | Manga thokku | Raw mango instant thokku | Mangai thokku | Mango recipes | south Indian pickle variety with step-by-step pictures and video recipe. Check out the poondu manga thokku recipe. If you like the video pls SUBSCRIBE to my channel.
PULSE OR GRIND raw mango?
Grating raw mango gives the best texture. Alternatively, you can pulse You can even grind mango but the texture of thokku might vary. Avoid adding water while grinding
CAN I ADD RED CHILLI INSTEAD OF CHILLI POWDER?
Yes, you can saute red chilli; grind and prepare oorugai. I would recommend regular Kashmiri chilli powder and chili powder as it gives the perfect colour
CRUSHING GARLIC
I like the texture of grated garlic in mango garlic pickle. you can also chop garlic. alternatively, you can crush garlic
WHY KASHMIRI CHILLI POWDER FOR THE SOUTH INDIAN PICKLE VARIETY?
Kashmiri chilli powder is not as spicy as regular chilli powder. Adjust the chilli powder according to your taste.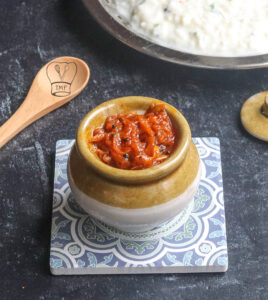 CAN I REDUCE OIL?
For the best pickle taste, I would recommend the quantity of oil mentioned in the post. you can reduce the oil but the raw mango pickle taste might vary accordingly.
SHELF LIFE OF raw mango garlic PICKLE?
After the pickle is completely cool, store it in a glass/ pickle container. Always use a clean dry spoon. Pickle stays good for months in the fridge and up to one week at room temperature. Avoid plastic containers for storing pickles. pickle tastes best after a few hours. ponndu mangai oorugai prepared with less oil won't stay fresh for a long time.
HOW CAN I SERVE manga OORUGAI?
In our home, we like onion pickles with curd rice, and curd semiya. It also goes well with Avocado paratha, paneer paratha, idli dosai tiffin varieties, and other breakfast/ dinner varieties.
VARIATIONS FOR manga poondu THOKKU
grind raw mango
use chilli instead of chilli powder
skip the garlic and prepare thokku
increase sesame oil for longer shelf life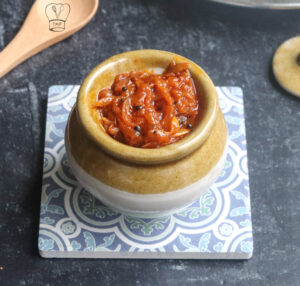 Ingredients
1/4 cup sesame oil
1 teaspoon mustard seeds
1/2 teaspoon asafoetida
1 teaspoon fenugreek seeds
2 tablespoon grated garlic
1 teaspoon chilli powder
1/8 teaspoon turmeric powder
1 tablespoon Kashmiri chilli powder
Required salt
1 raw mango, grated
How to make mango garlic thokku with step-by-step pictures
First, add sesame oil to a wide heavy bottomed pan and heat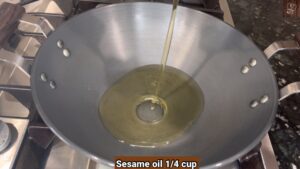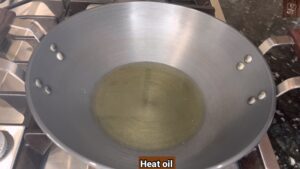 Add mustard seeds and fenugreek seeds; splutter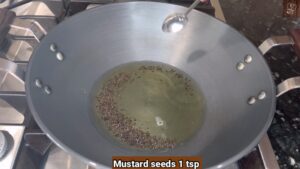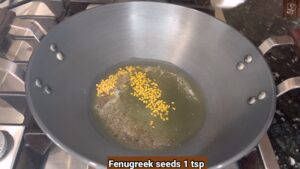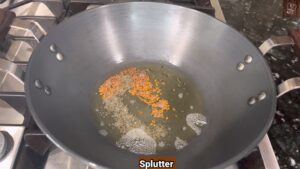 Furthermore, add asafoetida and mix well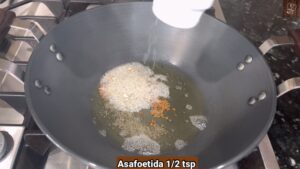 Turn down to low flame
Add Kashmiri chilli powder, chilli powder, and turmeric powder; mix well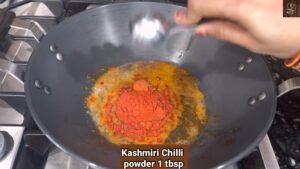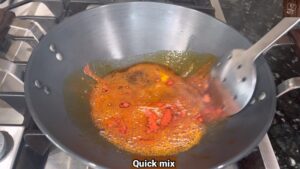 Furthermore, add garlic; quickly mix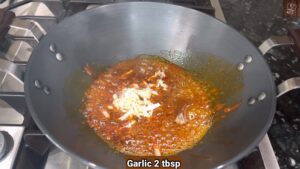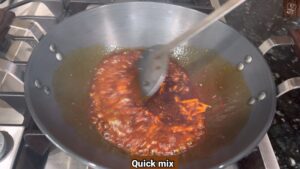 Add grated raw mango; mix well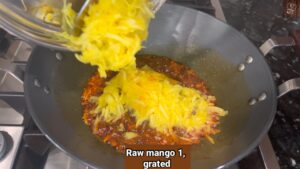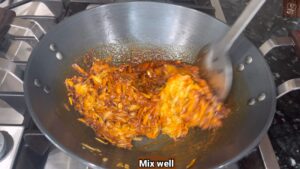 Furthermore, add the required salt; mix again
Turn to low- medium flame
Cook till oil oozes out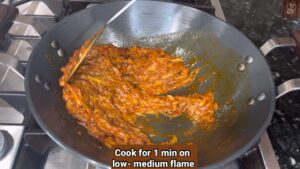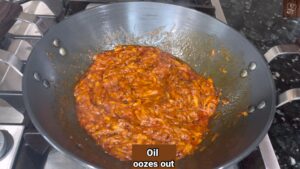 Mix well and turn off the stove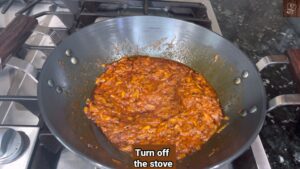 Cool completely then store in an airtight container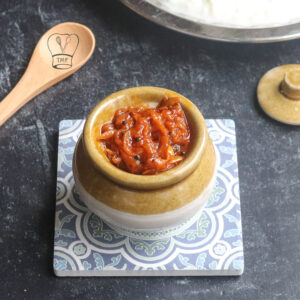 Ingredients
1/4

cup

sesame oil

1

teaspoon

mustard seeds

1/2

teaspoon

asafoetida

1

teaspoon

fenugreek seeds

2

tablespoon

grated garlic

1

teaspoon

chilli powder

1/8

teaspoon

turmeric powder

1

tablespoon

Kashmiri chilli powder

Required salt

1

raw mango

grated
Instructions
First, add sesame oil to a wide heavy bottomed pan and heat

Add mustard seeds and fenugreek seeds; splutter

Furthermore, add asafoetida and mix well

Turn down to low flame

Add Kashmiri chilli powder, chilli powder, and turmeric powder; mix well

Furthermore, add garlic; quickly mix

Add grated raw mango; mix well

Furthermore, add the required salt; mix again

Turn to low- medium flame

Cook till oil oozes out

Mix well and turn off the stove

Cool completely then store in an airtight container