Nellikai Oorugai | Instant Gooseberry pickle | Amla pickle recipe | Nellikai urugai with step-by-step pictures and video recipe. Check out the Nellikai Oorugai recipe. If you like the video pls SUBSCRIBE to my channel.
Nellikai oorugai recipe | instant gooseberry pickle | nellikai urugai | Amla pickle with frozen gooseberries is super easy to make and tastes delicious. Pickle stays good for weeks.
Jump to:
Why frozen gooseberry for the south Indian pickle variety?
Traditional fresh gooseberry is used for this pickle recipe. After moving to the US, I hardly found fresh gooseberry in the Indian store, so I started preparing nellikai oorugai with frozen ones. No compromise in taste and perfectly beginner-friendly pickle variety.
Should I steam cook Amla for pickle?
You can saute Amla in oil but make it faster I prefer steam-cooking gooseberry. Fresh or frozen steam cook them till they crack and opens up then prepare pickle, for never fail tasty Amla achar 😊
Does frozen Amla need thawing before making pickle?
No, I generally take the Gooseberry from the freezer and steam cook them directly for nellikai oorugai. After steaming the amla always drain them in a colander and make sure all the water is drained out.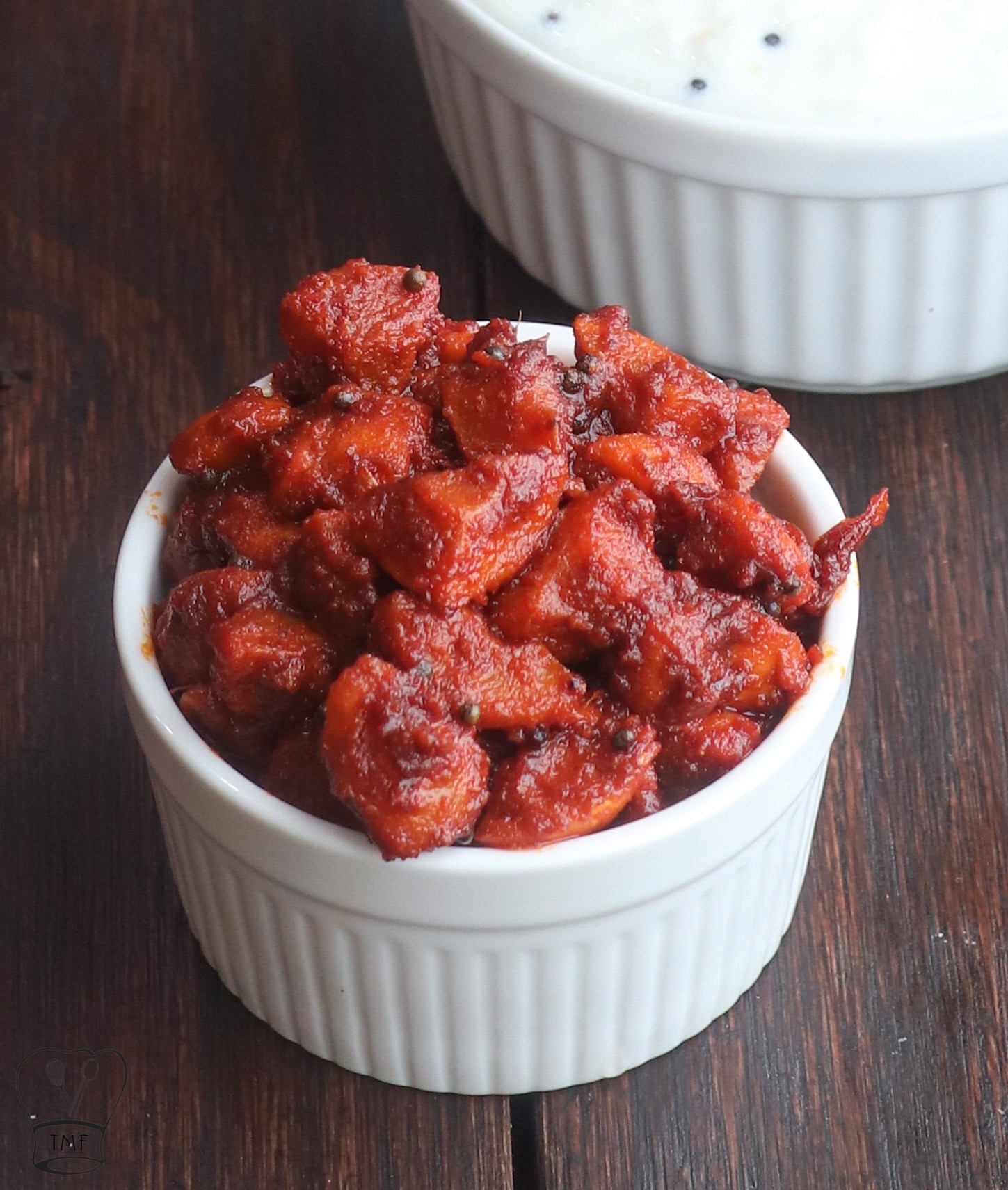 Why shouldn't I add steam-cooked Gooseberry with water?
If you try adding hot steam-cooked Amla with water to the hot oil, oil might spill out. Also, cooking amla pickle with excess water reduces the pickle's shelf life, so always drain the water well then prepare a gooseberry pickle.
How else can I cook gooseberry?
I prefer cooking gooseberry in an idli pan but you can cook Amla in a pressure cooker or instant pot. Use a separator and add little water for cooking. You can also microwave gooseberry.
Can I use regular chilli powder for Amla pickle?
Yes, you can use regular chilli powder but adjust the quantity accordingly. Also based on the gooseberry taste adjust the chilli powder. Personally, I prefer Kashmiri chilli powder because of the color.
Can I add 4 tablespoon of oil initially instead of adding over time?
Yes but I prefer adding little oil while adding chilli powder as helps for easy binding and also prevents the chilli powder from sticking to the pan.
How long does the pickle stay good?
After the pickle is completely cooked store it in a glass/ pickle container. Always use a clean dry spoon. Pickle stays good for weeks in the fridge and up to one week at room temperature. Avoid plastic containers for storing pickles. pickle tastes best after few hours.
How I can serve nellikai oorugai?
In our home, we like amla pickle with curd rice, curd semiya. It also goes well with Avocado paratha, paneer paratha, idli dosai tiffin varieties, and other breakfast/ dinner varieties.
Gooseberry pickle video recipe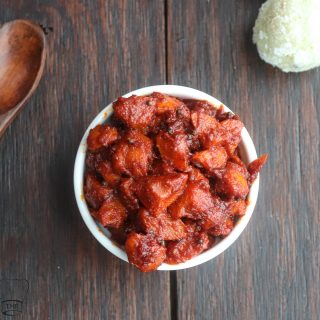 Ingredients
10

gooseberry | nellikai | amla

4

tablespoon

oil

1/4

teaspoon

mustard seeds

2

tablespoon

Kashmiri chilli powder

1/4

teaspoon

turmeric powder

1/2

tablespoon

salt

1/8

teaspoon

mustard seed powder

Asafoetida generous pinch

1

teaspoon

jaggery or brown sugar

1/8

teaspoon

fenugreek seed powder
Instructions
Grease idli plate and steam cook gooseberry for 10-15 minutes till they crack open

Transfer them to a colander and let the water drain completely

After the gooseberry is cool enough to handle remove the brown part and deseed the gooseberry, chop them randomly

Heat 2 tablespoon oil and when oil is hot add mustard seeds and let them splutter

Add chopped gooseberry and saute for 2 minutes

Turn down the flame to low

Add turmeric powder, chilli powder, salt, 1 tablespoon oil, and give a good mix

Furthermore add asafoetida, mustard seed powder, fenugreek powder, jaggery, asafoetida and give a good mix

Based on the sourness of the gooseberry add more chili powder (1 added 1 tablespoon), 1 tablespoon oil, give a good mix, simmer for 30 seconds and turn off the stove
Video
Notes
I didn't get fresh gooseberry, so I used frozen ones. If you get fresh ones, use them
Fresh/frozen Gooseberry - always steam cook and then prepare pickle
I have directly steam-cooked frozen gooseberry without thawing them
For steaming, I used an idli pan. Instead, you can cook gooseberry in a cooker separator or microwave
Always drain steam-cooked water then prepare pickle
If you are adding extra chilli powder,
add little oil for easy binding
I have used Kashmiri chilli powder.
It gives nice color to the pickle
If you are going to use regular chilli powder adjust accordingly
I have used store-bought mustard powder and fenugreek powder. Instead, you can dry roast mustard seeds and fenugreek seeds, then powder
Always use sesame oil for best taste and shelf life
Pickle tastes best after few hours
If you are planning to make large batch of gooseberry pickle add extra sesame lil for longer shelf life
Ingredients
10 gooseberry | nellikai | amla - I used frozen but you can use fresh/frozen
4 tablespoon oil
1/4 teaspoon mustard seeds
2 tablespoon Kashmiri chilli powder
1/4 teaspoon turmeric powder
1/2 tablespoon salt
1/8 teaspoon mustard seed powder
Asafoetida generous pinch
1 teaspoon jaggery or brown sugar
1/8 teaspoon fenugreek seed powder
how to make Gooseberry pickle with step by step pictures:
Grease idli plate and steam cook gooseberry for 10-15 minutes till they crack open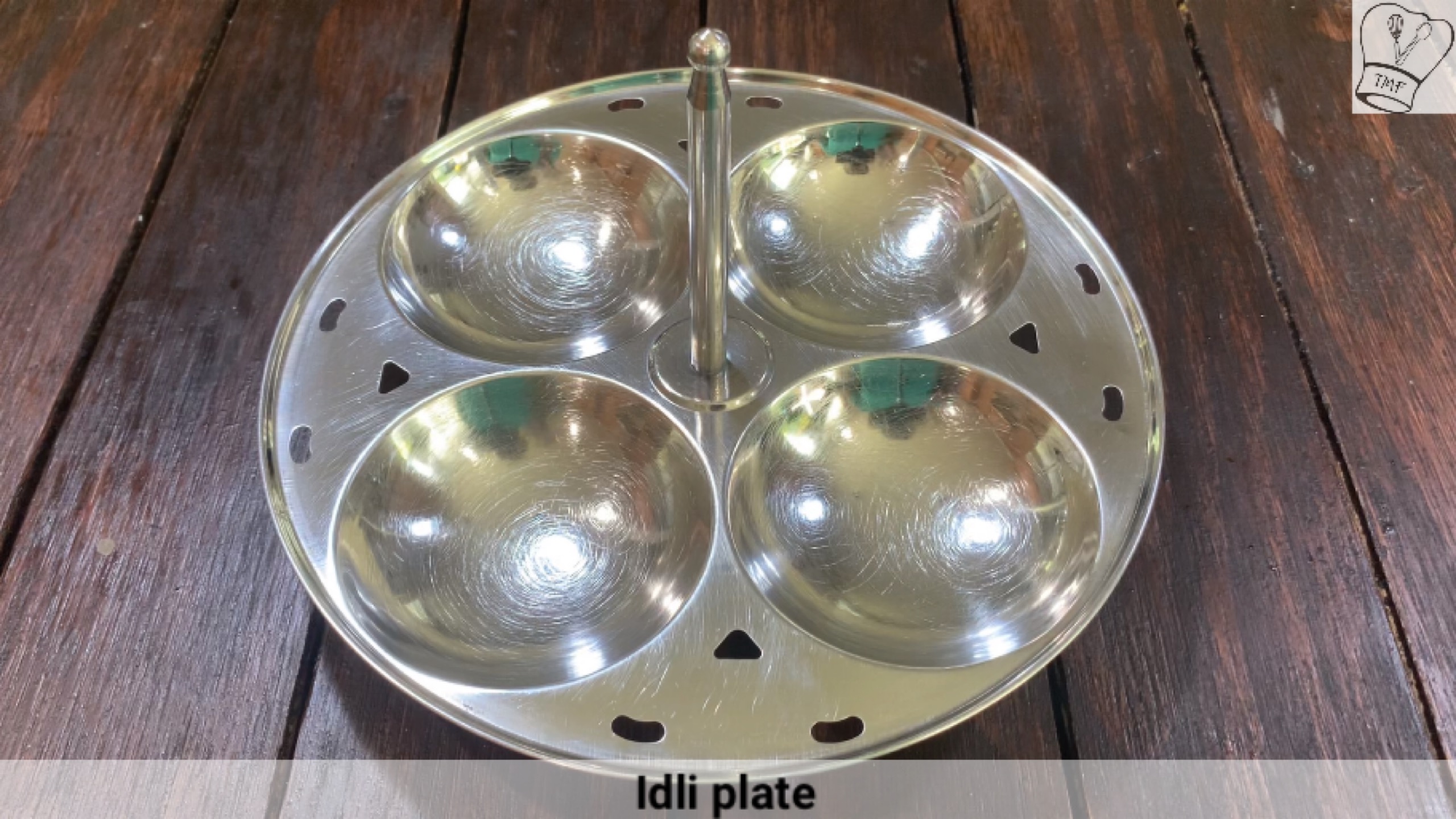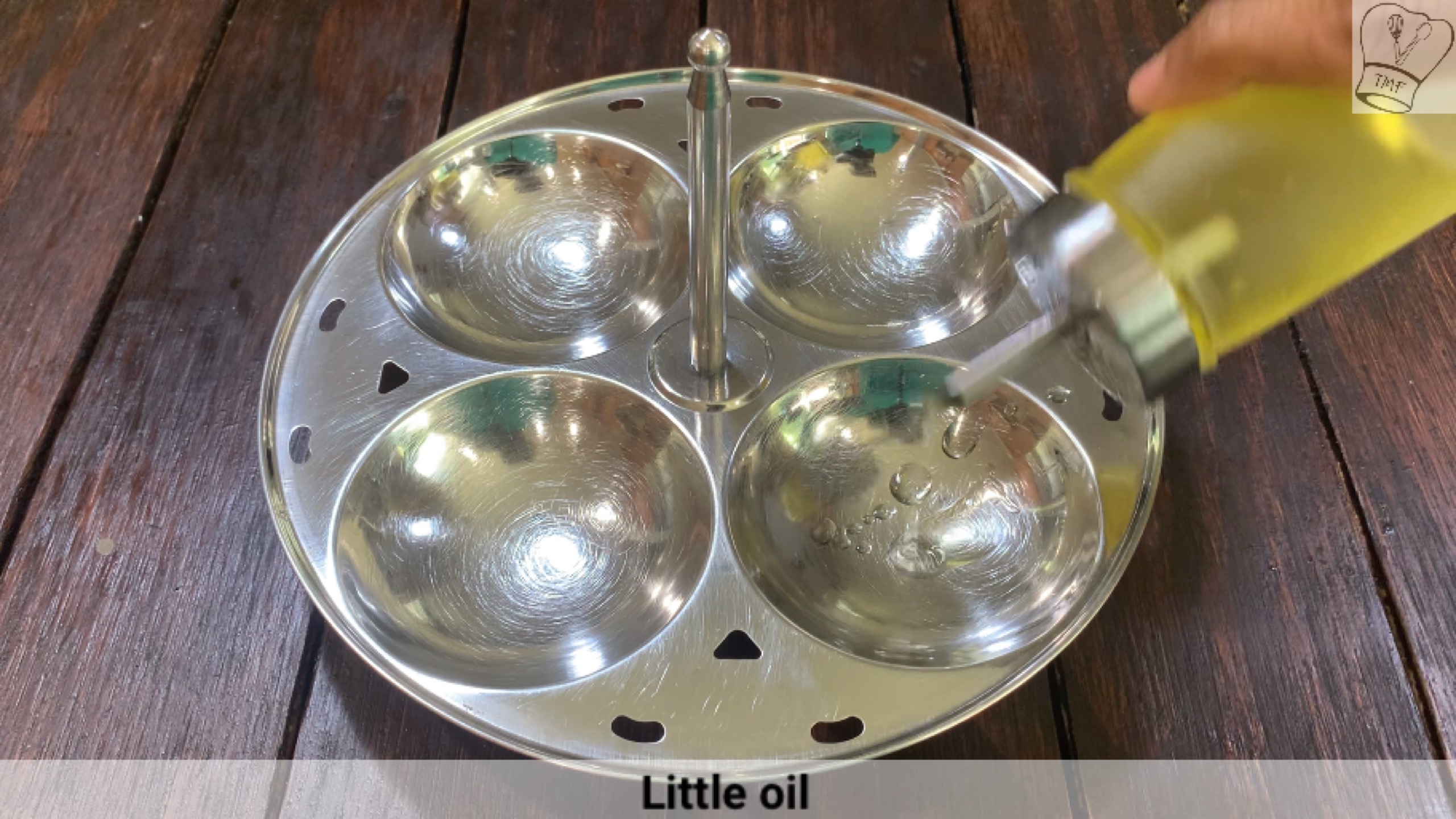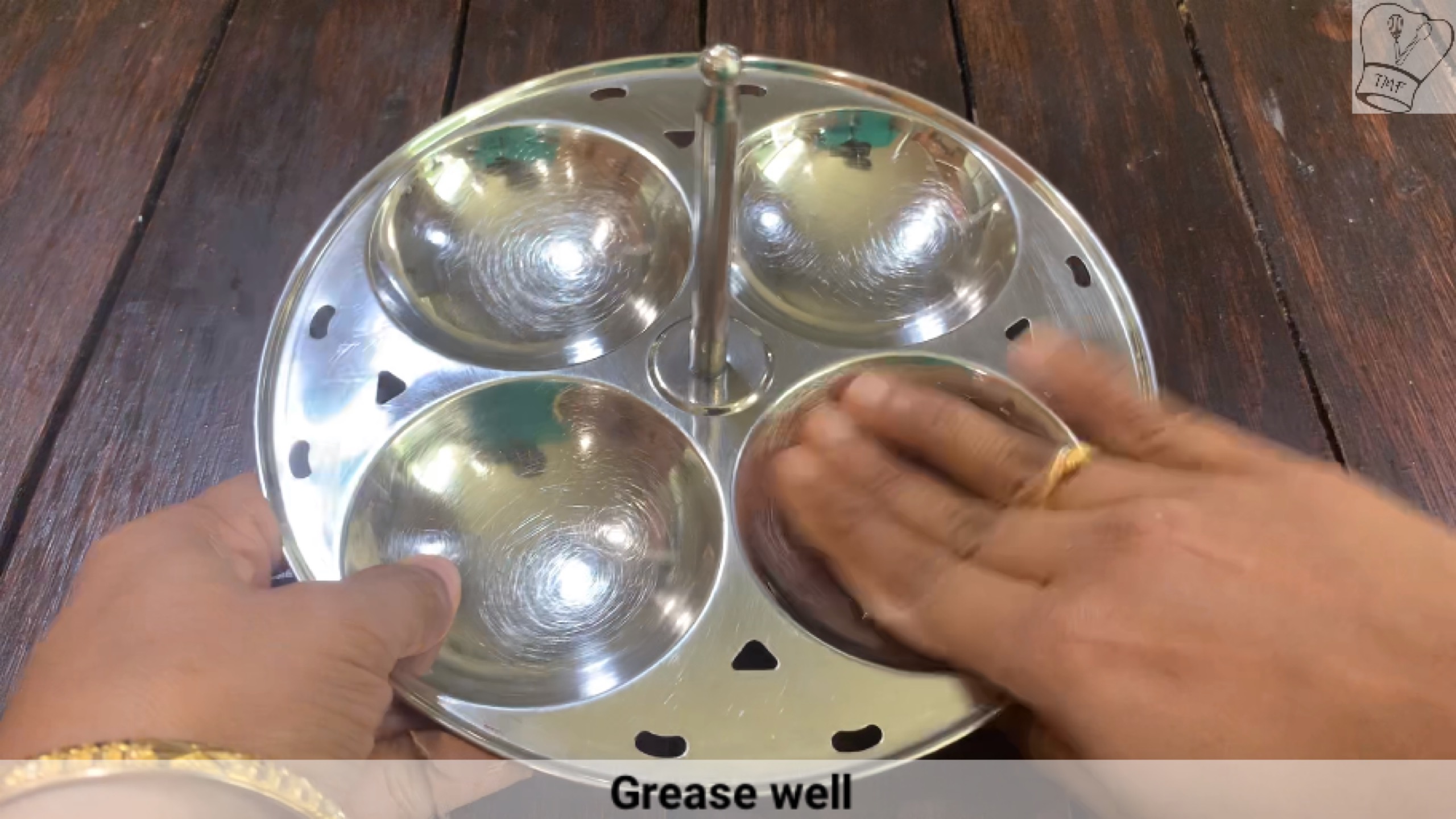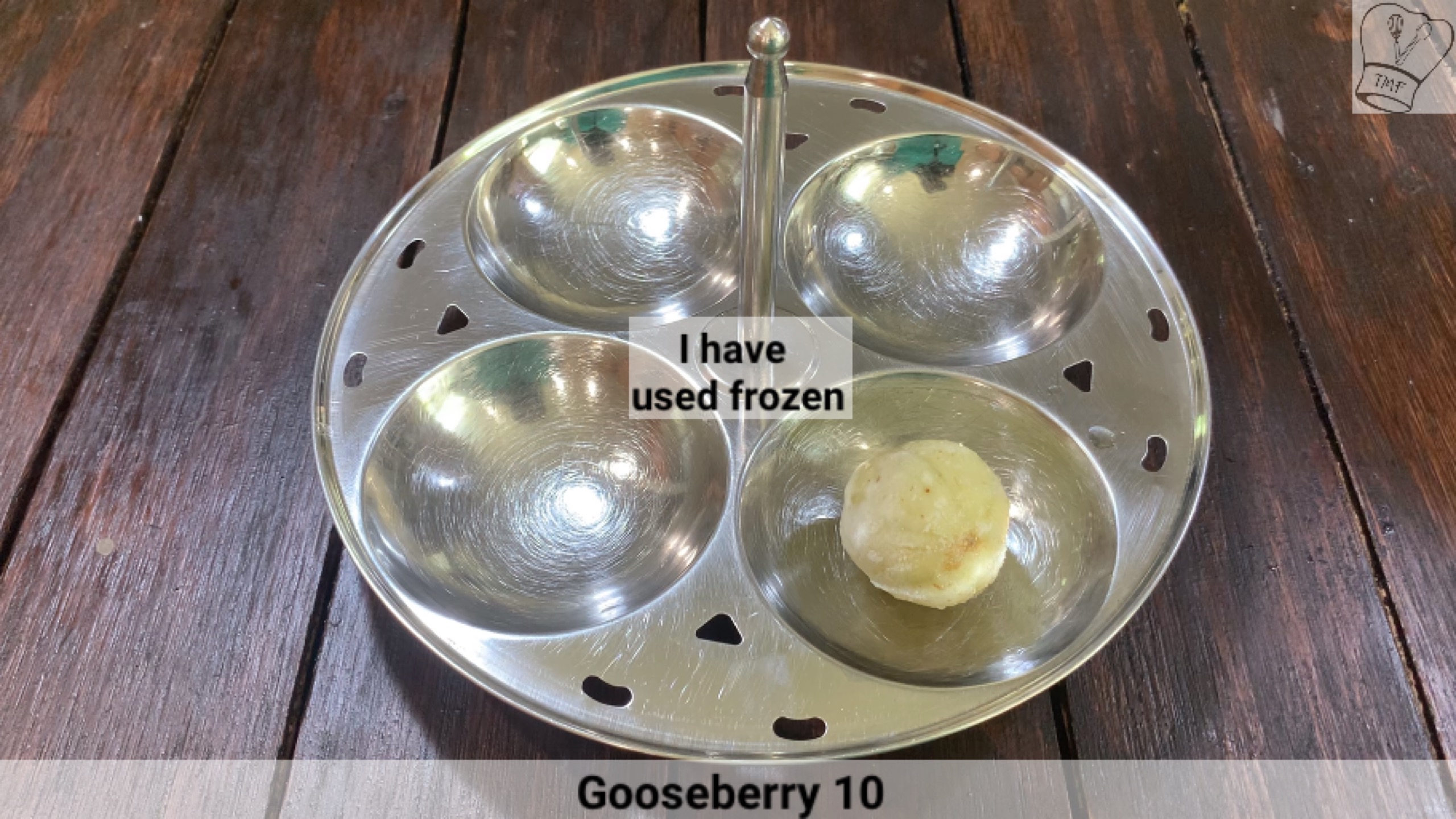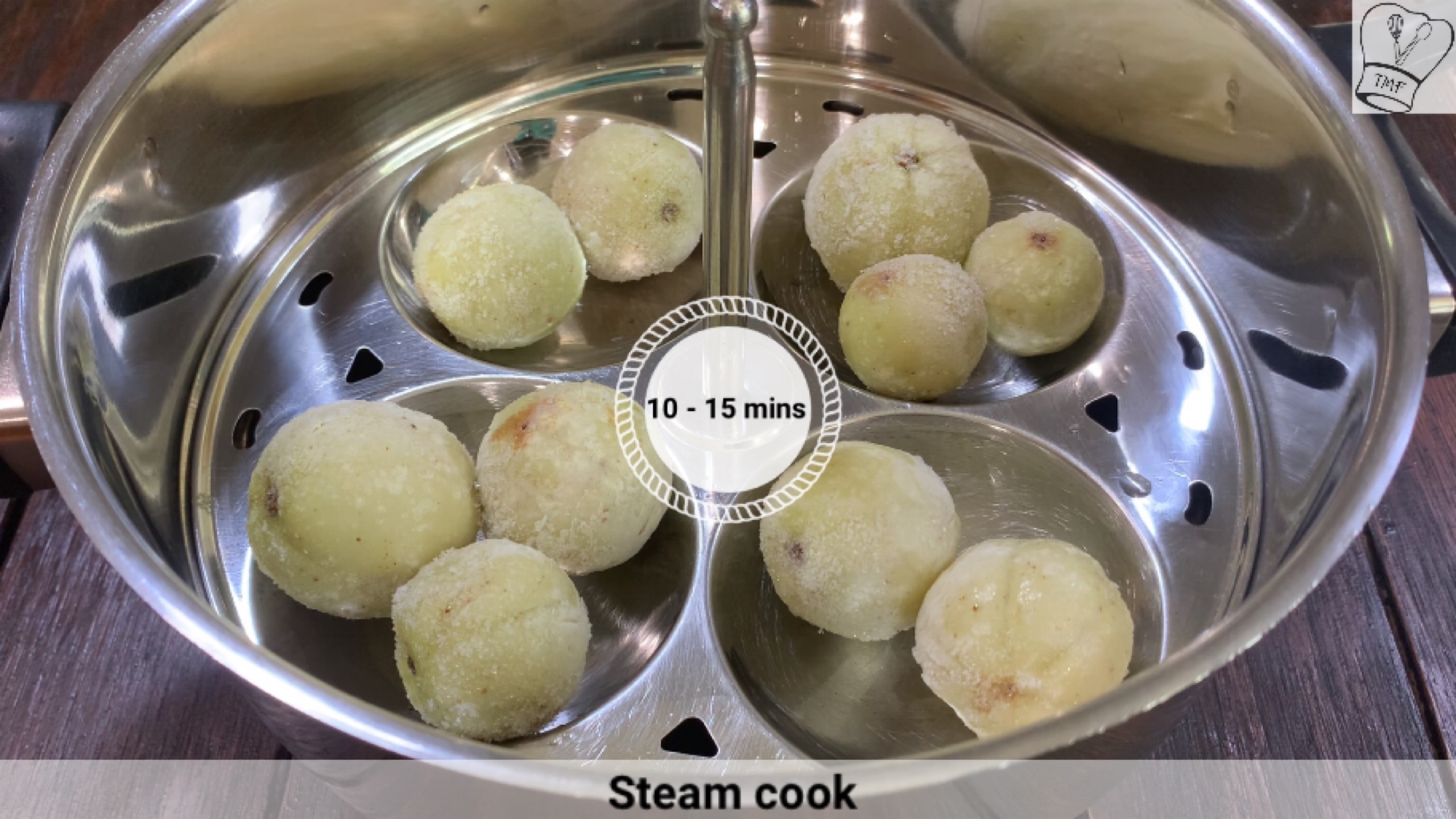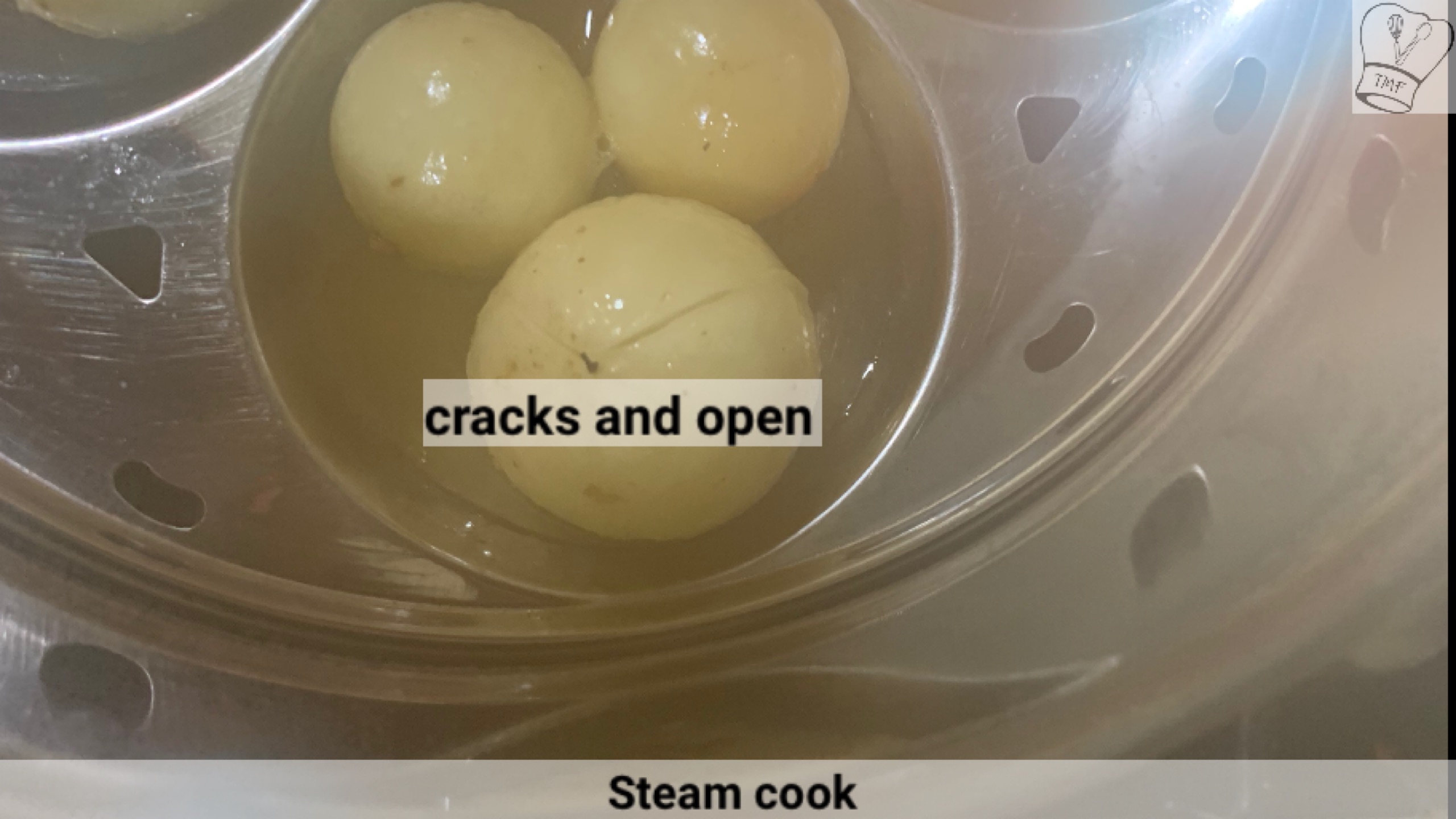 Transfer them to a colander and let the water drain completely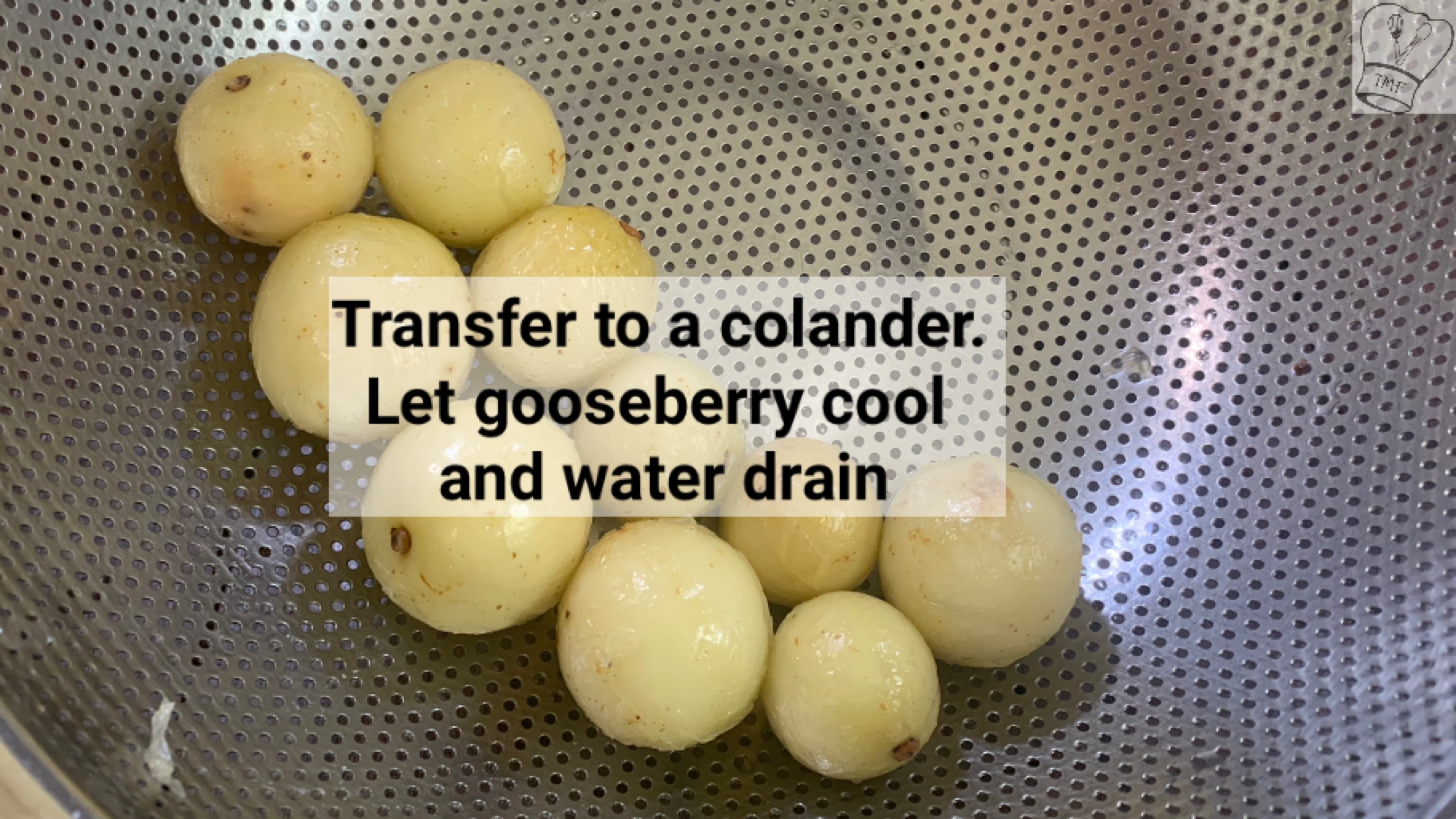 After the gooseberry is cool enough to handle remove the brown part and deseed the gooseberry, chop them randomly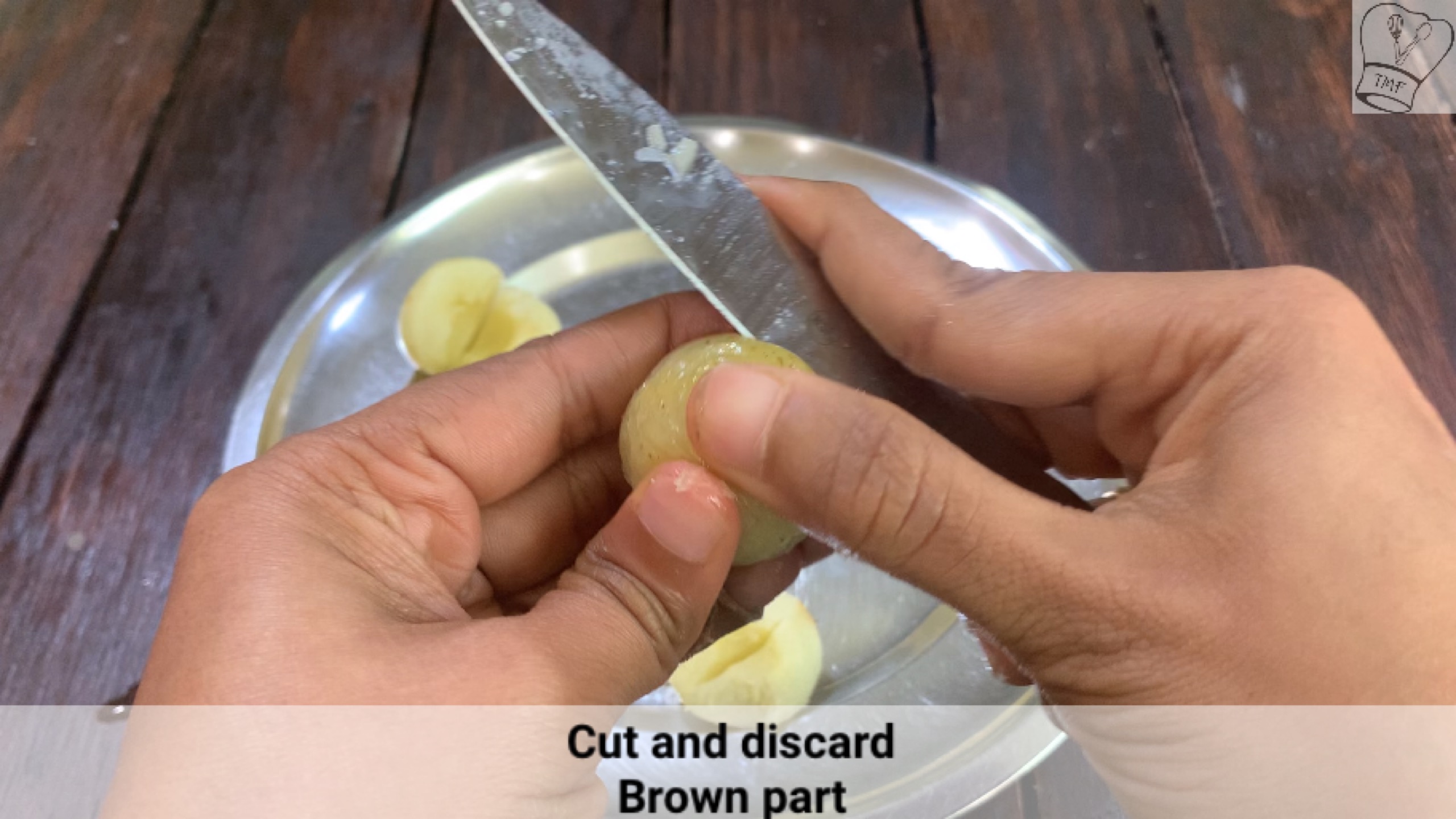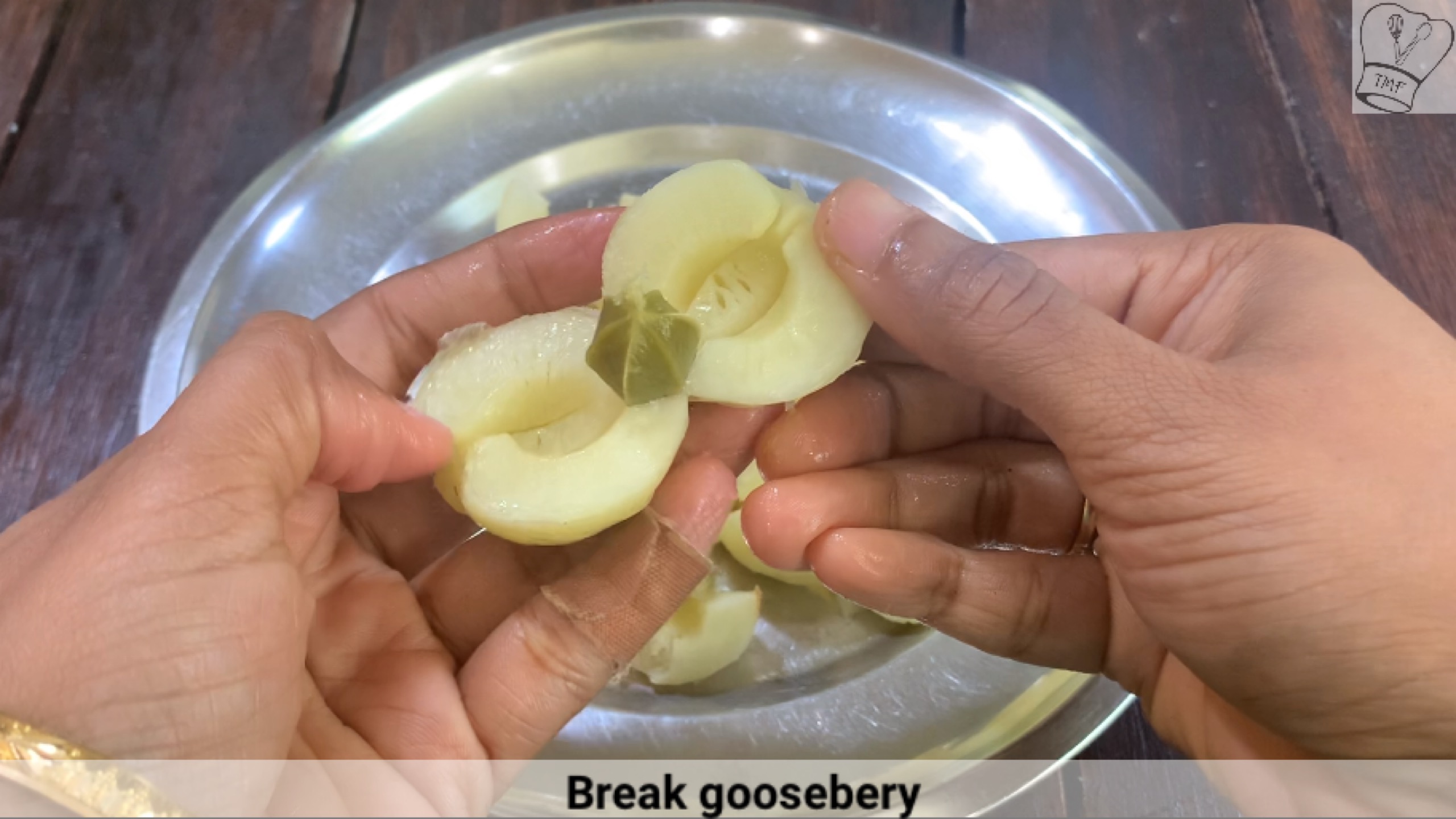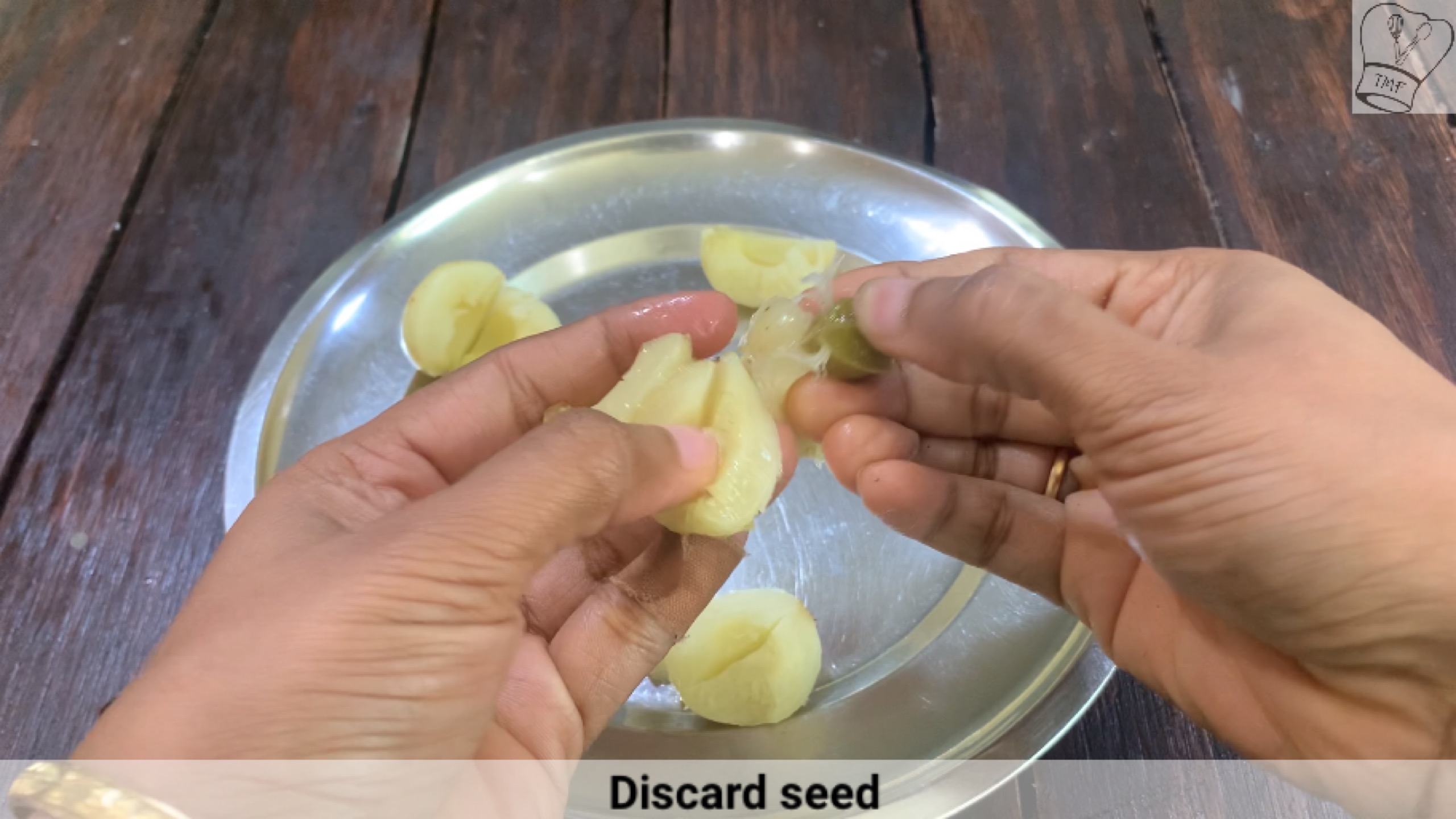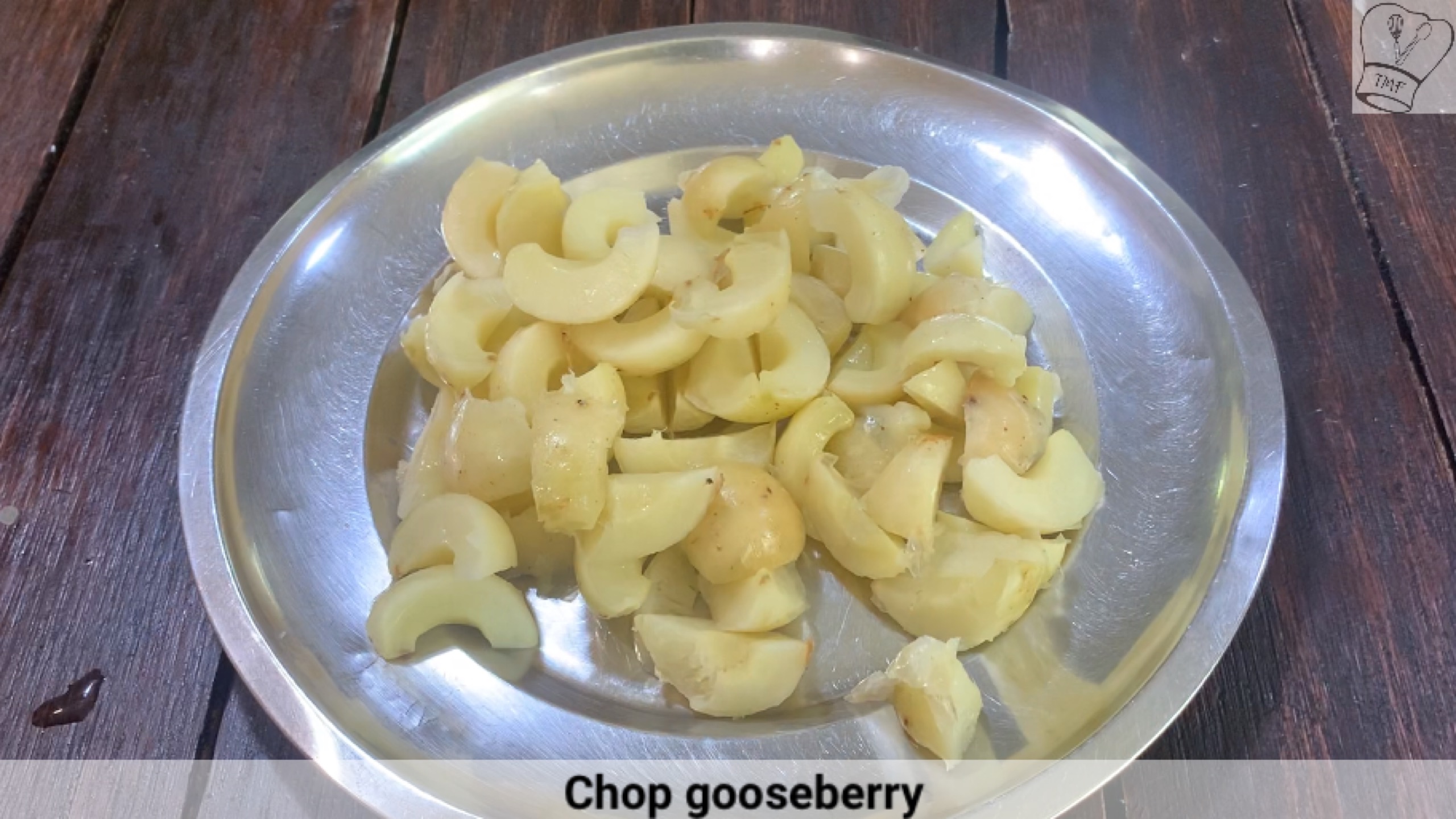 Heat 2 tablespoon oil and when oil is hot add mustard seeds and let them splutter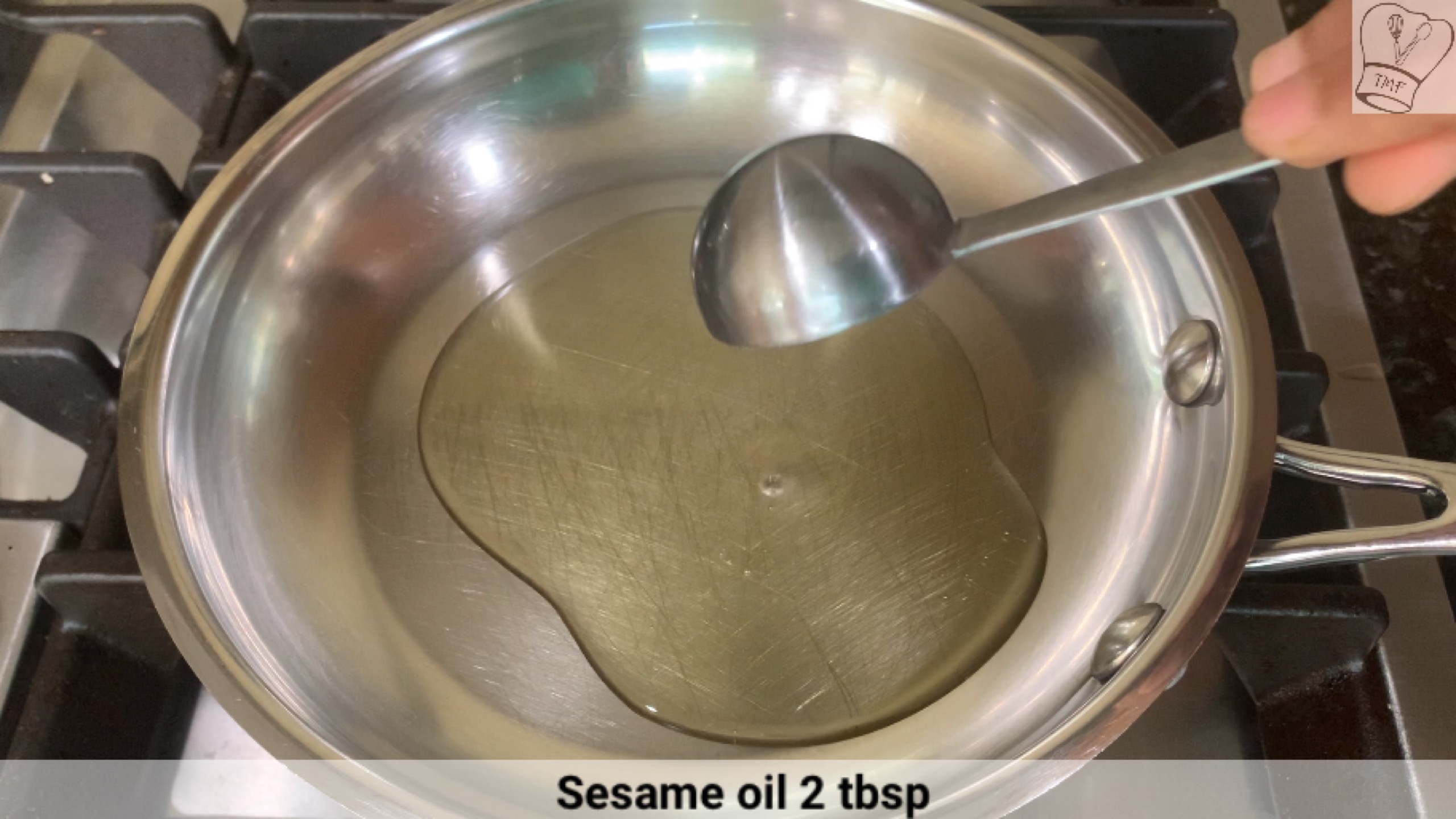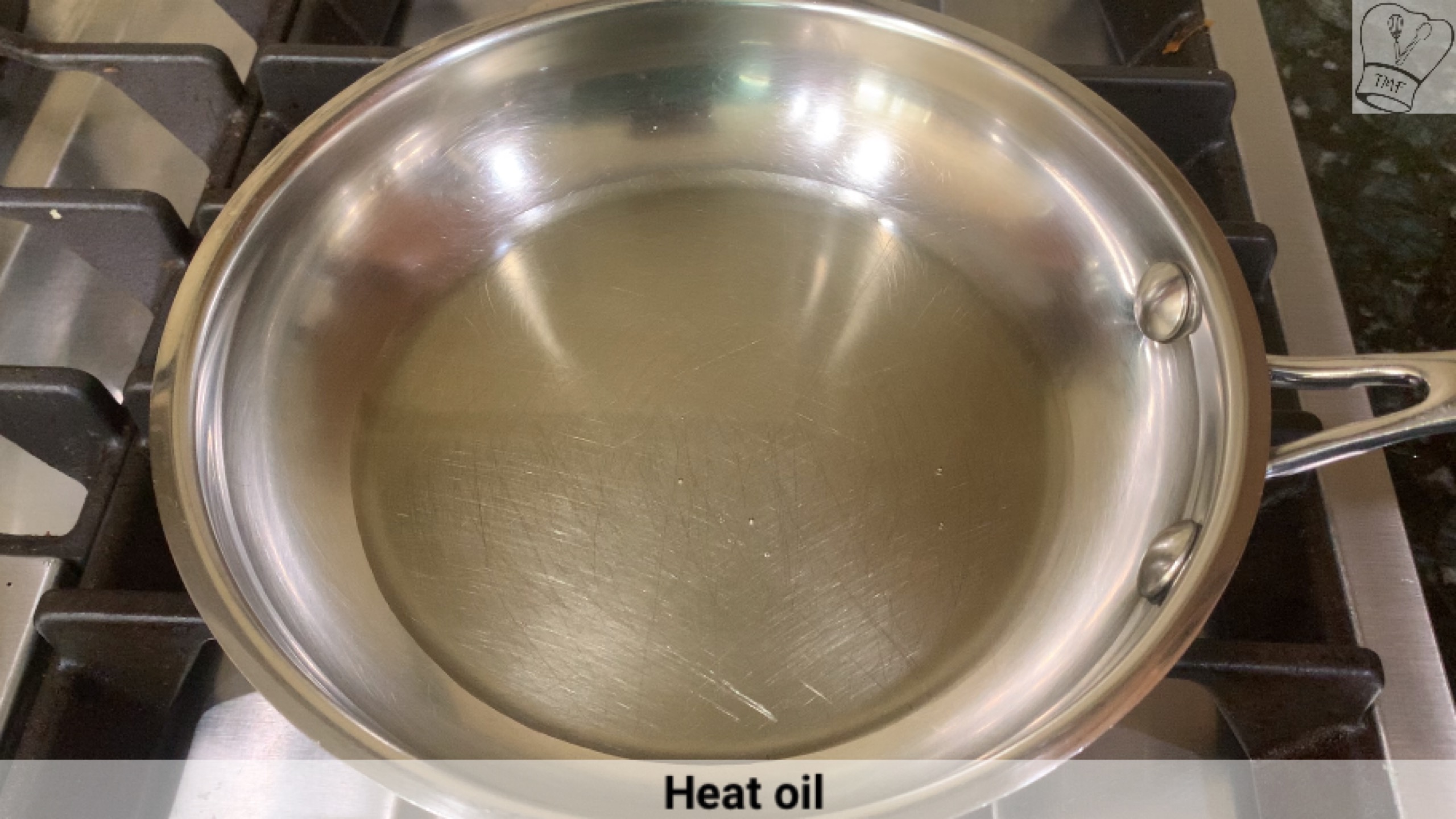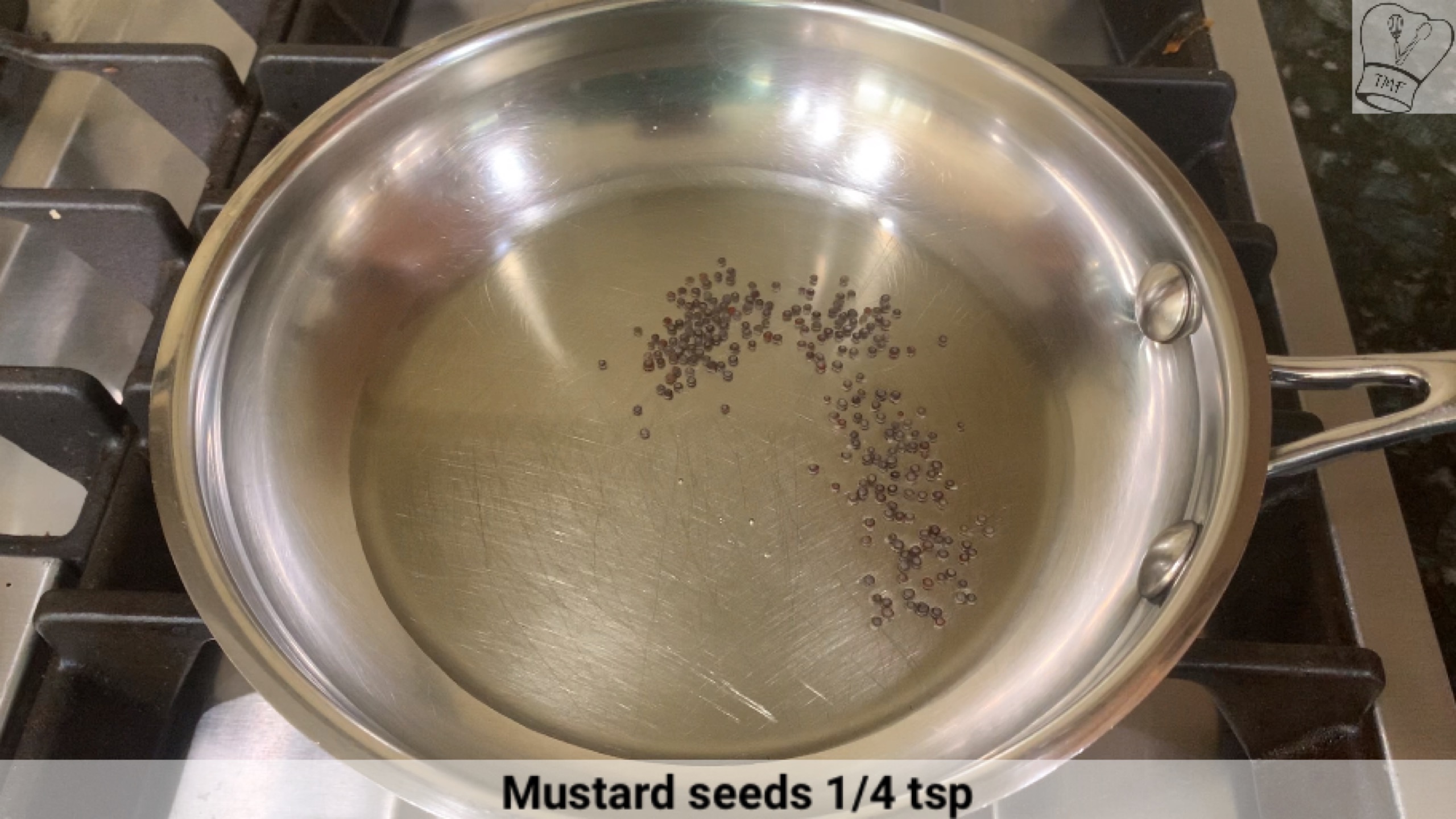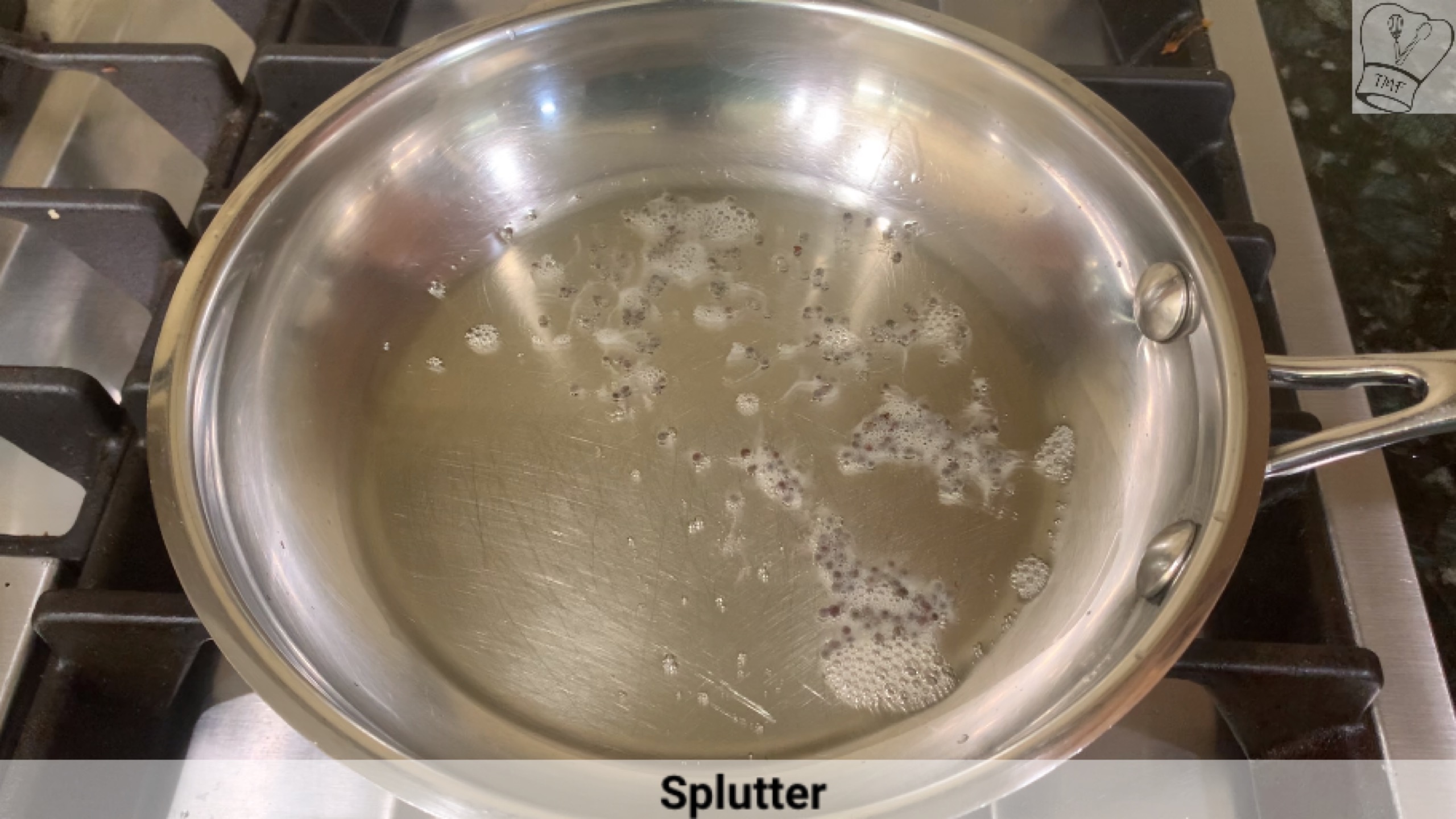 Add chopped gooseberry and saute for 2 minutes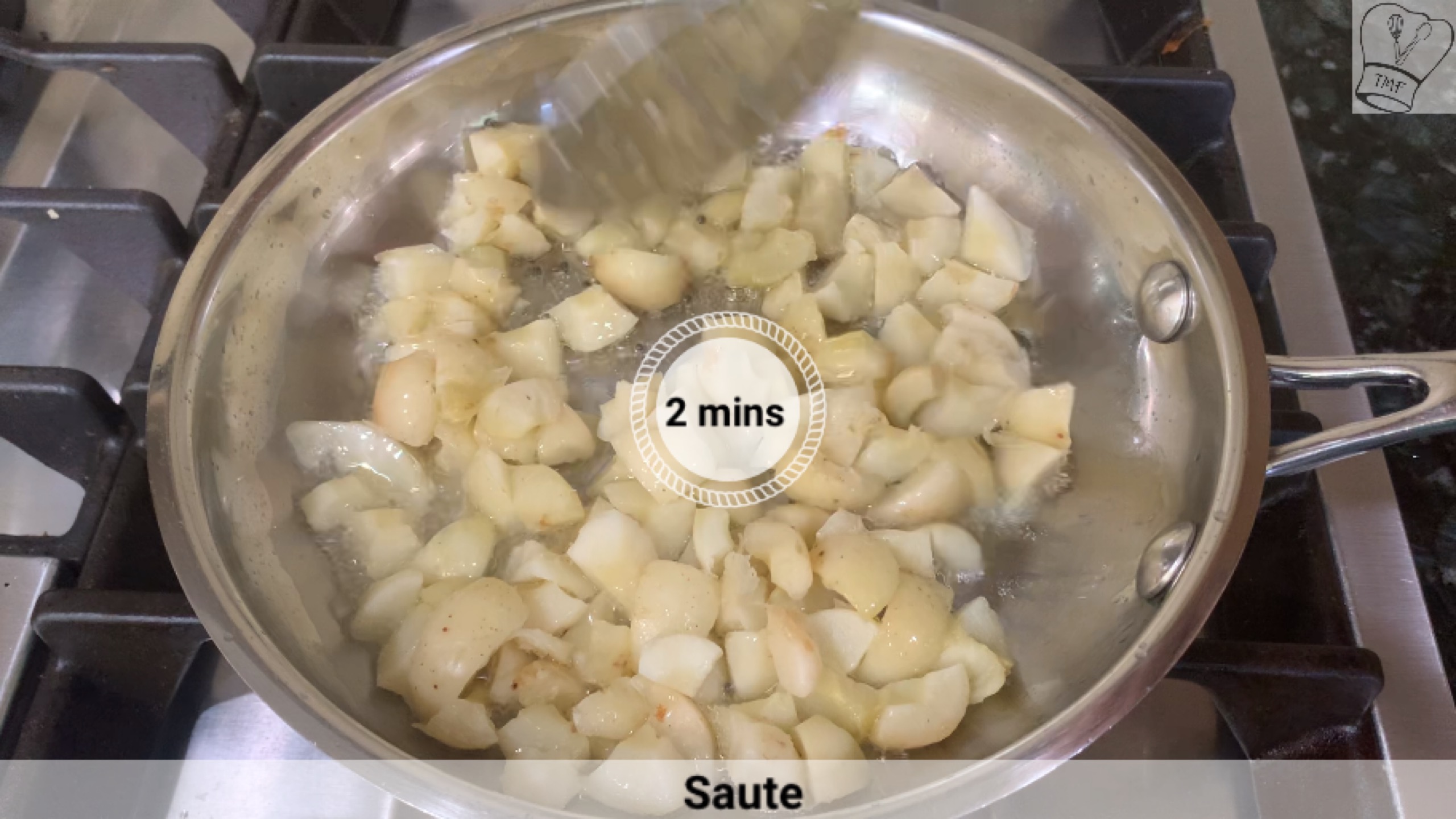 Turn down the flame to low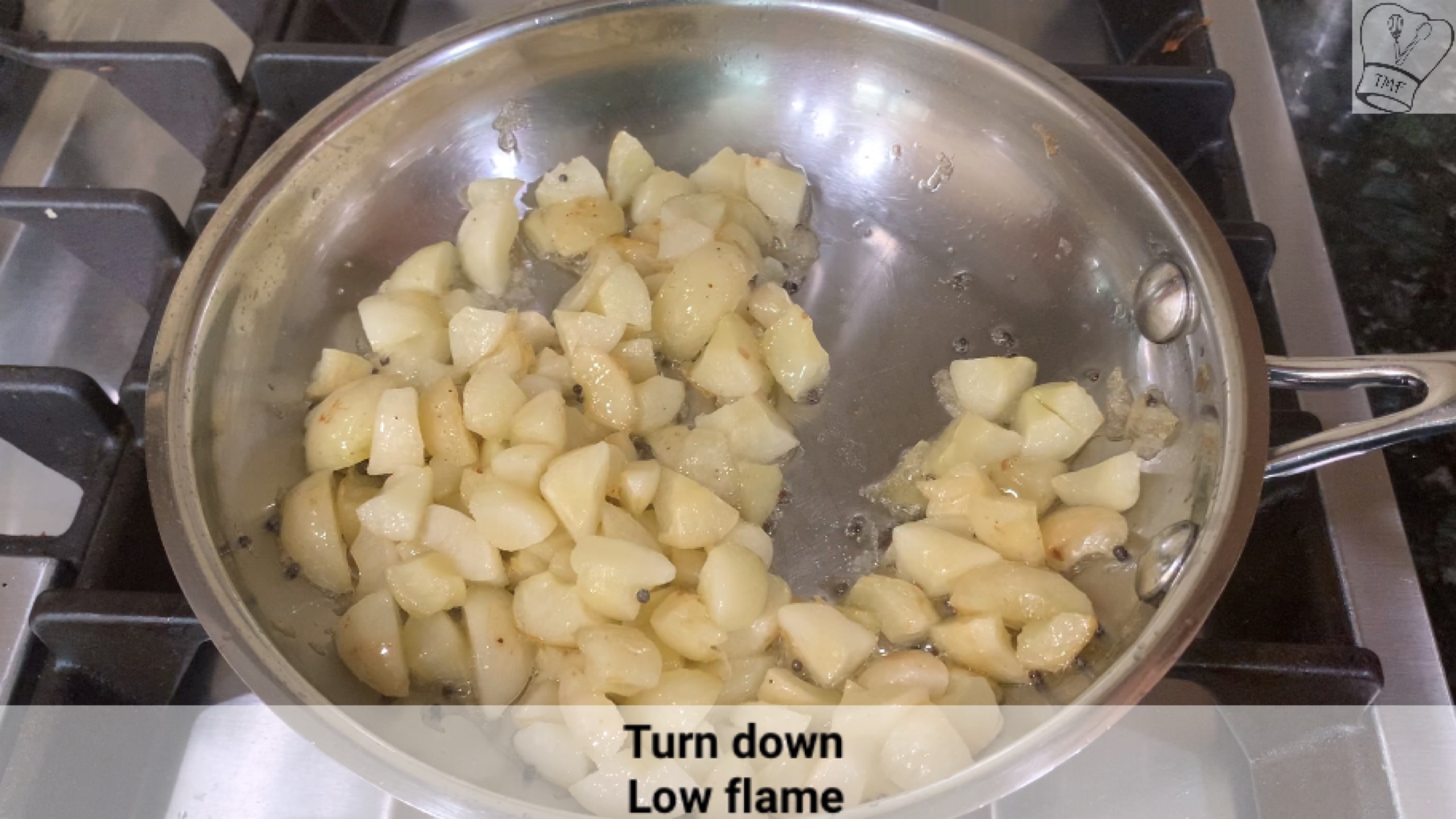 Add turmeric powder, chilli powder, salt, 1 tablespoon oil, and give a good mix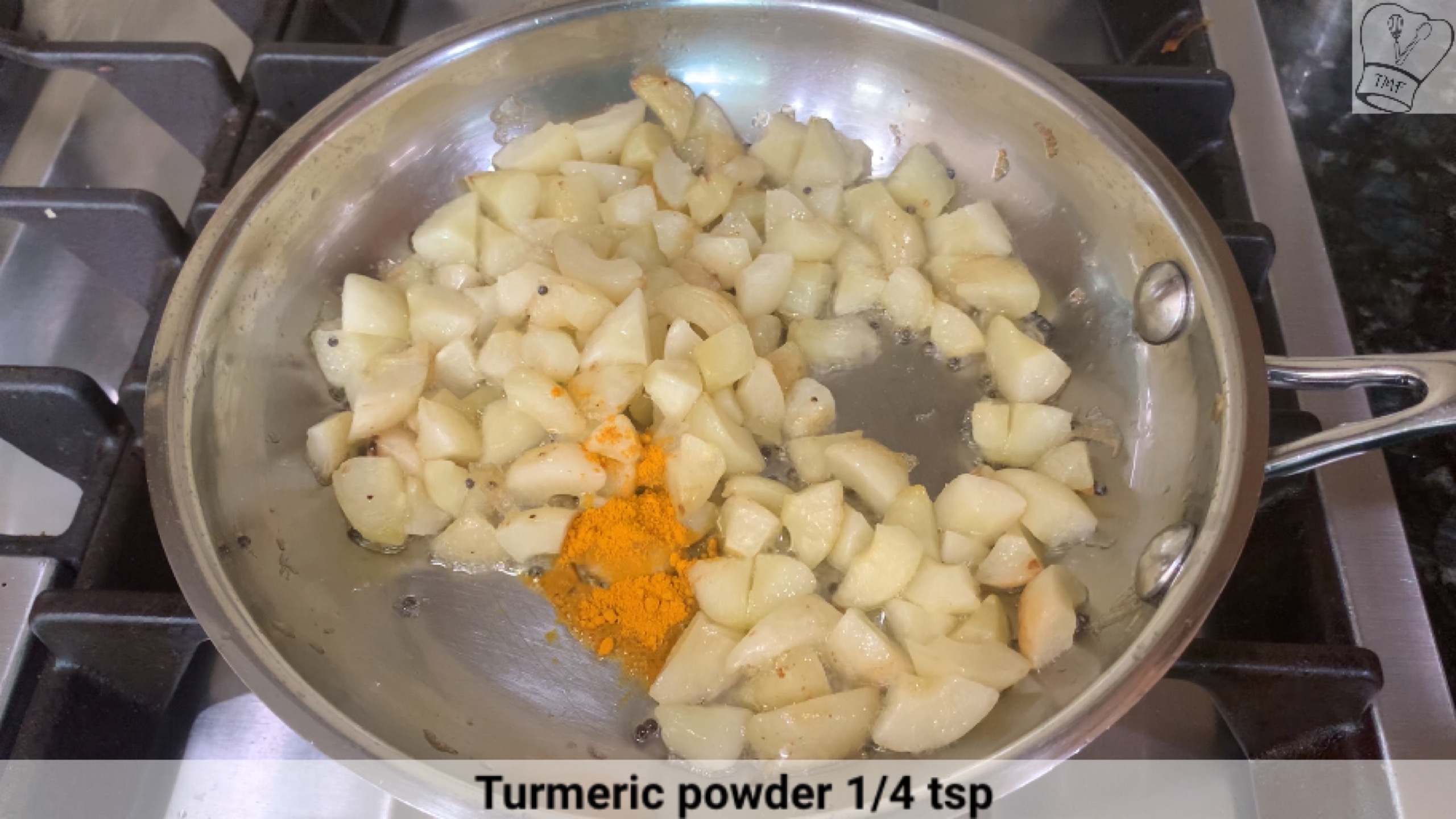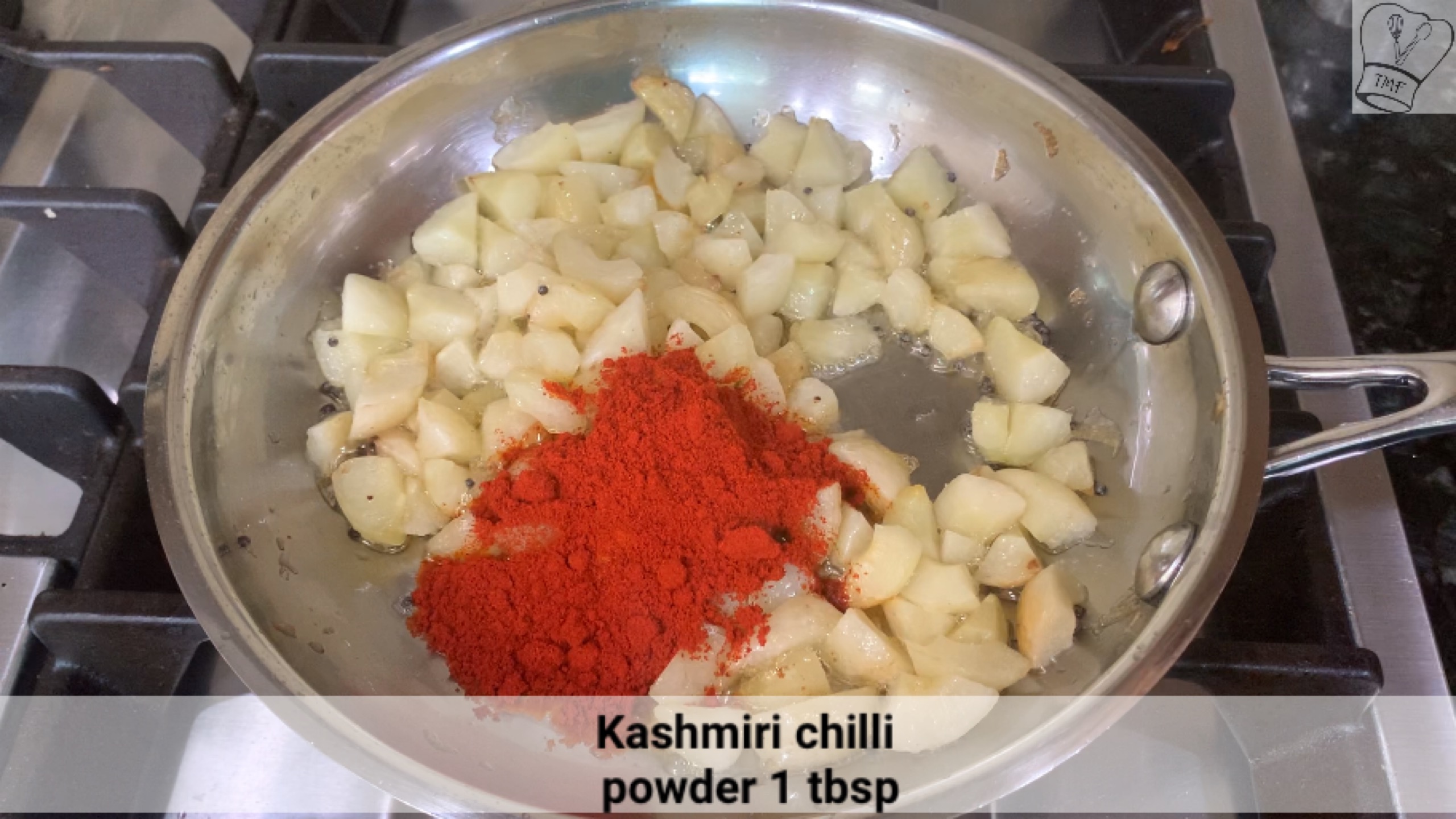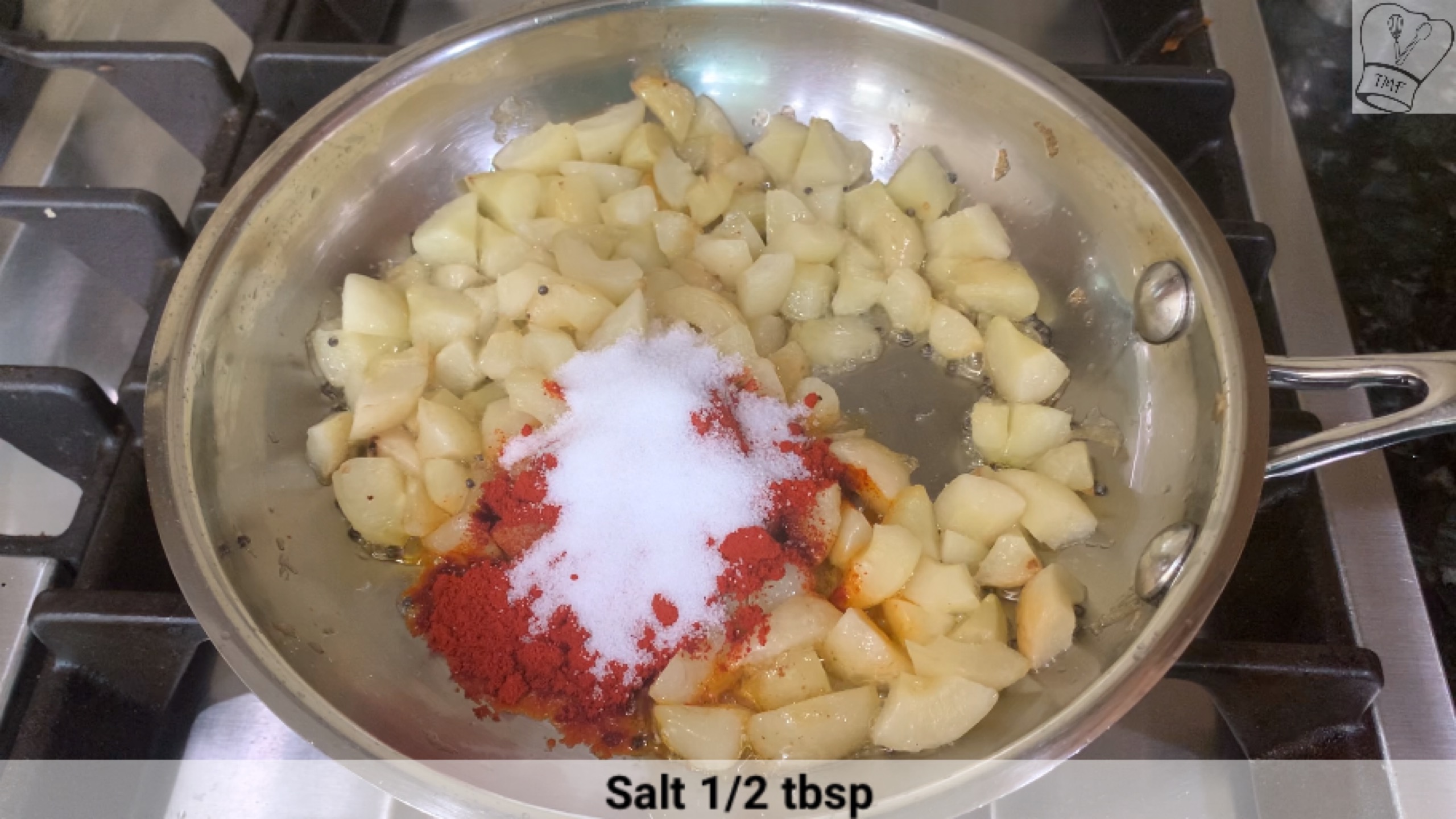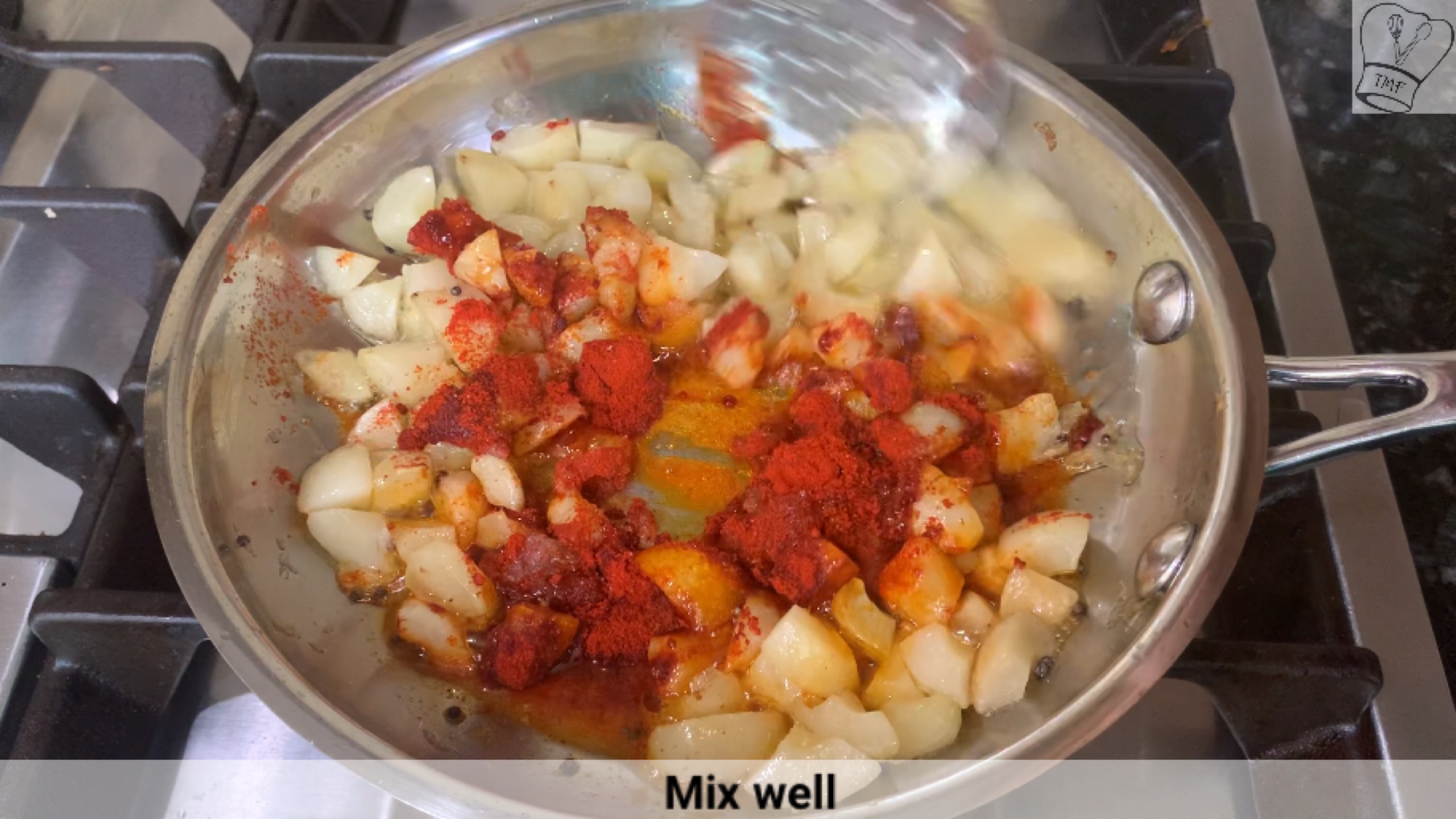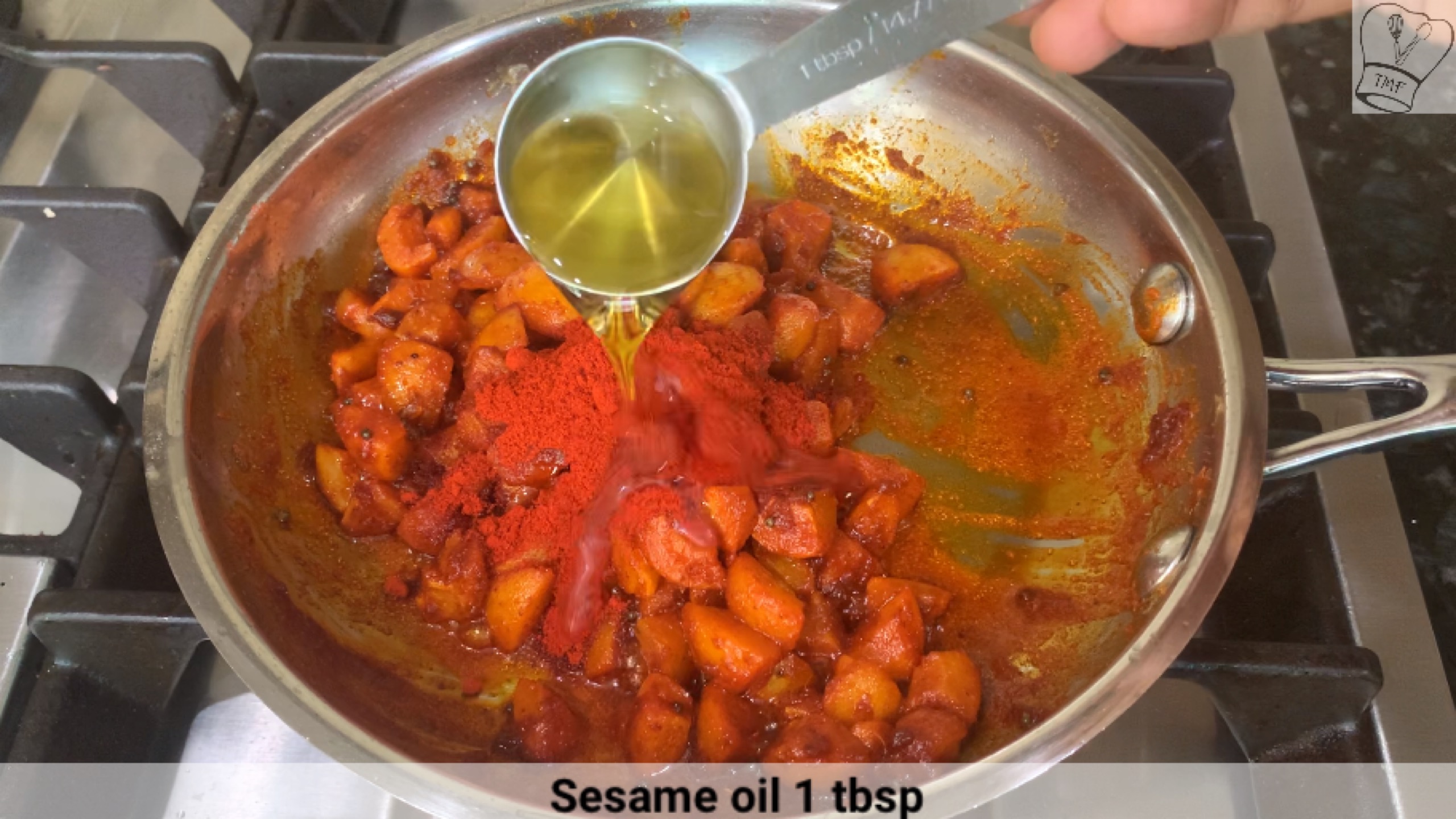 Furthermore add asafoetida, mustard seed powder, fenugreek powder, jaggery, asafoetida and give a good mix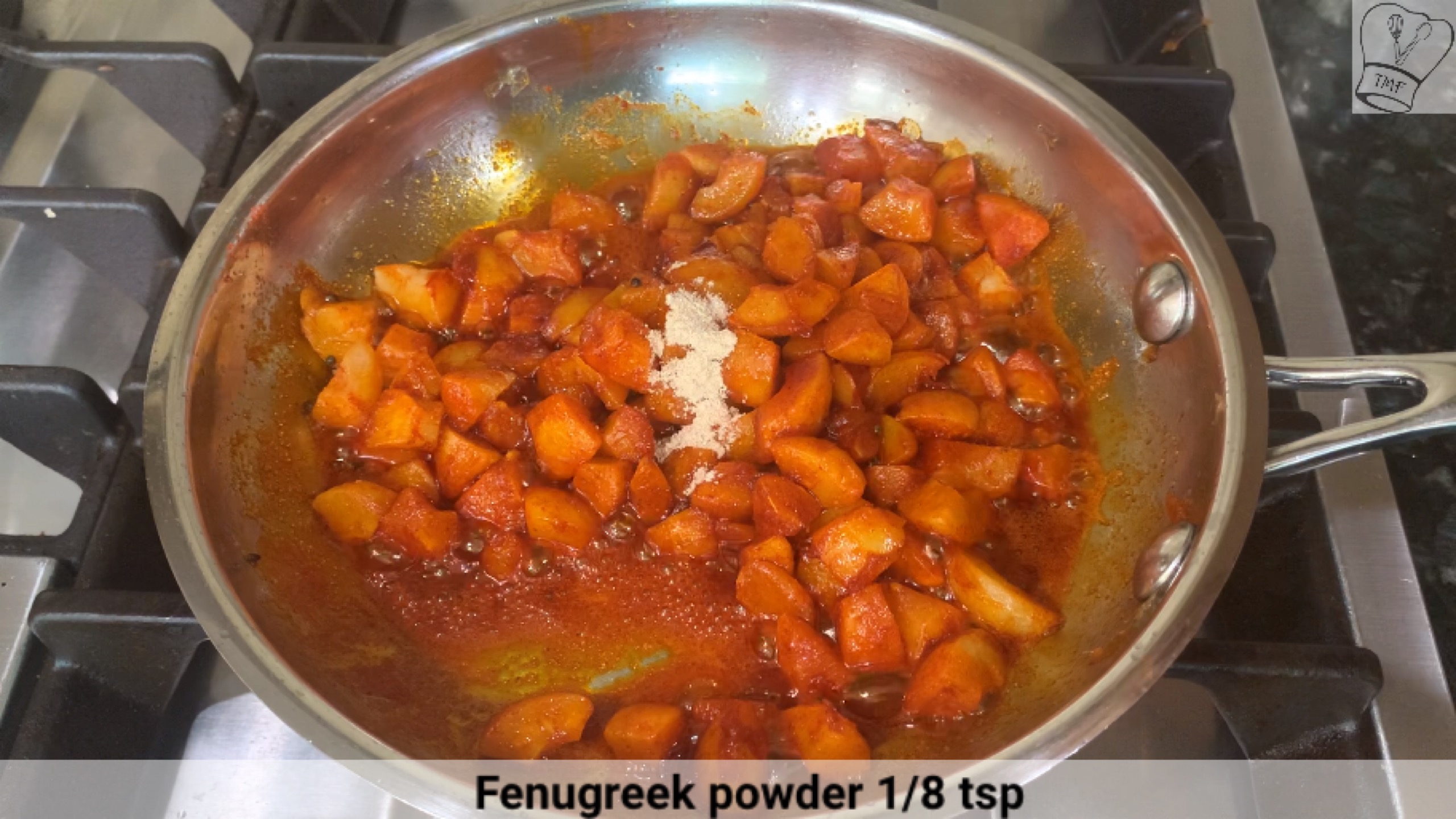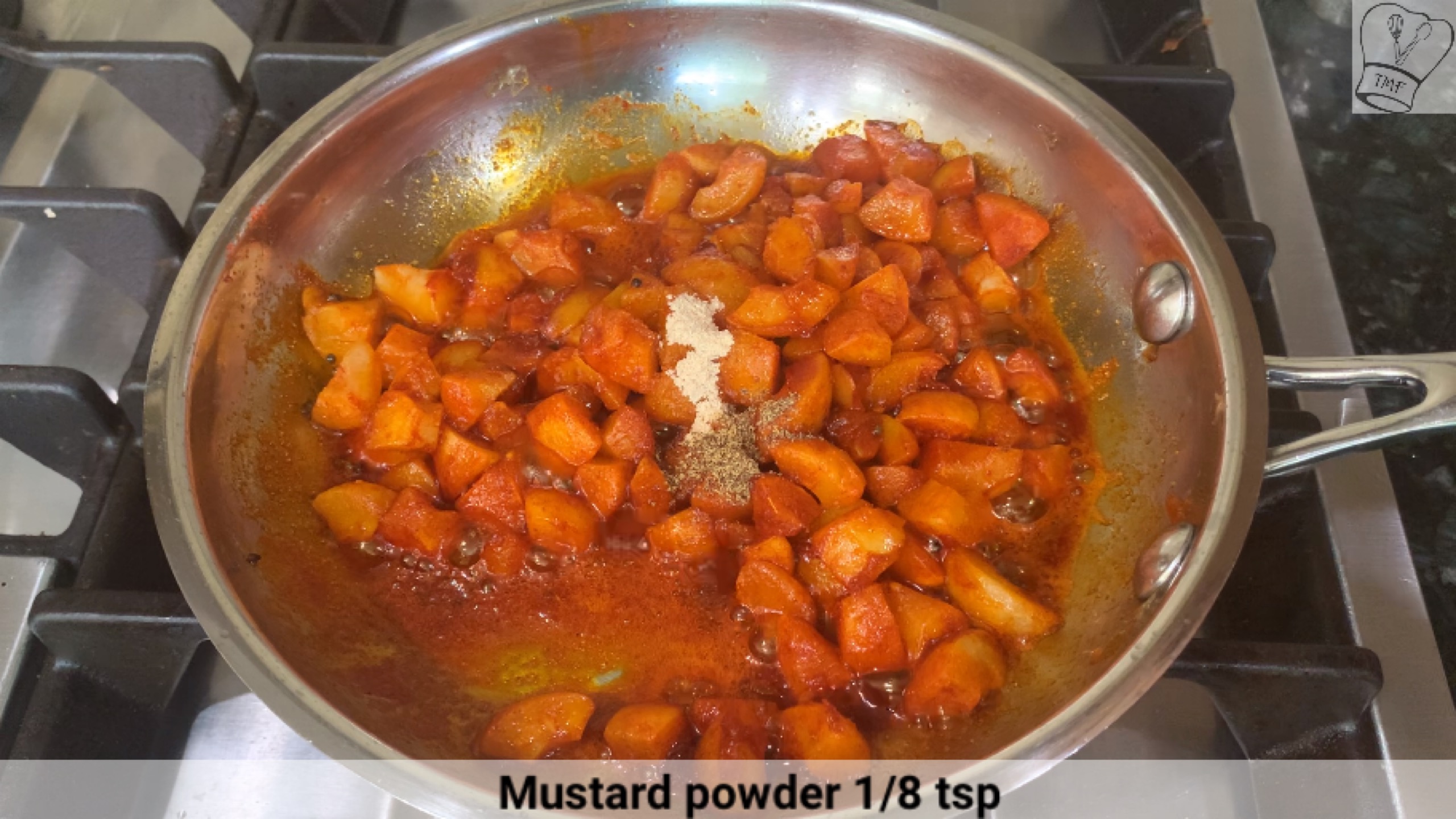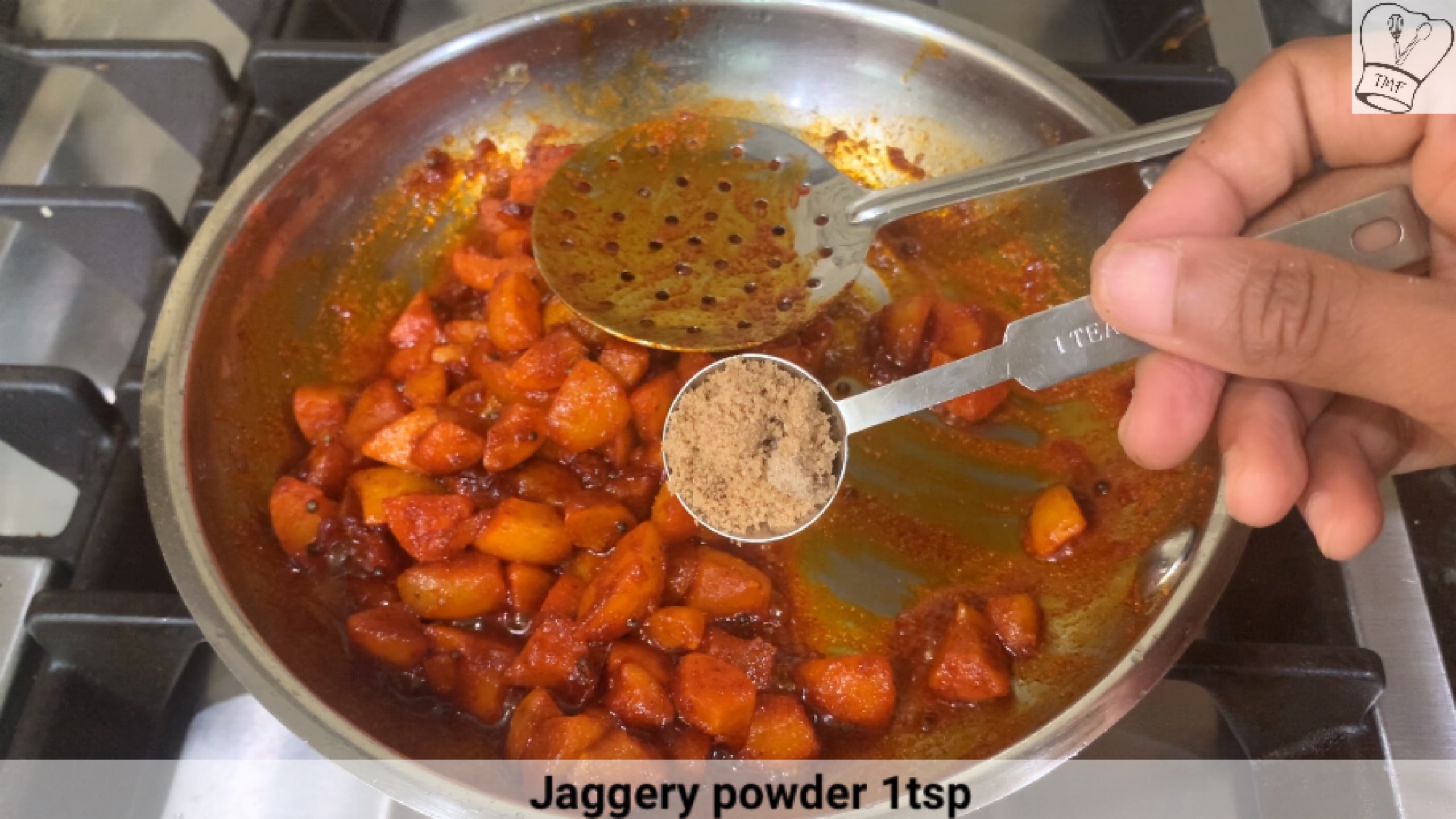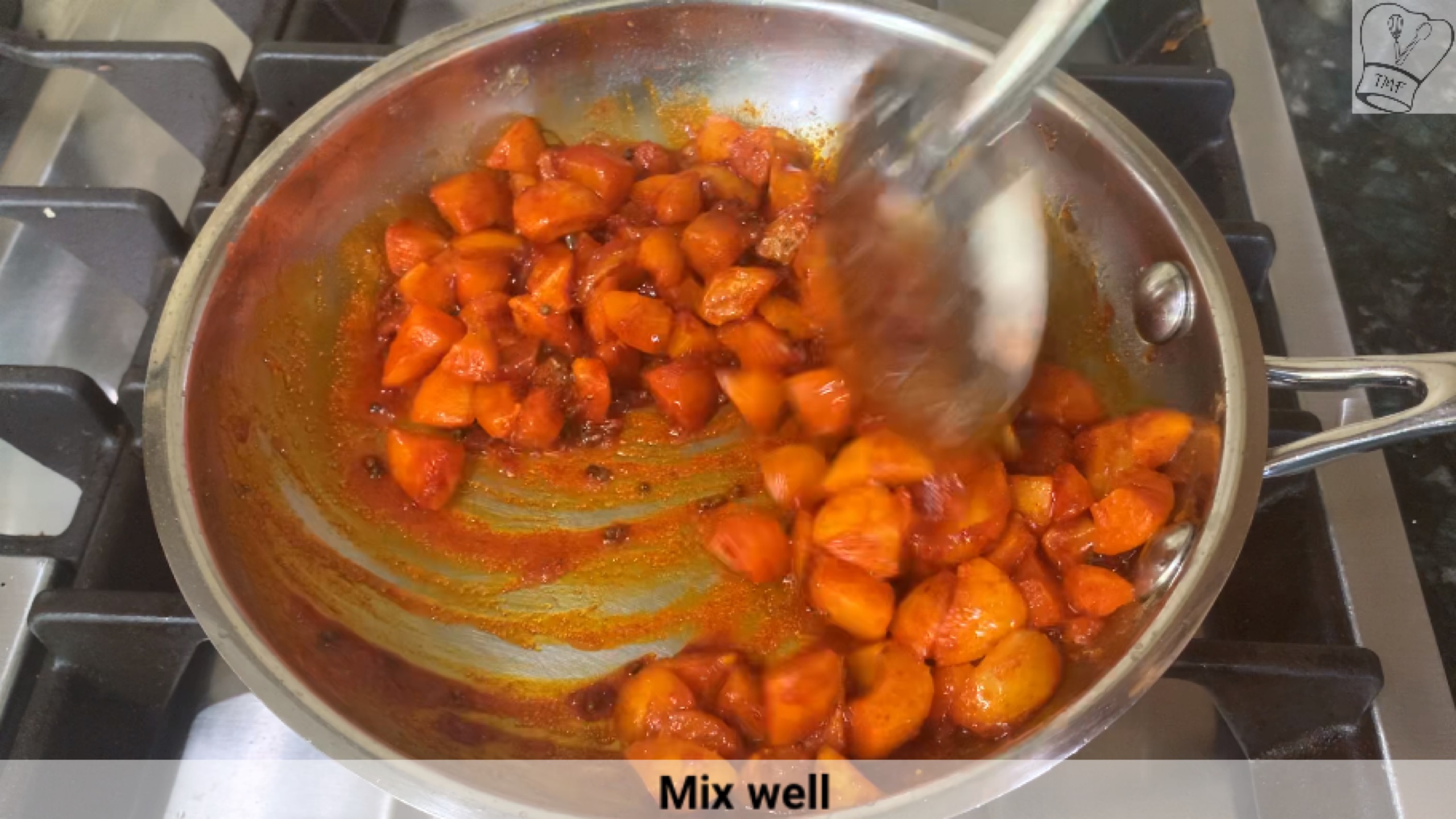 Based on the sourness of the gooseberry add more chili powder (1 added 1 tablespoon), 1 tablespoon oil, give a good mix, simmer for 30 seconds and turn off the stove