Omapodi recipe | Oma podi | Plain Sev | Besan Sev | Omapodi mixture | Diwali snacks Recipes | Omapodi Video recipe| Deepavali Recipes | | Tamil Nadu Omapodi Recipe | How to make Omapodi at Home | Traditional Omapodi | Easy bakshnam Recipes | Deepavali Karam | Madras Omapodi Recipe | easy Diwali snacks recipe | most delicious festive snacks ever | Authentic Boondi recipe | Traditional Boondi | Easy spicy boondhi | tips & tricks for perfect boondi with step by step pictures and video recipe. Check out the Omapodi video recipe. If you like the video pls SUBSCRIBE to my channel. Check out other Traditional Indian savory snacks in TMF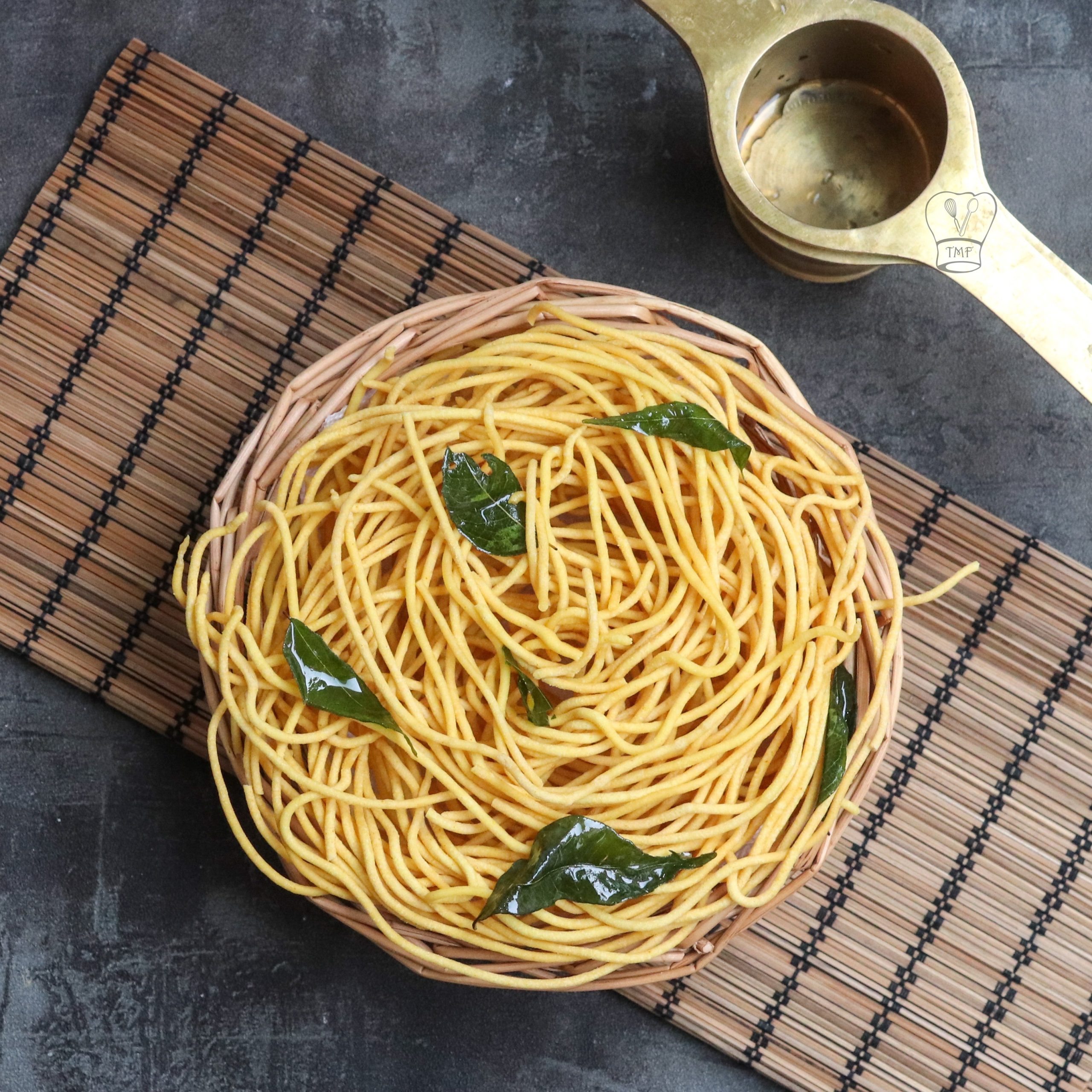 What is

Omapodi?
Omapodi is a savory snack recipe prepared with besan and rice flour. Popular Indian snacks recipes are often prepared in south Indian cuisine and known as "Oma podi" and in north Indian cuisine it is known as " sev". Tamil Nadu Oma podi is also one main addition to popular madras mixture Recipe
Should I sieve Kadalai maavu for Oma podi?
Lump-free | grain-free batter results in the best Omapodi. If you think besan has lumps, sieve first, then prepare the dough
How much water should I add to the batter?
The exact quantity might vary depending on the type of besan flour you use. I generally add 4:1 (besan to water ratio) then add extra water as required. Avoid pouring water. Always add little by little ad make a pliable crack-free dough.
How long should I fry Omapodi?
Sev fries fast compared to the murukku variety. Always Fry besan sev till bubbles subside and sshh sound ceases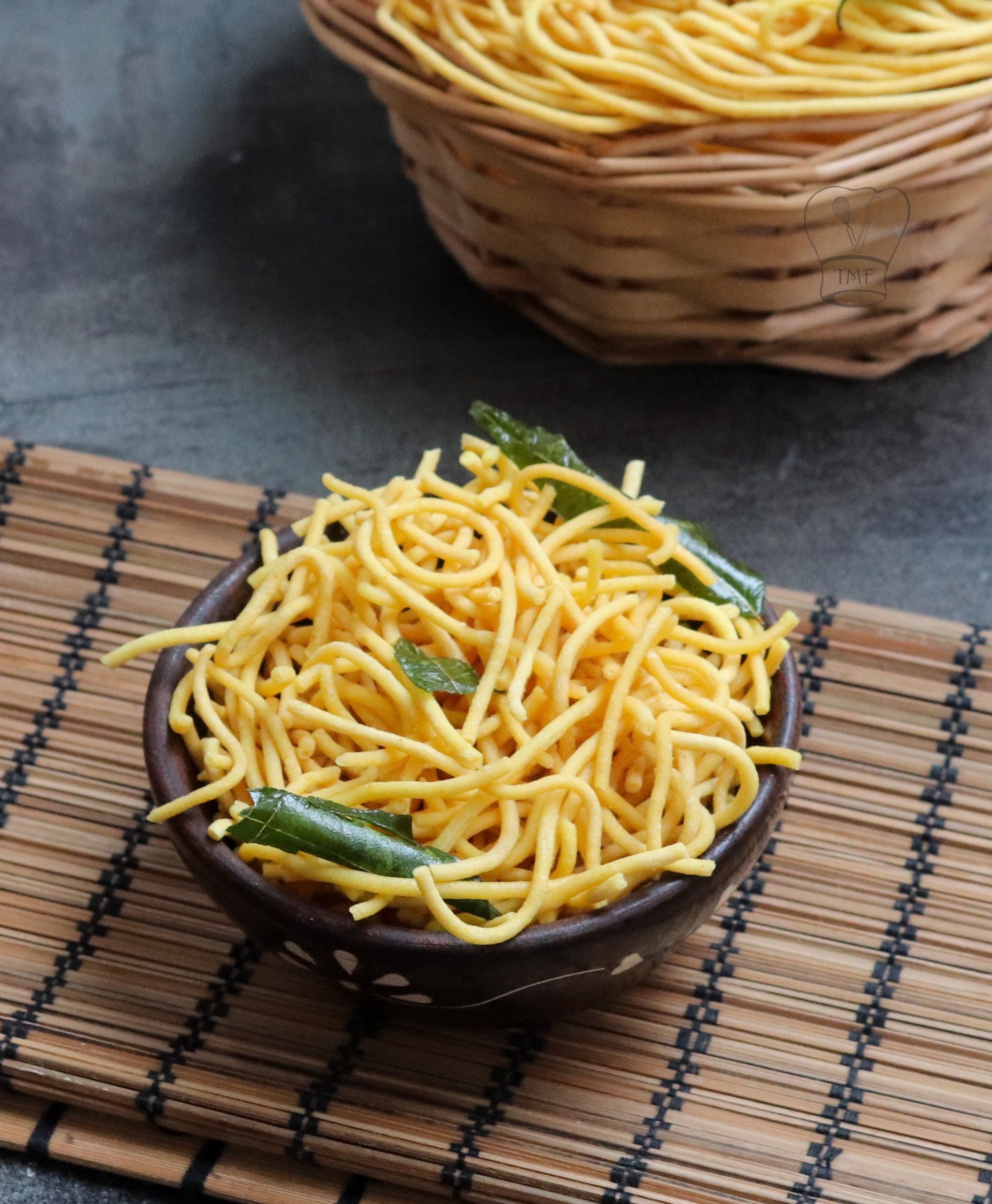 Can I skip Carom seeds?
Traditionally Oma podi recipe is prepared with Ajwain. To make it a kids-friendly spice I used 1/2 teaspoon of omam. You can add 1 teaspoon if you like strong flavor. Yes, skip it and prepare plain sev.
Should I add Asafoetida?
Since I added Ajwain I skipped hing. you can add hing if you are not going to use Carom seeds.
Optimal oil temperature
Drop little dough in hot oil

Too hot oil - dough turns dark (burn)

Not hot enough - sink to the bottom of the pan soon after dropping

Right Oil Temperature - dough floats in a few seconds without changing color
See more Savory bakshanam recipes
Recipe card
Ingredients
Soak Omam
1/2

teaspoon

Carom seeds

1/4

cup

hot water
Oma podi dough
1

cup

fine besan flour

1/4

rice flour

1/8

teaspoon

turmeric powder

1

tablespoon

softened butter

Required salt

water as required water
To fry
few curry leaves

Oil to fry
Instructions
Soak Omam
Add carom seeds and hot water in a vessel and soak for 1 hour
Heat oil
Heat oil in a heavy-bottomed deep wide pan at medium flame
Boondi batter
Take besan flour, rice flour, turmeric powder, salt

Furthermore add softened butter, filtered carom water; mix well and knead

Add extra water (around 1-2 tbsp) and make a pliable crack free dough
Check oil temperature
Drop little dough in hot oil

Too hot oil - dough turns dark (burn)

Not hot enough - sink to the bottom of the pan soon after dropping

Right Oil Temperature - dough floats in a few seconds without changing color
Fry curry leaves
Fry curry leaves till they turn crispy and keep aside
Fry Omapodi
Place omapodi press in a murukku achu and grease little oil

Furthermore, add a portion of dough

Gently press one layer of omapodi and fry till oil bubble subside

Flip and fry other side till bubble subside and sshhh cease goes off
Omapodi mixture
Finally, mix fried curry leaves, and omapodi. omapodi mixture ready
Video
Ingredients
Soak Omam
1/2 teaspoon Carom seeds
1/4 cup hot water
Oma podi dough
1 cup fine besan flour
1/4 rice flour
1/8 teaspoon turmeric powder
1 tablespoon softened butter
Required salt
water as required water
To fry
few curry leaves
Oil to fry
How to make Omapodi with step by step pictures
Soak Omam
Add carom seeds and hot water in a vessel and soak for 1 hour
Heat oil
Heat oil in a heavy-bottomed deep wide pan at medium flame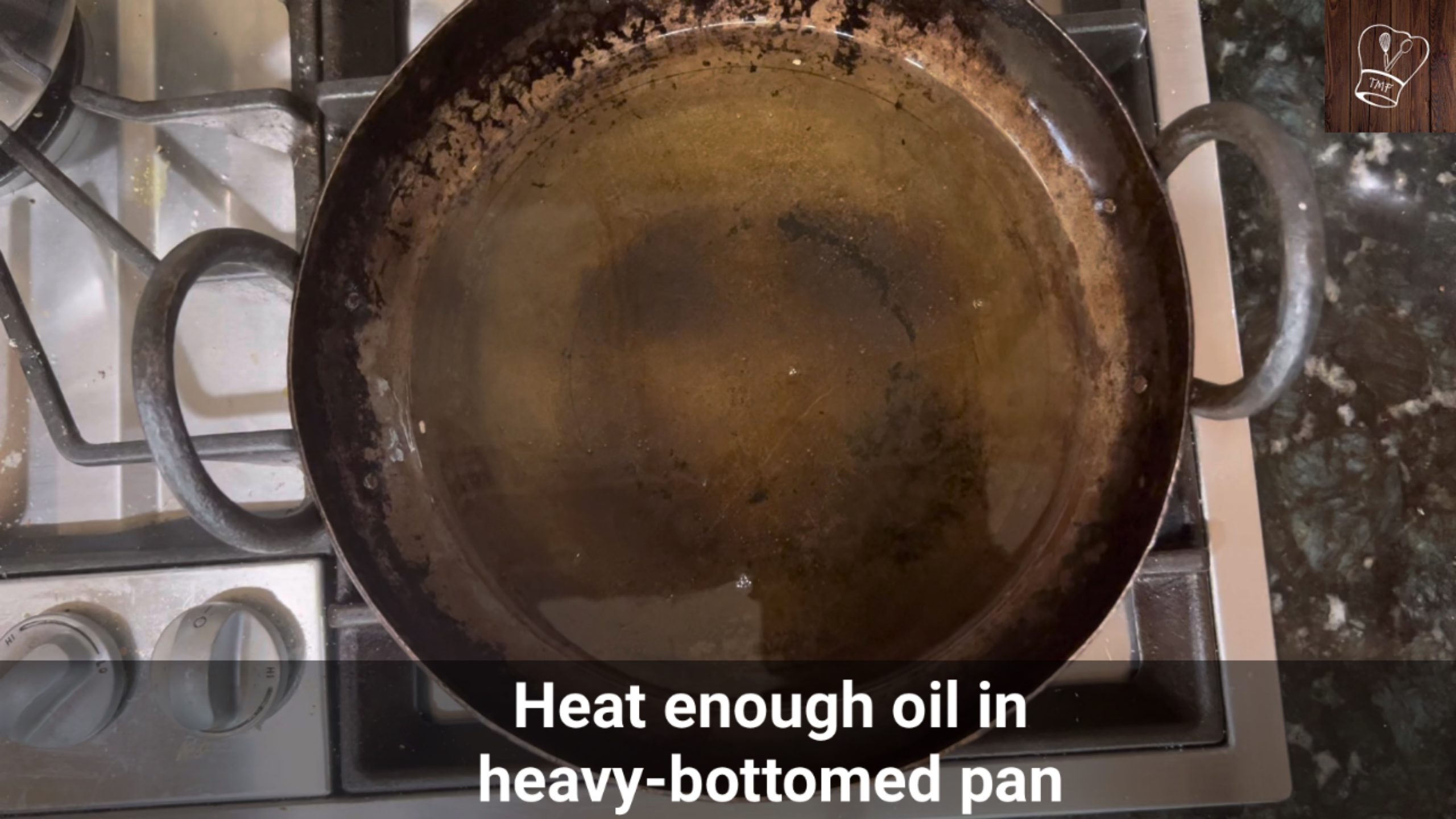 Boondi batter
Take besan flour, rice flour, turmeric powder, salt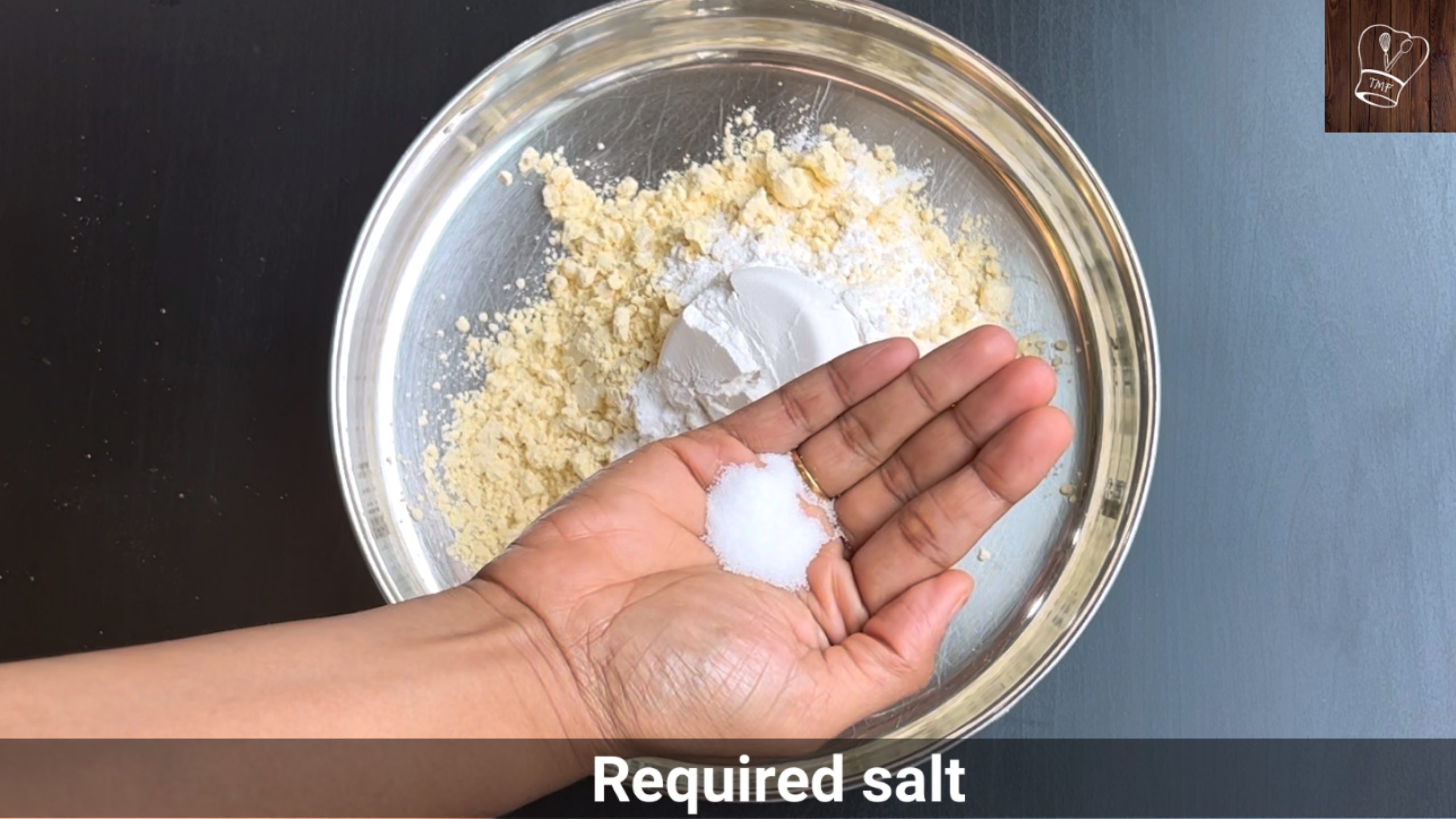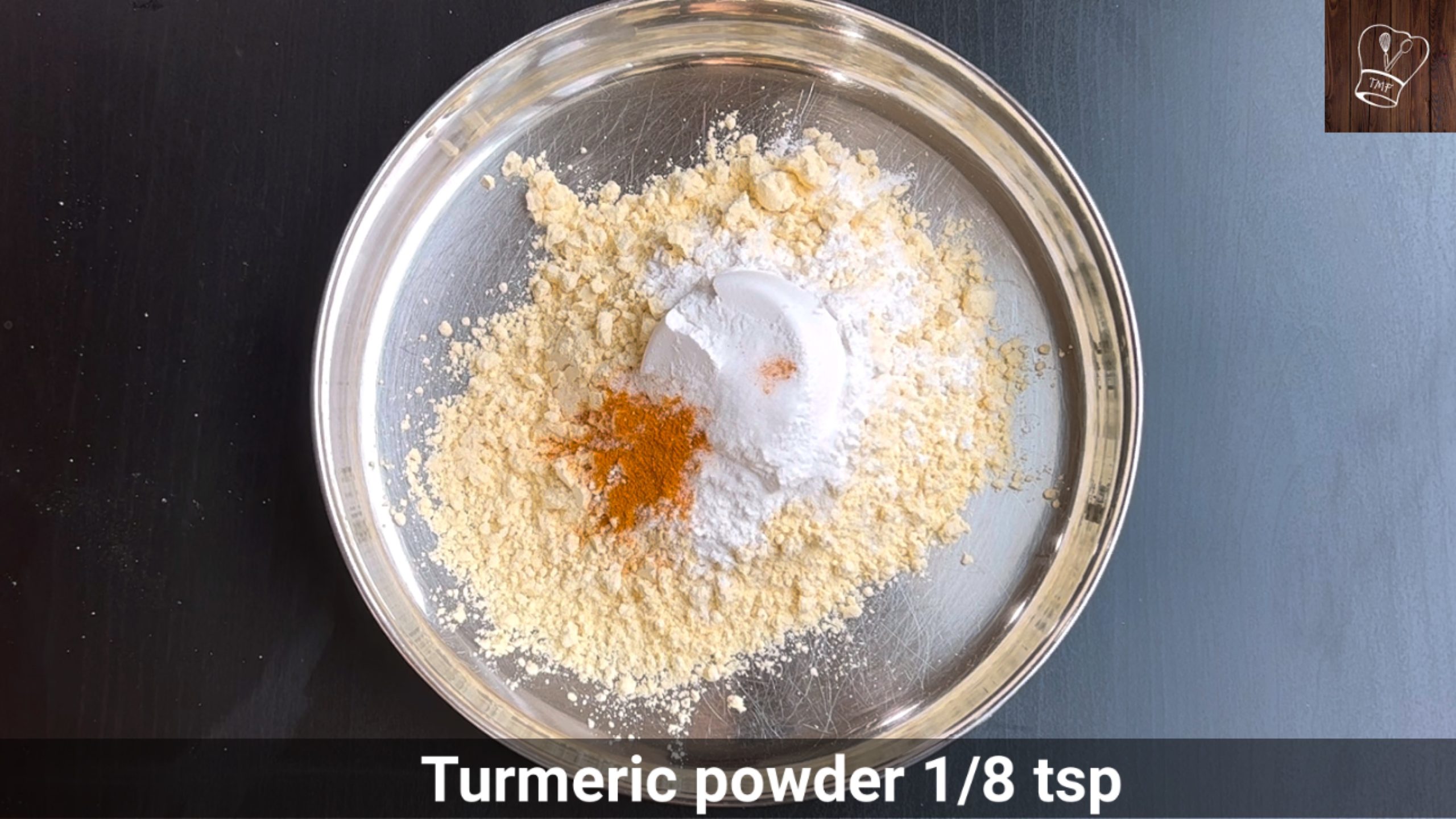 Furthermore add softened butter, filtered carom water; mix well and knead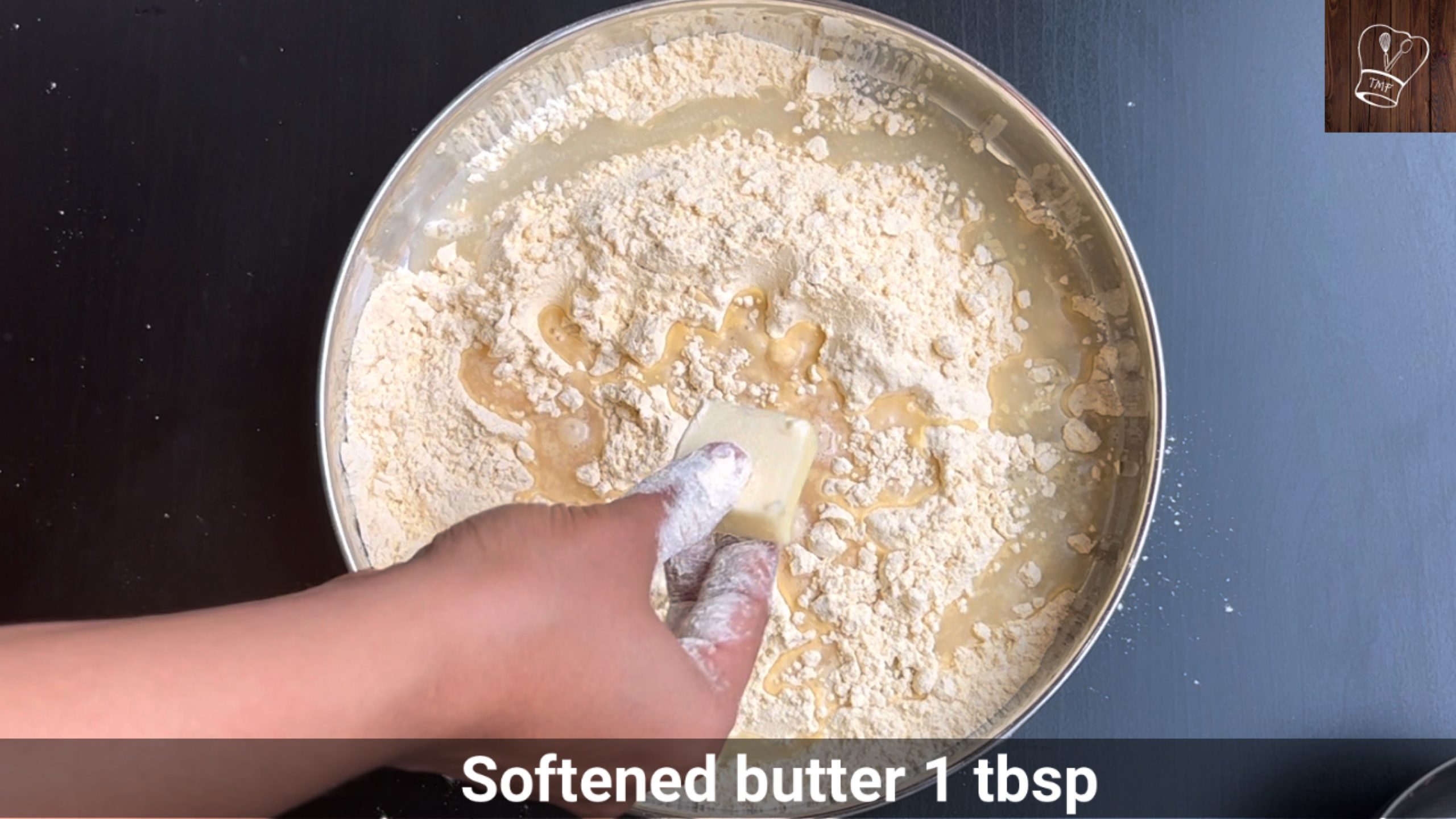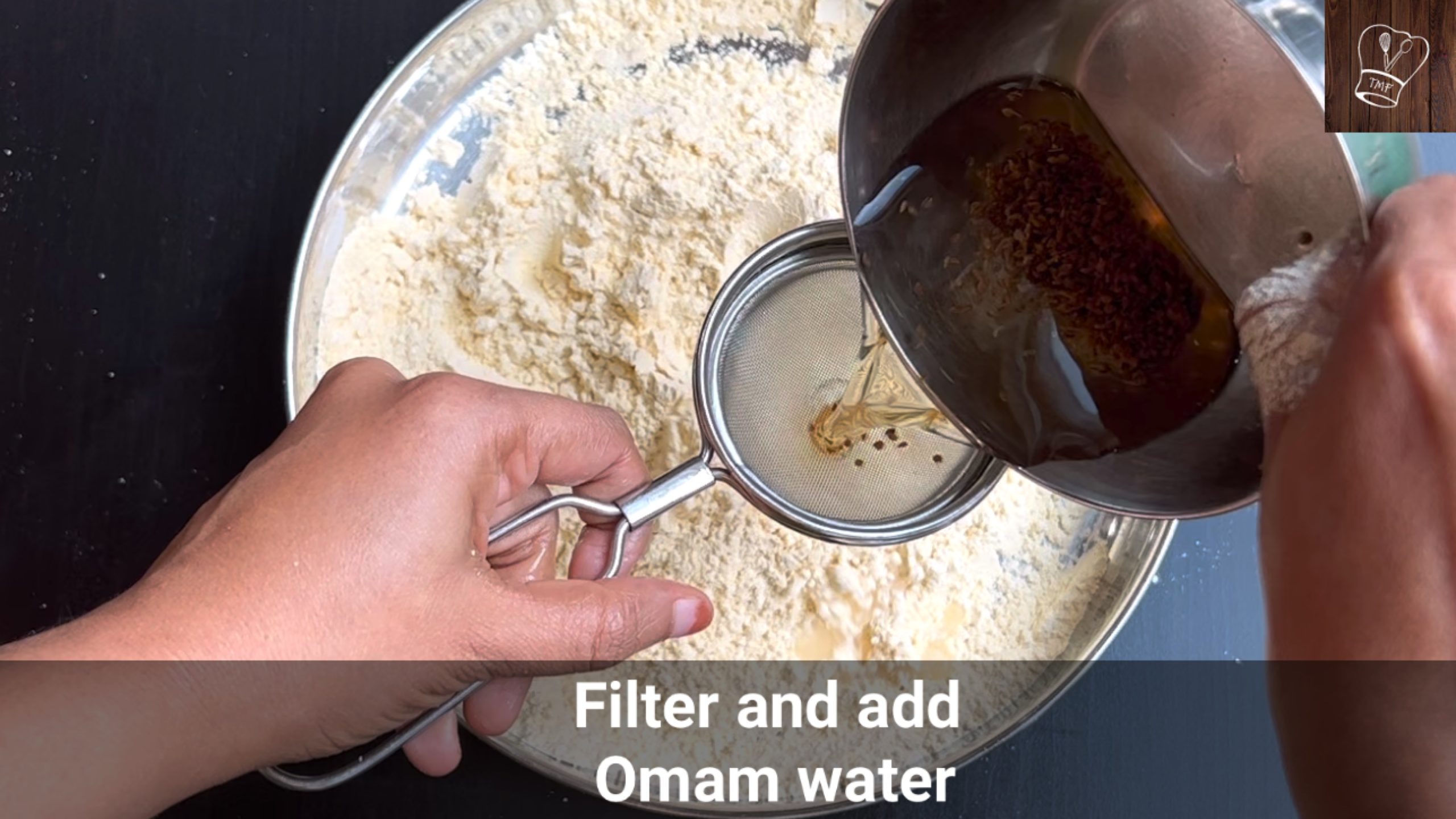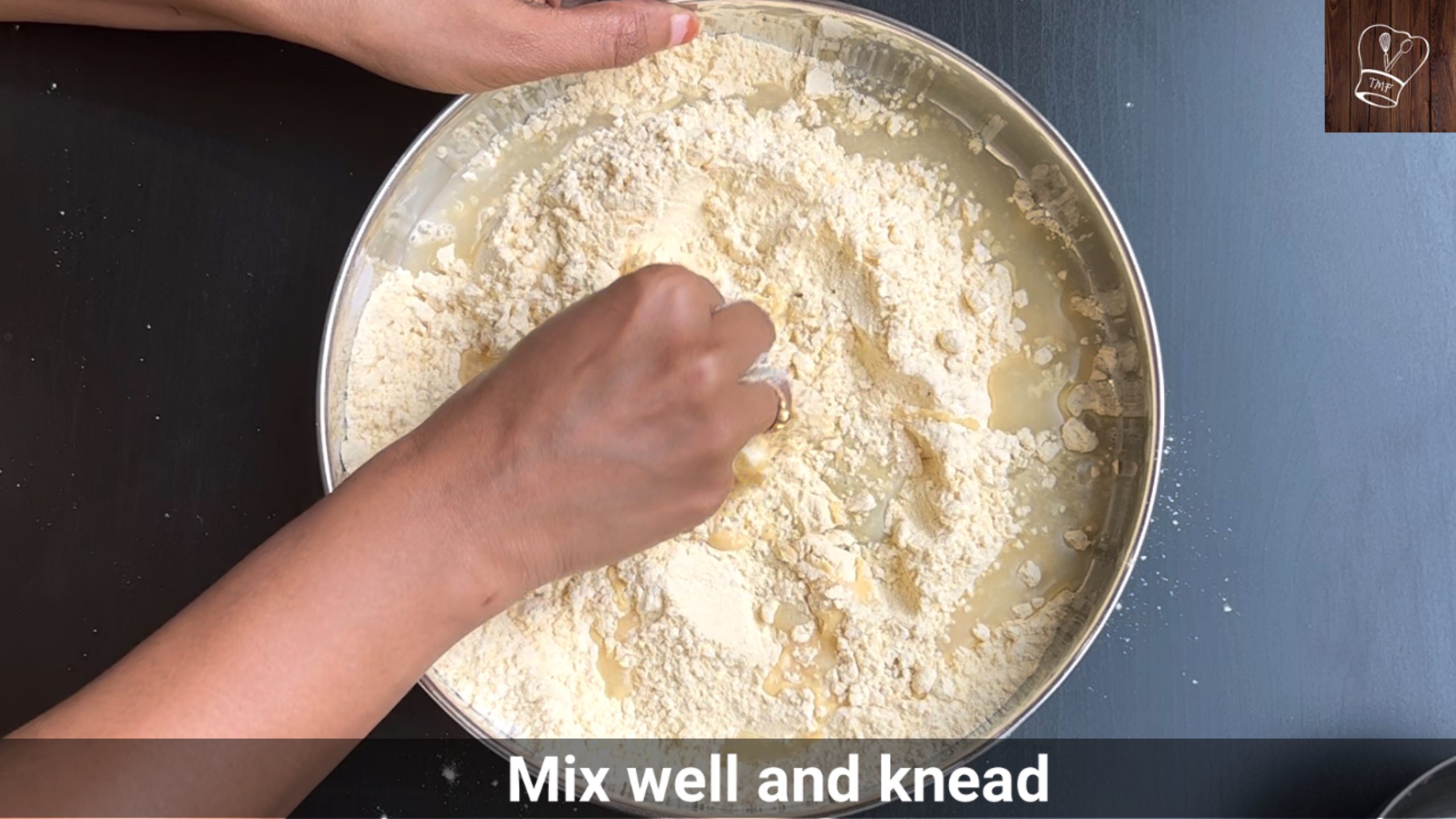 Add extra water (around 1-2 tbsp) and make a pliable crack free dough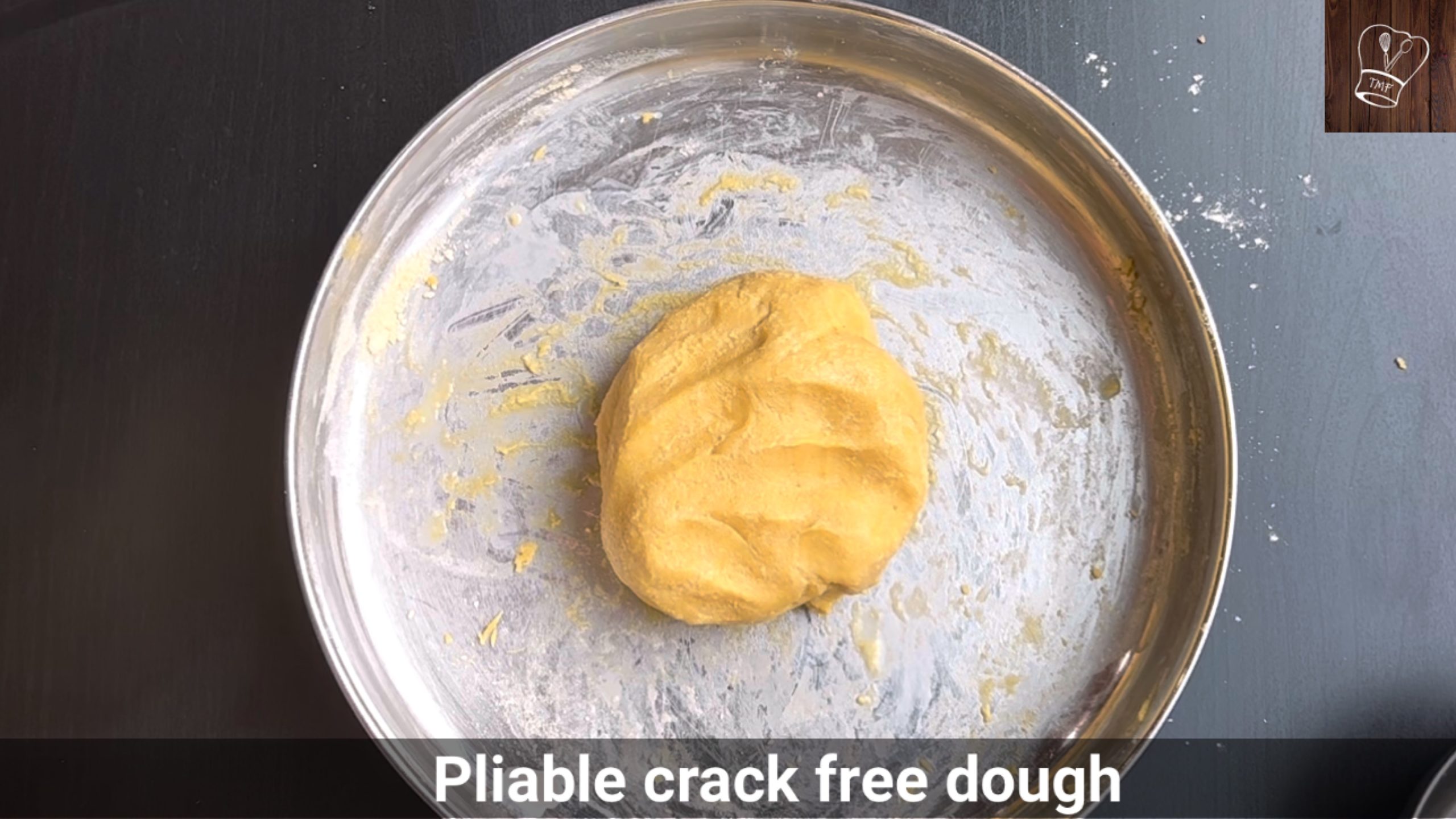 Check oil temperature
Drop little dough in hot oil

Too hot oil - dough turns dark (burn)

Not hot enough - sink to the bottom of the pan soon after dropping

Right Oil Temperature - dough floats in a few seconds without changing color
Fry curry leaves
Fry curry leaves till they turn crispy and keep aside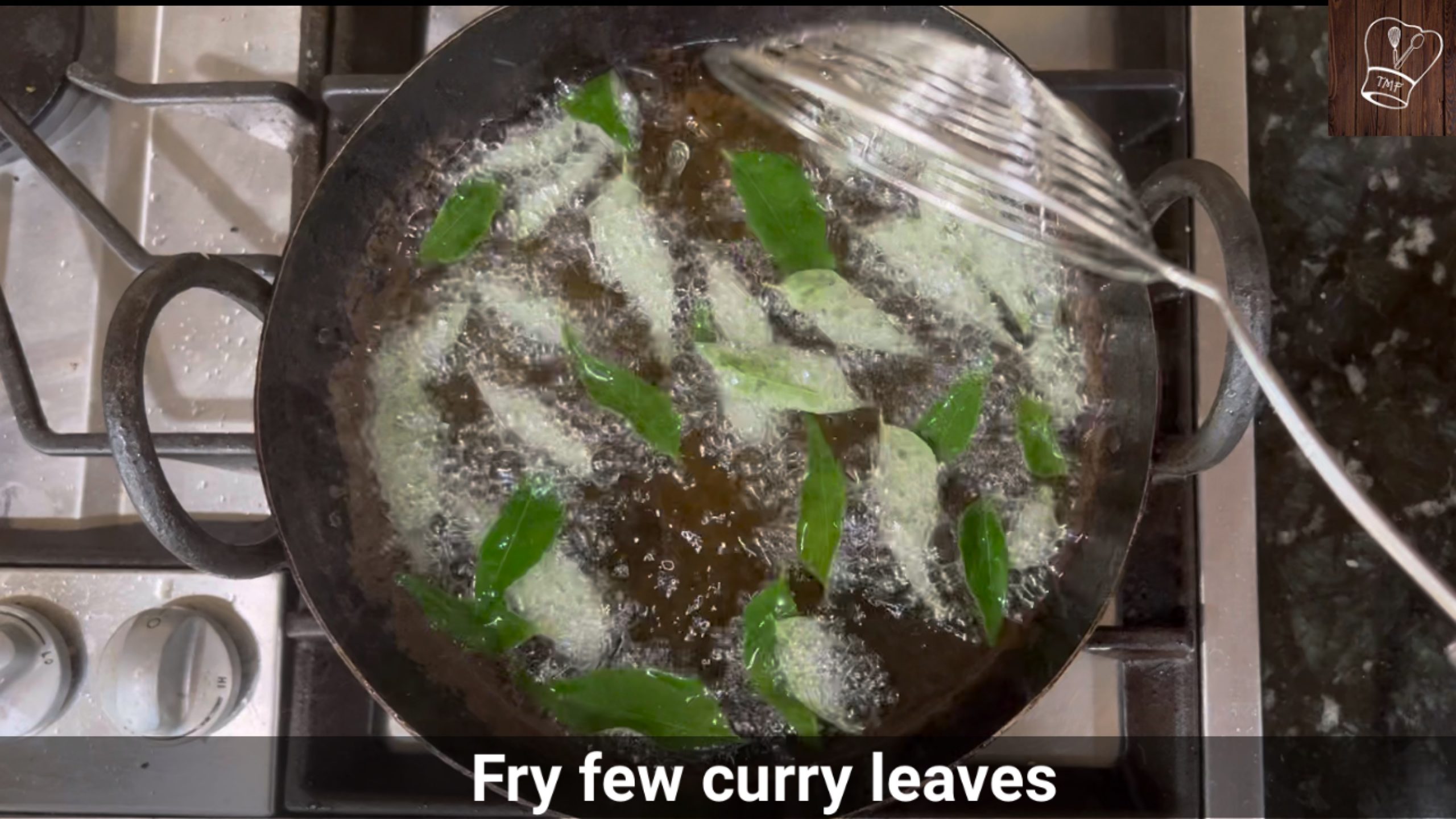 Fry Omapodi
Place omapodi press in a murukku achu and grease little oil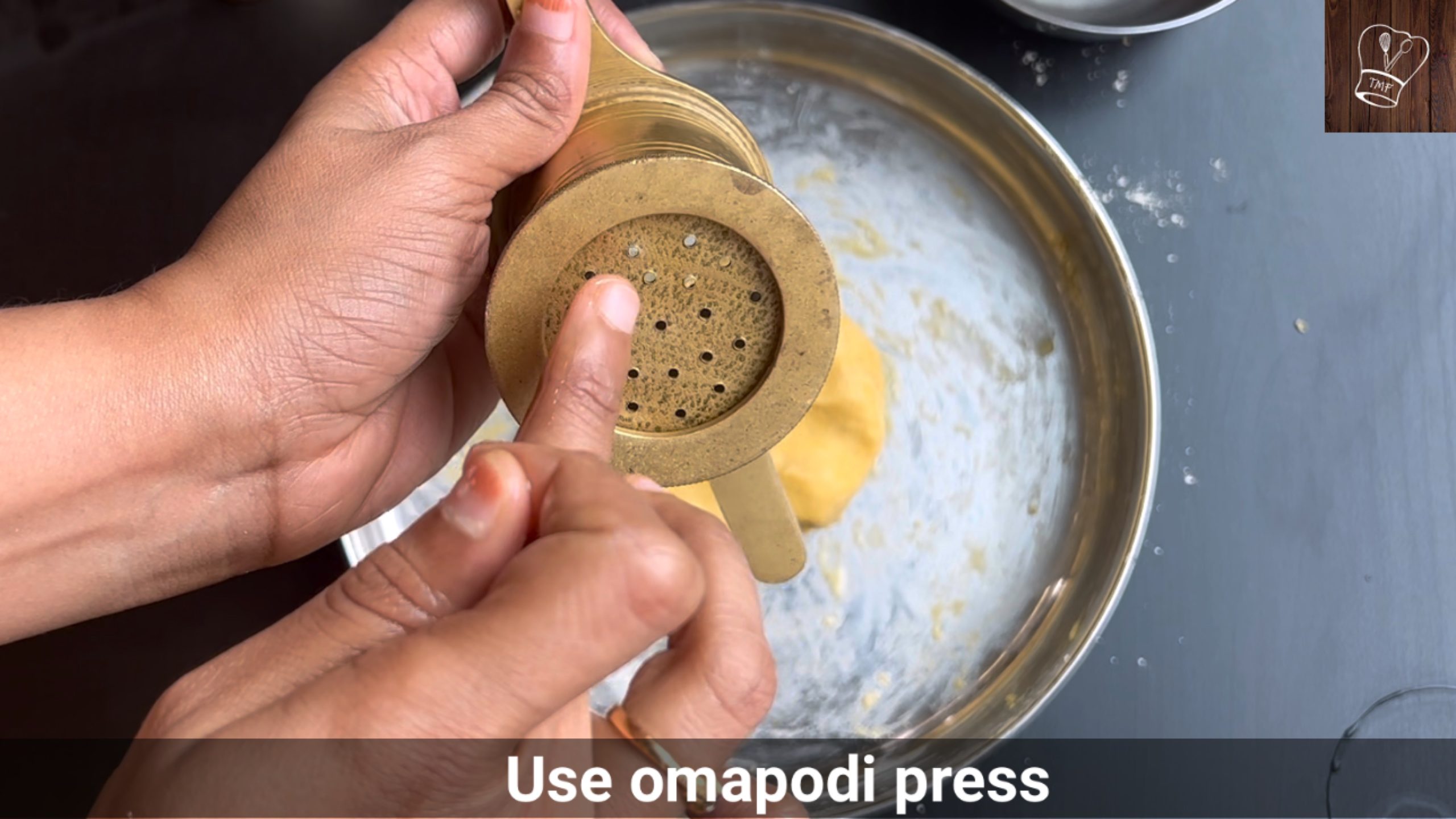 Furthermore, add a portion of dough
Gently press one layer of omapodi and fry till oil bubble subside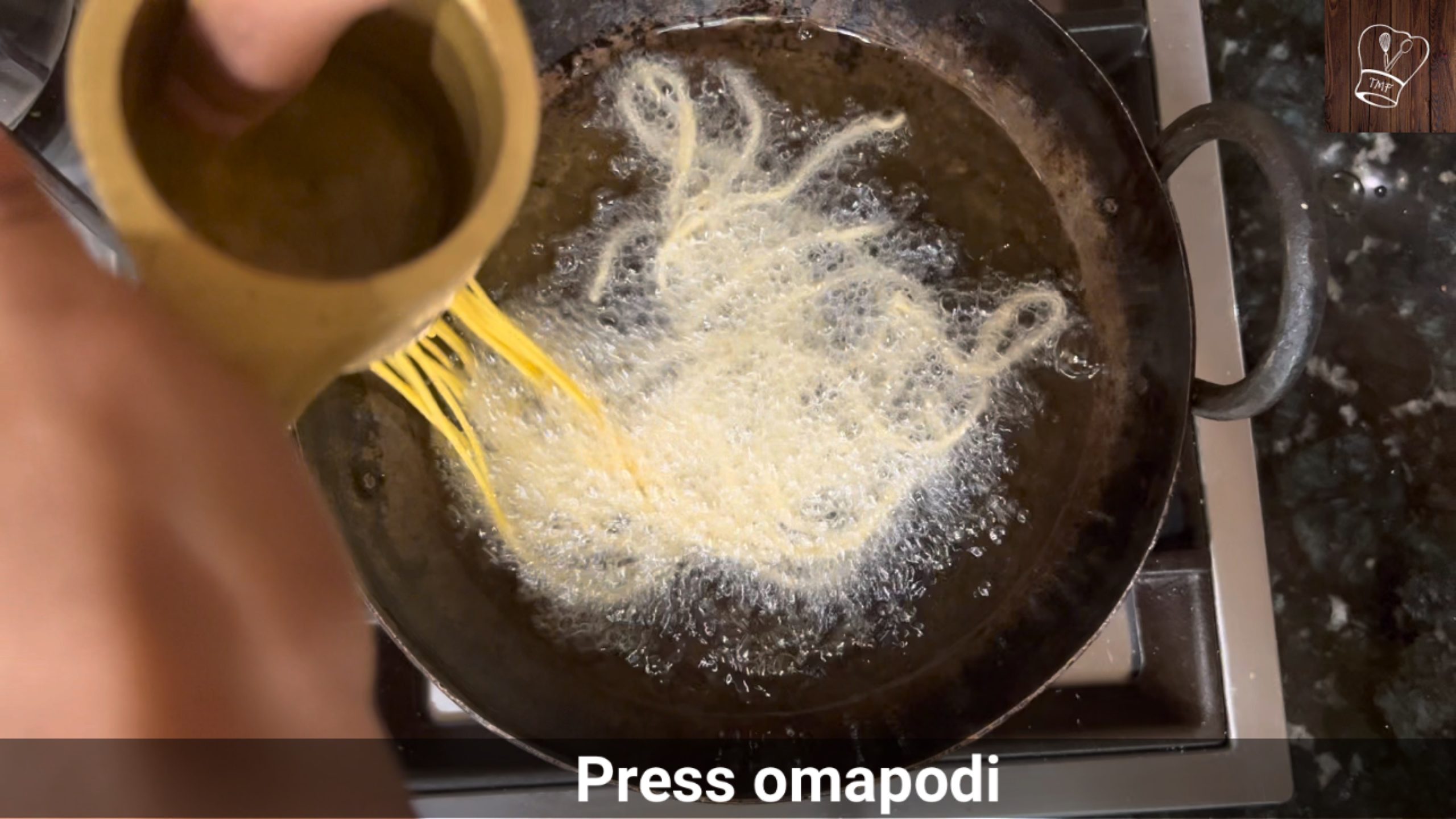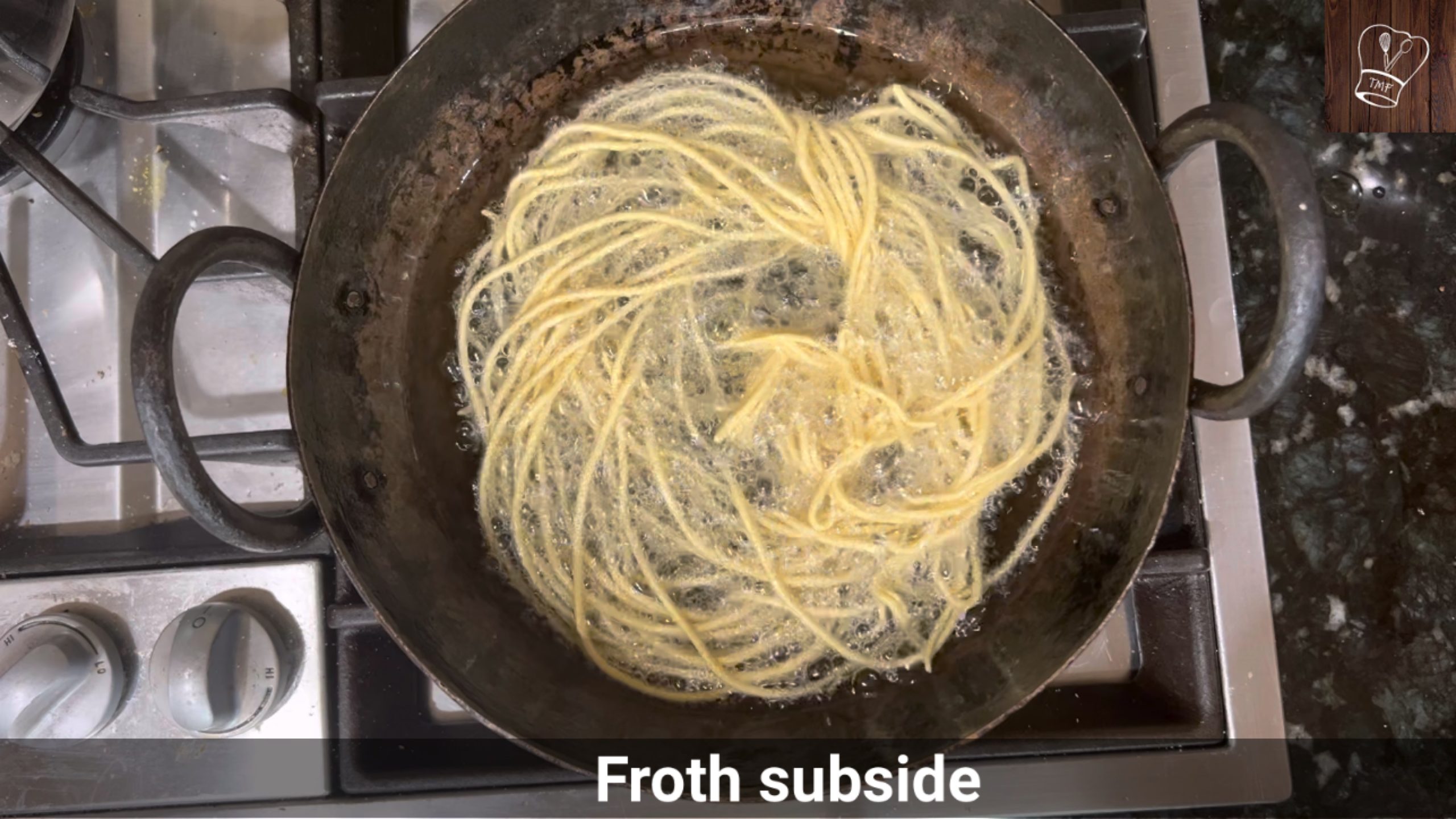 Flip and fry other side till bubble subside and sshhh cease goes off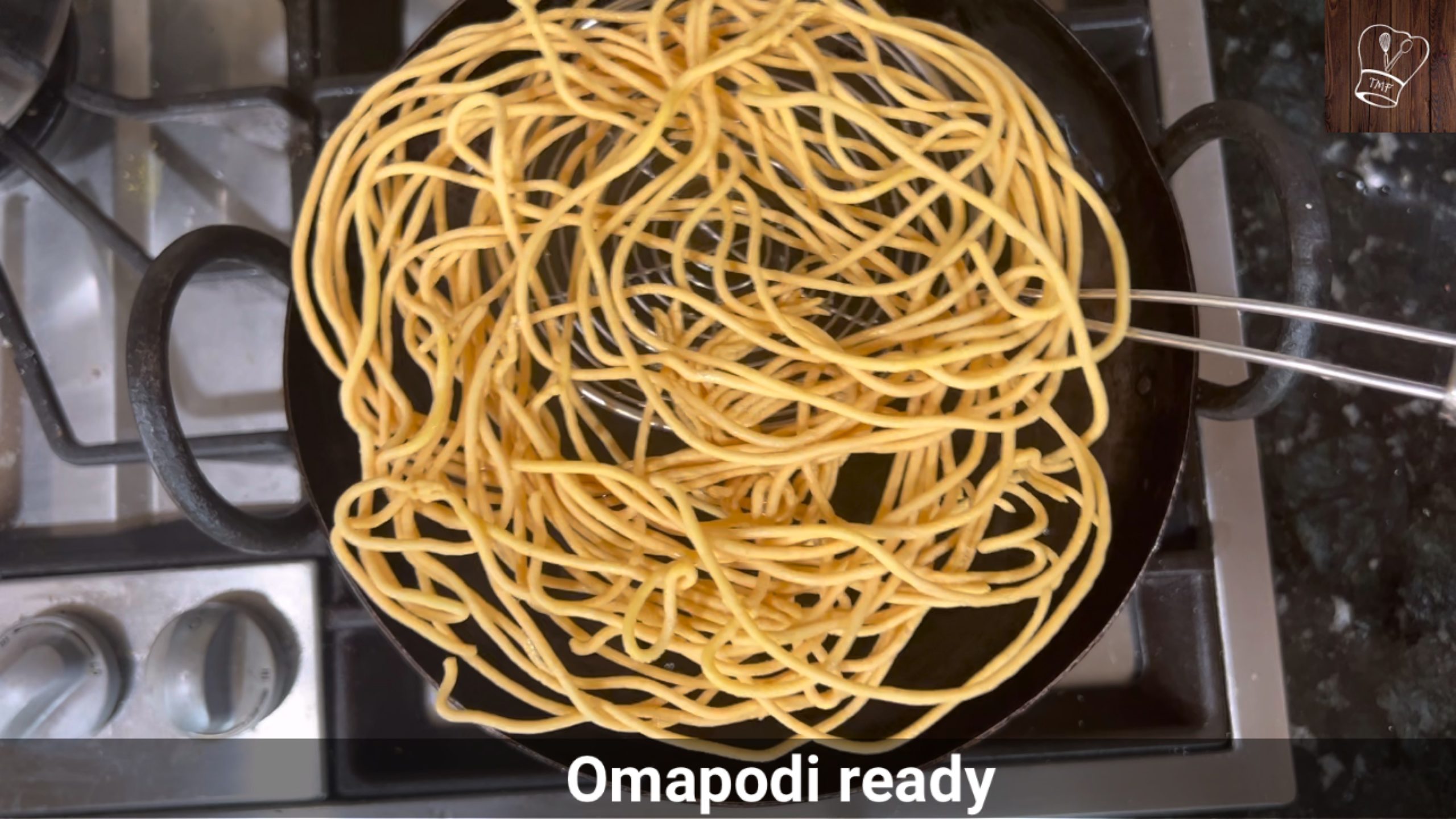 Omapodi mixture
Finally, mix fried curry leaves, and omapodi. Sev mixture ready