Mixture recipe | South Indian mixture recipe | Spicy mixture | Madras mixture | Diwali mixture recipe | Kerala spicy mixture recipe | South Indian mixture recipe | | Diwali snacks Recipes | Boondi Recipe | Deepavali Recipes | kara Boondi | Tamil Nadu mixture recipe | How to make mixture at Home | Traditional Boondi | Easy bakshnam Recipes | Deepavali karam | Madras boondhi Recipe | easy Diwali snacks recipe | omapodi mixture| most delicious festive snacks ever | ribbon pakoda | maida biscuit | tips & tricks for perfect sweet stall mixture with step by step pictures and video recipe. Check out the Mixture recipe video recipe. If you like the video pls SUBSCRIBE to my channel. Check out other Traditional Indian savory snacks in TMF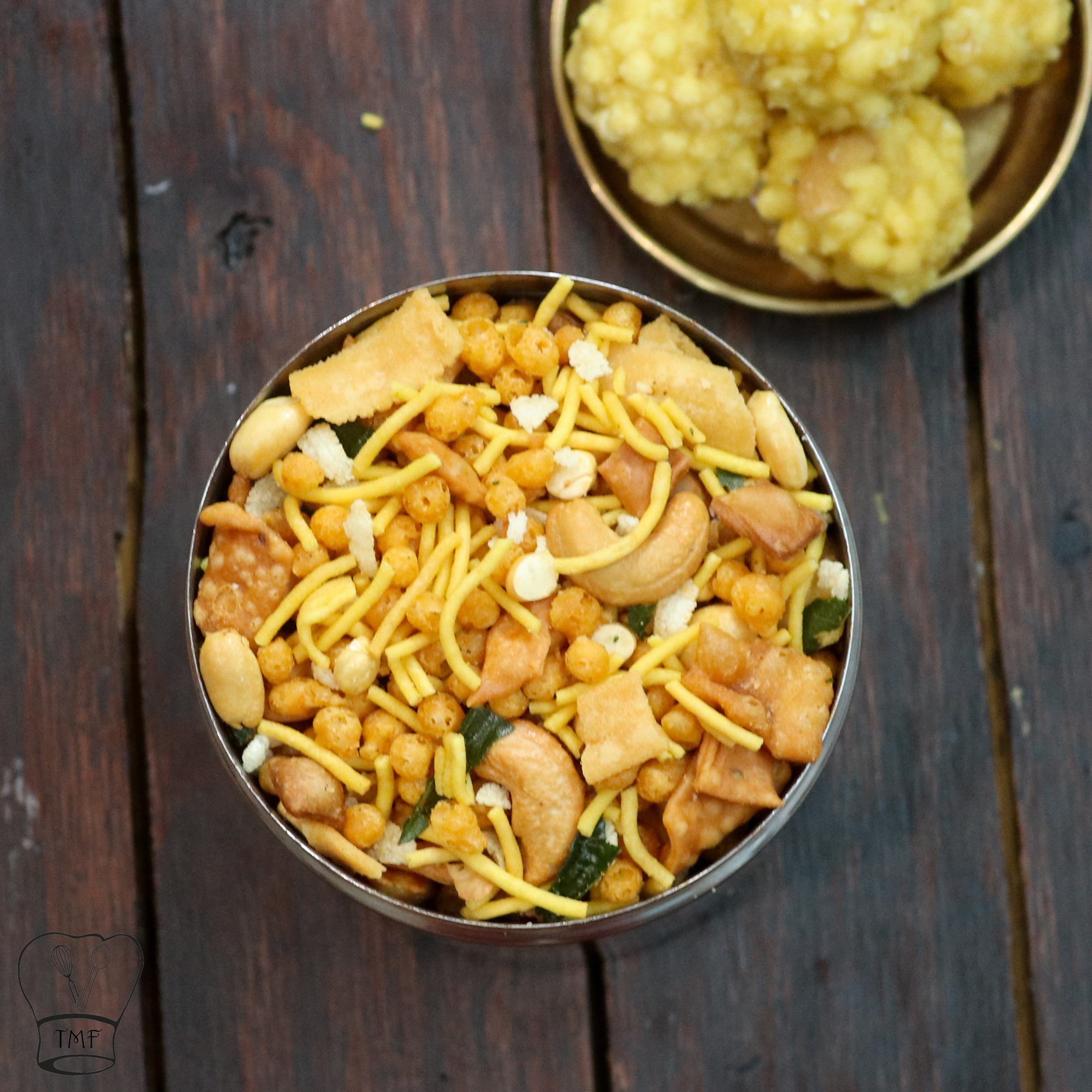 What is Mixture
South Indian style Mixture is a traditional savory snack recipe. It is often prepared during Diwali. Popular south Indian mixture variety is prepared with the combination of omapodi, boondi, roasted aval, pottukadalai, peanuts, cashews, ribbon pakoda, spicy biscuit, and kalakala
Can I skip maida biscuit?
Traditional Madras mixture contains omapodi, boondi, roasted aval, pottukadalai, cashews, and peanuts. In our home, I prefer adding other fried savory snacks like ribbon pakoda, maida biscuit, and kalakala. you can skip the additional snacks. You can also add thenkuzhal murukku or butter murukku or Karasev or almond murukku according to your taste.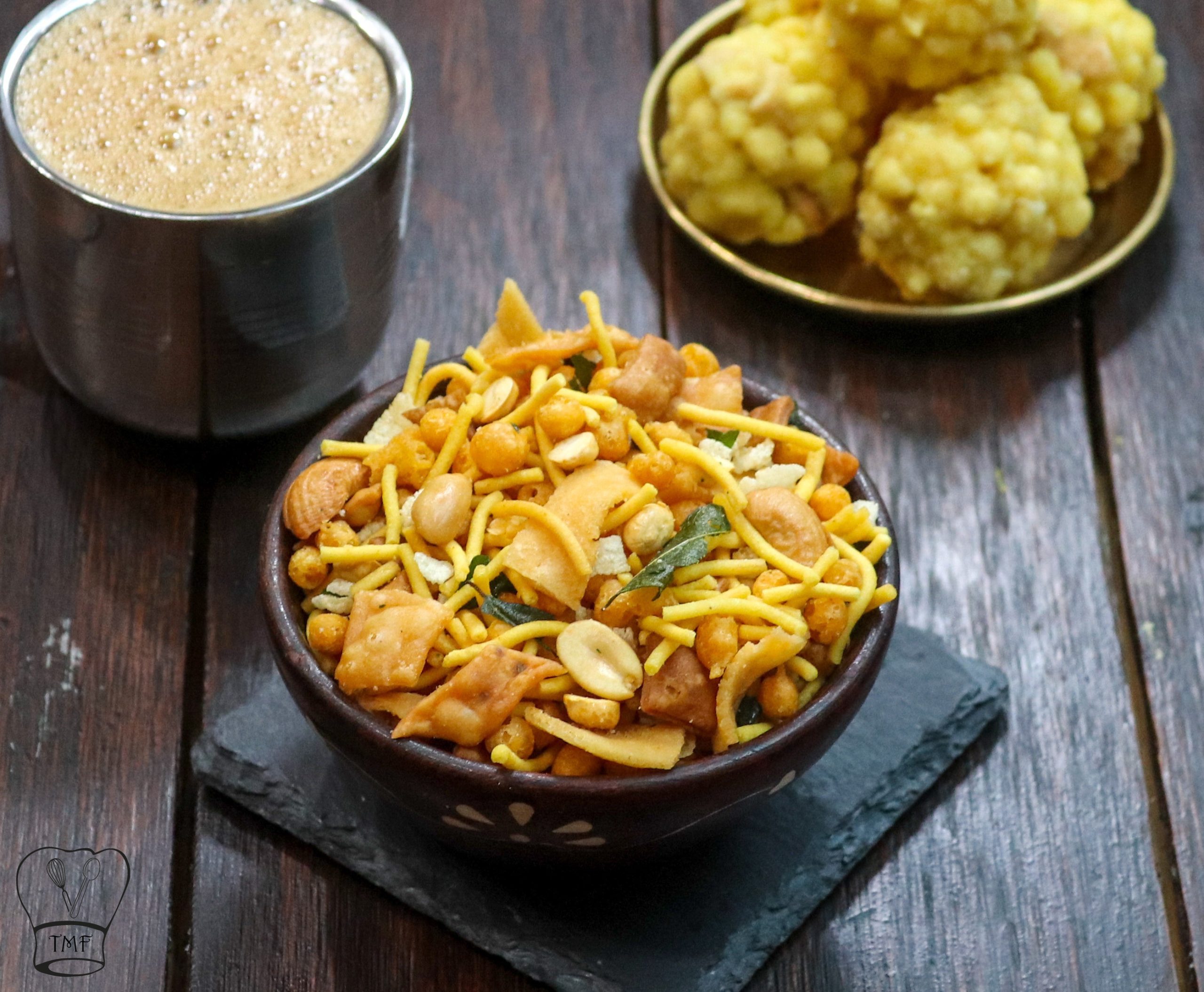 Why I didn't fry cashews and peanuts for the Tamil Nadu mixture?
Since I added cashews and peanuts for my boondhi recipe I didn't add them separately for the mixture. you can add extra according to your taste. Also, you can add almonds/ walnut, etc. of your choice.
Can I skip chilli powder?
Traditionally mixture is prepared with chilli powder. You can adjust the chilli powder according to your taste. I have used a little Kashmiri chilli powder which gave nice color but the mixture was not spicy. You can make a spicy mixture by increasing chilli powder.
Shelf life of mixture?
The mixture stays good for 2-3 weeks. Always let all the ingredients cool completely then store it in airtight container and keep it in room temperature.

Can I increase roasted flattened rice?
Yes, you can change it according to your taste. I prefer adding it less
Optimal oil temperature
Drop little dough in hot oil

Too hot oil - dough turns dark (burn)

Not hot enough - sink to the bottom of the pan soon after dropping

Right Oil Temperature - dough float
What goes well with the mixture?
I like to munch mixture as snacks. It tastes best with coffee/tea. Sweet varieties. I also like having it as a side for kuzhambu/ rasam varieties.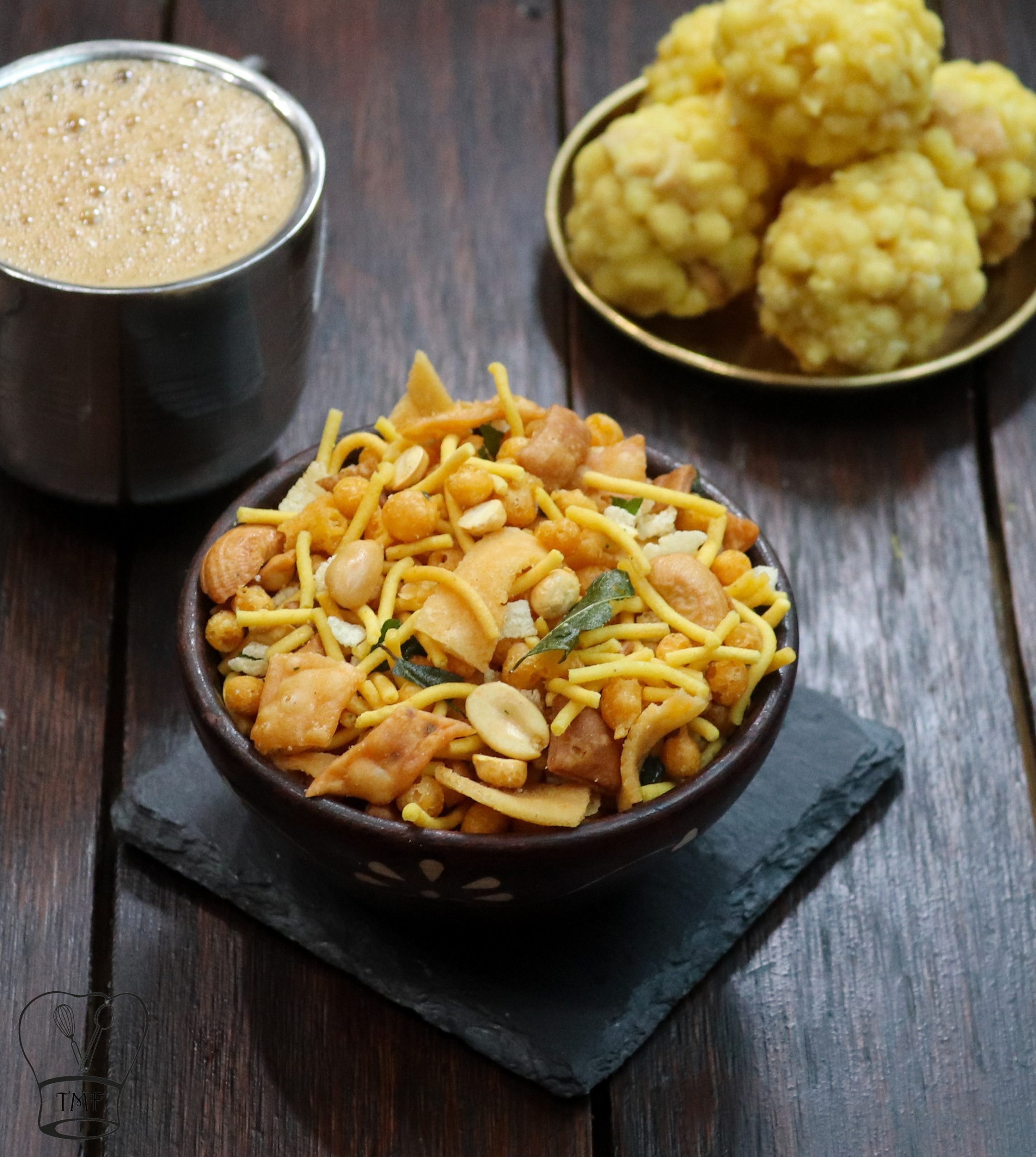 See more Savory bakshanam recipes
Recipe card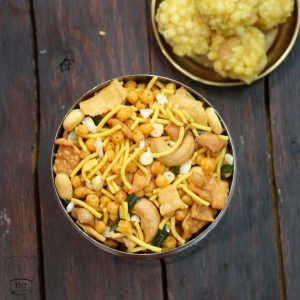 Ingredients
Omapodi

Boondi

1

+ 1/2 cup ribbon pakoda

1

cup

spicy biscuit

1/2

cup

kalakala
To fry
1/4

cup

flattened rice

1/4

cup

pottukadalai

Oil to fry
Instructions
Prepare savory snacks
Heat oil in a heavy-bottomed deep wide pan at medium flame and prepare omapodi, boondi, ribbon pakoda, savory maida biscuit and sweet biscuit as mentioned
Fry topping
Firstly fry Aval till they turn crispy and keep aside

Add pottukadalai and fry them till they turn golden brown and keep them aside. Avoid over roasting
Savory mixture recipe
Add omapodi, boondi, ribbon pakoda, savory maida biscuit, sweet biscuit, and roasted aval and pottukadalai to a wide mixing bowl and mix well

Finally, add hing and Kashmiri chili powder and mix well. Mixture ready
Ingredients
1 + 1/2 cup ribbon pakoda
1 cup spicy biscuit
1/2 cup kalakala
To fry
1/4 cup flattened rice
1/4 cup pottukadalai
Oil to fry
How to make Madras mixture recipe with step by step pictures
Prepare savory snacks
Heat oil in a heavy-bottomed deep wide pan at medium flame and prepare omapodi, boondi, ribbon pakoda, savory maida biscuit and sweet biscuit as mentioned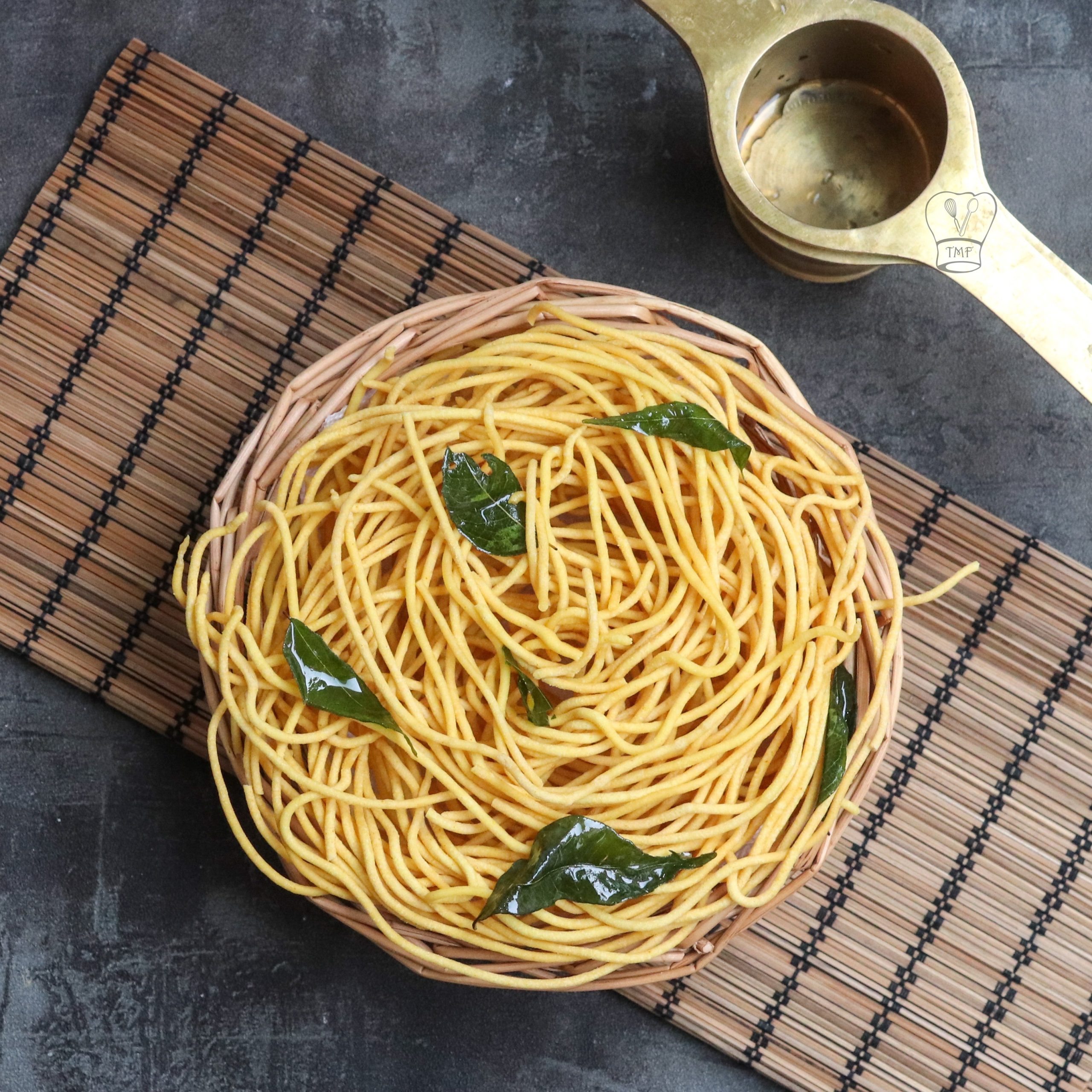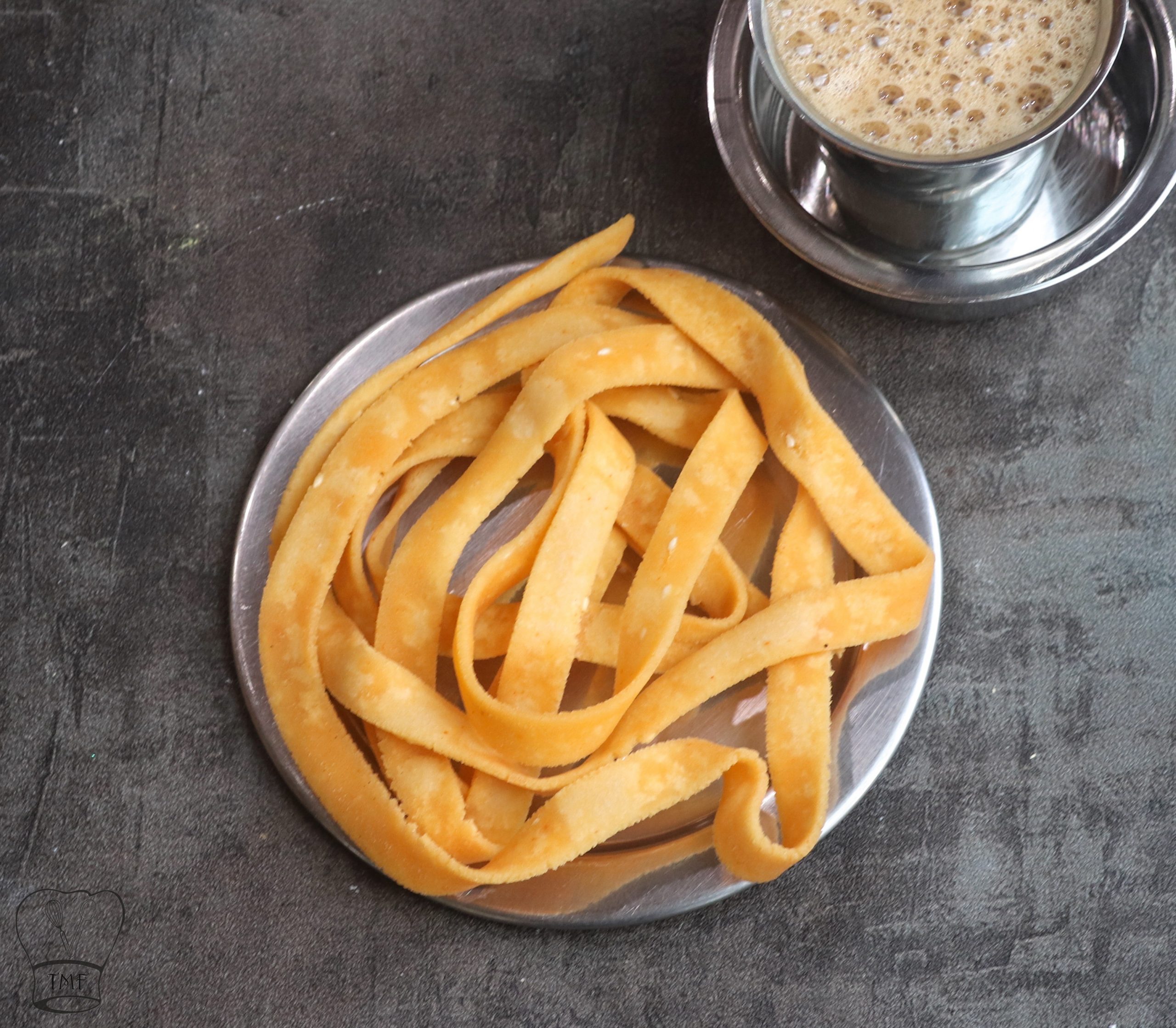 Fry topping
Firstly fry Aval till they turn crispy and keep aside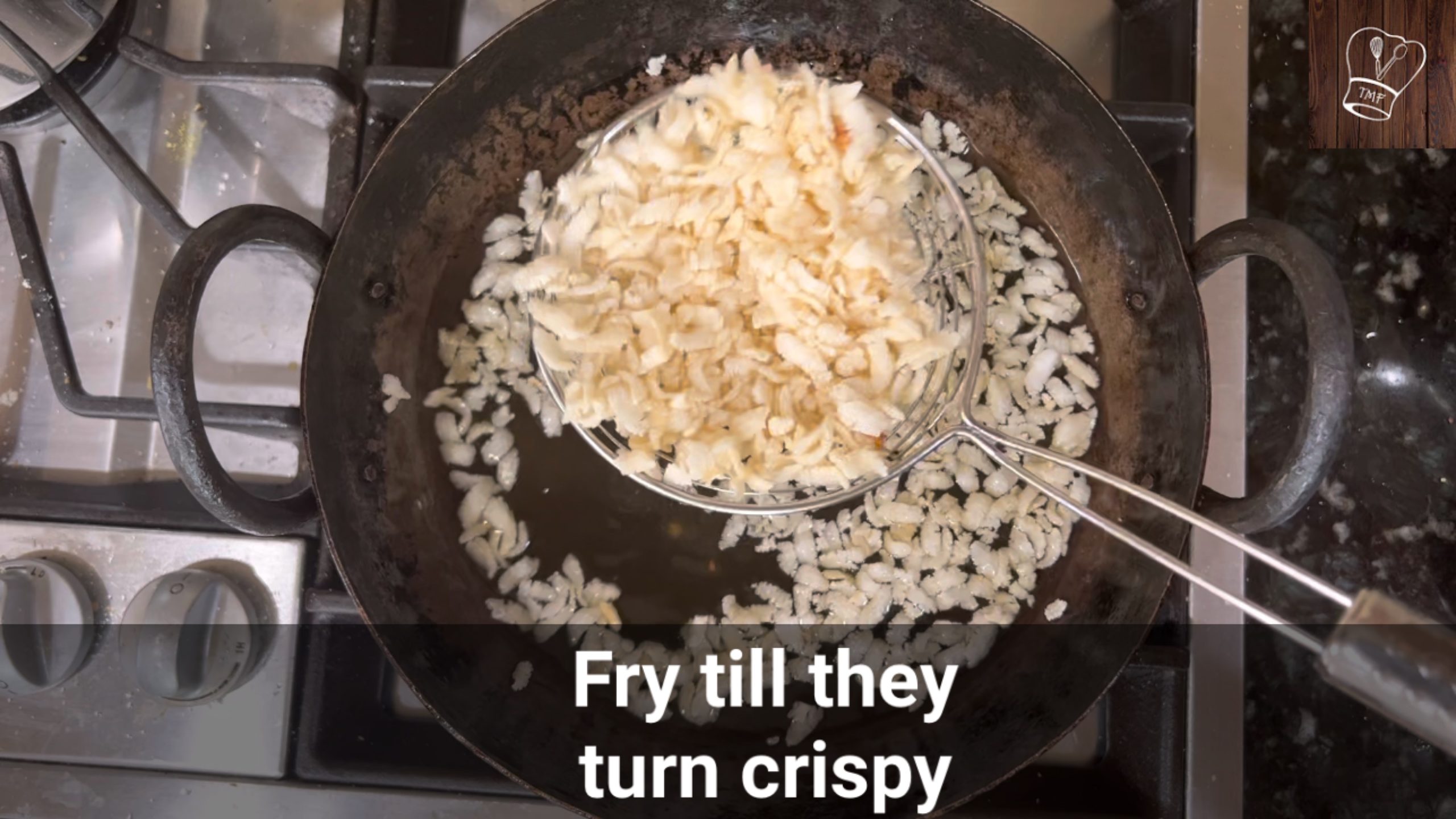 Add pottukadalai and fry them till they turn golden brown and keep them aside. Avoid over roasting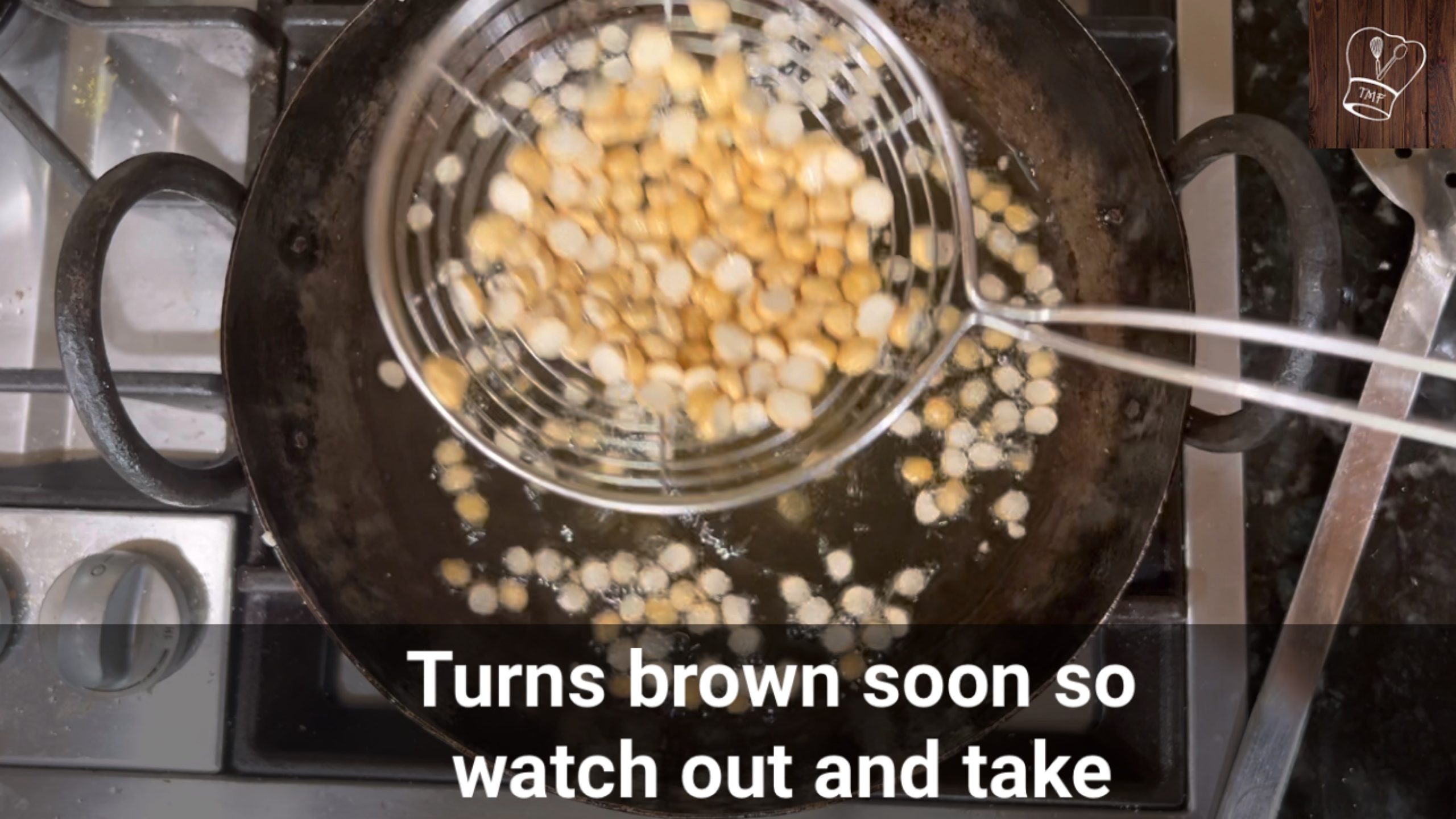 Savory mixture recipe
Add omapodi, boondi, ribbon pakoda, savory maida biscuit, sweet biscuit, and roasted aval and pottukadalai to a wide mixing bowl and mix well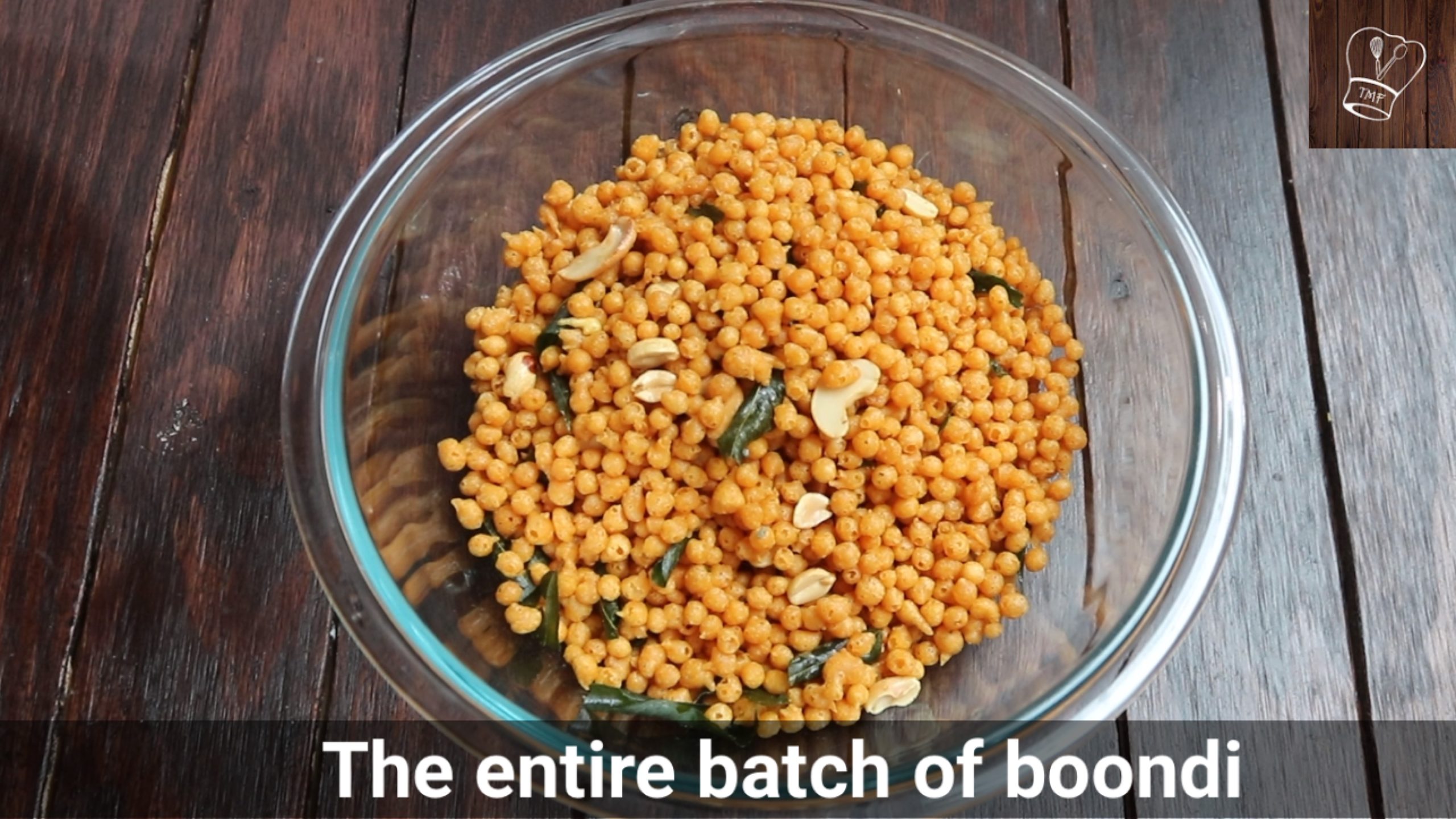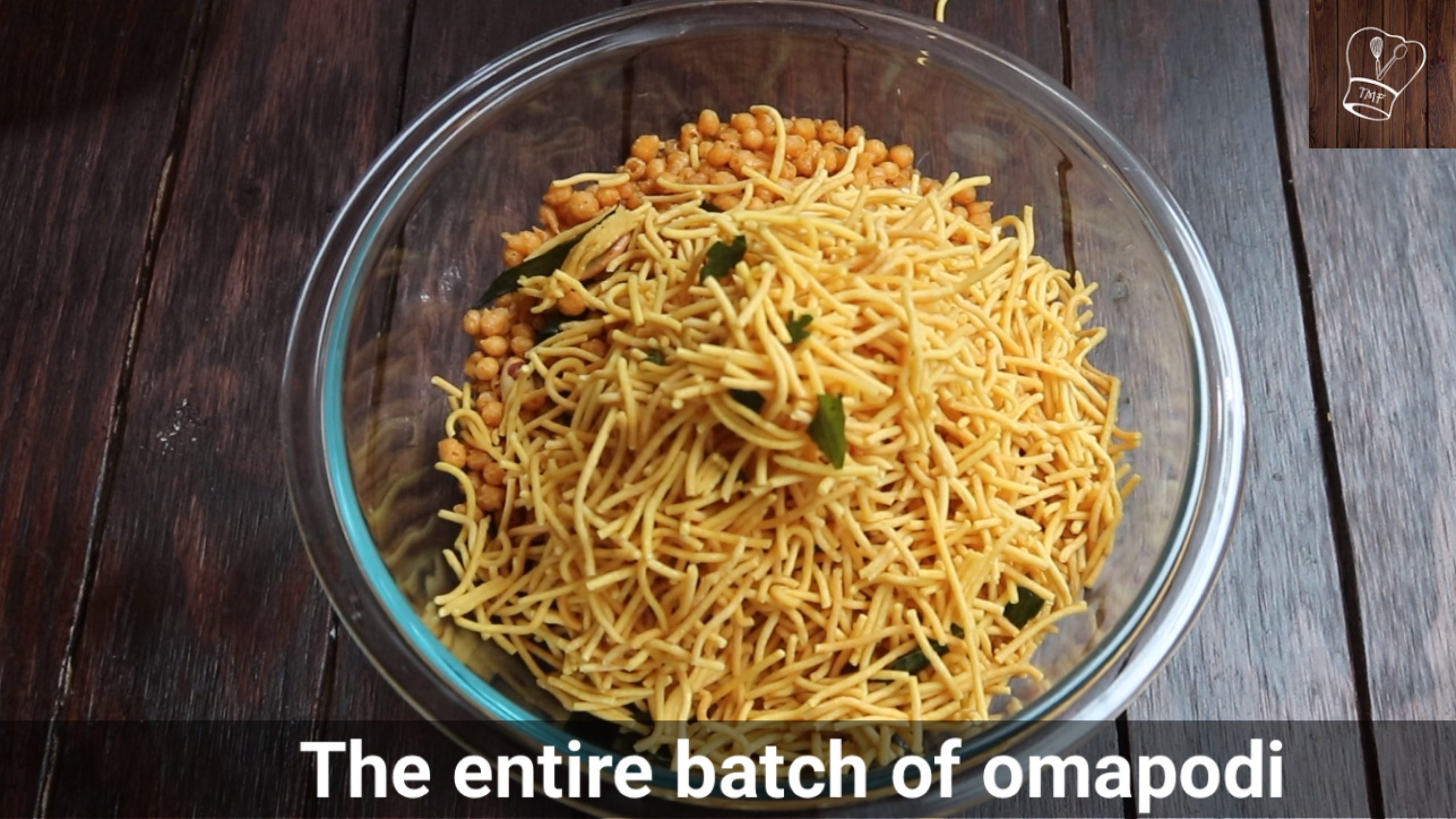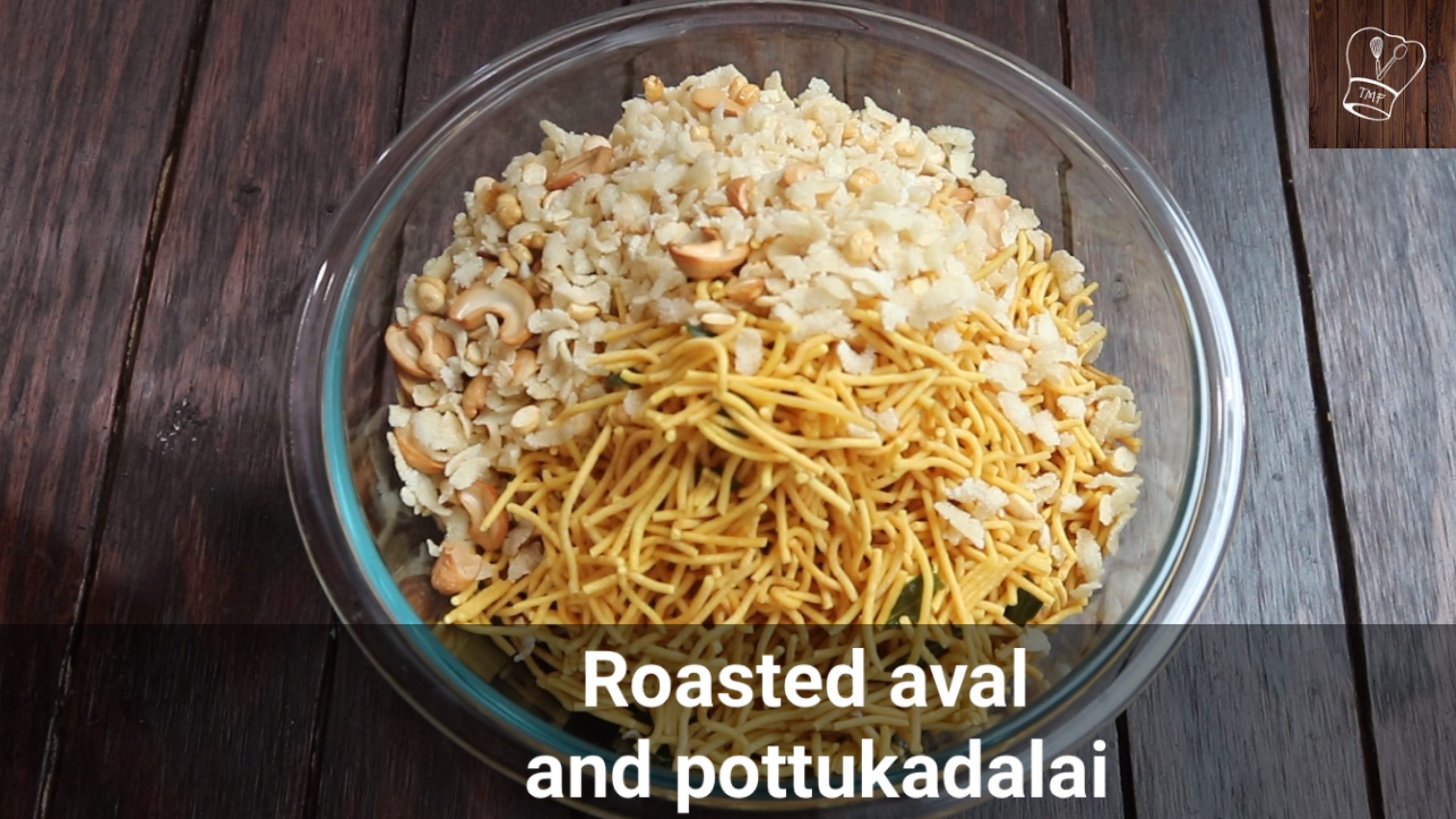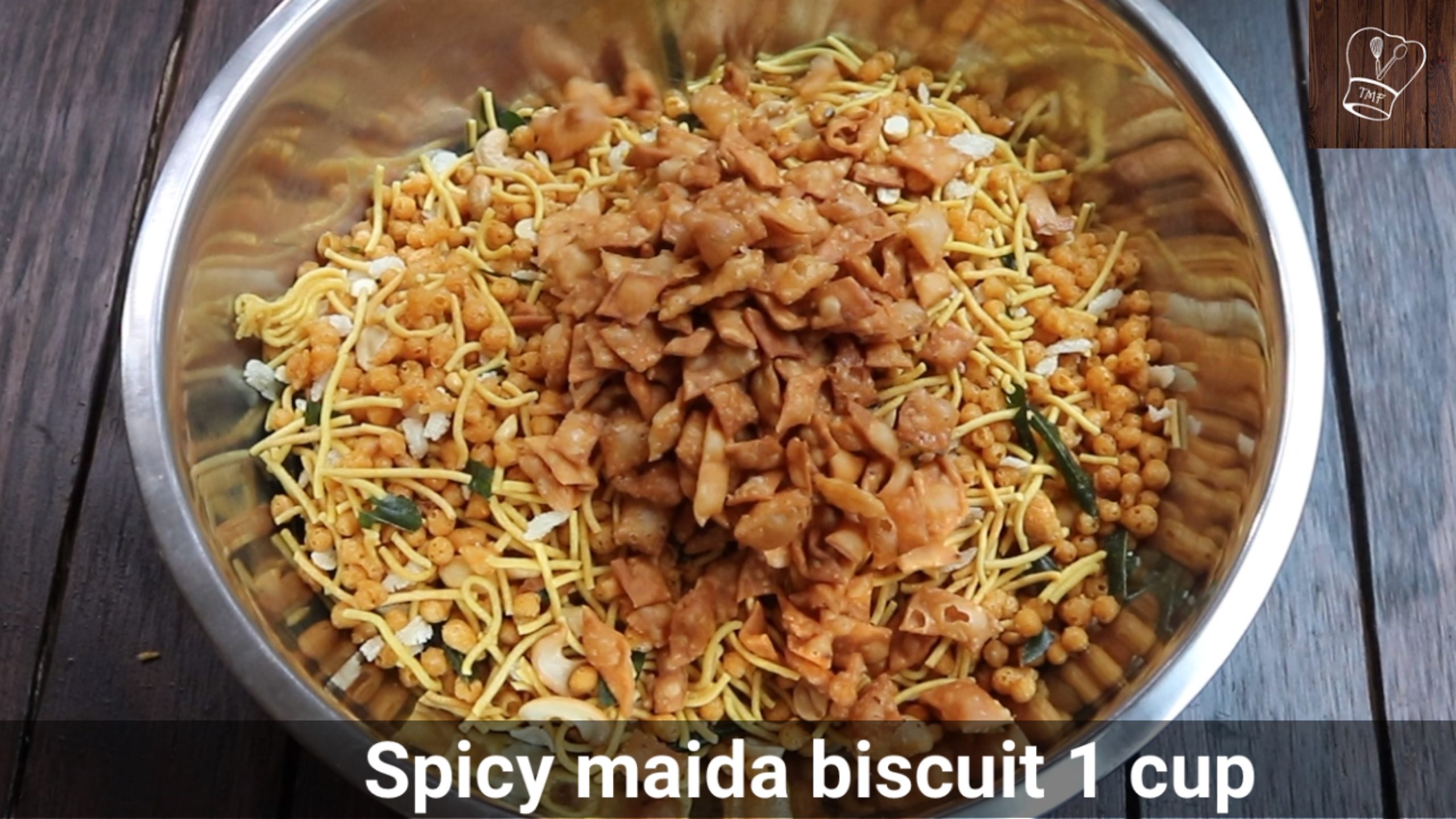 Finally, add hing and Kashmiri chili powder and mix well. Mixture ready