Kara Boondi | How to make boondi mixture | Boondi Recipe |how to make khara boondi | Kara boondhi | How to make Boondi | Diwali snacks Recipes | Boondi Recipe Video | Deepavali Recipes | kara Boondi | Tamil Nadu kara Boondi Recipe | How to make Boondi at Home | Traditional Boondi | Easy bakshnam Recipes | Deepavali karam | Madras boondhi Recipe | easy Diwali snacks recipe | boondi mixture| most delicious festive snacks ever | Authentic Boondi recipe | Traditional Boondi | Easy spicy boondhi | tips & tricks for perfect boondi with step by step pictures and video recipe. Check out the Kara Boondi video recipe. If you like the video pls SUBSCRIBE to my channel. Check out other Traditional Indian savory snacks in TMF
What is Kara Boondhi
Kara (Spicy) boondi is a savory version of boondi. Popular south Indian snacks recipes are often prepared with deep-fried peanuts, cashews, curry leaves, and spice mix. Tamil Nadu kaara Boondi is also one main addition to popular madras mixture Recipe
Should I sieve Kadalai maavu for karaBoondi?
Lump-free | grain-free batter results in the best boondi. I use a whisk to make a smooth lump-free batter. If you think besan has lumps, sieve first, then prepare the batter
How much water should I add to the batter?
The exact quantity might vary depending on the type of besan flour you use. I generally add 2:1 (besan to water ratio) then add extra water as required. If boondi is with tail add extra water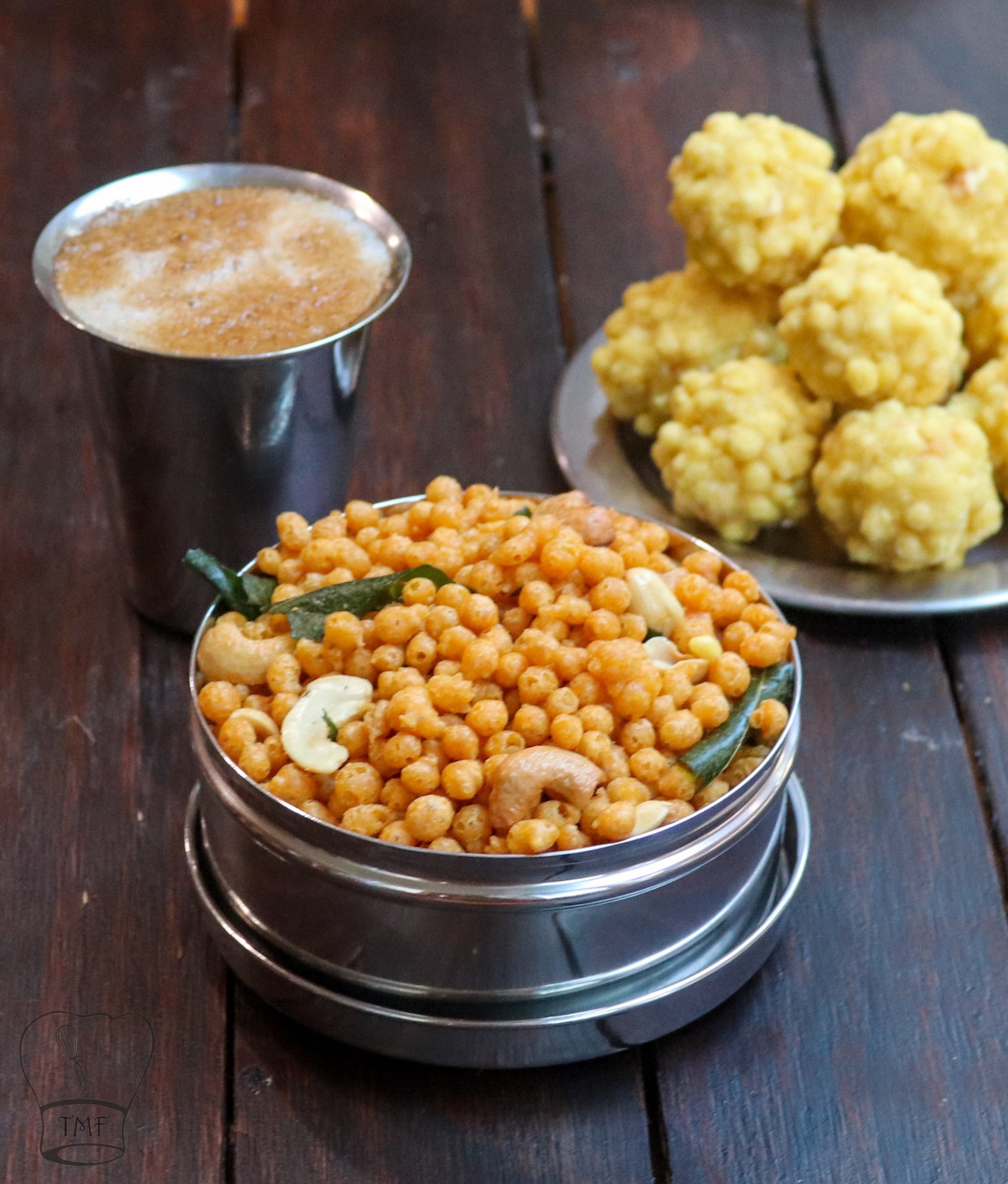 Should I fry crispy boondi?
Yes always fry crispy boondi. Fry boondhi till bubbles subside and sshh sound ceases
Can I skip chilli powder?
Traditionally Kara boondhi is prepared with chilli powder. You can adjust the chilli powder according to your taste. I have used Kashmiri chilli powder which gave nice color but boondi was not spicy.
Can I skip baking soda?
To make sweet stall style boondhi we should add baking soda it gives the best Tamil Nadu style kara boondhi. Reducing the baking soda might alter the texture and taste.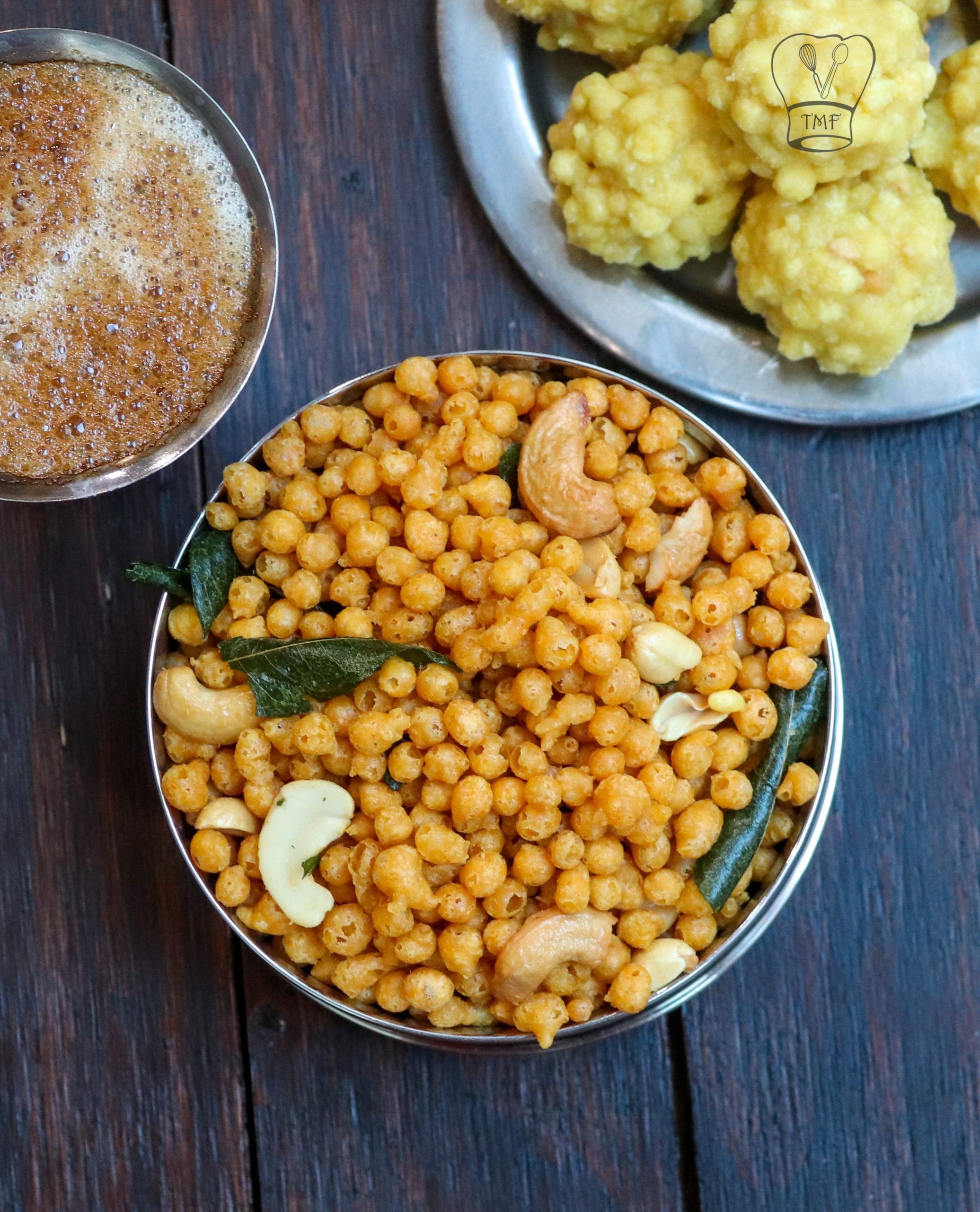 Optimal oil temperature
Drop little boondi in hot oil

Too hot oil - boondi turns dark (burn)

Not hot enough - sink to the bottom of the pan soon after dropping

Right Oil Temperature - boondi float
Check Batter consistency
Tail attached boondhi - the batter is too thick, add little water, mix well and adjust
Round boondi - the batter is the correct consistency. Need not be perfectly round but firm sphere-like balls fried little soft on the inside - Right Boondi Shape & Texture
See more Savory bakshanam recipes

Recipe card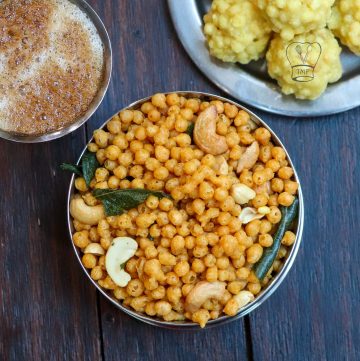 Ingredients
Boondi batter
1

cup

fine besan flour

2

tablespoon

rice flour

1/4

teaspoon

turmeric powder

1/2

teaspoon

Kashmiri chilli powder

1/8

teaspoon

baking soda

1

tablespoon

oil

Required salt

A generous portion of asafoetida

1/2

cup

+ as required water
To fry
few curry leaves

10

cashews

3

tablespoon

peanuts

Oil to fry
Instructions
Heat oil
Heat oil in a heavy-bottomed deep wide pan at medium flame
Boondi batter
Take besan flour, rice flour, baking soda, turmeric powder, red chilli powder, salt, asafoetida, oil, and 1/2 cup of water to a wide mixing bowl

whisk well to form a smooth lump free batter

Add extra water (around 2-3 tbsp) and make a smooth thick pouring consistency batter
Check oil temperature
Drop little boondi in hot oil

Too hot oil - boondi turns dark (burn)

Not hot enough - sink to the bottom of the pan soon after dropping

Right Oil Temperature - boondi float
Fry topping
Firstly fry curry leaves till they turn crispy and keep aside

Add cashews and fry them till they turn golden brown and keep aside

Finally, add peanuts and fry till they turn golden brown and keep aside
Check Batter consistency - boondi shape and texture
Take boondi ladle or any perforated ladle and add a ladle full of batter, tap the boondi ladle gently or lightly swirl the batter with a ladle

Tail attached boondhi - the batter is too thick, add little water, mix well and adjust

Round boondi - the batter is the correct consistency. Need not be perfectly round but firm sphere-like balls fried little soft on the inside - Right Boondi Shape & Texture
Fry boondi
Always keep the boondi ladle or any perforated ladle a few inches away from the pan

Tap the boondi ladle with another ladle or swirl the batter with another ladle(avoid hard press) and prepare boondi in batches

Flip in between for even frying

Fry till bubbles subside. transfer to an oil filter/colander
Boondi mixture
Mix fried curry leaves, cashews, peanuts, and boondi. Boondi mixture ready

For extra spice, you can add extra Kashmiri chili powder and mix ( i skipped it)
Video
Ingredients
Boondi batter
1 cup fine besan flour
2 tablespoon rice flour
1/4 teaspoon turmeric powder
1/2 teaspoon Kashmiri chilli powder
1/8 teaspoon baking soda
1 tablespoon oil
Required salt
A generous portion of asafoetida
1/2 cup + as required water
To fry
few curry leaves
10 cashews
3 tablespoon peanuts
Oil to fry
How to make kara boondi with step by step pictures
Heat oil
Heat oil in a heavy-bottomed deep wide pan at medium flame
Boondi batter
Take besan flour, rice flour, baking soda, turmeric powder, red chilli powder, salt, asafoetida, oil, and 1/2 cup of water to a wide mixing bowl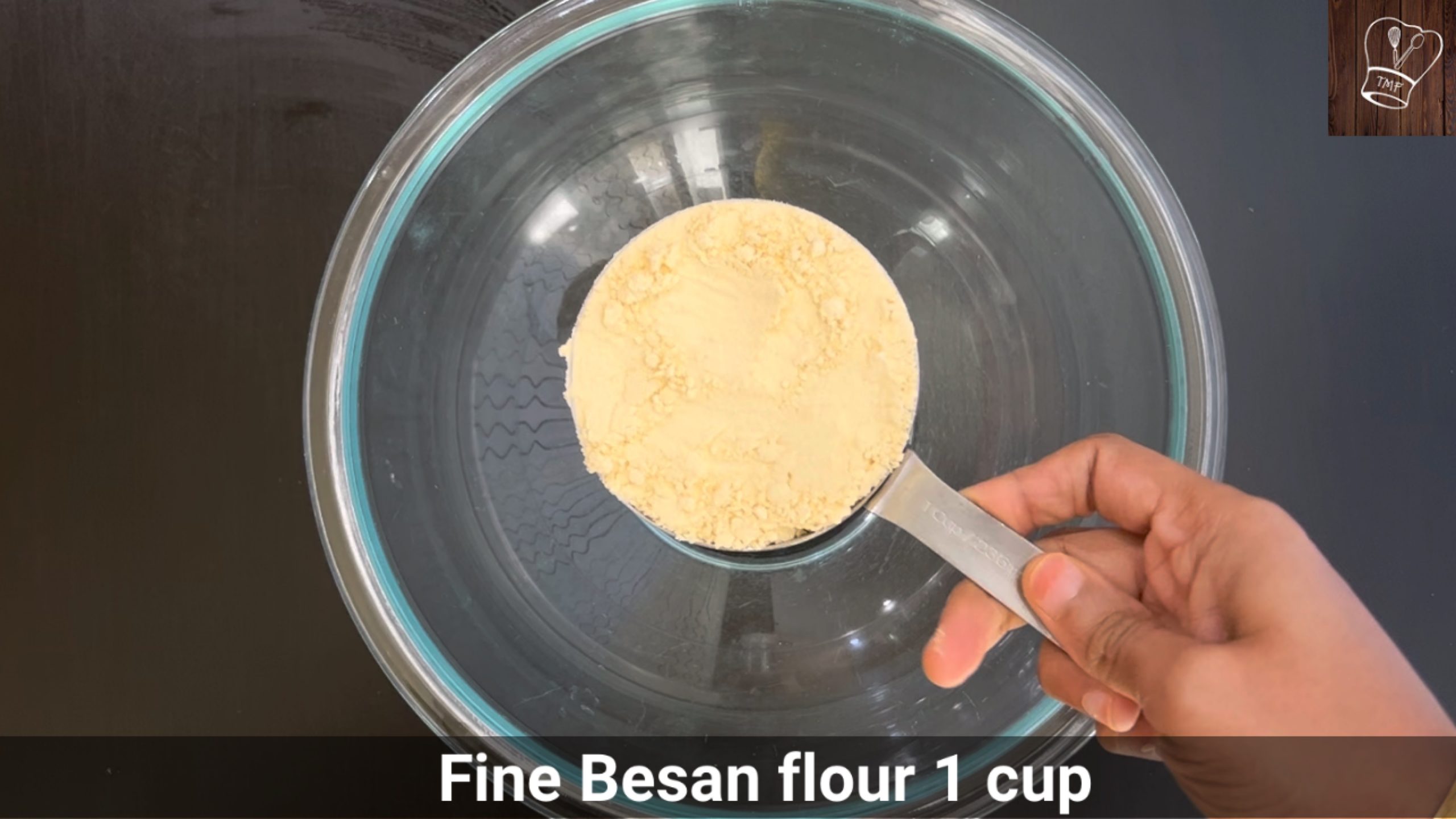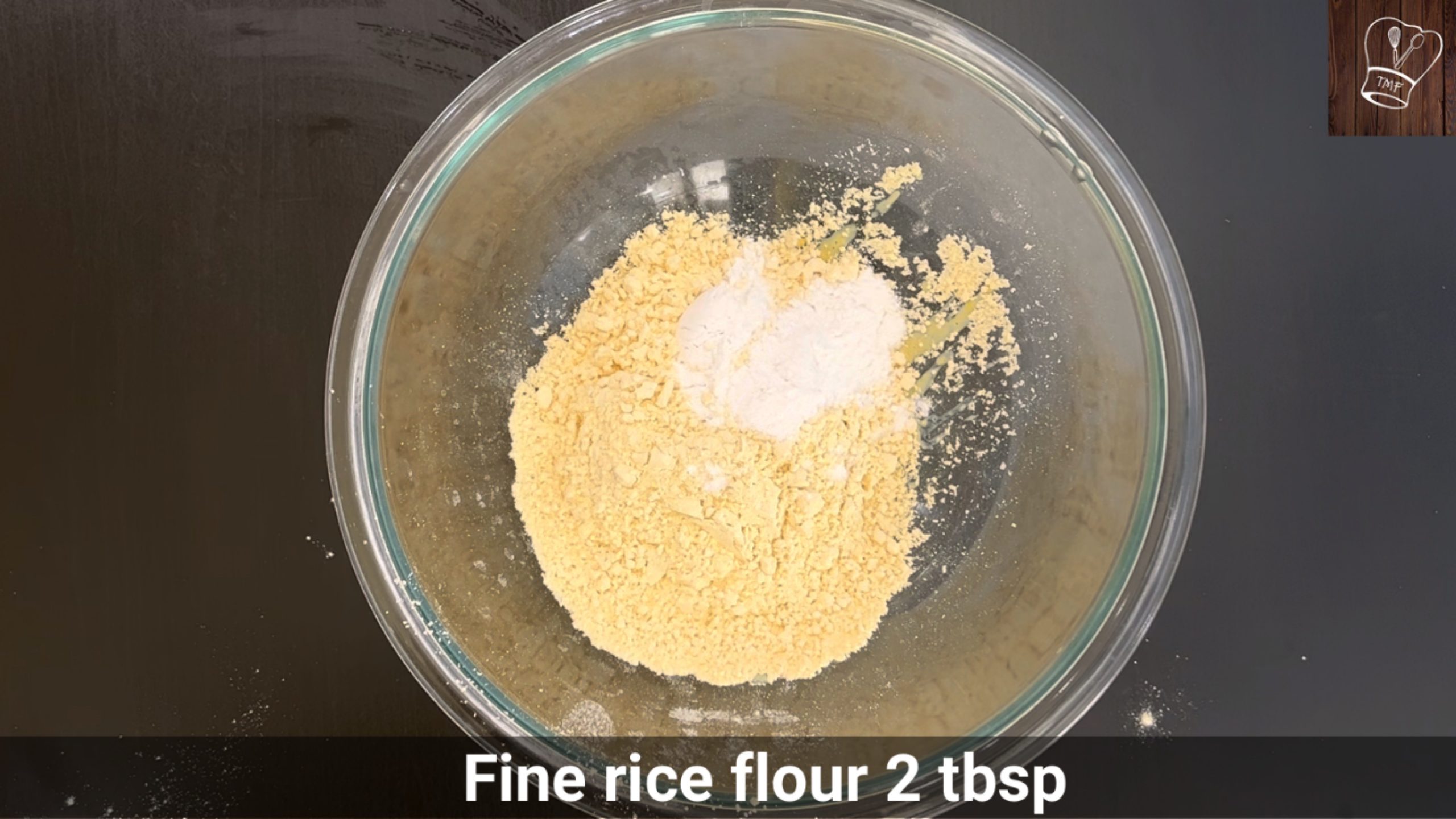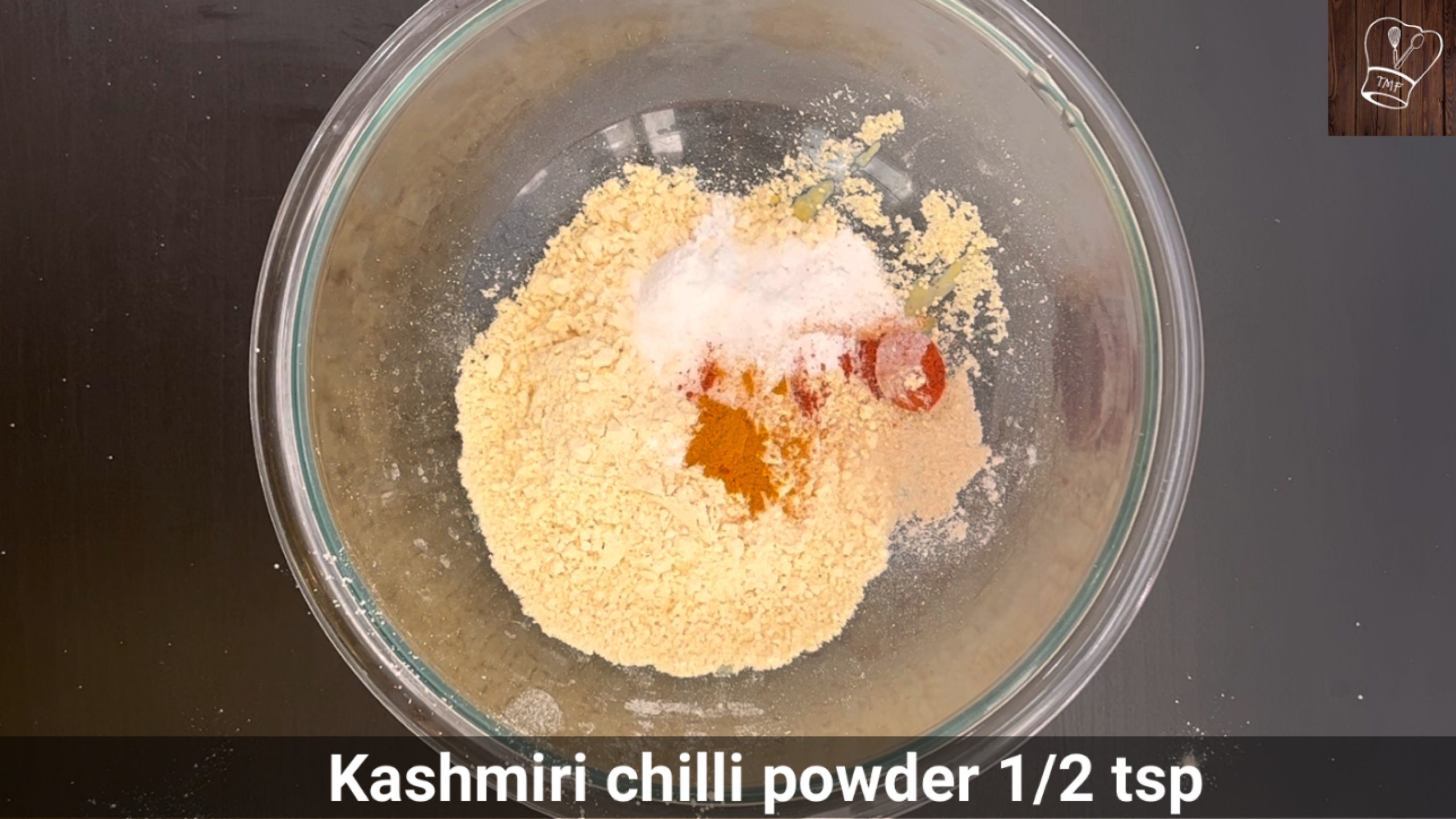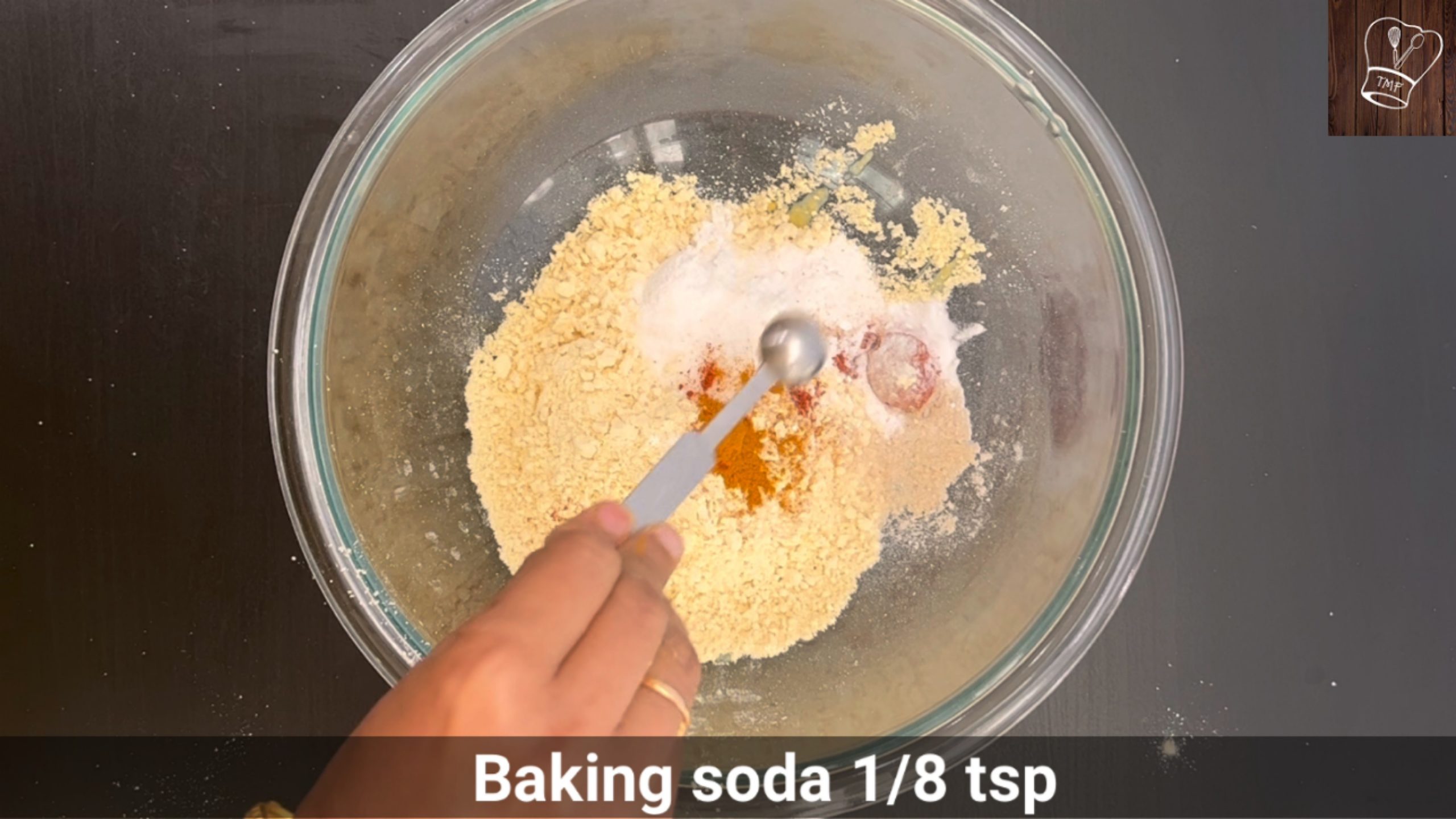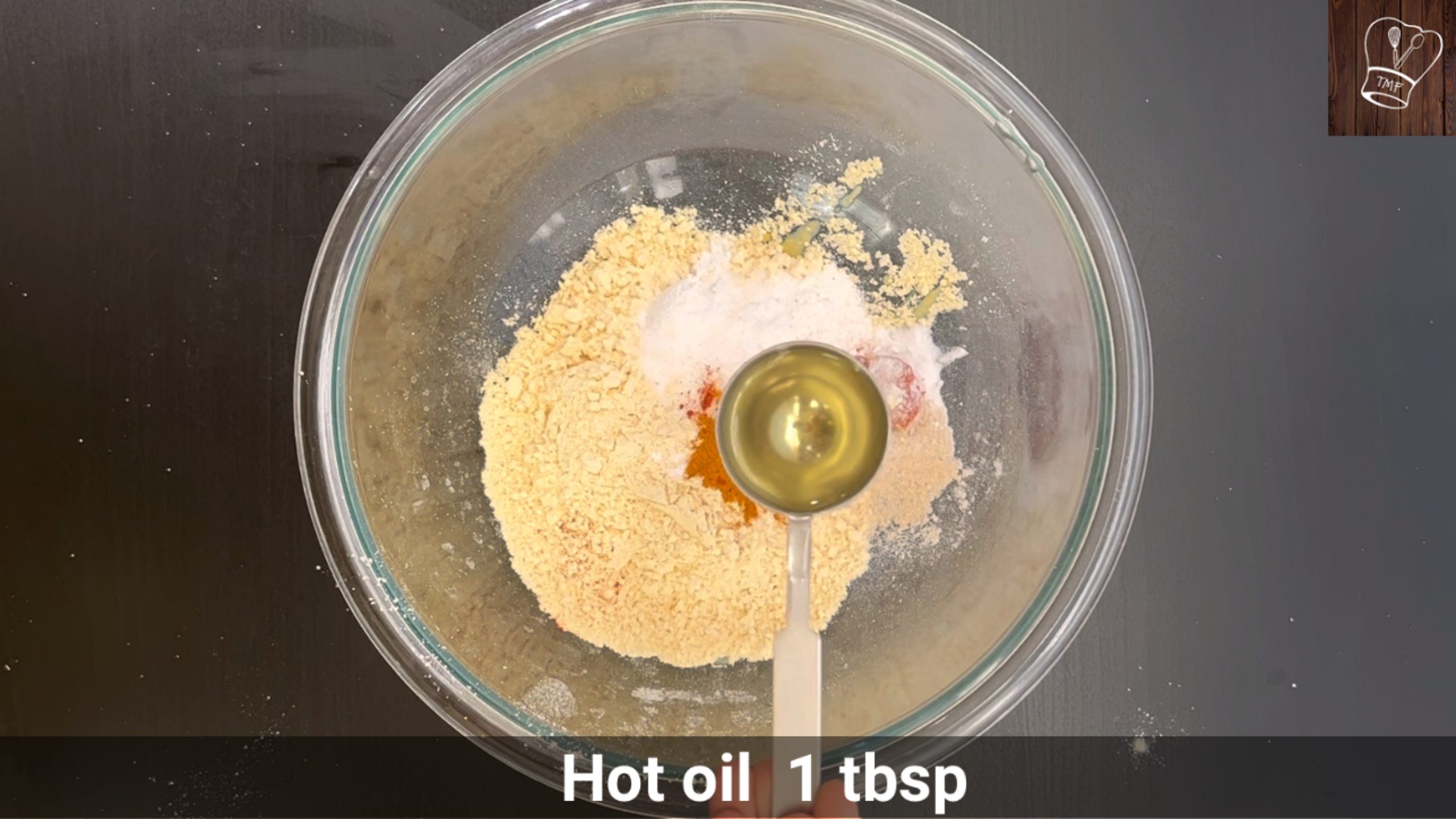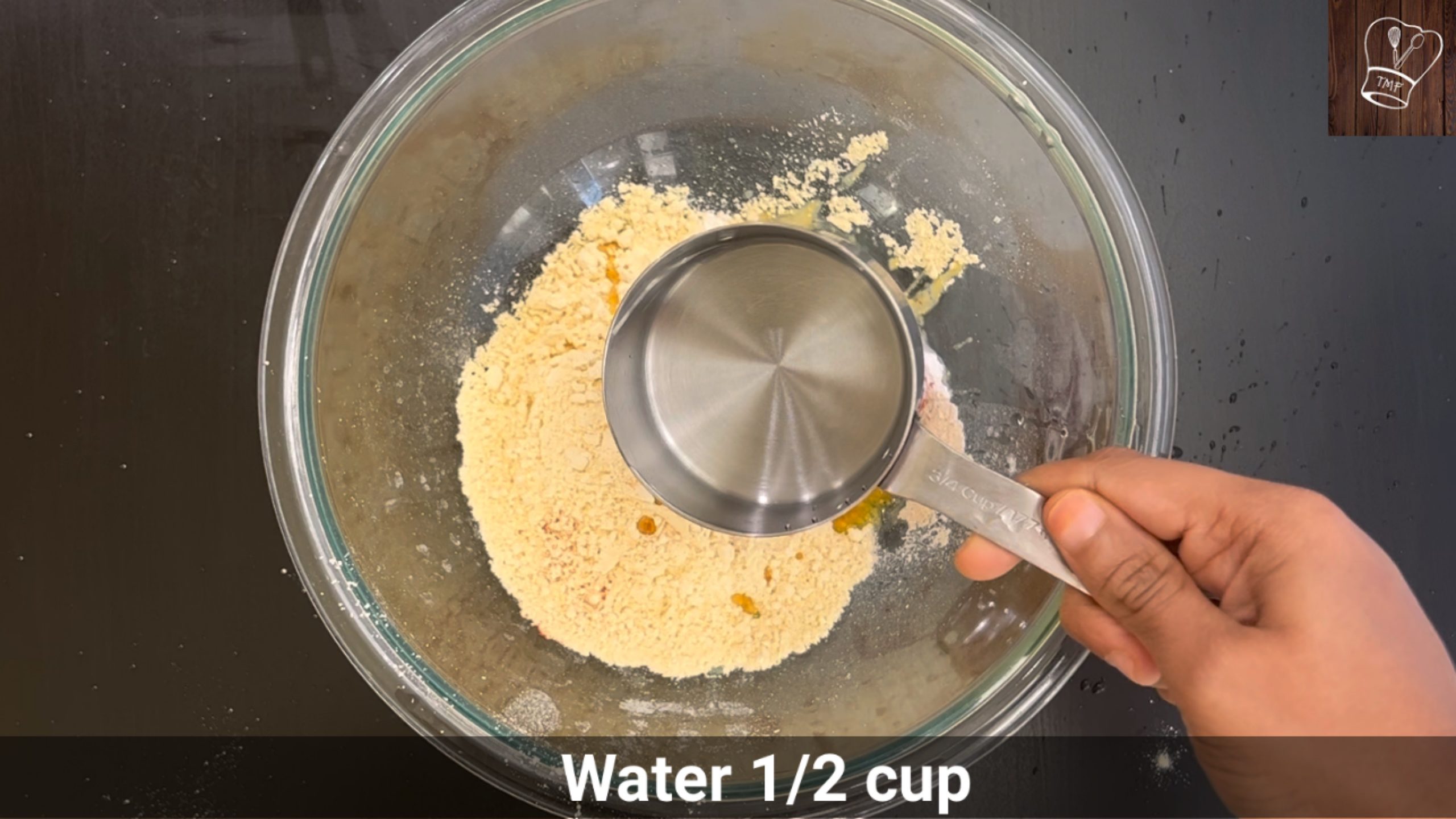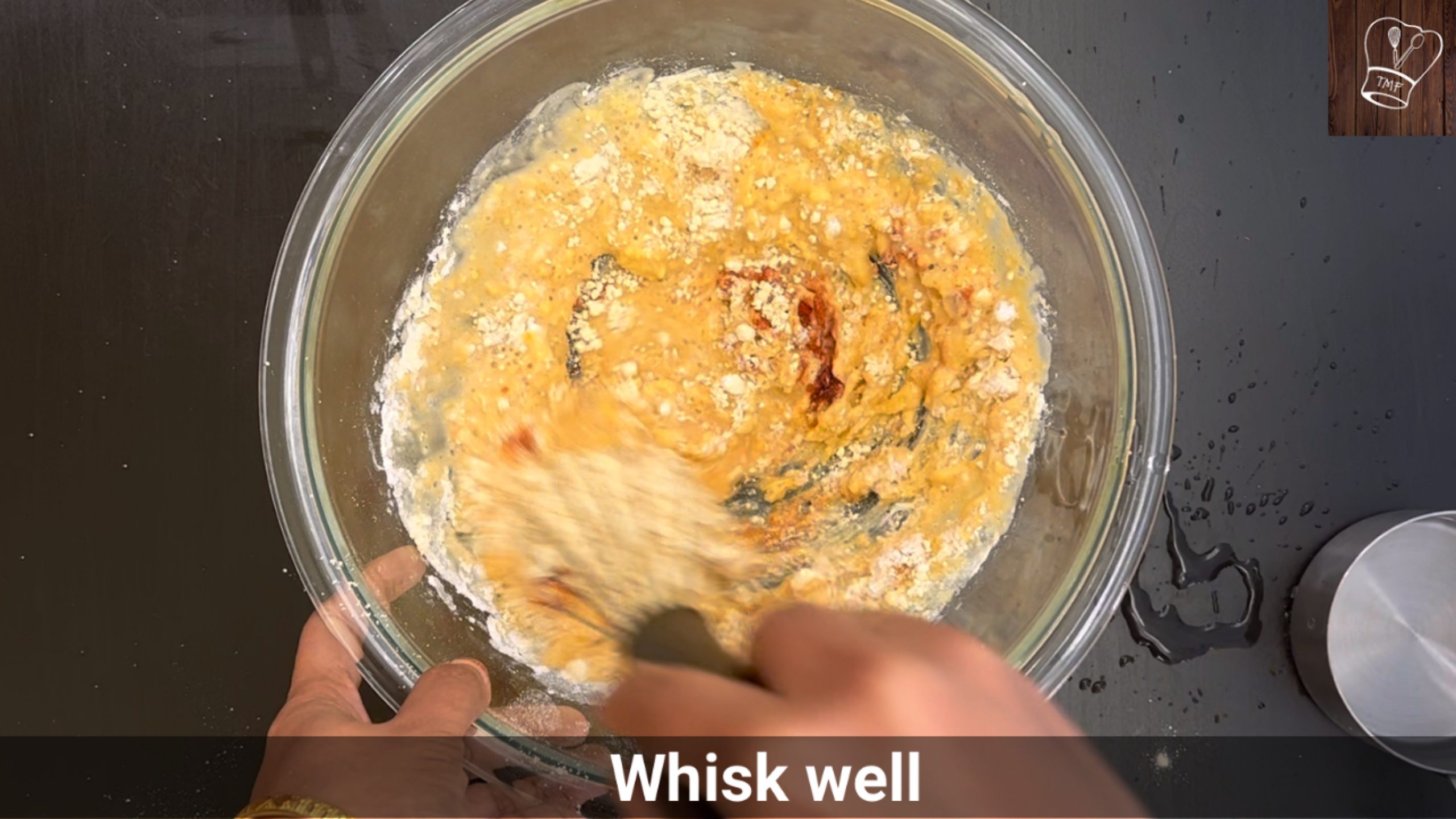 whisk well to form a smooth lump free batter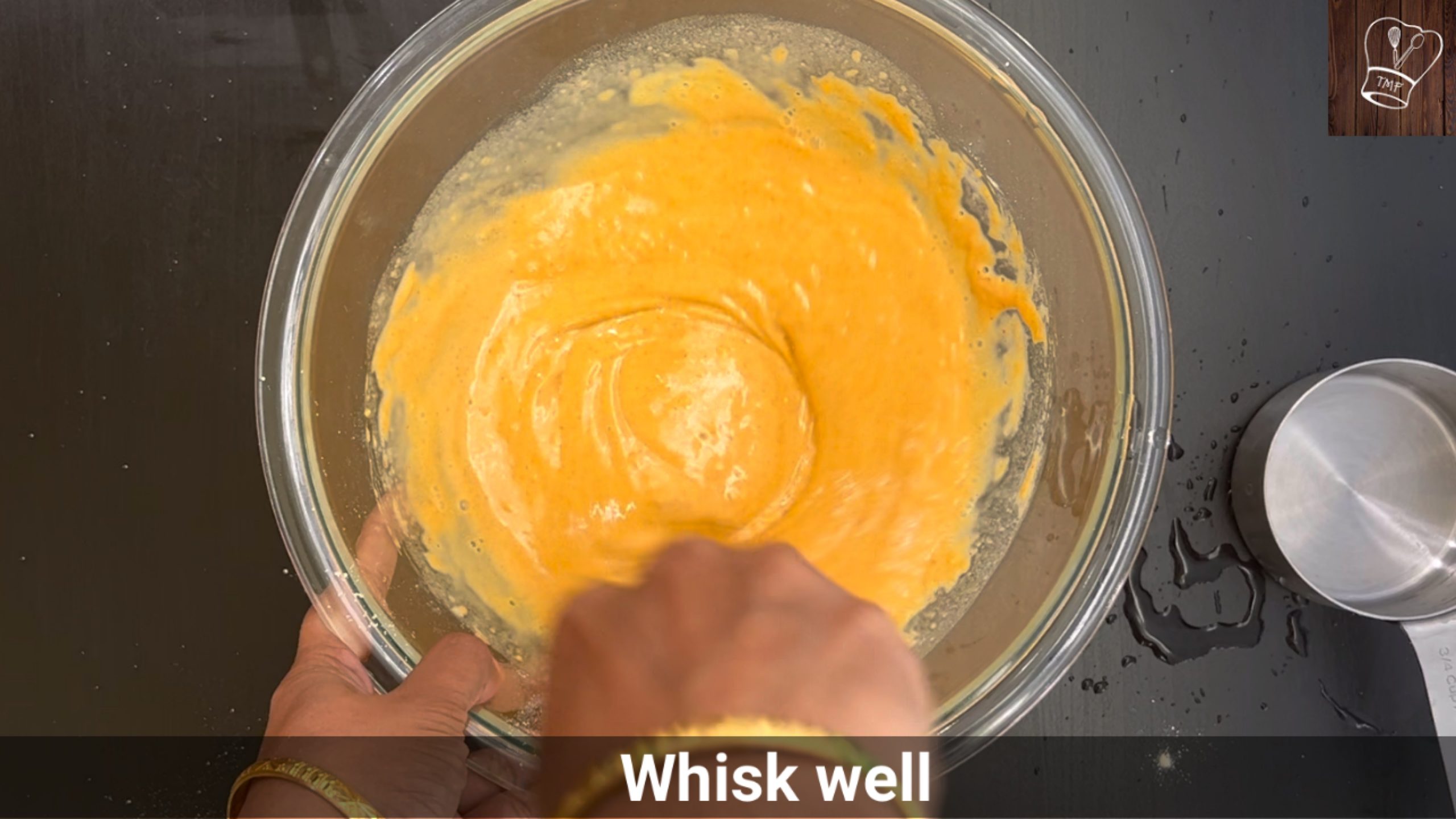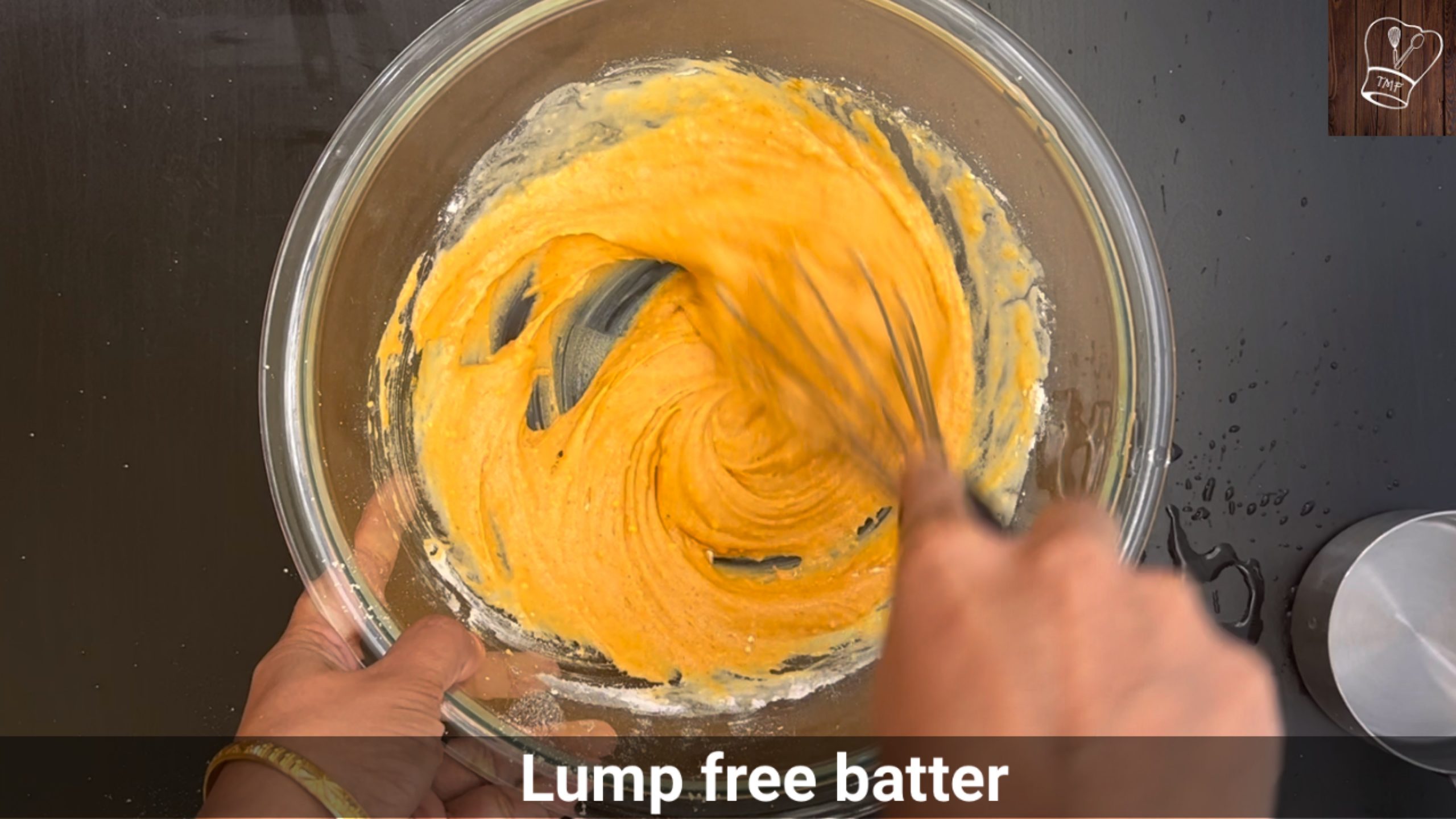 Add extra water (around 2-3 tbsp) and make a smooth thick

pouring consistency batter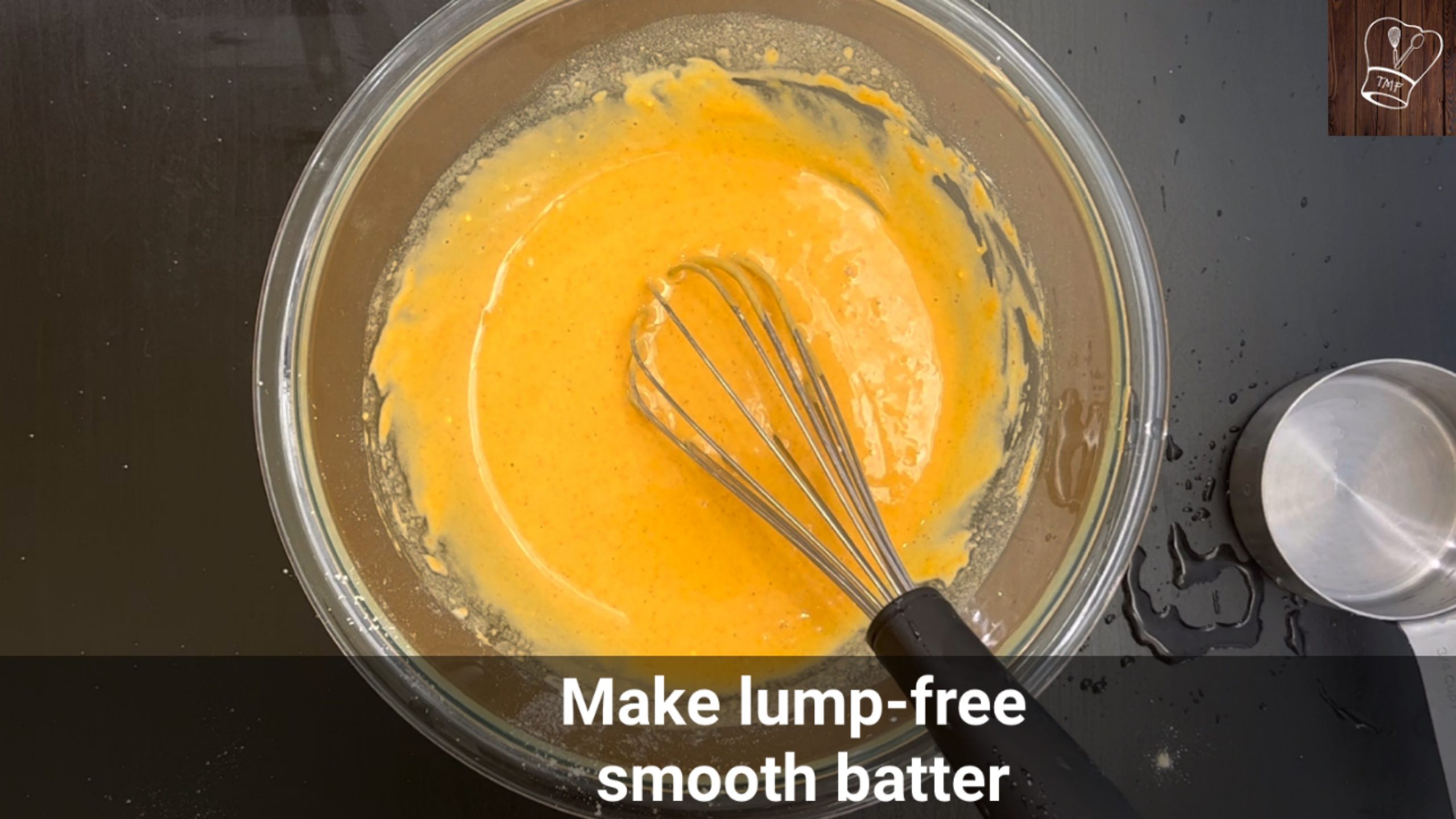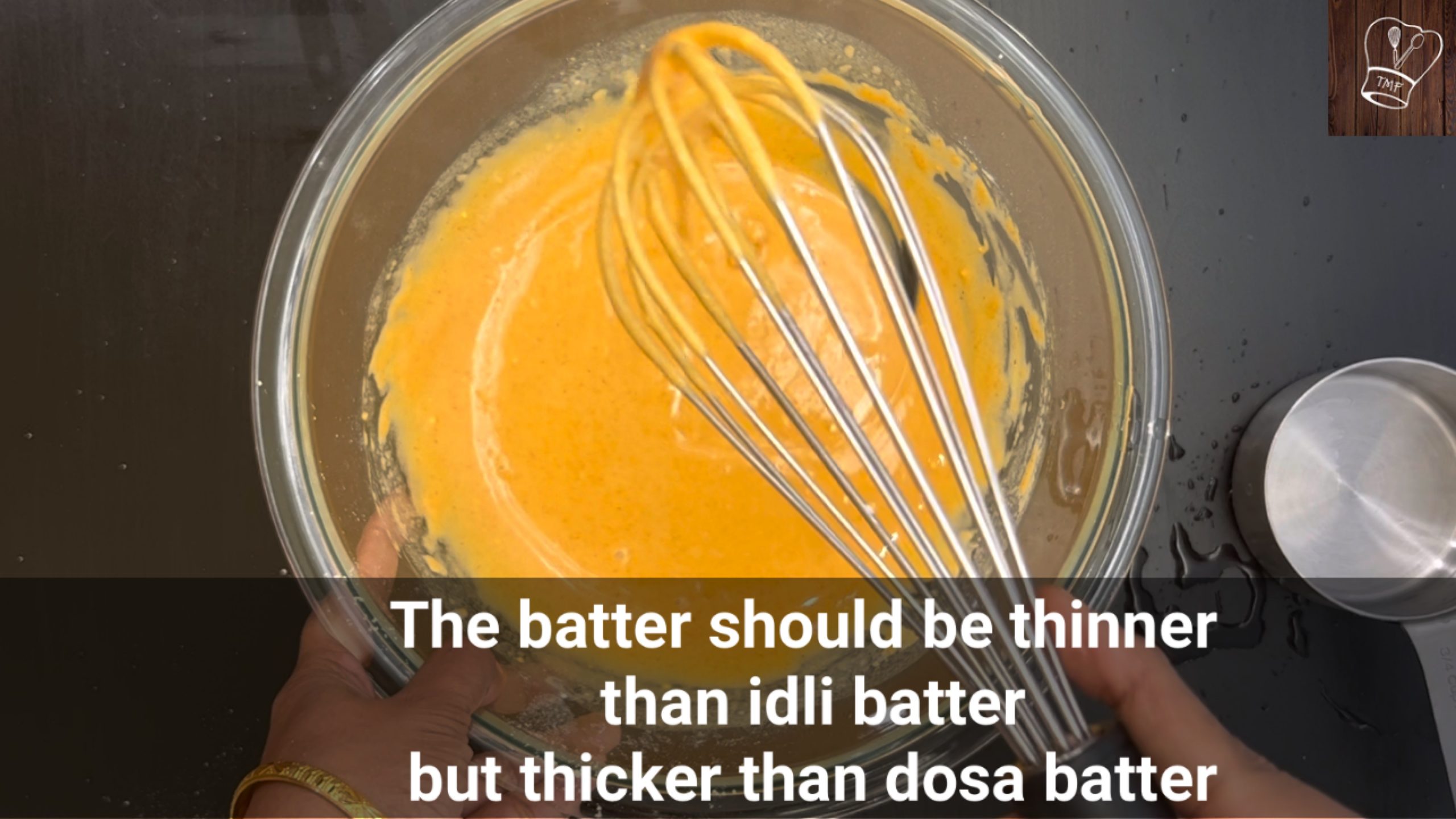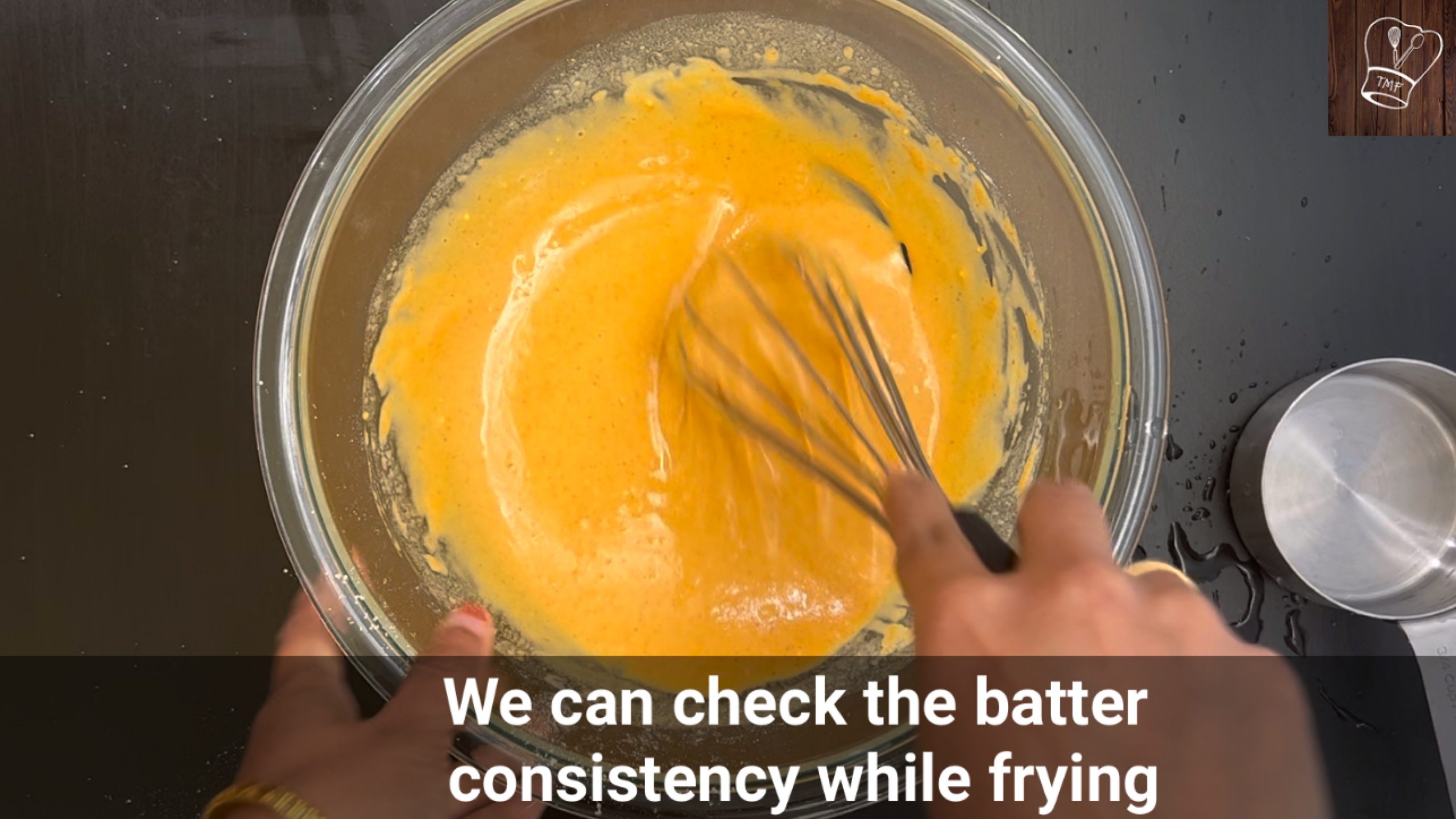 Check oil temperature
Drop little boondi in hot oil

Too hot oil - boondi turns dark (burn)

Not hot enough - sink to the bottom of the pan soon after dropping

Right Oil Temperature - boondi float
Fry topping
Firstly fry curry leaves till they turn crispy and keep aside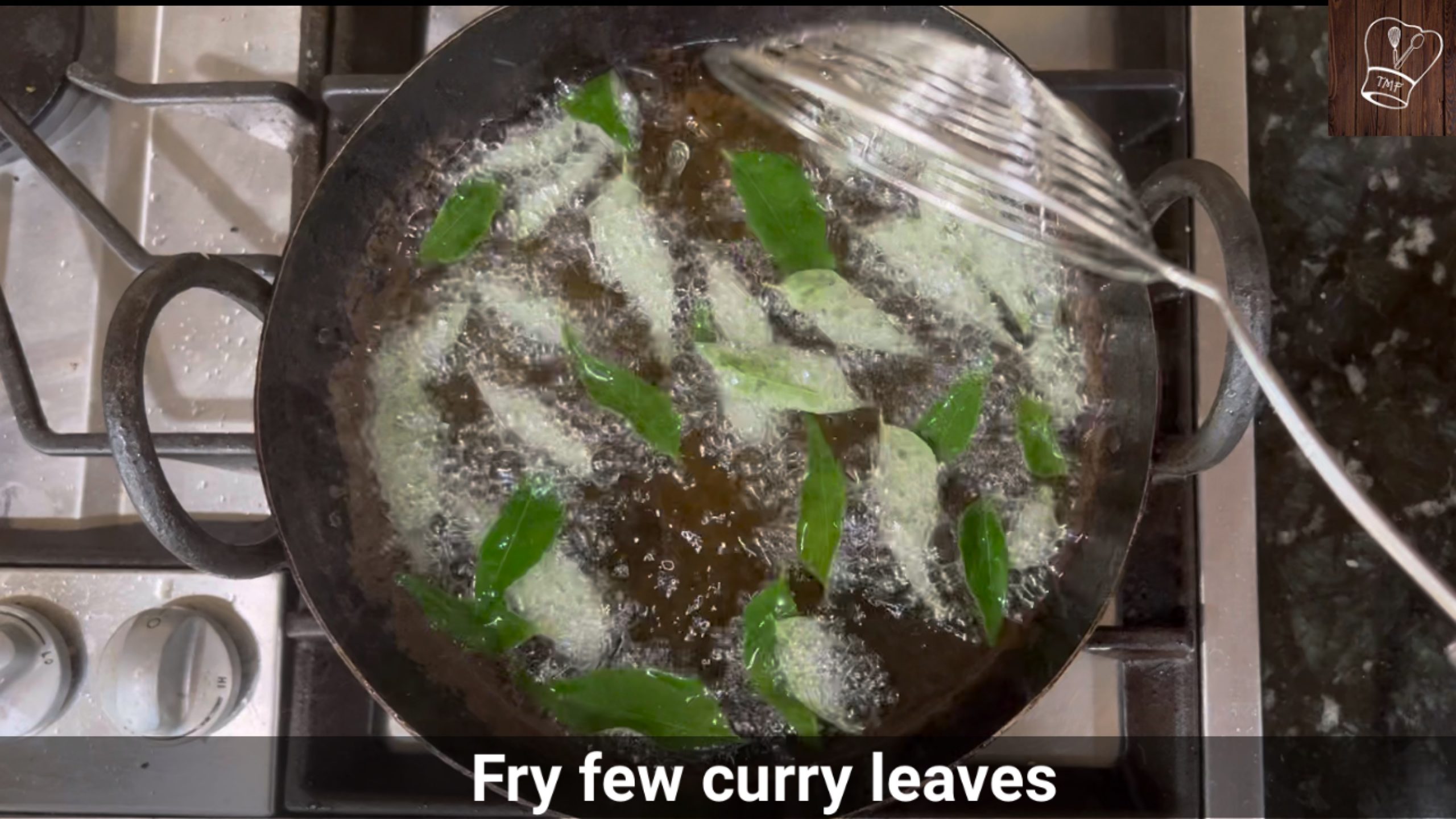 Add cashews and fry them till they turn golden brown and keep aside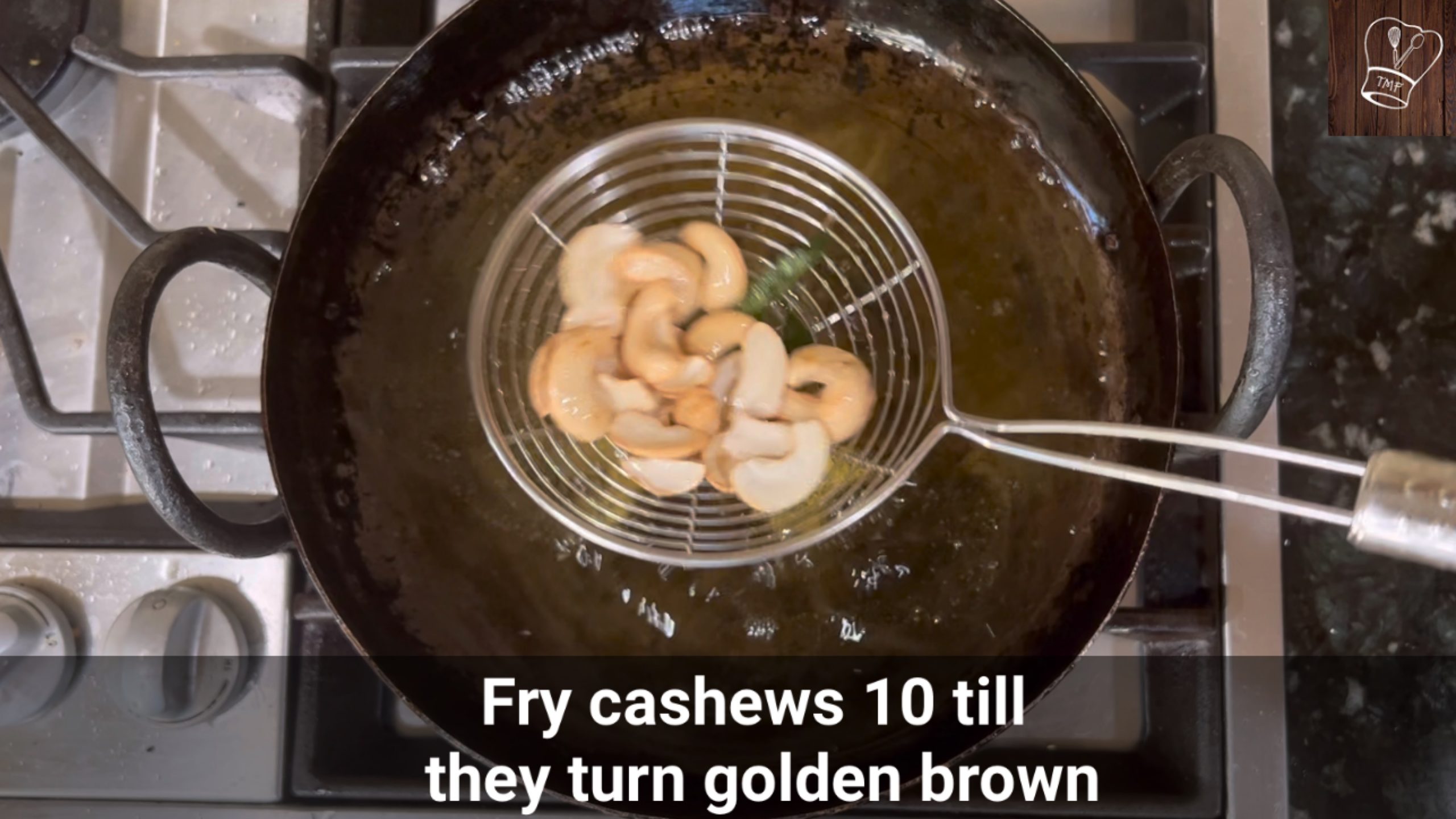 Finally, add peanuts and fry till they turn golden brown and keep aside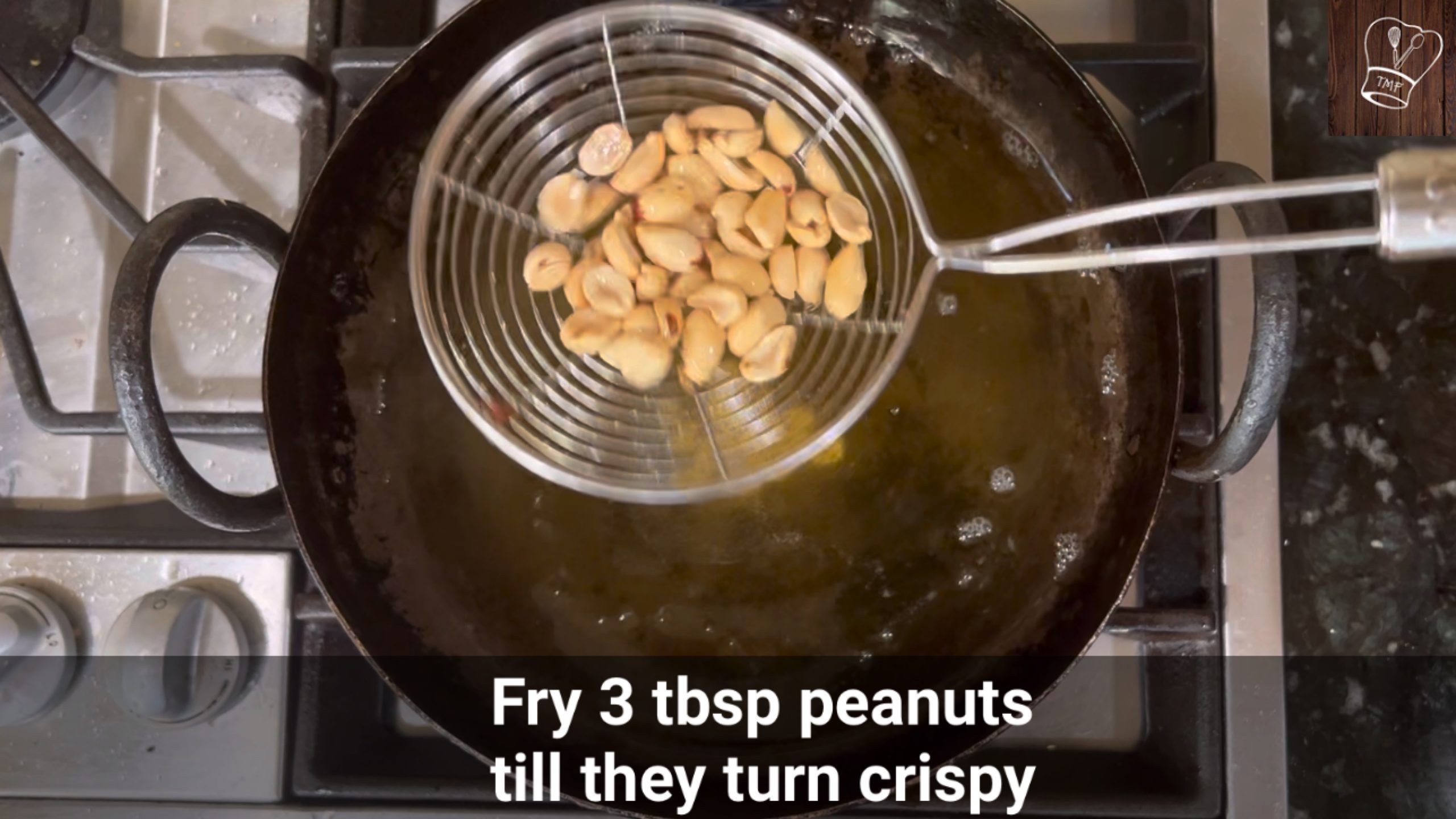 Check Batter consistency - boondi shape and texture
Take boondi ladle or any perforated ladle and add a ladle full of batter, tap the boondi ladle gently or lightly swirl the batter with a ladle

Tail attached boondhi -

the

batter is too thick, add little water

, mix well and adjust

Round boondi

- the batter is the correct consistency.

Need not be perfectly round but firm sphere-like balls fried little soft on the inside

- Right Boondi Shape & Texture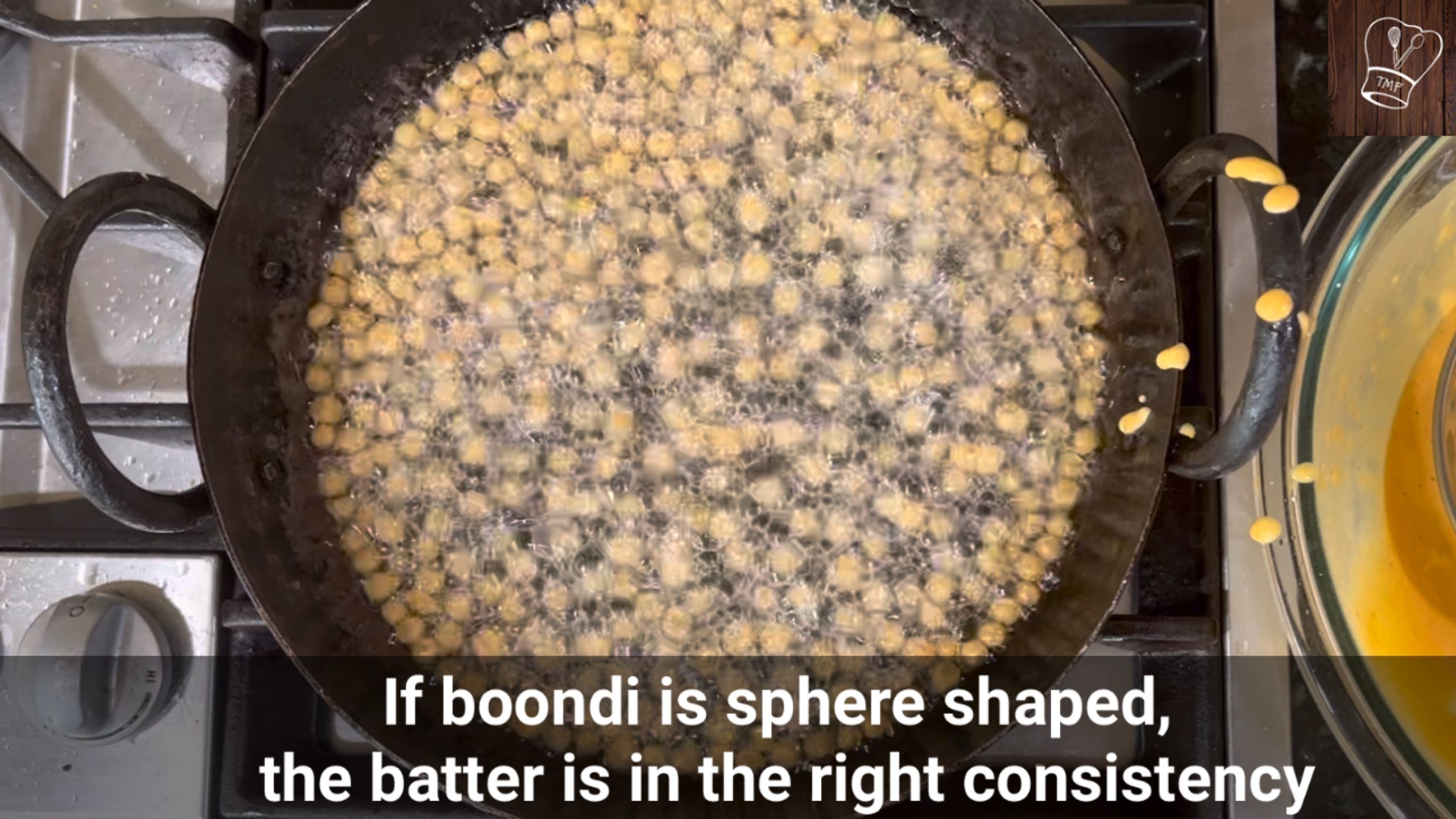 Fry boondi
Always keep the boondi ladle or any perforated ladle a few inches away from the pan
Tap the boondi ladle with another ladle or swirl the batter with another ladle(avoid hard press) and prepare boondi in batches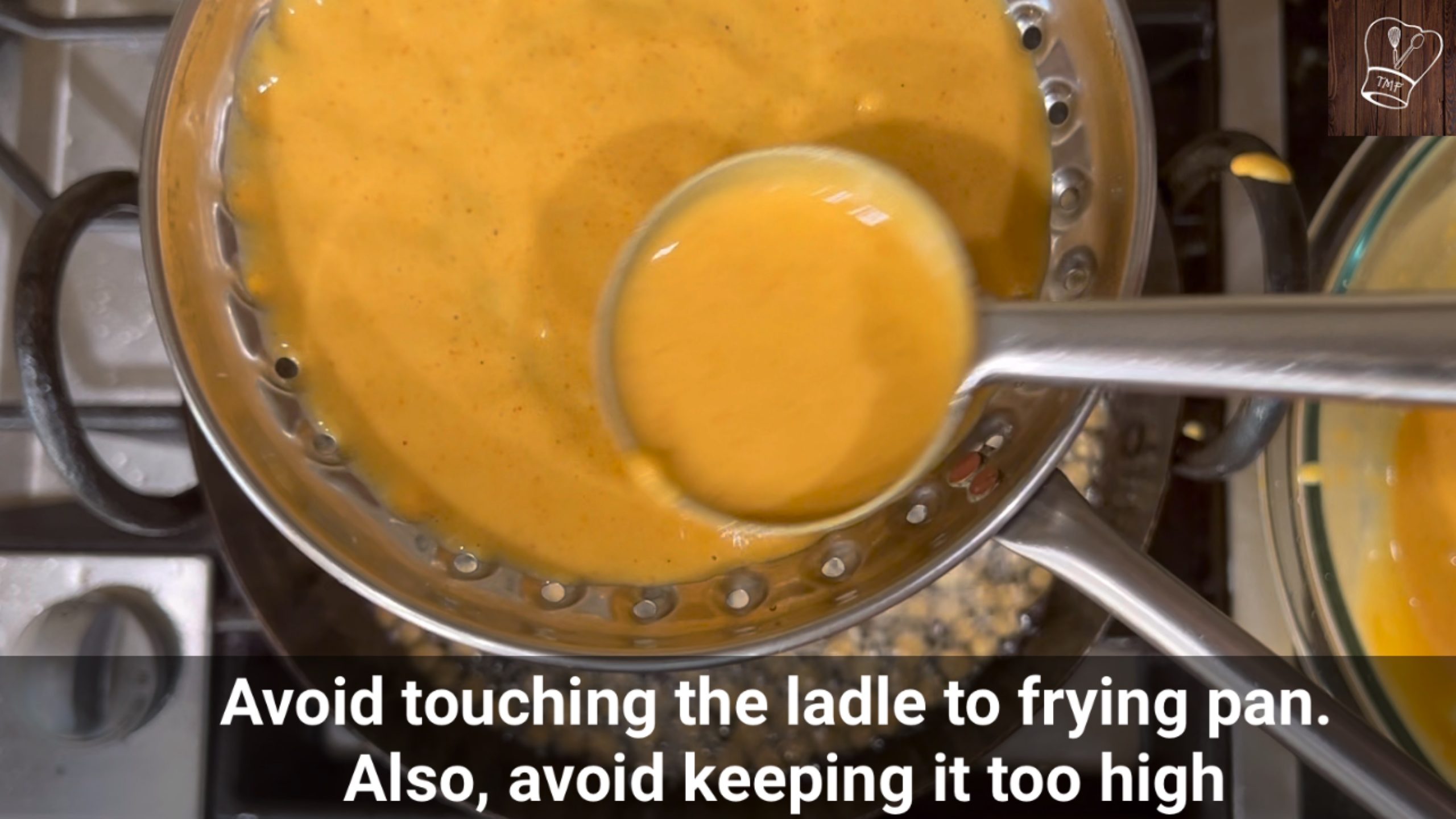 Flip in between for even frying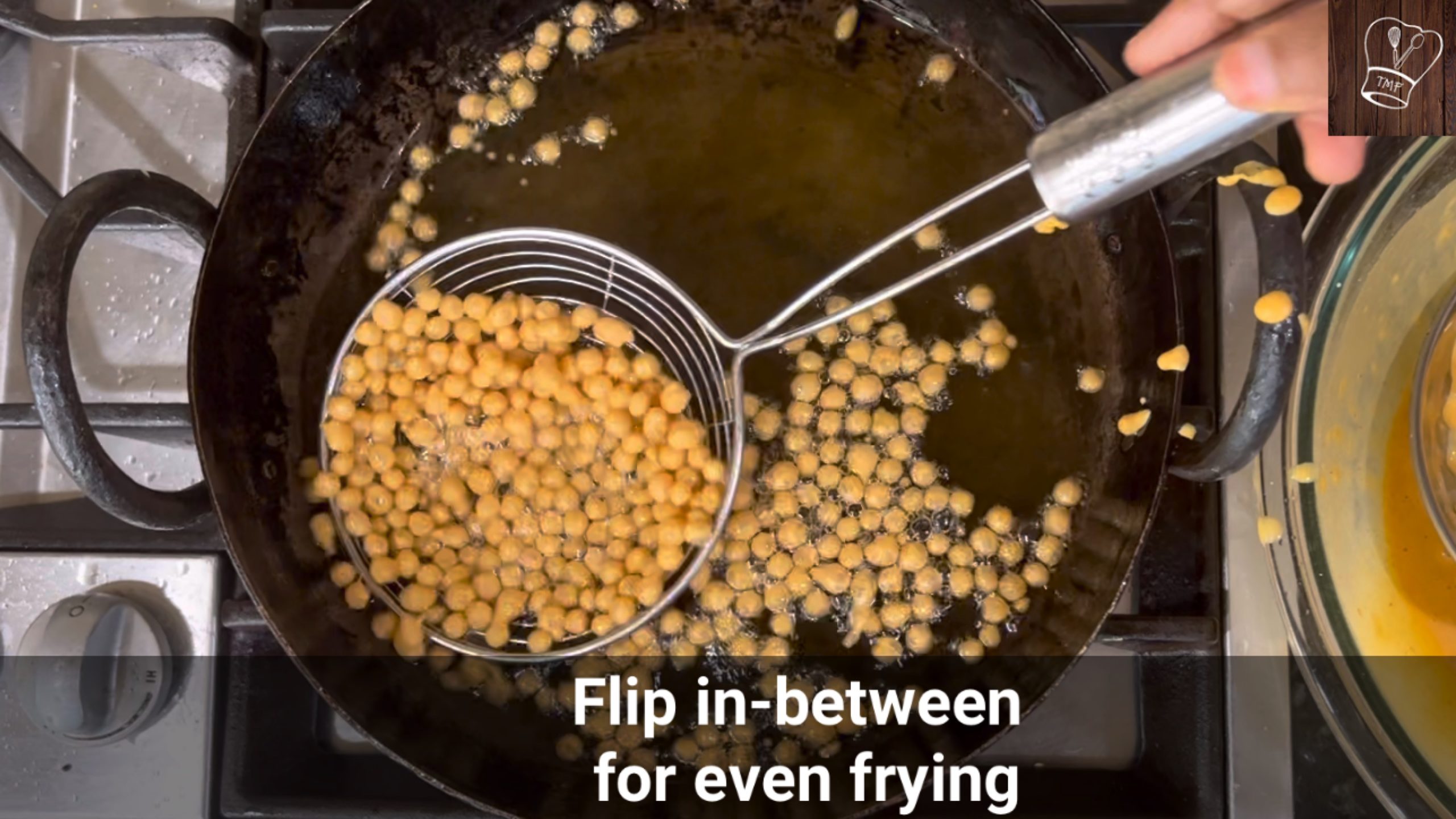 Fry till bubbles subside. transfer to an oil filter/colander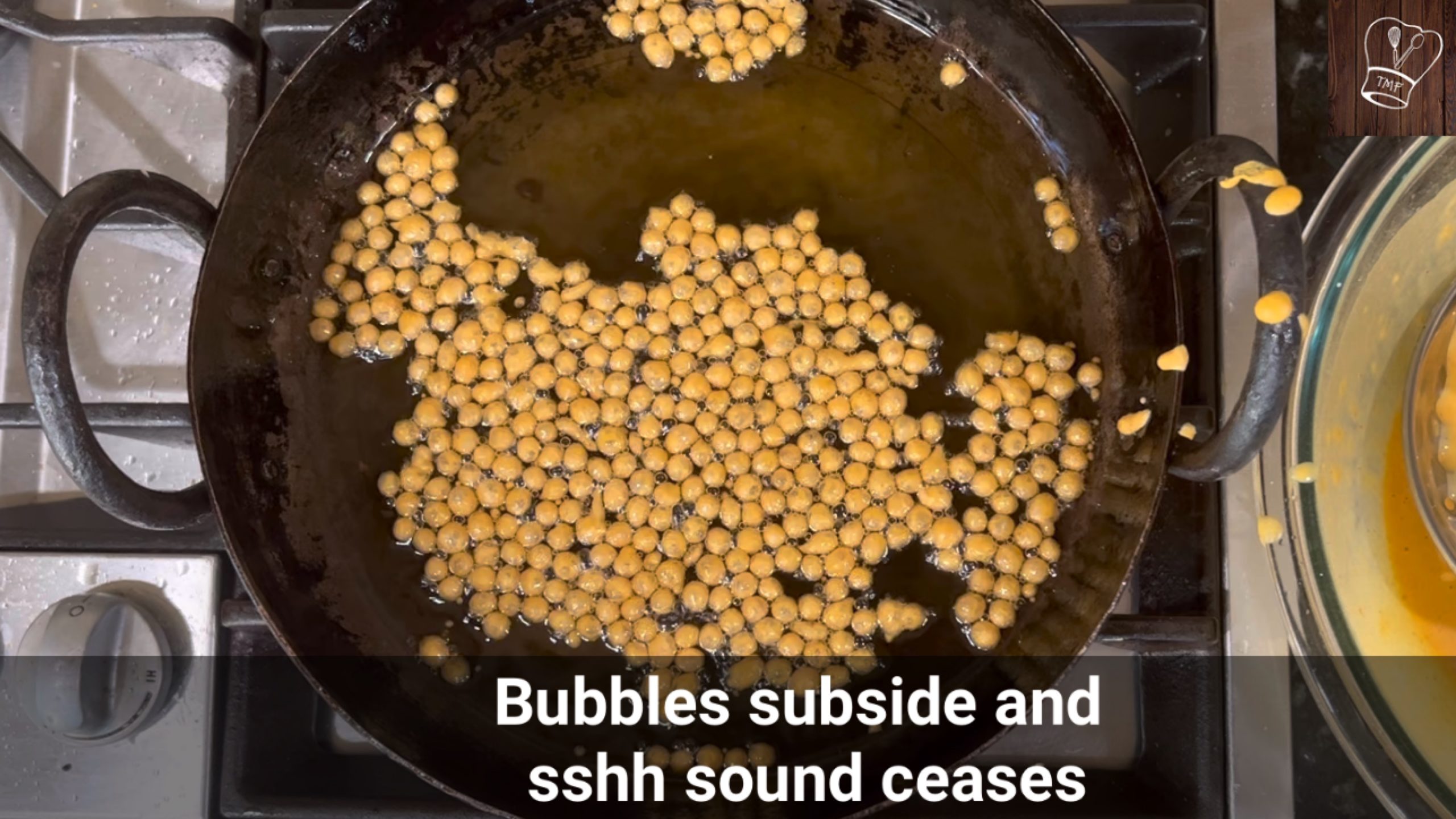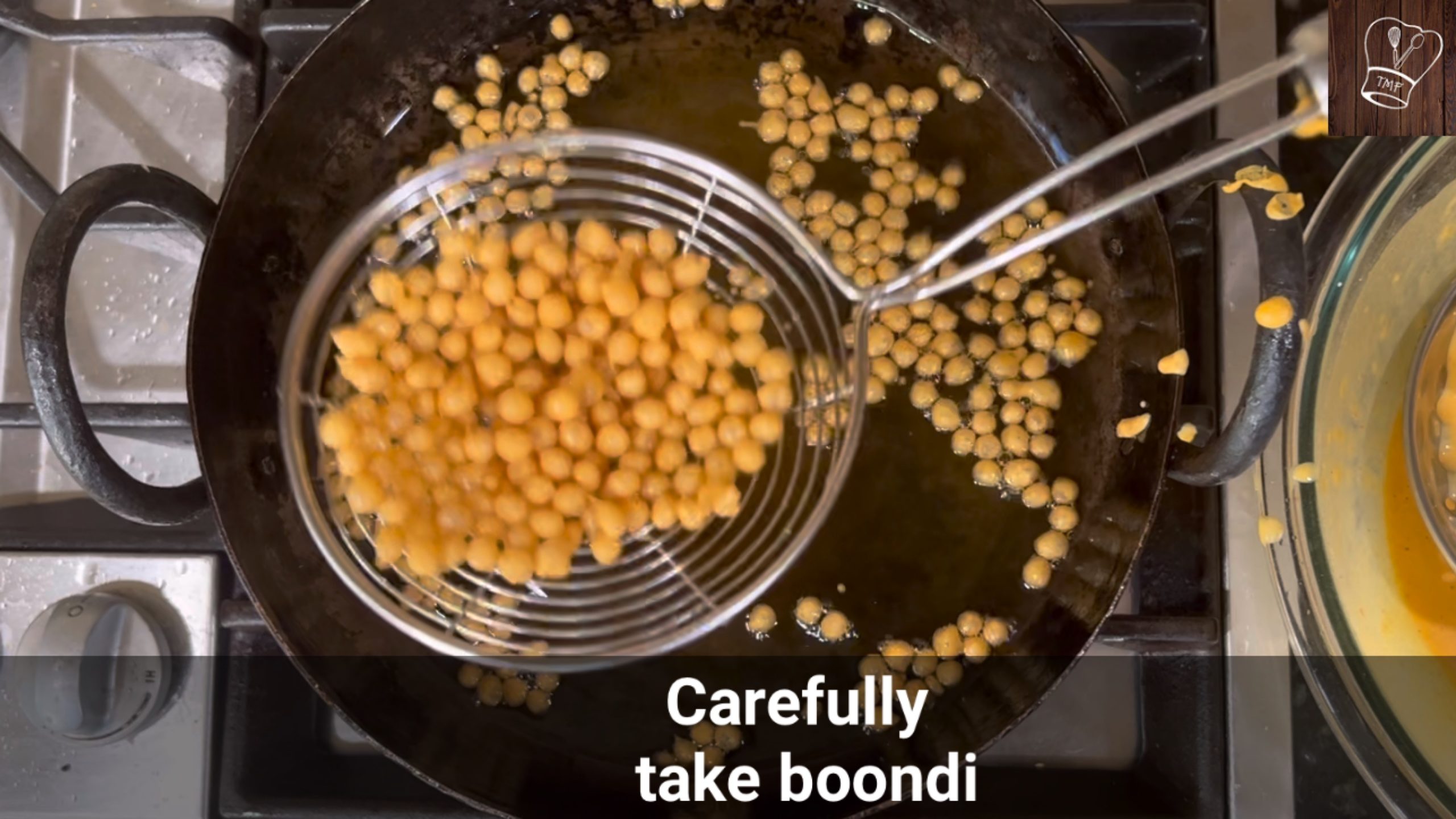 Boondi mixture
Mix fried curry leaves, cashews, peanuts, and boondi. Boondi mixture ready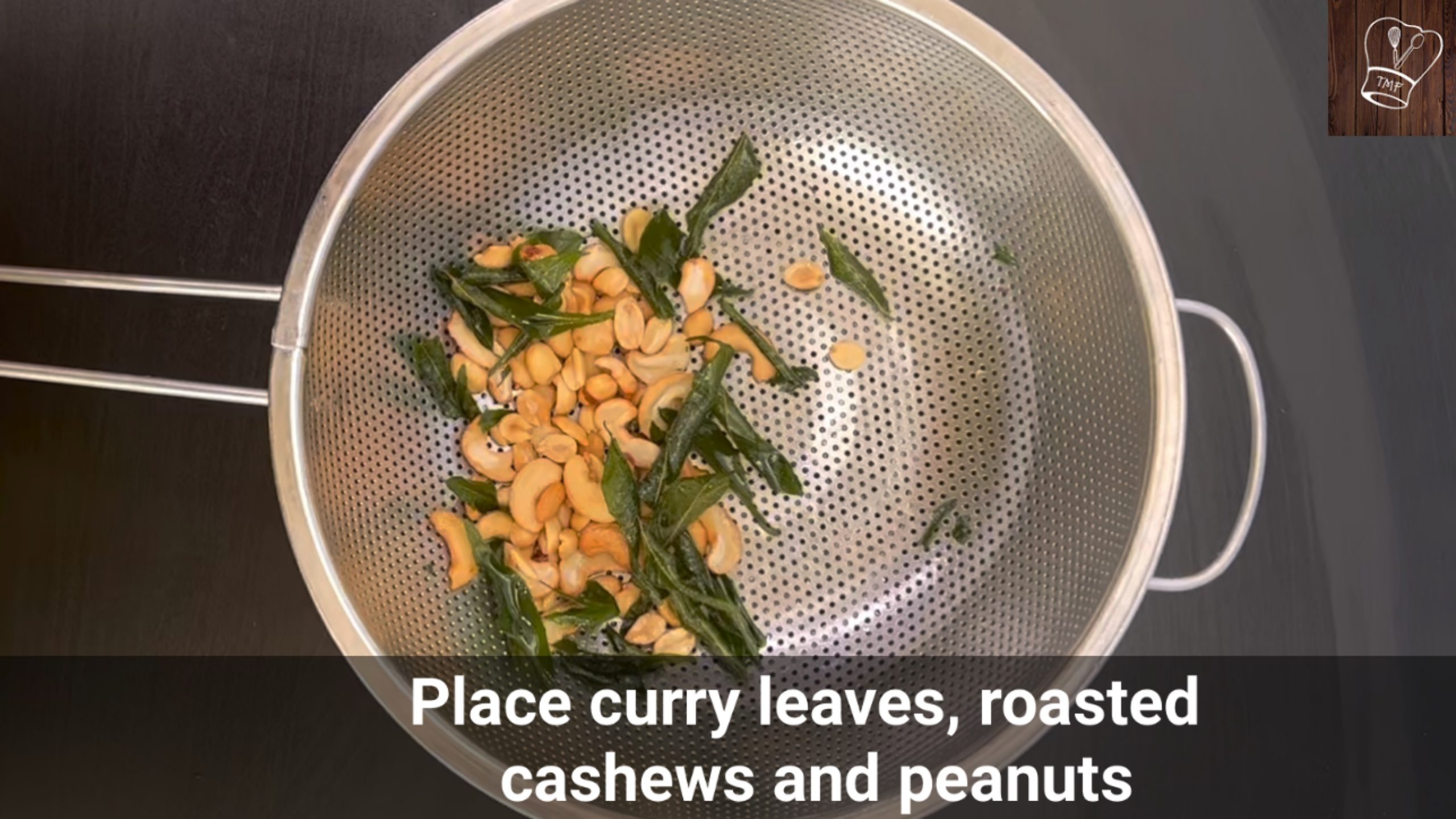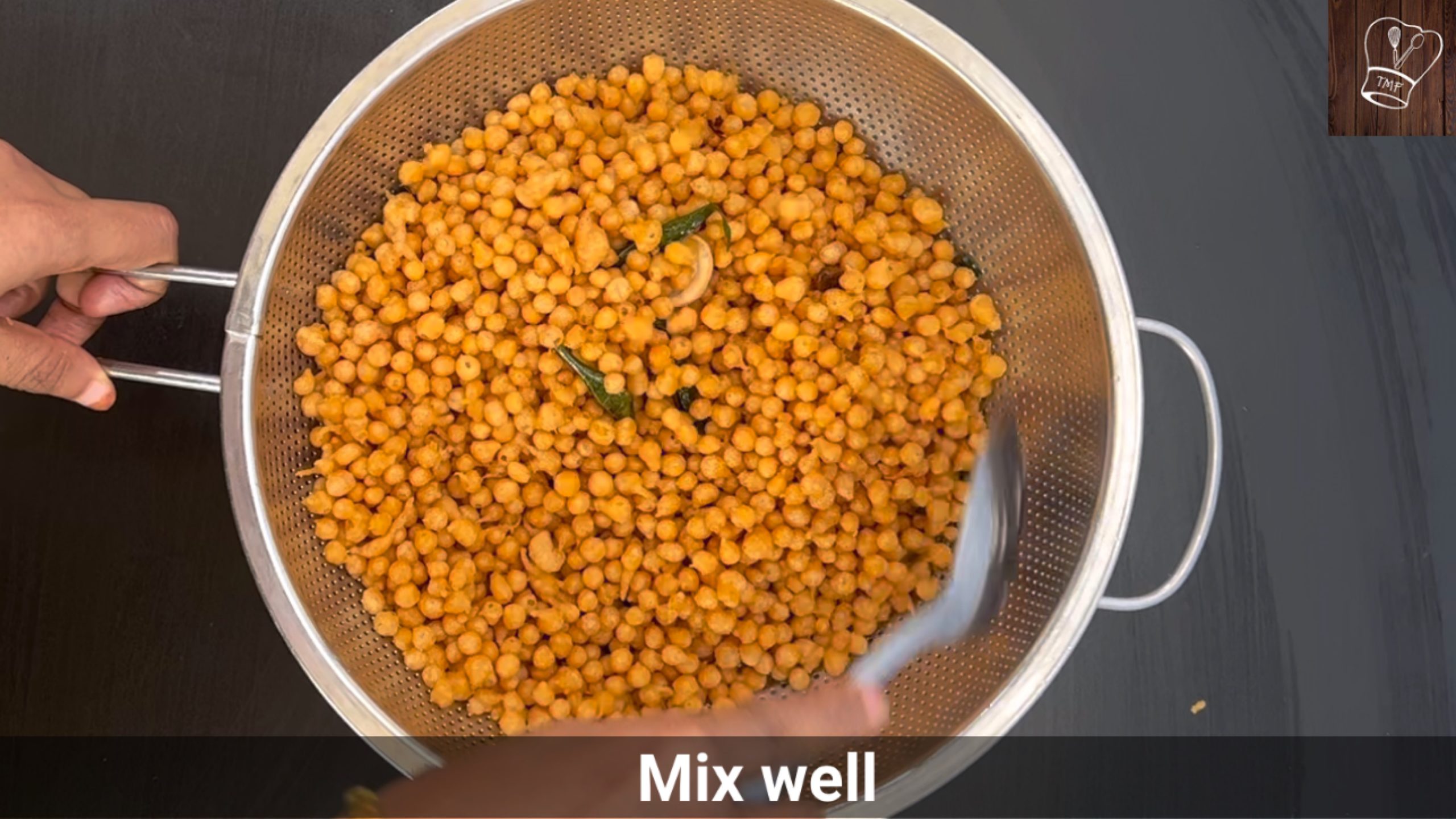 For extra spice, you can add extra Kashmiri chili powder and mix ( i skipped it)