Poondu Paruppu rasam | garlic Paruppu rasam | Dal rasam | hotel style paruppu rasam | Rasam recipe | south Indian style | dal rasam| dhal rasam | Indian lentil soup with step-by-step pictures and video recipe. Check out the paruppu poondu rasam recipe and if you like the video pls SUBSCRIBE to my channel.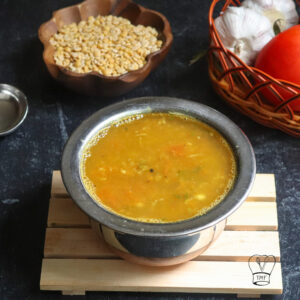 SOUTH INDIAN RASAM RECIPE
South Indian meals (lunch, dinner, or celebration feast) are incomplete without a flavorful rasam on the menu. Rasam podi gives a tasty flavor to the rasam. ingredients and proportions vary across regions. This is my mother's rasam podi recipe. Our family has followed this recipe for years and this podi yields a great aromatic rasam
Poondu PARUPPU RASAM FOR SICK DAYS
During sick days Paruppu rasam with garlic is good for the throat, and lots of cumin and pepper make it a natural remedy for cold. Poondu rasam, milagai kuzhambu, Milagu rasam, and marundhu kuzhambu are also my choice for sick days.
CAN I REDUCE THE NUMBER OF TOMATOES FOR PARUPPU RASAM?
For dal rasam, I prefer the taste of sourness from tamarind and tomatoes. If you are reducing tomatoes, adjust the amount of tamarind accordingly. For lemon flavor check out lemon rasam
SHOULD I USE MORTAR & PESTLE FOR RASAM?
Yes, it gives the best texture and taste to the rasam. If you don't have it, pulse in the mixie jar. Avoid grinding
CAN I INCREASE TOMATO AND REDUCE TAMARIND?
Yes, you can adjust the ingredients according to your taste.
SHOULD I BOIL THE RASAM FOR A LONG TIME?
No, avoid boiling the rasam for a long time, always cook rasam on low- medium flame till you see some frothy boil.
CAN I MAKE VEGAN THAKKALI I AM RASAM?
Yes, skip ghee and add oil or vegan butter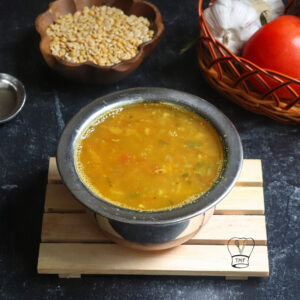 Ingredients
To pressure cook dal
1/4 cup toor dal
3/4 cup water
1/4 teaspoon turmeric powder
1/8 teaspoon sesame oil
To pressure cook tamarind
1 cup tamarind water
Required salt
1 big tomato
1/2 teaspoon rasam powder
1/4 teaspoon turmeric powder
Temper
1 tablespoon ghee
1/2 teaspoon mustard seeds
Asafoetida
1/4 teaspoon ginger
Rasam
1 + 1/4 cup water
Coriander and curry leaves few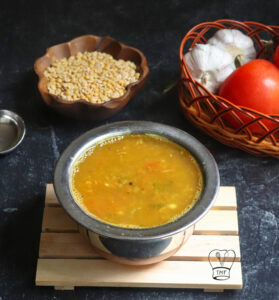 How to make poondu paruppu rasam with step-by-step pictures
First, soak toor dal for 20 minutes
Add dal, water, turmeric powder, and sesame oil to one separator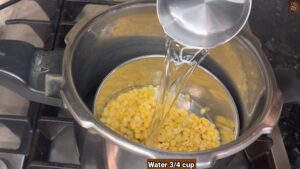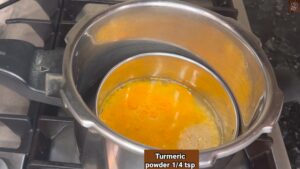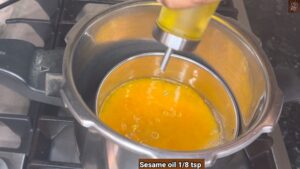 Place another separator on top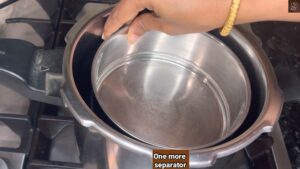 Add tamarind water, tomato, garlic, turmeric powder, and rasam powder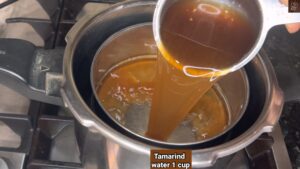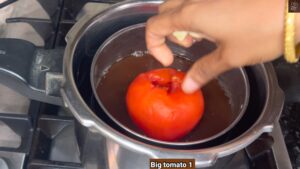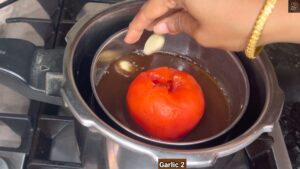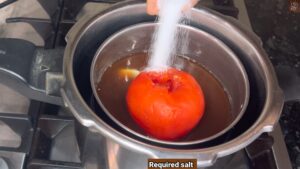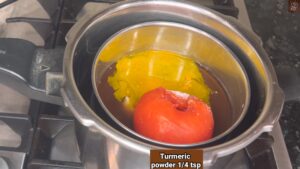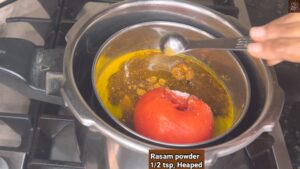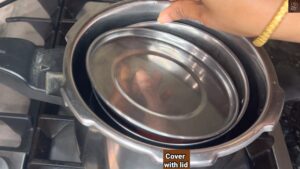 Pressure cook for 5 whistles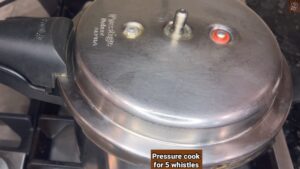 Mash them well and keep them aside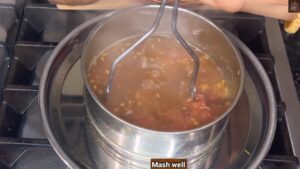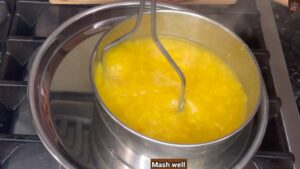 Add pepper, cumin seeds, Oman, garlic, and fenugreek seeds to a mortar & pestle; crush well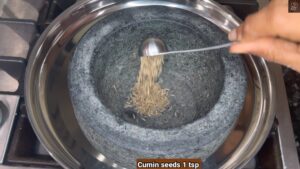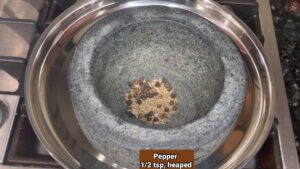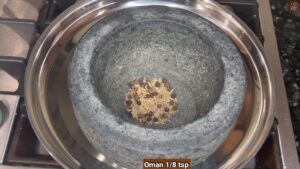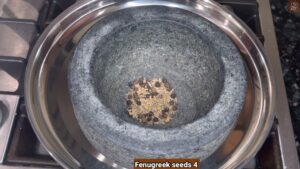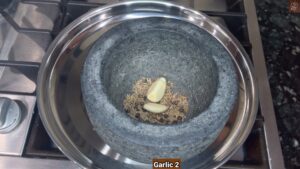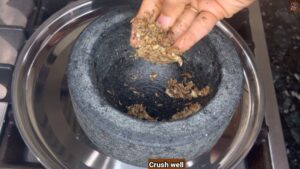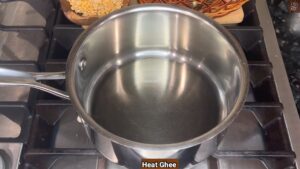 Furthermore, add mustard seeds; splutter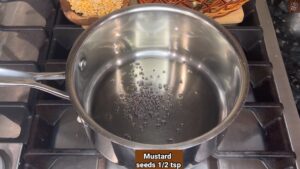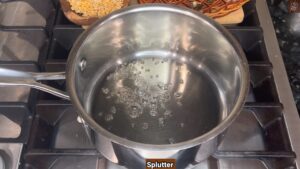 Add ginger, asafoetida, and crushed mixture; saute till garlic turns golden brown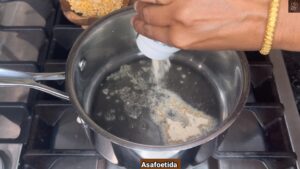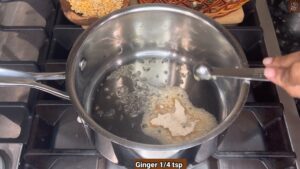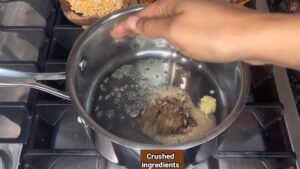 Furthermore, add tamarind - tomato water, cooked Dal and water; mix well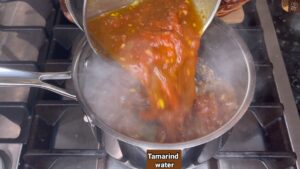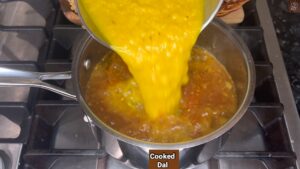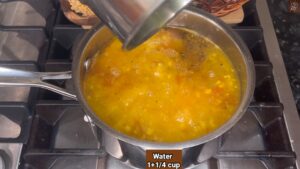 Add curry and coriander leaves; mix well and bring to a frothy boil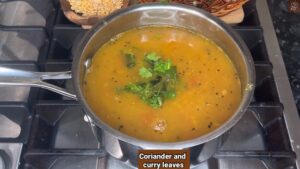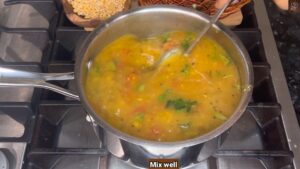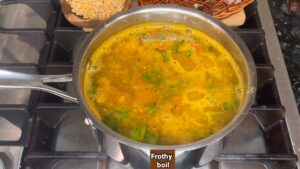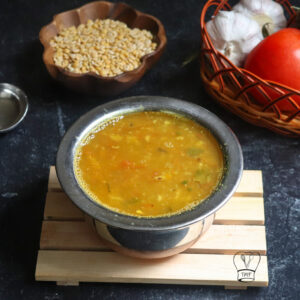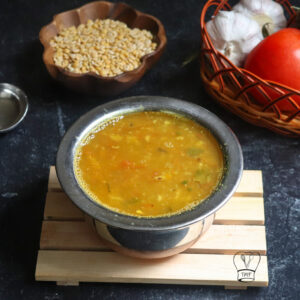 Ingredients
To pressure cook dal
1/4

cup

toor dal

3/4

cup

water

1/4

teaspoon

turmeric powder

1/8

teaspoon

sesame oil
To pressure cook tamarind
1

cup

tamarind water

Required salt

1

big tomato

1/2

teaspoon

rasam powder

1/4

teaspoon

turmeric powder
Temper
1

tablespoon

ghee

1/2

teaspoon

mustard seeds

Asafoetida

1/4

teaspoon

ginger
Rasam
1

+ 1/4 cup water

Coriander and curry leaves few
Instructions
First, soak toor dal for 20 minutes

Add dal, water, turmeric powder and sesame oil to one separator

Place another separator on top

Add tamarind water, tomato, garlic, turmeric powder and rasam powder

Cover with a lid

Pressure cook for 5 whistles

Mash them well and keep aside

Add pepper, cumin seeds, Oman, garlic, fenugreek seeds to a mortar & pestle; crush well

Heat ghee

Furthermore add mustard seeds; splutter

Add ginger, asafoetida and crushed mixture; saute till garlic turns golden brown

Furthermore, add tamarind - tomato water, cooked Dal and water; mix well
Video
Notes
Pressuring cooking tomato - tamarind is optional. To save time I prefer this method
You can use tamarind paste instead of tamarind water
For extra spice increase pepper
 Green chili can also be used while tempering
Fenugreek seed is not usually added to the rasam. Considering its health benefits i generally add
turn off the rasam after seeing the froth to avoid overcooking
Cook rasam in low flame for nice flavor
Sambar powder can be used instead of rasam powder. Add 1/2 teaspoon of cumin+ pepper powder in that case