Vegetable biryani | Veg biryani | restaurant style Veg biryani | veg biryani recipe | easy vegetable biryani recipe | Hyderabad style vegetable dum biryani | layered veg biryani | Indian layers vegetable biryani is a tasty layered biryani with mixed vegetables and whole garam spices. Vegetable biryani is exotic vegetarian dish. Dum gives a nice flavor to the rice.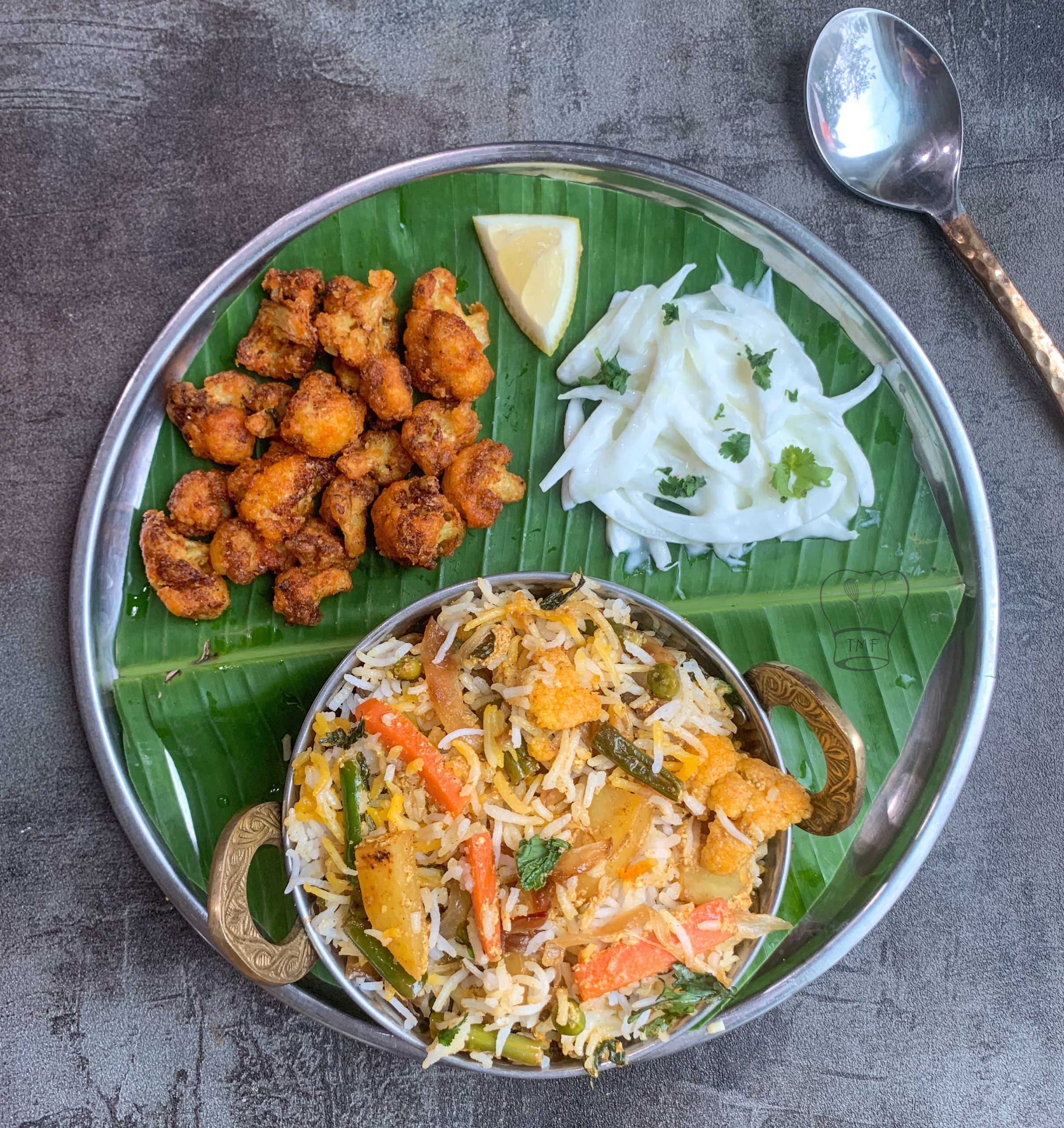 Being a vegetarian, Vegetable Biryani is definitely included in weekend special lunch. Dum biryani is a tasty rice dish which looks colorful, with vegetables and spices.
There are many ways to cook biryani. I generally make Vegetable biryani the way my amma cooks it, and it is delicious and easy to cook. It tastes slightly different from the restaurant one.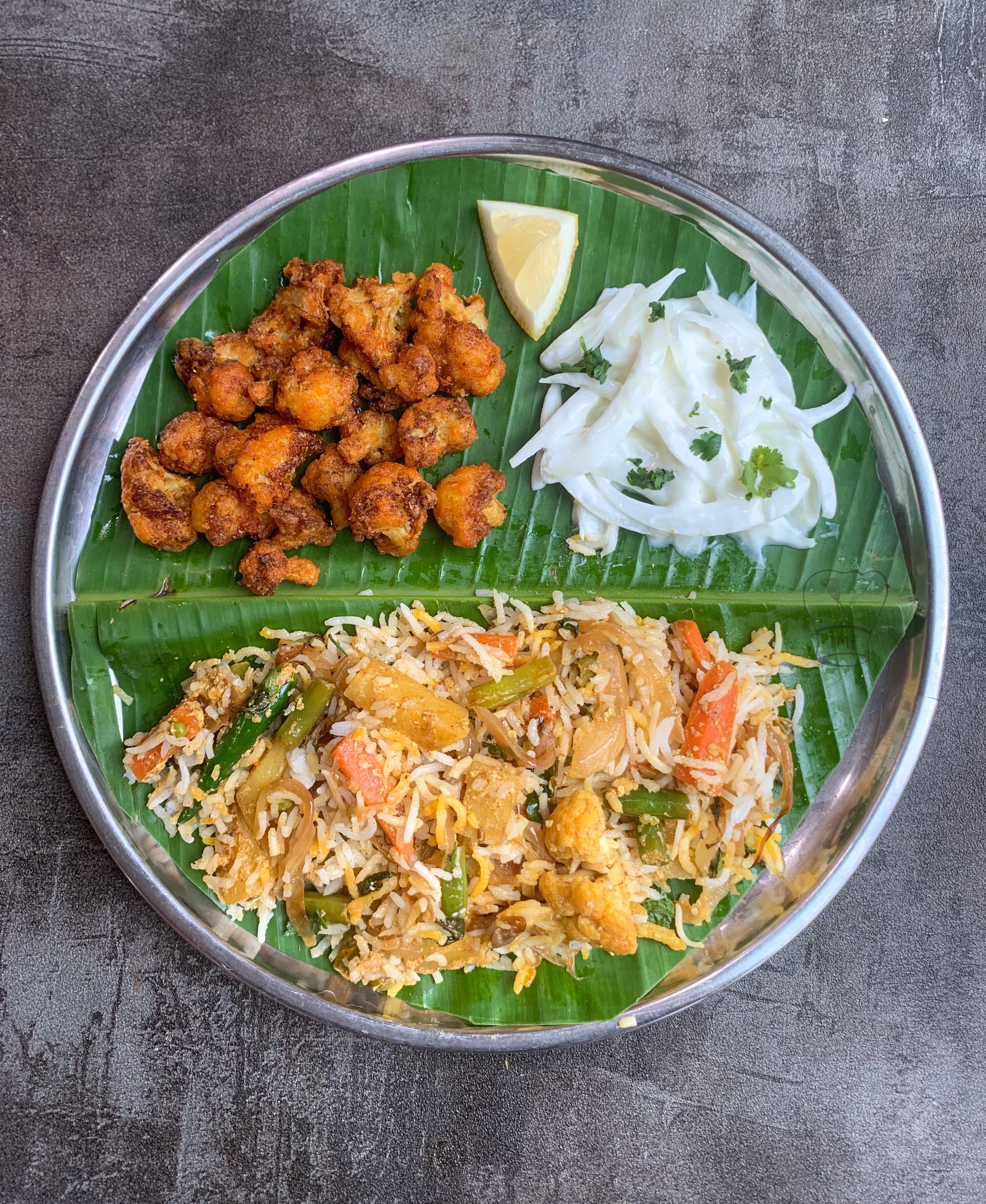 One of my friend is Telugu. One day, while talking to her, she mentioned about Hyderabad dum biryani. As I have never tried before I was excited to know the process.
I always thought Hydrabad biryani was complicated, but after hearing her version I realized it was not. I tried that at home and loved it. Here is my version of Hyderabad vegetable biryani. Serve it with Raita and salna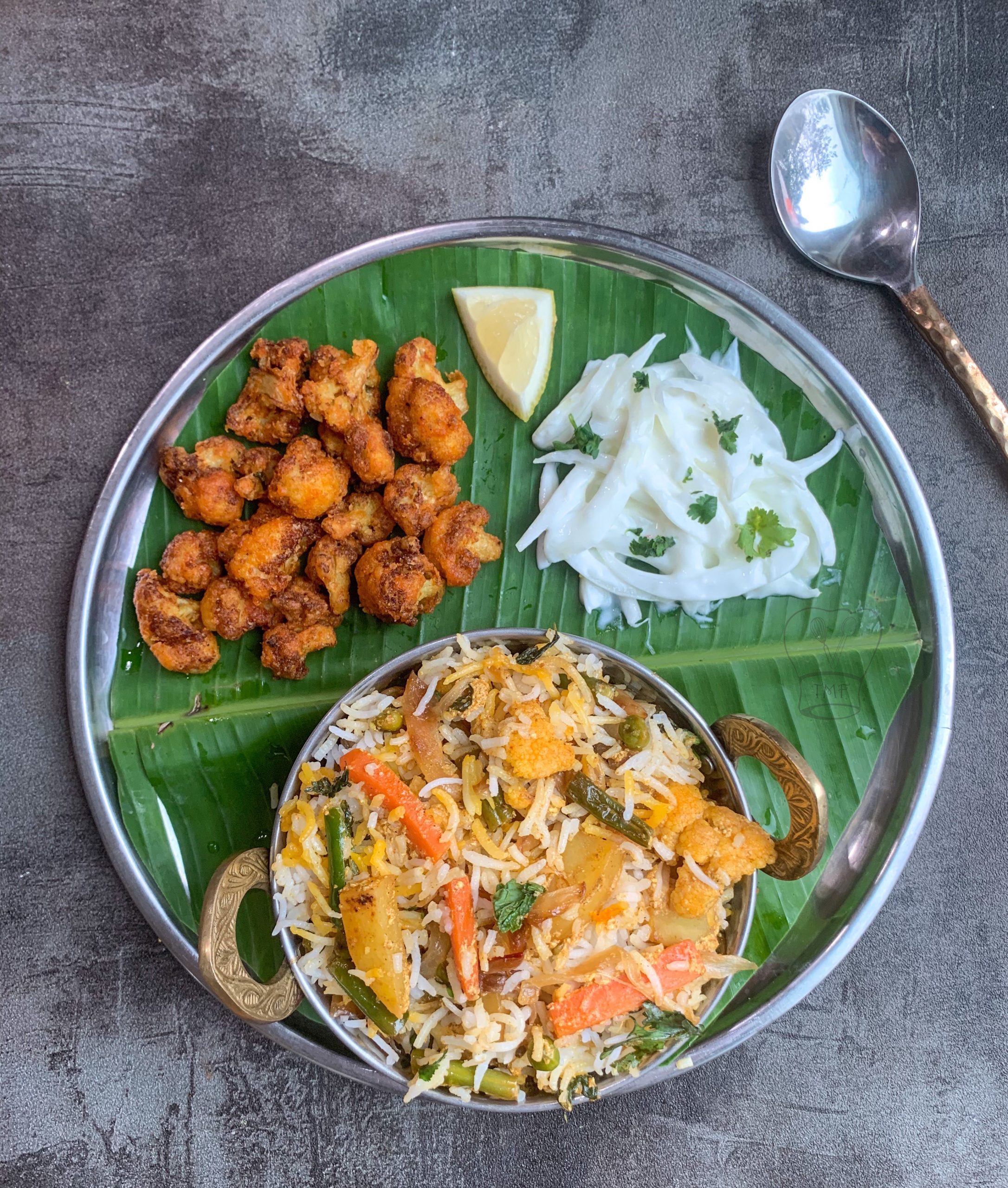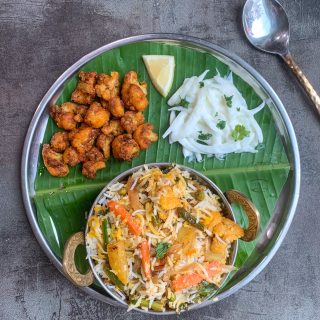 Vegetable Biryani | Dum Biryani
Flavorful variety rice prepared with mixed vegetables
Print
Pin
Comment
Ingredients
Basmati Rice - 2 cup

soaked and drained

Carrot - 1

big

Beans - 12

Cauliflower 12 small florets

Peas - 1/4 cup

Potatoes - 2

medium

Onion - 1

big (thinly sliced)

Mint - 1/4 cup

Biryani Masala - 1 tbsp

Kashmiri Chilli powder - 1/2 tsp

Turmeric powder - 1/8 tsp

Garam masala - 1/2 tsp

Ginger Garlic paste - 1 tbsp

Curd - 1 cup

whisked

Water - 3 cups

Saffron - few strands

Saffron color - a pinch

Cardamom Pods - 2

Cinnamon Stick - 1/2 stick

cloves

- 2

Bay leaf - 2

Fennel Seed - 1/2 tsp

Poppy seed - 1/2 tsp

Salt - to taste

Oil - 1/4 cup

Ghee - 2 + 1/2 tbsp
Instructions
Soak rice for 1 hour and discard the water

In a cooker separator take rice, 3 cups of water, few drops of sesame oil, 1 teaspoon of ghee, and required salt; pressure cook for 2 whistles and let the pressure subsides naturally

After the steam comes down transfer the cooked rice into a wide tray and drizzle little oil and fluff the rice

In a wipe pan add 2 tablespoon of oil and add onion, saute the onions till they turn translucent

Add pinch of salt and sugar and cook till onions are caramelized. Transfer them into a plate

In the same pan add 2 tablespoon of oil and 1 tablespoon of ghee and heat

Add bay leaf, clove, cardamom pods, cinnamon, fennel seeds and poppy seeds and let them splutter

Furthermore, ginger garlic paste and give a quick saute

Add potatoes and cook for a minute

Also add carrots, beans and mix well and cook for one more minute

Furthermore add cauliflower and salt; mix well and cook for a minute

Cover and cook until the veggies are cooked and remains crunchy, saute in-between

Add biryani powder, Kashmiri chilli powder and garam masala and saute for 2 minutes

Furthermore add green chilli and mix well

Turn down the flame to low and add mint and give a quick mix

Furthermore add whisked curd and mix well

Cover and cook for 2-3 minutes and turn off the stove

Image

Take a heavy bottomed pan/pressure cooker/ non stick pan (I took a non stick pan)

Add 1 tablespoon of ghee and add a layer of rice and spread

Furthermore add cooked vegetables, mint, chopped coriander leaves and caramlized onion on the veggies

Again add a layer of rice and sprinkle the saffron milk over it

Furthermore add the vegetable layer with mint, chopped coriander leaves and caramlized onion

Repeat the layers and close the pan with a lid

Take little water in a wide pan and place the biryani layered pan over the pan containing water

Cook it for 25 - 30 minute in a very low flame

Mix the biryani gently and Serve it with tomato raita / onion raita /Salna
Notes
You could also preheat the oven to 350 degree Fahrenheit and then bake the biryani in the oven for 15-20 minutes. Please remember to use an oven-proof dish
Adjust the Biryani masala quantity according to your spice
Turmeric powder is optional
You can add fried onions instead of regular onion
Can add paneer, bell pepper and mushroom
Biryani can also cooked directly but double boiler ensures even cooking and no chance of biryani getting burnt
Alternatively, Place the biryani in a cooker separtor and close the lid, pressure cook for one whistle for dum
Roasted bread pieces or croutons can be added for the biryani like veg pulav
Rice can be cooked in intanst pot/rice cooker or in open pan
I added the saffron for two layers. Adjust according to the color you desire
Ingredients:
Basmati Rice - 2 cup,soaked and drained
Carrot - 1, big
Beans - 12
Cauliflower 12 small florets
Peas - 1/4 cup
Potatoes - 2, medium
Onion - 1, big (thinly sliced)
Mint - 1/4 cup
Biryani Masala - 1 tbsp
Kashmiri Chilli powder - 1/2 tsp
Turmeric powder - 1/8 tsp
Garam masala - 1/2 tsp
Ginger Garlic paste - 1 tbsp
Curd - 1 cup, whisked
Water - 3 cups
Saffron - few strands
Saffron color - a pinch
Cardamom Pods - 2
Cinnamon Stick - 1/2 stick
cloves - 2
Bay leaf - 2
Fennel Seed - 1/2 tsp
Poppy seed - 1/2 tsp
Salt - to taste
Oil - 1/4 cup
Ghee - 2 + 1/2 tbsp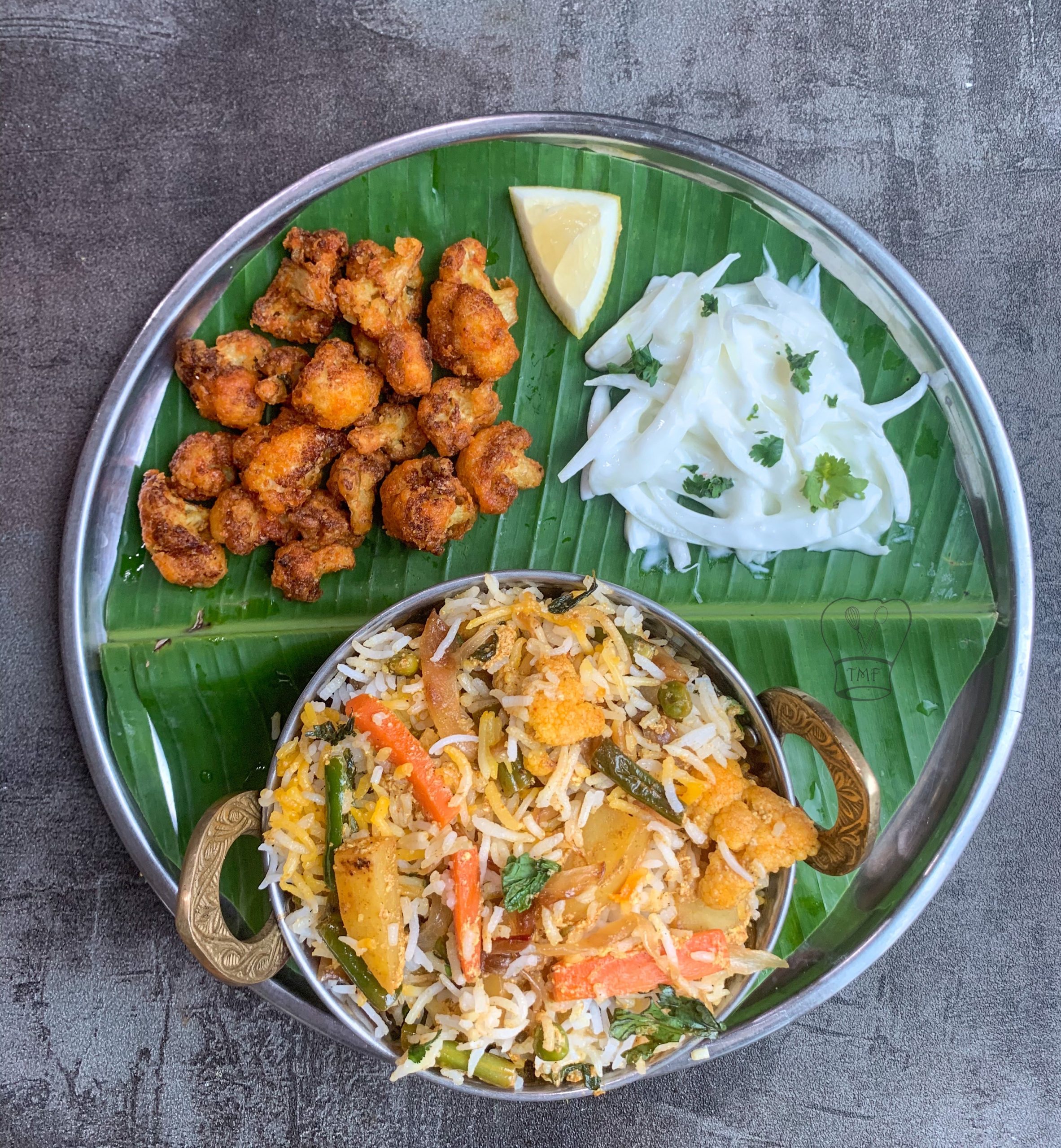 How to make Vegetable biryani with step by step pictures:
Soak rice for 1 hour and discard the water
In a cooker separator take rice, 3 cups of water, few drops of sesame oil, 1 teaspoon of ghee, and required salt; pressure cook for 2 whistles and let the pressure subsides naturally
After the steam comes down transfer the cooked rice into a wide tray and drizzle little oil and fluff the rice
In a wipe pan add 2 tablespoon of oil and add onion, saute the onions till they turn translucent
Add pinch of salt and sugar and cook till onions are caramelized. Transfer them into a plate
In the same pan add 2 tablespoon of oil and 1 tablespoon of ghee and heat
Add bay leaf, clove, cardamom pods, cinnamon, fennel seeds and poppy seeds and let them splutter
Furthermore, ginger garlic paste and give a quick saute
Add potatoes and cook for a minute
Also add carrots, beans and mix well and cook for one more minute
Furthermore add cauliflower and salt; mix well and cook for a minute
Cover and cook until the veggies are cooked and remains crunchy, saute in-between
Add biryani powder, Kashmiri chilli powder and garam masala and saute for 2 minutes
Furthermore add green chilli and mix well
Turn down the flame to low and add mint and give a quick mix
Furthermore add whisked curd and mix well
Cover and cook for 2-3 minutes and turn off the stove
Take a heavy bottomed pan/pressure cooker/ non stick pan (I took a non stick pan)
Add 1 tablespoon of ghee and add a layer of rice and spread
Furthermore add cooked vegetables, mint, chopped coriander leaves and caramlized onion on the veggies
Again add a layer of rice and sprinkle the saffron milk over it
Furthermore add the vegetable layer with mint, chopped coriander leaves and caramlized onion
Repeat the layers and close the pan with a lid
Take little water in a wide pan and place the biryani layered pan over the pan containing water
Cook it for 25 - 30 minute in a very low flame
Mix the biryani gently and Serve it with tomato raita / onion raita /Salna