Vendakkai Vatha Kuzhambu | traditional south Indian Kuzhambu | Puli kulambu | vendakka vatha kuzhambu | vendakkai puli Kuzhambu | Tamil Nadu style okra kuzhambu | South Indian puli kuzhambu | easy puli Kuzhambu recipe with step-by-step pictures and video recipe. Check out the Vendakkai Vatha Kuzhambu and if you like the video pls SUBSCRIBE to my channel
VATHA KUZHAMBU
I love tamarind-based Kuzhambu recipes. If you follow me on Instagram you might have noticed puli kuzhambu at least once a week. When it comes to south Indian puli Kuzhambu recipes Vathal Kuzhambu, Urundai Kuzhambu, poondu kuzhambu, Appalam Kuzhambu, enna kathirikai kuzhambu, Onion Vatha Kuzhambu are some of my favorites kulambu varieties. I also love Saravana bhavan hotel style kara Kuzhambu.
HOW MUCH PULI SHOULD I USE FOR THE KUZHAMBU RECIPE?
The amount of tamarind depends on the sourness of the tamarind so adjust the quantity according to the tamarind paste you use. you can use homemade tamarind paste or soak lemon size tamarind and prepare tamarind extract and use it. If you are using store-bought tamarind paste, adjust the quantity according to its soreness. Pulikaichal, puli aval,instant puli sadam are some of my tamarind-based dishes
SHELF LIFE OF VATHA KUZHAMBU
puli-based Kuzhambu variety generally stays good for at least 3 days. If you are planning to keep it at room temperature for a long time make it thick like thokku consistency and add extra oil.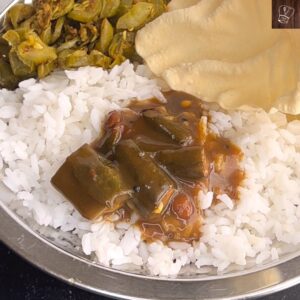 WHAT SHOULD BE THE CONSISTENCY OF PULI KUZHAMBU?
In our home, we prefer slightly thick Vatha kuzhambu. Adjust the water according to the consistency you desire. You can also add extra rice flour to make the kulambu thick.
Can I skip sauteeing okra?
Sauteeing okra in sesame oil gives the best flavor so i would recommend it
Oil for puli kuzhambu
Sesame oil gives the best flavor for kara kuzhambu. it also helps for shelf life. based on your taste use of your choice
Ingredients
To temper
2 tablespoon sesame oil
1/2 teaspoon mustard seeds
3 green chilli
curry leaves few
1 tablespoon chana dal
Kuzhambu
10 Okra
3 cups Tamarind water
1 tablespoon Sambar powder
required Salt
little Jaggery
Asafoetida
little Turmeric powder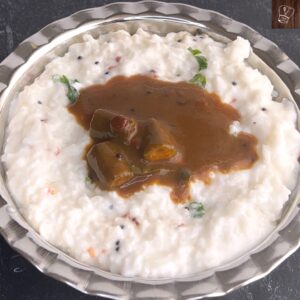 how to make vendakkai vatha kuzhambu with step-by-step pictures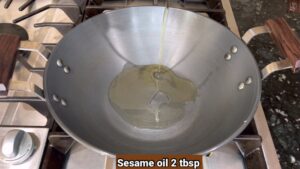 Furthermore, add mustard seeds and chana dal; splutter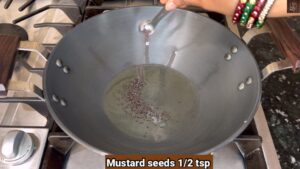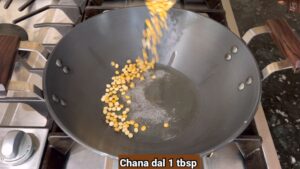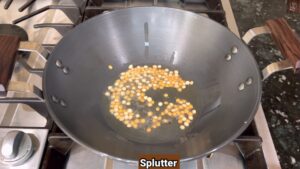 Add curry leaves and green chilli; mix well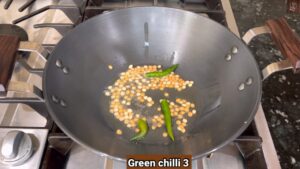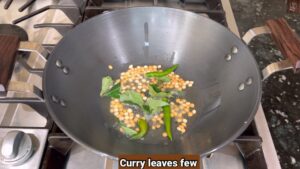 Furthermore, add okra; roast till color changes and shrinks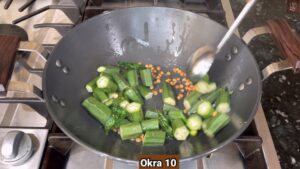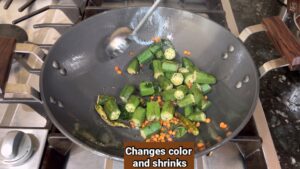 Add turmeric powder, asafoetida, and salt; mix well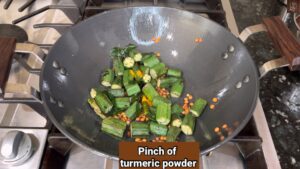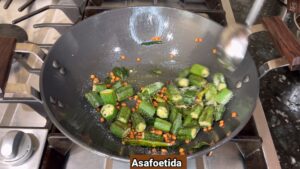 Furthermore, add sambar powder and give a quick mix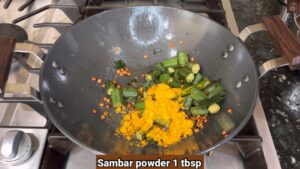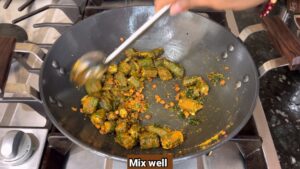 Add the tamarind water; boil for 10 minutes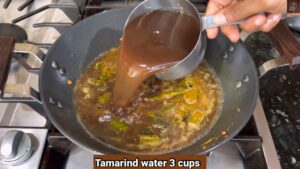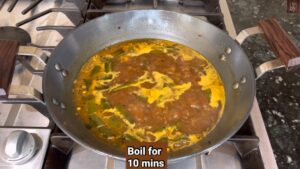 Finally, add jaggery, and hing; boil for 6-8 minutes
Ingredients
To temper
2

tablespoon

sesame oil

1/2

teaspoon

mustard seeds

3

green chilli

curry leaves few

1

tablespoon

chana dal
Kuzhambu
10

Okra

3

cups

Tamarind water

1

tablespoon

Sambar powder

required Salt

Asafoetida

little Jaggery

little Turmeric powder
Instructions
first, add oil and heat

Furthermore, add mustard seeds and chana dal; splutter

Add curry leaves and green chilli; mix well

Furthermore, add okra; roast till color changes and shrinks

Add  turmeric powder, asafoetida, and salt; mix well

Furthermore, add sambar powder and give a quick mix

Add the tamarind water; boil for 10 minutes

Finally, add jaggery, and hing; boil for 6-8 minutes
Video