Butterscotch fudge | Holiday fudge recipe
with step-by-step pictures and video recipe. Check out the
butterscotch fudge
and If you like the video pls
SUBSCRIBE to my channel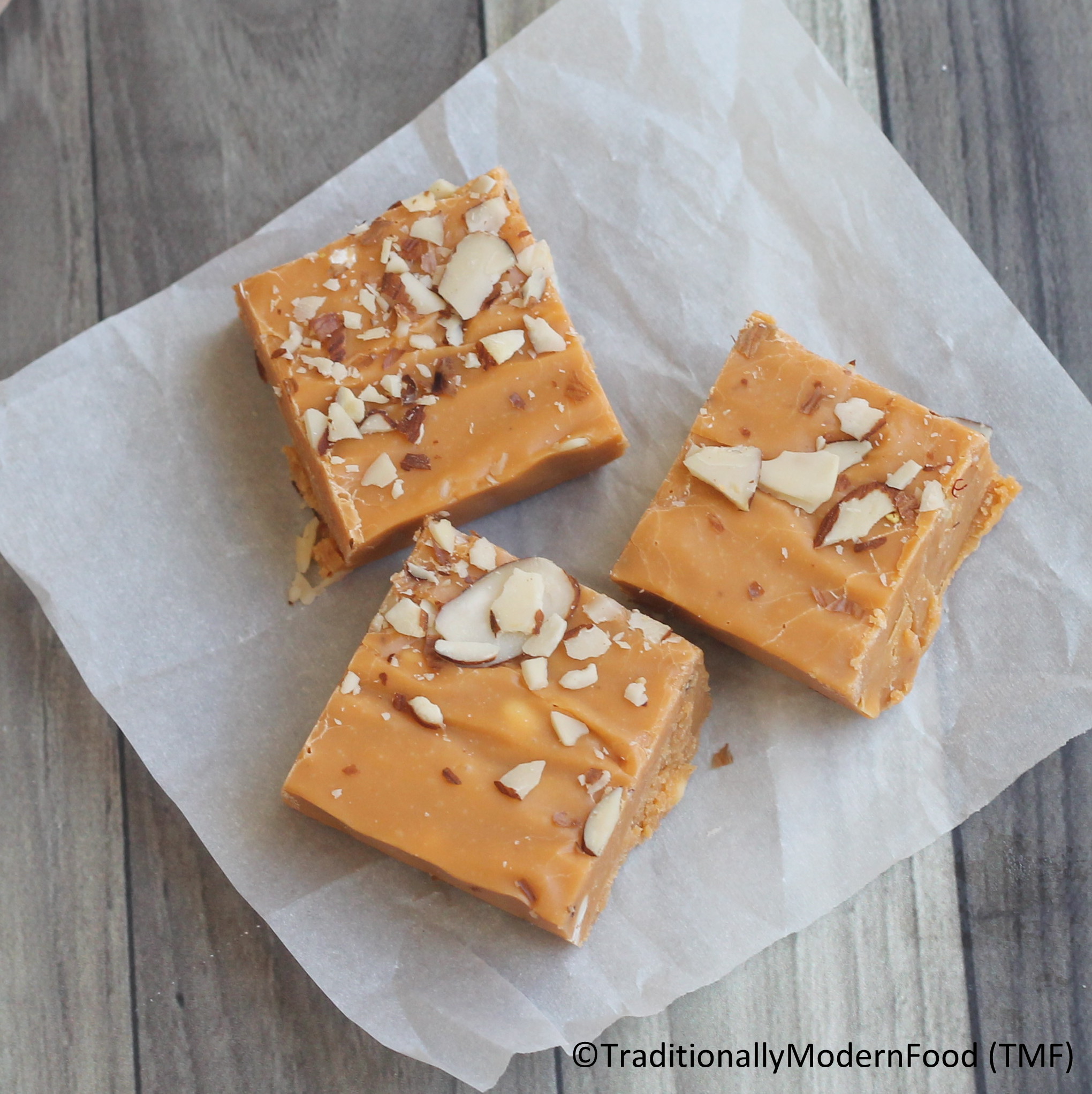 Butterscotch fudge | Holiday fudge recipe
is an easy, 3 ingredient fudge. It is super delicious and addictive. Fudge stays good for 2 weeks and is a perfect make-ahead treat for a party or to-go snacks. Happy new year 😊 This is a post after a long gap, and of course my first post in 2018, so I thought of going for a sweet recipe. Well, my sweet tooth started craving some dessert. Though it demanded me to make some sweet and post, I restricted myself by browsing my camera, Well my new year resolution is to post all the 2017 planned recipes this year, let's see.😂 While browsing for a recipe, these delicious fudges were calling me. After coming to the US, the food network introduced me to fudges. During the holiday season, one of the chefs prepared fudge to send to her friends. I like the way it was prepared - super quick. The original fudge recipe was with chocolate chip and condensed milk. I generally follow the recipe and make fudge. Last summer we went to Diablo lake with my uncle's family. We all enjoyed the beautiful scenic lake, but for me in addition to the lake, Butterscotch fudge from the local store was a favorite memory. He got a few fudges from the store, first I said I will take one but after a bite, I was addicted. It was so addictive I don't remember how much I had that day. In fact, we went to that lake a few weeks later with my parents and sister. I went to the same shop and got lots of fudges. My sister also became a big fan of butterscotch fudge.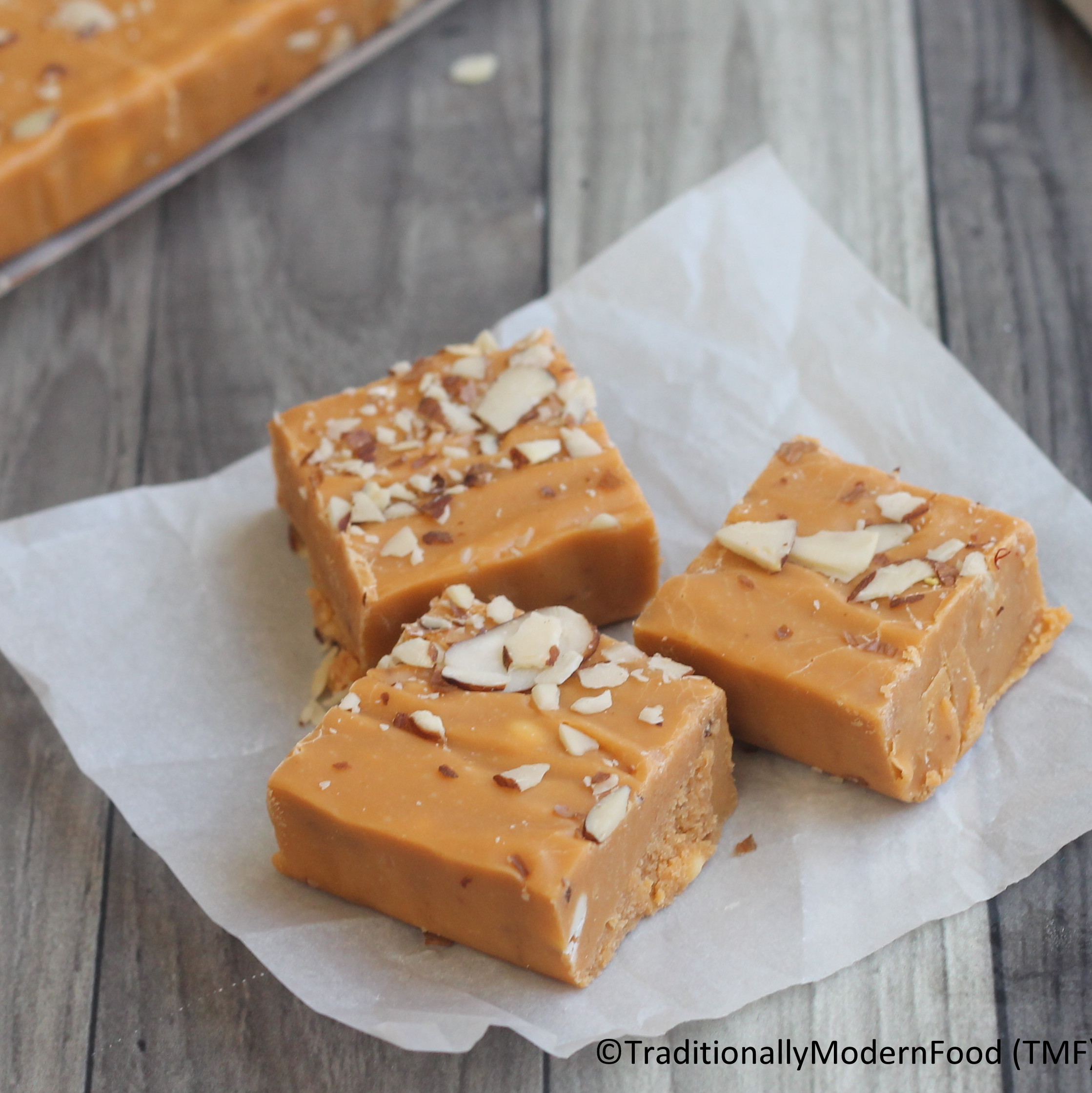 Before leaving for India my sister asked me to try that fudge. I decided to alter the recipe I noted from the show. Since it is butterscotch fudge, I used butterscotch twice the amount. As always condensed milk creates the magical taste for this fudge. I am not sure If I replicated the taste of that store brought fudge but our entire family liked it and the fudge vanished in no time. Yes, so this is the recipe I am going to follow from now on. In our home, I have seen Amma adding cardamom powder to almost all the sweets she prepares. Somehow I got that habit. I added cardamom powder with a touch of vanilla to boost the butterscotch flavor. Everything together makes this so irresistible. checkout easy
Butterscotch pudding
I am always a big fan of simple and tasty recipes. Butterscotch Fudge can be prepared within 15 minutes, but the real challenge is the wait time for the fudge to set. Believe me, it was so hard for me. The first time I made the fudge, I refrigerated the fudge and kept on checking on and off continuously after an hour. My preference for sliced almonds is reflected in this dish as well. Enough of my blah blah - over to Butterscotch fudge.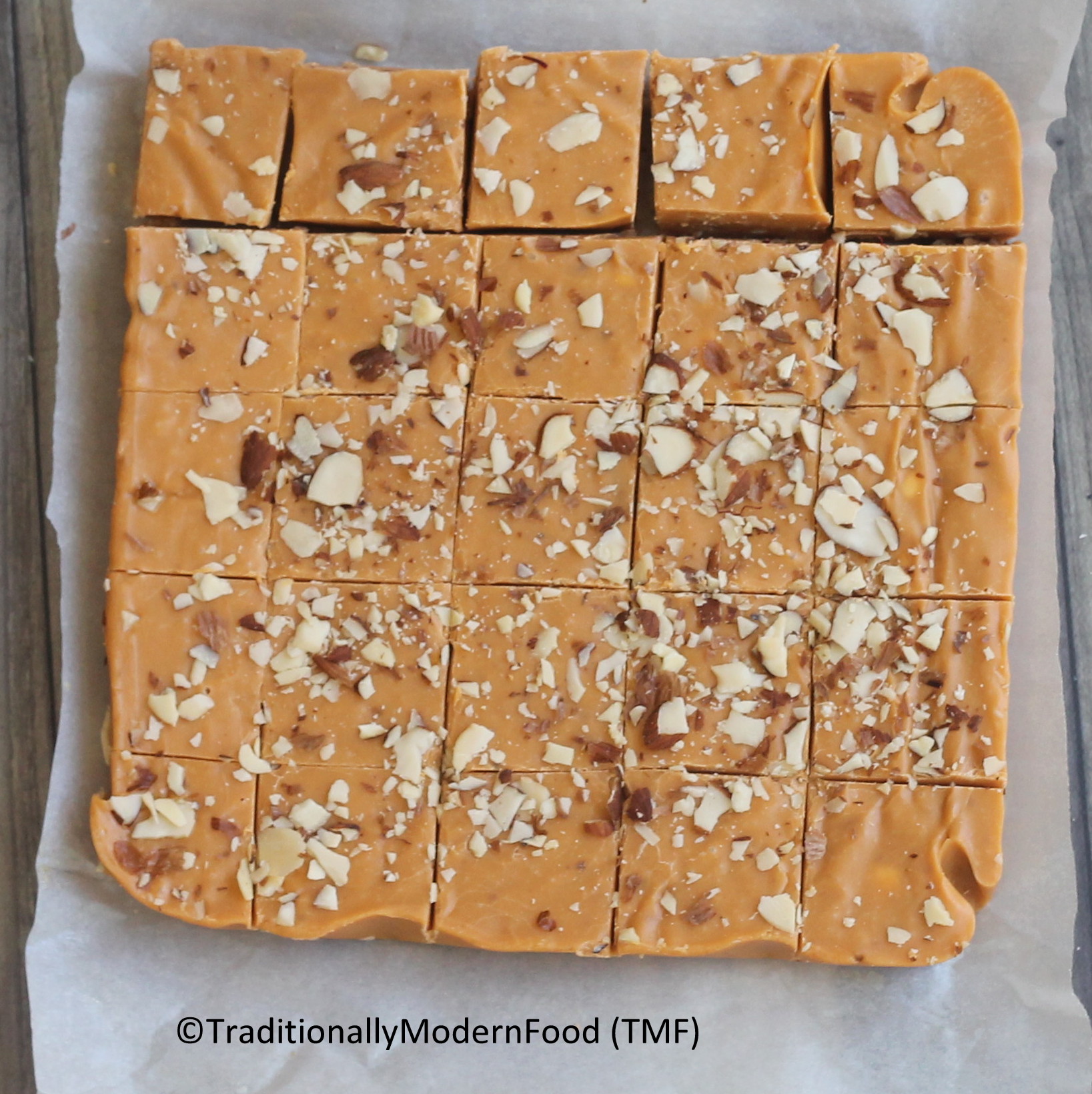 Other Fudge recipes in TMF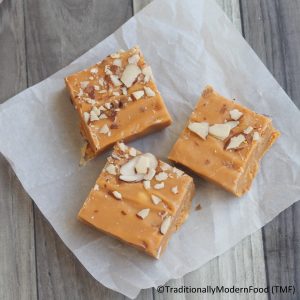 Butterscotch Fudge
Butterscotch fudge is a easy 3 ingredient fudge. It is super delicious and addictive. Fudge stays good for a week and perfect make ahead treat for party or to go snack.
Print
Pin
Comment
Ingredients
Sweetened condensed milk - 1 can

400 grand/14 oz

Butterscotch chips - 1 pack

11 ounce

White chocolate chips - 1/2 pack of 11 ounce

Vanilla extract - 1 tsp

Cardamom powder - 1/4 tsp

optional

Salt - pinch

Roughly chopped sliced almonds - 3 tbsp

optional
Instructions
Add parchment paper to 9 * 13 baking tray and grease it with melted ghee or butter

Add all the ingredients mentioned in a heavy bottomed sauce pan and mix well

Cook on a medium heat till the chips are melted well and the mixture is smooth. Once the mixture start boiling switch off and transfer the content to the greased dish. Sprinkle the nuts

Let it cool down a bit. Cover it will cling film and let it sit in fridge for 2-3 hours. Cut and enjoy
Video
Notes
Cook on medium flame to avoid the mixture from getting burn
Transfer the mixture after it starts boiling. Even if the chocolate chip melt quickly wait till you see the mixture boiling
Time taken for setting the fudge may vary
Butter flavored extract can be used instead of vanilla extract
Sprinkling nuts is optional
Fudge stays good for about 2 weeks in room temperature ( We generally finish it by that so not sure about the actual Shelf life)
I have made fudge in a bar shape. You can cut into small rectangle and wrap it in a butter paper for kids party as a treat
Ingredients: Sweetened condensed milk - 1 can (400grams/14 oz) Butterscotch chips - 1 pack (11 ounces) White chocolate chips - 1/2 pack of 11 ounce Vanilla extract - 1 tsp Cardamom powder - 1/4 teaspoon (optional) Salt - pinch Roughly chopped sliced almonds - 3 tablespoon (optional) Method:
Add parchment paper to 9 * 13 baking tray and grease it with melted ghee or butter
Add all the ingredients mentioned in a heavy-bottomed saucepan and mix well

Cook on medium heat till the chips are melted well and the mixture is smooth. Once the mixture starts boiling switch off and transfer the content to the greased dish. Sprinkle the nuts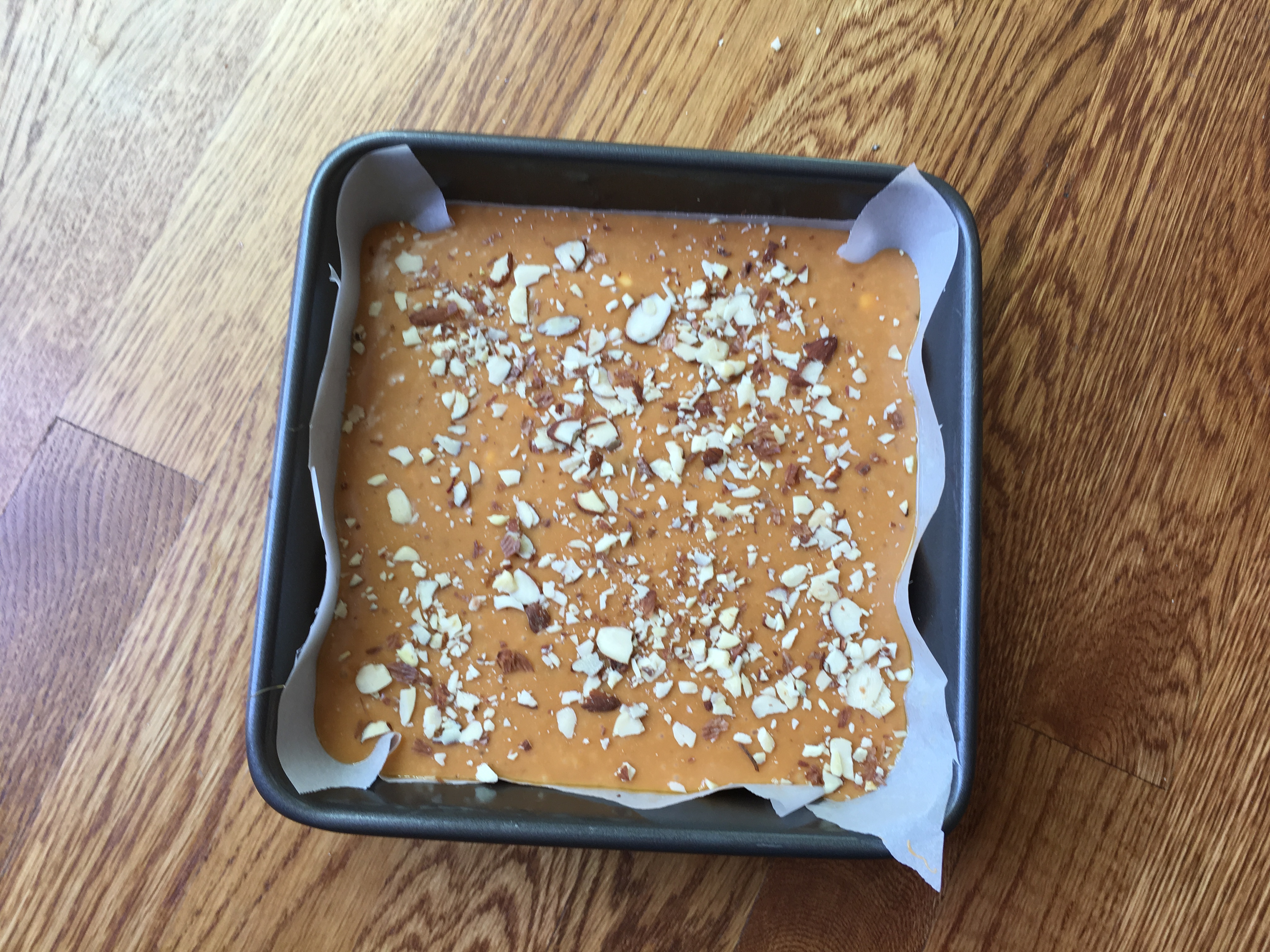 Cool it for a while Cover the tray will cling film and let it sit in the fridge for 2-3 hours. Cut and enjoy
For regular recipe updates pls follow TMF social media,
Facebook | Instagram | Youtube | Pinterest | Twitter