Rose milk fudge | rose fudge | rose white chocolate fudge |how to make fudge no cook | no bake fudge | simple fudge | traditional recipe | valentines day special fudge | girl baby shower treat bags | White Chocolate Fudge, 2 minutes holiday fudge, holiday gift box recipe, Christmas recipe, best fudge, microwave fudge, 3 ingredients fudge, condensed milk fudge, fudge, fudge recipe with condensed milk recipe with step by step pictures and video recipe. Check out the Rose milk fudge video and If you like the video pls SUBSCRIBE to my channel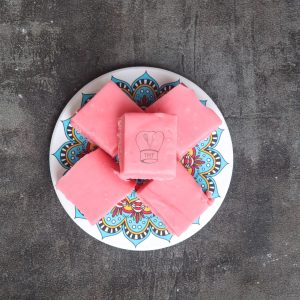 ROSE FUDGE RECIPE
I like quick and simple recipes like this that use minimal ingredients and don't involve a lot of cooking. with just 3 ingredients this fudge preparation just takes less than 2 minutes. Put everything into the bowl, microwave, and then stir yes the fudge mixture ready. All you have to do is transfer into a tray, cool, and cut
CAN I COOK Rose milk FUDGE ON THE STOVETOP?
Yes, you can prepare 3 ingredients fudge recipe on a stovetop. Cook till chocolate melts. You can also double boil white chocolate.
CAN I USE DARK or semi-sweet CHOCOLATE?
for perfect rose milk flavor always use only white chocolate chips/chunks. Avoid semi-sweet/ dark/ butterscotch chocolate
CAN I USE CHOCOLATE CHUNKS INSTEAD OF CHIPS?
Yes, you can use chocolate chips or chocolate chunks, or grated/chopped chocolate. Chunks or chips chocolate use the same measurement.
Can I use room temperature condensed milk?
No, I would recommend using the condensed milk from the fridge for this recipe, thick consistency helps for the perfect rose fudge.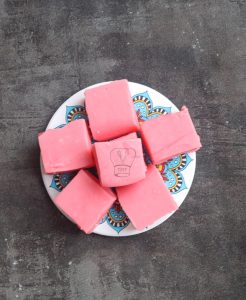 ALWAYS BIG MICROWAVE DISH
It is always recommended to use the big microwave-safe bowl proportional to the quantity as chocolate might bubble while cooking. it is safe to use a big bowl. I always use pyrex glass and it works perfectly.
DOES A METAL SPOON REALLY GIVE A DIFFERENCE WITH THE CONSISTENCY?
I feel a metal spoon works best for fudge when compared to a wooden spoon. I would highly recommend using a metal fork or spoon.
SOFT BALL STAGE COOKING FOR Rose

FUDGE?
Drop a small portion of the Fudge mixture into a glass containing cold water, if you can easily form a soft ball then the fudge mixture is in the right stage. you can also moisture your hand and try to roll; if it is a non-sticky soft ball it is perfect.
what will happen if by mistake we Over cook/ under cook?
If you don't cook till the chocolate is completely melted or soft ball stage fudge will turn chewy. Overcooking might result in a hard ball which will give a hard fudge.
CAN I CUT THE FUDGE IMMEDIATELY?
No, fudge needs to cool for at least a few hours until it turns firm. I refrigerate for 4 hours then cut.
Can I store fudge at room temperature?
For best fudge texture leave the fudge for at least 4 hours after cutting. I generally prepare a small batch of fudge so keep them at room temperature. If you are storing it in the fridge make sure you keep it at room temperature for a few hours before serving
AN I ADD DRY FRUITS OR NUTS TO BE FUDGE?
Yes, follow the base recipe and play with your flavors. Pistachio goes well with rose flavor. you can also add crushed dried rose petals on top. you can also add other dry fruits or nuts according to your choice.
WHY MY FUDGE IS NOT SET?
To make the best fudge
Always use fresh chocolate chips

I recommend using condensed milk from the fridge as it I thick

Cook the fudge to the right consistency and always cut only after it turns firm.

Consume the fudge after a few hours for the best result.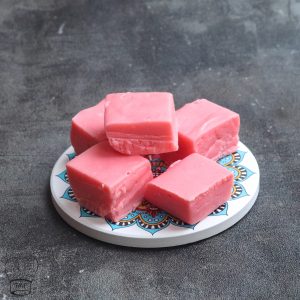 Other Fudge recipes in TMF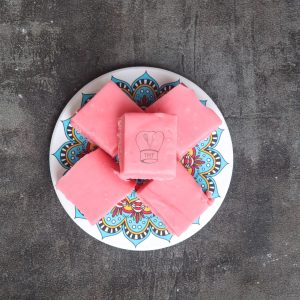 Ingredients
3.5

oz

condensed milk

refrigerated

6.5

white chocolate chips/chunks

2

tablespoon

rose syrup
Instructions
Line pan with parchment paper that covers the sides of the pan. Grease with little ghee/ butter

Place the condensed milk white chocolate chips and rose syrup in a large wide  bowl and microwave for one minute

Mix well with a metal fork/spoon to combine

allow the heat to melt the chocolate chips. Check if chocolate is melted, depending on your microwave  setting you might have to cook did extra time

Are you doubtful about fudge mixture consistency?

moisture your hand and take a small portion, if you are able to roll nonsticky soft ball ; perfect consistency

Quickly transfer the mixture into the prepared pan(s) and spread evenly

Tap the pan and rest at room temperature for 30 minutes

Refrigerate for 4 hours

Grease the knife with butter/ghee

Unmold the  fudge and cut it into pieces

Let it sit for at least 2 hours then enjoy
Video
Notes
I have clipped the parchment paper but it is optional
Use condensed milk stored in the fridge for best results. If you are using a new can of condensed milk, refrigerate for a few hours until it turns thick, and then make fudge
Avoid cooking the condensed milk- white chocolate chips for a long time as it will affect the fudge texture
Also, cook till the chocolate chips completely melt, else fudge won't set
you can add a sprinkle on top
Mix crushed pistachio, crushed dried rose petals for extra flavor, or any nuts of your choice
Cut the fudge only after it is well set/ firm
After cutting the Fudge always keep the fudge for hours and then consume for the best texture. Avoid tasting immediately
Ingredients
3.5 oz condensed milk, refrigerated
6.5 white chocolate chips/chunks
2 tablespoon rose syrup
How to make Rose milk fudge with Step by step pictures
Line pan with parchment paper that covers the sides of the pan. Grease with little ghee/ butter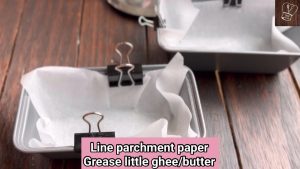 Place the condensed milk white chocolate chips and rose syrup in a large wide bowl and microwave for one minute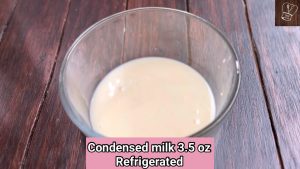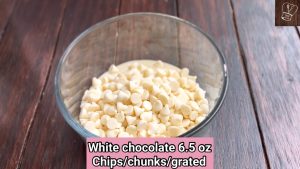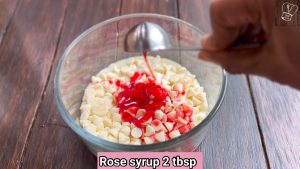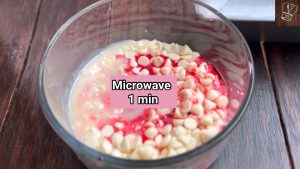 Mix well with a metal fork/spoon to combine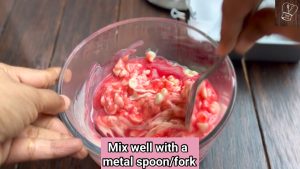 allow the heat to melt the chocolate chips. Check if chocolate is melted, depending on your microwave setting you might have to cook did extra time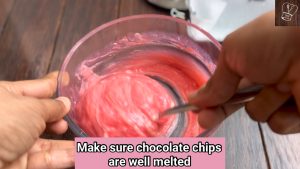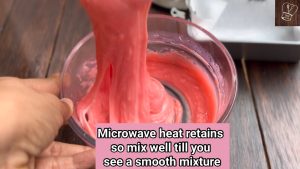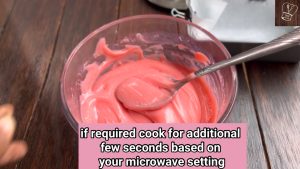 Are you doubtful about fudge mixture consistency?
moisture your hand and take a small portion, if you are able to roll nonsticky soft ball ; perfect consistency
Quickly transfer the mixture into the prepared pan(s) and spread evenly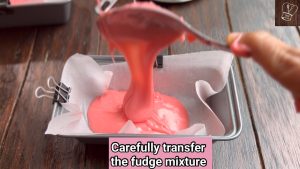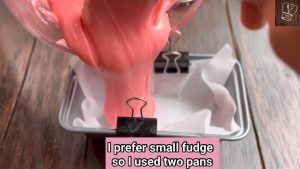 Tap the pan and rest at room temperature for 30 minutes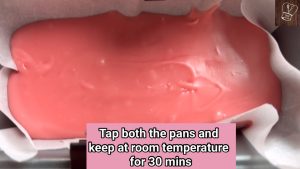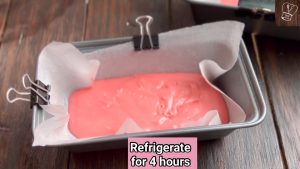 Grease the knife with butter/ghee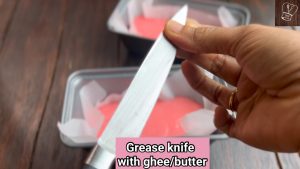 Unmold the fudge and cut it into pieces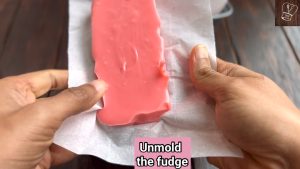 Let it sit for at least 2 hours then enjoy