White chocolate cake | white chocolate mud cake| Eggless chocolate cake recipe | Best chocolate cake | chocolate cake with chocolate ganache with step by step pictures and video recipe. Check out the Best white chocolate cake video. If you like the video pls SUBSCRIBE to my channel. Other cake video recipes in TMF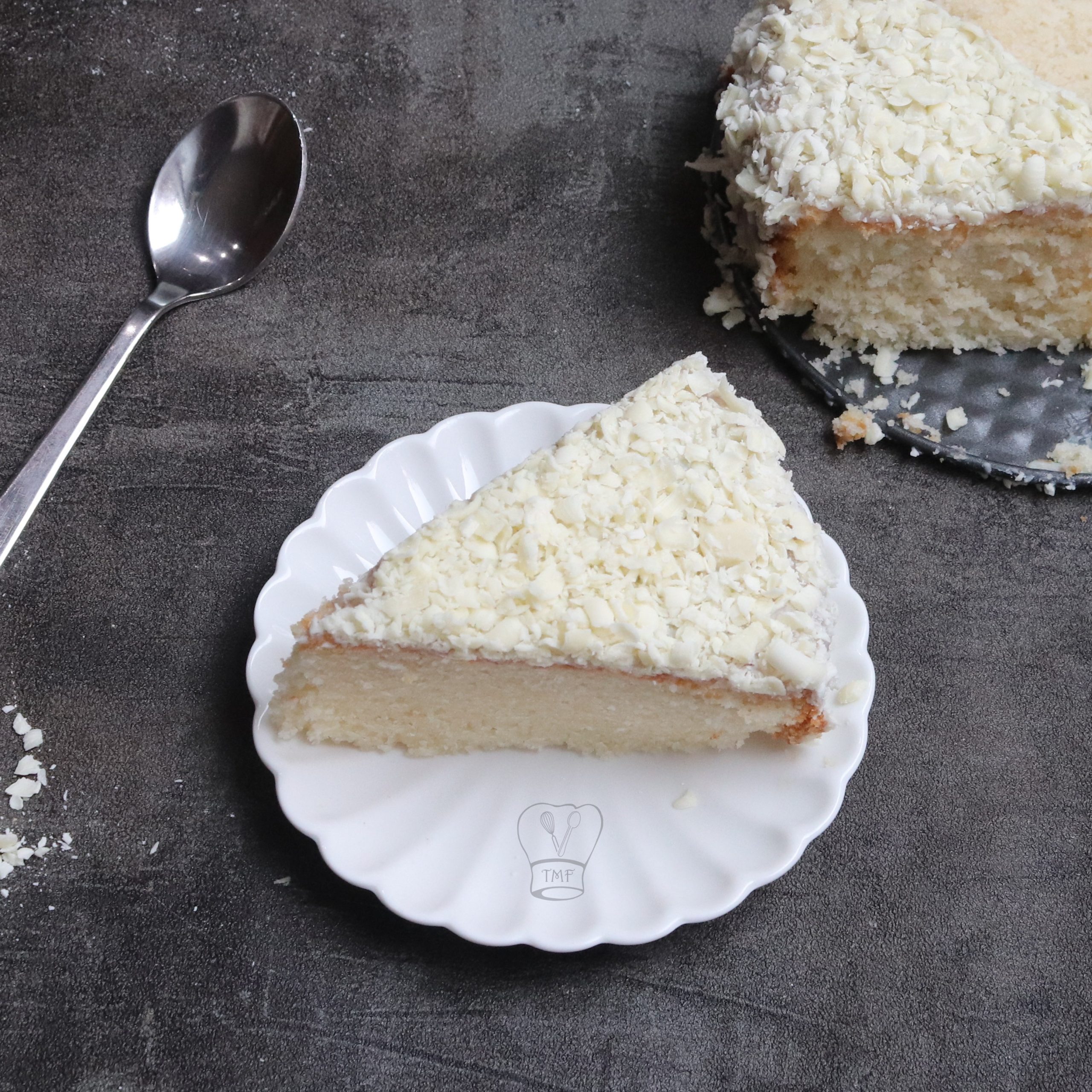 White chocolate cake | Eggless chocolate cake recipe | Best chocolate cake | chocolate mud cake is moist, soft white chocolate cake has no eggs, no vinegar, no lemon juice. Eggless chocolate mud cake with chocolate ganache is super easy to make and a great beginner-friendly cake.
Why should I sieve dry ingredients?
Over mixed batter result in a dense cake so always sieve the dry ingredients well before mixing
How long should I microwave wet ingredients?
I have microwaved for 2 minutes but time might vary based on your microwave oven setting. Microwave till chocolate melts and everything combined well
Can I cook wet ingredients on the stovetop?
Yes, you can combine all the ingredients in a pan and cook in low- medium flame until you get a smooth liquid. I prefer microwaving as it saves time and avoid washing additional utensil.
Substitute for sour cream?
Sour cream didn't make the white chocolate mud cake sour. If you don't have sour cream you can use 1/4 cup of plain yogurt. If you are not a big fan of the sour cream flavor, use 1/4 cup of condensed milk (reduce 1/4 cup sugar in that case) or use 2 eggs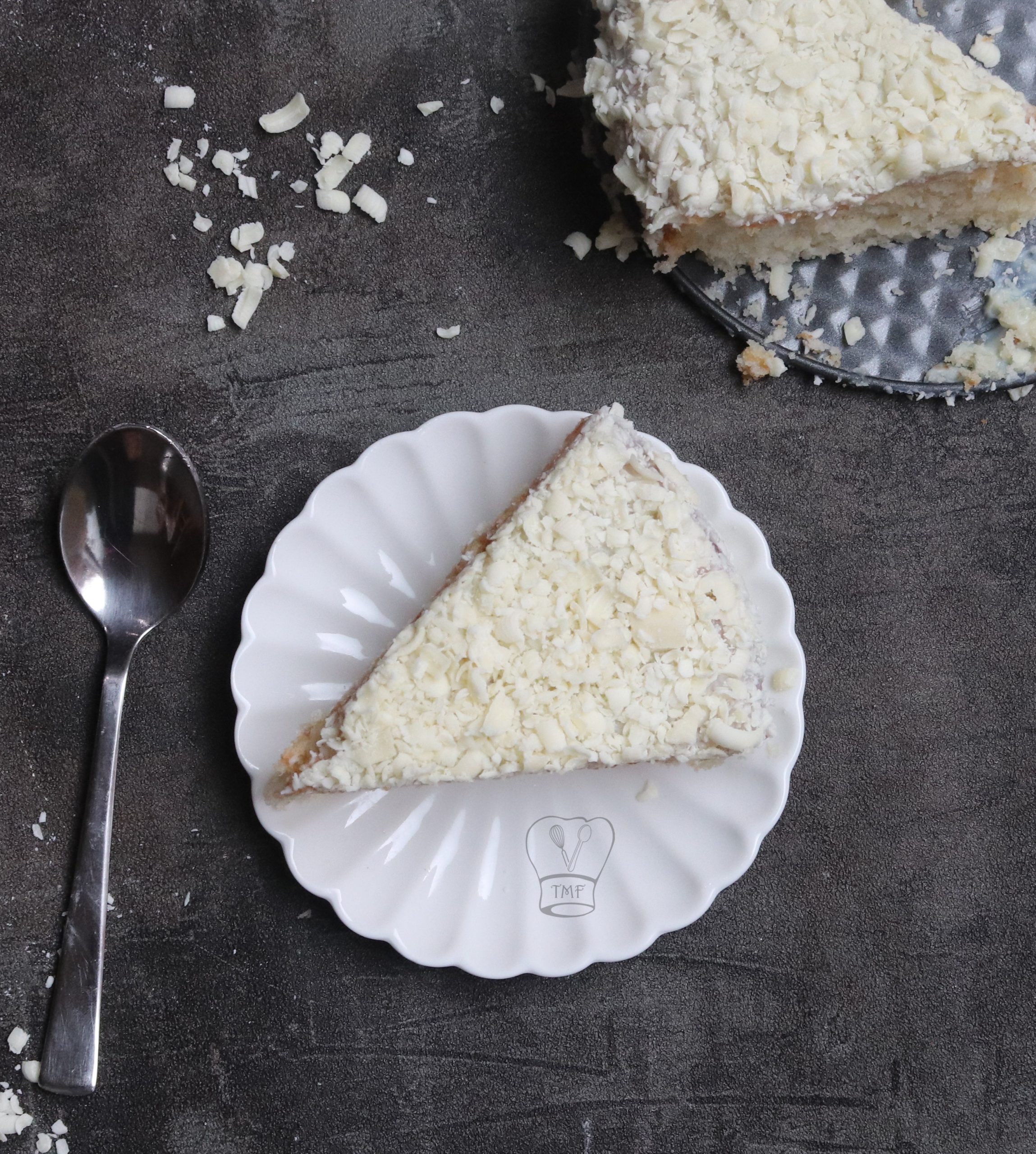 Can I bake in the pan?
Yes place a stand and preheat the pan for 10 minutes on medium flame. Place the cake pan on top, cover with a lid and cook for 30-40 minutes on low flame.
Can I refrigerate the white chocolate ganache?
You can refrigerate the leftover chocolate ganache but refrigerating the ganache might turn it thick. I generally prepare ganache and let it cool at room temperature use it for cake
Should I refrigerate the cake?
I generally store my 6-inch eggless chocolate mud cake at room temperature and finish it in 4/5 days. Depending on your weather condition you can refrigerate the cake.
Can I cut the cake right after adding ganache?
You can cut but for the ganache to set I would recommend a few hours of standing time before cutting the cake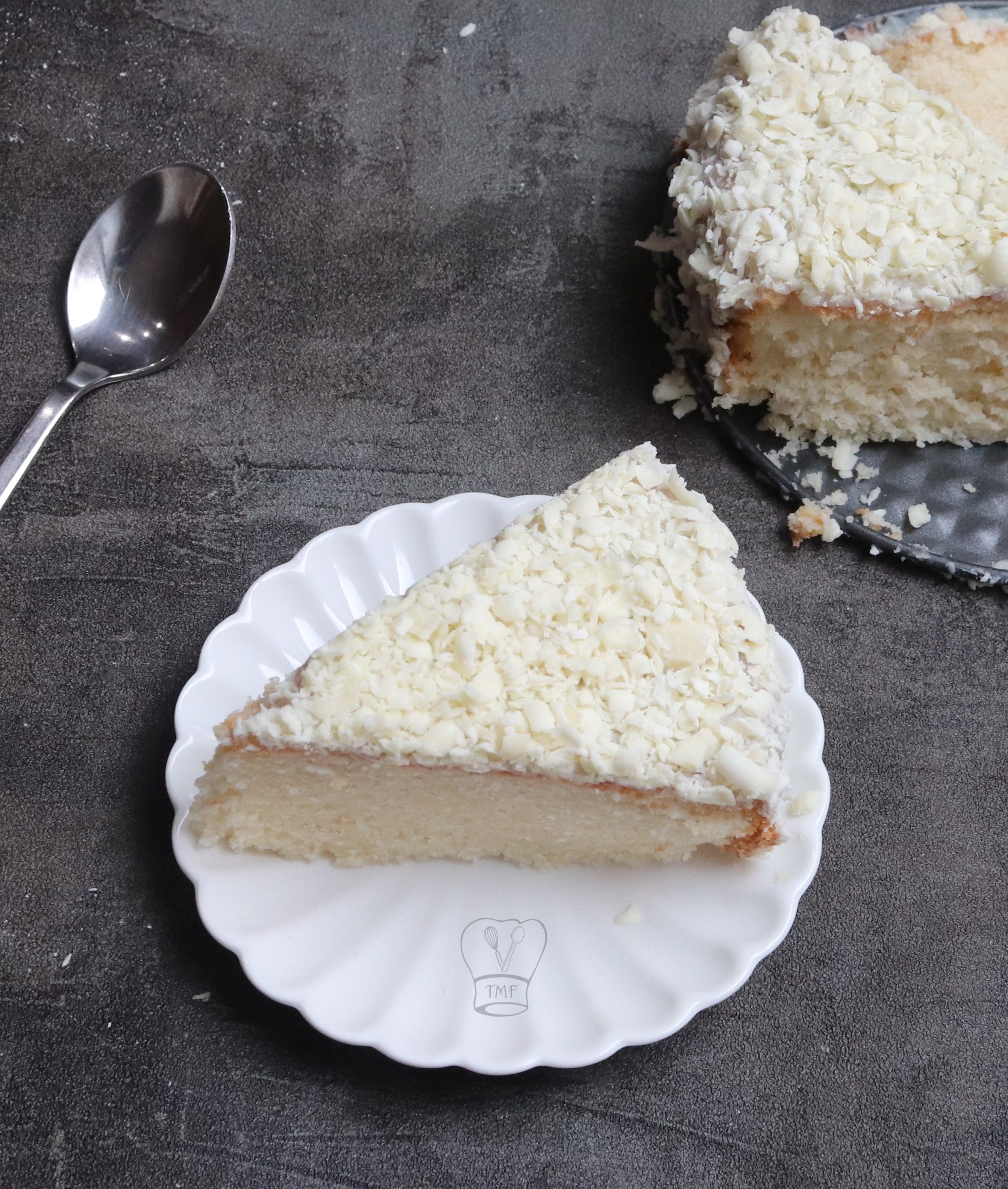 Other cake recipes in TMF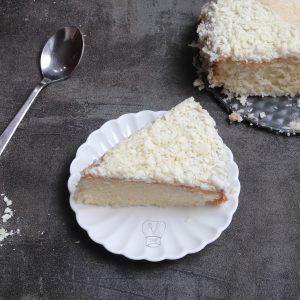 Ingredients
To sieve
1

cup

all-purpose flour

1

teaspoon

baking powder

Pinch

of salt
To microwave
2/3

cup

Milk

4

oz

White chocolate

1/2

cup

Sugar

1/4

cup

softened Butter
Final mix
1/4

cup

sour cream or yogurt
White chocolate ganache
1/4

cup

chocolate chips + 1 tbsp

1/4

cup

cream
Topping
Grated white chocolate chips
Instructions
Preheat the oven to 350 degrees Fahrenheit or place a stand on a pan and preheat for 10 minutes

Place parchment paper on a cake pan and grease with baking spray

Firstly take flour, baking powder, and salt to and sieve to get a lump free smooth flour

In a microwave-safe bowl add milk, white chocolate, sugar, and softened butter, microwave for 2 minutes. Microwave till chocolate chips are melted and you see smooth liquid

Add sieved flour, fold and mix. Avoid over mixing

Finally, add sour cream and mix gently until everything is combined well

Transfer the batter and tap the pan to remove air bubbles
Bake cake in the oven
Place the cake and bake for 30 - 40 minutes (until a toothpick inserted comes out clean )
Bake cake in pan
Place cake pan on the stand, cover with a lid, and bake for 30 - 40 minutes (until a toothpick inserted comes out clean )
unmold and cool the cake
Leave the cake for 5 minutes then unmold the cake and remove parchment paper

Keep aside and cool completely
Prepare ganache
Take white chocolate chips and heavy cream and microwave for 1 minute

Furthermore, add 1 tablespoon of white chocolate chips, mix well and set aside, and cool. Microwave for additional time if chocolate chips are not melted
White chocolate mud cake
After cake and white chocolate ganache are completely cool

Keep a plate and place the cake stand on top of the cake

Pour the ganache on top of the cake and gently spread with a spoon
Topping
Add grated chocolate chips on top and all around the cake
Video
Notes
You can add cherries or sprinkles or any other topping of your choice
Avoid adding hot ganache to the hot cake. Make sure both ganache and cake are completely cool
You can prepare wet ingredients in microwave/ stovetop
You can use 1/4 cup of condensed milk (reduce 1/4 cup sugar in that case) or use 2 eggs instead of sour cream
You can store leftover ganache in fridge but if you keep ganache before using it might turn thick
Ingredients
To sieve
1 cup all-purpose flour
1 teaspoon baking powder
Pinch of salt
To microwave
2/3 cup Milk
4 oz White chocolate
1/2 cup Sugar
1/4 cup softened Butter
Final mix
1/4 cup sour cream or yogurt
White chocolate ganache
1/4 cup chocolate chips + 1 tbsp
1/4 cup cream
Topping
Grated white chocolate chips
How to make an eggless white chocolate cake with step by step pictures
Preheat the oven to 350 degrees Fahrenheit or place a stand on a pan and preheat for 10 minutes
Place parchment paper on a cake pan and grease with baking spray
Firstly take flour, baking powder, and salt to and sieve to get a lump free smooth flour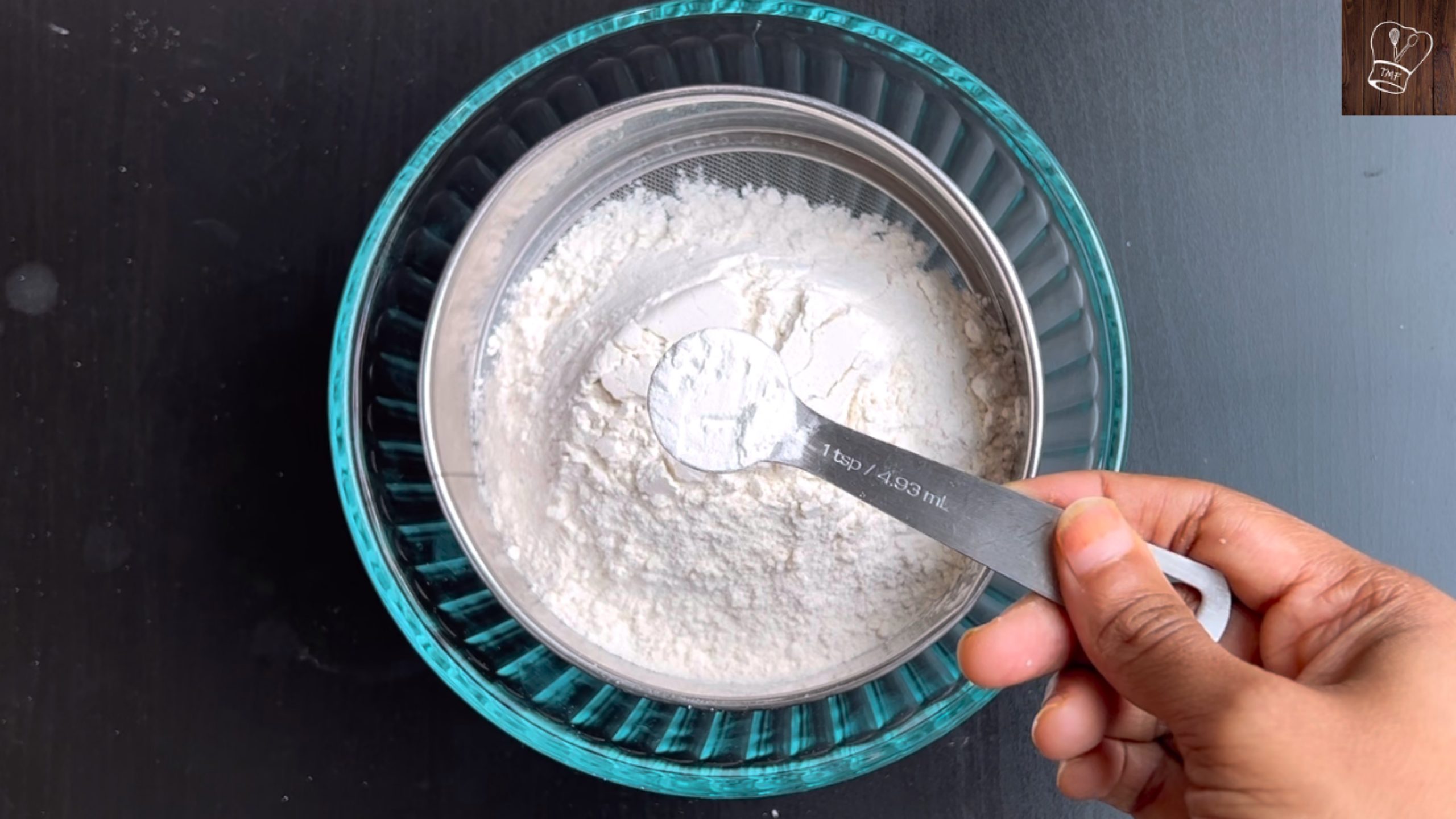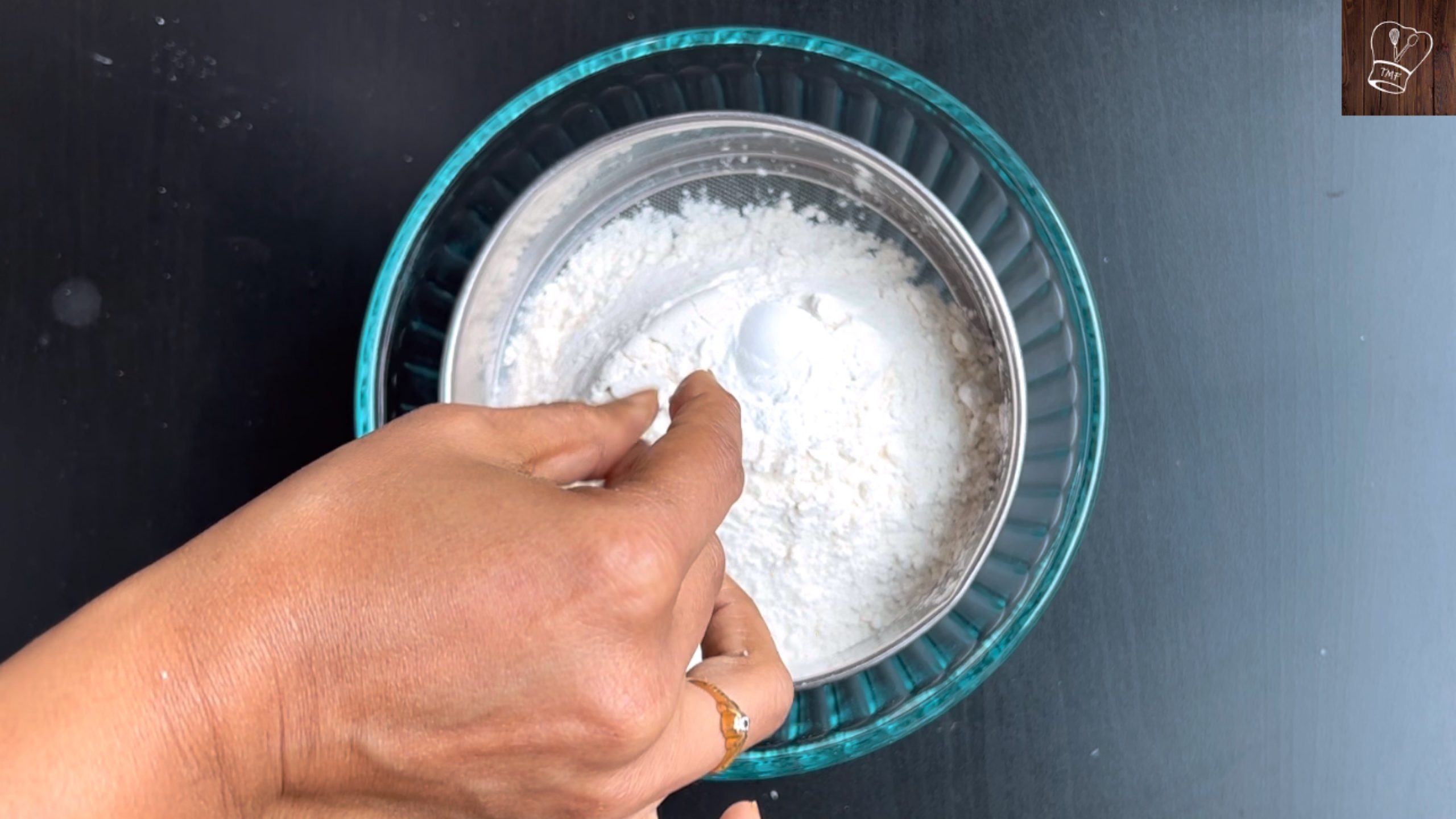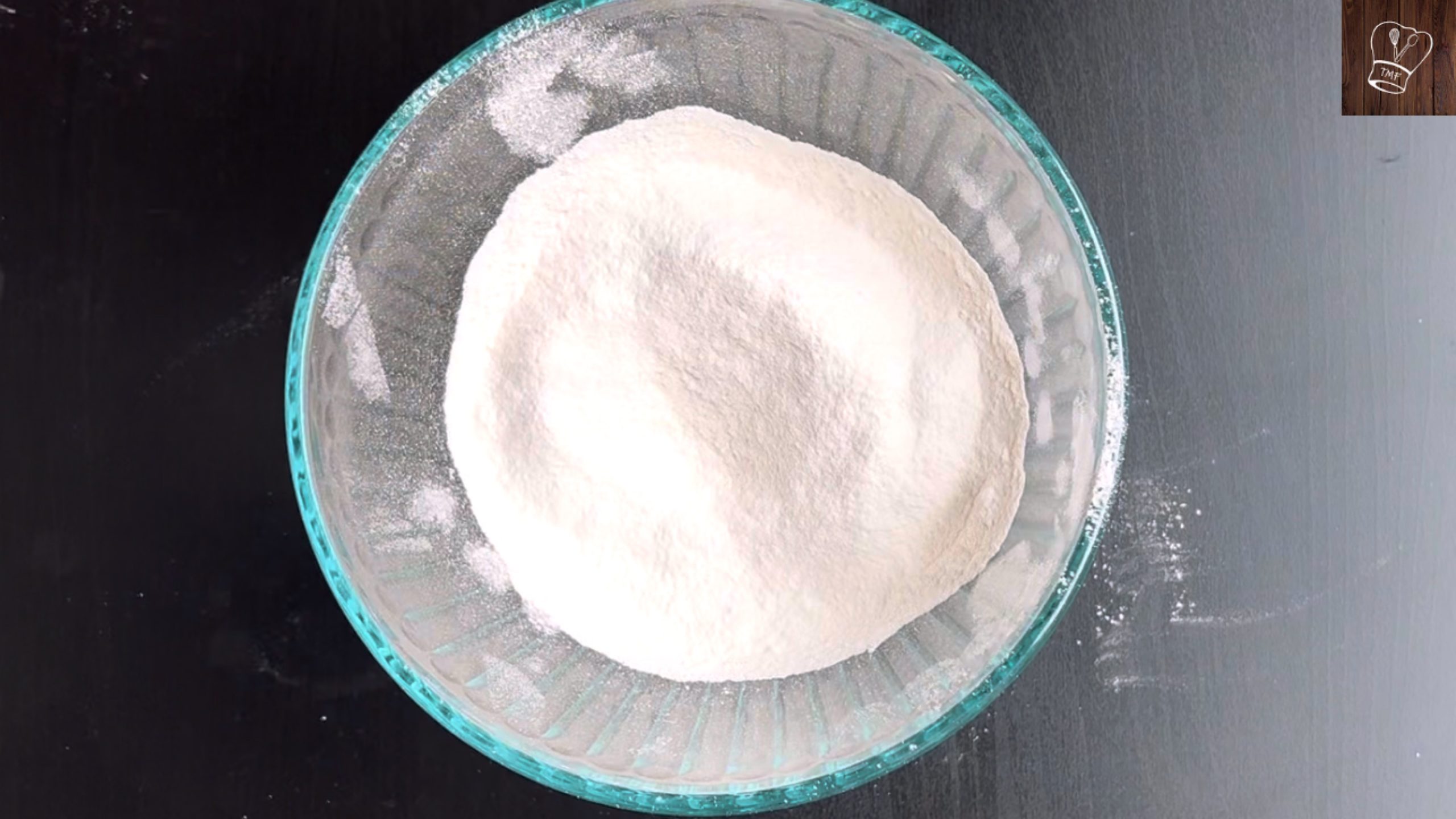 In a microwave-safe bowl add milk, white chocolate, sugar, and softened butter, microwave for 2 minutes. Microwave till chocolate chips are melted and you see smooth liquid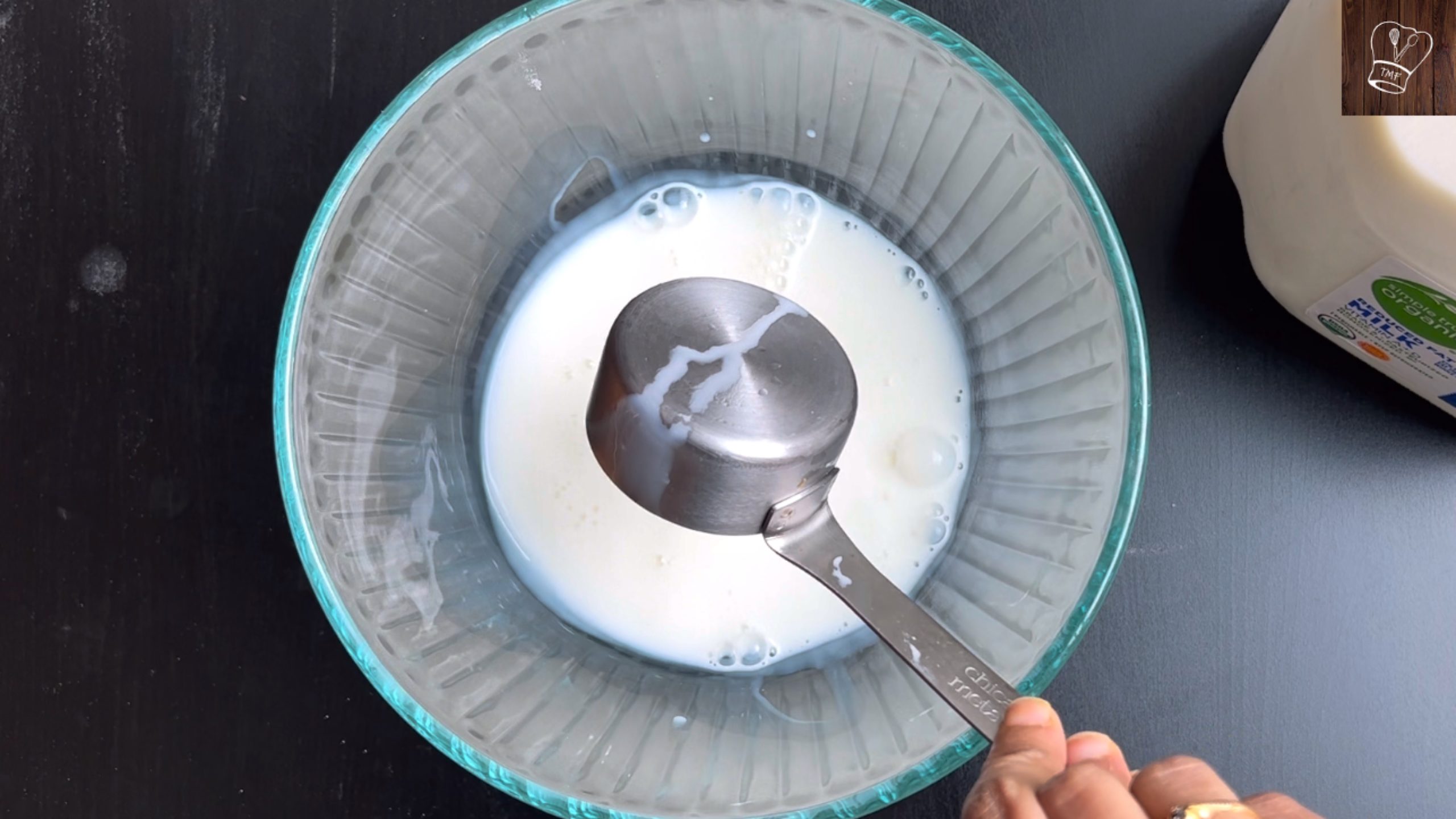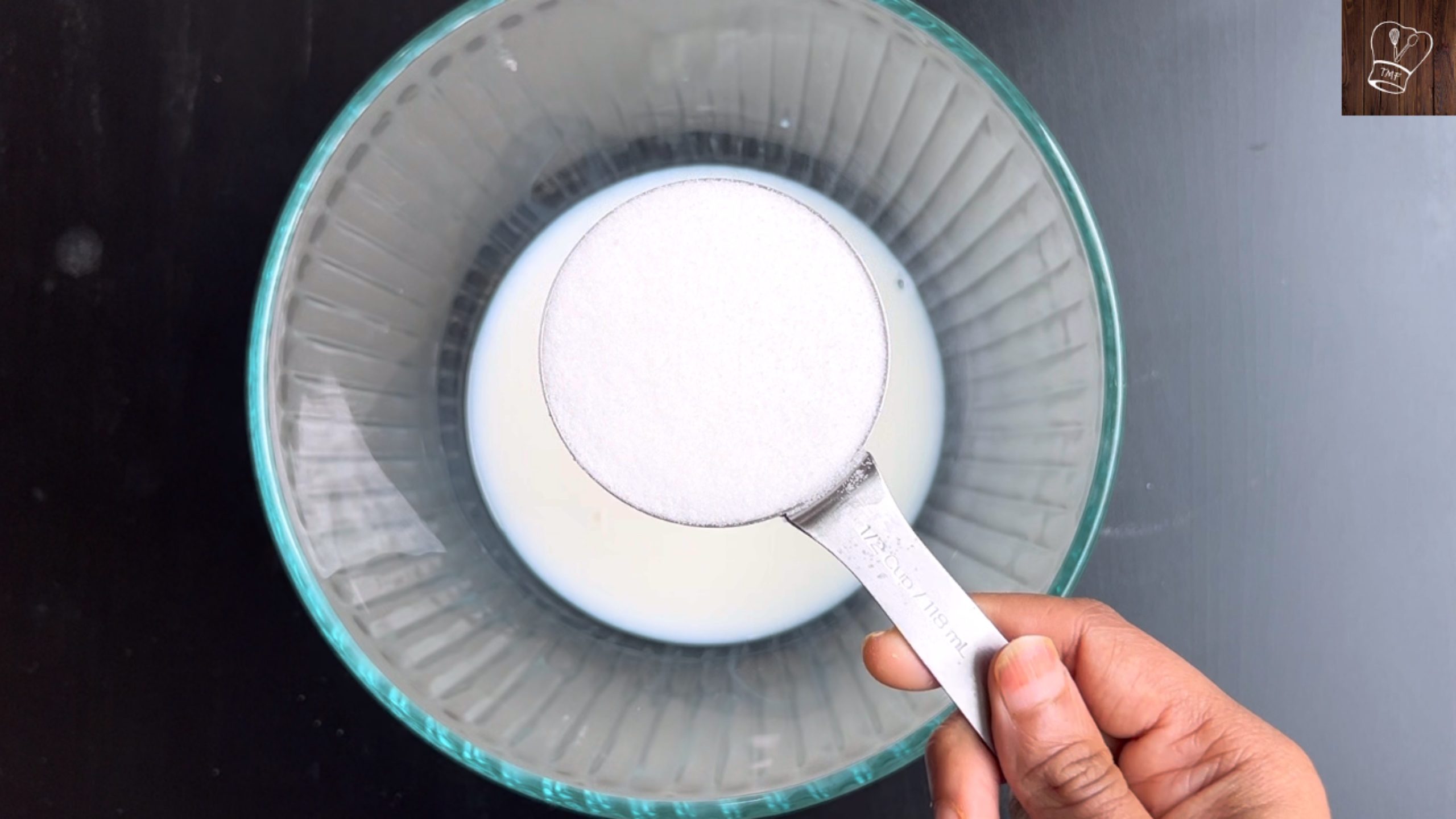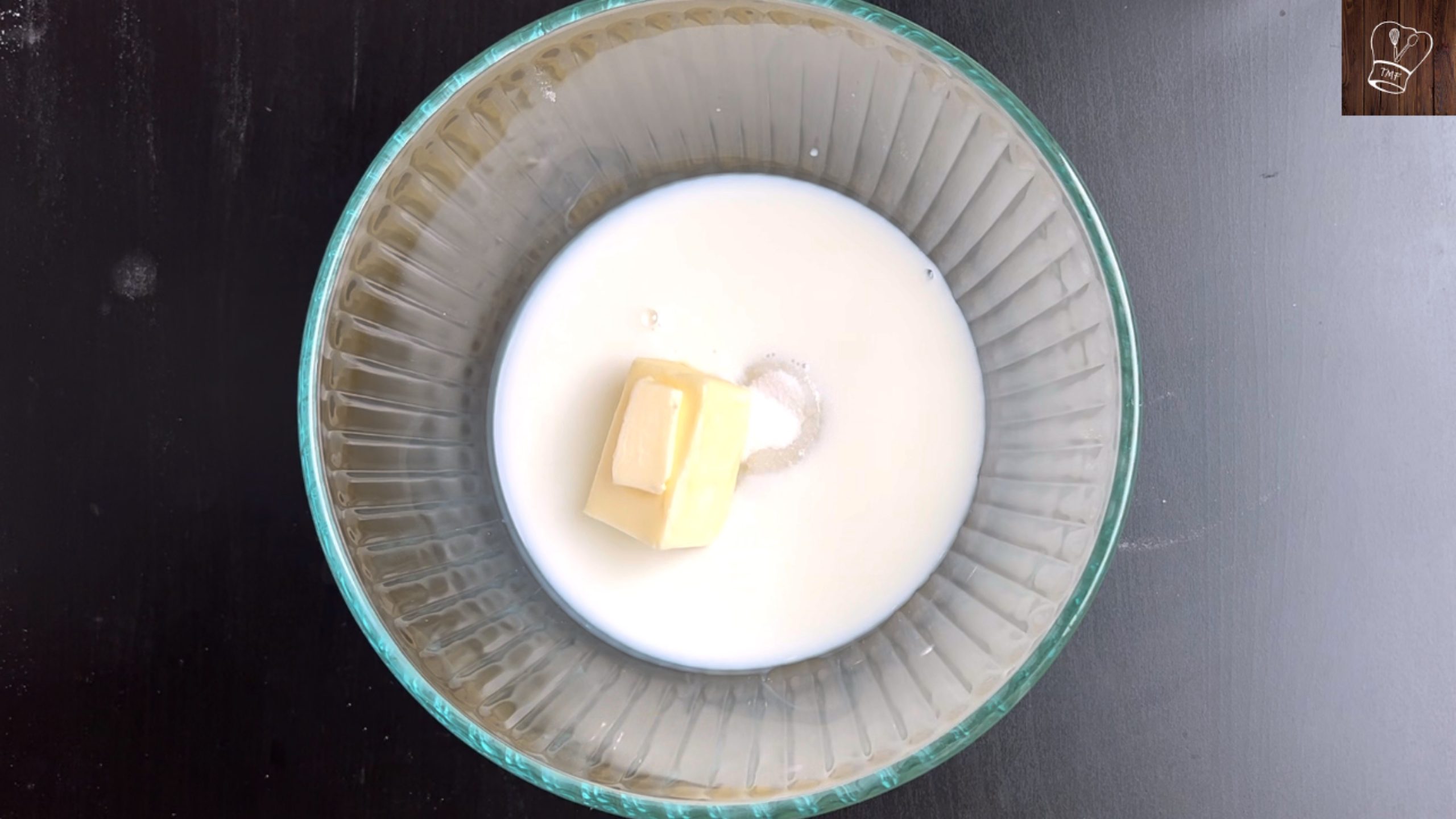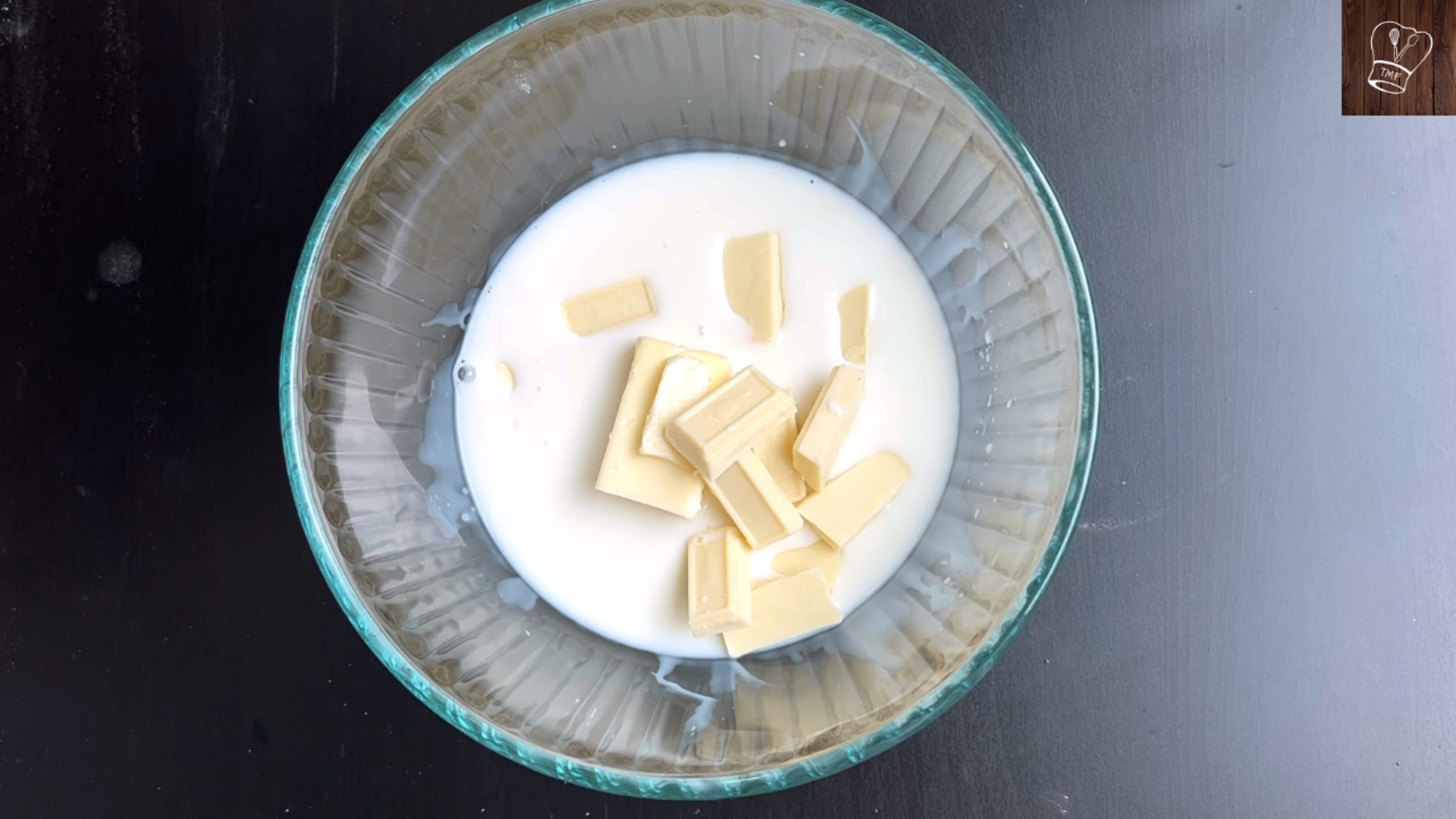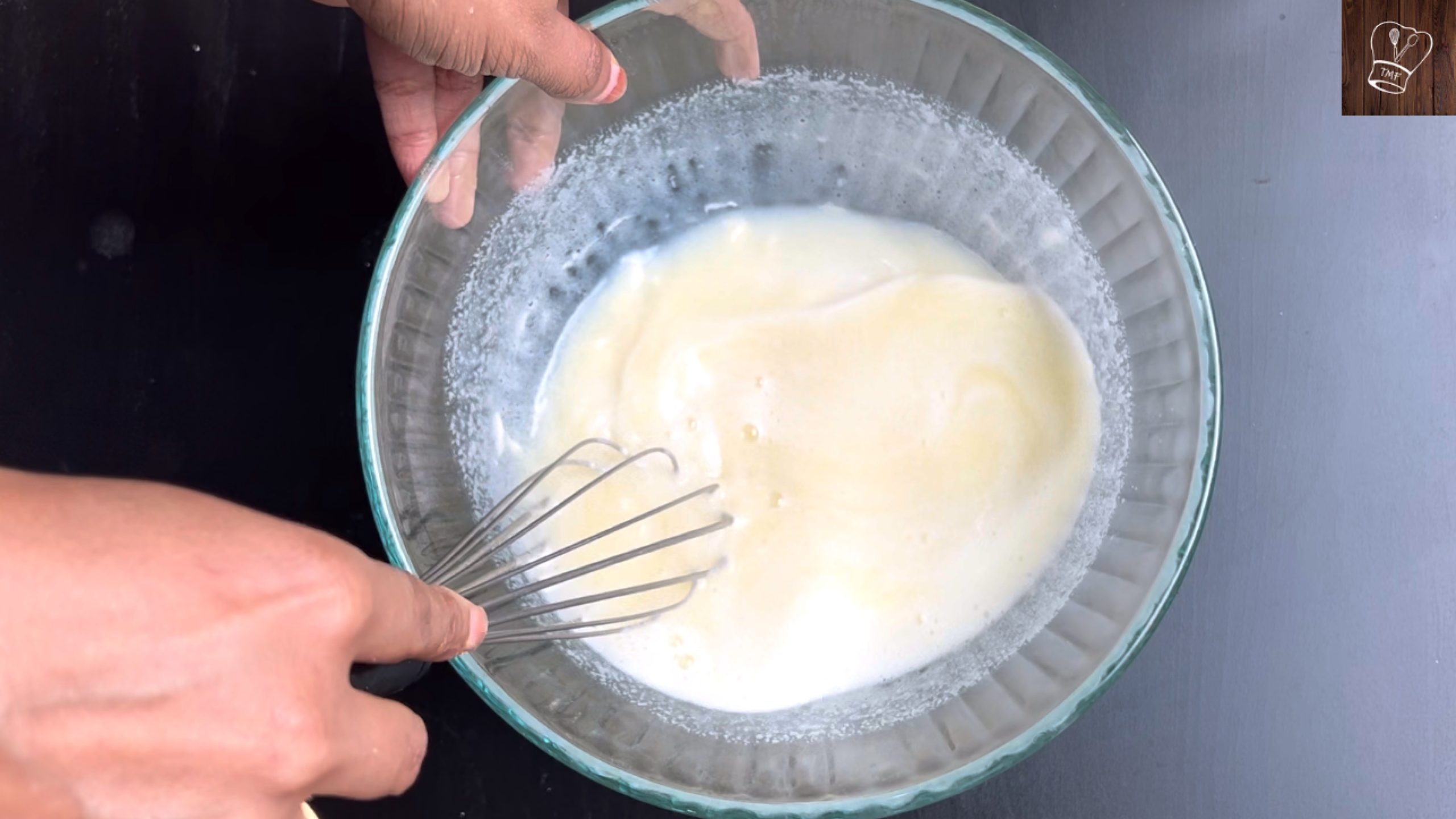 Add sieved flour, fold and mix. Avoid over mixing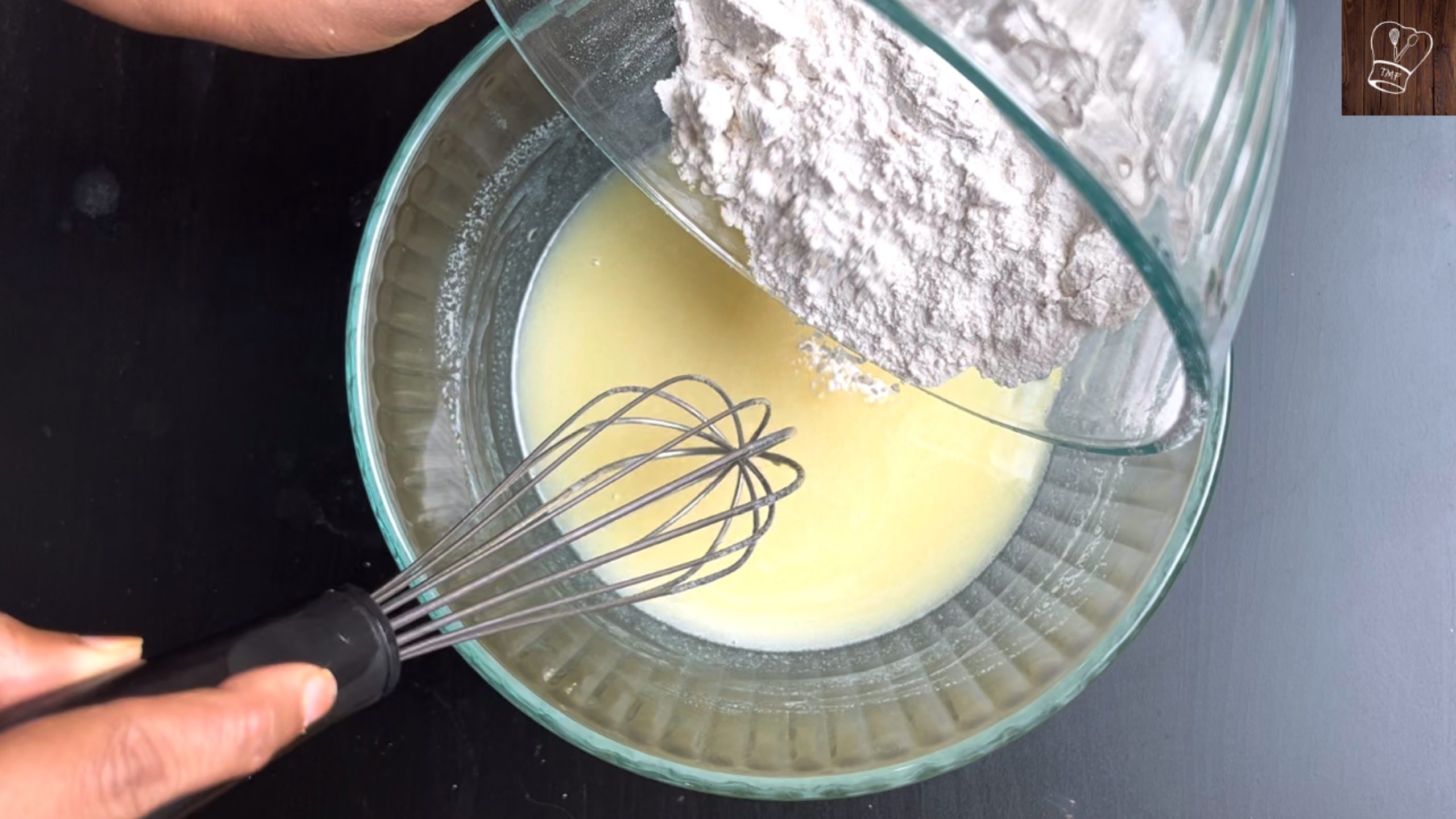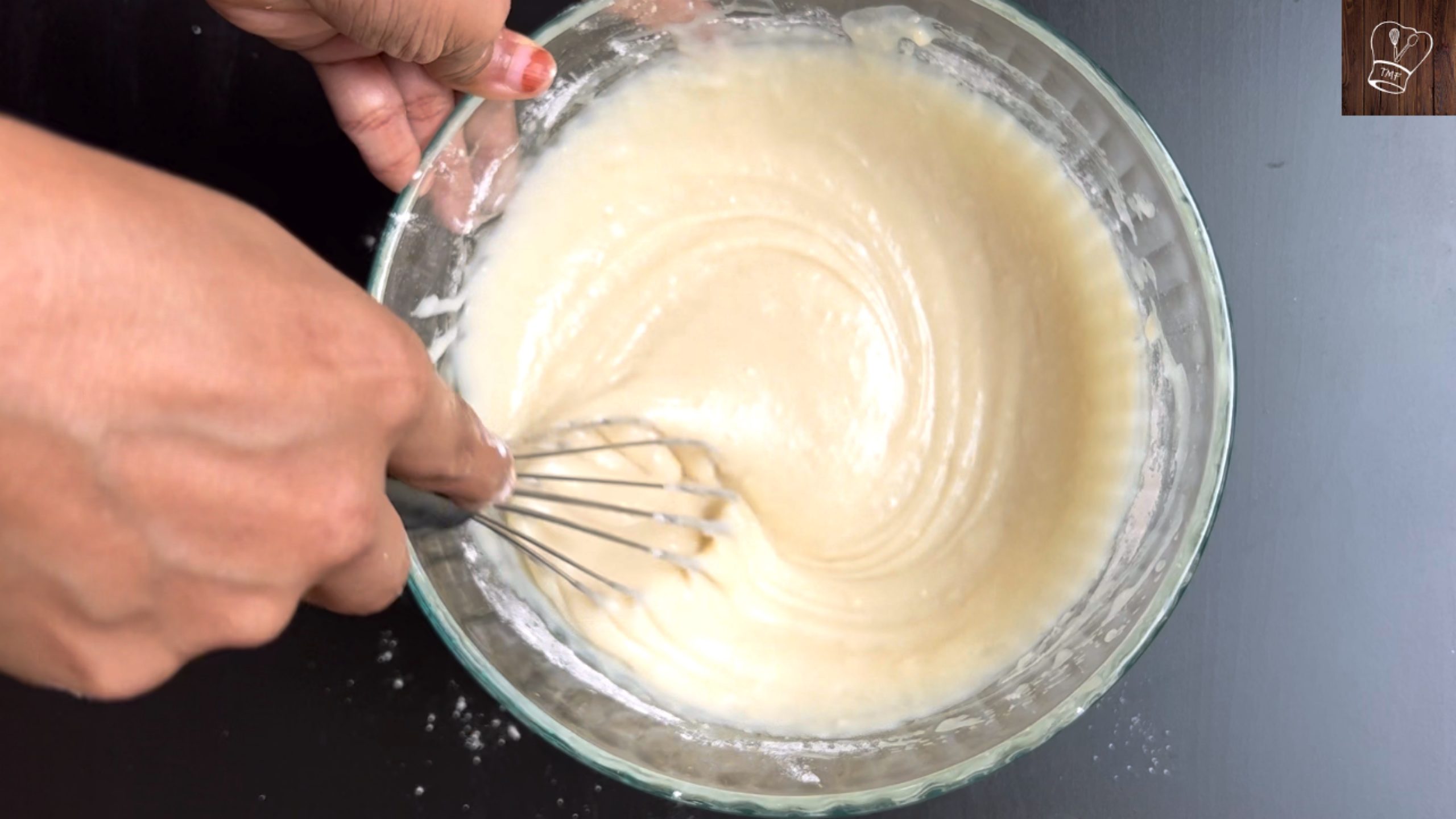 Finally, add sour cream and mix gently until everything is combined well
Transfer the batter and tap the pan to remove air bubbles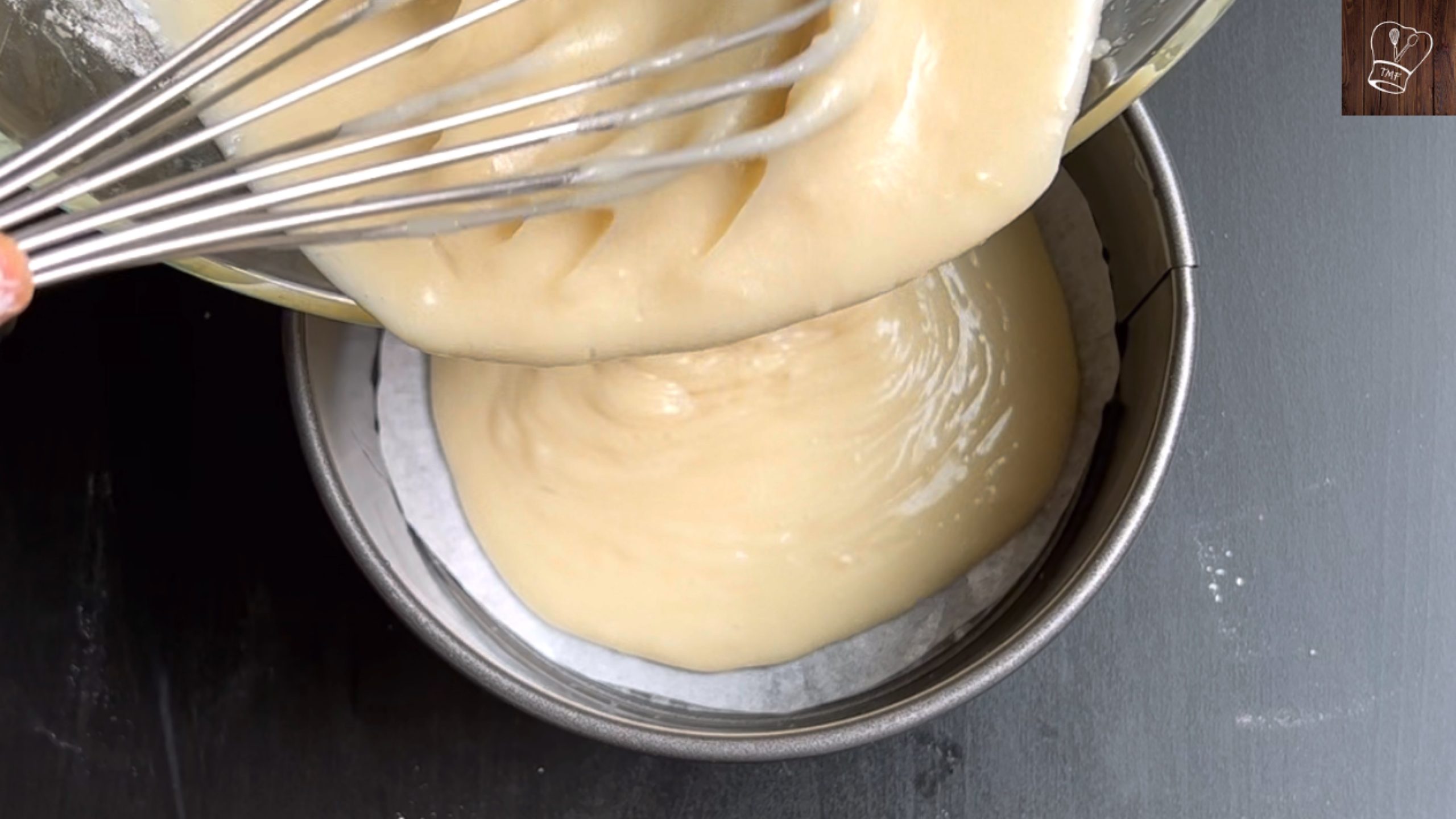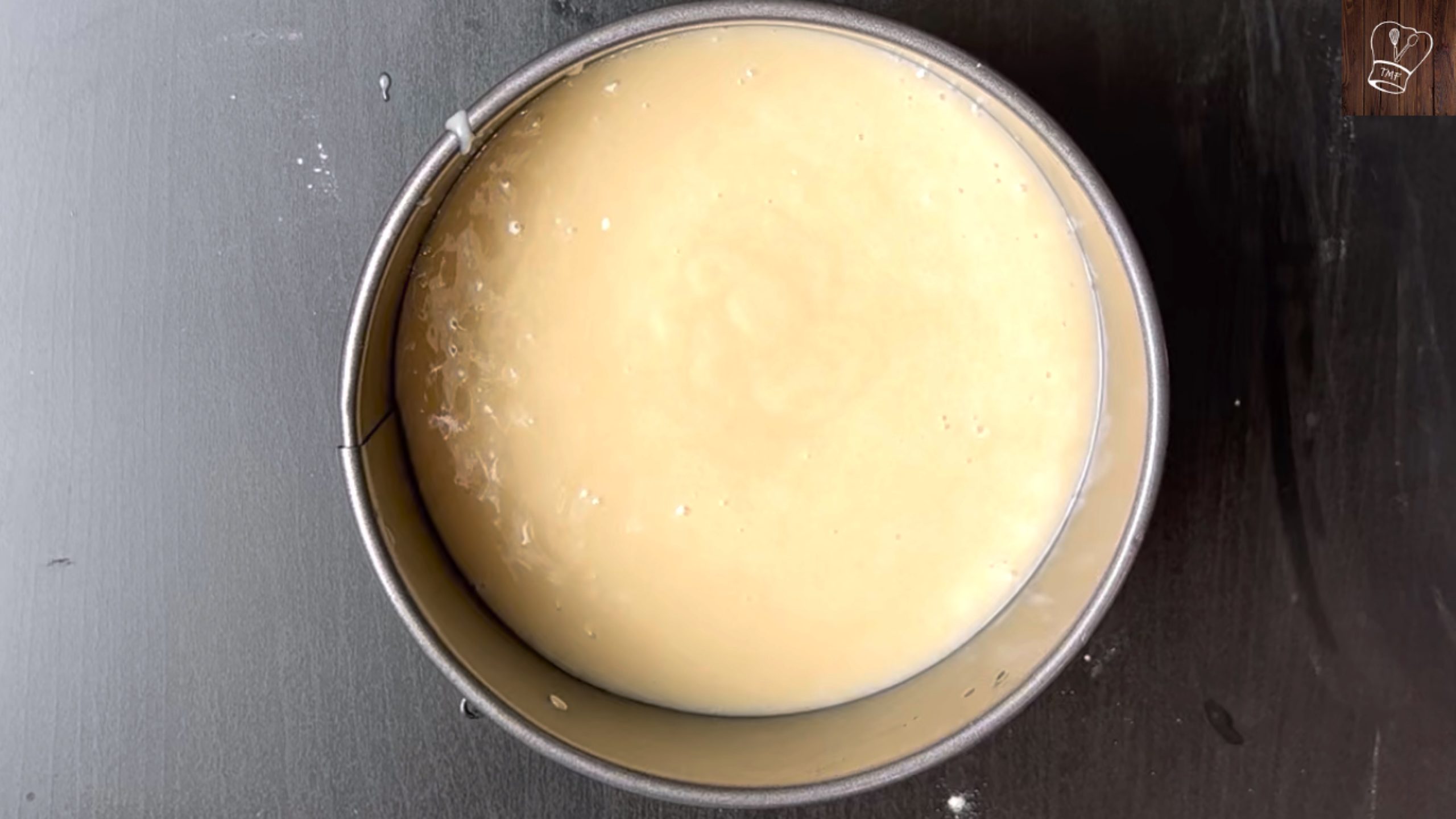 Bake cake in the oven
Place the cake and bake for 30 - 40 minutes (until a toothpick inserted comes out clean )
Bake cake in pan
Place cake pan on the stand, cover with a lid, and bake for 30 - 40 minutes (until a toothpick inserted comes out clean )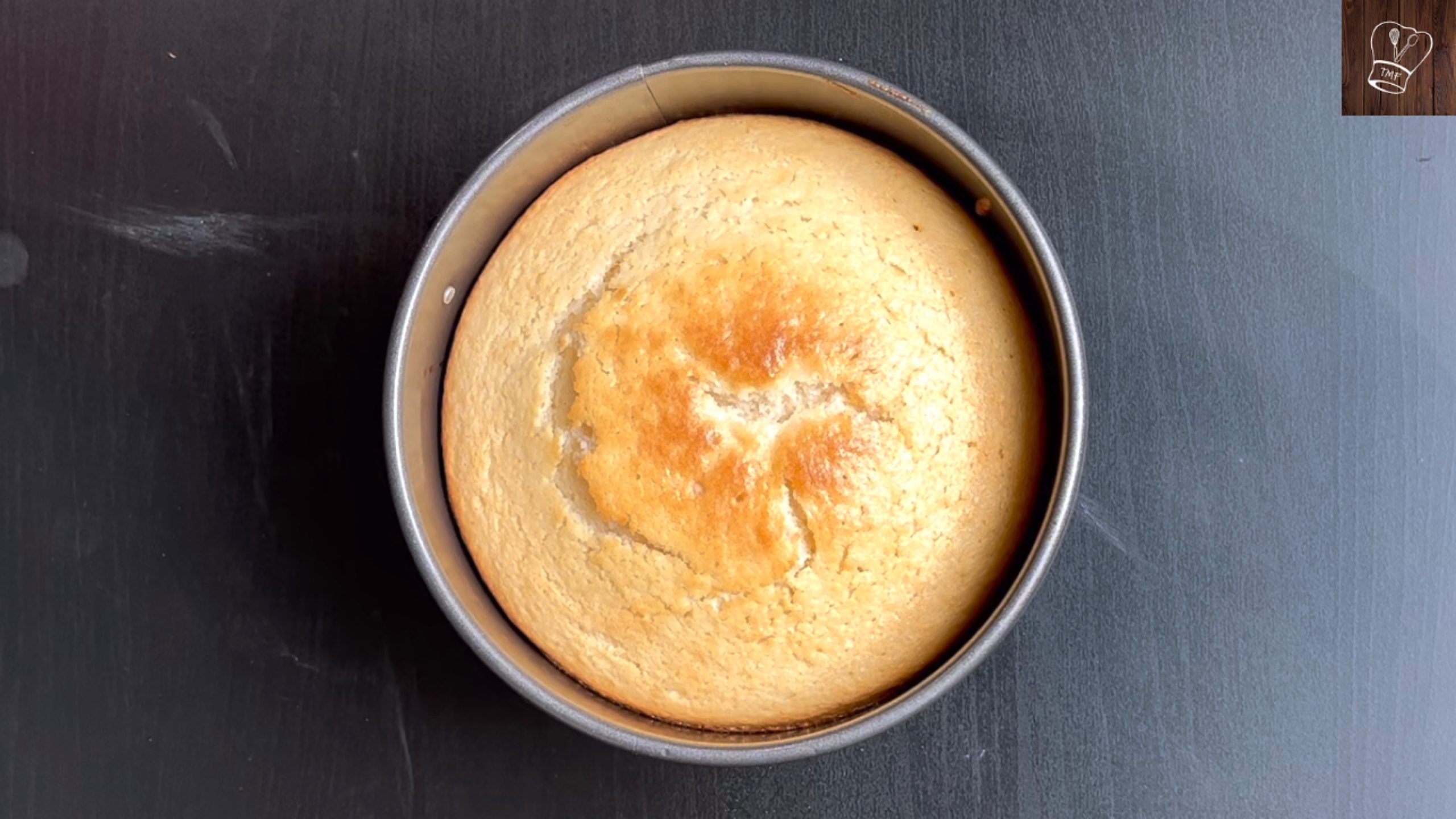 unmold and cool the cake
Leave the cake for 5 minutes then unmold the cake and remove parchment paper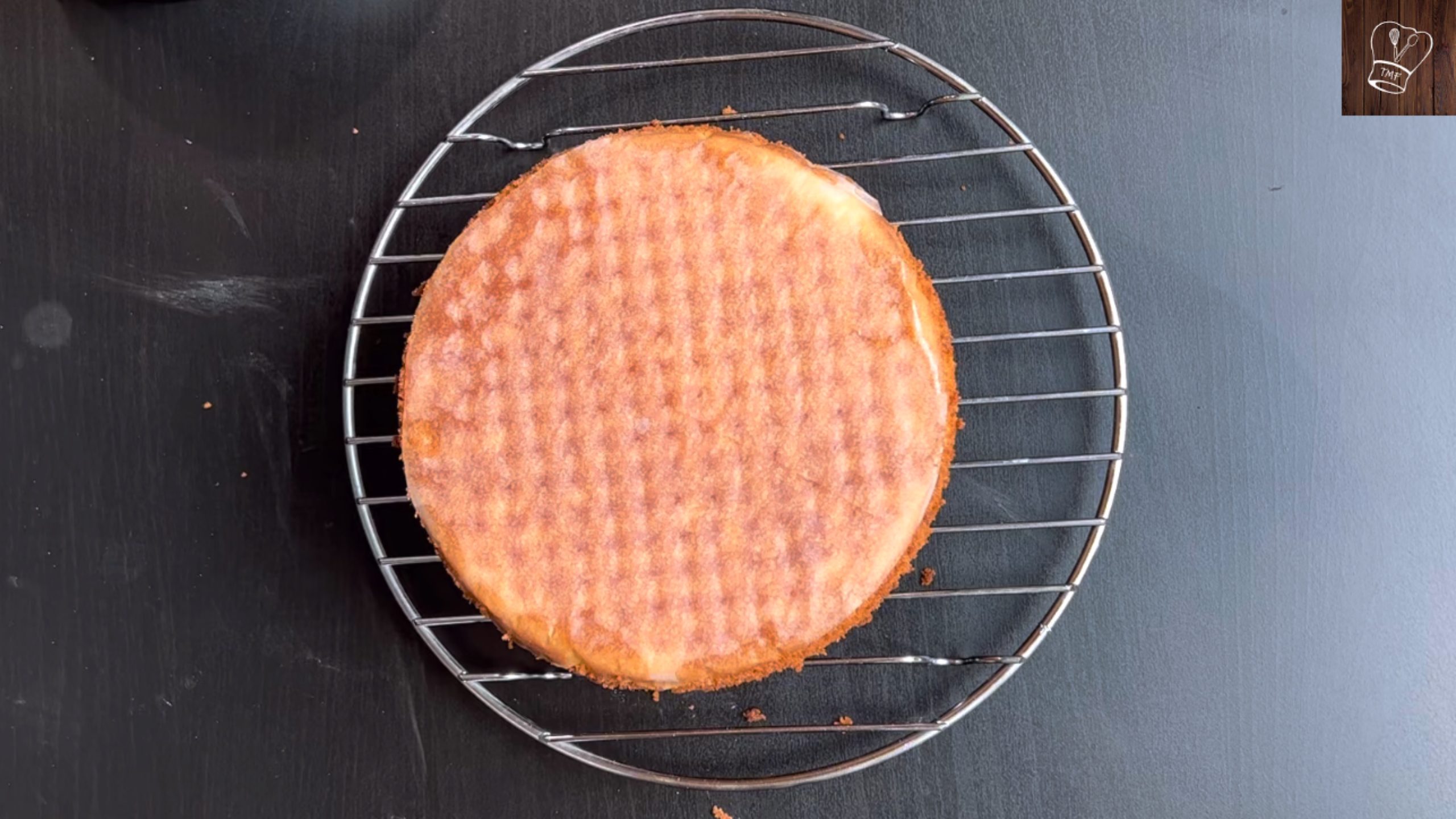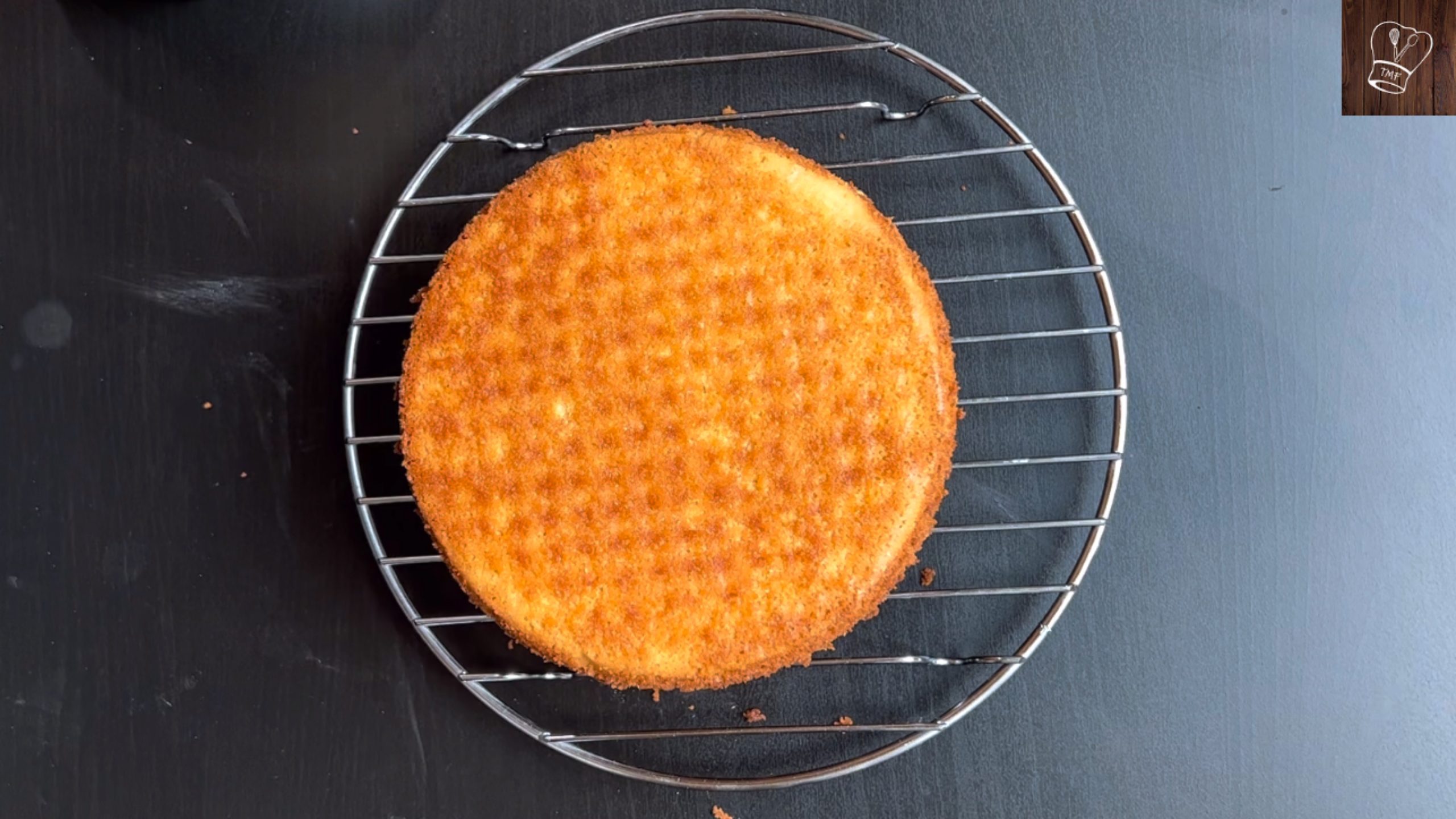 Keep aside and cool completely
Prepare ganache
Take white chocolate chips and heavy cream and microwave for 1 minute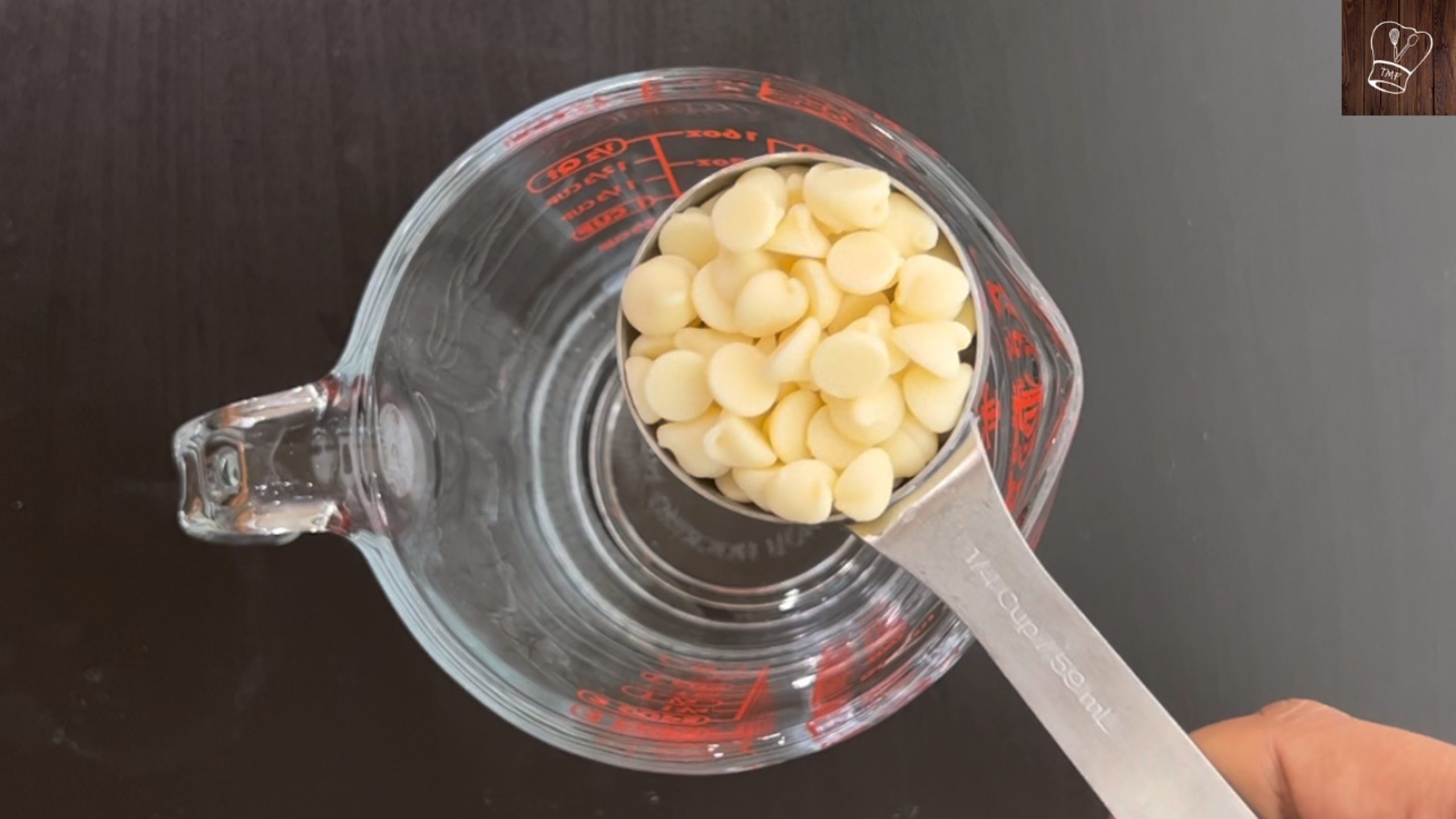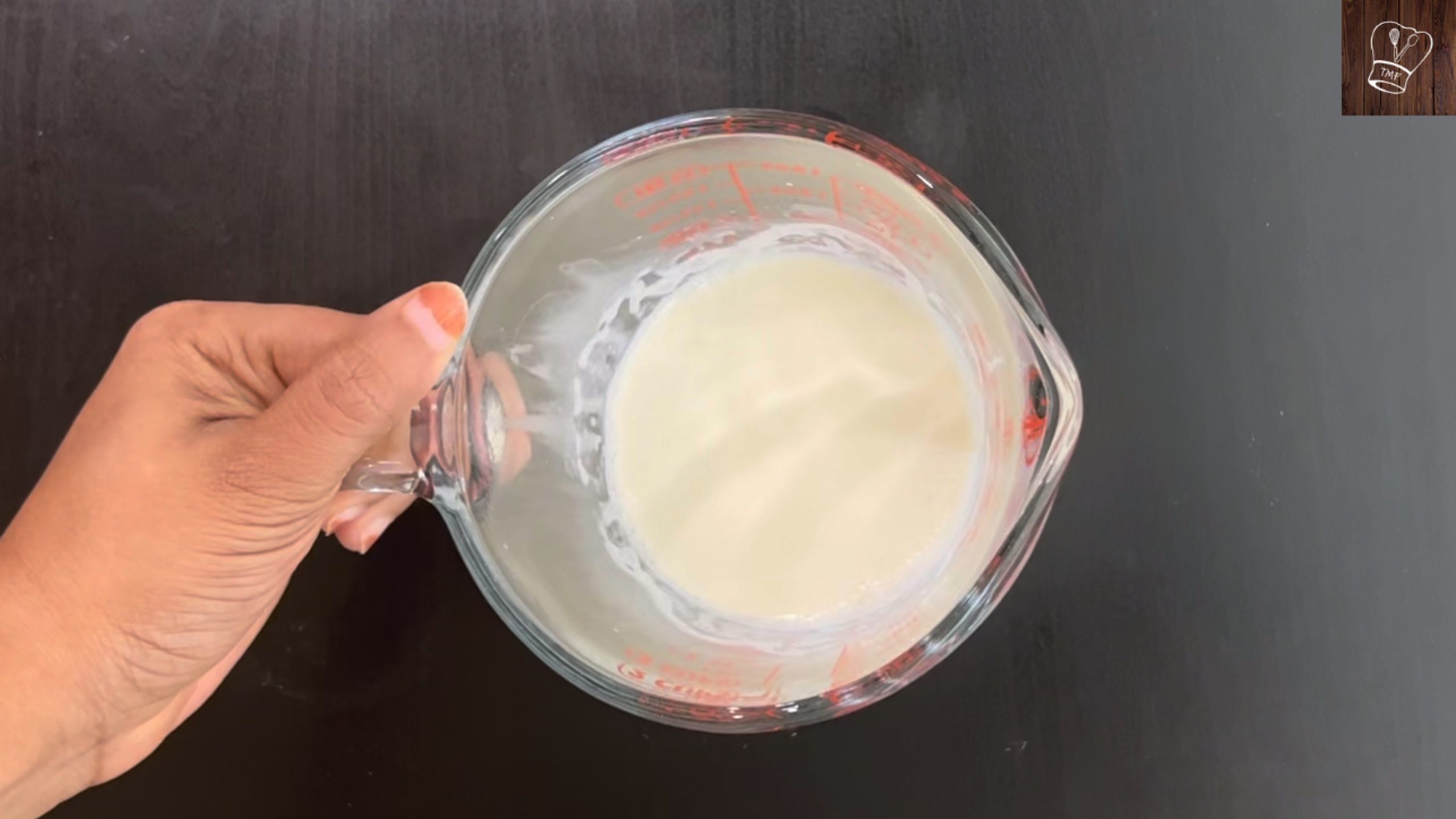 Furthermore, add 1 tablespoon of white chocolate chips, mix well and set aside, and cool. Microwave for additional time if chocolate chips are not melted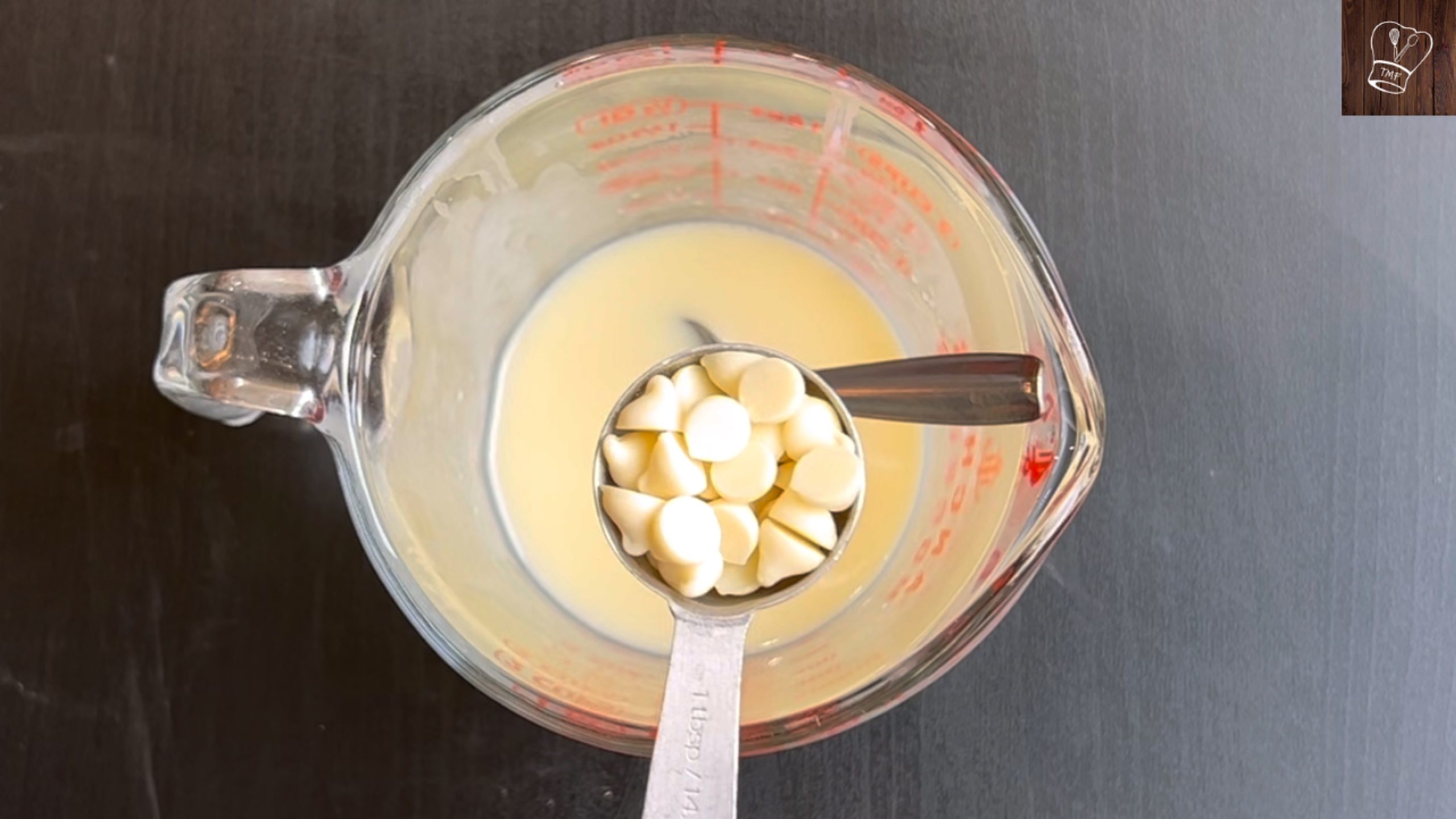 White chocolate mud cake
After cake and white chocolate ganache are completely cool
Keep a plate and place the cake stand on top of the cake
Pour the ganache on top of the cake and gently spread with a spoon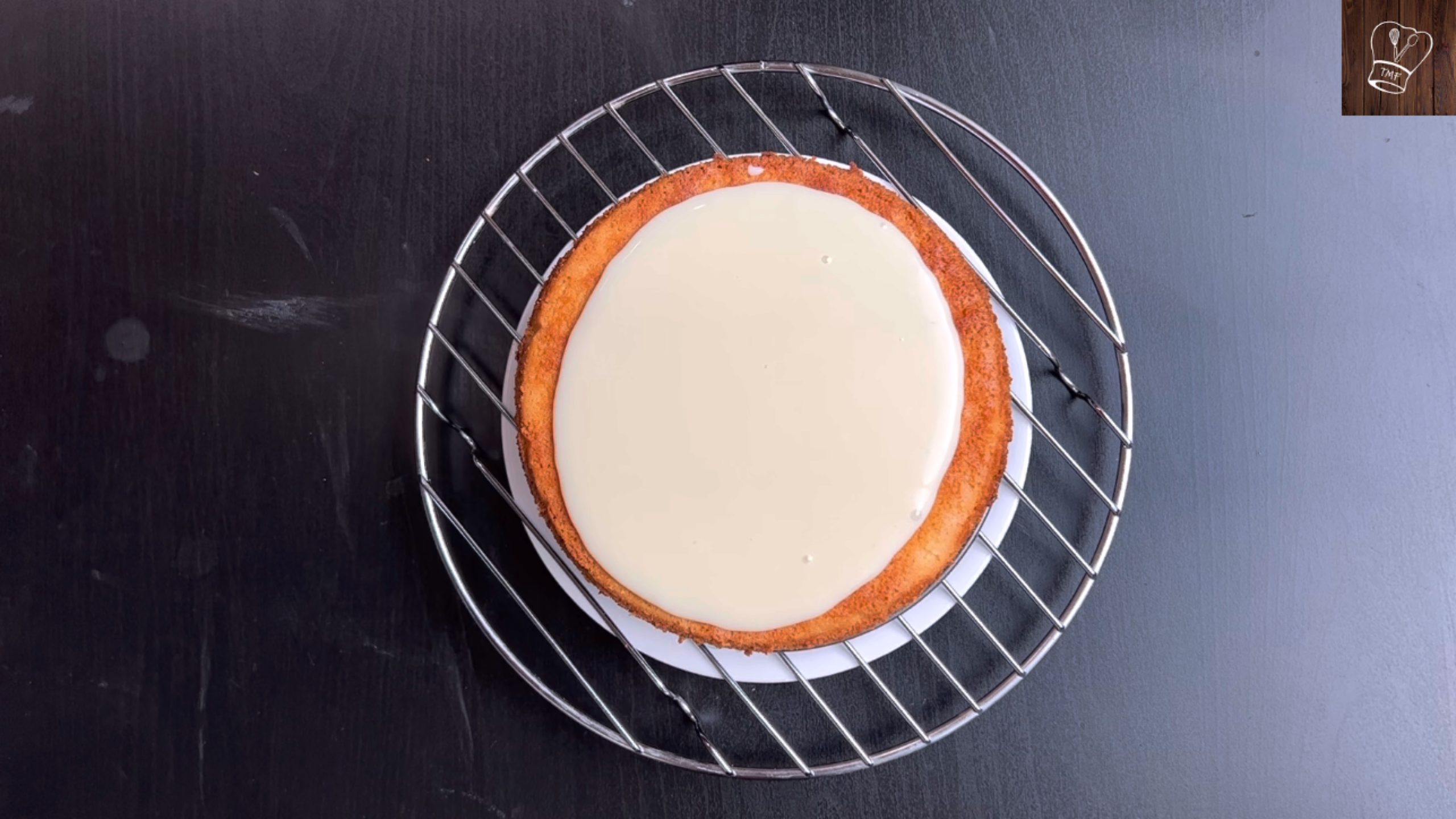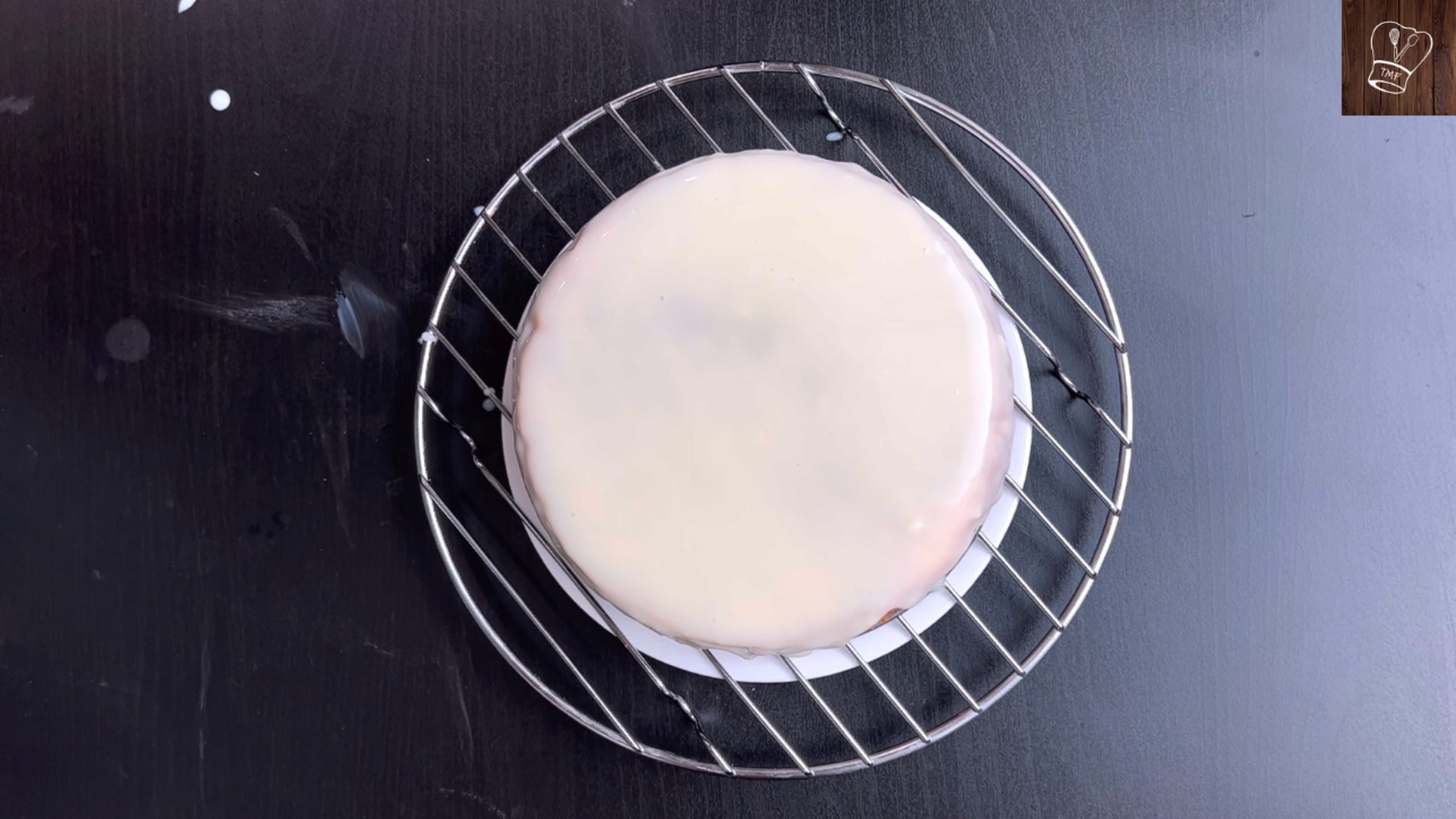 Topping
Add grated chocolate chips on top and all around the cake