Eggless chocolate cake recipe | Best chocolate cake | super moist chocolate cake with step-by-step pictures and video recipe. Check out the Best chocolate cake. If you like the video pls SUBSCRIBE to my channel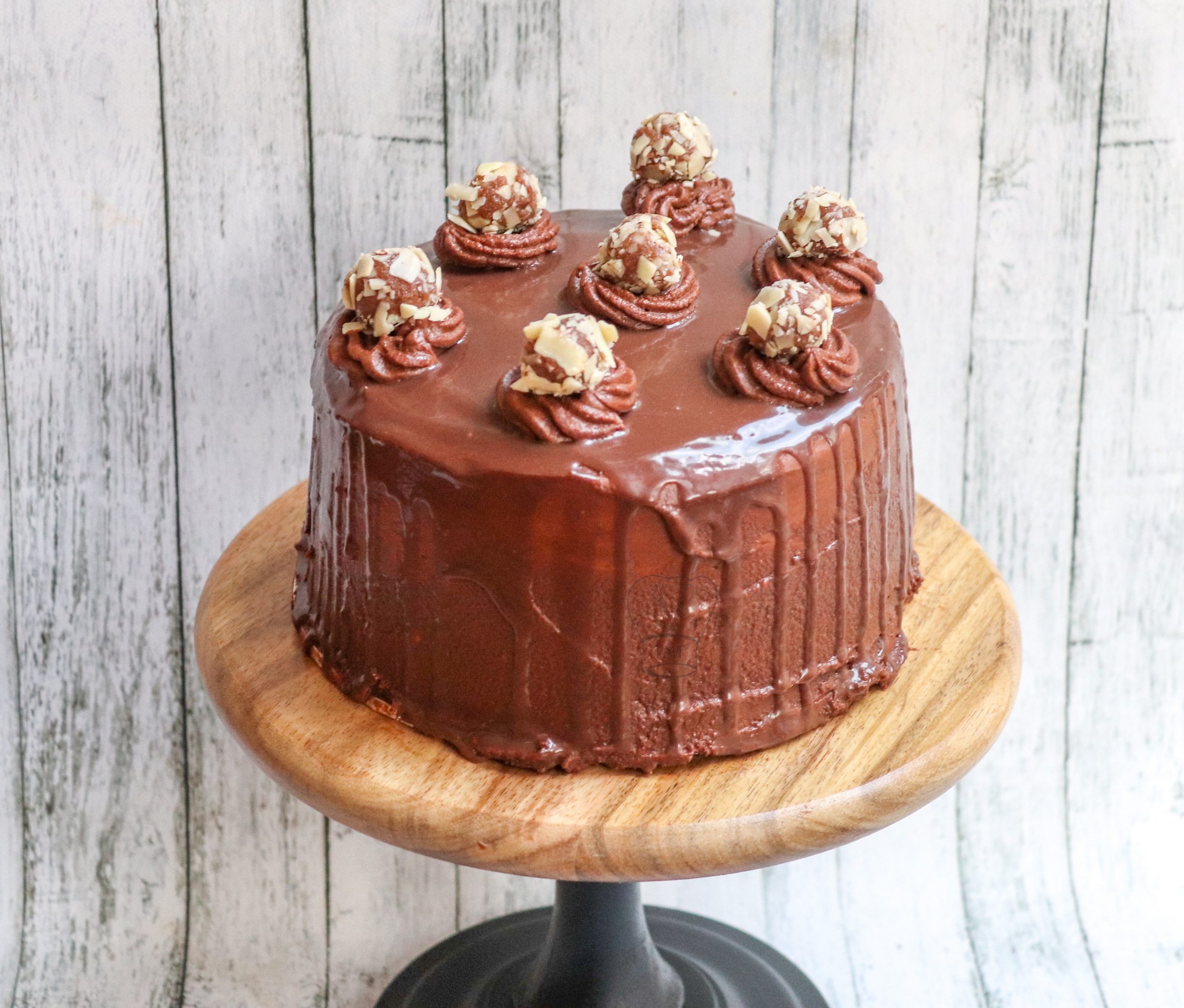 Eggless chocolate cake recipe | Best chocolate cake | super moist chocolate cake is simply moist, soft chocolate cake has no butter, no eggs, no vinegar, no lemon juice. Tasty chocolate cake is made with basic pantry ingredients. Eggless chocolate cake is popularly known as depression cake or wacky cake. Eggless chocolate cake is one of the quickest and can be made even by a beginner without any hassle. It turns out very moist, super soft, very light, and spongy. 6-inch cake.
Chocolate cake origin
When I was reading about chocolate cake I happen to know a few facts about chocolate cake. It was baked first during world war 2 by the British government. To overcome the food shortages they followed a cake recipe with basic ingredients like flour, oil, soda, and sugar. Since eggs and butter were in shortage those were skipped.
Can I use wheat flour instead of all-purpose/flour?
For a light and soft cake, all-purpose flour is preferred. Using wheat flour might result in a dense cake. If you prefer to use wheat flour choose fine ground flour and add an extra 2 or 3 tbsp of water. Use a generous amount of chocolate syrup or simple syrup in between the layer to moist the cake.
Can I use butter instead of oil?
Yes, oil can be substituted with melted unsalted butter but as I told you in my Eggless white forest cake, oil makes the moist cake.
Is coffee powder necessary for chocolate cake?
Little coffee enhances the chocolate cake taste. If you are serving this cake for kids skip it. Believe me, you won't even taste coffee.
Can I use whipped cream/cream cheese frosting for the cake?
I have used buttercream frosting but whipped cream /cream cheese frosting or any other frosting of choice can be used. Since I have poured chocolate ganache buttercream frosting was my personal preference.
Is chocolate syrup required for Eggless chocolate cake?
The cake is moist on its own. Chocolate syrup helps with extra flavoring and also makes the cake light.
Best Eggless chocolate cake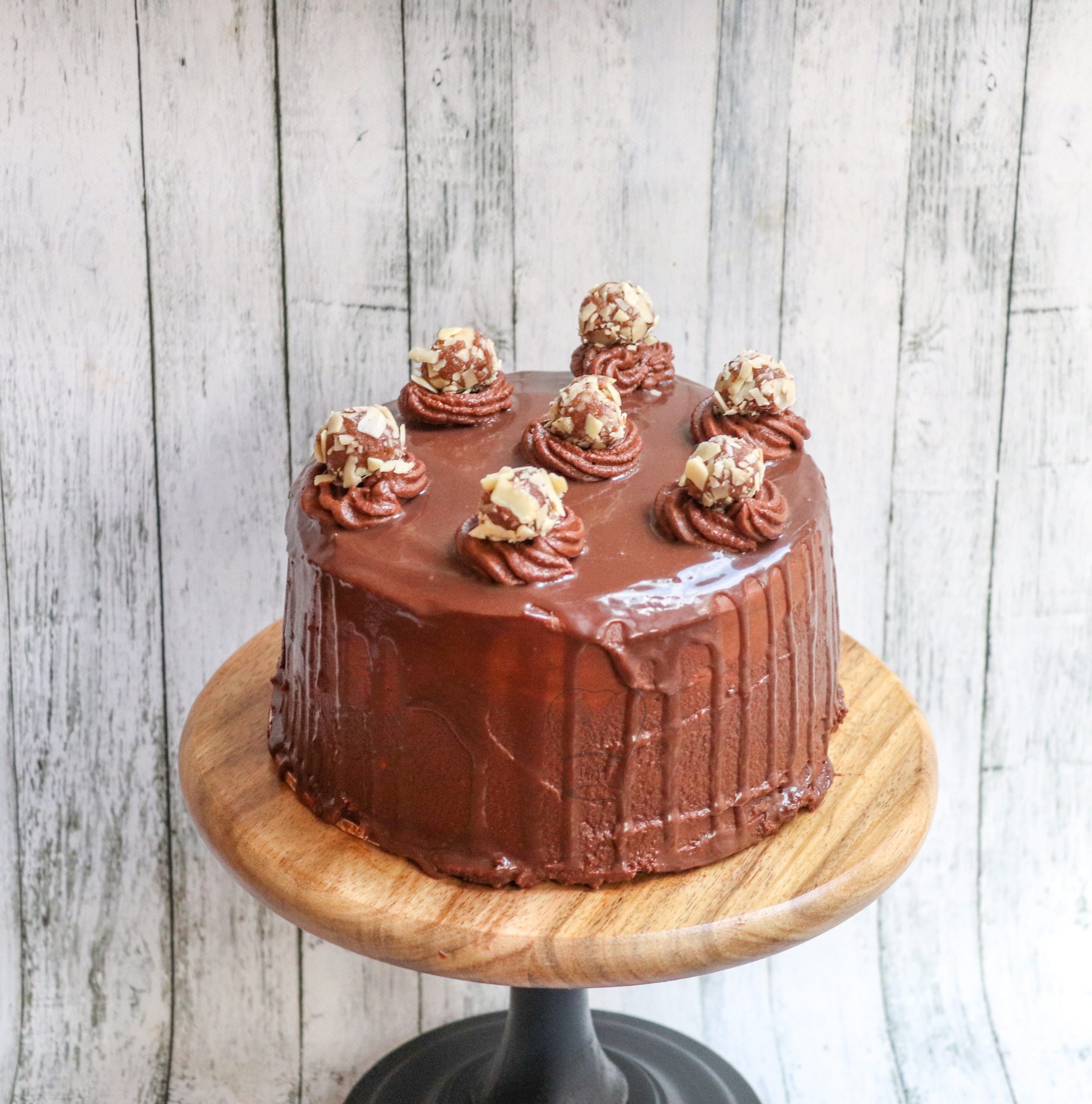 Other cake recipes in TMF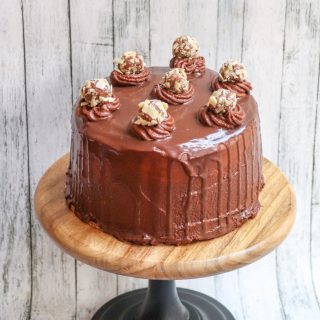 Ingredients
All-purpose-flour / maida - 1 cup

Baking Soda - 1 tsp

Baking Powder - 1/2 tsp

Cocoa Powder - 1/4 cup

tightly pressed

Salt - pinch

Sugar - 3/4 cup

Milk - 1/2 cup

Flavor less Oil - 1/2 cup

Sour cream / Curd - 1/2 cup

Water - 1/4 cup

Vanilla - 1 tsp

Instant coffee powder - 1/2 tsp

Frosting:

Unsalted butter - 3/4 cup

Confectionery sugar - 2 + 1/2 cup

Unsweetened cocoa powder - 1/3 cup

tightly pressed

Heavy cream - 3 tbsp

Salt - pinch

Vanilla extract - 1 tsp

Chocolate ganache :

Semi sweet chocolate chips - 2.5 oz

Heavy cream - 2.5 oz

Salt - pinch

Vanilla extract - 1/4 tsp

Coffee powder - pinch
Instructions
Preheat oven to 350°F or 175°C

Take two 6 inch cake pan and line them with parchment paper and grease with cooking spray or oil

In a small mixing bowl add instant coffee powder and water; mix well till the coffee powder is well blended with water

In a wide mixing bowl add flour, cocoa powder, baking powder, baking soda, and sugar; combine everything well with a whisk

After the microwaved coffee is cool add milk, oil, and vanilla extract  and mix well

Make a dent in the dry ingredients bowl

Add the wet ingredients and sour cream, mix just until all the ingredients are incorporated; avoid over mixing

Avoid over mixing  it yields a dense cake

Divide the equal amount of batter between two tins and add

Bake for 29 -33 minutes or until a toothpick/skewer inserted comes out clean

Cooldown both the cakes for 10 minutes and carefully flip the cake on the rack, remove the parchment  paper, and allow both cakes to cool completely

How to make chocolate frosting

In a wide vessel add softened butter and beat it well on medium speed until creamy for about 2 -3 minutes

Add confectioners' sugar, cocoa powder, heavy cream, salt, and vanilla extract

Beat on lowest speed for around 1 minute or until everything is combined well

After the mixture is well combined slightly increase the speed and beat till you see creamy buttercream frosting

Assemble the cake

Add little frosting on the cake board and place the base cake

Use a skewer and make holes around the cake and drizzle a generous amount of chocolate syrup on the entire cake

Add a generous amount of frosting and spread

Place another cake over the base cake

Add a base coat of frosting and refrigerate the came for at least 1 hour

After 1 hour add one more layer of frosting and level; refrigerate

Chocolate ganache

In a mixing bowl add chocolate chips, vanilla extract, salt, and coffee powder; mix well

In a cooking pan add heavy cream and boil in low flame

Cook till the heavy cream turns warm

Switch off before they start boiling

Add it to the chocolate mixture and let it sit for 4 minutes. Let the chocolates get well immersed in cream

Stir well after 4 minutes

In a colander strain the ganache and keep it at room temperature for least 20 minutes and refrigerate for 20 minutes

Ganache drip

Take a spoon and gently add ganache around the cake and add it to the top portion

Refriegatare the cake for at least 2 hours

Decorate the cake according to your preferences and refrigerated until use
Video
Notes
You can also wrap it up in cling wrap and refrigerate to use it later
If the frosting is thin add more sugar to increase sweetness or cocoa powder to make it chocolatey
For thick frosting add a few tsp/tbsp of milk to make it spreadable texture
Use a generous amount of chocolate syrup to make the cake soft and chocolatey
For light moist cake avoid over mixing
Vanilla essence is an artificial flavoring agent so use only a few drops
For the sugar syrup, boil 2 tbsps sugar in 4 tbsps water until the sugar dissolves and begins to boil well. Cool this and pour over the cake after cooling completely. Go ahead frosting the cake.
Avoid adding frosting/ ganache to the hot cake
Using a colander for me ganache is optional. Since I have used chocolate chips I did that to make sure I get a smooth ganache
You can use a chocolate bar instead of chocolate chips
Ingredients:
Cake:
All-purpose-flour / maida - 1 cup
Baking Soda - 1 tsp
Baking Powder - 1/2 tsp
Cocoa Powder - 1/4 cup, tightly pressed
Salt - pinch
Sugar - 3/4 cup
Milk - 1/2 cup
Flavor less Oil - 1/2 cup
Sour cream / Curd - 1/2 cup
Water - 1/4 cup
Vanilla - 1 tsp
Instant coffee powder - 1/2 tsp
Frosting:
Unsalted butter - 3/4 cup
Confectionery sugar - 2 + 1/2 cup
Unsweetened cocoa powder - 1/3 cup, tightly pressed
Heavy cream - 3 tbsp
Salt - pinch
Vanilla extract - 1 tsp
Chocolate ganache:
Semi-sweet chocolate chips - 2.5 oz
Heavy cream - 2.5 oz
Salt - pinch
Vanilla extract - 1/4 tsp
Coffee powder - pinch
How to make Eggless chocolate cake:
Preheat oven to 350°F or 175°C

Take two 6 inch cake pans and line them with parchment paper and grease with cooking spray or oil
In a small mixing bowl add instant coffee powder and water; mix well till the coffee powder is well blended with water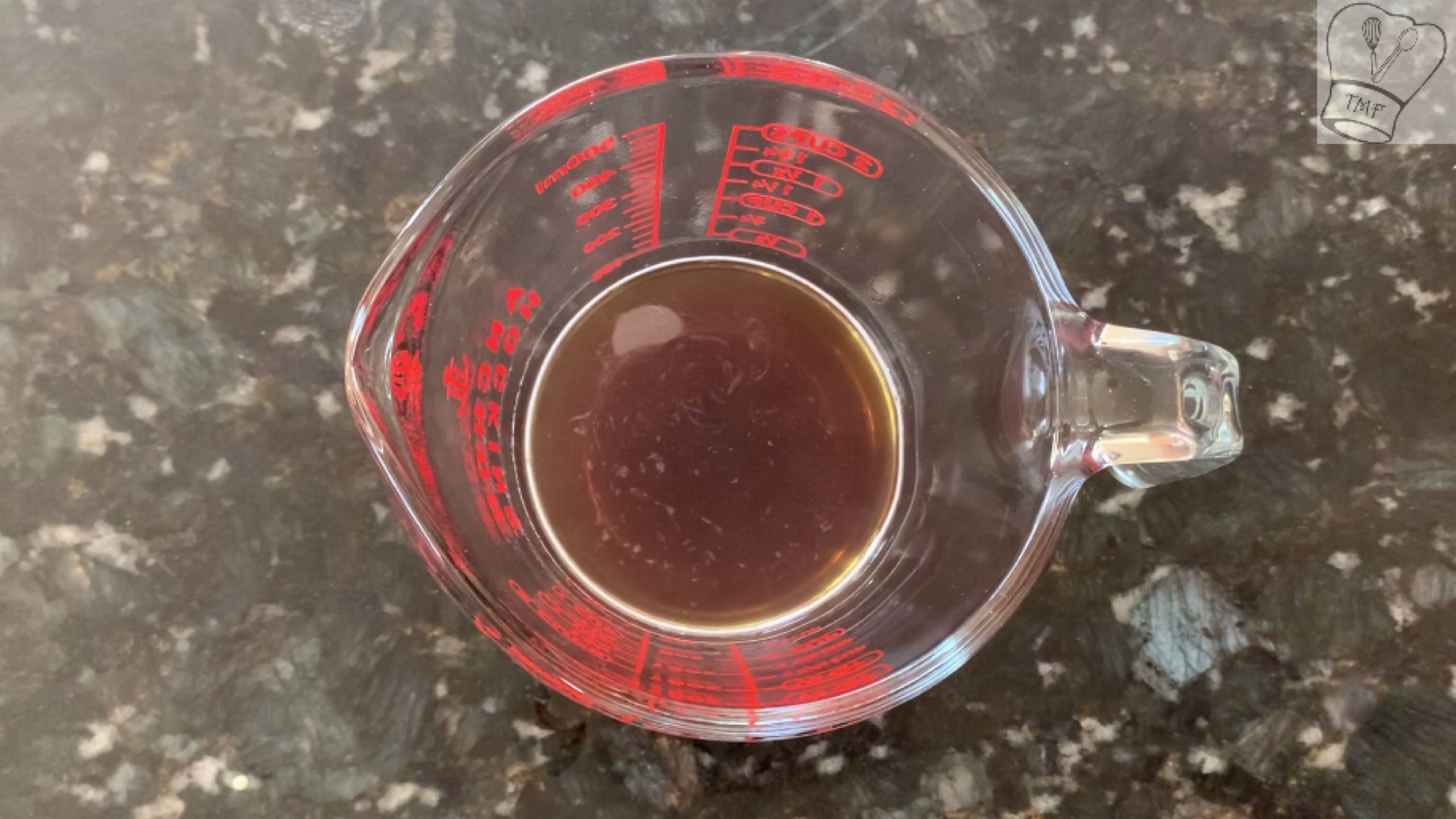 In a wide mixing bowl add flour, cocoa powder, baking powder, baking soda, and sugar; combine everything well with a whisk or fork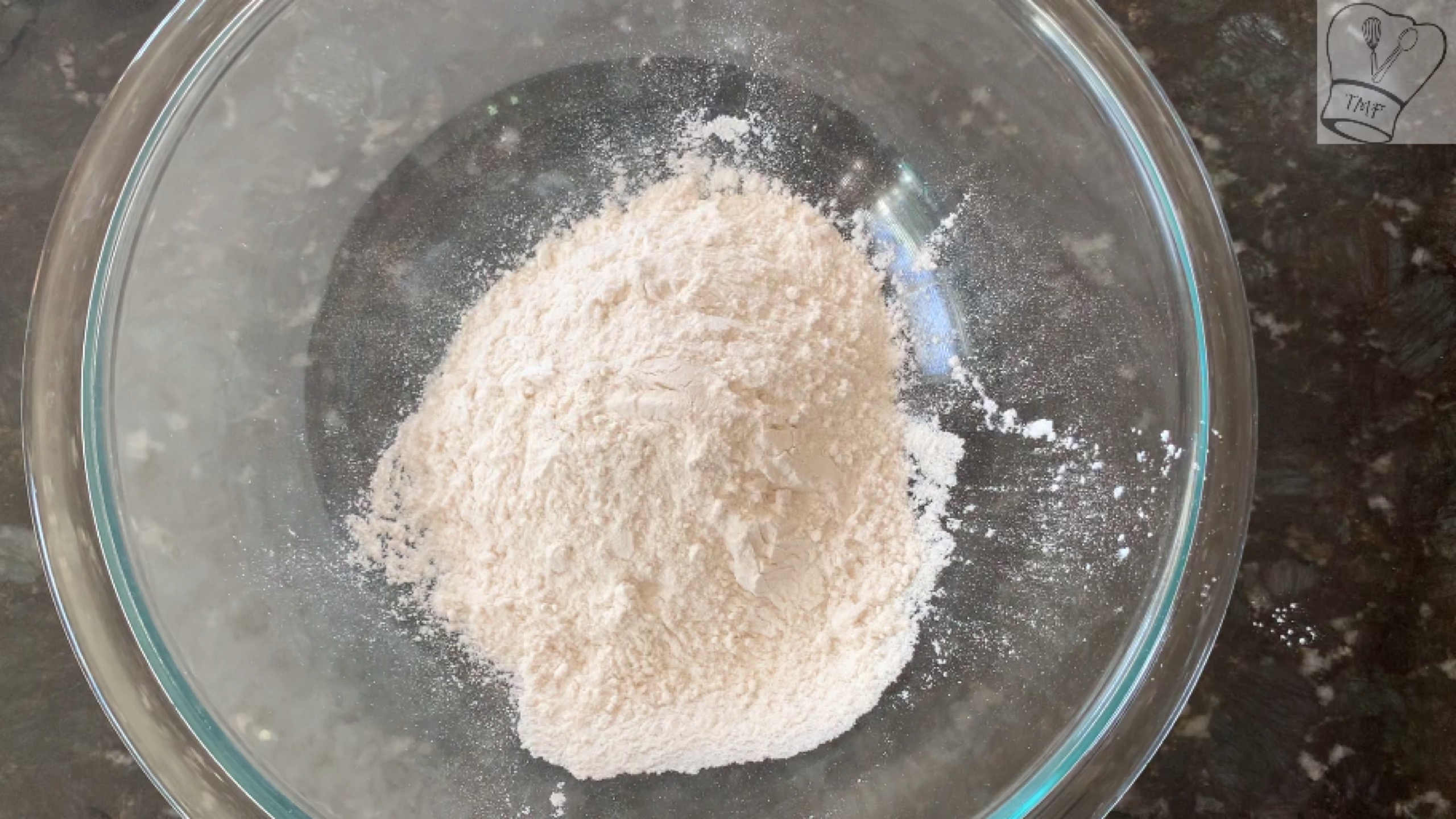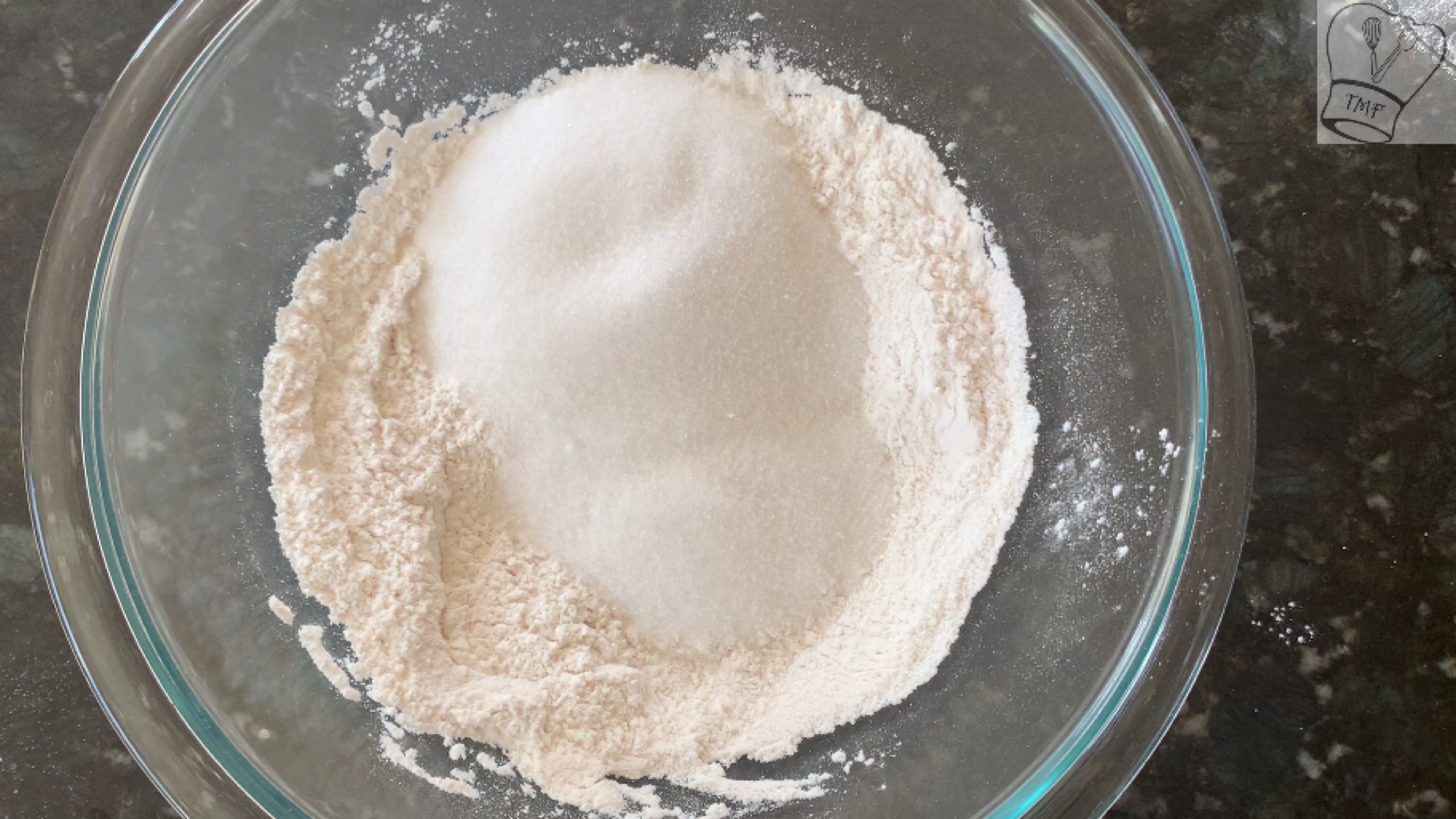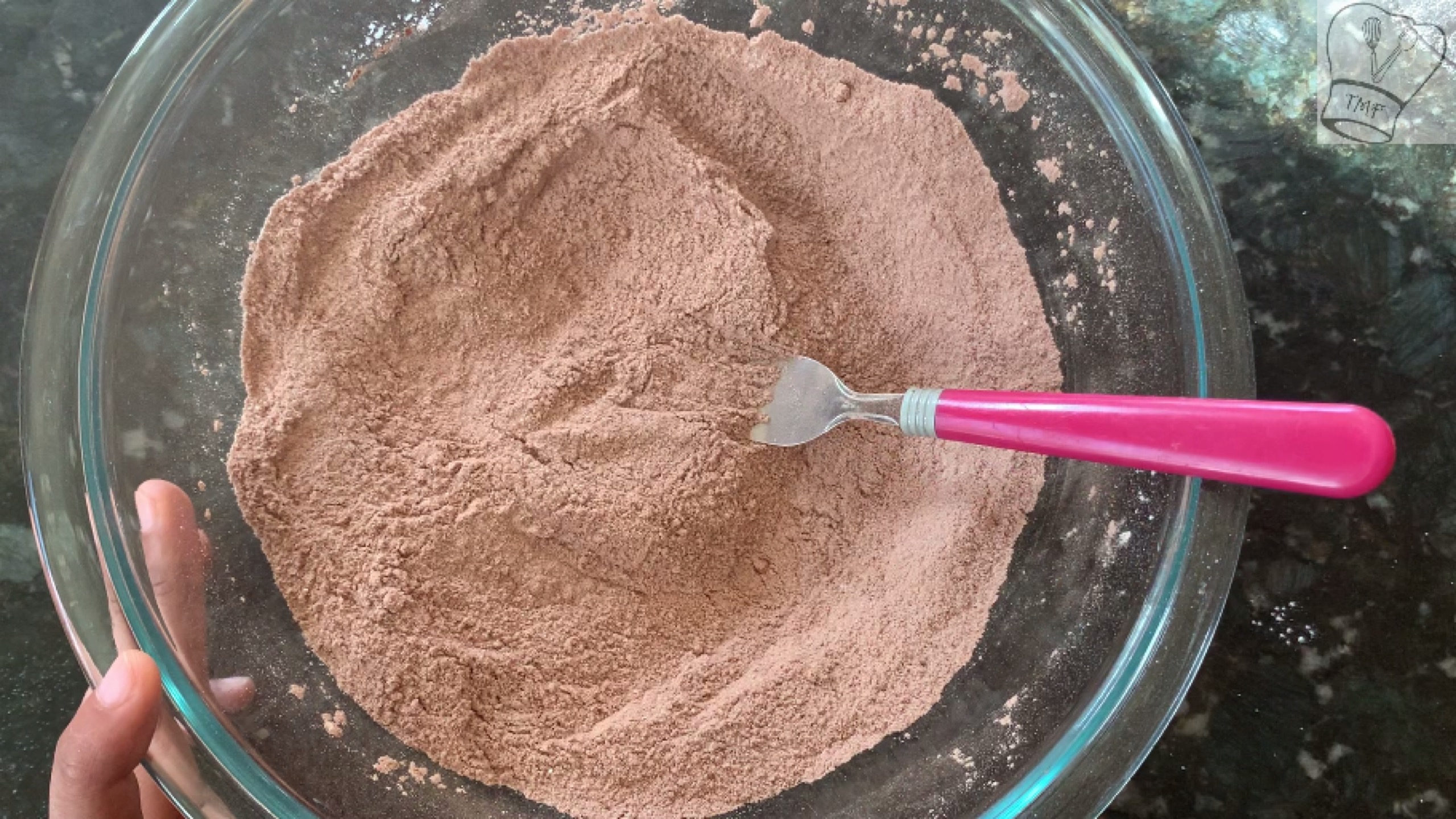 After the microwaved coffee is cool add milk, oil, and vanilla extract and mix well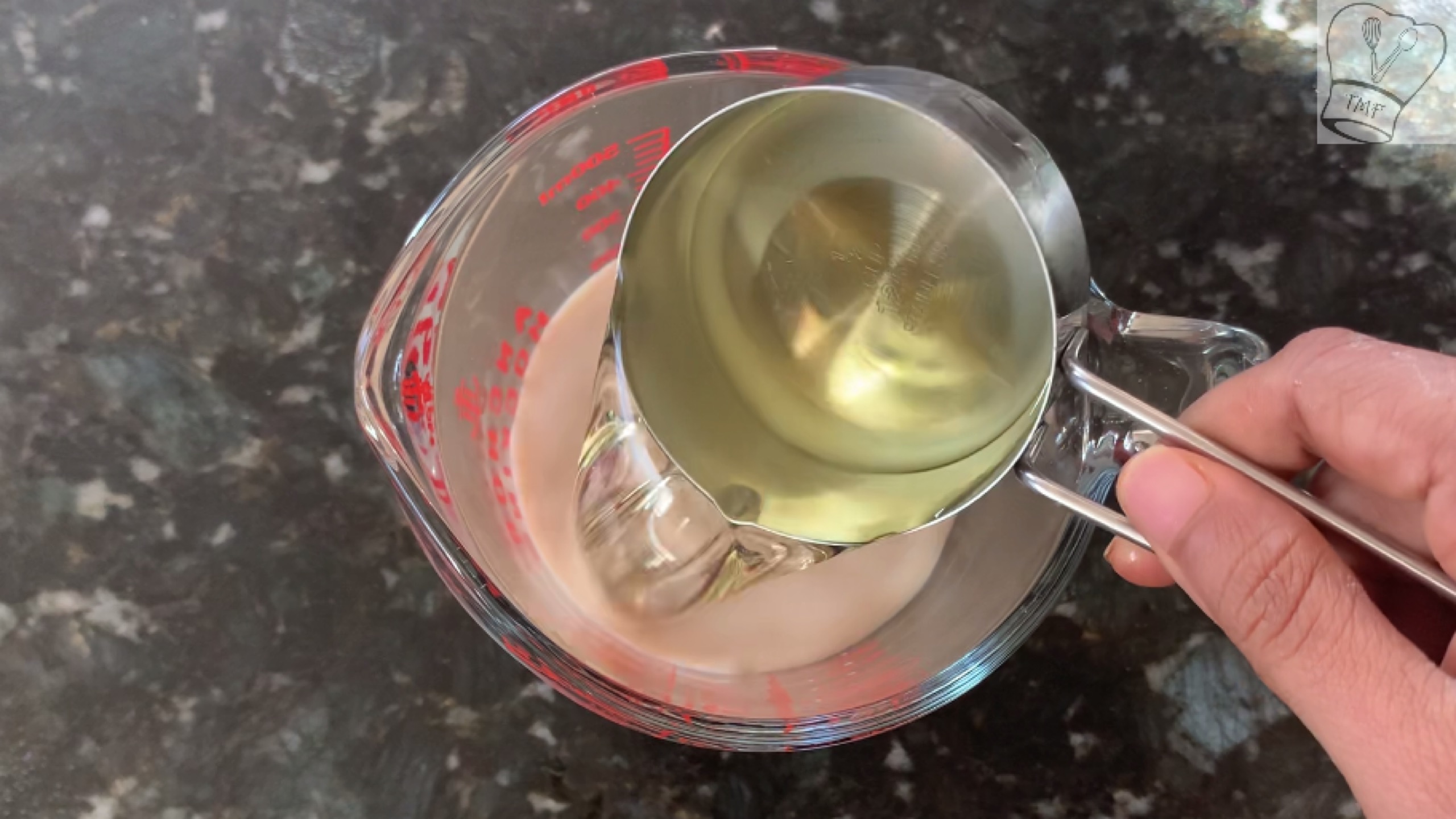 Make a dent in the dry ingredients bowl
Add the wet ingredients and sour cream, mix just until all the ingredients are incorporated; avoid over mixing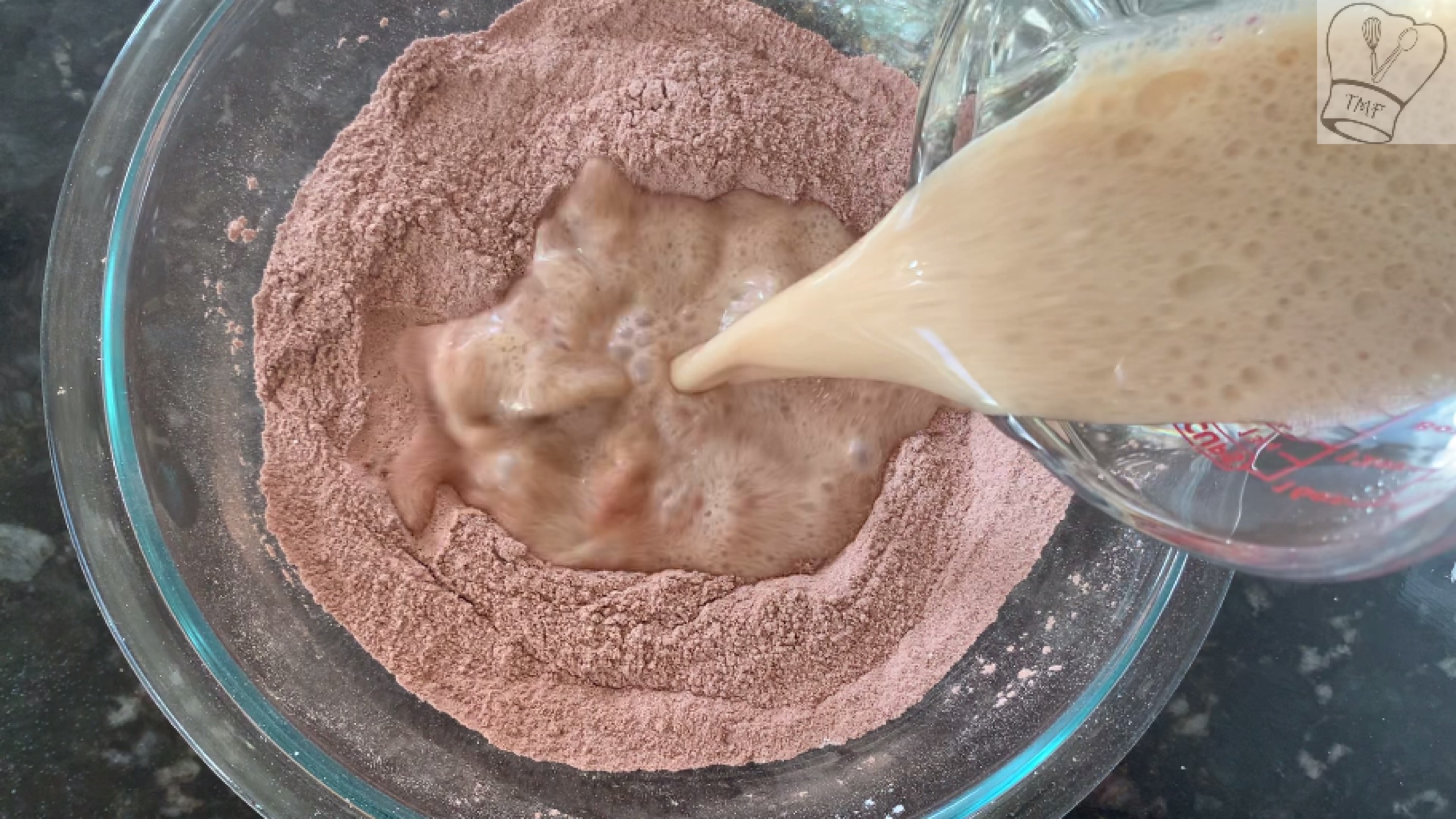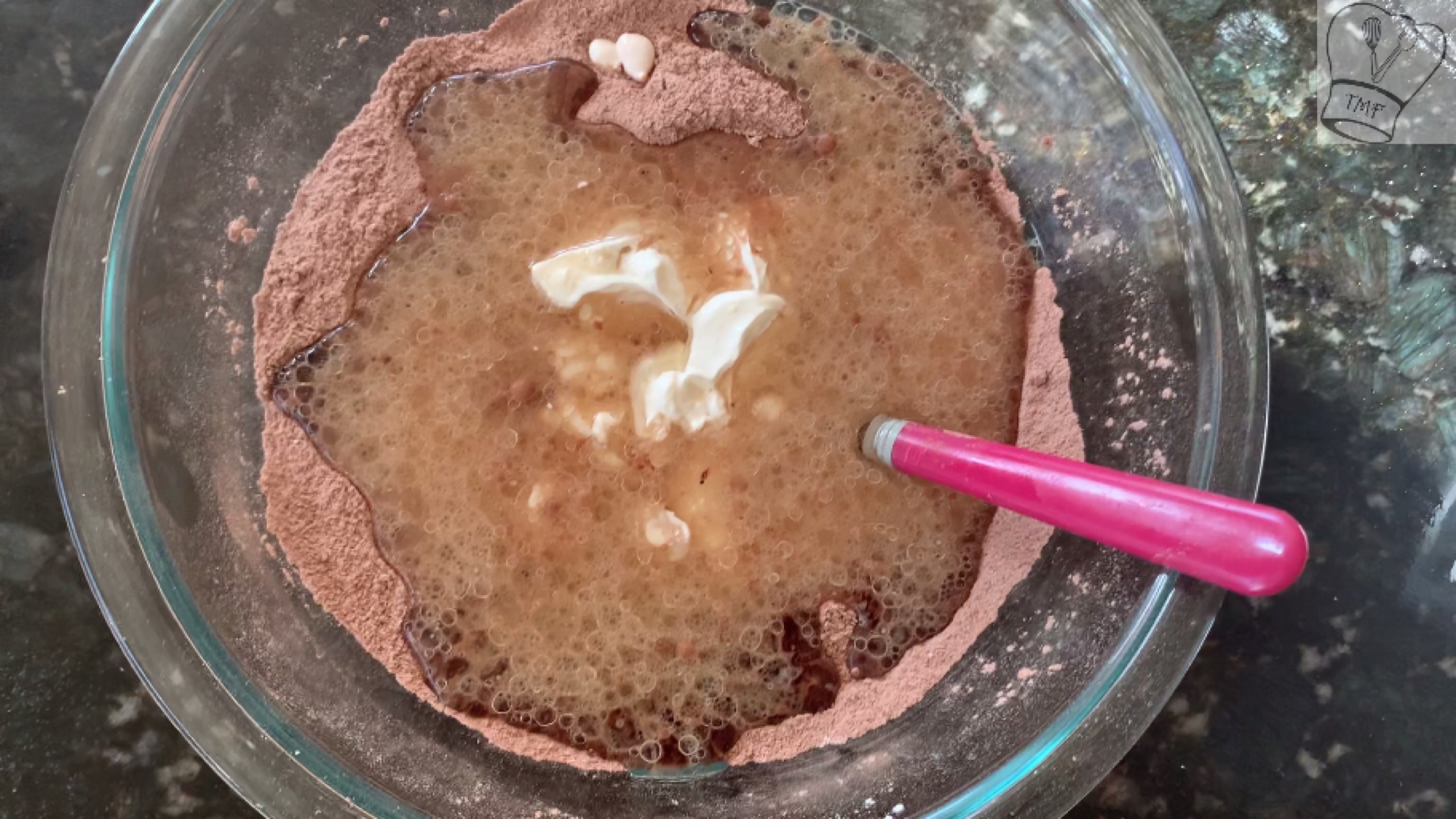 Avoid over mixing as it yields a dense cake
Divide the equal amount of batter between two tins and add
Bake for 29 -33 minutes or until a toothpick/skewer inserted comes out clean
Cooldown both the cakes for 10 minutes and carefully flip the cake on the rack, remove the parchment paper, and allow both cakes to cool completely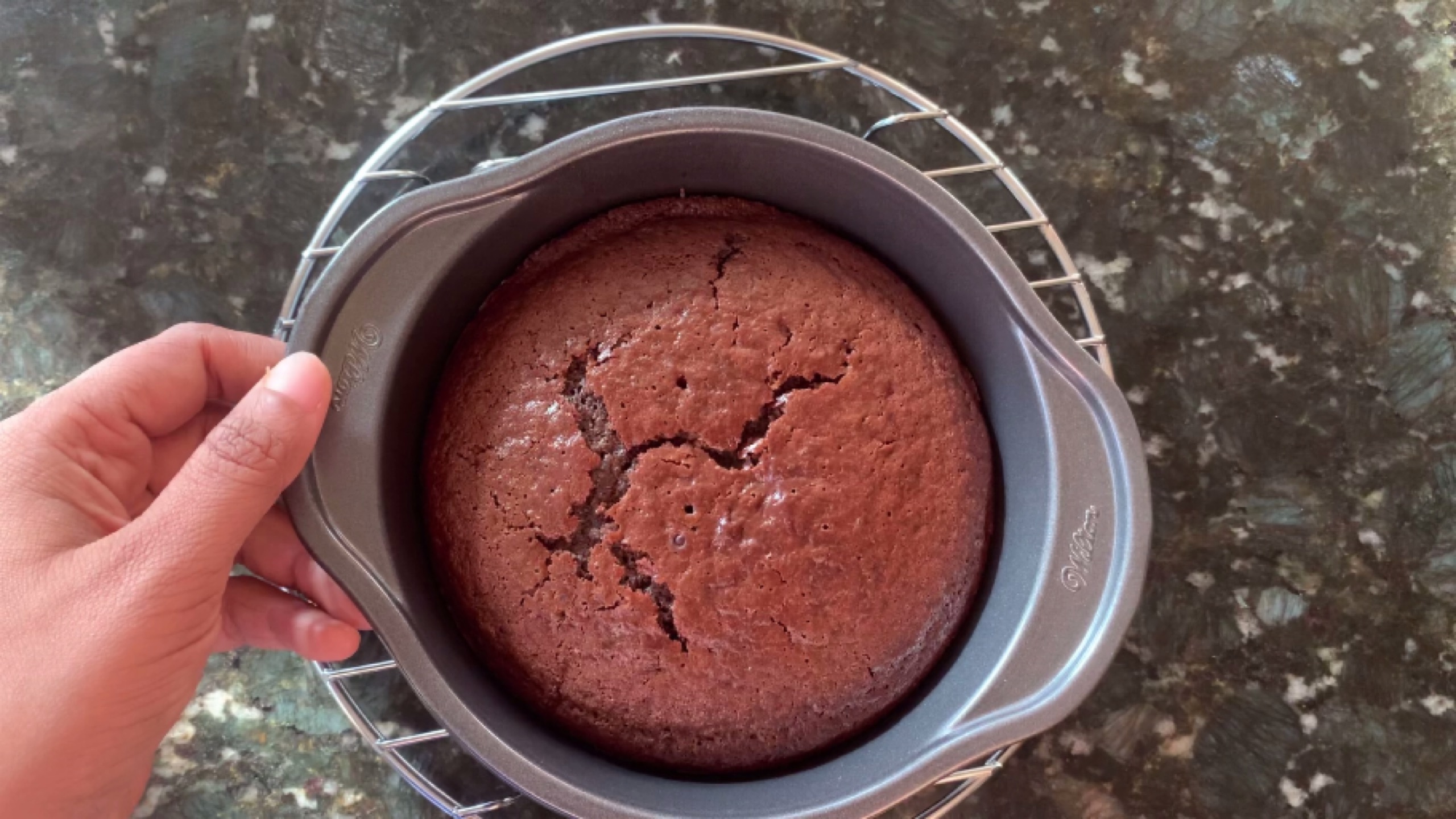 How to make chocolate frosting
In a wide vessel add softened butter and beat it well on medium speed until creamy for about 2 -3 minutes
Add powdered sugar, cocoa powder, heavy cream, salt, and vanilla extract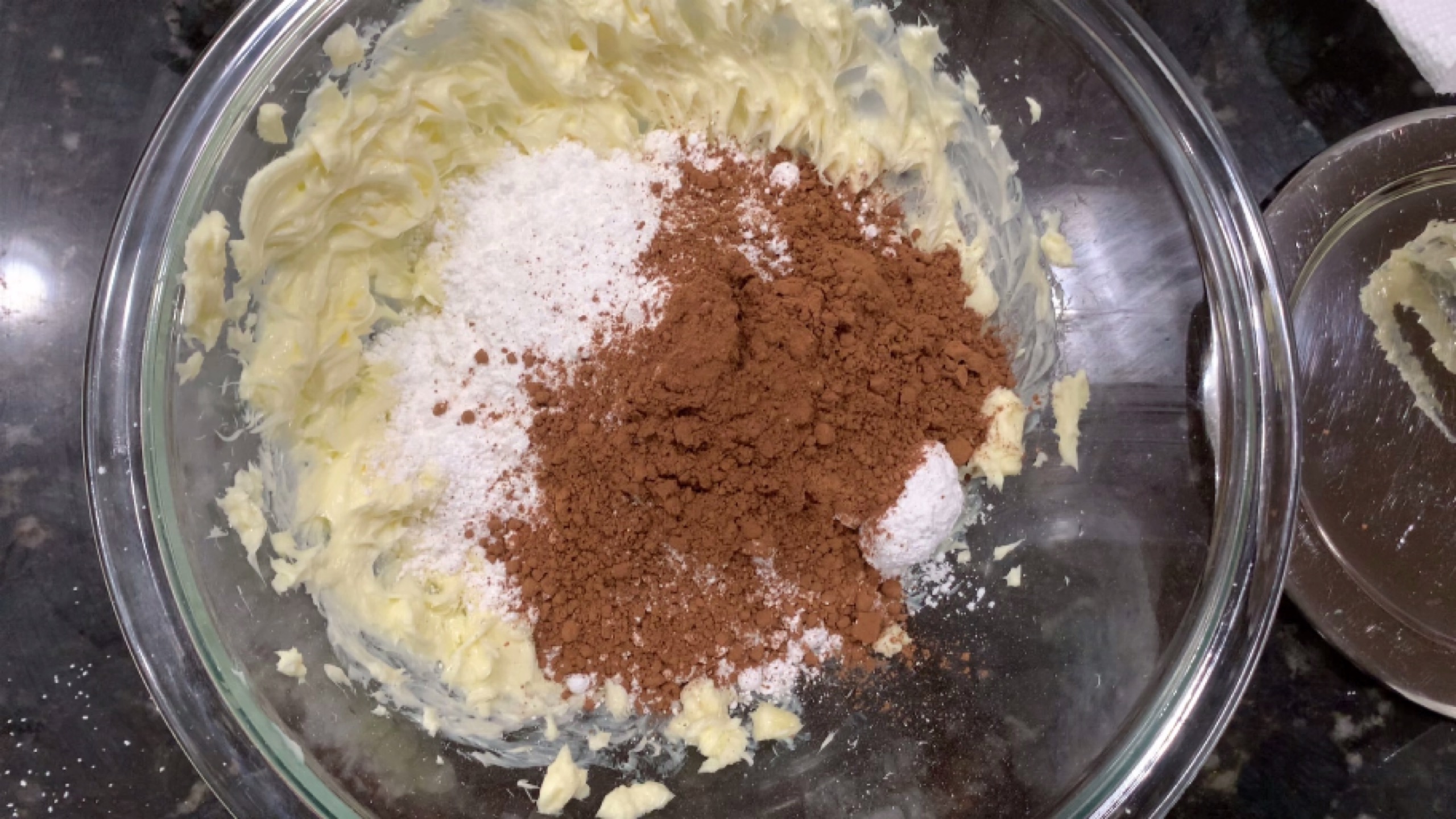 Beat on lowest speed for around 1 minute or until everything is combined well
After the mixture is well combined slightly increase the speed and beat till you see creamy buttercream frosting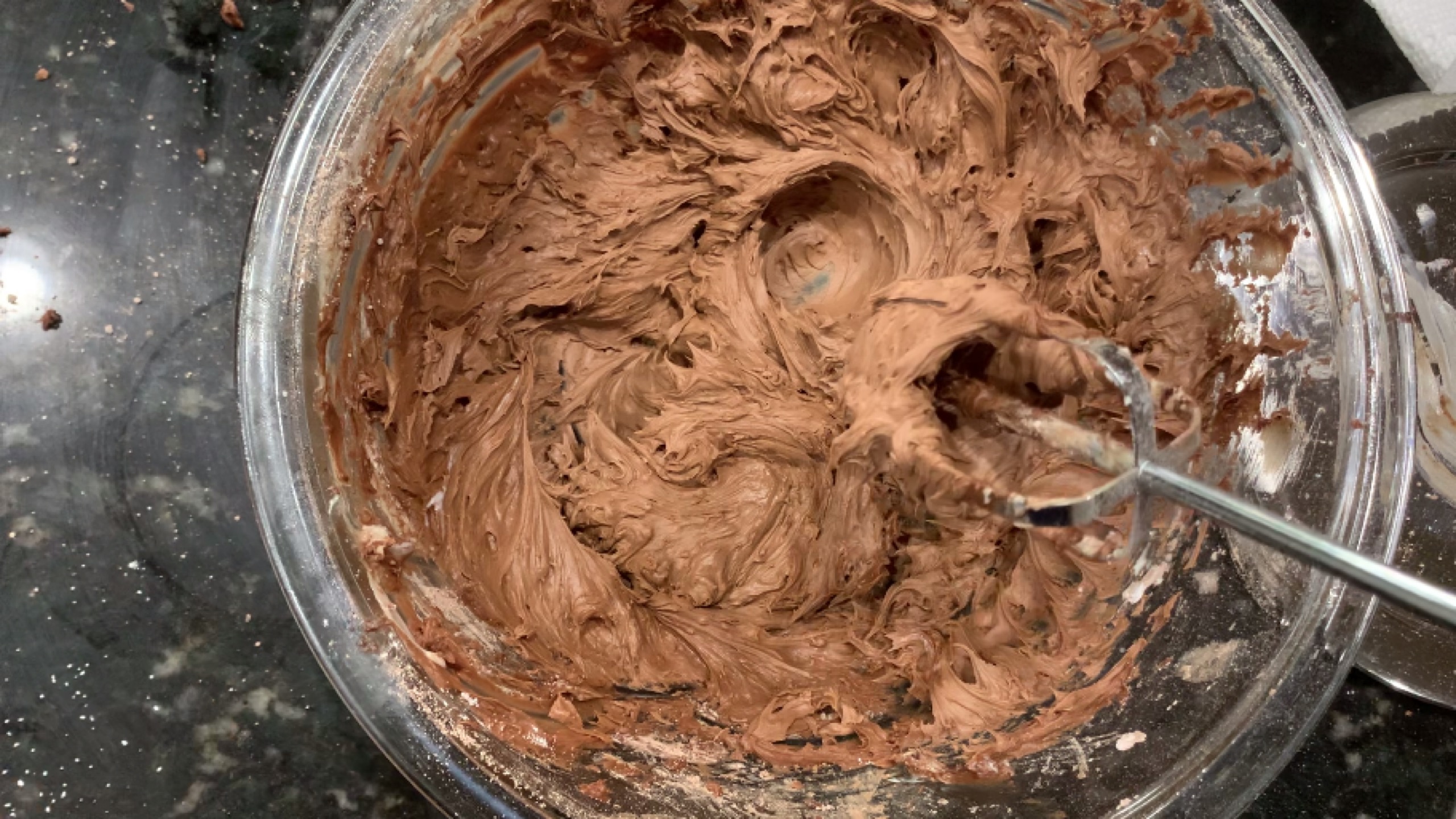 Assemble the cake
Add little frosting on the cake board and place the base cake
Use a skewer and make holes around the cake and drizzle a generous amount of chocolate syrup on the entire cake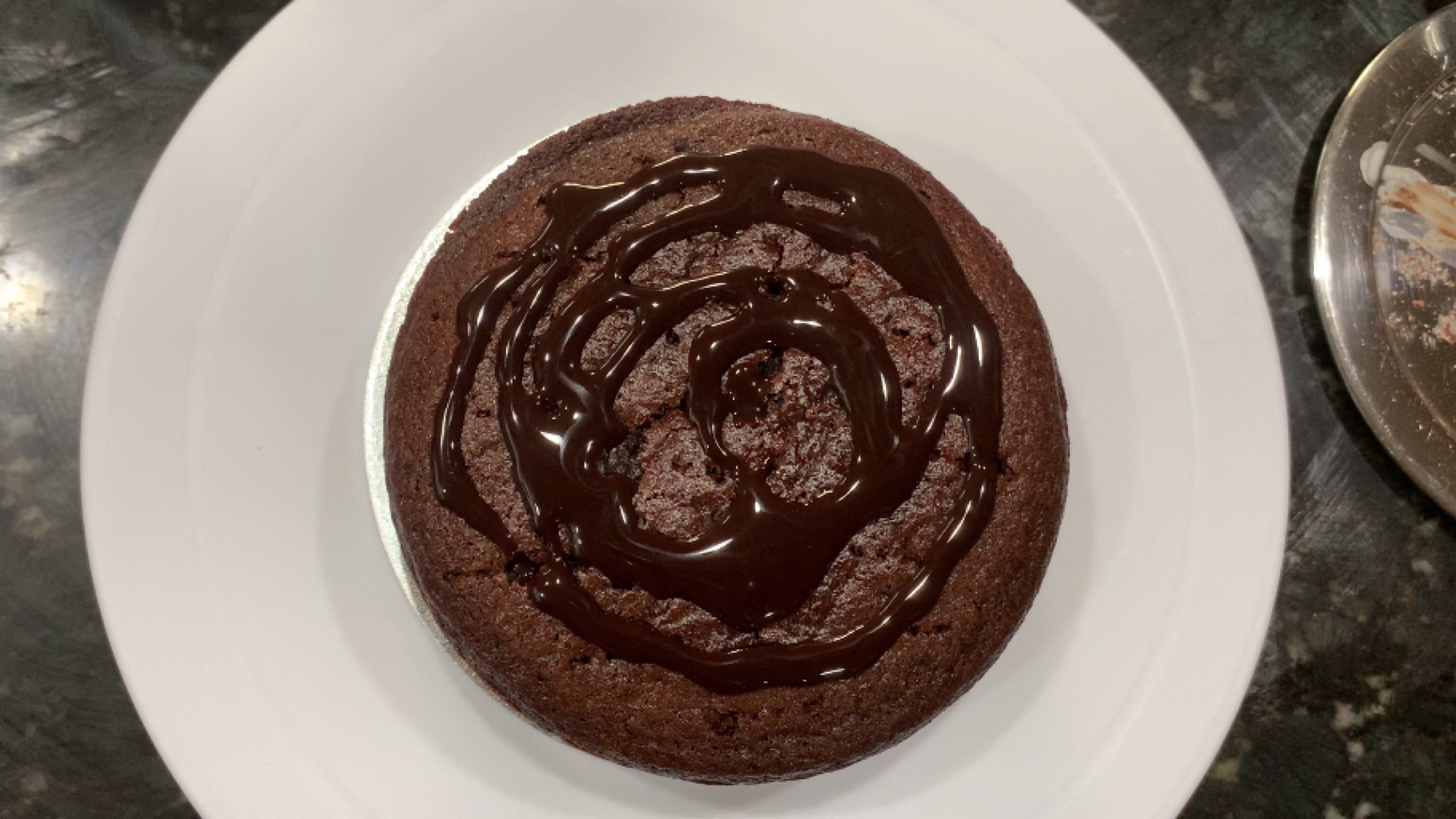 Add a generous amount of frosting and spread
Place another cake over the base cake
Add a base coat of frosting and refrigerate the came for at least 1 hour
After 1 hour add the final layer of frosting and level; refrigerate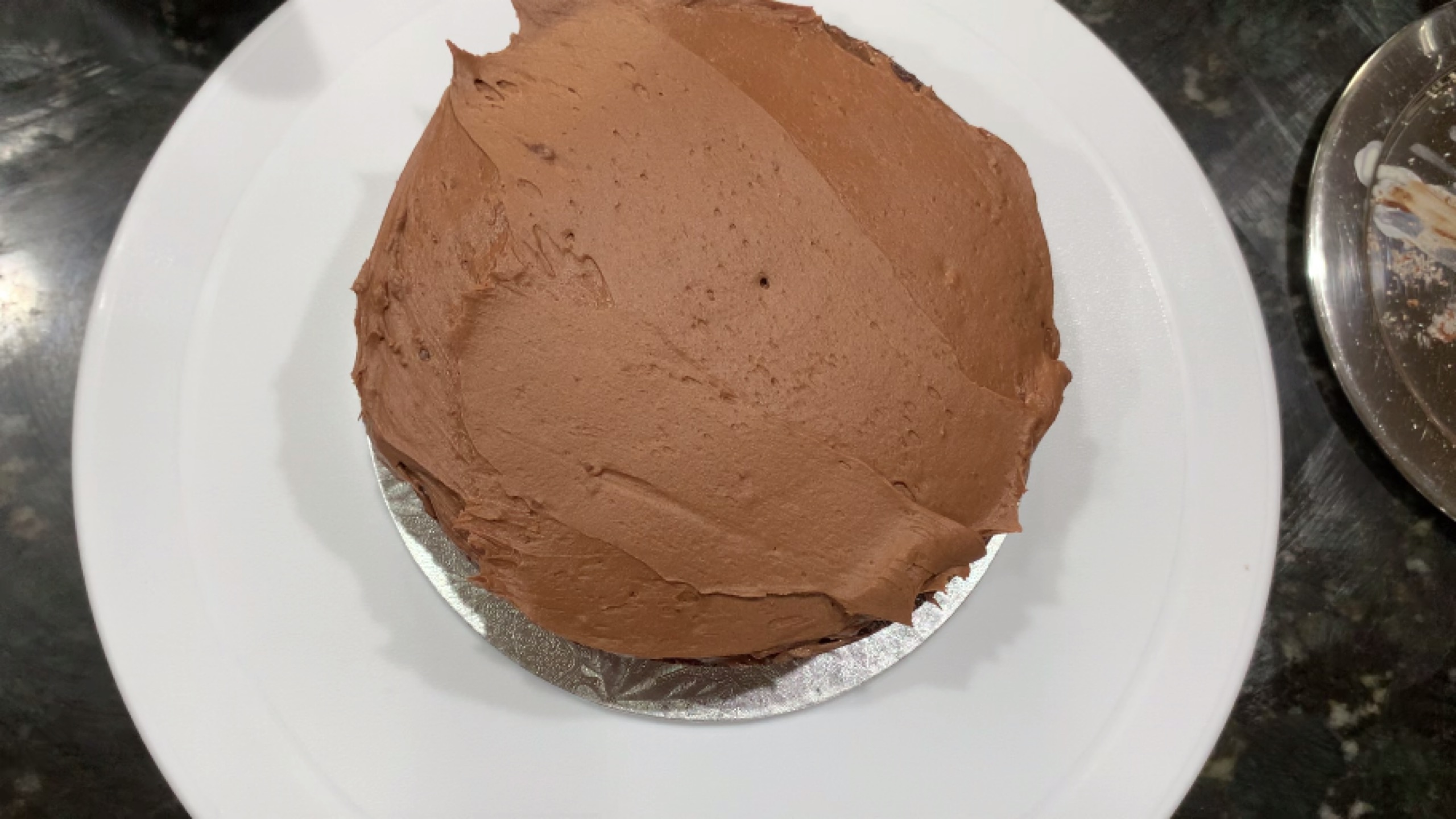 Chocolate ganache
In a mixing bowl add chocolate chips, vanilla extract, salt, and coffee powder; mix well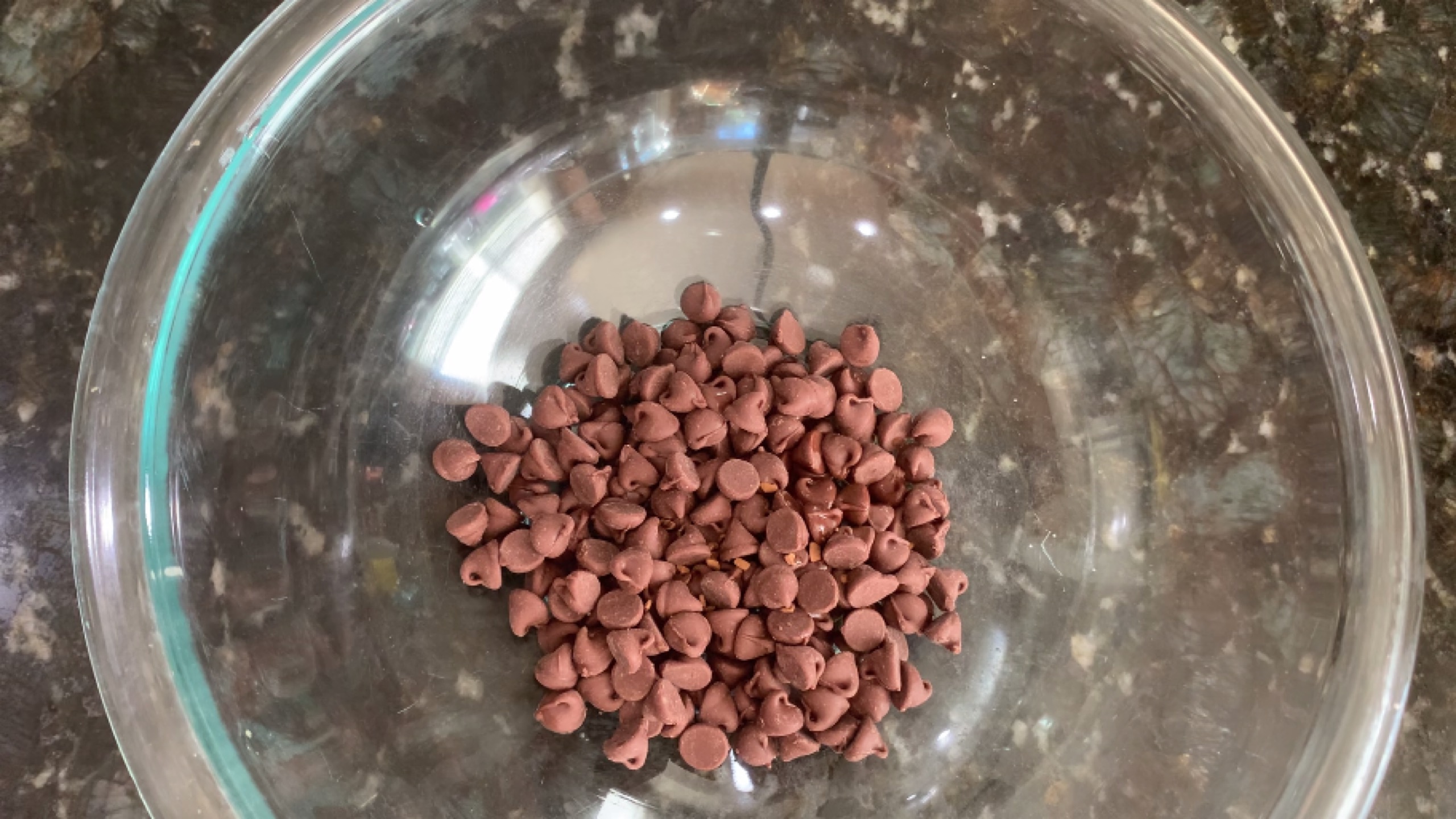 In a cooking, pan add heavy cream and boil on low flame
Cook till the heavy cream turns warm
Switch off before they start boiling
Add it to the chocolate mixture and let it sit for 4 minutes. Let the chocolates get well immersed in cream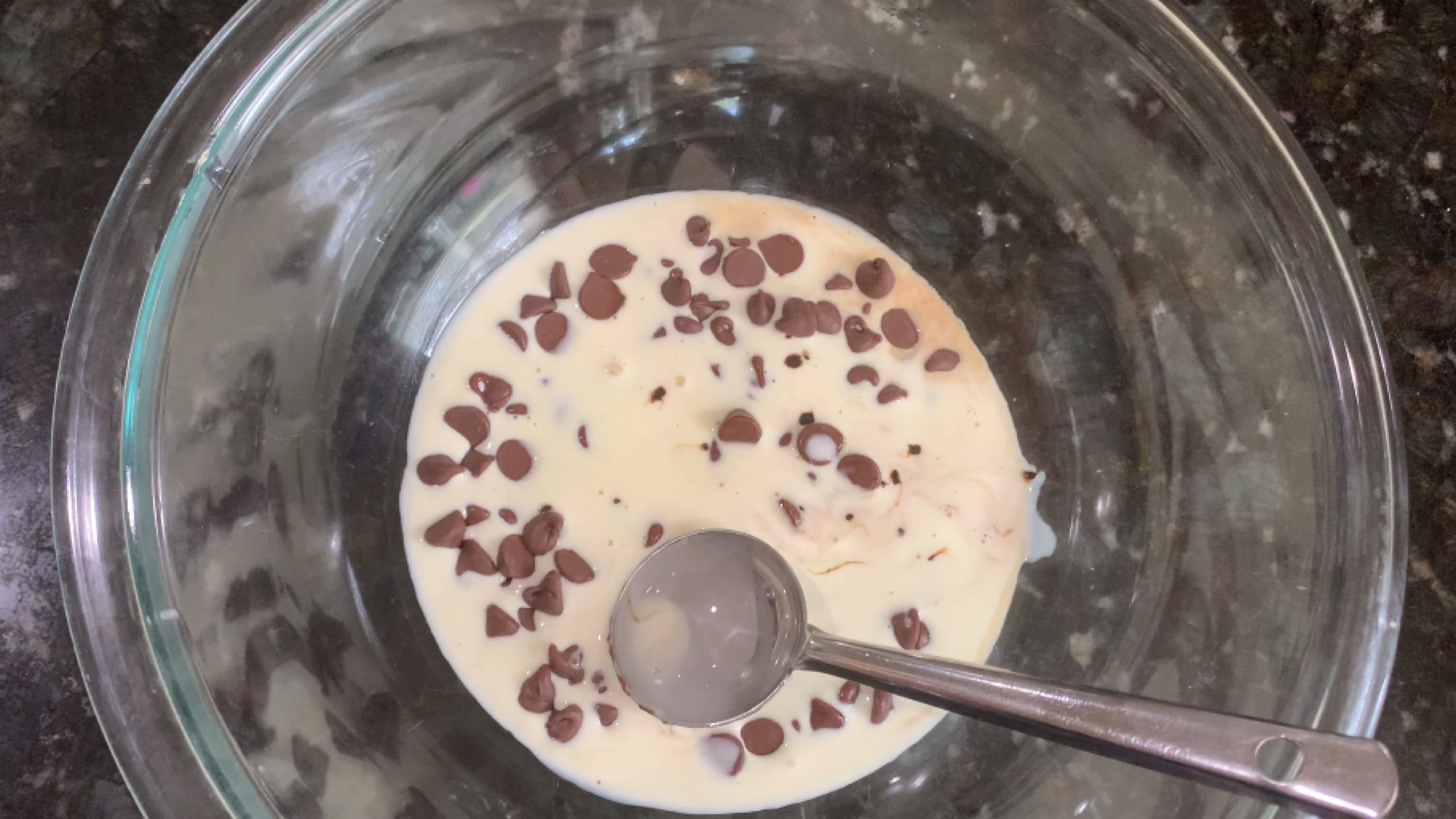 Stir well after 4 minutes
In a colander strain the ganache and keep it at room temperature for least 20 minutes and refrigerate for 20 minutes
Ganache drip
Take a spoon and gently add ganache around the cake and add it to the top portion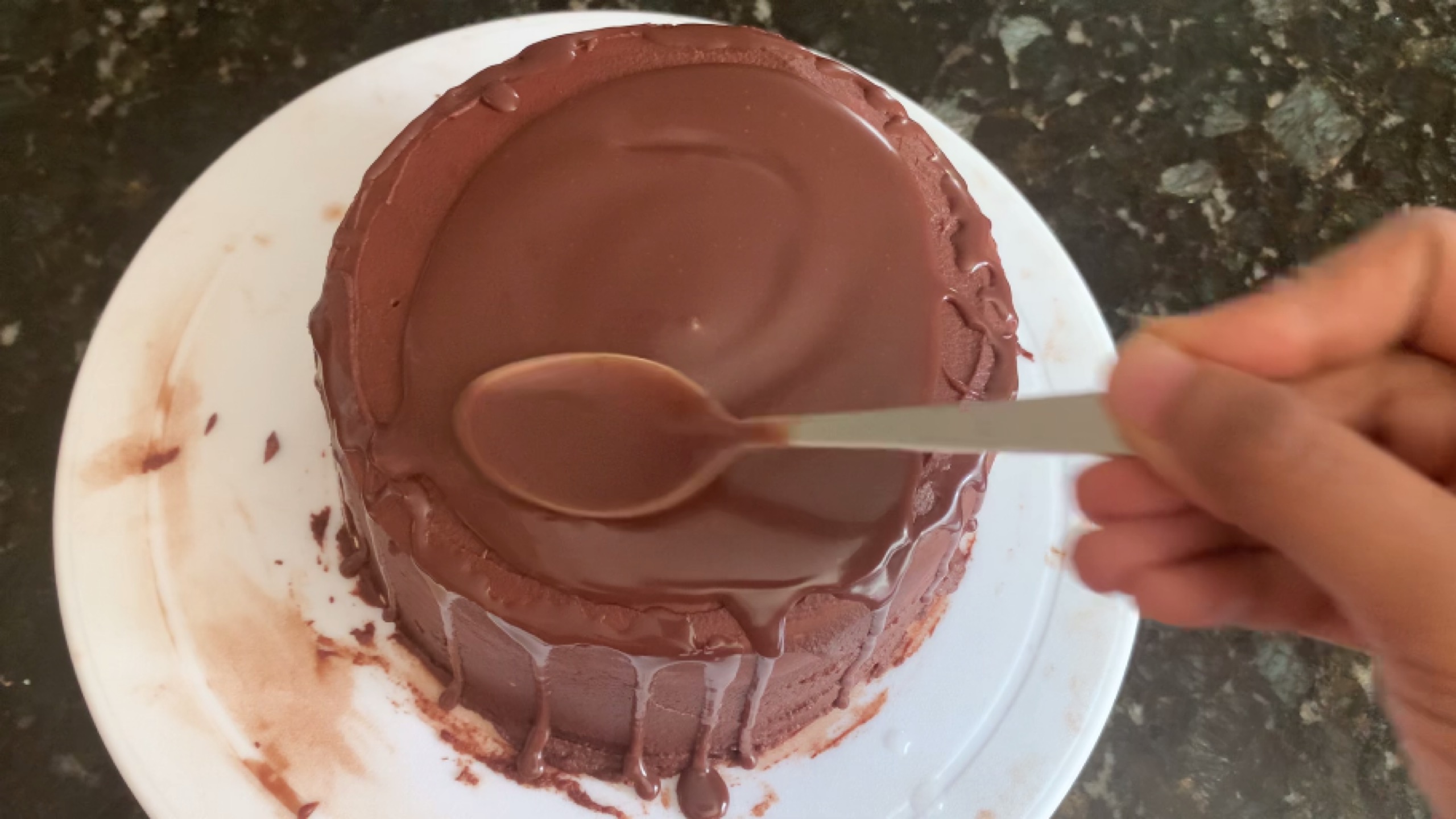 Refriegatare the cake for at least 2 hours
Decorate the cake according to your preferences and refrigerate until use