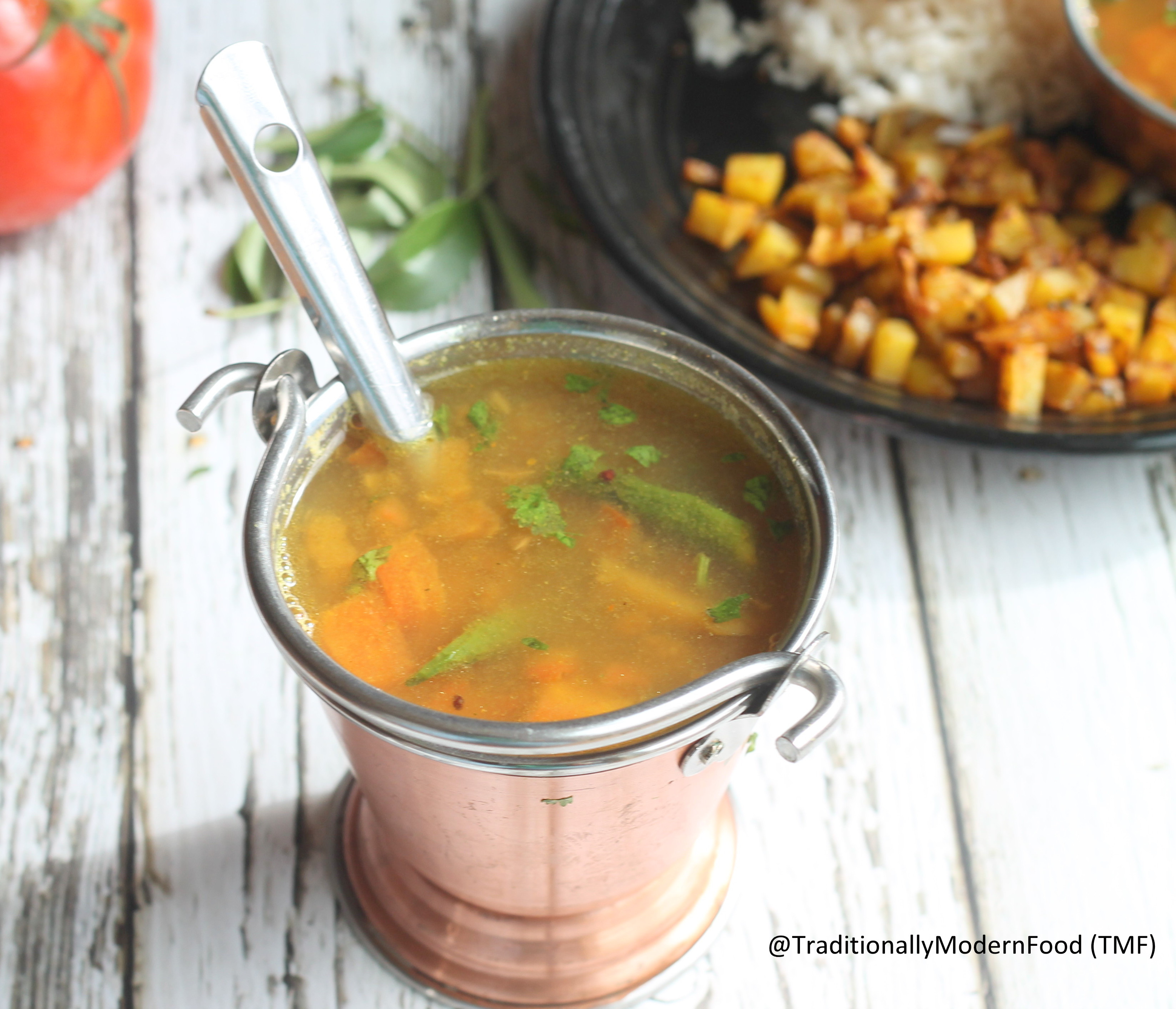 Paruppu rasam | Rasam recipe is a traditional South Indian rice accompaniment prepared with dal, tamarind and rasam powder. Thakkali Dal Rasam can be prepared within 20 minutes. This is tamil Brahmin style rasam prepared in our home.
Rasam is my comfort food. Well if Jagadish reads this post he is going to make fun of me. According to him I use the word "comfort food" word frequently in my blog😆 How I can skip using that for my favorite paruppu rasam. My liking for certain dishes changed overtime, but rasam is something I always like. Easy to cook and tasty to eat.
If I see paruppu rasam with lots of ghee and potato curry for lunch, I would be the happiest person. Luckily Jagadish also likes that combo so till date our addiction for that combo continues.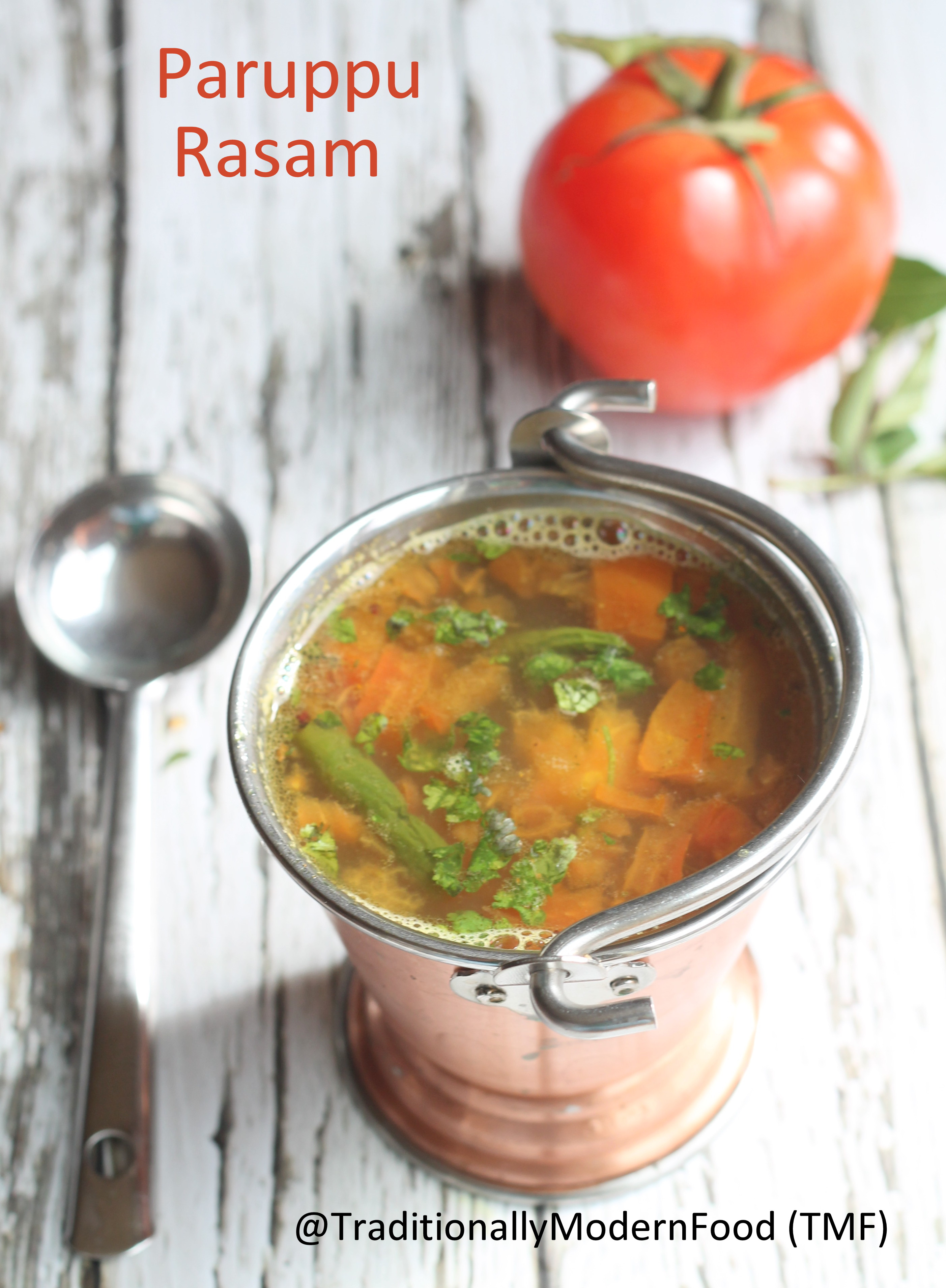 Rasam makes any meal complete. Be it a festive day meal /lazy day meal/ sick day meal Paruppu rasam always be there. During sick days Paruppu rasam is good for throat, and lots of cumin and pepper makes it a natural remedy for cold. Poondu rasam, milagai kuzhambu are also my choice for sick days.
Vishvak also likes dal rasam. When I go to pick him he asks me what I have prepared for lunch, If I say rasam he says rasam mumum ah ok with a grin😄
Yesterday I was talking to my sister, she asked me what is your next post. I told Paruppu rasam, she asked me have you posted rasam powder before? That's when I realized I am yet to post two key ingredients for our everyday cooking, Sambar powder and rasam powder. Thanks sis for the heads up👋 Homemade podi is always special.
Rasam is one South Indian rice accompaniment which has many variations. I love rasam and have posted a few rasam varieties in TMF,
Rasam recipe collections in TMF
I will soon post Sambar powder recipe, here is recipe for my Amma's tamil brahmin style rasam powder😊This is a rasam powder recipe tamil iyer.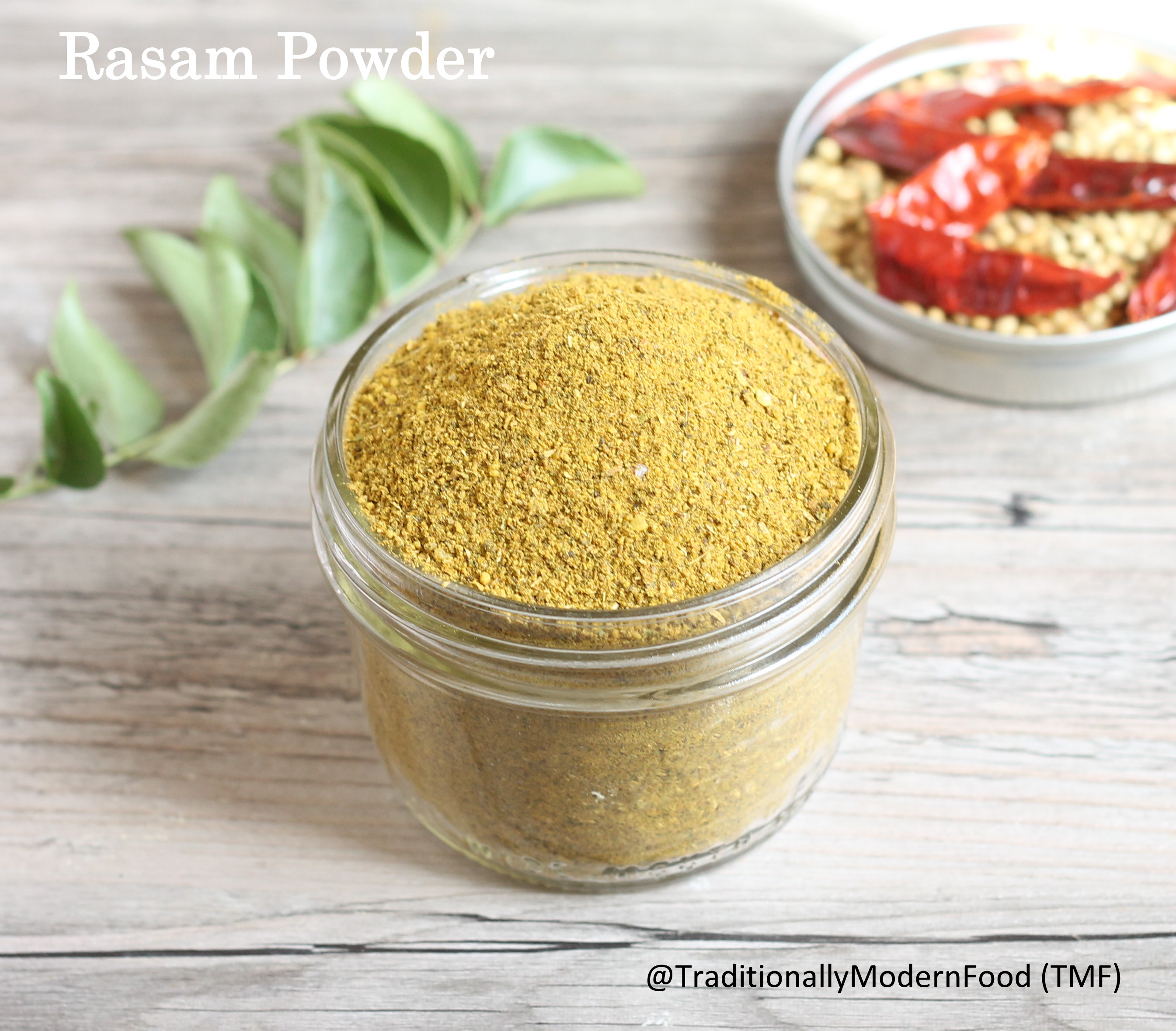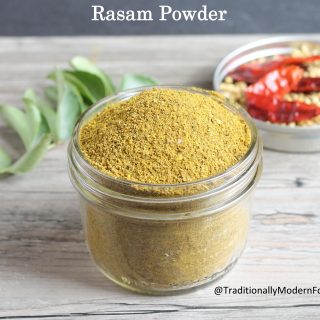 Ingredients
Whole Black Peppercorn -1 cup

Cumin Seeds or Small Jeera - 1 cup

Toor dal - 3/4 cup

Coriander seeds - 3/4 cup

Red chilli - 13

Curry leaves - 1/4 cup + 1 tbsp

washed, dried and tightly packed

Turmeric powder - 1/2 tsp
Instructions
Dry roast everything separately and let it cool

Grind into a coarse powder and add turmeric powder. Mix well, rasam podi is ready
Notes
1. Store the rasam podi in airtight container and use dry spoon
2. Rasam podi stays good for months, you can even freeze it but freshness remains only for few months
3. Adjust the spiceness according to your taste
4. Sauté the cumin towards the end. Quick sauté for 2 to 3 times and switch off. Excesss sauté of cumin may give medicine smell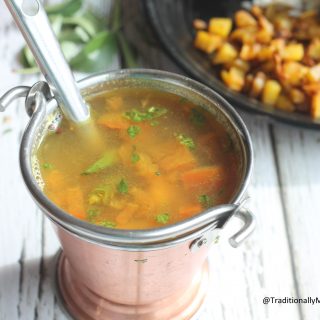 Paruppu Rasam
Paruppu rasam is a traditional South Indian rice accompaniment prepared with dal, tamarind and rasam powder. It is so comforting for kids and adults. Tamil Brahmin style rasam prepared in our home.
Print
Pin
Comment
Ingredients
Toor dal - 1/4 cup

Tamarind - small gooseberry sized

Tomatoes - 1

big - roughly shopped

Turmeric Powder - 1/4 tsp

Rasam powder - 1 tsp + 1/2 tsp

Green chilli - 1

slit

Jaggery/ sugar - pinch

Asafoetida - generous pinch

Coriander leaves - few

roughly chopped

Salt - as needed

To temper:

Ghee -1 tsp

Mustard seeds - 1/2 tsp

Jeera/cumin seeds - 1/2 tsp

Fenu Greek - 4-5

Curry leaves -few
Instructions
Soak toor dal in 3/4 cup of hot water for 30 minutes to 1 hour. Pressure cook the dal with a pinch of turmeric powder for 3 whistles. After the pressure release naturally mash the dal and keep it aside

Soak tamarind in 2 cup + 3/4 of warm water. Extract tamarind juice and discard the pulp

In a cooking pan add tamarind extract,

chopped tomatoes, rasam powder, green chilli, turmeric powder and salt; mix well

Boil on low flame for about 10-12 minutes or until the raw flavor of the tamarind goes

Add mashed dal to the rasam and let it boil. Switch off when you see frothy rasam

Add sugar and mix well. Add Asafoetida to the rasam

Add ghee to a small pan when it is hot add the ingredients under "to temper" and let it splutter. Add the tempering to rasam and garnish with Coriander leaves
Notes
1. Tomatoes can be sauted and added to the rasam
2. Sugar is optional but it enhances the rasam flavours
3. For extra spice pepper+ cumin powder can Be added
4. Green chilli can also be used while tempering
5. Fenugreek seed is not usually added for the rasam. Considering its heal benefits We generally add it.m
6. Switch off the rasam after seeing the froth to avoid over cooking
7. Cook rasam in low flame for nice flavour
8. Sambar powder can be used instead of rasam powder. Add 1/2 tsp of cumin+ pepper powder in that case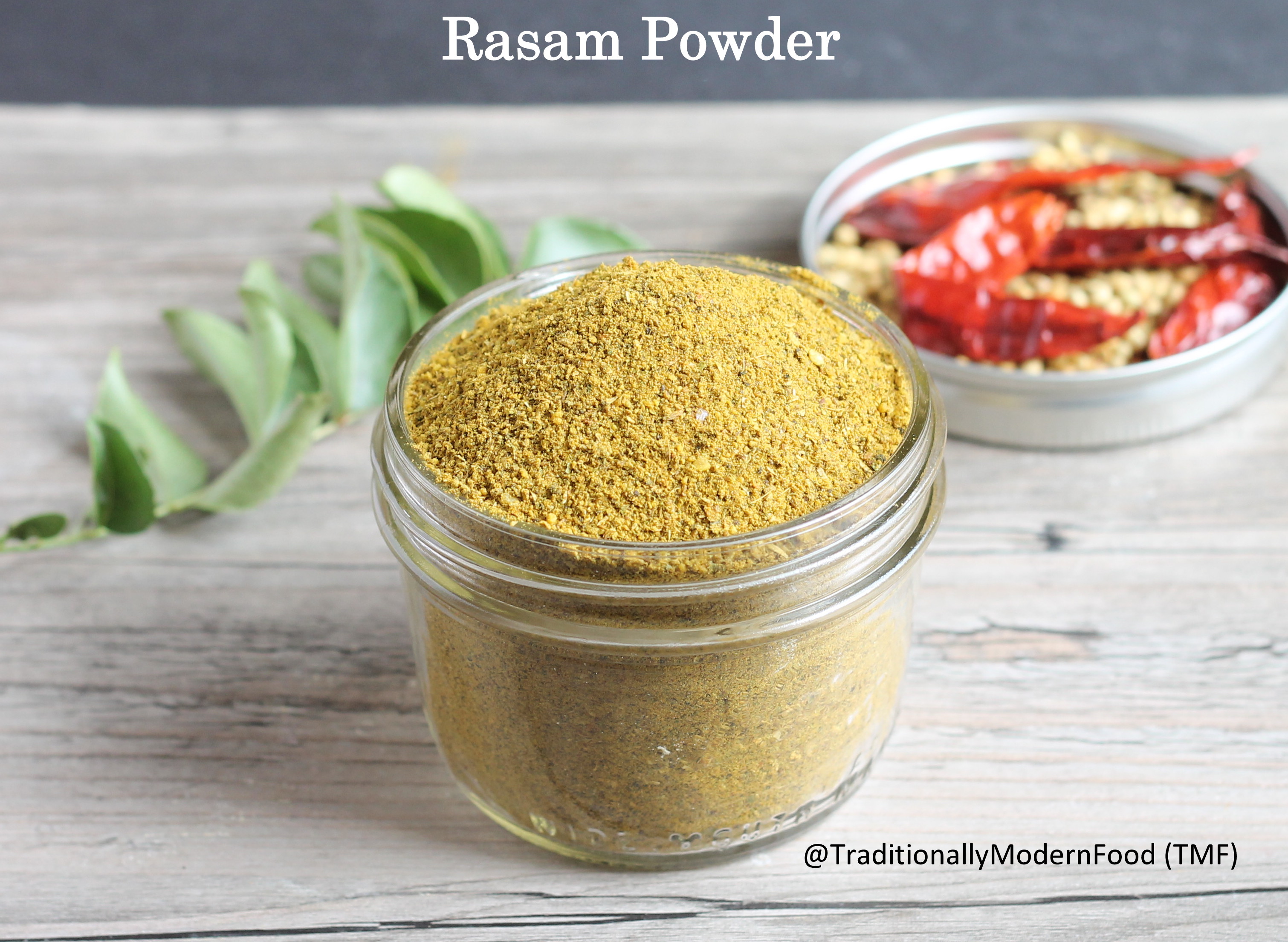 Ingredients:
Toor dal – 1/4 cup
Tamarind – small gooseberry sized
Tomatoes – 1, big – roughly shopped
Turmeric Powder – 1/4 tsp
Rasam powder – 1 tsp + 1/2 tsp
Green chilli – 1, slit
Jaggery/ sugar – pinch
Asafoetida – generous pinch
Coriander leaves – few, roughly chopped
Salt – as needed
To temper:
Ghee – 1/2 tbsp
Mustard seeds – 1/2 tsp
Jeera/cumin seeds – 1/2 tsp
Fenugreek seeds – 4-5
Curry leaves -few
Paruppu Rasam
Soak toor dal in 3/4 cup of hot water for 30 minutes to 1 hour. Pressure cook the dal with a pinch of turmeric powder for 3 whistles. After the pressure release naturally mash the dal and keep it aside
Soak tamarind in 2 cup + 3/4 of warm water. Extract tamarind juice and discard the pulp
In a cooking pan add tamarind extract, chopped tomatoes, rasam powder, green chilli, turmeric powder and salt; mix well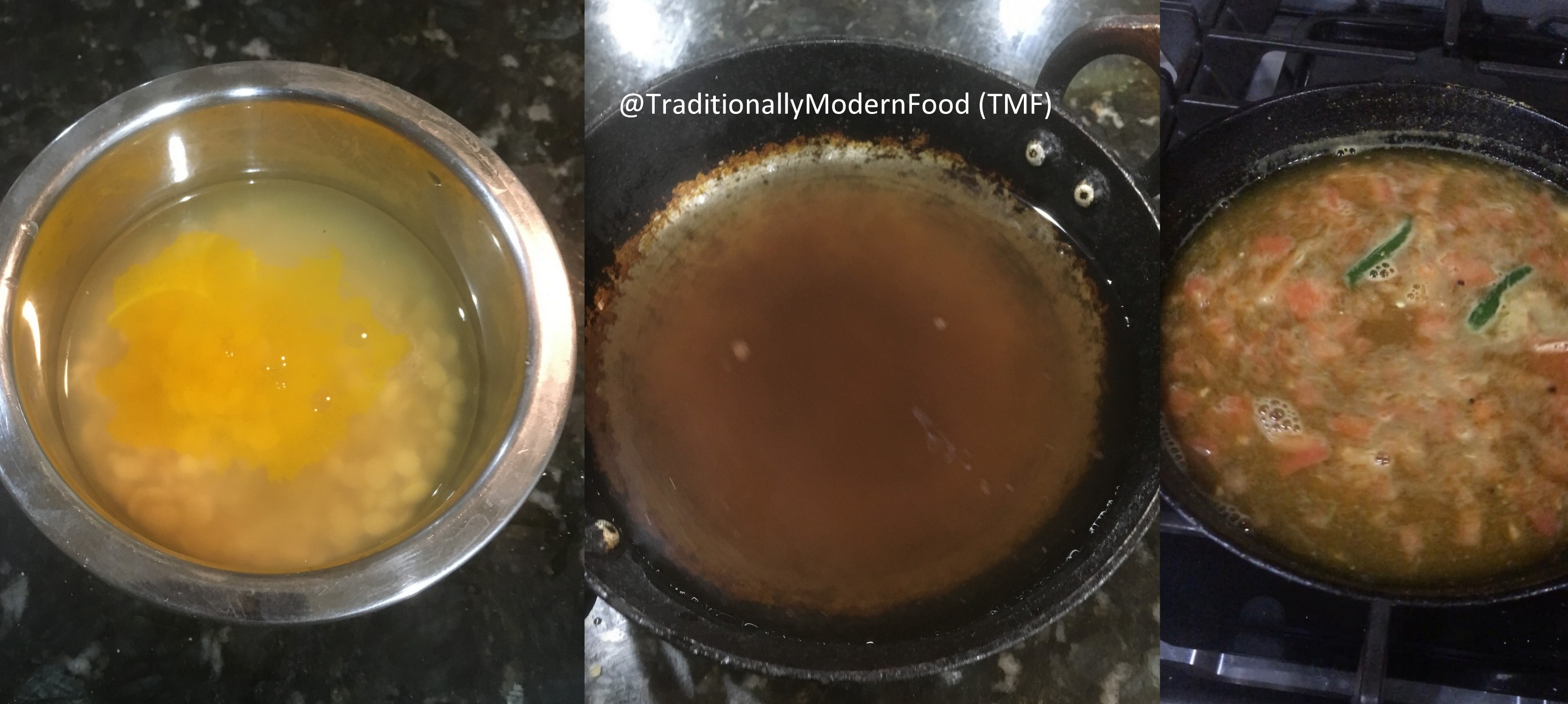 Boil on low flame for about 10-12 minutes or until the raw flavor of the tamarind goes
Add mashed dal to the rasam and let it boil. Switch off when you see frothy rasam
Add sugar and mix well. Add Asafoetida to the rasam
Add ghee to a small pan when it is hot add the ingredients under "to temper" and let it splutter. Add the tempering to rasam and garnish with Coriander leaves