SutSutta Kathirikai Pachadi |Brinjal thayir Pachadi | Broiled eggplant raita | Sutta Kathirikai thayir Pachadi | brinjal raita | smoked eggplant raita | roasted eggplant raitha | raita recipe | pachadi recipe with step-by-step pictures and video recipe. Check out the Brinjal thayir Pachadi and if you like the video pls SUBSCRIBE to my channel. Also, check other pachadi recipes in TMF
Sutta Kathirikai pachadi | Brinjal thayir pachadi is a traditional tasty rice accompaniment prepared with smoky roasted brinjal /eggplant /aubergine. Oven-roasted Smoky Brinjal gives a nice flavor to the pachadi
WHAT KIND OF CURD SHOULD I USE FOR THE Brinjal pachadi RECIPE?
Always use fresh thick creamy curd. I have used homemade curd, but you can also use sour cream or non-flavored Greek yogurt for raita. Use thick, well-set curd or yogurt. If you have a watery curd, set aside the whey for buttermilk and separate the thick curd and use it for raita
CAN I USE SOUR CURD?
If the curd is slightly sour, skip. Mild sour curd is fine, but if the curd is sour add little milk. Avoid extremely sour curd.
SHOULD I WHISK THE CURD?
Yes, it is very important to whisk the curd well, make sure the curd is lump-free. If whey separates or curd is lumpy, it will affect the raita texture
CAN I USE ROOM TEMPERATURE CURD?
For the best flavor, I would recommend using chill curd for brinjal raita. For dinner party always mix and refrigerate till you serve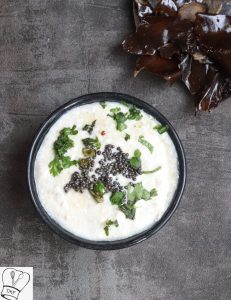 Other pachadi recipes in TMF
Ingredients
Roasted eggplant - 1/4 cup

Thick curd - 1/2 cup

Salt - as needed
To temper:
Coconut oil -1/2 tsp

Mustard seeds - 1/2 tsp

Green chilli - 1

Coriander leaves - few
Instructions
After the broiled (roasted) eggplant is cool ground it without adding water

Transfer it to bowl, sprinkle some salt and add smooth lump free curd; mix everything well

In a tadka pan add coconut oil and when oil is hot add mustard seeds and let it splutter. Add green chilli and let it temper

Transfer the tempering to the pachadi. Sprinkle some coriander leaves and pacahdi is ready
Video
Notes
Adjust the curd according to your preference
Avoid adding rasam powder, sambar powder, or other powders as it  might not go well with the pachadi taste
Turmeric powder can be used for extra color
If required dal can be used for tadka
How to Roast Eggplant in the oven
Place aluminum foil in a baking tray
Keep a big eggplant and make holes all over the eggplant with a fork
Apply sesame oil all over the eggplant and Broil (500F) for 5 mins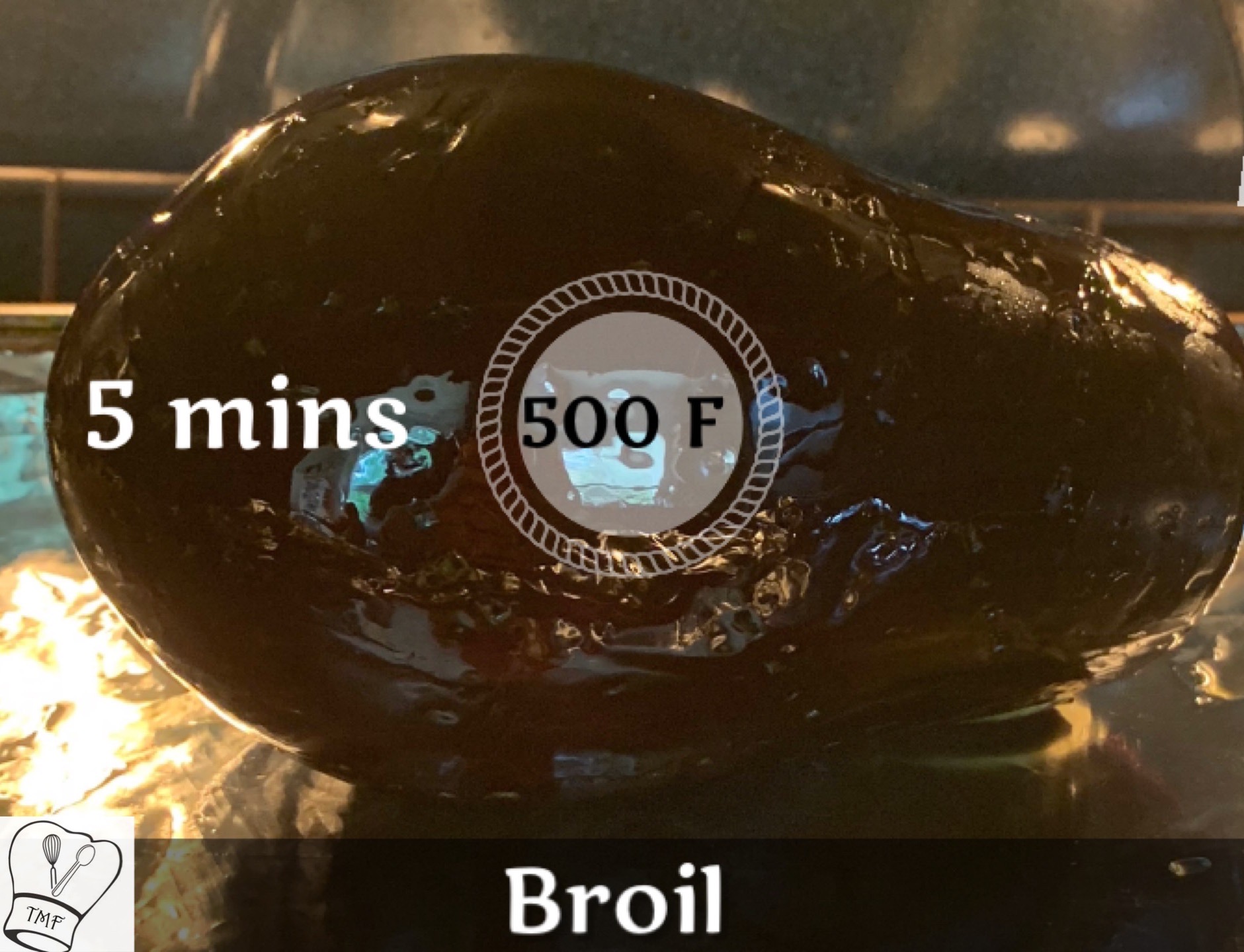 Take out from the oven and turn the eggplant and broil again for 5 mins
Repeat the process. Make sure the eggplant is turned every time for even roasting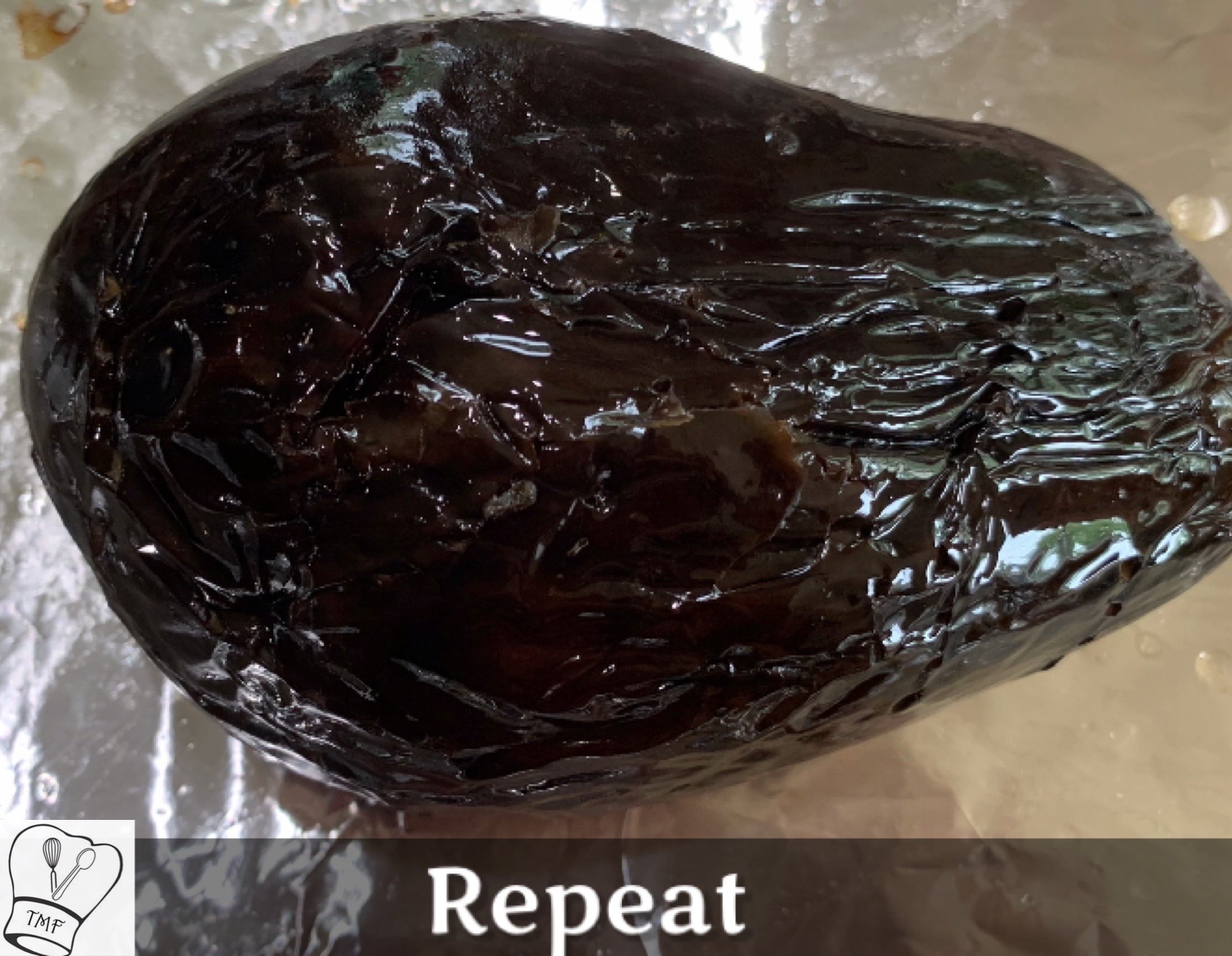 Continue broiling till the eggplant skin starts shrinking. Mine got done around 25 minutes
After that Broil for 2 minutes in 500 F and repeat
Broil till the eggplant skin shrinks and skin peels off easily (broil time may vary depending on the eggplant size)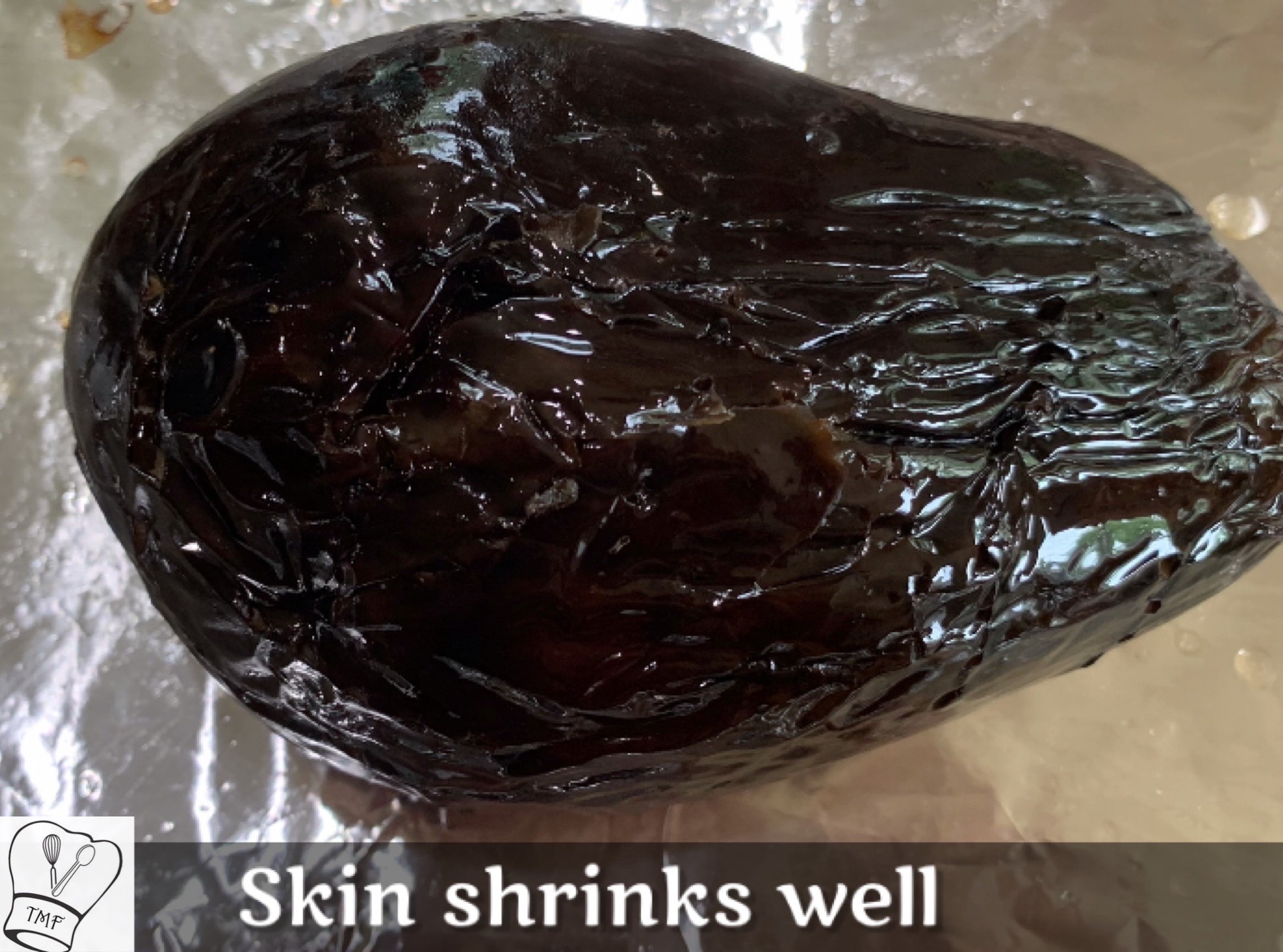 Gently peel off the skin. Use a fork if needed, Discard the skin and save the pulp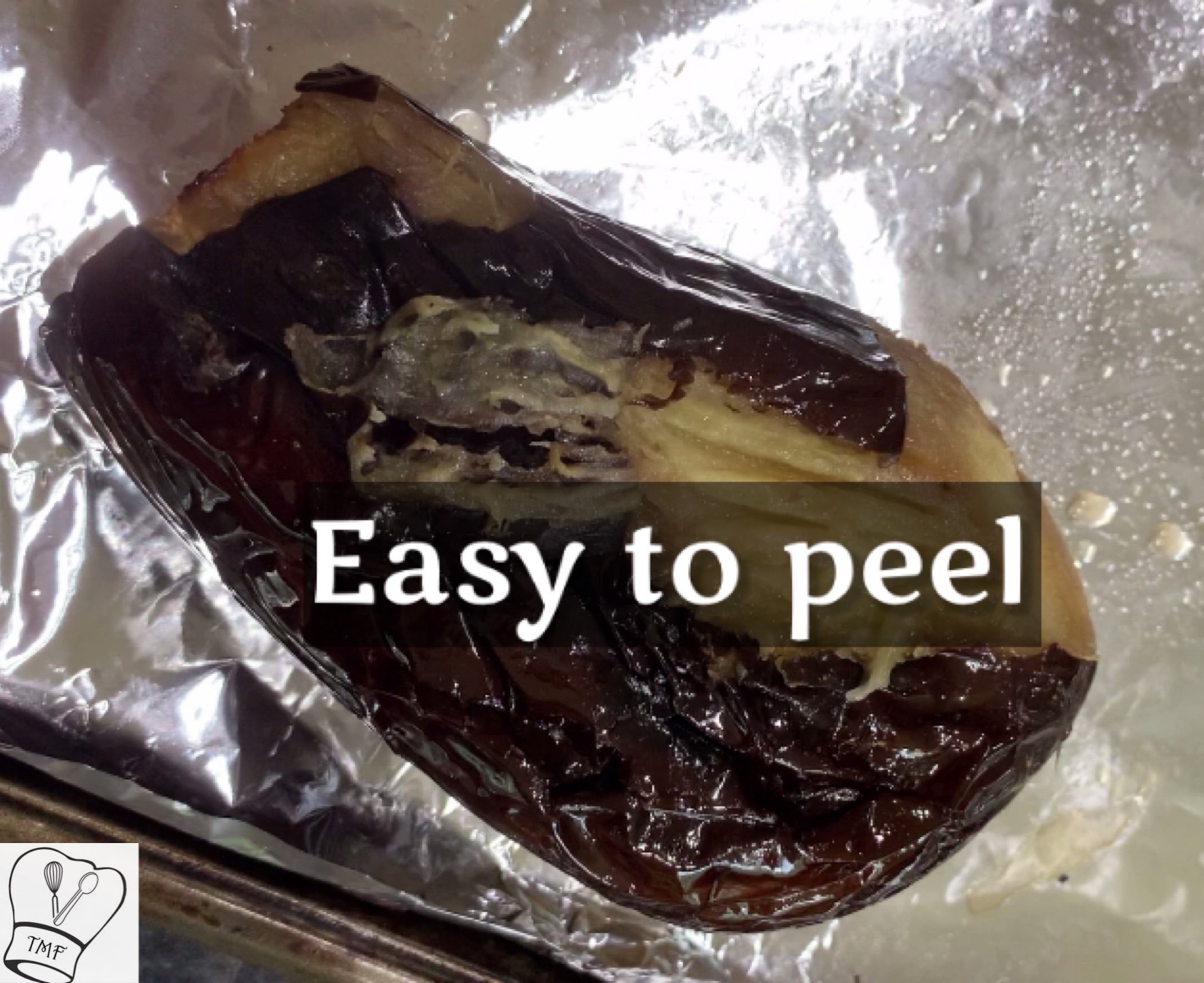 Ingredients:
Roasted eggplant - 1/4 cup
Thick curd - 1/2 cup
Salt - as needed
To temper:
Coconut oil -1/2 tsp
Mustard seeds - 1/2 tsp
Green chilli - 1
Coriander leaves - few
How to sutta kathirikkai pachadi with step by step pictures:
After the broiled (roasted) eggplant is cool ground it without adding water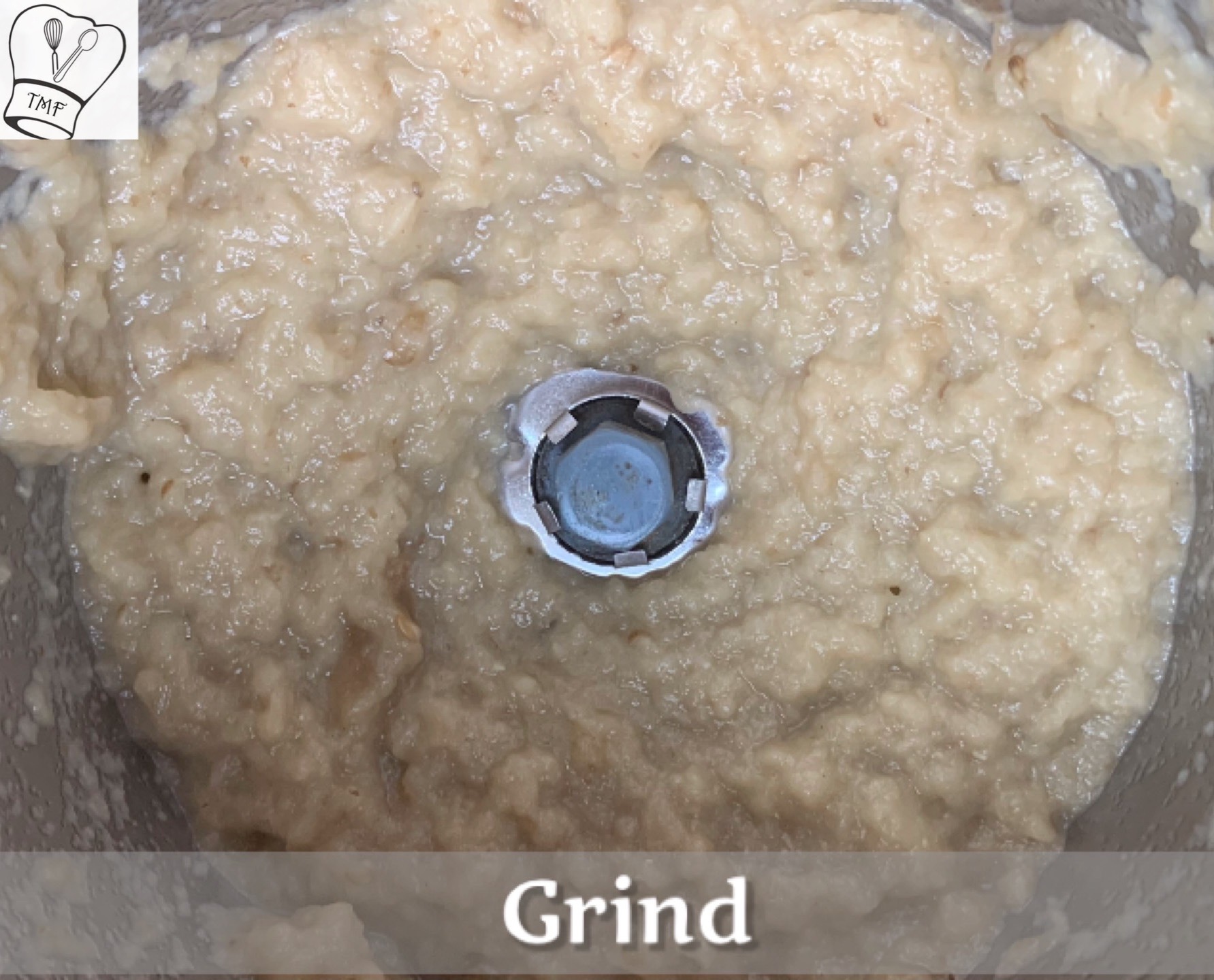 Transfer it to bowl, sprinkle some salt and add smooth lump free curd; mix everything well
In a tadka pan add coconut oil and when oil is hot add mustard seeds and let it splutter. Add green chilli and let it temper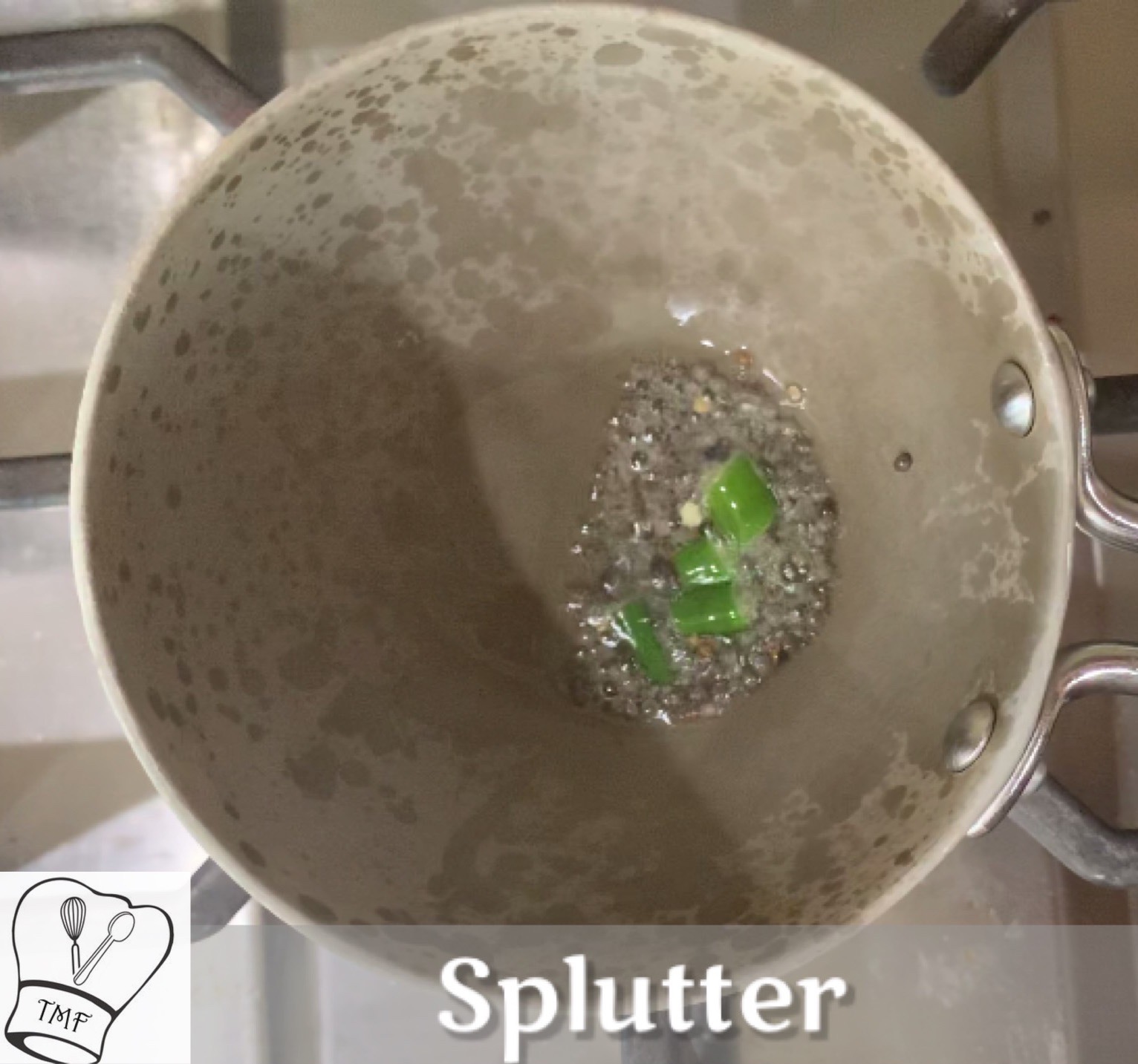 Transfer the tempering to the pachadi. Sprinkle some coriander leaves and pacahdi is ready