thakkali thogayal , thakkali thuvaiyal , tomato chutney , thakkali chutney, south Indian recipe, how to make, south Indian cooking, South Indian recipe, Indian onion recipes, thogayal varieties, thuvaiyal varieties, thakkali thuvaiyal recipe,best tomato chutney, Tamil brahmin recipe, Iyer 10 mins thogayal recipe, style thogayal with step by step pictures and video recipe. Check out the thakkali thuvaiyal recipe. If you like the video pls SUBSCRIBE to my channel.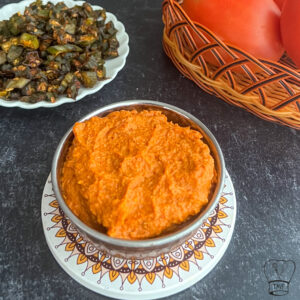 thakkali thogayal is a simple and quick South Indian rice accompaniment - with tomato, coconut, and dal. When you are running out of veggies this quick & easy vegan Indian rice accompaniment is one tasty option. Thuvaiyal can be prepared within 10 minutes and stays good for 2 days in the fridge.
Thogayal | thuvaival variety
When it comes to Thogayal varieties most of the Thuvaiyal varieties we do in our homes will have a blend of vegetable, lentil, coconut, and spice. Compared to the chutney variety Thogayal are thick. Tempering is optional for thogayal Many Thuviyal varieties are prepared in Tamil Brahmin cooking. Thogayal varieties are usually less time-consuming.
thakkali Thogayal
tomato Thogayal is a tasty tomato-based Thogayal recipe. You can use any type of tomato.
What tastes best with tomato thogayal
thakkali thuvaiyal, rice, and sesame oil (or melted ghee) taste best. Thogayal varieties are also a great rice accompaniment with Rasam varieties, Milagu Kuzhambu, marandhu kuzhambu, Poondu Kuzhambu, or any tamarind-based Kuzhambu variety. I also like vengayam thuvaiyal with curd rice and curd semiya. You can also add water and serve it as a chutney with tiffin varieties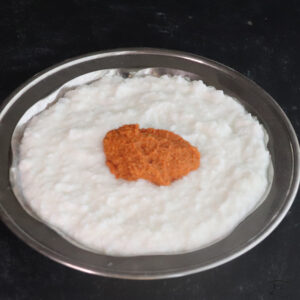 Can I saute dal and tomato together for onion thuvaiyal?
No, I would recommend sauteing them separately as dal might turn soft.
Can I skip tamarind?
Tamarind enhances the tomato thogayal flavor. I would recommend using soft tamarind for easy grinding, If tamarind is hard, microwave or soak in very little water and use it. You can also use 1/2 teaspoon of tamarind paste instead of tamarind. https://youtube.com/playlist?list=PL3zYDDQHDMStAA4y3sISuQIYxaDBHtHbx

WHY KASHMIRI CHILLI POWDER FOR THE SOUTH INDIAN thuvaiyal VARIETY?
Kashmiri chilli powder gives amazing color to the thakkali oorugai. Kashmiri chilli powder is not as spicy as regular chilli powder. Adjust the chilli powder according to your taste.
Can I use the same recipe and prepare tomato chutney?
Yes, add little water and grind tomato chutney. Also, temper mustard seeds and urad dal in coconut oil and add it to thakkali chutney. Other chutney varieties in TMF.
Other Thogayal recipes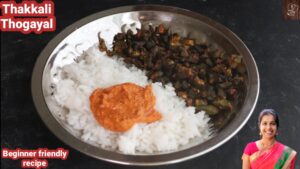 ingredients
Saute dry ingredients
1 tablespoon coconut oil
1/2 tablespoon + 1 tablespoon coriander seeds
1 tablespoon Chana dal
3 red chilli
Saute tomato
450 grams of tomatoes, around 5
Small pieces Tamarind
1/3 cup Coconut
1/4 teaspoon turmeric powder
1 teaspoon Kashmiri chilli powder
Asafoetida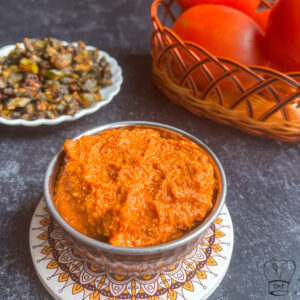 How to make thakkali thogayal with step-by-step pictures:
Firstly add oil to the pan and oil is hot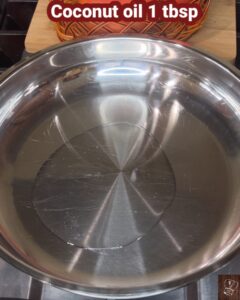 Add Chana Dal, coriander seeds and red chilli; roast till they turn golden brown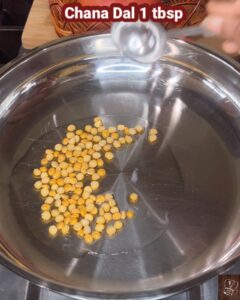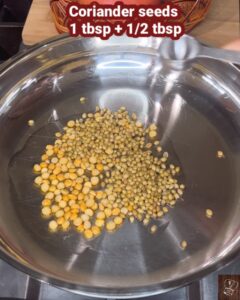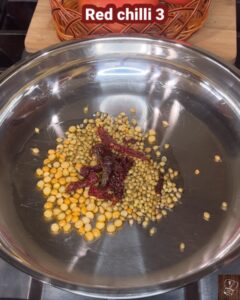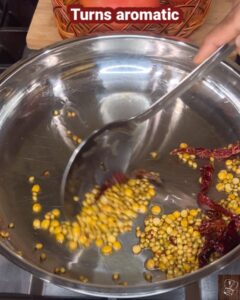 Transfer and cool. Retain the oil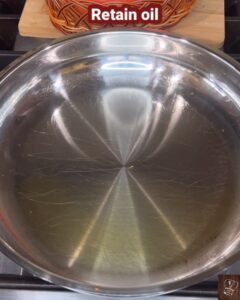 Add tomatoes and saute till they turn slightly mushy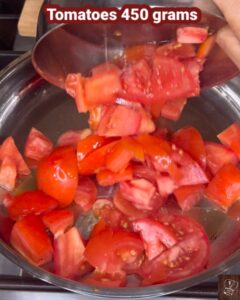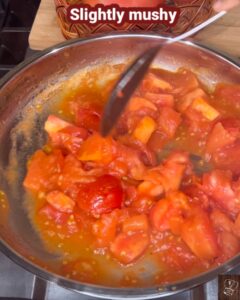 Furthermore add salt, Kashmiri chilli powder. Tamarind and turmeric powder; mix well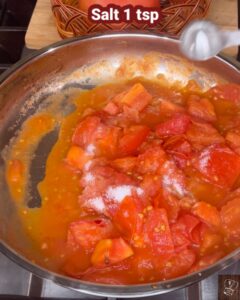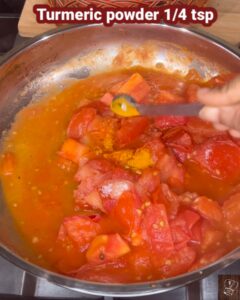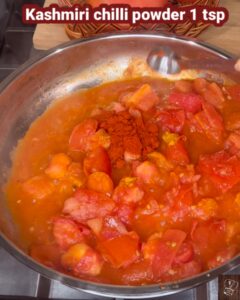 Cook till tomato turn to thokku consistency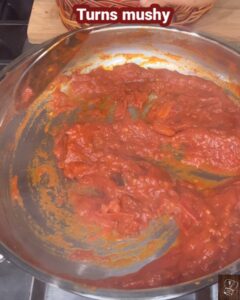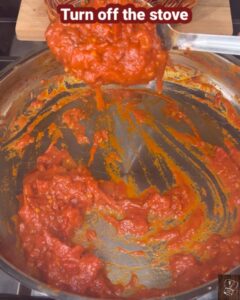 Furthermore, add asafoetida and coconut and mix well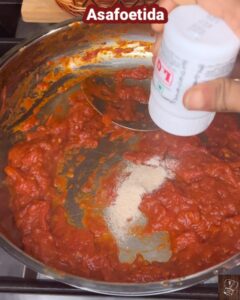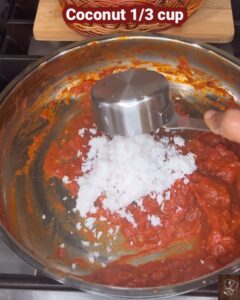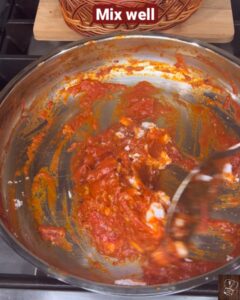 Add dry ingredients to the mixie and grind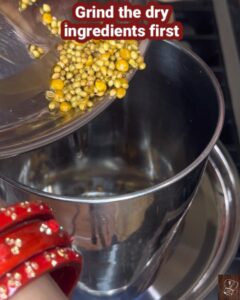 Finally, add the rest of the ingredients and grind into thogayal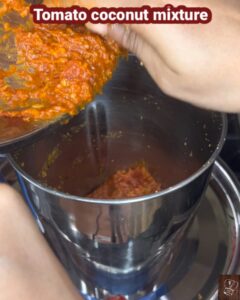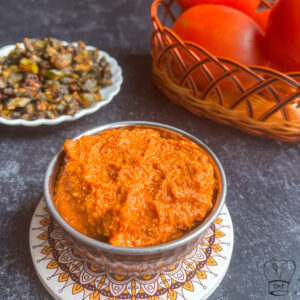 tomato chutney
Add extra water and grind into a smooth chutney
Finally add coconut oil and temper mustard seeds, urad dal, and hing; add it to the chutney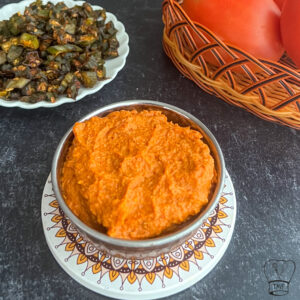 Ingredients
saute dry ingredients
1

tablespoon

coconut oil

1/2

tablespoon

+ 1 tablespoon coriander seeds

1

tablespoon

Chana dal

3

red chilli
Saute tomato
450

grams

tomatoes

around 5

Small pieces Tamarind

1/3

cup

Coconut

1/4

teaspoon

turmeric powder

1

teaspoon

Kashmiri chilli powder

Asafoetida
Instructions
Firstly add oil to the pan and oil is hot

Add Chana Dal, coriander seeds and red chilli; roast till they turn golden brown

Transfer and cool. Retain the oil

Add tomatoes and saute till they turn slightly mushy

Furthermore add salt, Kashmiri chilli powder. Tamarind and turmeric powder; mix well

Cook till tomato turn to thokku consistency

Turn off the stove

Furthermore, add asafoetida and coconut and mix well

Add dry ingredients to the mixie and grind

Finally, add the rest of the ingredients and grind into thogayal

tomato chutney

Add extra water and grind into a smooth chutney

Finally add coconut oil and temper mustard seeds, urad dal, and hing; add it to the chutney
Video