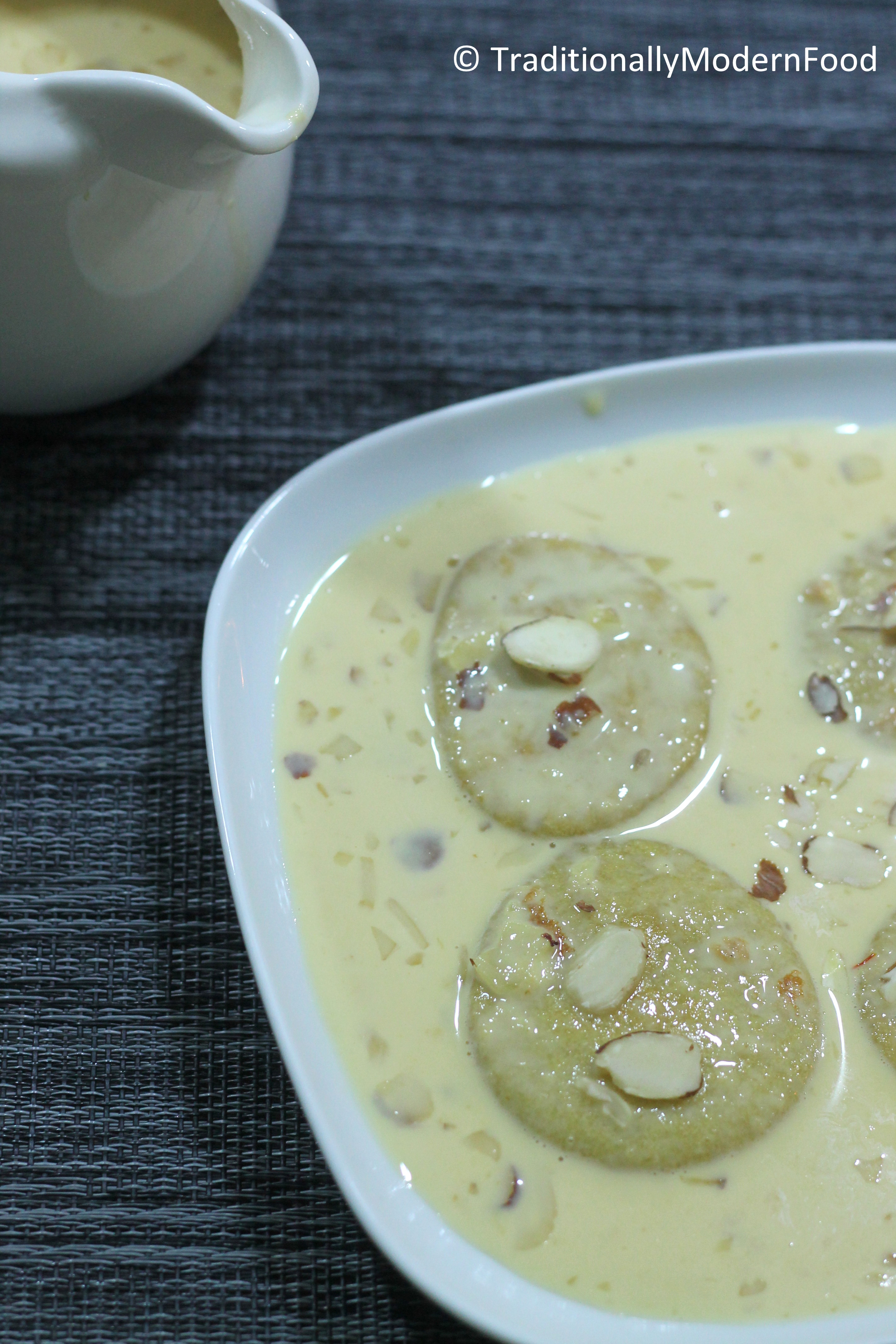 Paal poli is prepared with deep fried/baked puri in rich creamy milk based sauce. If you are cautious about deep fried puri these baked puri is great alternative. Paal(thick milk sauce) is usually prepared with whole fat milk. Here is a paal poli version with evaporated milk.
Happy Bhogi to all my readers!!
Bhogi in India during childhood days is very special. Fire the unused stuff and play bhogi melam. Growing up, I understand how it affects the pollution levels. For me Festive days are all about yummy food and watching tv for hours together.
Usually Paruppu Boli, payasam and paruppu vadai are prepared during bhogi.. I love Paruppu Poli and my sister likes paal poli so Amma alternates both. Paal Poli li is an authentic and traditional dish. Deep fried poori soaked in a tasty milk reduction. Divine is the word. I can eat it all day:-)
Reducing the milk for hours together gives a great taste but for a lazy cook like me who always looks for a quick instant version in all my cooking, Evaporated milk is a great saver. Within 10 minutes delicious Paal (milk sauce) is readyready
I got a can of evaporated milk to prepare this dish today. Today my son went for school and as he is still not used to this routine he was crying all day. Morning I didn't prepare anything. My friend gave Paal poli and vadai. It was so tasty, and after eating it my desire started again.
I prepared the dough and kept it for resting. While rolling it, my mind told to try a baked version but my heart was still sticking to the deep fried poori. I preheated the oven and kept oil in the meantime as a backup. I prepared a batch and gave it my hubby for taste he told you can switch off the oil pan and continue baking.
I originally posted this recipe with baked Poori but recently updated traditional deep fried version too.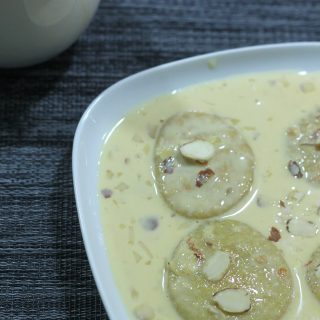 Paal Poli - Baked Poori
Baked poori soaked in rich milk sauce makes a great dessert
Print
Pin
Comment
Ingredients
For Poori

All- purpose- flour / Maida - 1 cup

Rava/ Sooji - 1 tbsp

Salt - pinch

Oil - 2 tbsp + to grease the baking pan + to grease the rolling board

Luke warm Water - 1/4 cup
For Milk Sauce
Evaporated Milk - 1 can

Condensed milk - 1 tbsp + 1/2 tbsp

Sugar - 3 tbsp

Adjust avcroding to your taste

Salt - a pinch

Saffron - few

Cardamom powder - 1/8 tsp

Almond flakes - to garnish
Instructions
In a wide bowl combine Maida, rava, salt, baking powder and mix well. Add 1 tbsp of oil and make crumbs out of the flour. Slowly add water little by little till you get a pliable poori like dough. Add 1 tbsp of oil and knead the dough well. Cover with a damp cloth and let it sit for at least 1 hour

Preheat the oven to 400 degree Fahrenheit and place aluminum foil/ parchment paper on the baking tray and grease it will little oil (As we have already greased the rolling board with oil shouldn't take much oil for greasing)

Grease the rolling surface with little oil and roll the dough. I used a small cup and cut into circle.

Place it the baking tray and if the top surface is dry brush little oil or use cooking spray. Bake it for 7-10 minutes

In a wide pan on medium heat, add evaporated milk, saffron, cardamom powder and salt; cook for 5 minutes.

Add condensed milk and sugar, cook for 5-7 minutes; switch off

Add the cooked puri to the milk sauce and let it sit for atleast 1 hour. Serve it in room Temperature or chilled with garnishes nuts
Notes
Milk can be used instead of evaporated milk. In medium heat whole milk can be reduced to 1/2. Add cardamom powder, saffron, condensed milk, sugar and salt for paal
Poori can be deep fried instead of baking
Pista, walnut, pecan etc. can be used for extra flavoring
Over baking may result in crackers, watch out the oven after 7minutes
Nutrition
Calories:
1288
kcal
|
Carbohydrates:
181
g
|
Protein:
40
g
|
Fat:
45
g
|
Saturated Fat:
19
g
|
Polyunsaturated Fat:
24
g
|
Cholesterol:
114
mg
|
Sodium:
721
mg
|
Fiber:
4
g
|
Sugar:
85
g
Ingredients:
For Poori
Maida – 1 cup
Rava/ Sooji – 1 tbsp
Salt – pinch
Oil – 2 tbsp + to grease the baking pan + to grease the rolling board
Luke warm Water – around 1/4 to 1/3 cup
For Milk Sauce
Evaporated Milk – 1 can + 1/2 can
Condensed milk – 1 tbsp + 1/2 tbsp
Sugar – 1/2 cup (Adjust avcroding to your taste)
Salt – a pinch
Saffron – few
Cardamom powder – 1/8 tsp
Almond flakes – to garnish
Method:
In a wide bowl combine Maida, rava, salt and mix well. Add 1 tbsp + 1/2 tbsp of oil and make crumbs out of the flour. Slowly add water little by little till you get a pliable poori ldough. Add 1/2 tbsp of oil and knead the dough well. Cover with a damp cloth and let it sit for at least 1 hour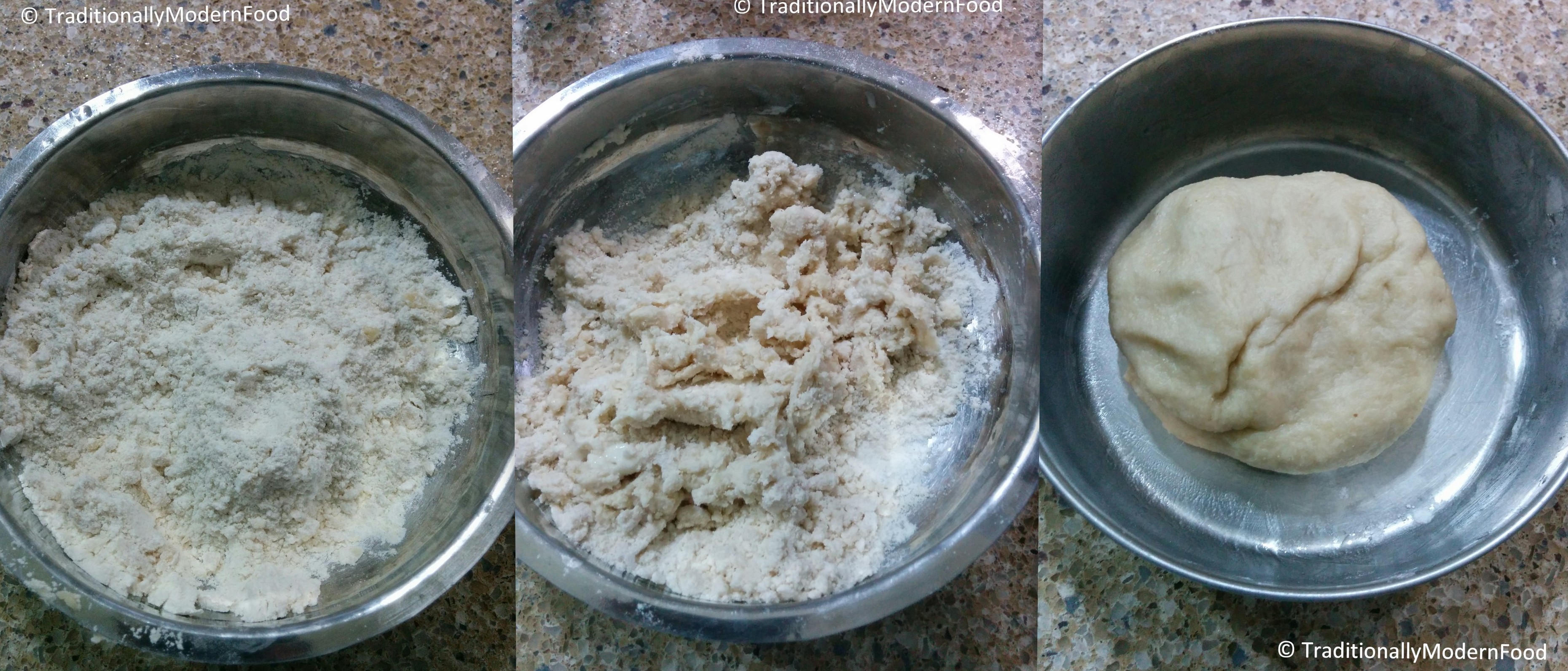 In a wide pan on medium heat, add evaporated milk, saffron, cardamom powder and salt; cook for 5 minutes.
Add condensed milk and sugar, cook for 5-7 minutes; switch off
Baked Version:
Preheat the oven to 400 degree Fahrenheit and place aluminum foil/ parchment paper on the baking tray and grease it will little oil (As we have already greased the rolling board with oil shouldn't take much oil for greasing)
Grease the rolling surface with little oil and roll the dough. I used a small cup and cut into circle.
Place it the baking tray and if the top surface is dry brush little oil or use cooking spray. Bake it for 7-10 minutes
Deep fried version:
Heat s oil in a wide pan and add the poori and cook till the poori are cooked on both sides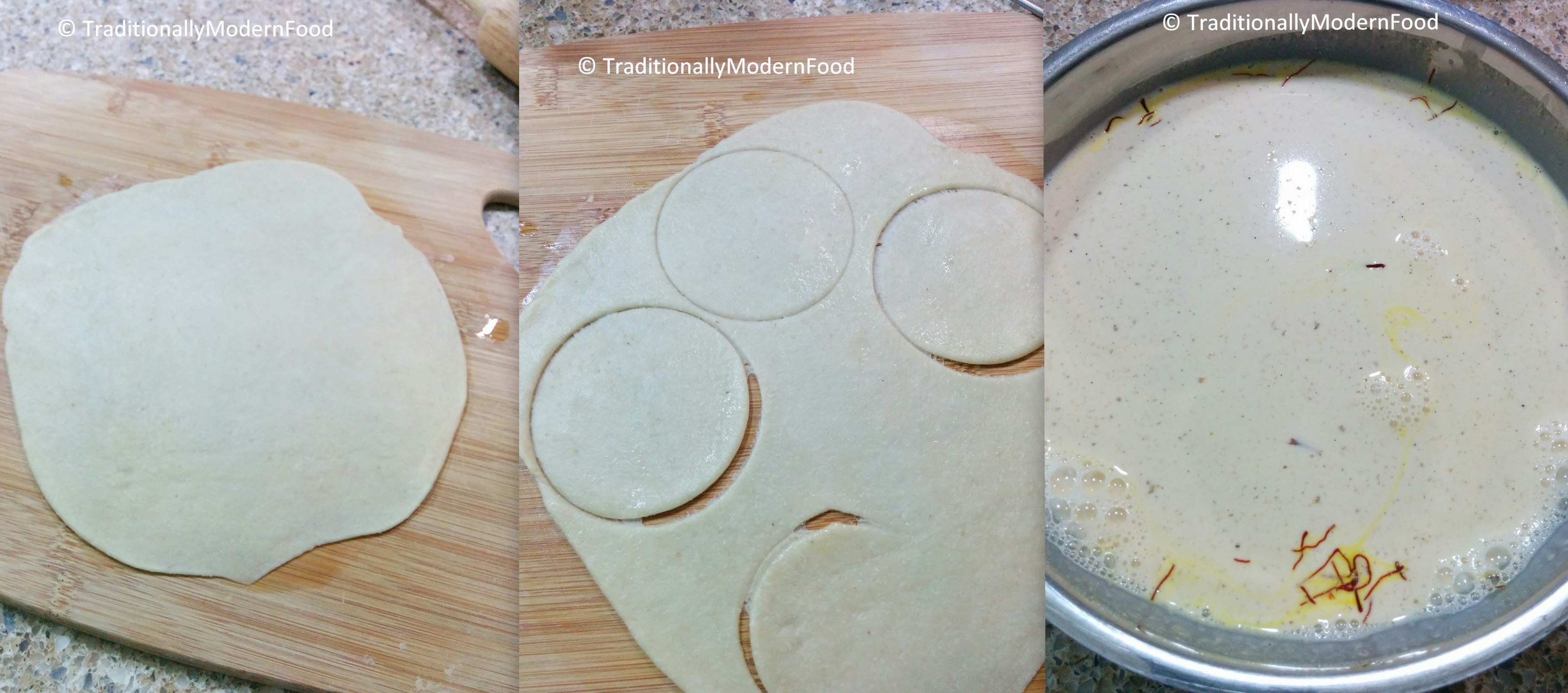 Add the cooked puri to the milk sauce and let it sit for atleast 1 hour. Serve it in room Temperature or chilled with garnishes nuts