Karuveppilai Kuzhambu | curry leaves kulambu | chettinadu Karuveppilai kulambu | Poondu Kuzhambu | Poondu Kulambu | spicy Karuveppilai poondu kuzhambu | garlic tamarind curry | spicy south Indian garlic gravy | south Indian kuzhambu recipe | poondu milagu kuzhambu with step-by-step pictures and video recipe. Check out the Karuveppilai Kulambu recipe. If you like the video pls SUBSCRIBE to my channel.
Karuveppilai poondu kuzhambu is healthy tamarind-based south Indian kuzhambu recipe. Quick 20 minutes kuzhambu stays good for a week. kulambu is great postpartum recipe.
Puli KUZHAMBU
I love tamarind-based Kuzhambu recipes. When it comes to homemade puli Kuzhambu recipes poondu kuzhambu, Appalam Kuzhambu, enna kathirikai kuzhambu, and Onion Vatha Kuzhambu are some of my favorite kulambu varieties. I also love Saravana Bhavan hotel style kara Kuzhambu.
Karuveppila Poondu kulambu
Garlic, curry leaves and fenugreek seeds are good friendly ingredients. Garlic-based kara kuzhambu with freshly ground fenugreek seeds is so flavorful and healthy. garlic is widely used in Indian pathiya samayal recipes. Milagu Kuzhambu, marundhu Kuzhambu, Poondu sadam, vetrilai poondu Saddam,poondu rasam are some of my favorite Indian postpartum recipes
CAN I USE TAMARIND PASTE?
Yes, you can use homemade tamarind paste. If you are using store-bought tamarind paste, adjust the quantity according to its soreness.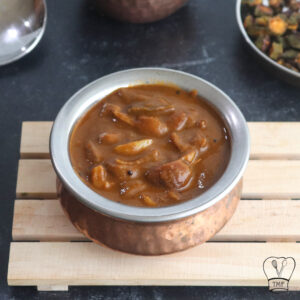 CAN I SKIP TOMATOES?
Yes, I like the soreness from tomatoes hence I have used them. If you are skipping tomatoes adjust the tamarind accordingly. Pulikaichal, puli aval, and instant puli sadam are some of my favorite tamarind-based dishes
The shelf life of curry leaves kuzhambu
It stays good for 4 days in the fridge. For longer shelf life increase oil.
Sambar powder for karuveppila kuzhambu?
you can use homemade sambar powder, it gives good flavor and consistency to the kuzhambu. In that case skip red chilli powder and turmeric powder.
COLOR OF THE karuveppila kulambu
the color of the kara Kuzhambu totally depends on various factors like the Kashmiri Chilli powder, tamarind, tomatoes, etc.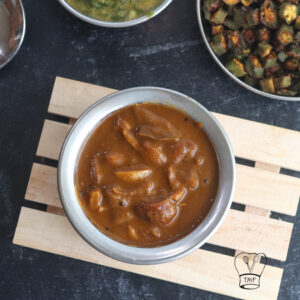 WHAT SHOULD BE THE CONSISTENCY OF kathirikai murungakai KUZHAMBU?
In our home, we prefer thick kara kuzhambu. Adjust the water according to the consistency you desire.
CAN I ADD skip onion and garlic?
Yes, they are optional but it gives an amazing taste to karuveppila vendhya kulambu so I would recommend them.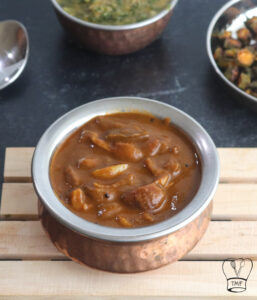 Ingredients
Roast and grind
1 tablespoon coriander seeds
1/4 teaspoon fenugreek seeds
1 teaspoon cumin seeds
1/2 teaspoon sesame seeds
12 grams of curry leaves
1/2 teaspoon sesame oil
1 teaspoon pepper
Required salt
1 Tomato
1/4 teaspoon turmeric powder
1 tablespoon Kashmiri chilli powder
1/2 cup tamarind water
Temper
2 tablespoon oil sesame oil
1/2 teaspoon mustard seeds
Curry leaves few
Kuzhambu
1/4 cup Garlic roughly chopped
1 cup small onion, chopped
Small piece of jaggery
1 tablespoon Kashmiri chilli powder
1+1/2 cup Tamarind water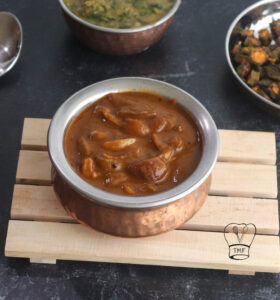 How to make karveppila kuzhambu with step-by-step pictures
First, Add coriander seeds, fenugreek seeds, pepper, and cumin seeds; mix well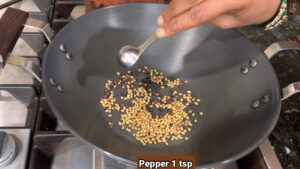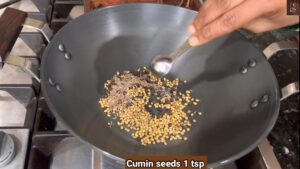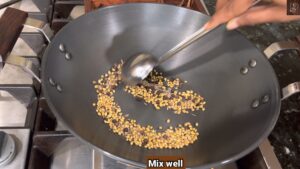 Furthermore, add curry leaves and sesame oil; saute well till they turn aromatic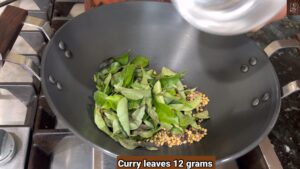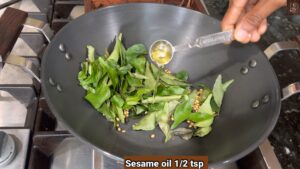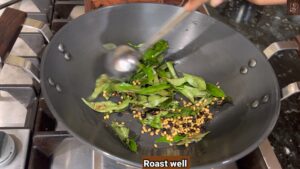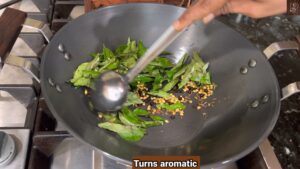 Turn off the stove. Transfer and cool completely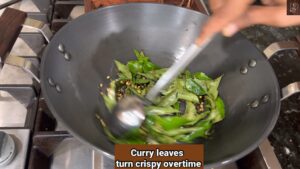 Add sesame seeds and roast till they pop. Cool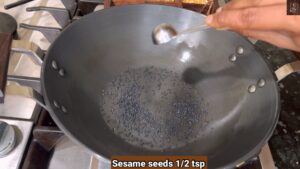 Transfer everything to a mixie jar
Add tomatoes and grind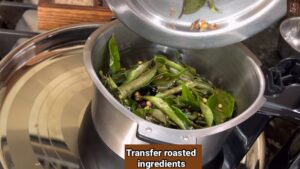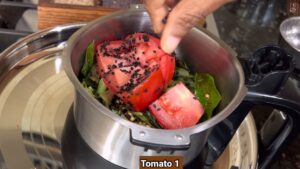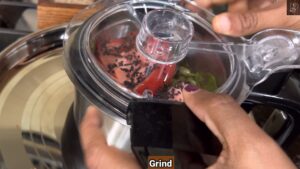 Furthermore add Kashmiri chilli powder, turmeric powder, the required salt, and tamarind water; grind again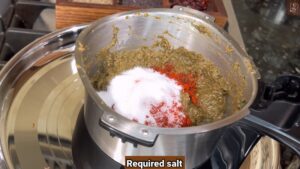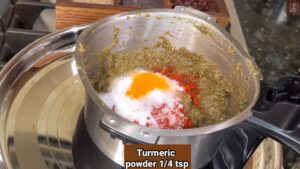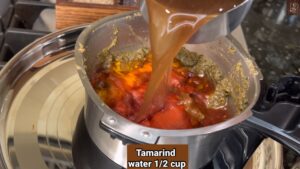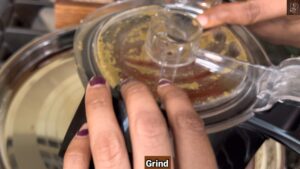 Add 2 tablespoons of sesame oil to a wide heavy bottomed pan and when the oil is hot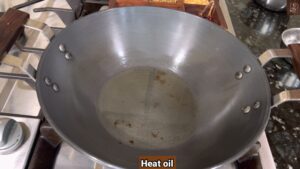 Furthermore, Add mustard seeds; let them splutter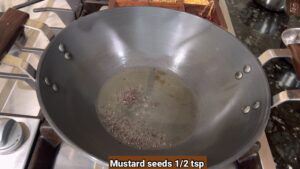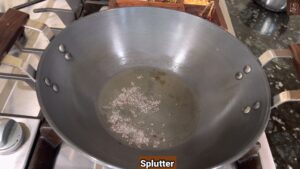 Add curry leaves; mix well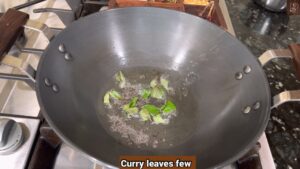 Furthermore, Add garlic and saute till they change golden brown color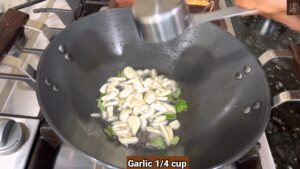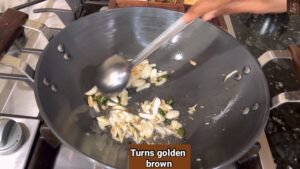 add small onion; sauté till onions turn translucent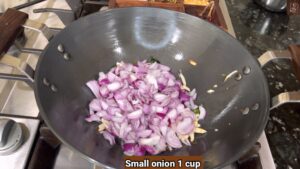 Furthermore, add ground masala; mix well and bring to boil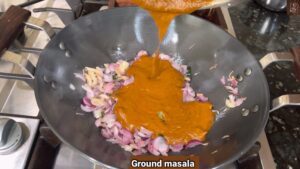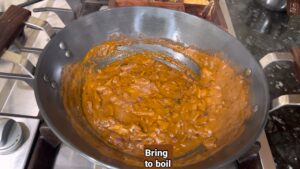 add tamarind extract, jaggery, and water; mix well and boil for 18 minutes or till the raw smell goes off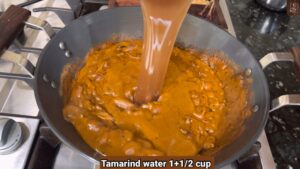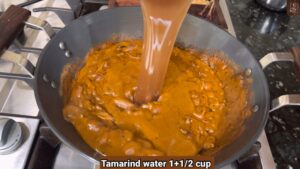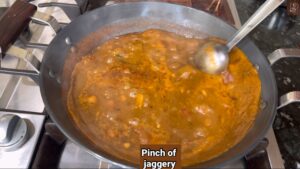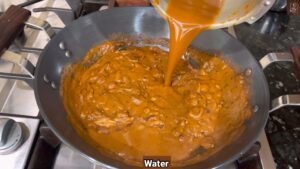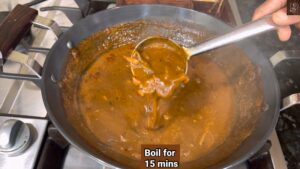 Ingredients
Roast and grind
1

tablespoon

coriander seeds

1/4

teaspoon

fenugreek seeds

1

teaspoon

cumin seeds

1/2

teaspoon

sesame seeds

12

grams

of curry leaves

1/2

teaspoon

sesame oil

1

teaspoon

pepper

Required salt

1

Tomato

1/4

teaspoon

turmeric powder

1

tablespoon

Kashmiri chilli powder

1/2

cup

tamarind water
Temper
2

tablespoon

oil sesame oil

1/2

teaspoon

mustard seeds

Curry leaves few
Kuzhambu
1/4

cup

Garlic roughly chopped

1

cup

small onion

chopped

Small piece of jaggery

1

tablespoon

Kashmiri chilli powder

1

+1/2 cup Tamarind water
Instructions
First, Add coriander seeds, fenugreek seeds, pepper, and cumin seeds; mix well

Furthermore, add curry leaves and sesame oil; saute well till they turn aromatic

Turn off the stove. Transfer and cool completely

Add sesame seeds and roast till they pop. Cool

Transfer everything to a mixie jar

Add tomatoes and grind

Furthermore add Kashmiri chilli powder, turmeric powder, the required salt, and tamarind water; grind again

Add 2 tablespoons of sesame oil to a wide heavy bottomed pan and when the oil is hot

Furthermore, Add mustard seeds; let them splutter

Add curry leaves; mix well

Furthermore, Add garlic and saute till they change golden brown color

add small onion; sauté till onions turn translucent

Furthermore, add ground masala; mix well and bring to boil

add tamarind extract, jaggery, and water; mix well and boil for 18 minutes or till the raw smell goes off
Video