Panchamirtham | Panchamrutham | Panchamrit | Panchamrita | Panchamrut recipe | pazhani panchamirtham | Palani Panchamirtham | panjamirtham | temple prasadam | Panchamirtham recipe
with step by step pictures and video recipe. Check out the
Panchamirtham recipe
.
If you like the video pls
SUBSCRIBE to my channel

.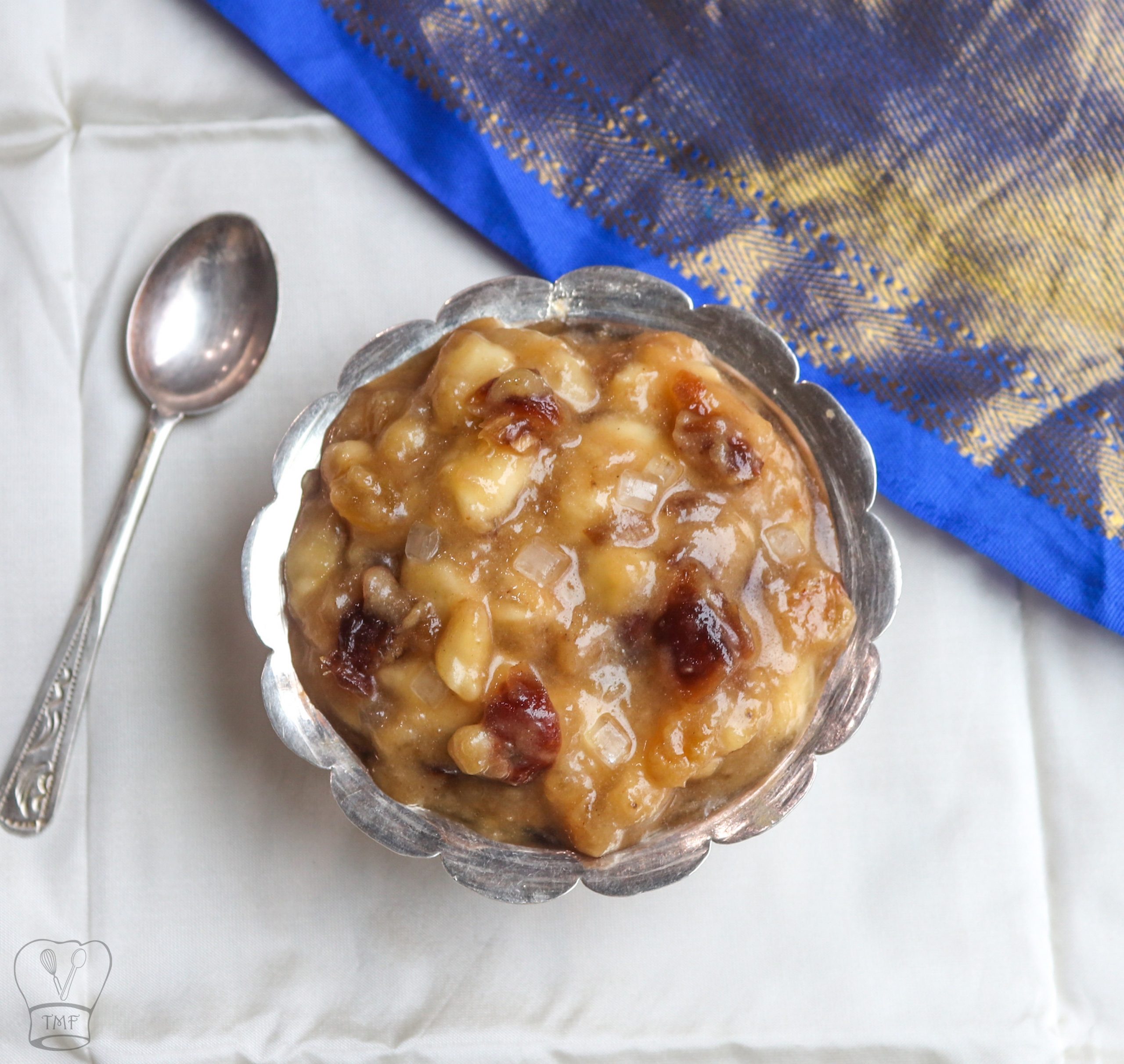 Panchamirtham | Panchamrutham | Panchamrit |Panchamrita | Panchamrut recipe | pazhani panchamirtham | Palani Panchamirtham | temple prasadam | Panchamirtham recipe
is offered as prasadam to Lord Murugan and other Hindu gods. Easy temple-style homemade prasadam. No cooking required. It takes less than 5 mins to prepare this delicious Prasadam. Panchamirtham recipe is prepared with 5 major ingredients such as ripen bananas, dates, Palm sugar, sugar candy, and honey. Ghee, cardamom powder, and edible camphor uplifts the taste
Panchamirtham - prasadam
According to Hindu worship, many festivals have Panchamrita naivedyam as part of the rituals. Pancha means five and Panchamrita means five amruthams or amrtas used in Hindu worship. For festivals, we prepare a version of Panchamirtham with milk, honey, sugar, yogurt, and ghee. There is another version of Panchamritham very popular in Tamil Nadu especially in Murugan temple. Panchamrutham is prepared during temple abhishekams.
Temple Panchamritham
Panchamritham is a very famous sweet prasadam in Pazhani murugan temple (and also in vaitheeswaran temple), and you can see all the shops selling these Panchamrutham in the Palani temple and also in the foothills of palani temple. It also a famous kovil prasad in vadapalani murugan temple and thiruparankundram temple.
How to make the best Panchamirtham prasadam
Always choose a ripe banana
Use de-seeded and roughly chopped dates
Use three types of sweeteners for the best flavor - such as palm sugar (brown sugar), honey, sugar candy
Add a pinch of edible camphor for the kovil prasadam flavor
Always add ghee and cardamom powder to compliment the taste
When is Panchamirtham prepared at the home?
In our home, we prepare Panchamirtham for Thai pusam, panguni uthiram, ganesh chadurthi, jamnashtami, navartri, karthigai prasadam, and even for Friday neivedyam, etc. Any special occasions like house warming, baby shower, ganapathi homam, baby shower, etc will always have panchamirtham prasadam.
Can I use apple for Panjamirtham recipe?
I prepared a version similar to the temple Panjamirtham recipe so I skipped apple. You can add any fruits or dry fruits of your choice.
Can I use jaggery instead of brown sugar?
Traditionally palm sugar is used for Panchamrit but since it is not widely available in the US I have used brown sugar. You can also use jaggery instead
Other temple prasadam in TMF,
Puliyodarai
Ellu sadam
Akkaravadisal
Sakkarai pongal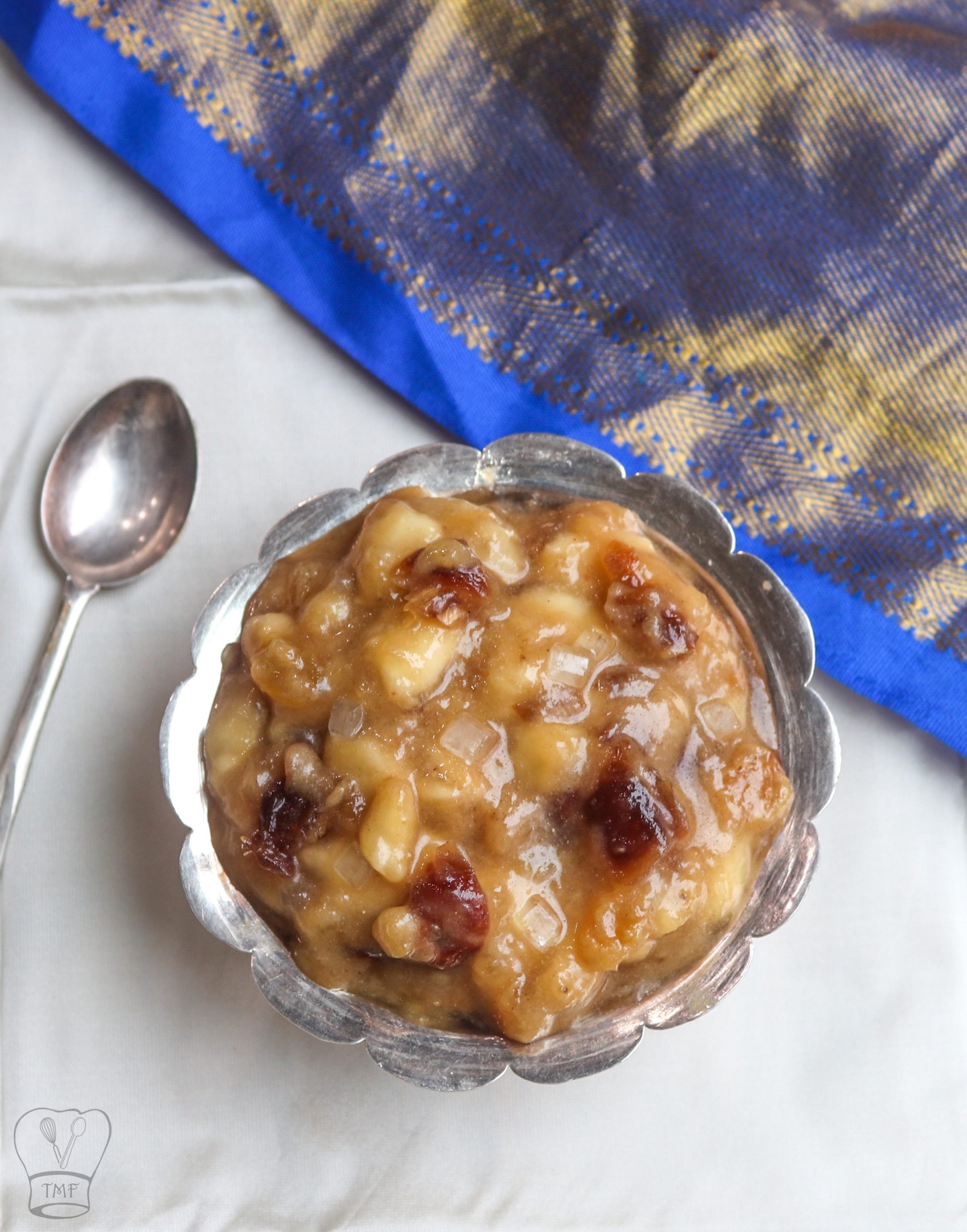 Other pachadi recipes in TMF
Indian sweet recipes in TMF
Payasam recipe in TMF
Kalyana sweet pachadi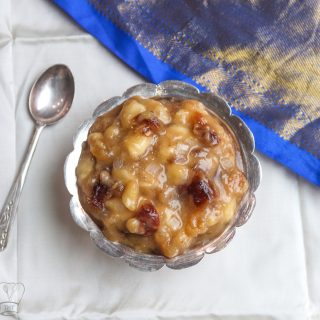 Ingredients
2

banana

1 cup, sliced

1

tablespoon

Raisin

5

Dates deseeded and chopped

2

tablespoon

Brown sugar

1

& 1/2 tablespoon Honey

1/8

teaspoon

Cardamom powder

Edible camphor tiny piece

1

tablespoon

Sugar candy Kalkandu

1

teaspoon

ghee
Instructions
Add all the ingredients mentioned except sugar candy one by one

Mash well with your hands or using a  masher. Avoid mashing into a smooth mixture, let few fruits to retain its shape

Finally, add sugar candy and mix well. Panchamirtham is ready
Video
Notes
You can use add apple, grapes, or any fruits of your choice
Cashews, apricot, fig, or any other dry fruits of choice can be used for extra flavor
Edible camphor is optional but gives good temple flavor to the pachamirtham
Adjust the sugar according to your preference
Always use soft seedless dates. If dates are a hard microwave for 30 seconds and then use
Add a ripe banana for the best flavor avoid overripe banana
The color of the panchamirt depends on the sugar/ jaggery
Panchamritham tends to turn brown over time
Ingredients:
2 banana ( 1 cup), sliced 1 tablespoon Raisin 5 Dates deseeded and chopped 2 tablespoon Brown sugar 1 & 1/2 tablespoon Honey 1/8 teaspoon Cardamom powder Edible camphor tiny piece 1 tablespoon Sugar candy Kalkandu 1 teaspoon
ghee
How to make panjamirtham with step by step pictures
Add all the ingredients mentioned except sugar candy one by one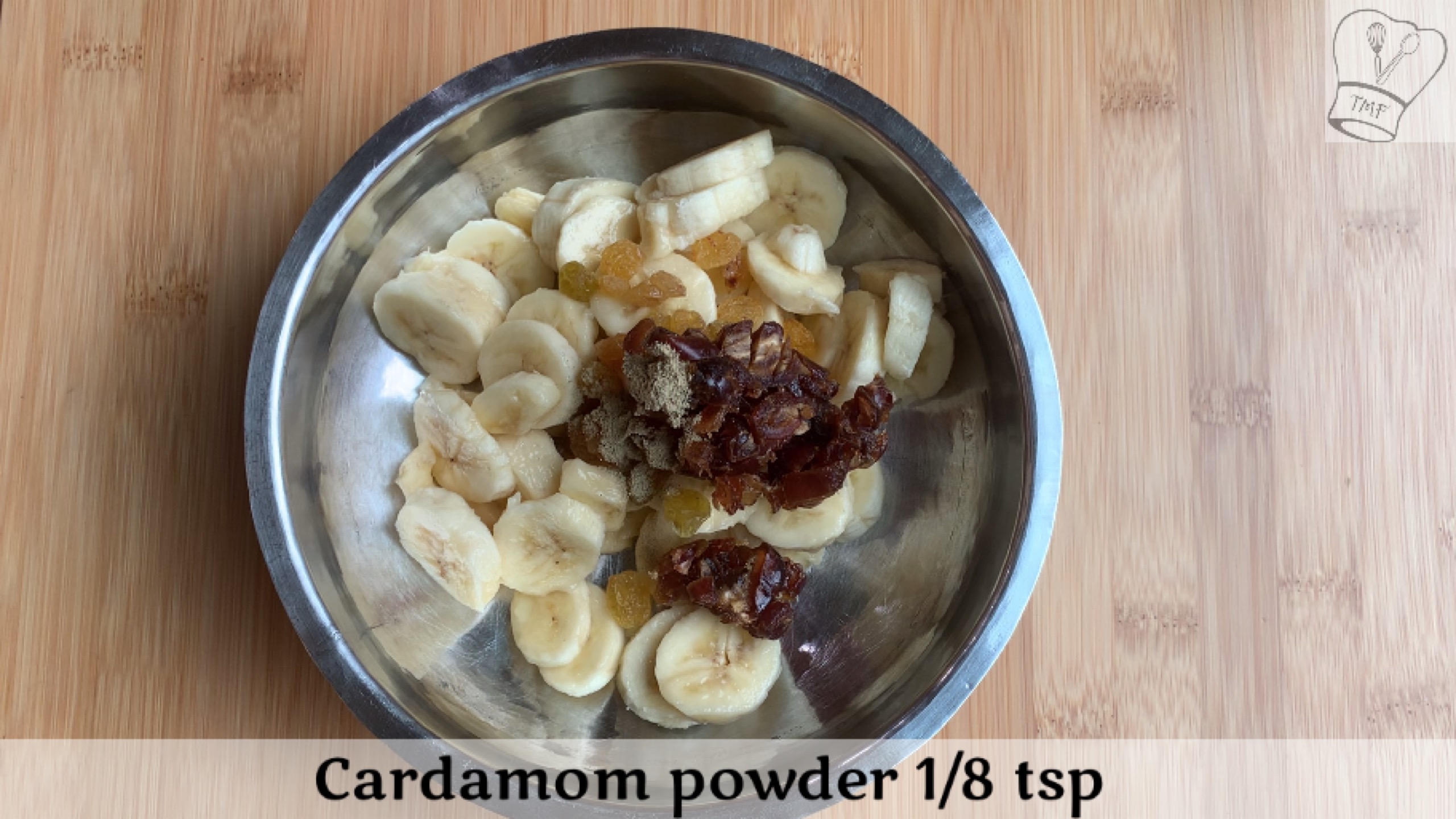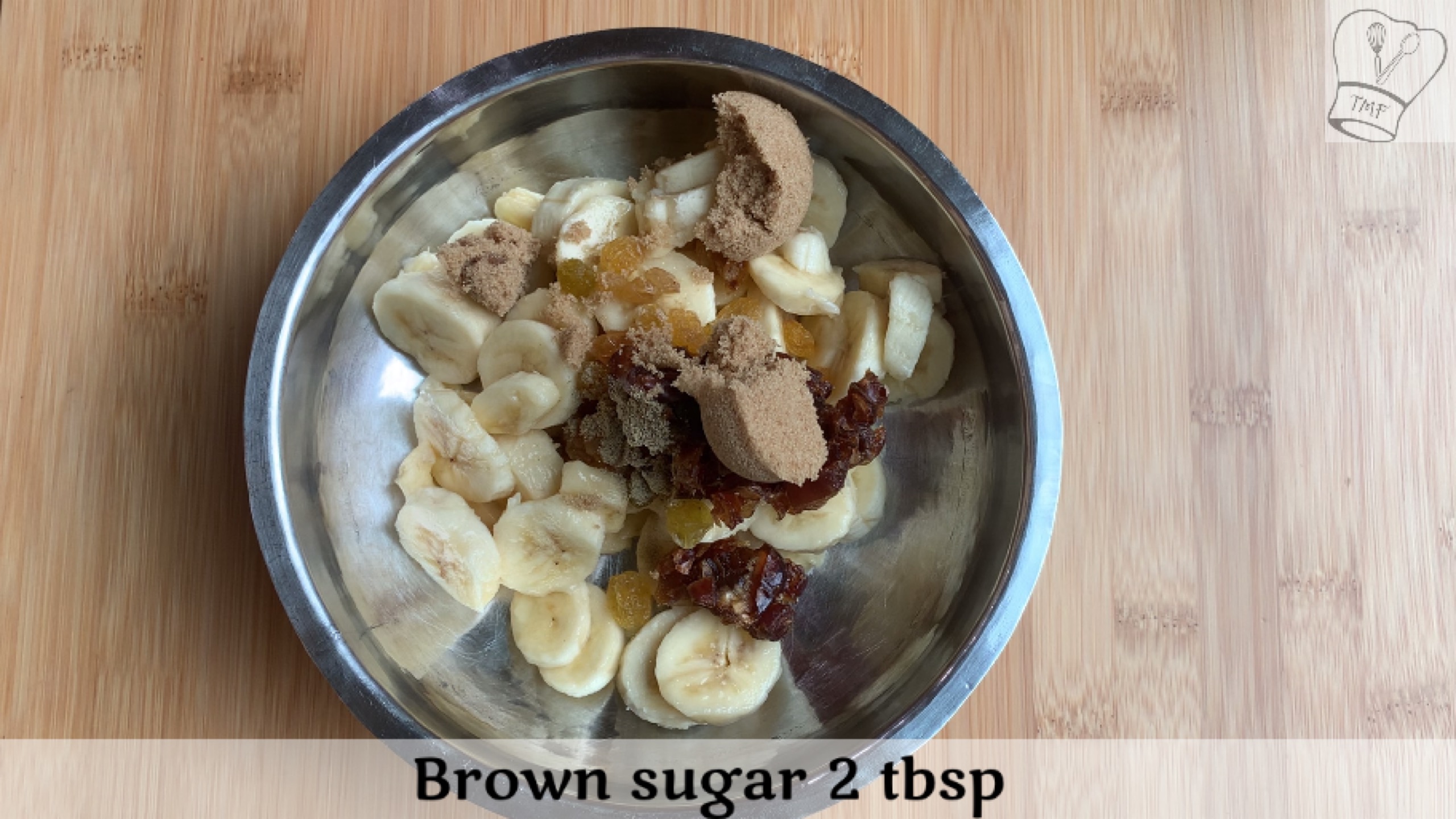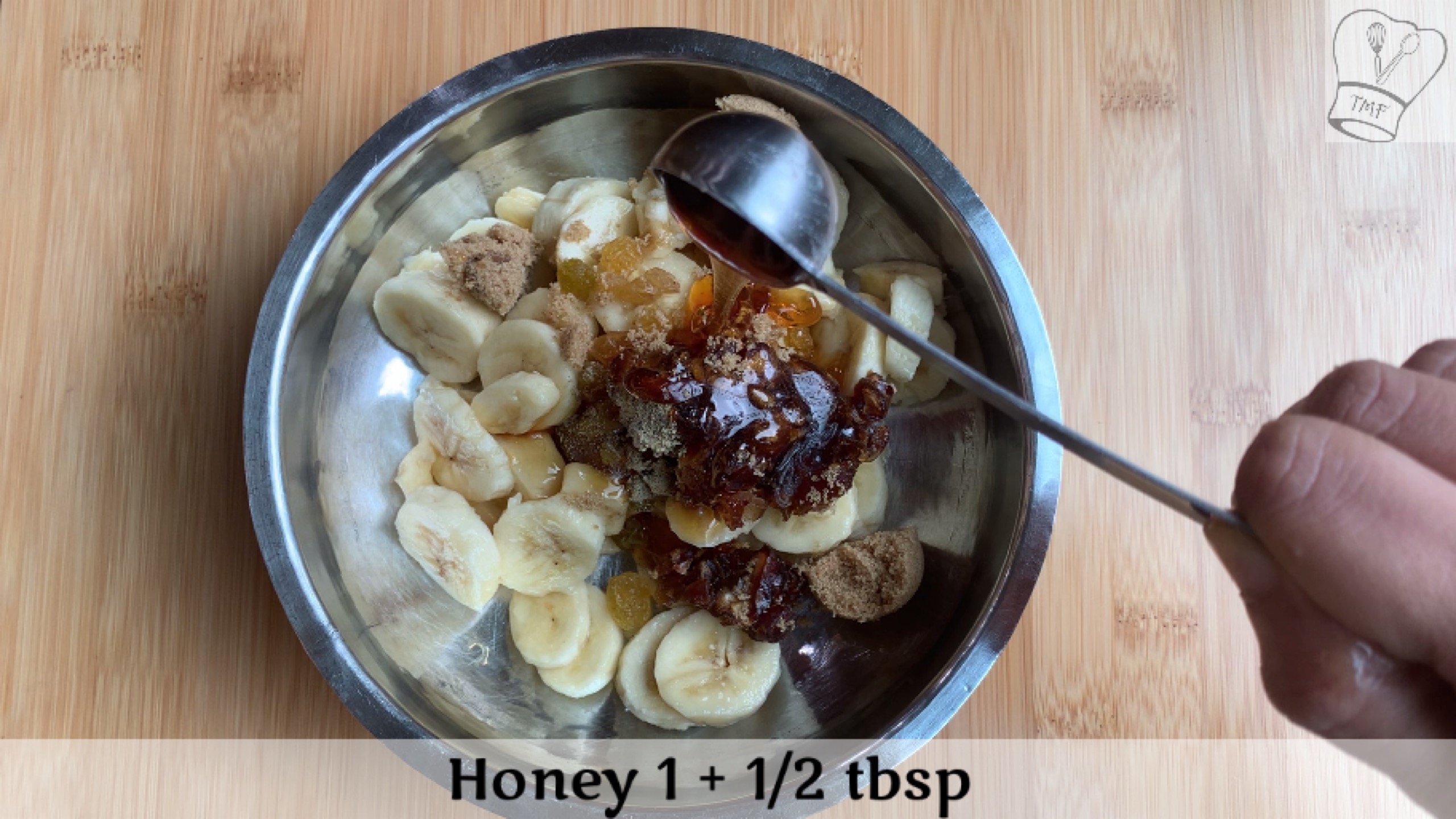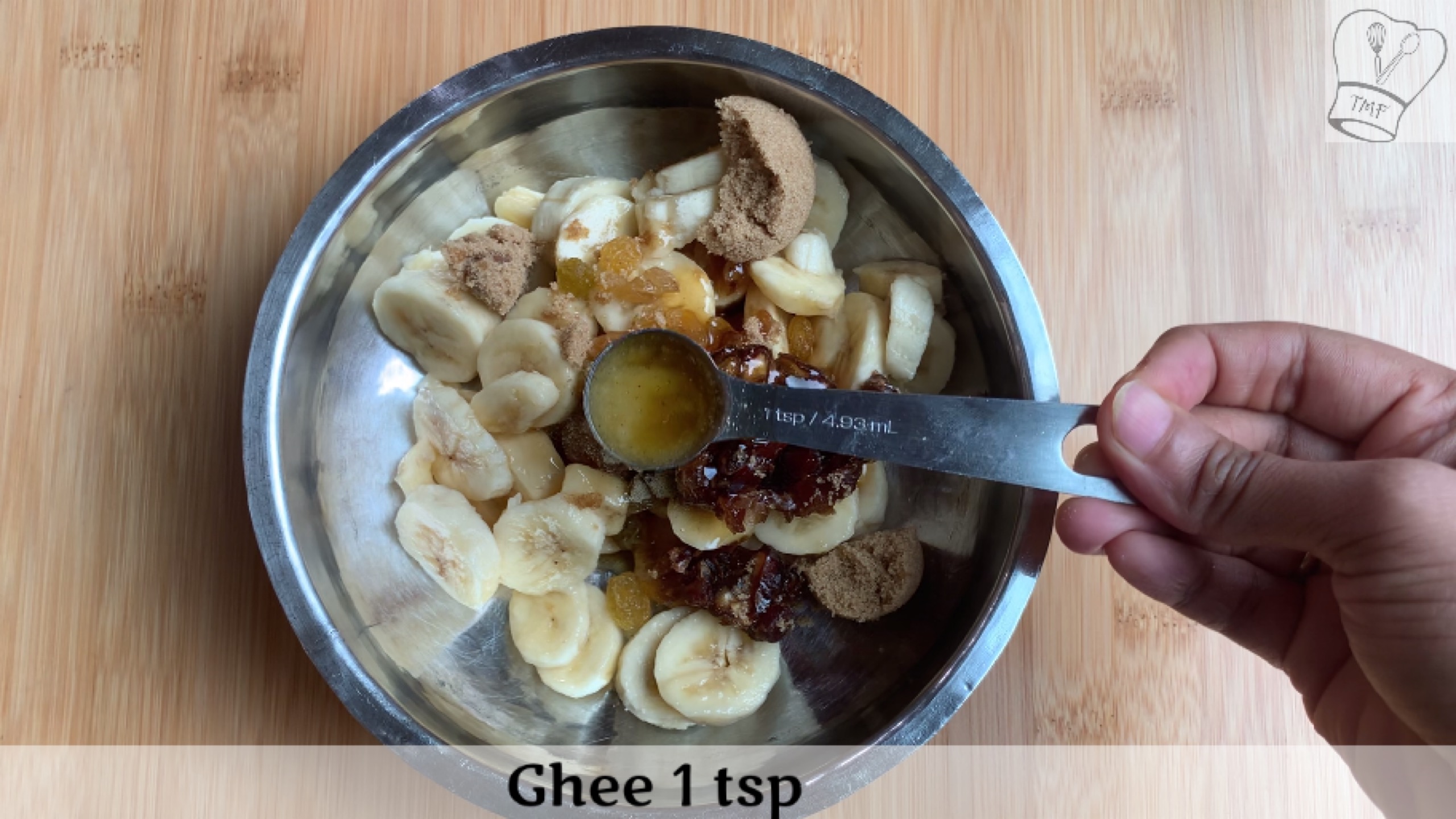 Mash well with your hands or using a masher. Avoid mashing into a smooth mixture, let few fruits to retain its shape
Finally, add sugar candy and mix well. Panchamirtham is ready