Paruppu vadai | Aama vadai | mixed dal vadai | chana dal vadai | dal vadai | Tamil Nadu style paruppu vadai | festival recipe | no onion no garlic Tamil brahmin vada recipe | Parippu vadai | paruppu vadai brahmin style | festival special aama vadai | lentil fritters | paruppu vadai without onion | crispy paruppu vadai | spicy lentil fritters | neividhyam | neyvedhyam vadai | with step by step pictures and video recipe. Check out the Paruppu Vadai recipe. If you like the video pls SUBSCRIBE to my channel.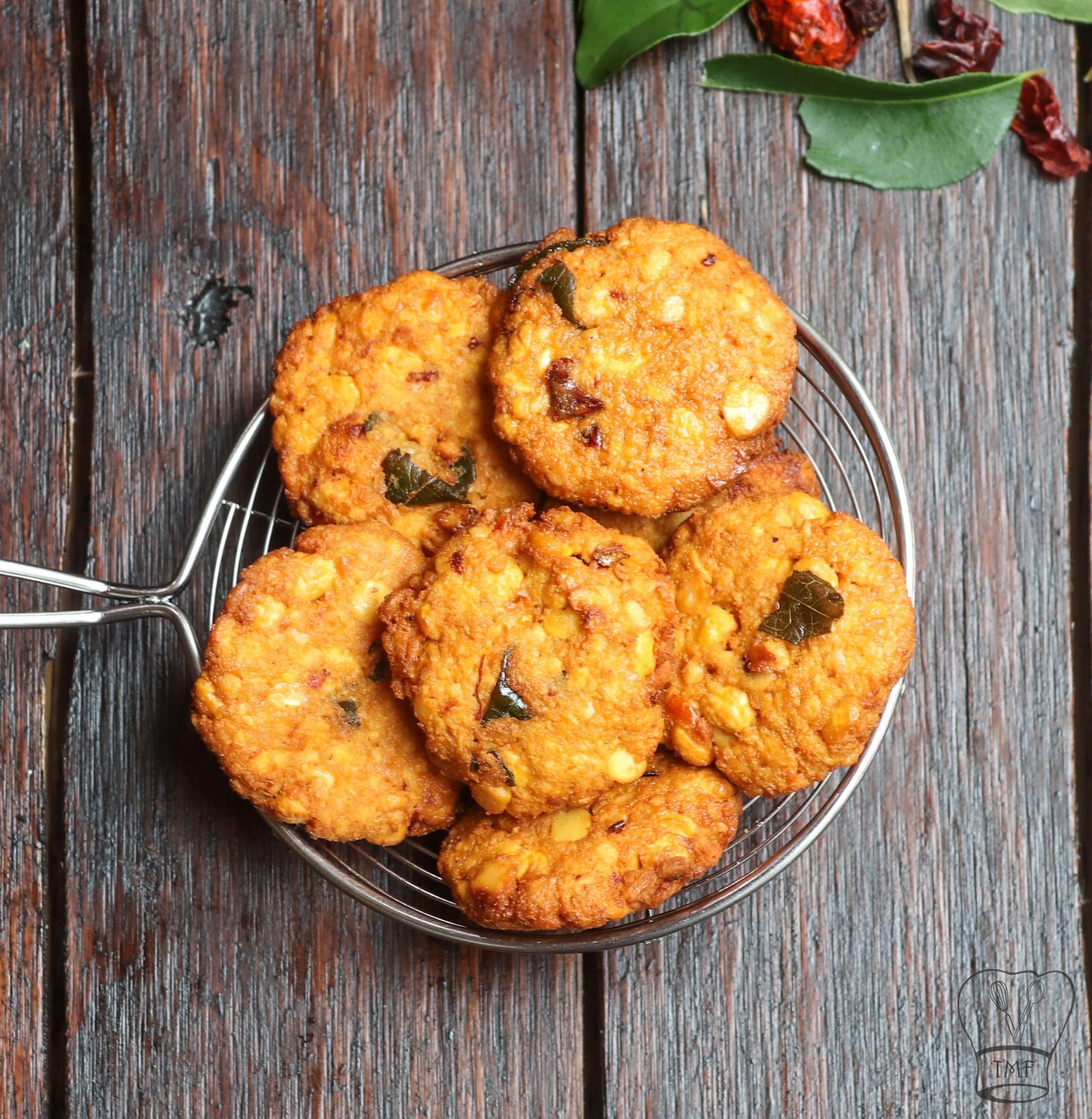 Paruppu vadai | Aama vadai | dal vada is a traditional festival special vadai recipe often made as neivedhyam | offering to good. Crispy flavourful vadai is also a tasty South Indian Tamil snack that tastes best with filter coffee/ tea. We Tamil brahmin prepare this vadai for bhogi pandigai and Avani avittam. It is also a popular street food commonly served in tiffin centers/hotels/restaurant
Aama vadai
Aama is Tamil word for "tortoise". The outer layer of Paruppu vada resembles tortoise skin texture hence it is popularly called Aama vada in Tamilnadu. It is one of Tamil brahmin's signature recipes. We use three varieties of dal for this vadai, hence it's also called Mixed Dal Vada or Mupparuppu Vadai.
How long should I soak dal?
Depending on the dal you use time May slightly vary. It takes around 2-3 hours for the dal to soak well and turn the soft press. Over soaking, dal might result in soft Vadai for crispy Vadai avoid soaking for a long time
What should be the texture of the ground dal?
Unlike Medu vada avoid grinding the batter smooth. Ground coarse Aama vada batter for the best crispy Vadai. Moisture in the soaked dal is enough for grinding, if required sprinkle cold water and grind but avoid adding extra water.

Can I make Paruppu vadai after grinding?
Yes, you need not refrigerate the batter like ulundhu vada. You can make vadai immediately. Leftover vadai batter can be stored in the refrigerator. In that case, avoid adding salt to the batter. If you kept it before touching vadai maavu stays good for two days.
How should I roll Paruppu vadai?
Avoid making a thick vadai as might not cook through. Grease your hand with water and take a small ball of batter and flatten it. Around 1/2 inch thickness. I like making small aama vadai for kids-friendly portion sizes and to cook through.
Can I add onion or other vegetables to the Vadai batter?
For festivals we make no onion no garlic paruppu vadai to offer God but if you are making paruppu vadai for evening snacks. If you are adding onion or other vegetables, add it before frying else vadai better might turn soggy. Masala vadai is one of my favorite paruppu vadai with onion.
Should I deseed chilli for vadai?
No, it is optional. To make it a kids-friendly spice, I have deseeded. In our home we generally use red chilli for paruppu vada, instead, you can use green chilli instead.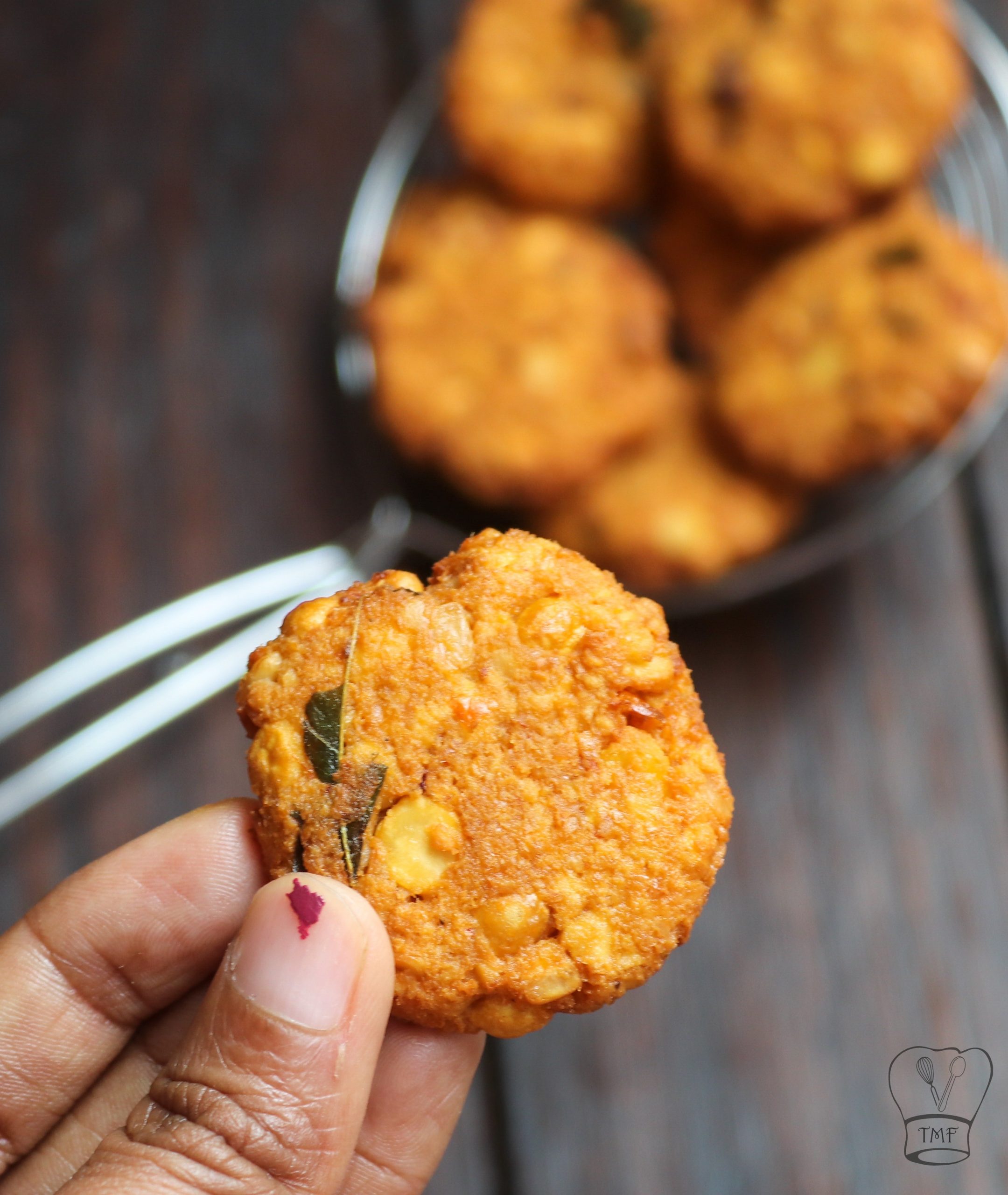 Other vadai recipes in TMF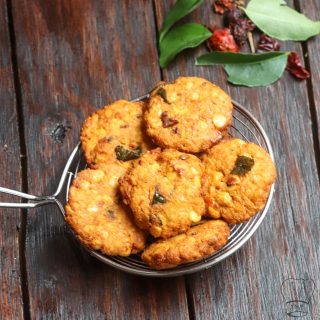 Ingredients
1/2

cup

kadalai paruppu | chana dal

1

teaspoon

toor dal

Required salt

1

teaspoon

urad dal

1/4

inch

piece ginger

2

red chilli deseeded

Curry leaves few

Pinch

of sugar

A generous portion of asafoetida

1/4

teaspoon

butter or ghee
Instructions
Firstly wash chana dal, urad dal, and toor dal well

Furthermore add water, deseeded red chilli, and soak for 2-3 hours

After the chana dal turn turns soft press transfer everything into a colander

Discard the water and use dal for vadai batter

Save 1 tablespoon of soak dal and transfer the remaining dal and red chilli into the small mixie jar

Pulse for 5 or 6 times until the dals are coarse ground

Add salt and grind at speed 1 once. Pulse again if required. Don't add water, ground coarse thick vadai  batter

Transfer the ground mixture into the vessel containing dal

Furthermore add  curry leaves, a pinch of sugar, a generous portion of asafoetida, and mix well

Heat enough oil in a heavy-bottomed deep pan

Grease your hands with water, pinch a small portion of the vadai, and roll. Place it on the other other hand and flatten the vadai with your palm

Alternatively, you can grease the parchment paper with oil. Grease your hands with water, pinch a small portion of the vadai, and roll. Place it on the parchment paper  and flatten the vadai

Prepare and keep 3 or 4 vadai based on your pan size for parallel frying

When oil is hot gently add the vadai and fry on medium flame

After one side is golden flip and fry another side till vadai turns golden and crispy

Drain the oil in an oil filter or place a paper towel on a colander

Serve hot with chutney
Video
Notes
Urad dal prevents the vada from being too dry and hard crisp. For the best crispy paruppu vadai avoid adding excess urad dal
Soak till chana dal turns soft press else vadai might turn hard crisp
Discard the water completely then pulse. Moisture in the dal is enough for pulsing
Pulse the vadai batter and grind only once. Avoid continuous grinding
fry vadai in medium heat
Avoid soaking for a long time. Excess soaking won't yield crispy vadai
I have made vadai right after grinding so added salt. If you are planning to fry vadai later, add salt before frying
You can add red/ green chilli according to your taste
Don't skip Asafoetida.It helps for digestion
Ingredients:
1/2 cup kadalai paruppu | chana dal
1 teaspoon toor dal
Required salt
1 teaspoon urad dal 1/4 inch piece ginger 2 red chilli deseeded Curry leaves few Pinch of sugar A generous portion of asafoetida 1/4 teaspoon butter or
ghee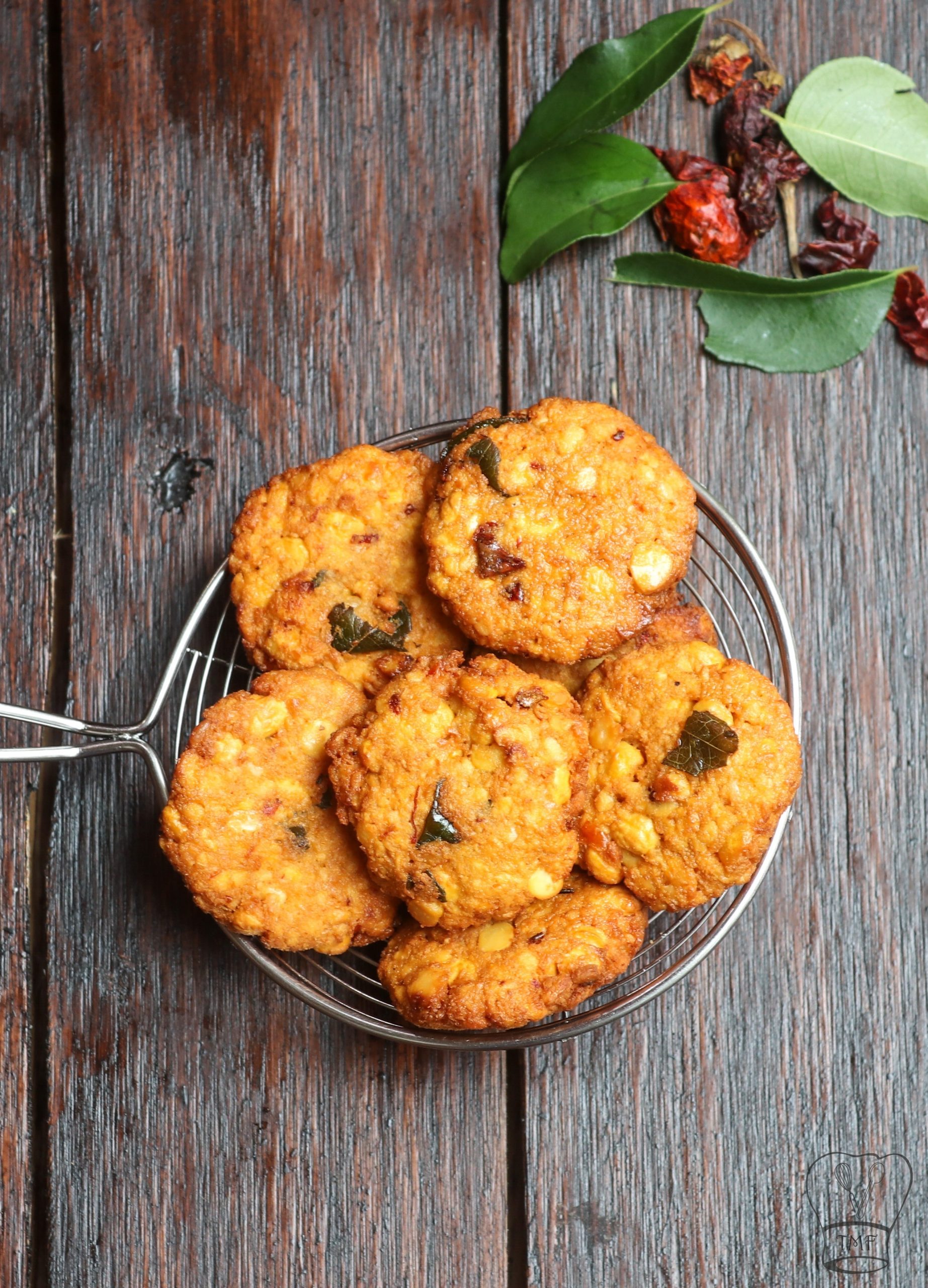 How to make Paruppu vadai with step by step pictures
Firstly wash chana dal, urad dal, and toor dal well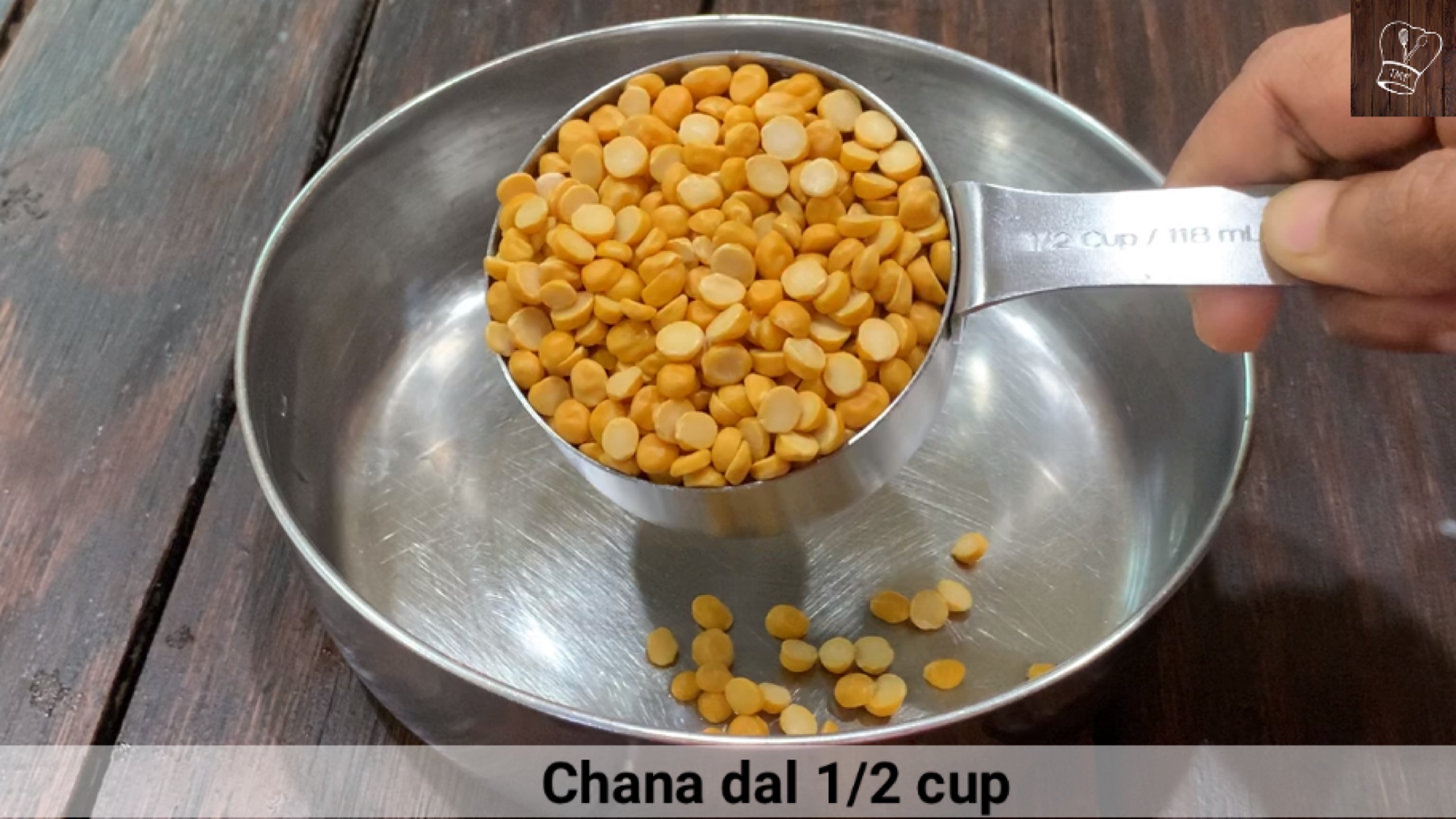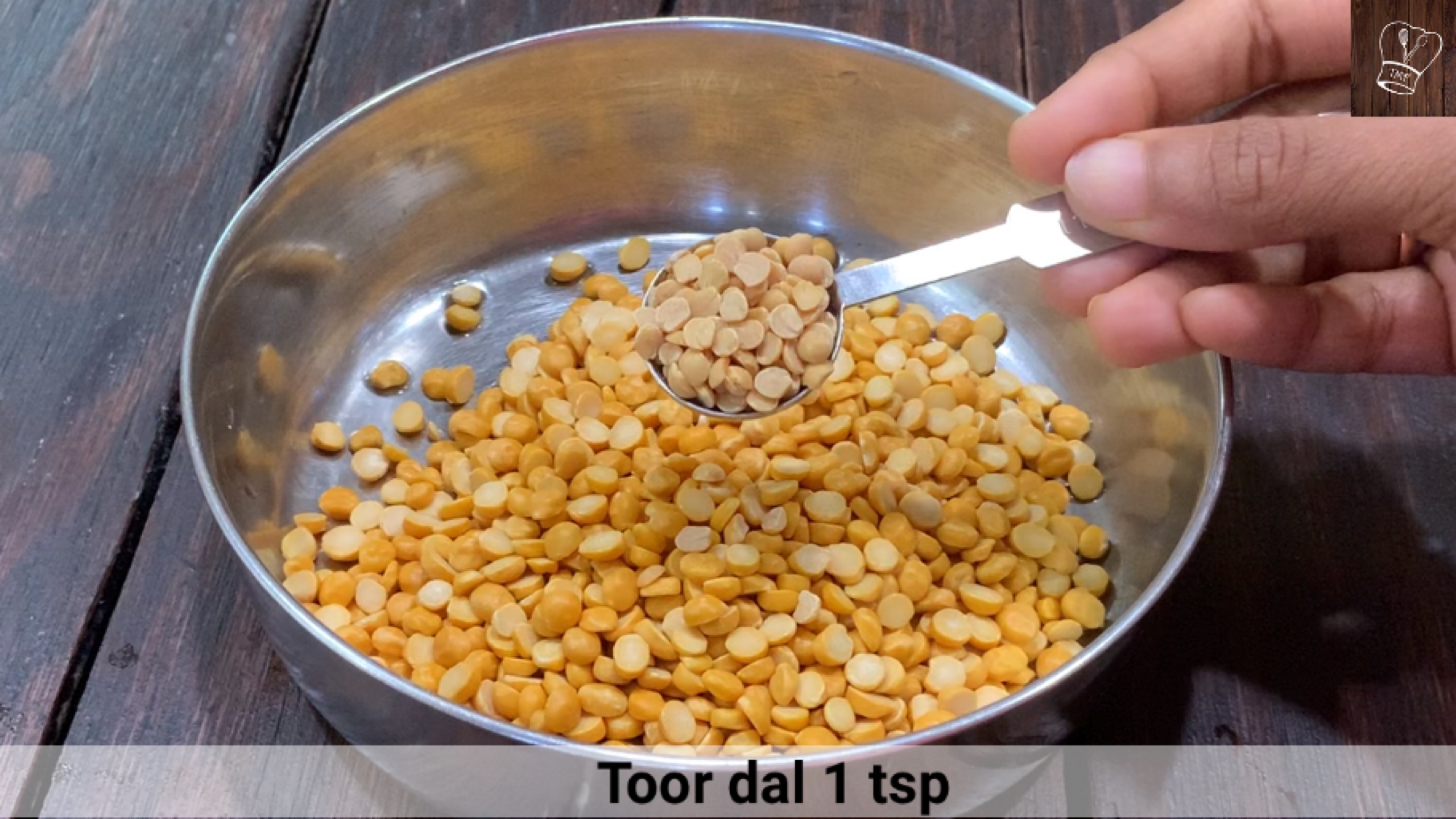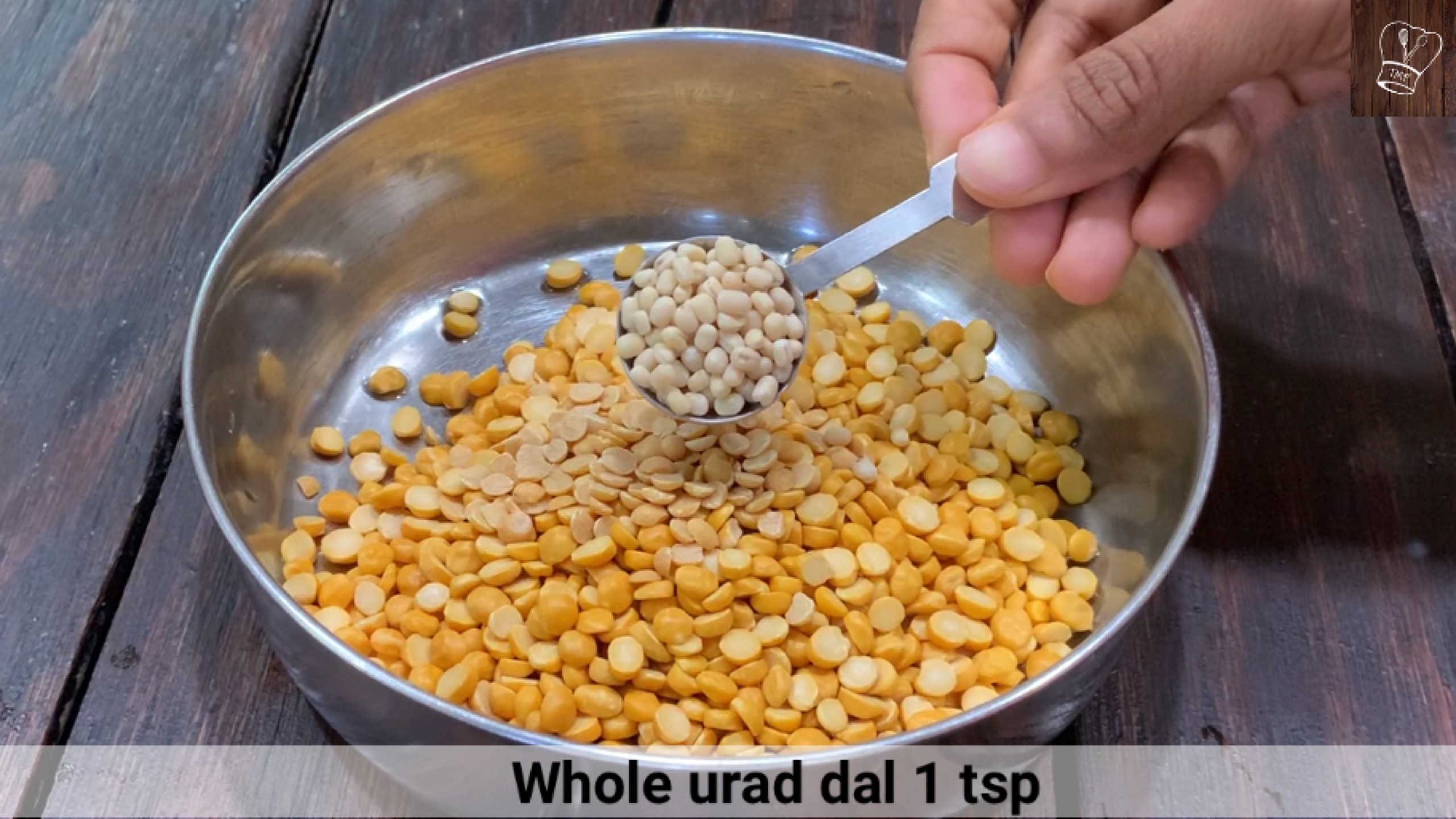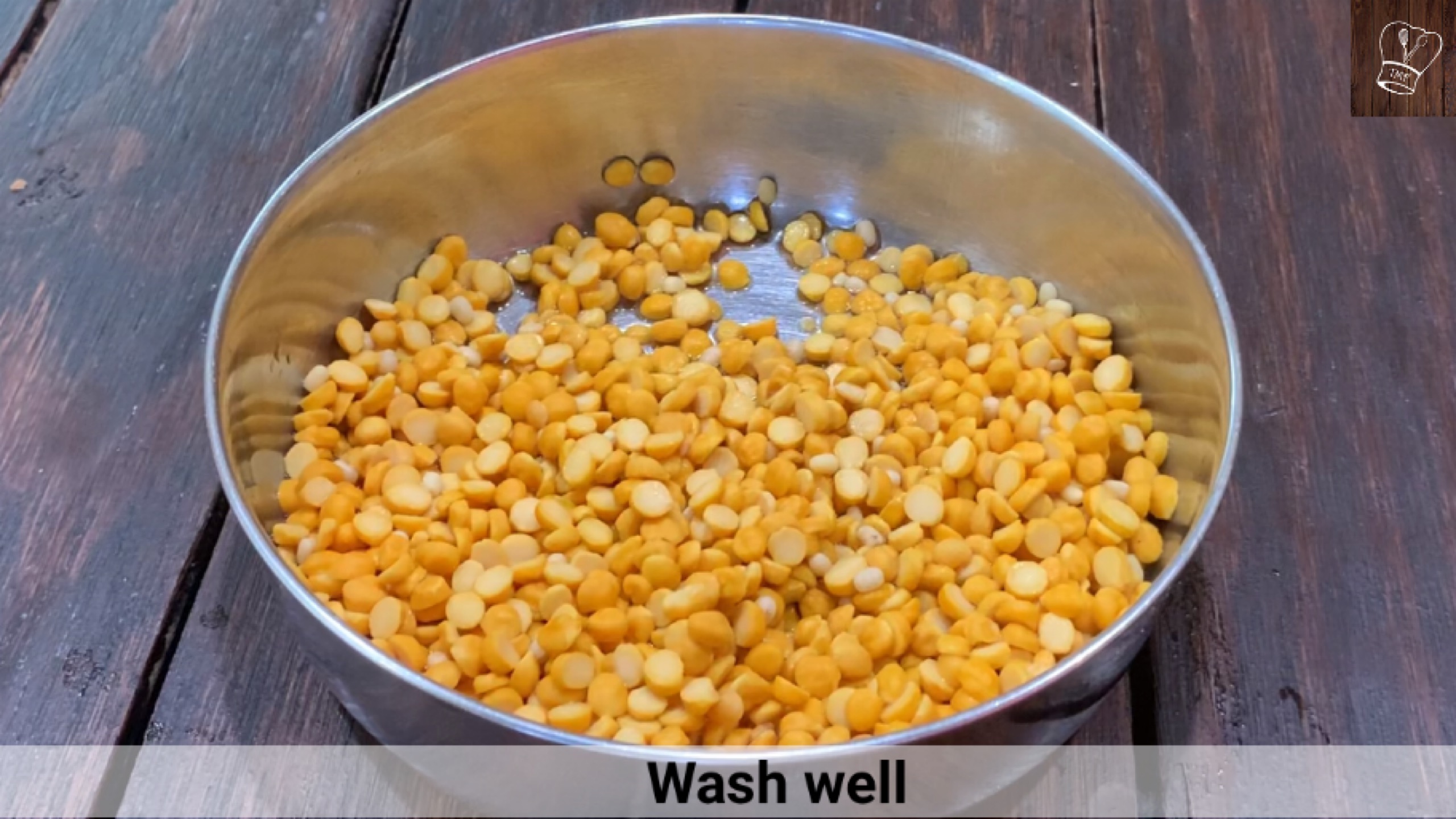 Furthermore add water, deseeded red chilli, and soak for 2-3 hours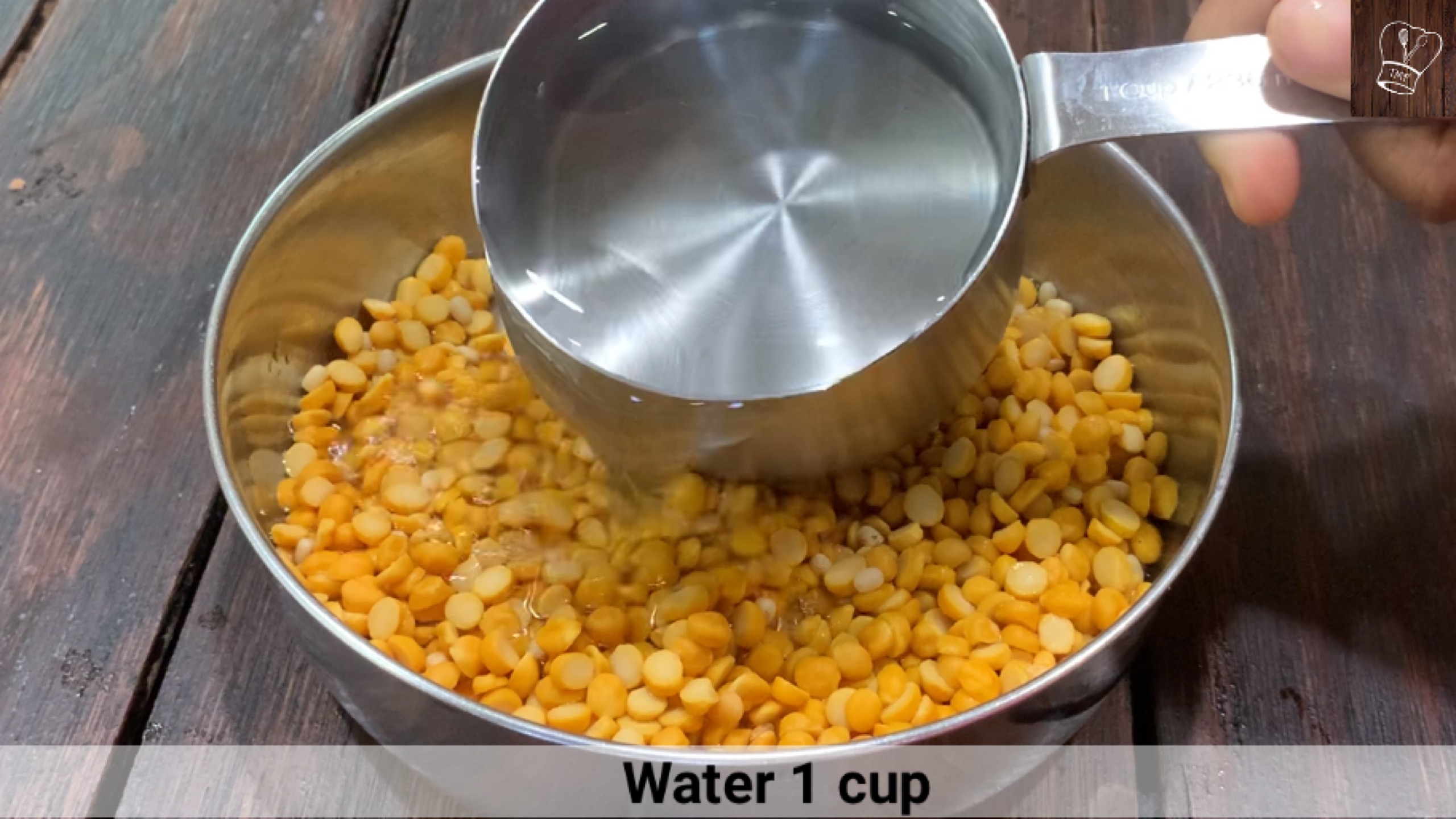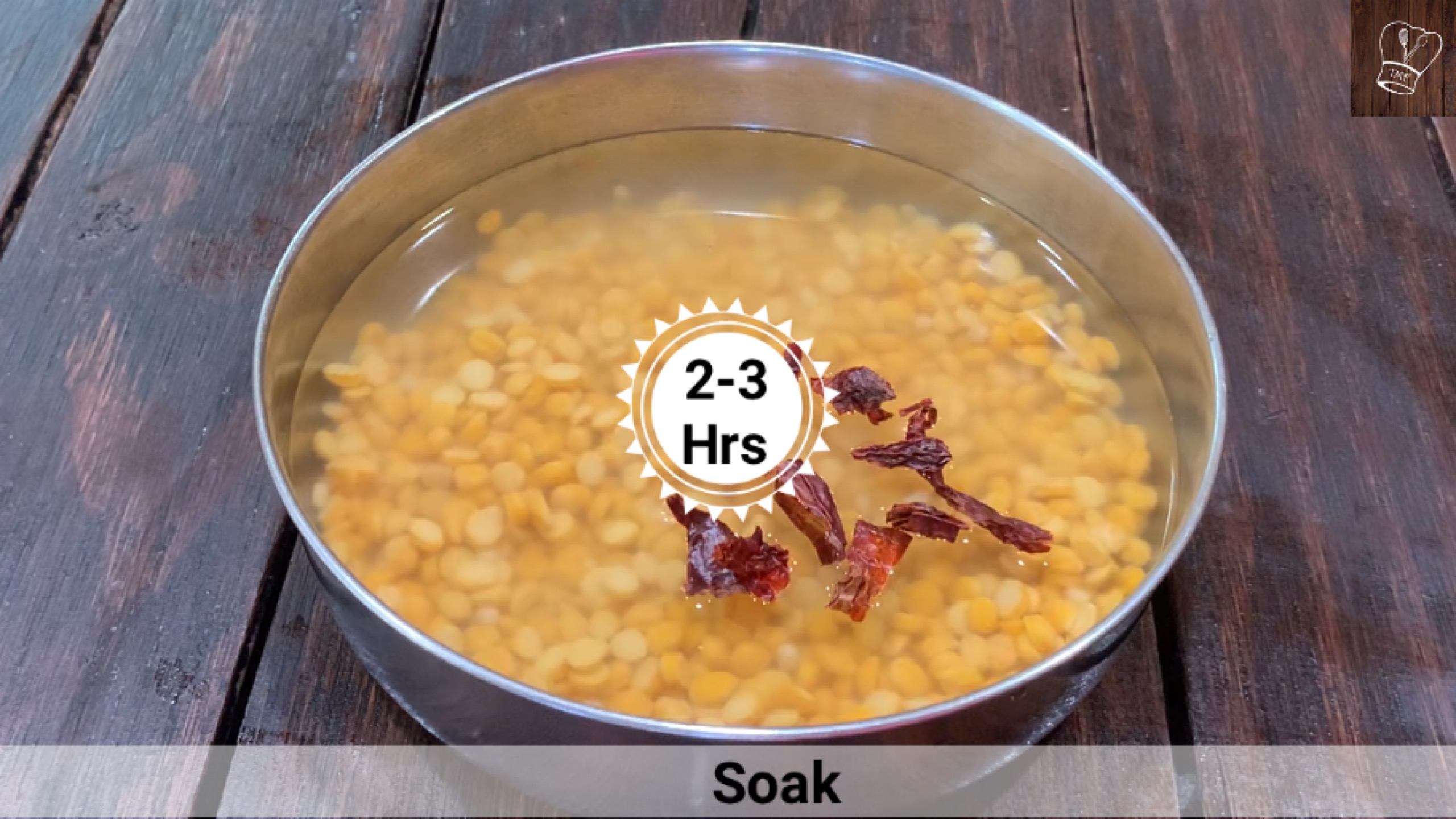 After the chana dal turn turns soft press transfer everything into a colander
Discard the water and use dal for vadai batter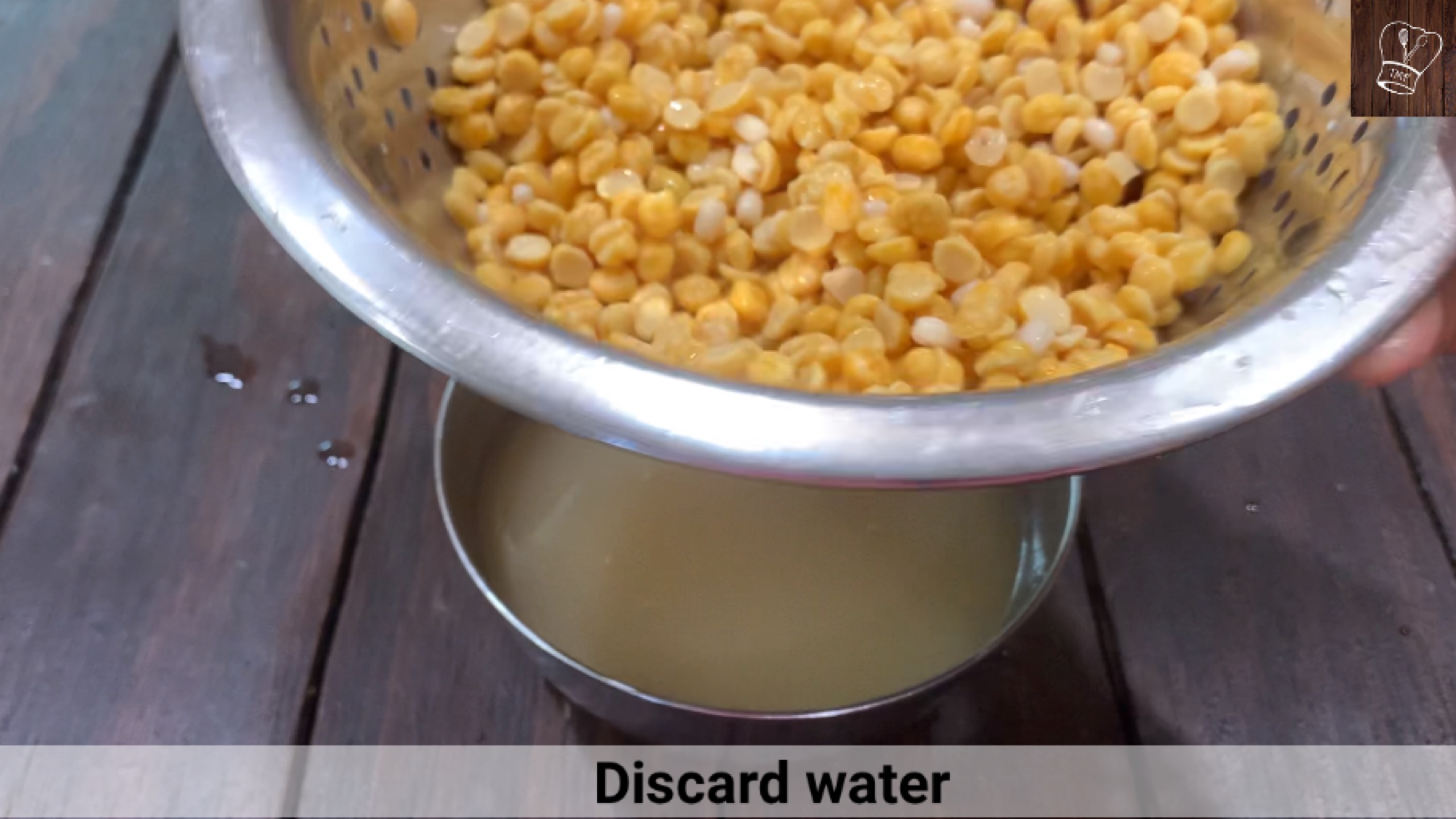 Save 1 tablespoon of soak dal and transfer the remaining dal and red chilli into the small mixie jar
Furthermore add ginger and pulse 5 or 6 times until the dals are coarse ground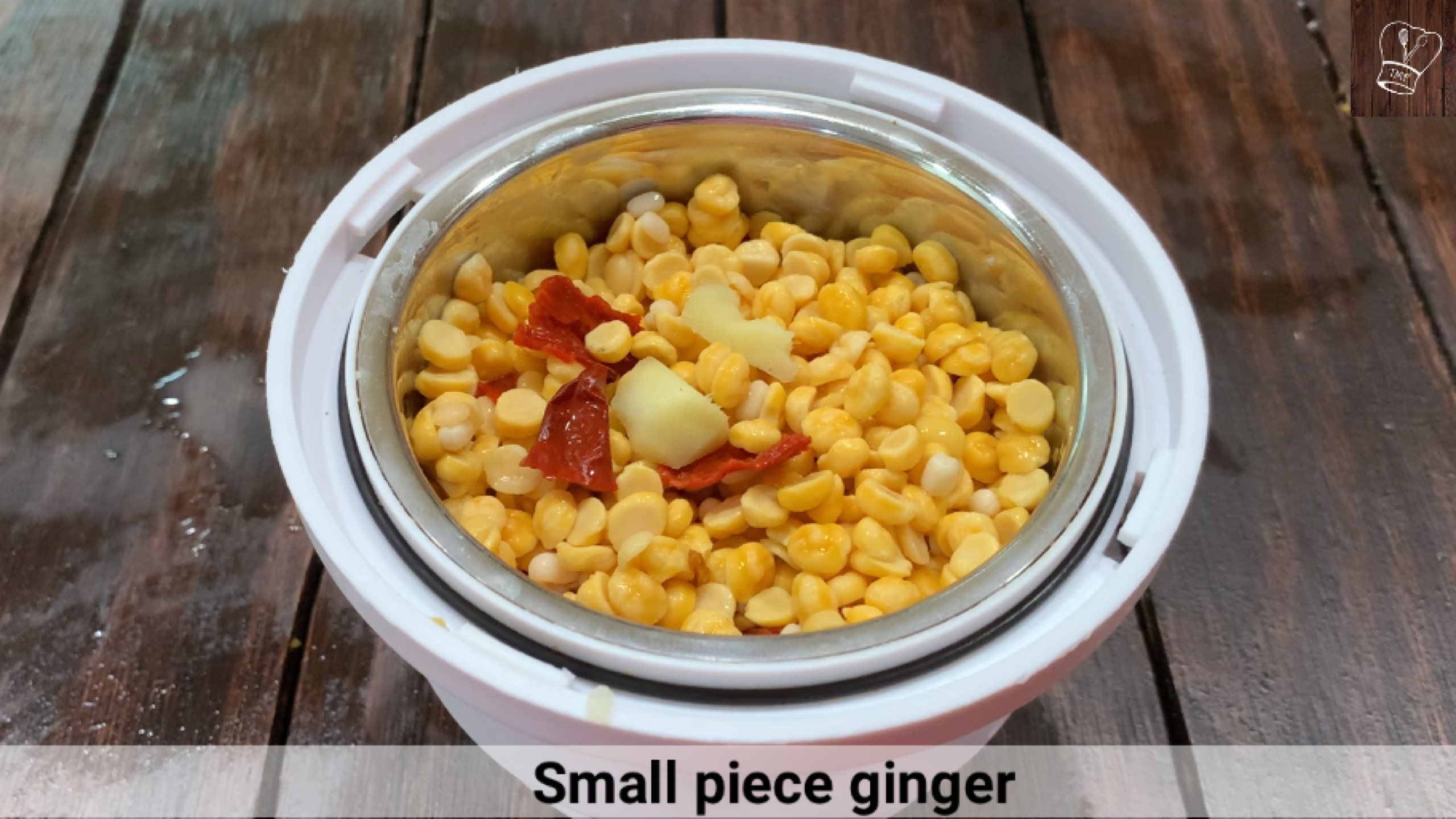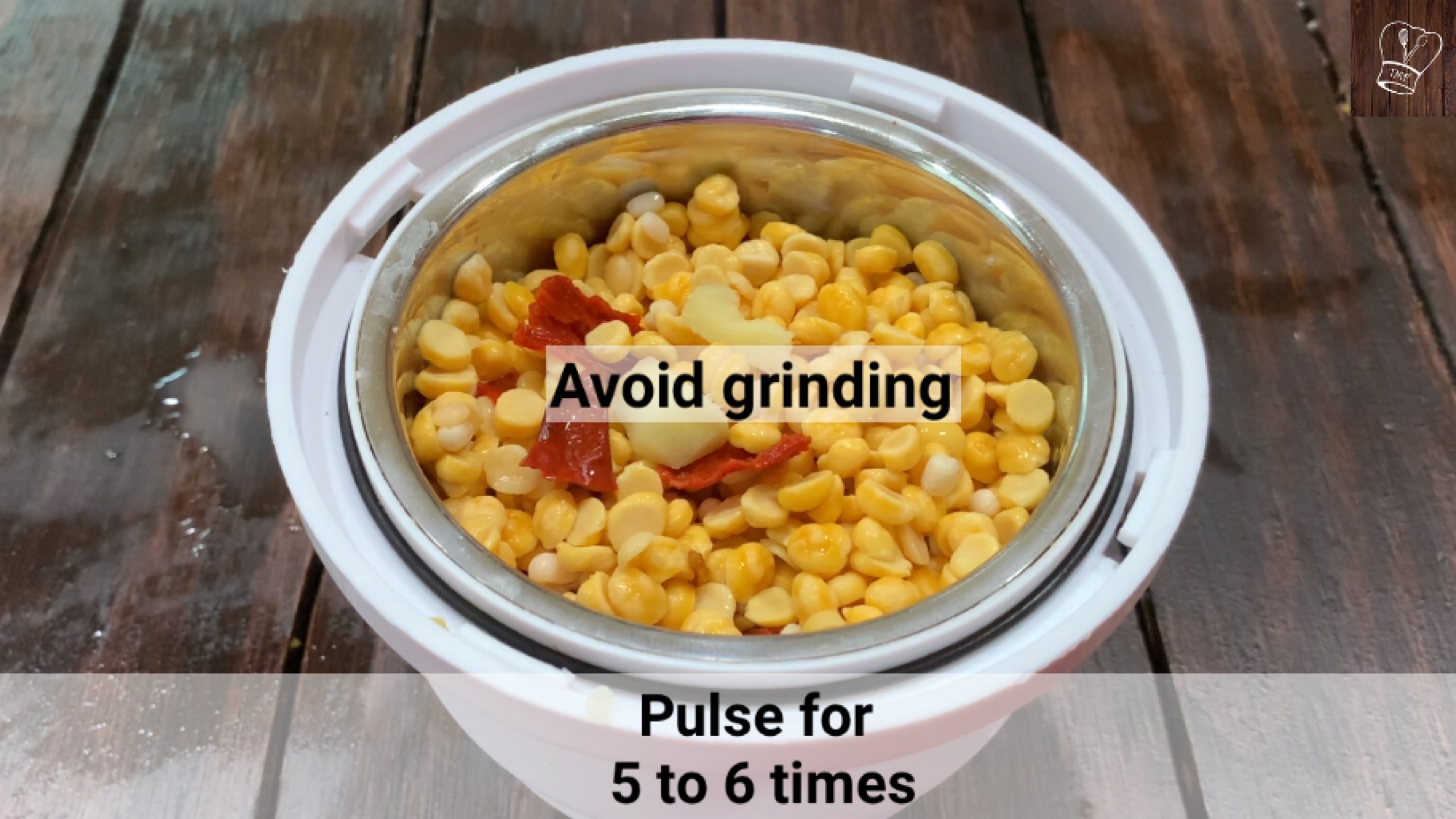 Add salt and grind at speed 1 once. Pulse again if required. Don't add water, ground coarse thick vadai batter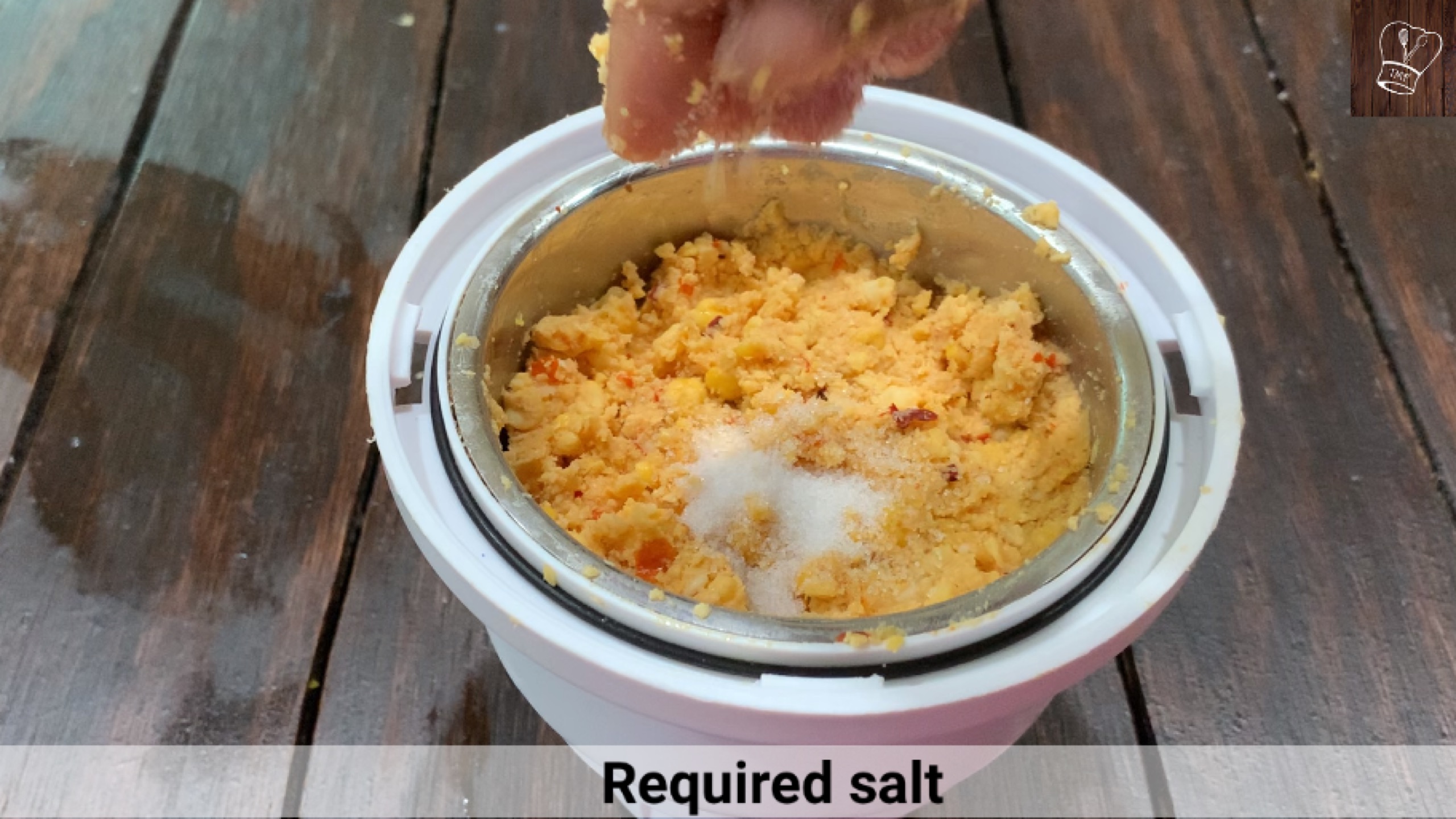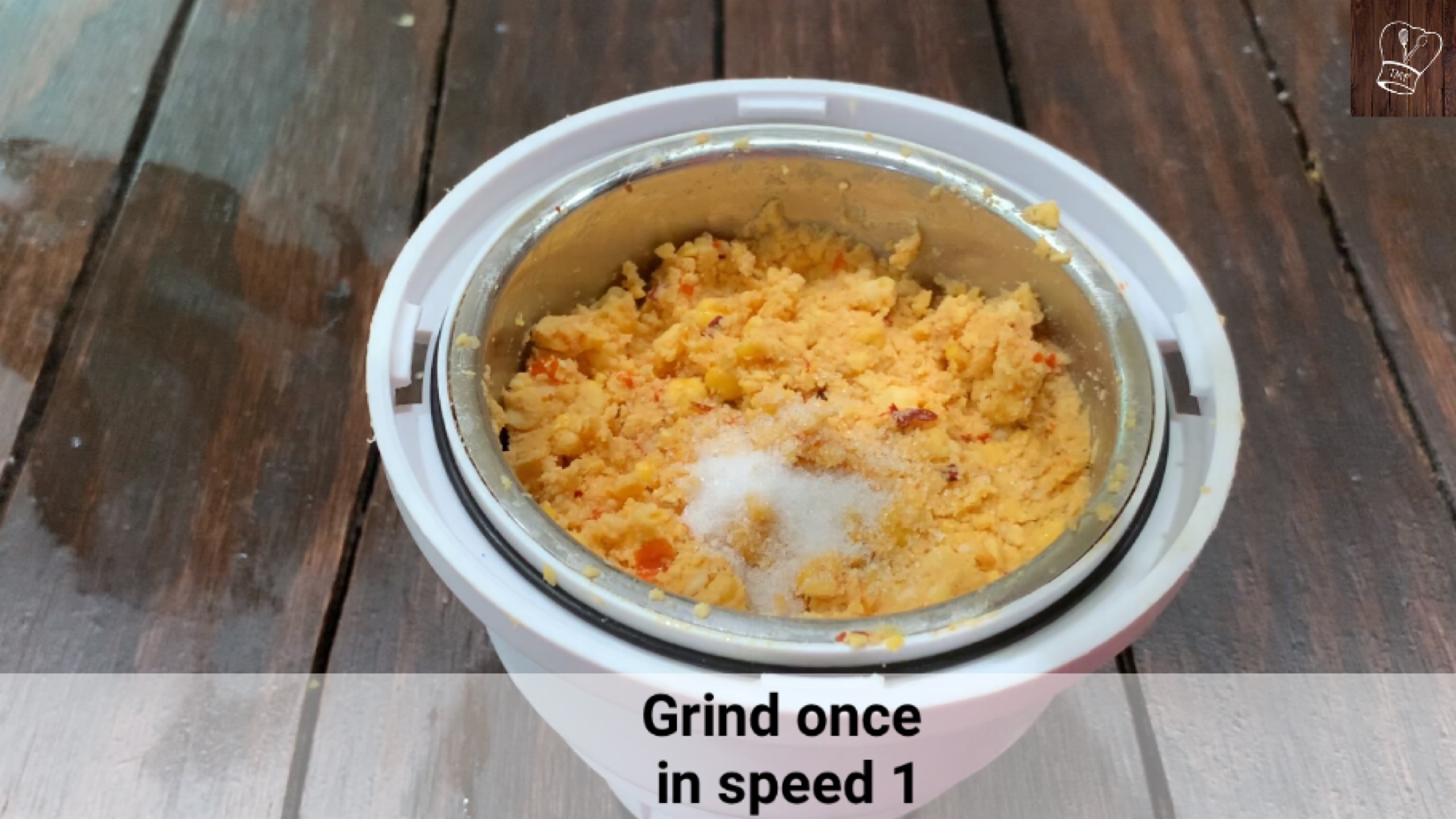 Transfer the ground mixture into the vessel containing dal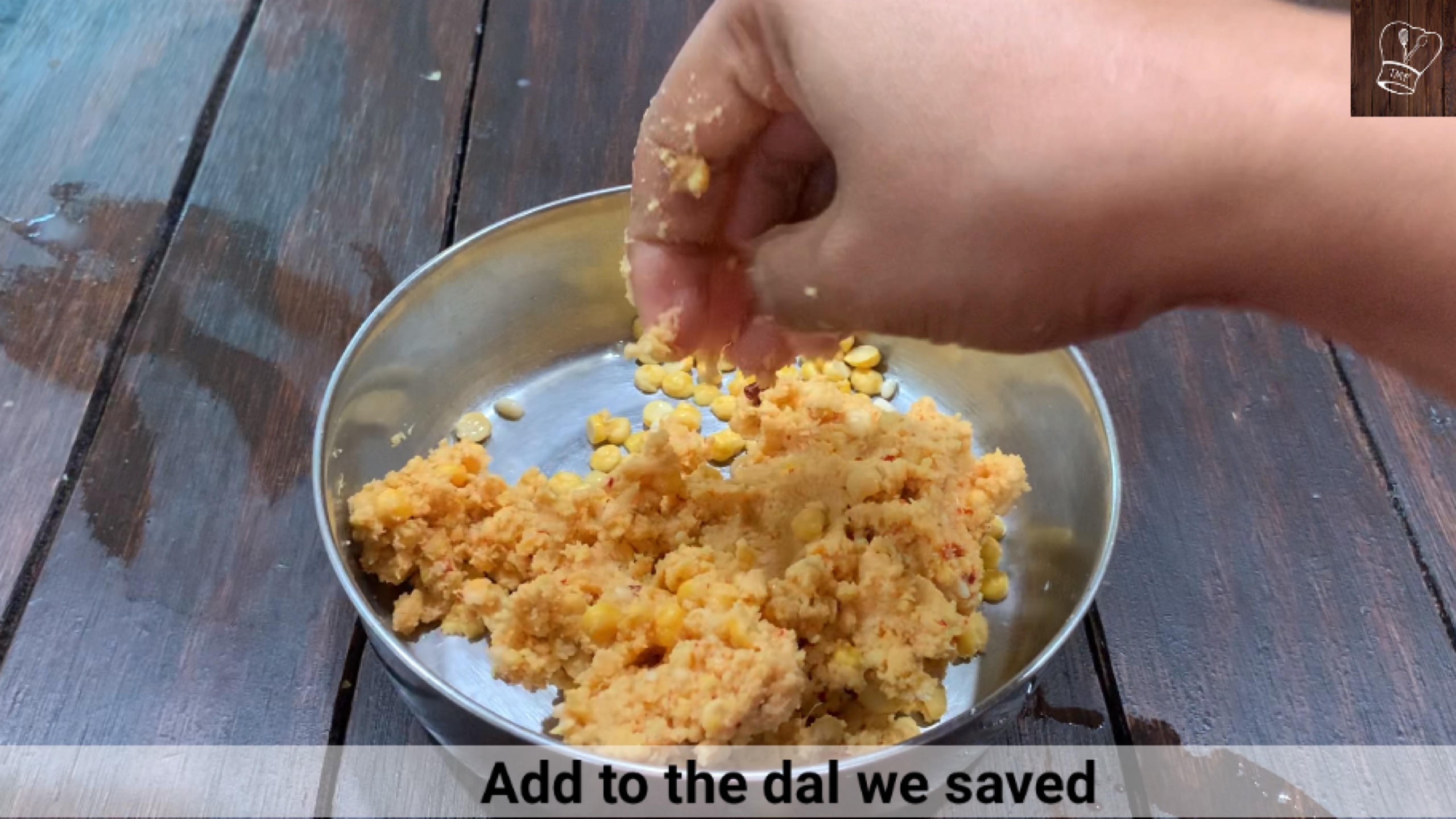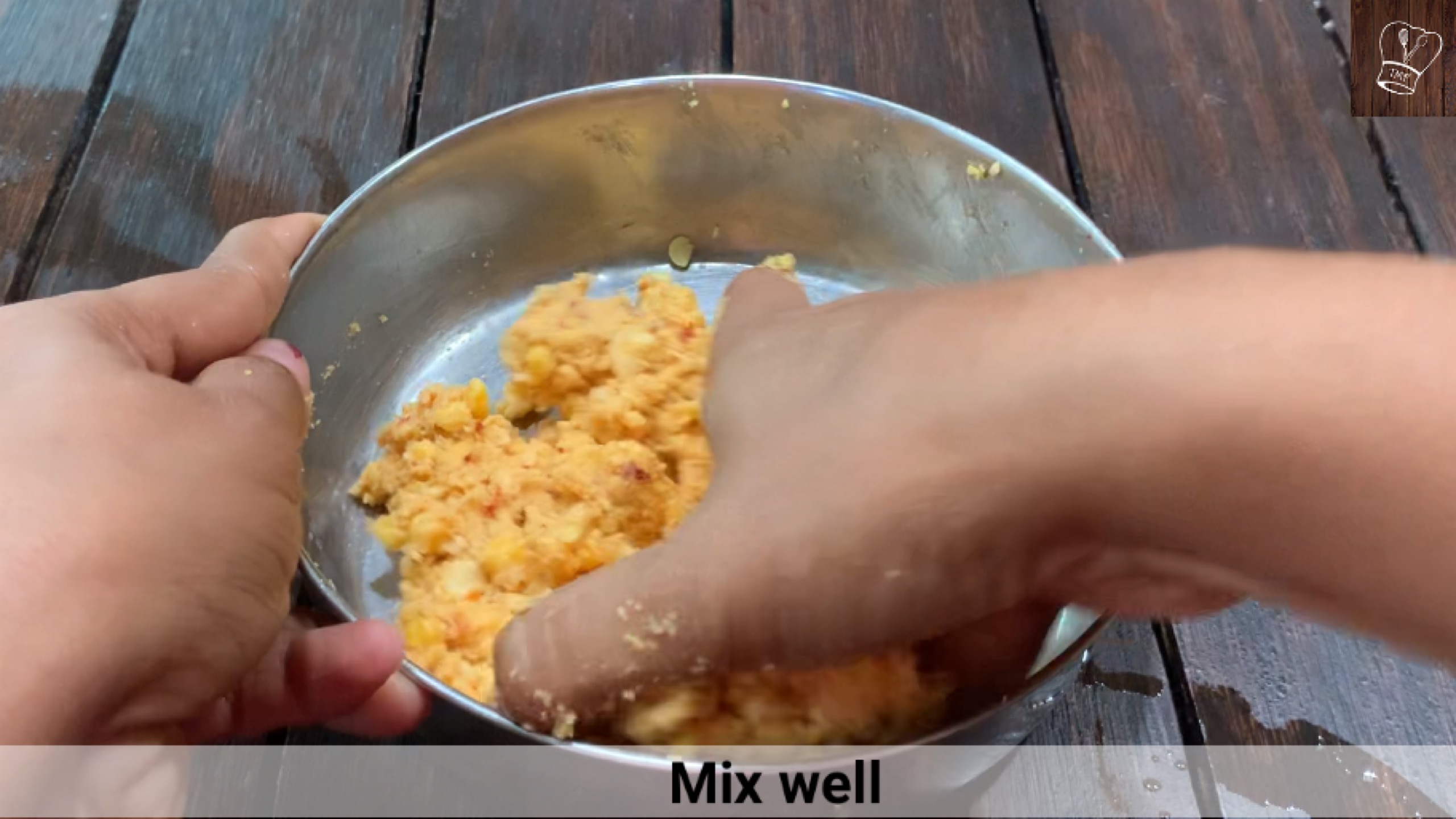 Furthermore add curry leaves, a pinch of sugar, a generous portion of asafoetida, and butter; mix well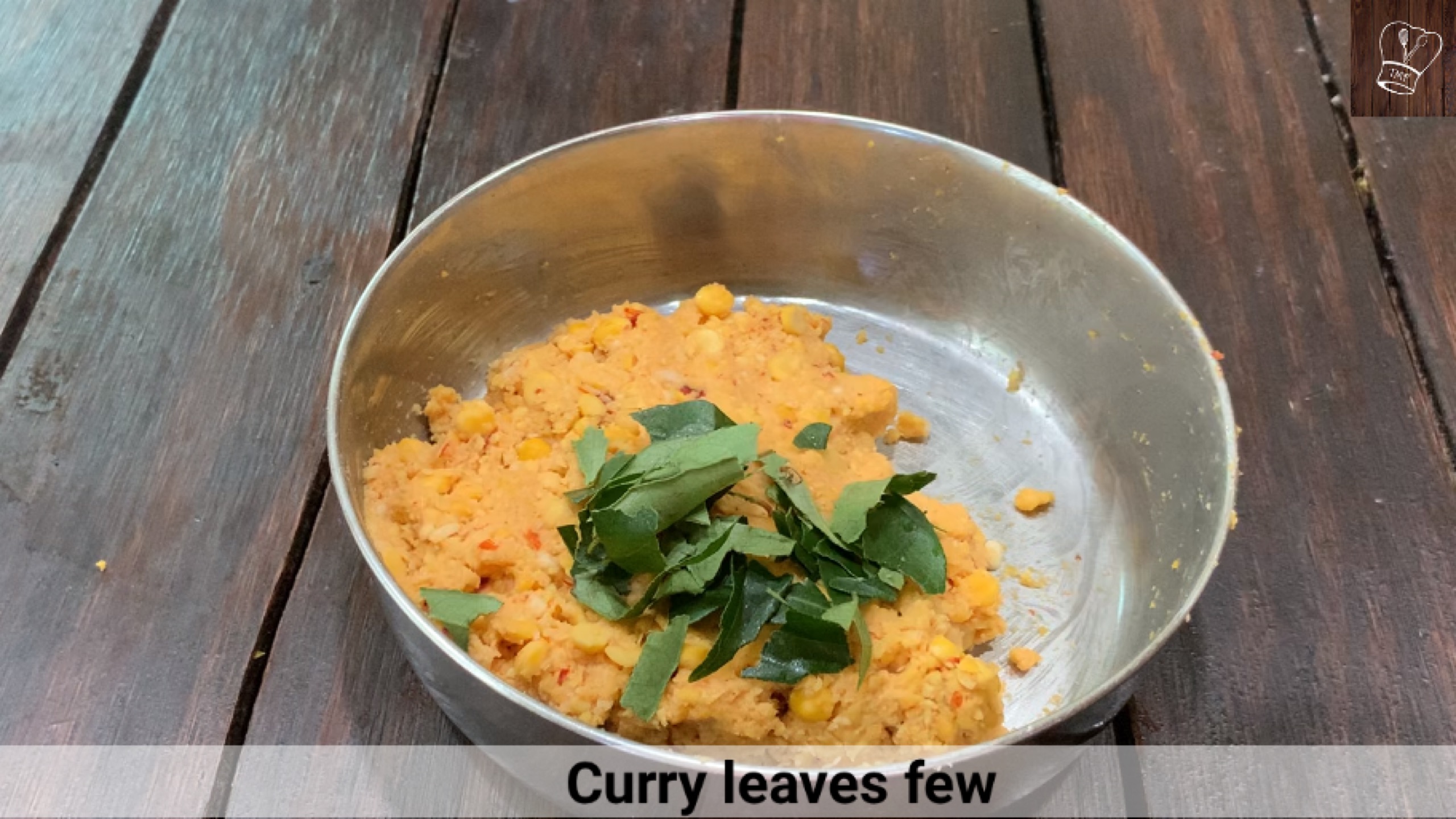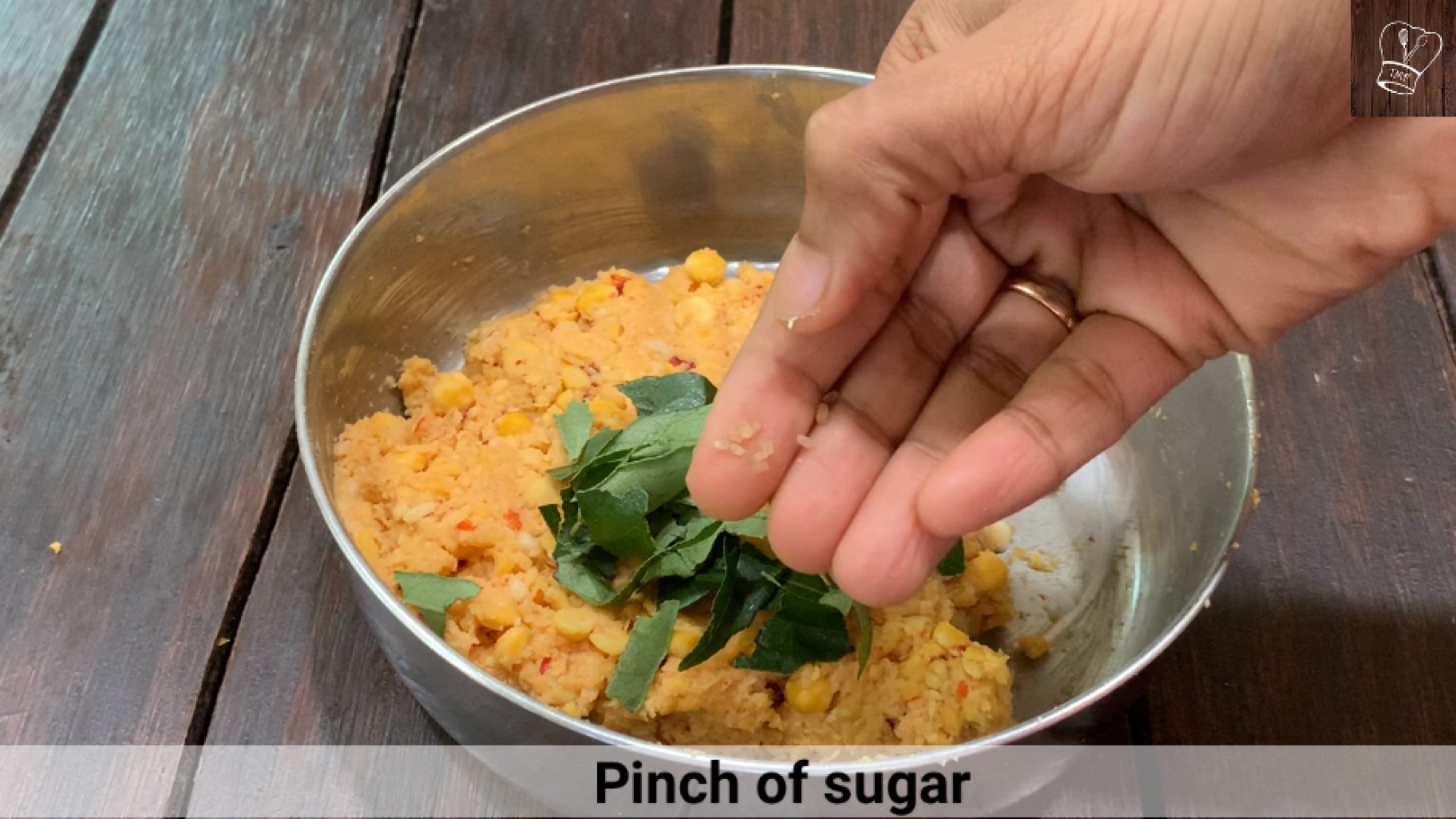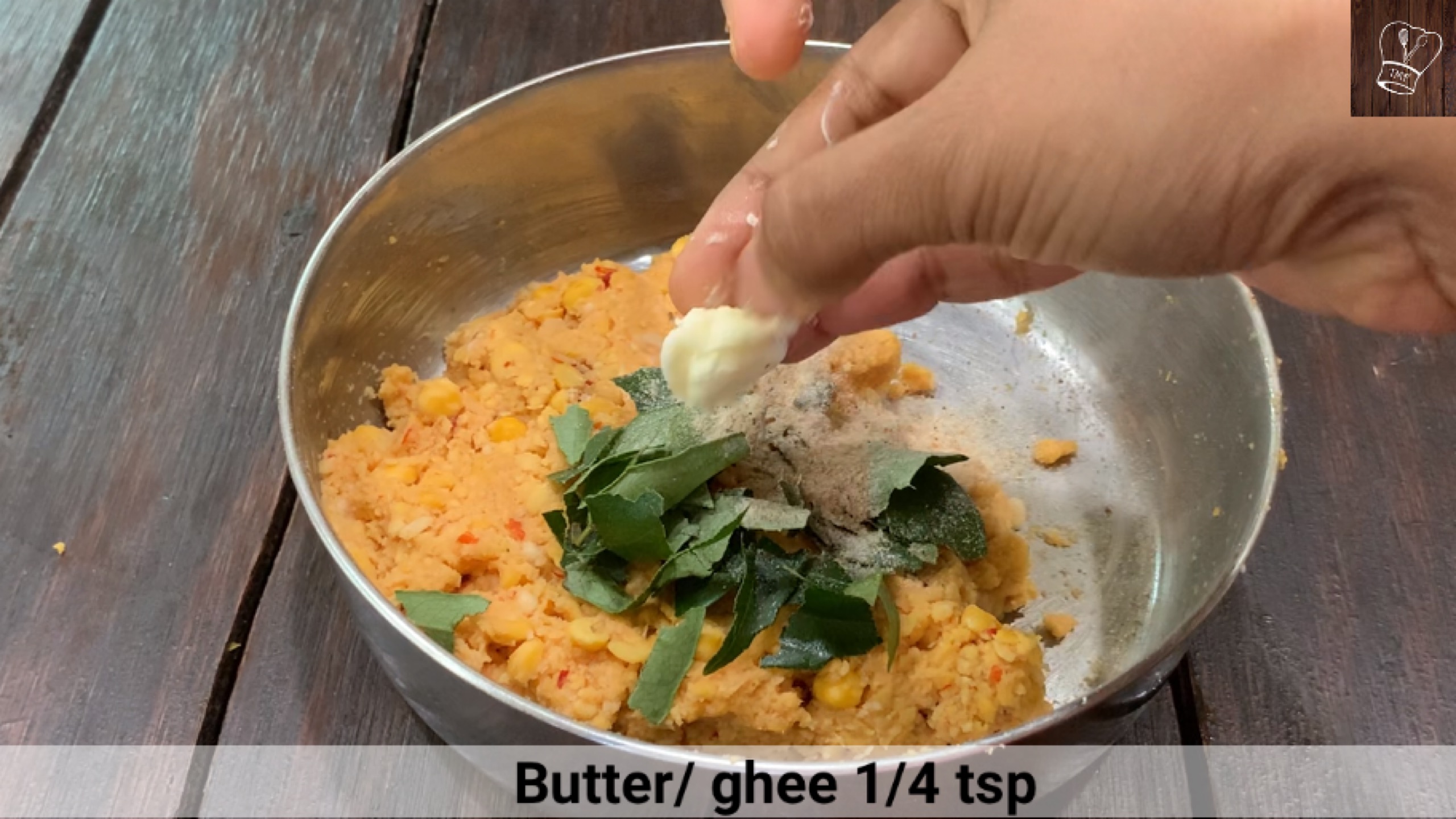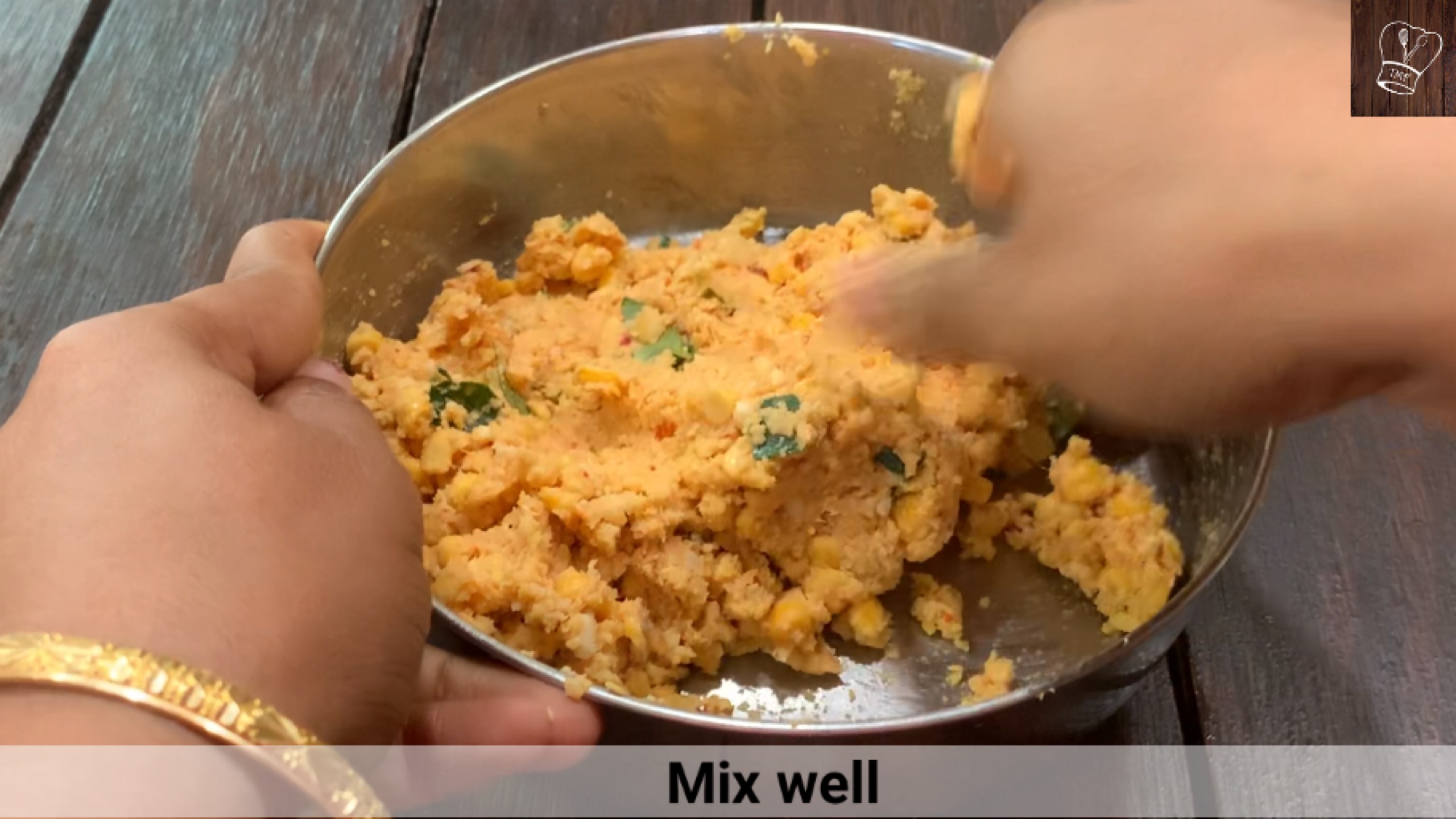 Heat enough oil in a heavy-bottomed deep pan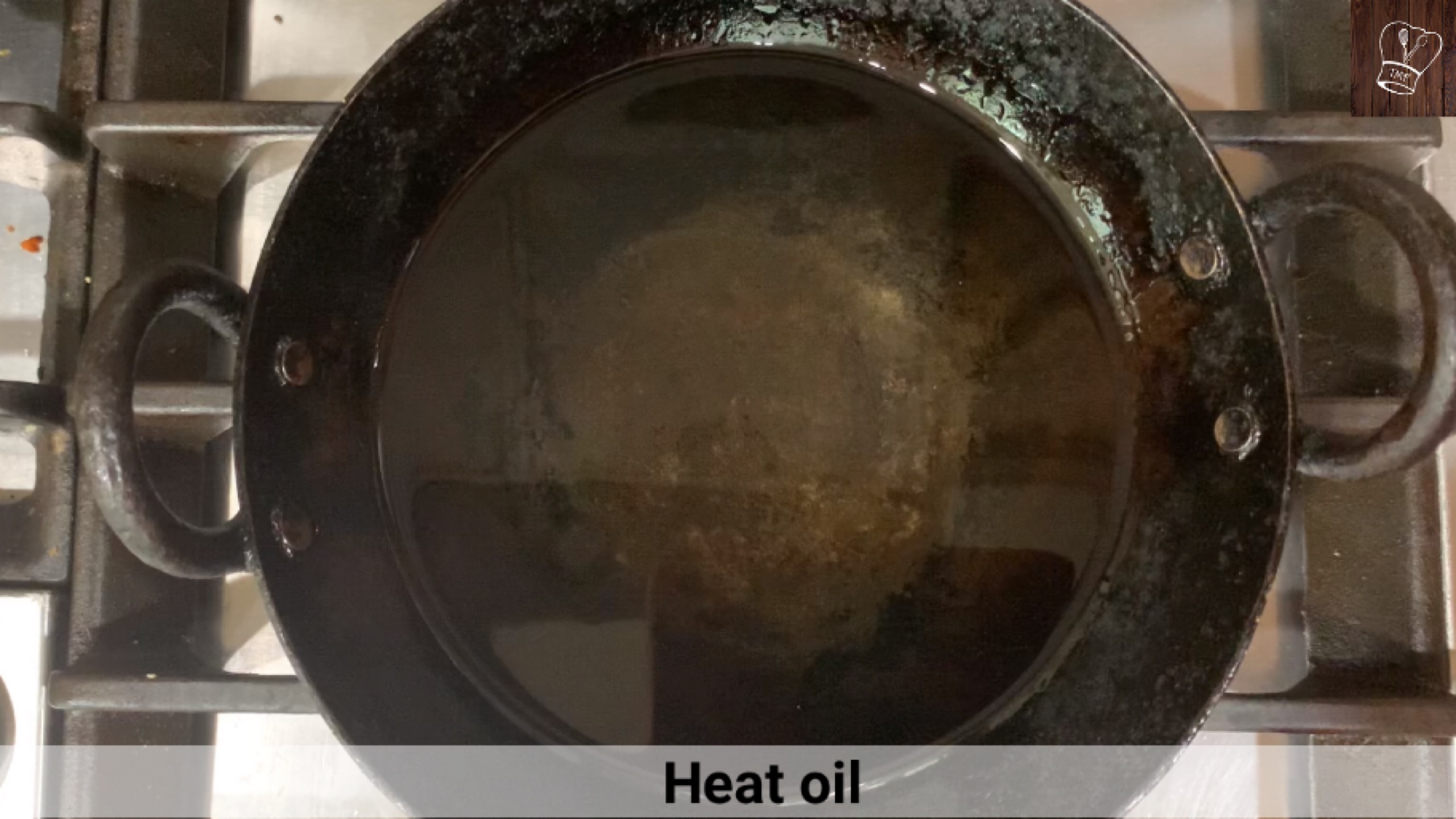 Grease your hands with water, pinch a small portion of the vadai batter, and roll. Place it on the other other hand and flatten the vadai with your palm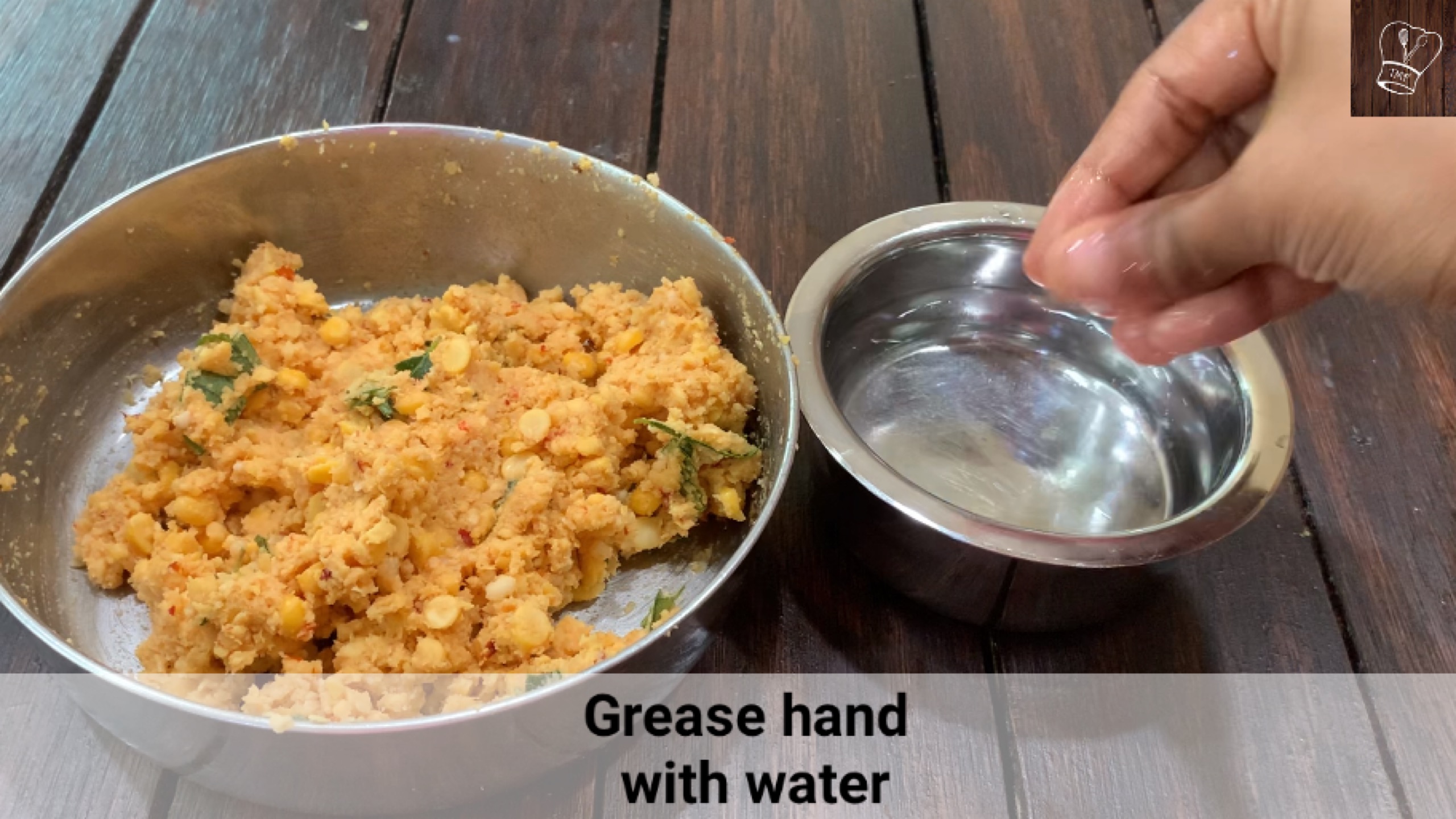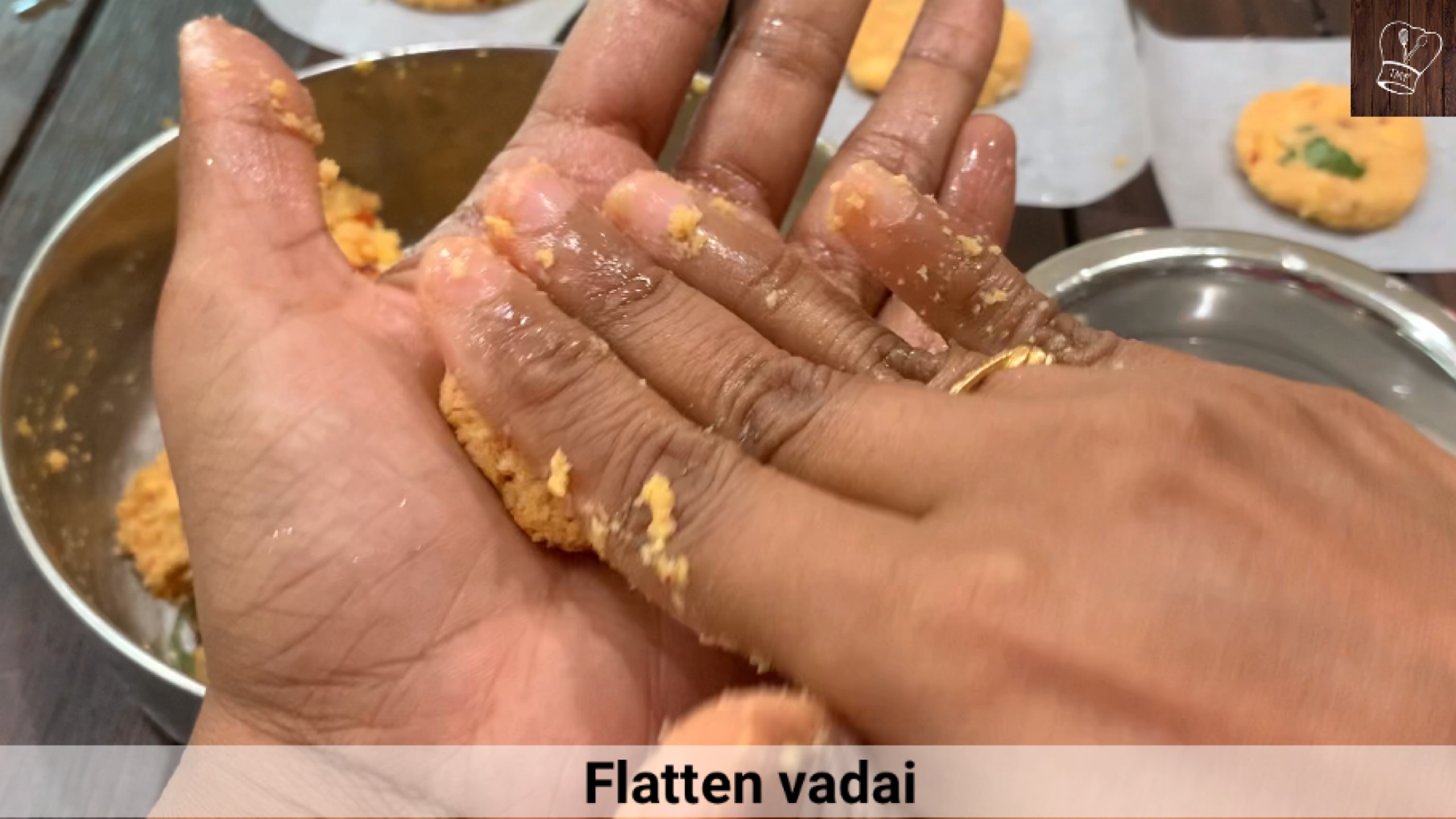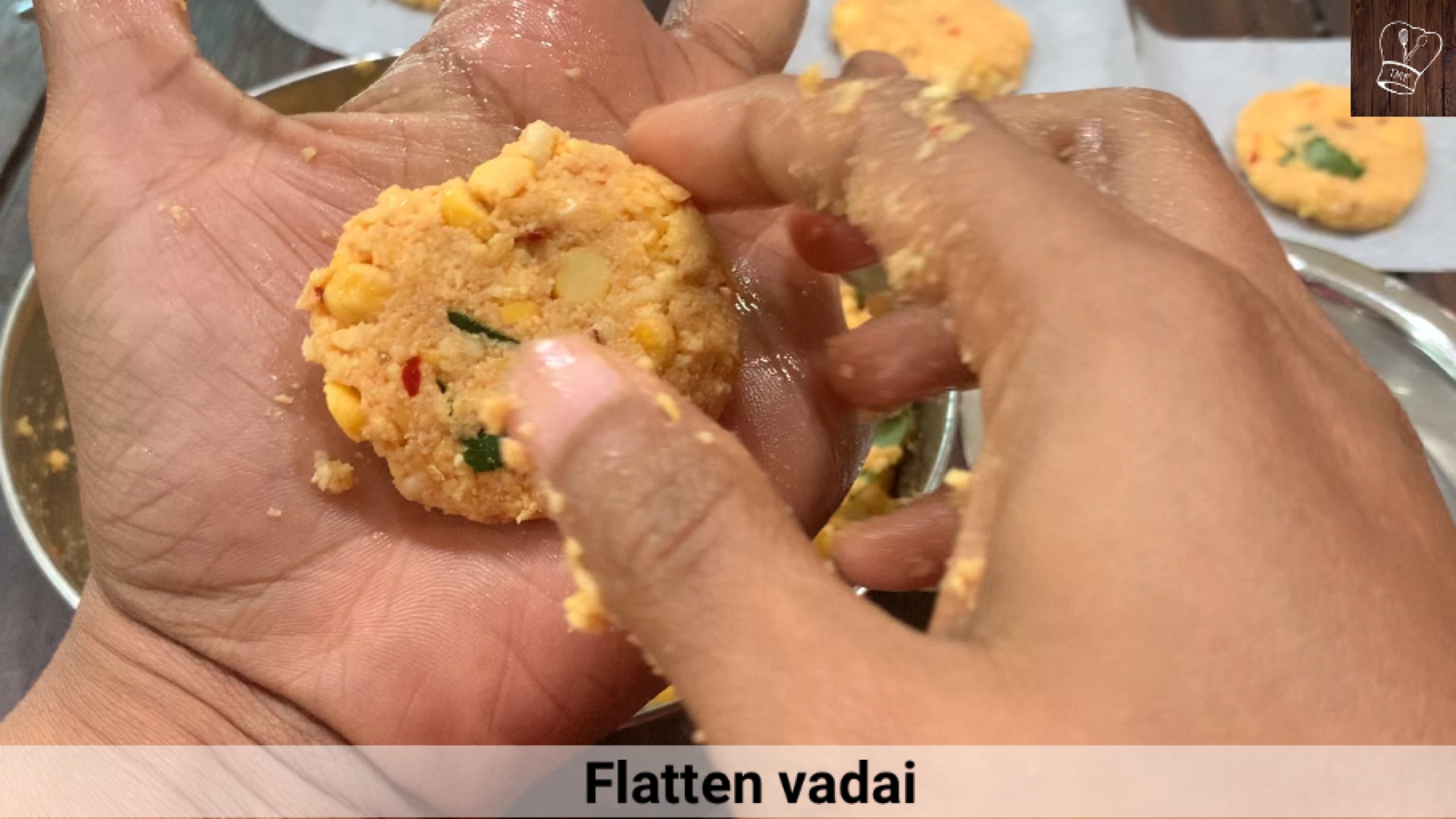 Alternatively, you can grease the parchment paper with oil.

Grease your hands with water, pinch a small portion of the vadai batter, and roll. Place it on the parchment paper and flatten the vadai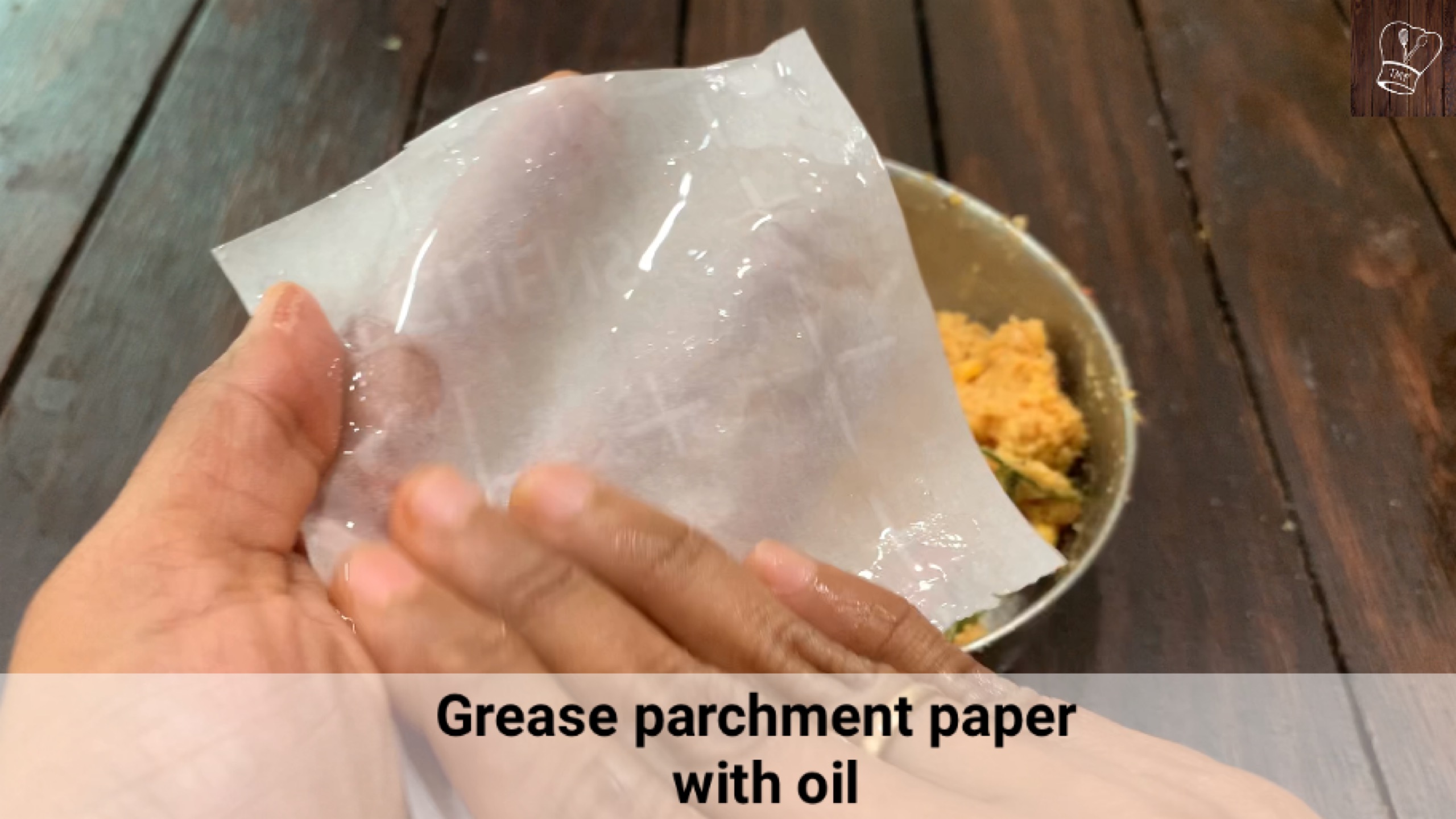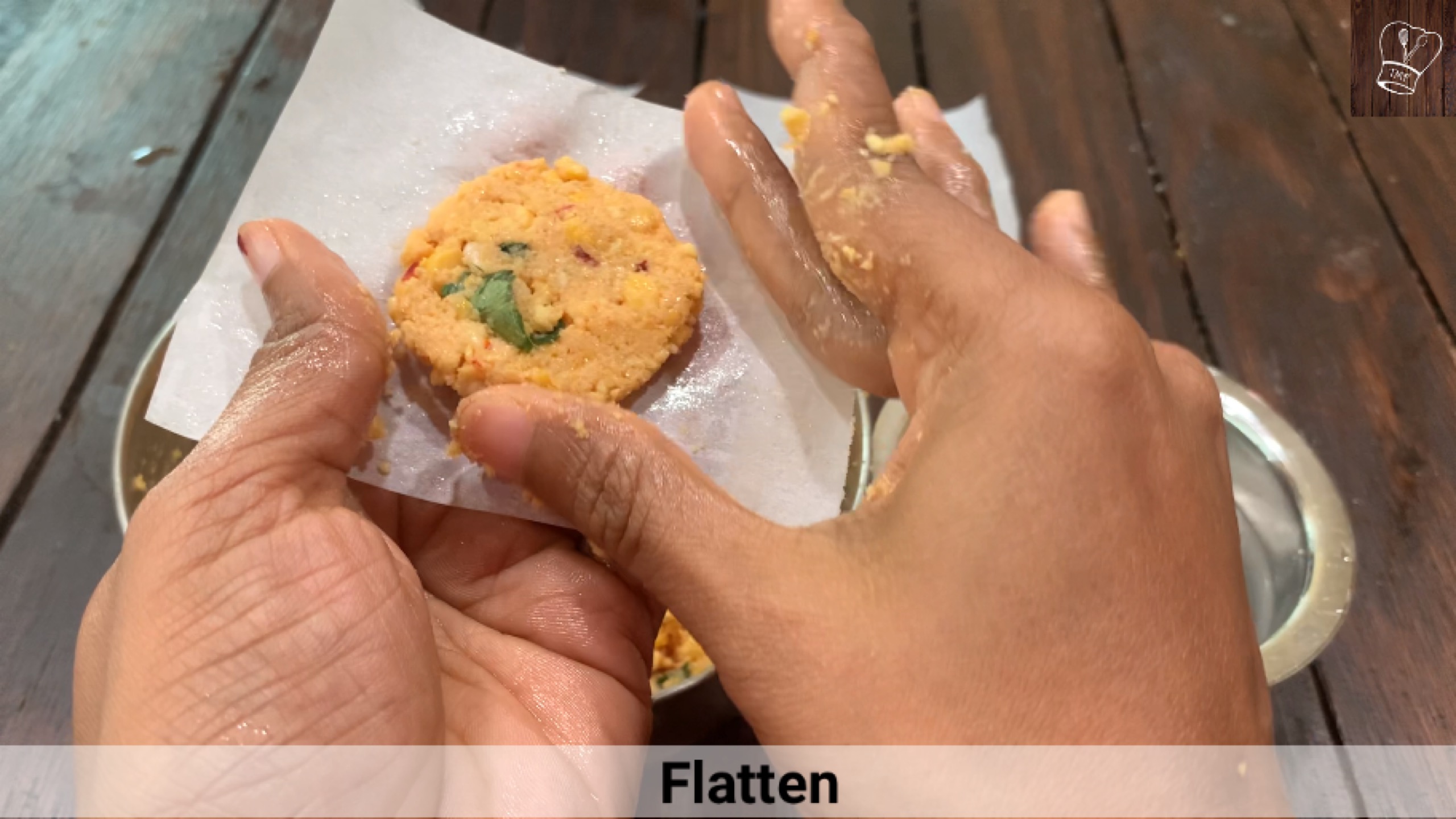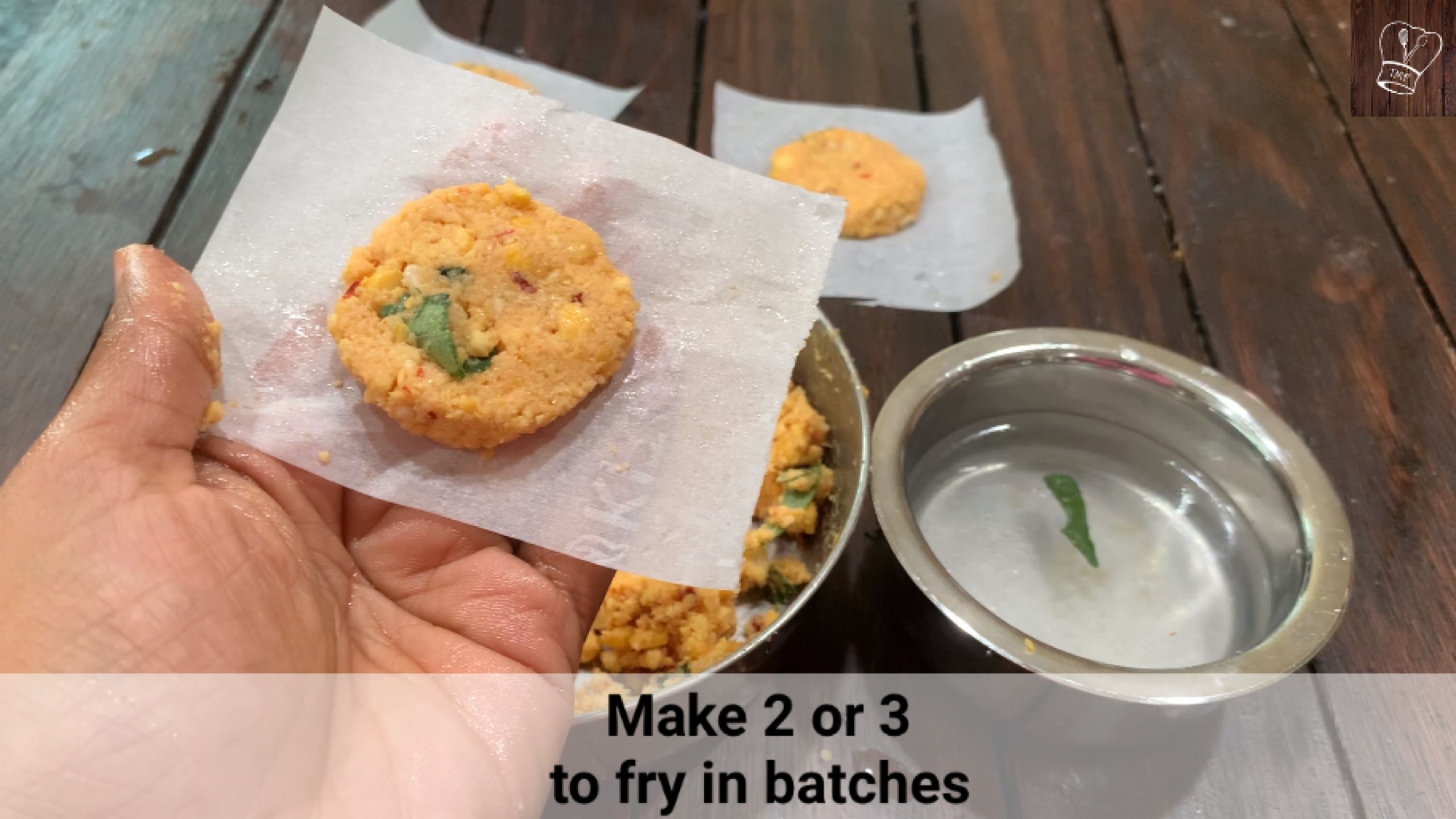 Prepare and keep 3 or 4 vadai based on your pan size for parallel frying
When oil is hot gently add the vadai and fry on medium flame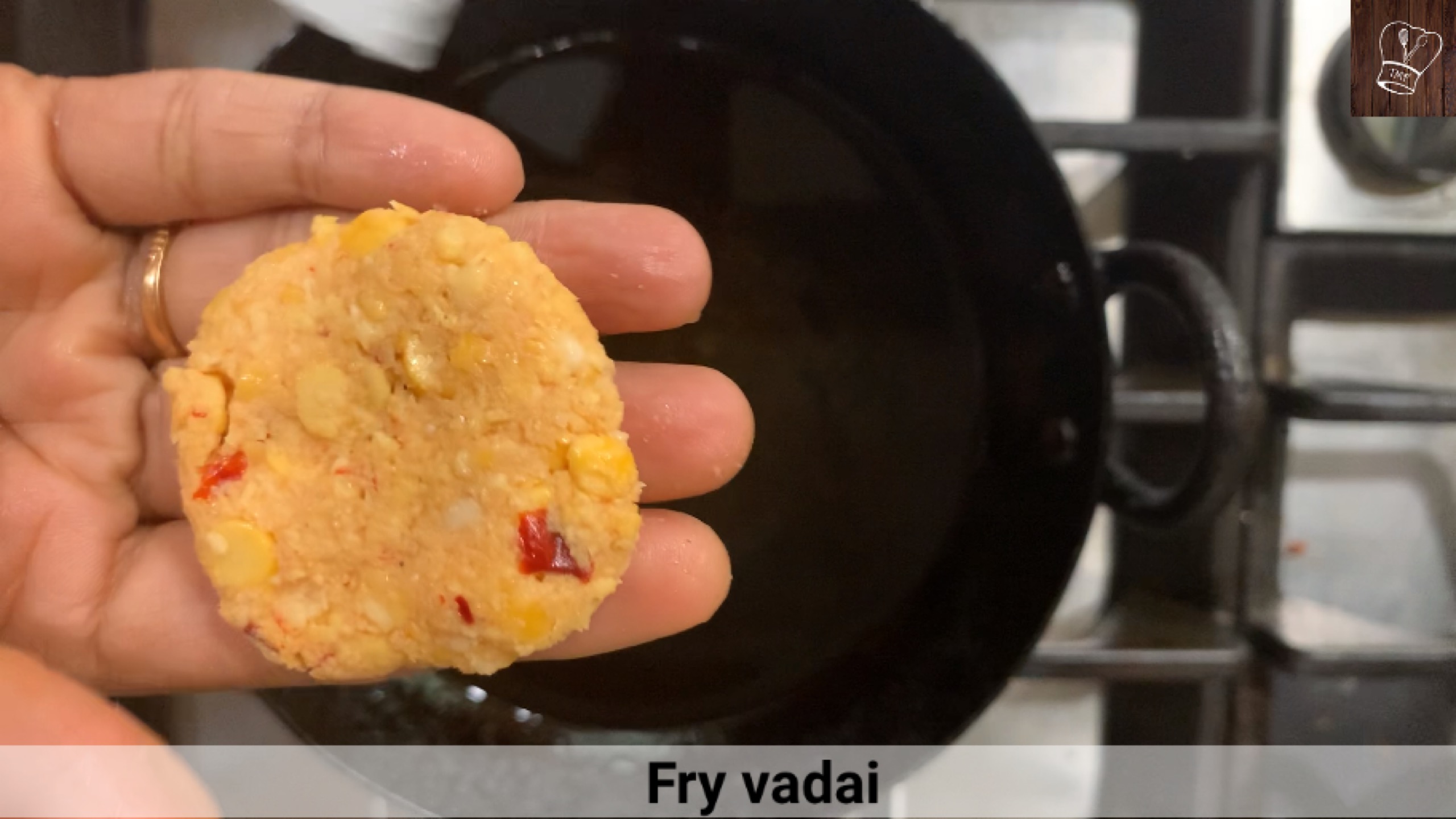 After one side is golden flip and fry another side till vadai turns golden and crispy
Drain the oil in an oil filter or place a paper towel on a colander
Serve hot with chutney